If you are heading to Prague then you probably want to try some amazing traditional food. Where can you go to make sure the food you are eating is authentic Czech food and not just mediocre tourist fare? These are some of the best restaurants to try Czech food in Prague and they all have something a little bit special.
Restaurace Speciál – The Best Place To Try Czech Food Near Prague Old Town Square
Address – Haštalská 12, 110 00 Josefov, Czechia
Standing in Prague's Old Town Square, surrounded by restaurants that spill across the cobblestones, you may feel slightly overwhelmed by the choice. This is tourist-land and, as such, the quality of the food here is possibly not going to reflect the price. However, just a five minute walk away is a restaurant with top notch dishes and a buzzy atmosphere.
Restaurace Speciál is a modern restaurant that has been built in a nice, traditional way. Reflecting this, their dishes are wonderfully traditional but served in a clean modern way.
The Food
I cannot tell you how long I dithered about what to eat; Tender duck, tender pork or tender lamb? Yes, they all looked amazing and everyone was amazed at just how tender this meat was. Every piece was cooked to perfection, the beef cheeks didn't even need a knife!. Eventually, I settled on the duck.
Perfectly soft duck leg, served with red cabbage and beetroot puree, sweet cooked apple, little bouncy potato dumplings and a duck sauce. I am literally salivating as I recount this Czech food in Prague.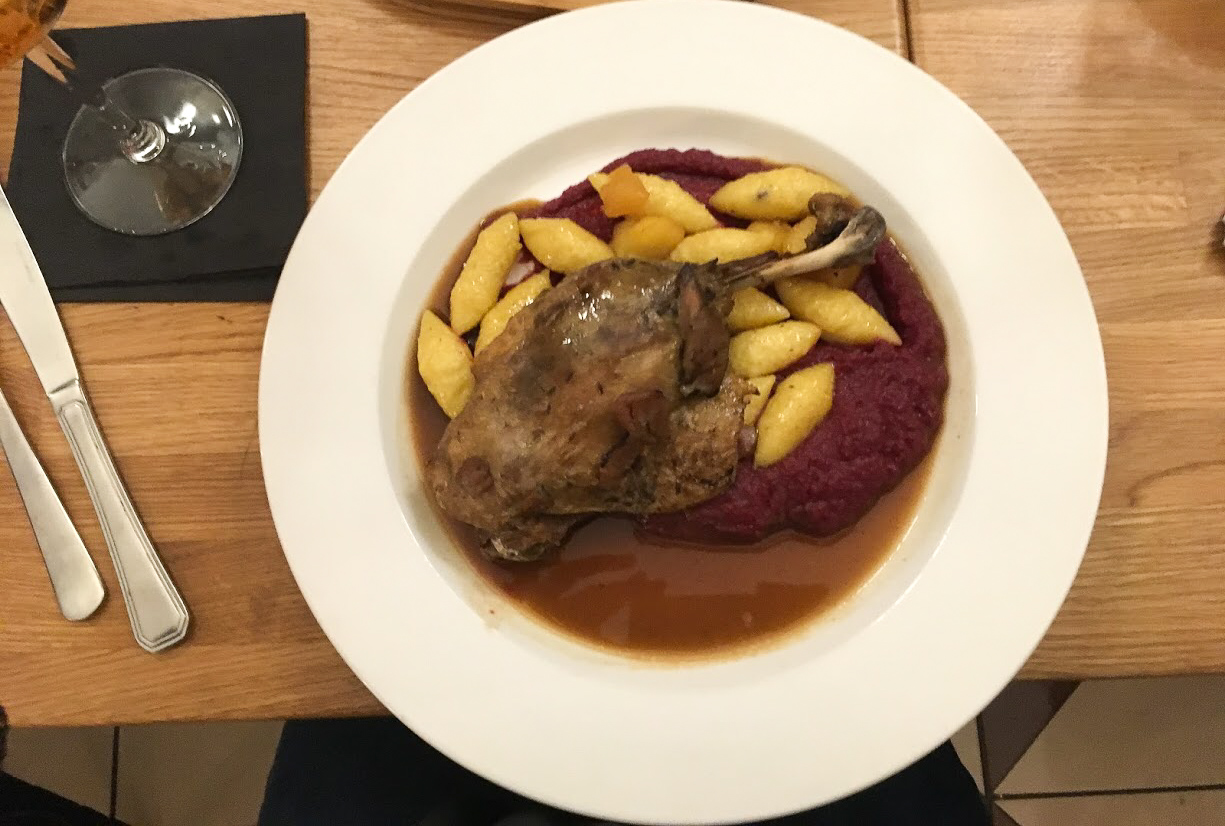 My dinner companions had other amazing looking dishes but the food was so delicious that nobody was sharing! I was sad to have missed out on the pork belly, it came with a gingerbread dumpling, a dark beer sauce and more delicious apple hints. I would happily return here for another chance to try something else.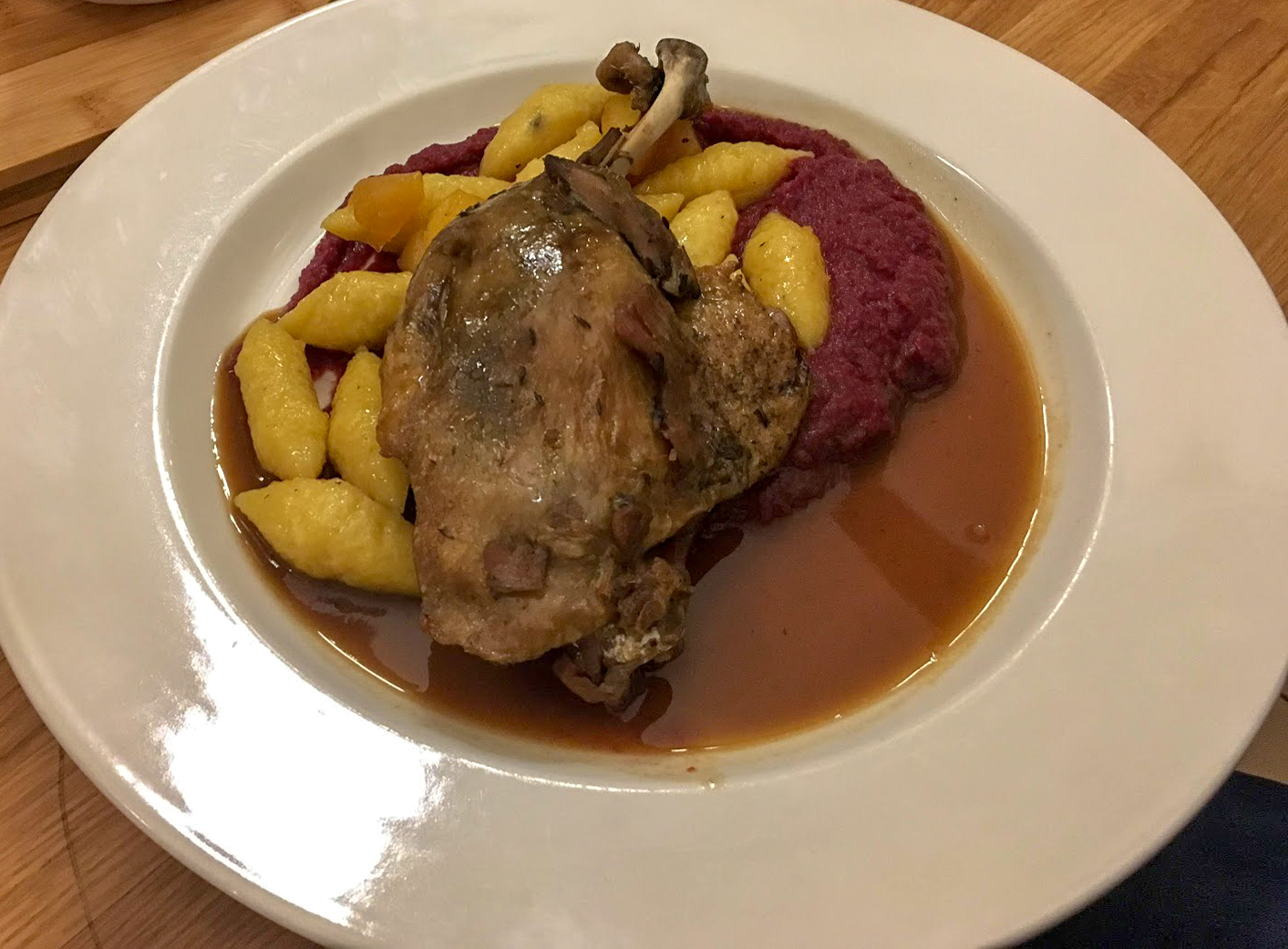 The Drinks
As this is part-restaurant, part-pub you can expect a good drinks list. They serve beer from the Vinohradsky microbrewery that is nearby. The staff are very knowledgeable about the qualities of the beers they have on tap. There were groups around us that we indulging in large glasses of it very happily. I chose to pick from the cocktail menu and had a very passable Aperol Spritz…or two.
Someone else ordered a glass of wine, a nice, crisp white wine. As the waiter approached the table, it tipped and the majority of it drenched me. Now, I don't tell you this to shame the place, but to let you know that they reacted incredibly kindly and apologised repeatedly. They clearly care about their patrons, and that is always very nice to know.
Check out all our travels in the Czech Republic
Eska

– Best Place To Try Traditional Czech Cuisine With A Modern Flair
Address: ia
In the trendy and upcoming area of Karlin, is the achingly trendy Eska Restaurant and Bakery.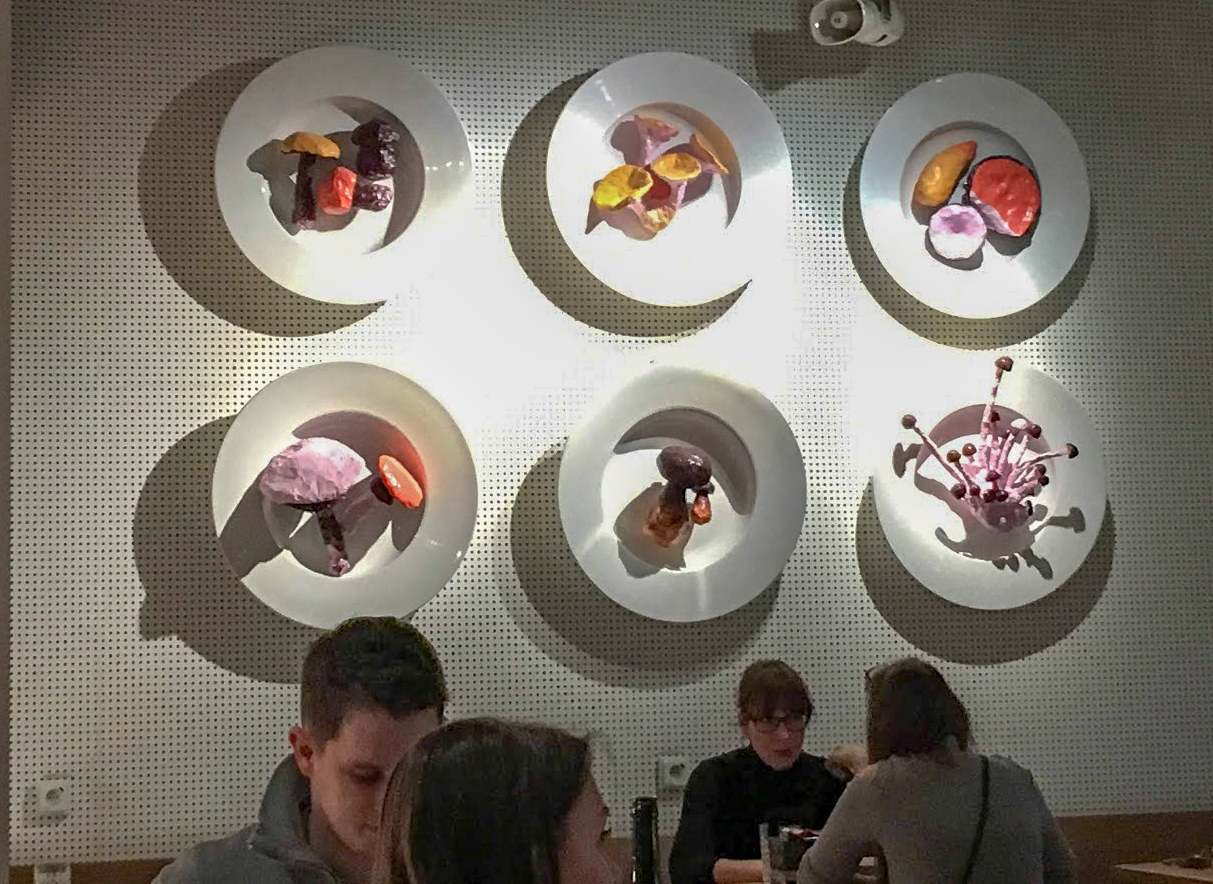 The Food
Eska has an onsite bakery and boy, can you tell. The bread here is so good that we almost ruined our dinner entirely. I really needed my tummy space because I was about to cram in three courses!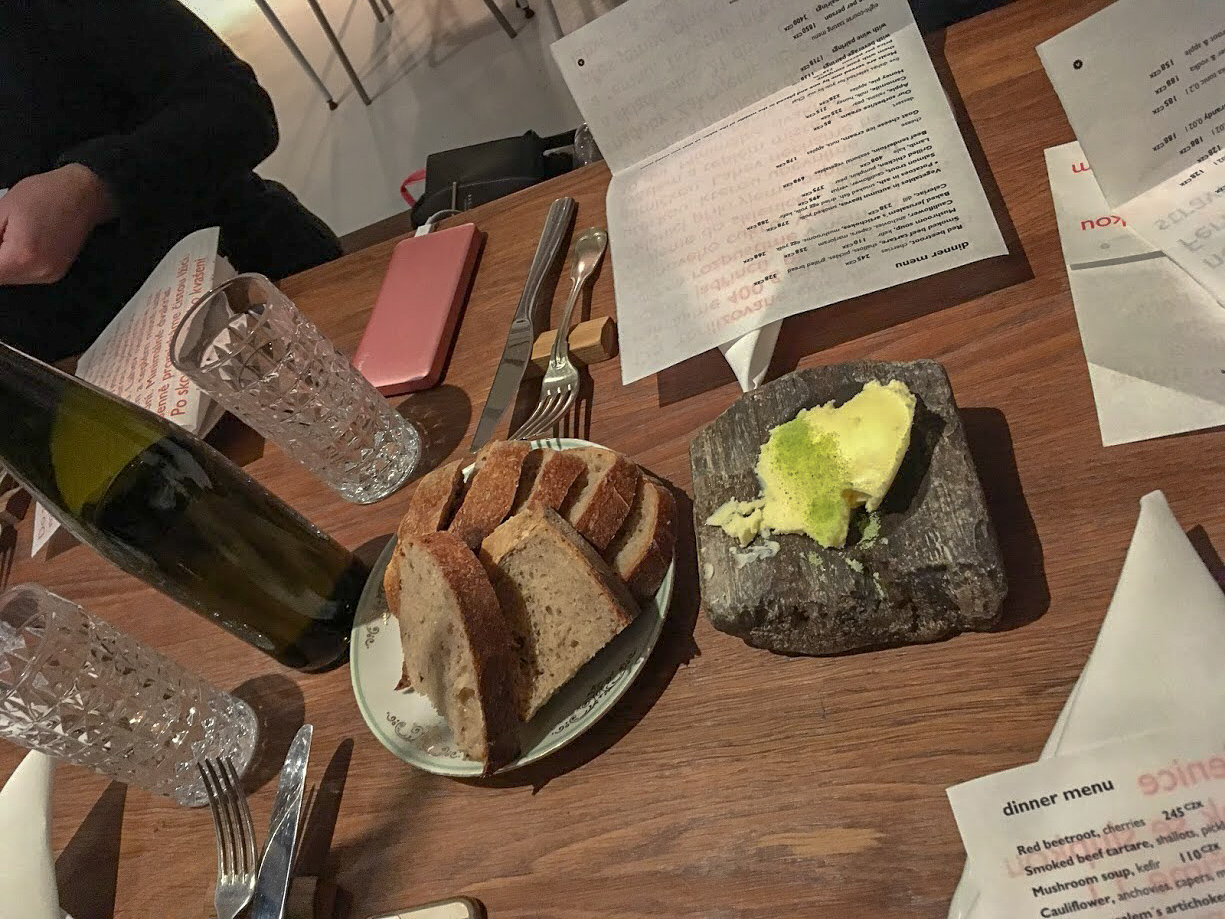 I began with a cauliflower steak, spiced and charred. It was packed with flavour but a tiny bit too al dente for my taste. but it was so delicious that I ate the whole thing.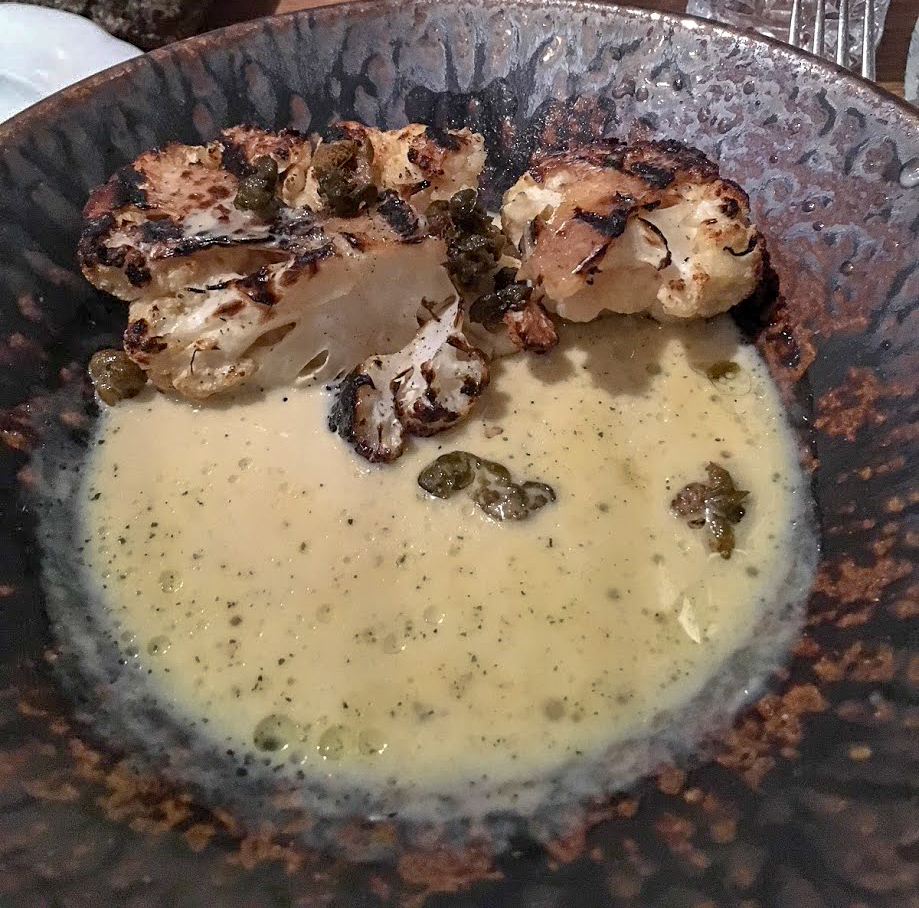 Up next was "potatoes in ash". Now, we had no clue what this was, and the menu had no explanation beyond "Potatoes in ash, smoked fish, dried egg yolk, kefir". It sounded so intriguing that I HAD to order it!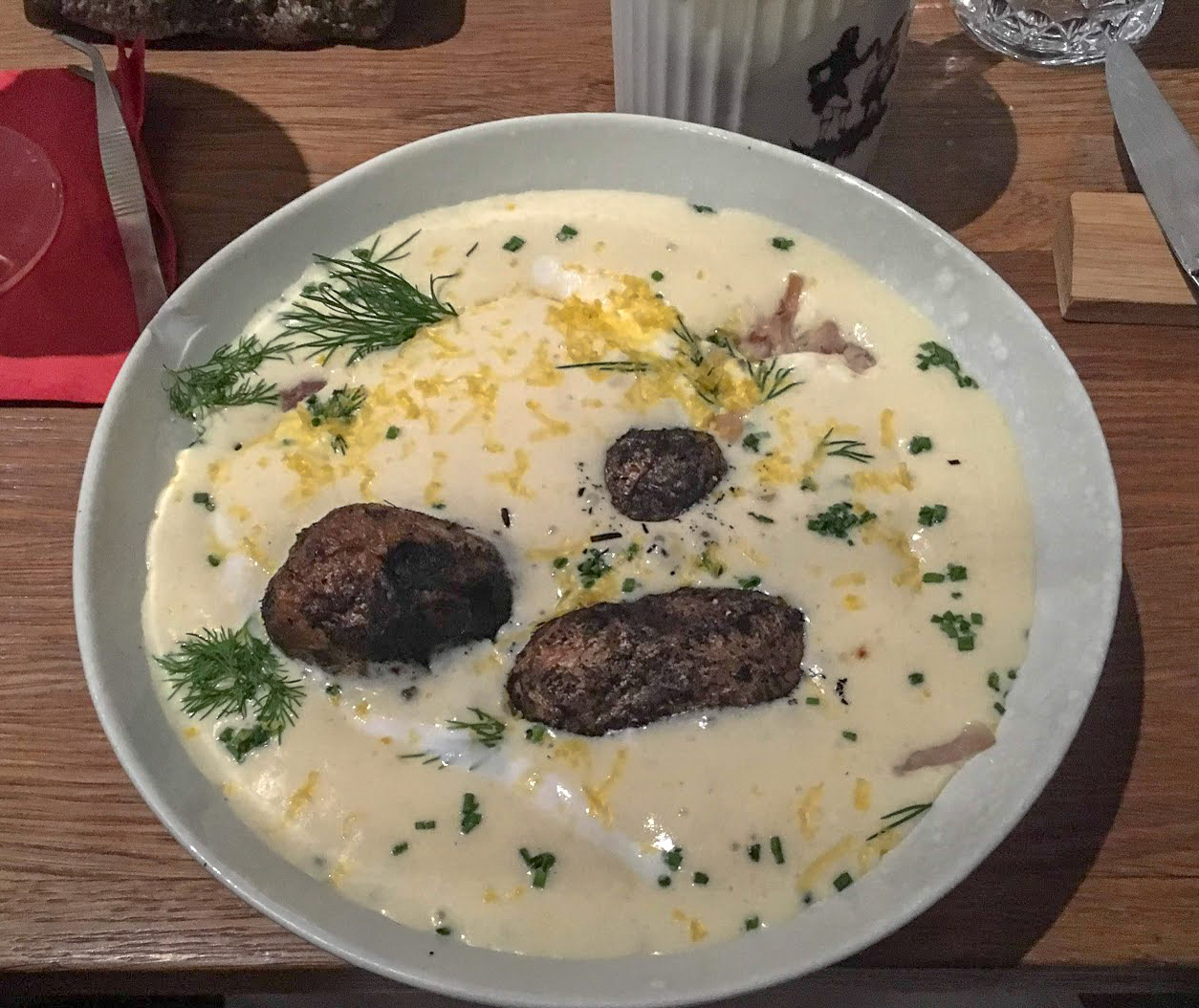 So, how to explain it? It was three mini baked potatoes that had been cooked really slowly in hot ashes. They were afloat in a light, smoked fish soup, a little like a veloute. The egg yolk gave the dish extra creaminess, without making it claggy, and the herbs were nice little pops of freshness. The dish was big, and very rich. I couldn't quite finish it knowing that I really wanted one of the desserts.
How could I turn down "apples, meringue, cinnamon" especially when it looks like this: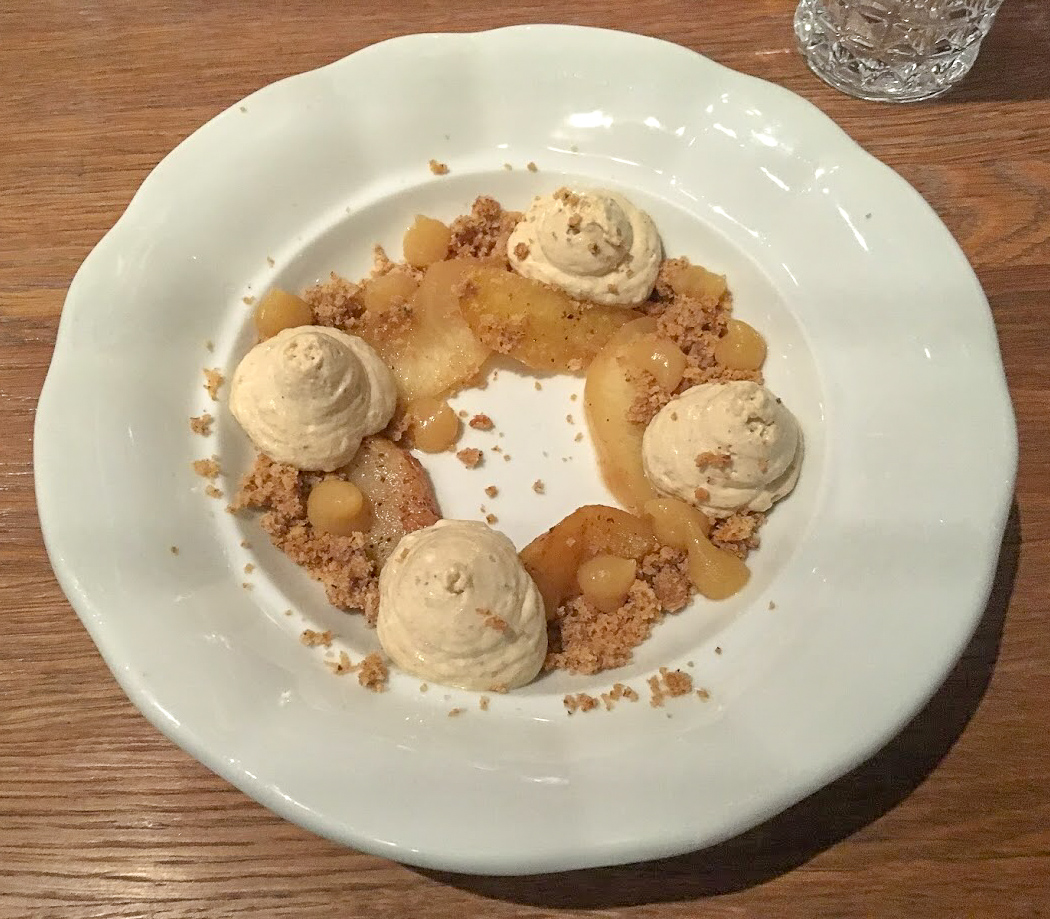 Soft meringue, warming poached apples infused with cinnamon, an apple sauce and a wonderful crunchy crumb. Oh, take me back!
The Drink
It was a really chilly day. It had snowed on us and my legs in tights weren't quite prepared. I needed warming up so I opted for the chai latte. It was made wonderfully, with no powder, but it was only lukewarm which was disappointing. Luckily, I spotted the word punch and decided to have one of those next. It was like a spiked mulled wine, chock full of apple slices and just right for a winter's night!
The Eatery – The Best Place To Try Trendy Czech Food With The Locals
Address – U Uranie 18, 170 00 Praha 7-Holešovice, Czechia
The eatery isn't in central Prague. In fact, you will need to head out to Prague7 to reach it. It just round the corner from DOX contemporary art centre, so it makes a great place to refuel.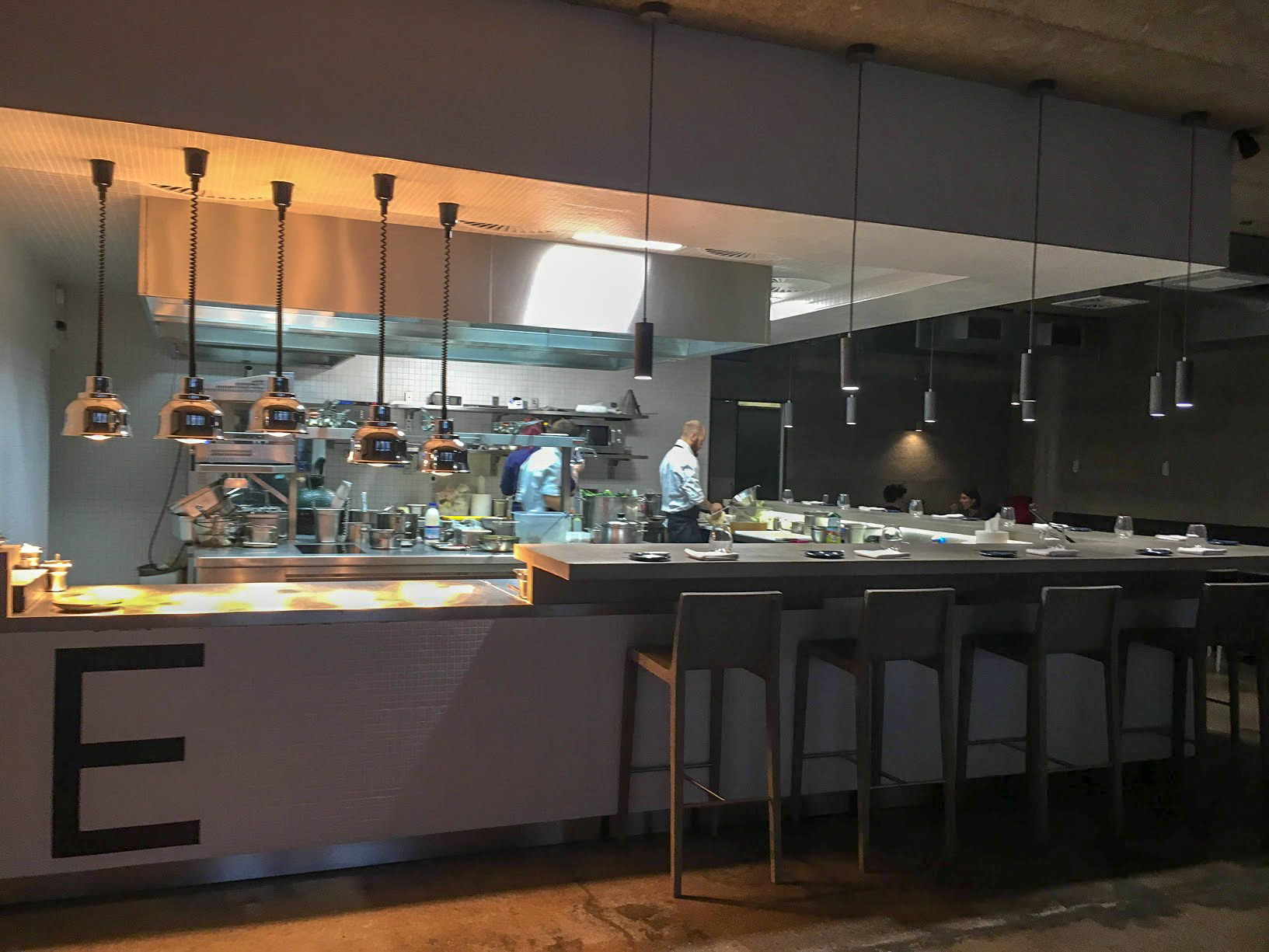 The Food
It would seem flippant to say that I picked my main course because it had a giant polenta chip with it…but that is the truth! Together with my polenta came some exceedingly tender pork cheeks. I don't know how they made them buttery soft, but they were faultless. Finally, the beetroot was sweet and earthy. It was traditional Czech food in Prague, peasant food, but done to perfection and in a lovely, modern way.
The Drink
A lovely wine list accompanied the food here but I chose to stick with diet coke. I knew we had a long day ahead of us and I didn't want to flake mid-afternoon.
Kuchyň – The Best Place To Try Traditional Czech Food In An Exciting New Way
Address: – Hradčanské nám. 186/1, 118 00 Praha 1-Hradčany, Czechia
How do you normally order your food in a restaurant? You sit and stare at the menu, trying to imagine what the food will look, how it might smell and whether or not you'll find it appetising. Well, at Kuchyň, the guesswork is removed and you can follow your gut…all the way to the Kuchyň (that's kitchen in Czech).
At Kuchyň, the food itself is the menu. Follow your sense of smell across the room and you will find a table laden with cooking pots. The host will guide you around the table, showing you each dish and explaining what it is. You can pick one main dish and one side dish. Most main dishes were meat-based so this isn't the best place for vegetarians.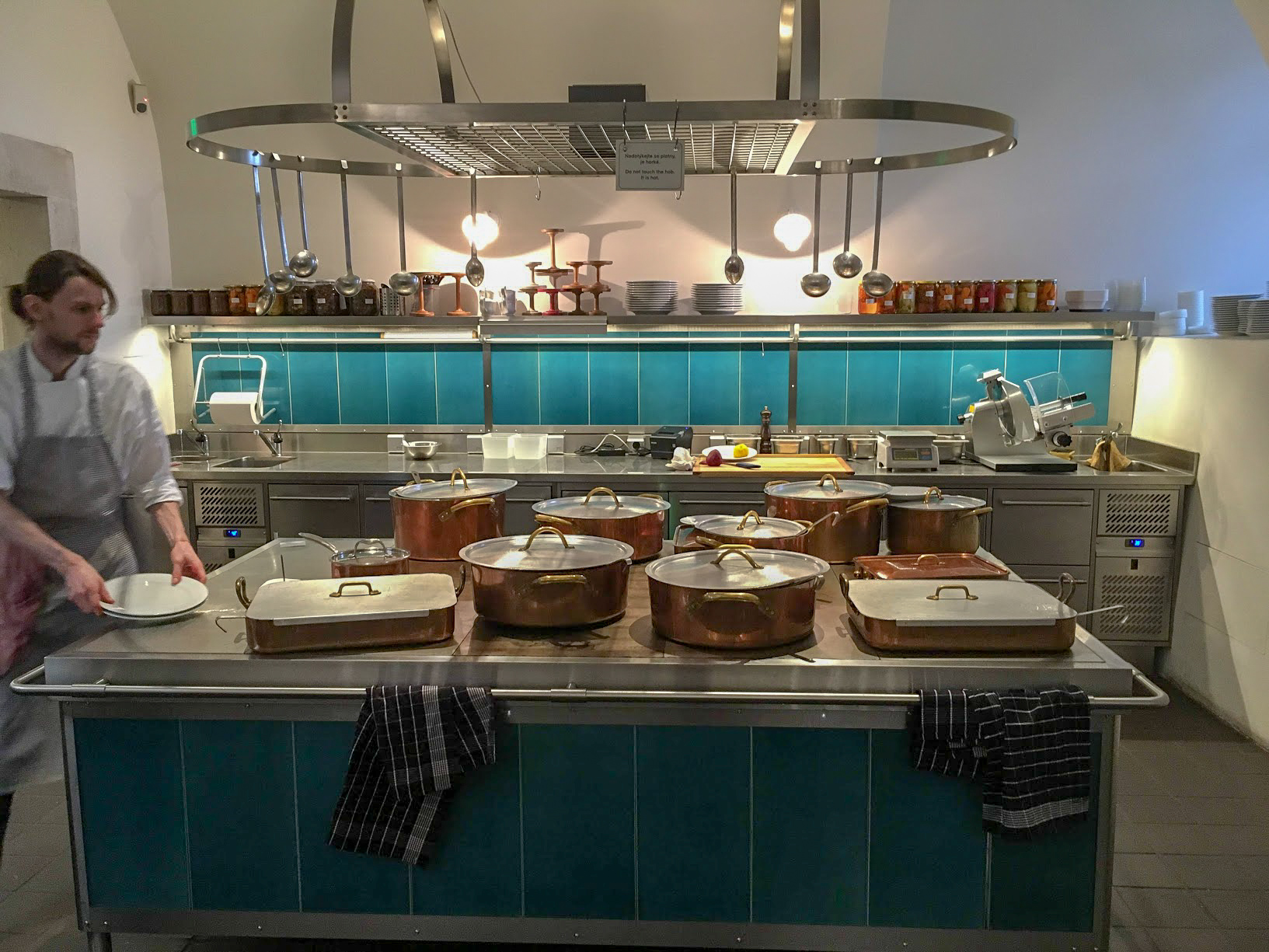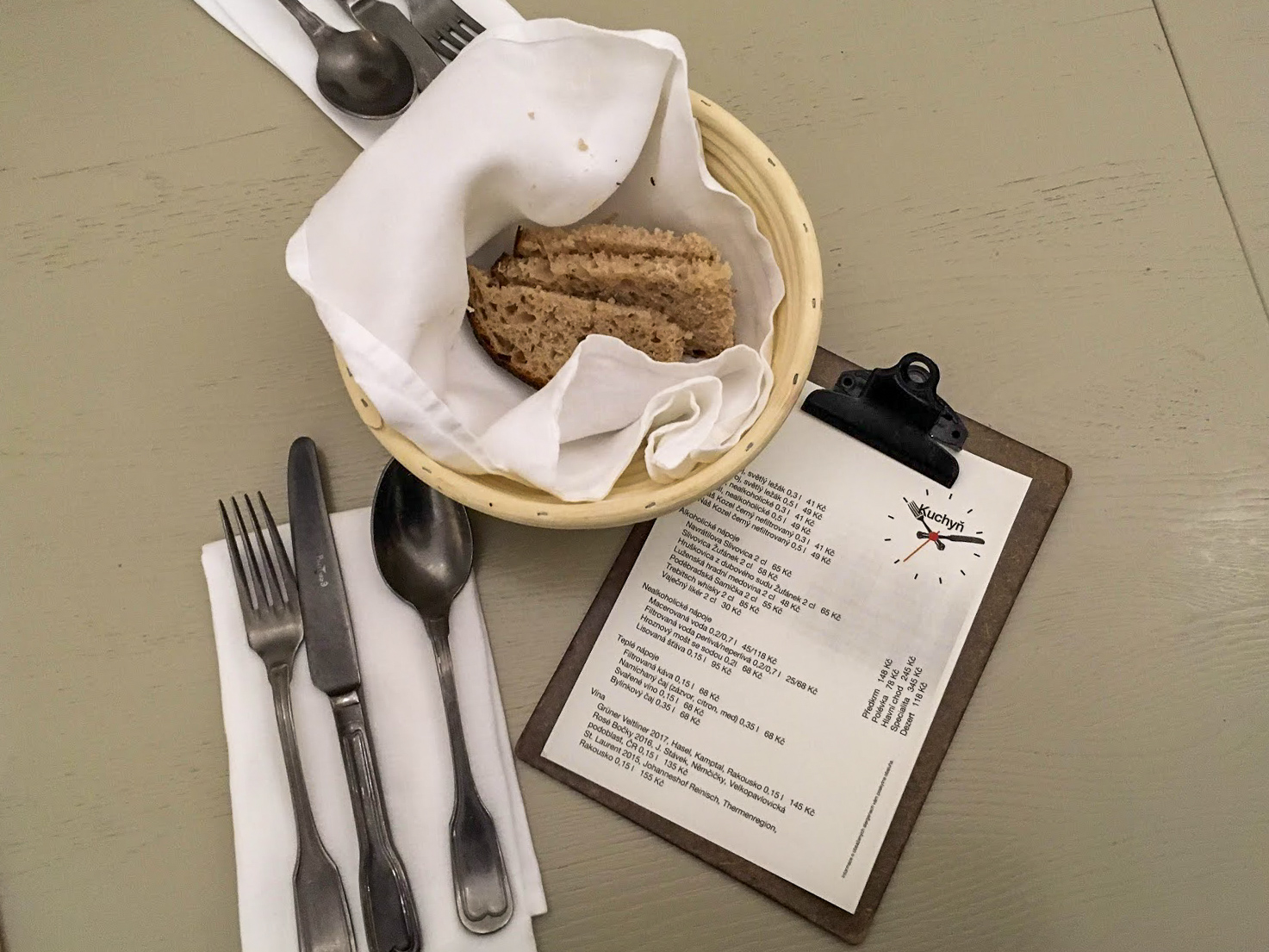 The Food
I chose a light starter of beetroot and goats cheese. I wasn't expecting the jewel covered plate that was set before me. The colours were so pretty and it was a struggle to ruin it. OK, not that much of a struggle, I was very hungry and it looked delicious.
They really know how to treat beetroots in Prague, and this was the best of the best. The golden beetroot tasted different from the normal pink one, which impressed me greatly. The salty goats cheese was whipped and light, and the nuts caramelized and sweet. It was a brilliantly well-rounded dish.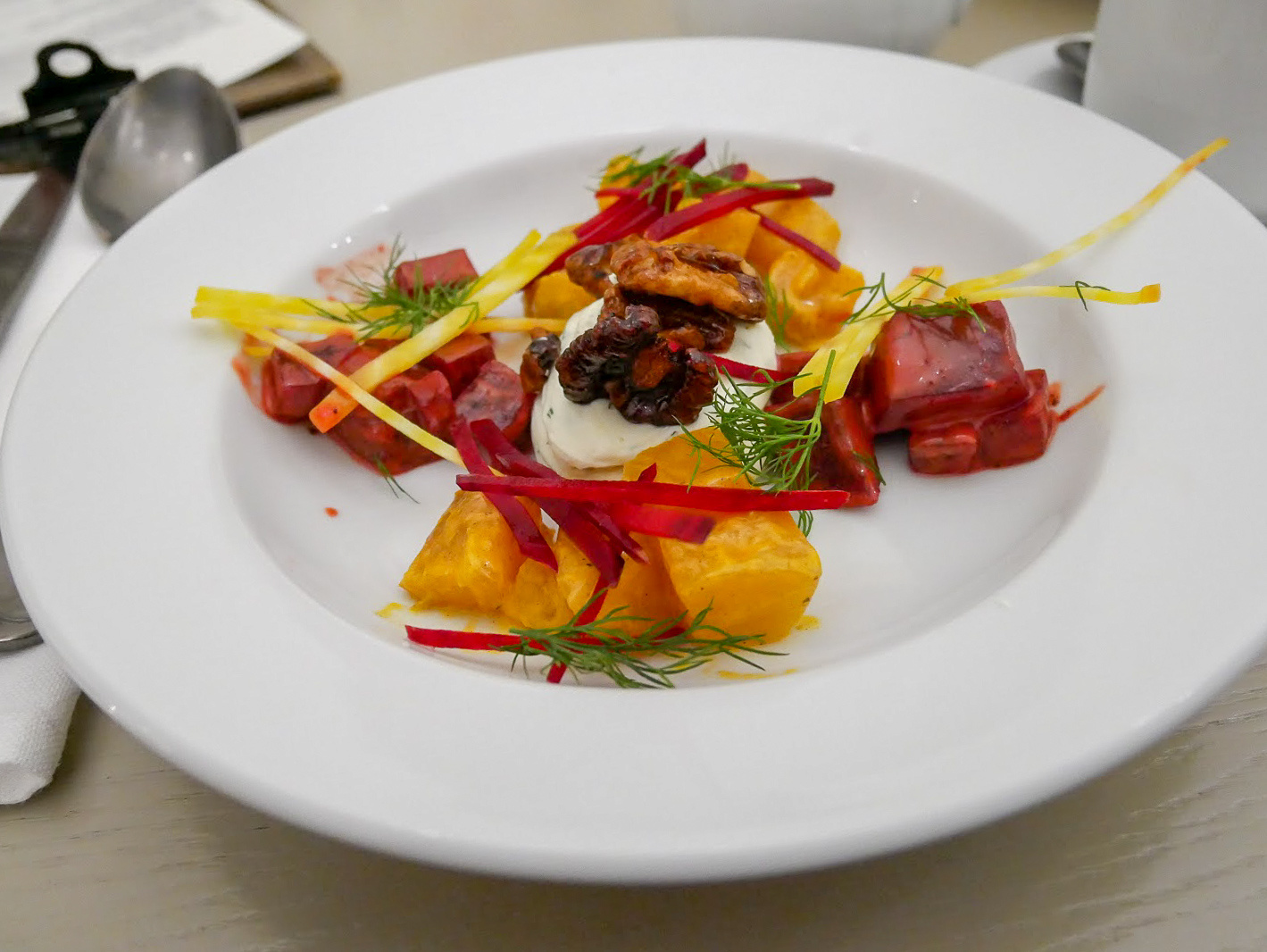 If you are having a main meal, you are given the otions at the kitchen display table. You can pick one main element, mostly meat-based, and then a side dish. There was rice, two different kinds of dumplings, and gnocchi. I opted for pork cutlets and gnocchi. This wasn't quite like the round Italian version. Instead they were little twists. I was SO full about two-thirds of the way through this dish. The pork made the whole dish quite salty as it had no sauce, but I just kept picking at the gnocchi until the plate was prized away from me. I wish I knew how to make it.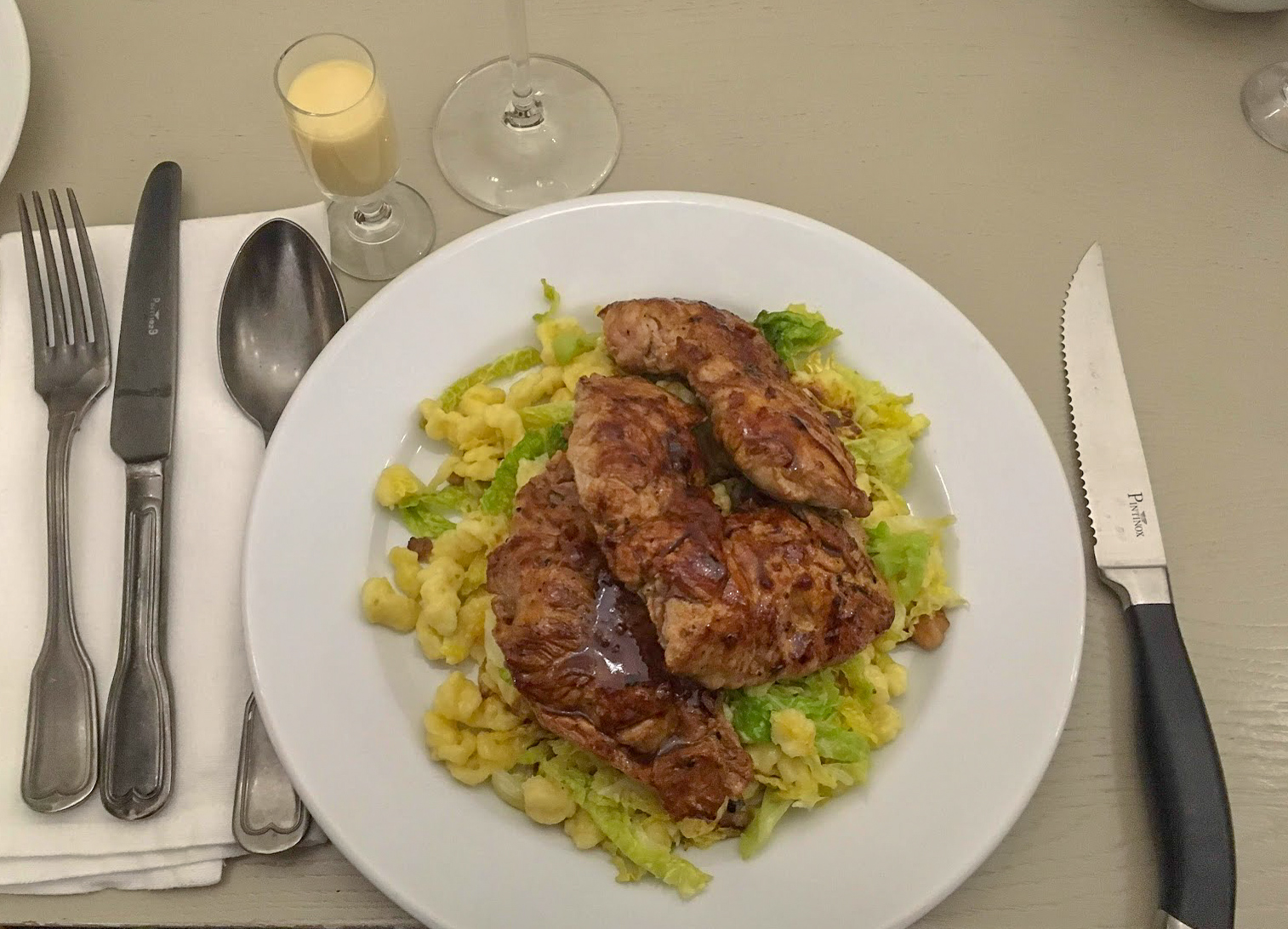 The Drink
Alongside your dinner, there are a few interesting drink choices. As we were visiting in winter, I just to try the eggnog. It was seriously delicious but super, SUPER tiny.
I'm not sure it was worth the price, but then I did have two so it must have been to me!
Check out all our articles on the wonderful city of Prague
Café Savoy

– The Fanciest Place To Try Czech food In Prague
Address – Vítězná 124/5, Malá Strana, 150 00 Praha-Smíchov, Czechia
If you are looking to impress, or just soak up the decadence of this famous dining spot.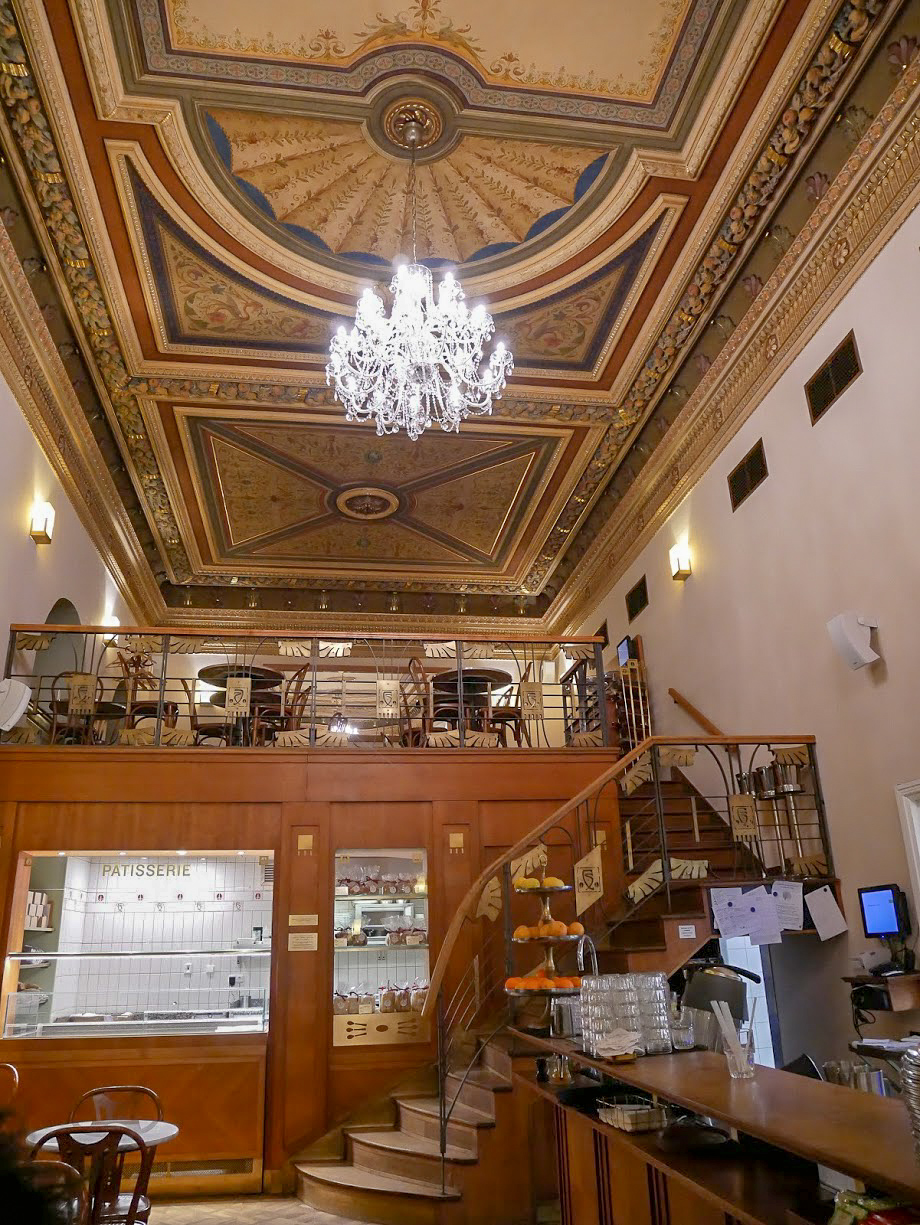 Café Savoy is open all day, and you could find yourself in a queue at breakfast time. Its cakes and pastries are renowned and they have a selection of large, cooked options.
We visited at dinner time and so missed out on the breakfast offerings. As the day progresses, the fare evolves into a selection of rich Czech dishes with a French influence.
We went all in and opted for degustation menu, complete with wine pairings. Cafe Savoy has an exhaustive wine list with varieties originating from a few miles away to Australia but we thought we would let them make the choices for us. The degustation menu consisted of four courses, matched with a glass of wine for each.
The Food
Starters
Is there such a treat as a special menu? If you visit the Cafe Savoy, treat yourself to the very best of Czech cuisine by picking this amazing lineup.
We started with profiteroles…not the sweet kind. These had slivers of tender beef tongue and pickled vegetables inside. They were like fanciest choux pastry sliders you've ever seen. Alongside this amuse bouche we had a glass of sparkling wine. This was made locally, using the traditional champagne method. It was very creamy with lovely little bubbles, and was a great introduction to this meal.
The next course didn't spark joy in me. I am not a huge mushroom fan and it was a mushroom soup with boiled potatoes, a poached egg and a whack of dill. The waiters placed the bowls onto the table. We could see the ingredients before them poured the dark, glossy soup over the top. I was very pleasantly surprised, it was a rich, meaty soup. Heavy and made very rich and indulgent by the egg yolk oozing out into the broth.
With this, we tried a glass of Czech Chardonnay from 2015. I don't remember much about this particular wine, but I drank it down with enthusiasm so it must have been very tasty.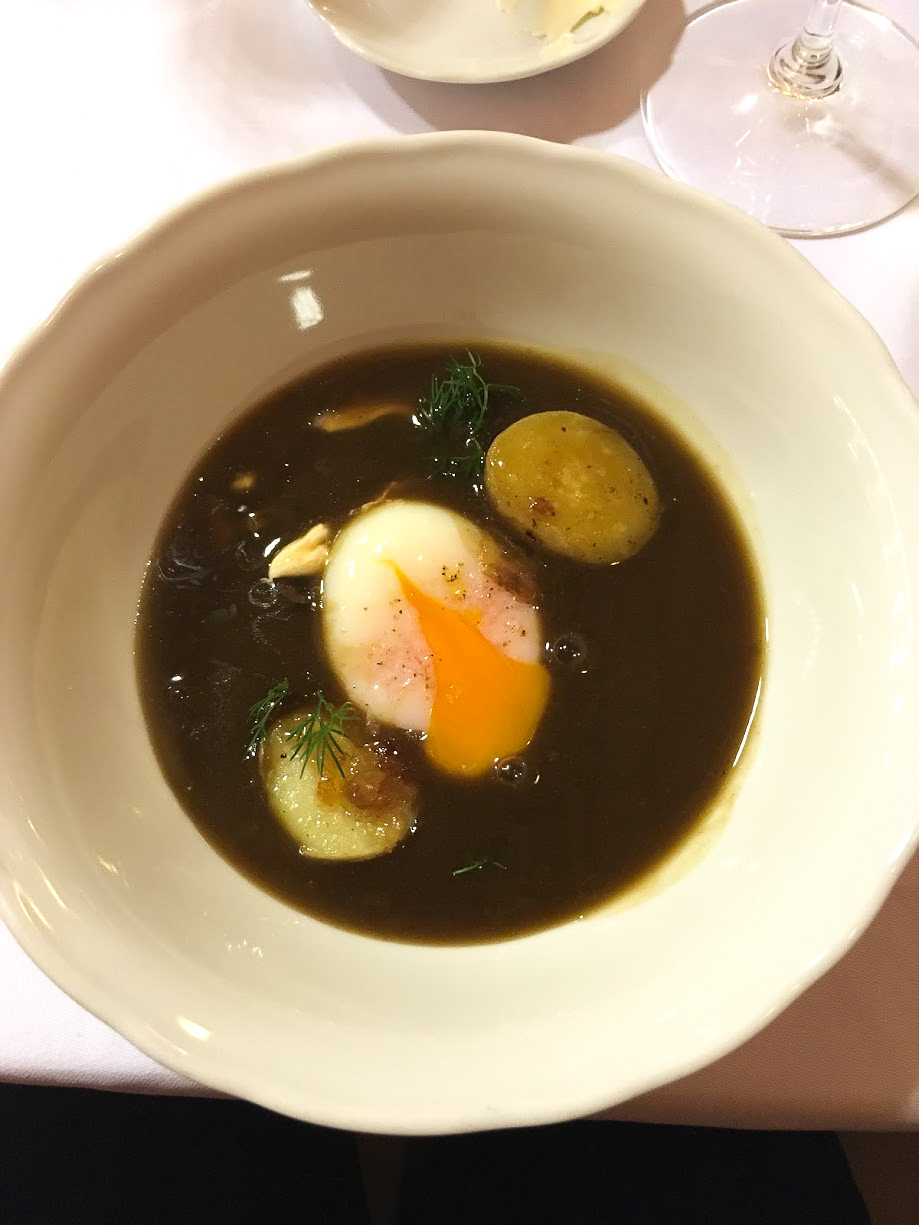 Main
Next it was on to the Plate Savoy. This is the course i was most excited about. At home we don't cook meat very often at all, so an expertly cooked piece of meat is a rare treat. Here there was not one, not two, but three lovely little meaty jewels.
A perfect piece of duck sat on the plate with zingy red cabbage puree and a small piece of lamb that melted in the mouth. We also had a small bit of lasagne and a nice pink piece of venison. The whole thing had a lovely, shiny sauce across the top. It was all simply delicious.
The wine that accompanied this one was an organic white wine. It was even nicer than the glass before.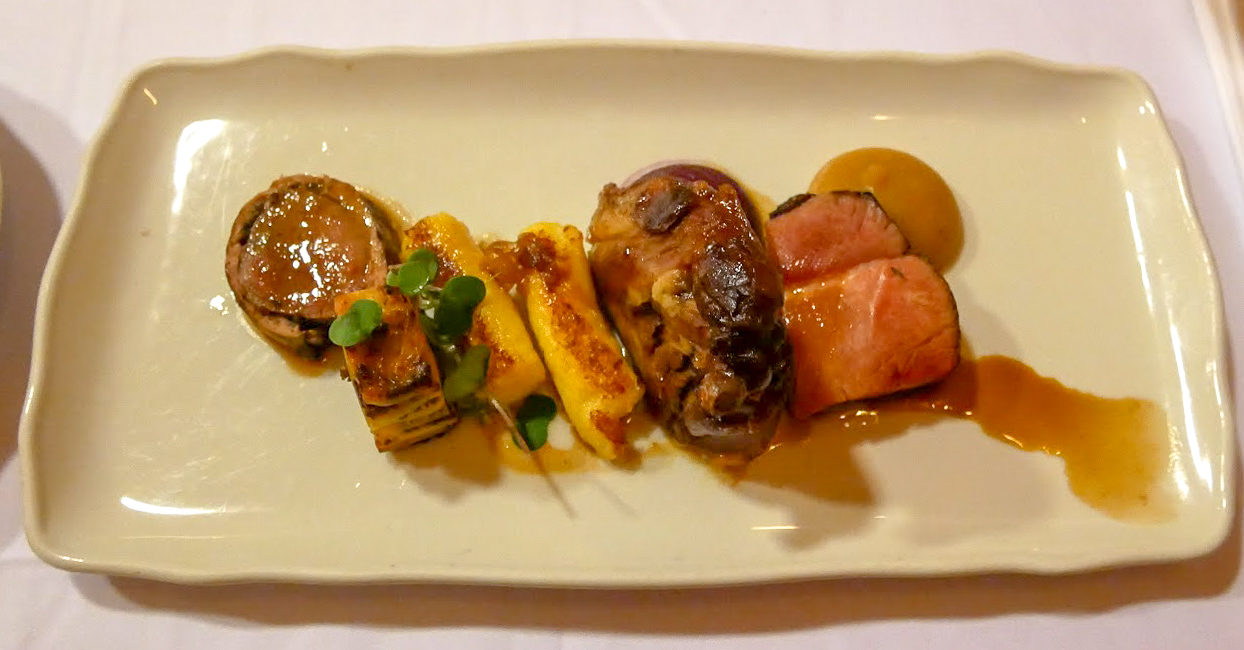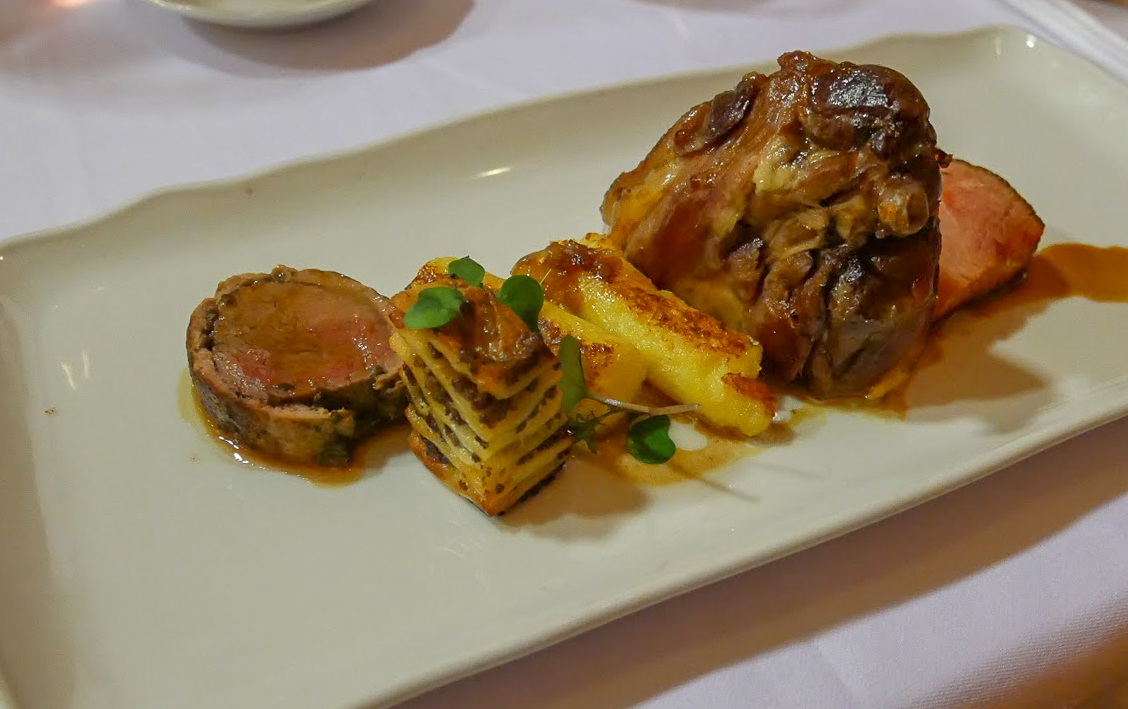 Dessert
The final course, dessert, was ovocné knedlíky. These fruit filled dumplings were quite a heavy end to the dinner, but we happily demolished them. These sweet dumplings are often eaten as a main meal so they are not designed to be dainty. The bed of curd cheese that the dumplings sat atop was eyed with suspicion by the group, and I was slightly confused by the idea, but it was a lovely addition that lightened up the dish. I guess they really know what they are doing! The ginger within the dumpling was a nice hint of heat to end the meal on. It also went wonderfully with the last drink we had.
Now you all know how much I love cider. (If not, check out our blog post all about the best proper cider in london.) At Cafe Savoy, they have an organic cider wine. This was completely up my street and I was very sad that we only got one glass. Unfortunately, there are very few bottles of this and it is NOT cheap. I very nearly bought a bottle but couldn't quite afford it, and only had hand luggage (oh those liquid restrictions).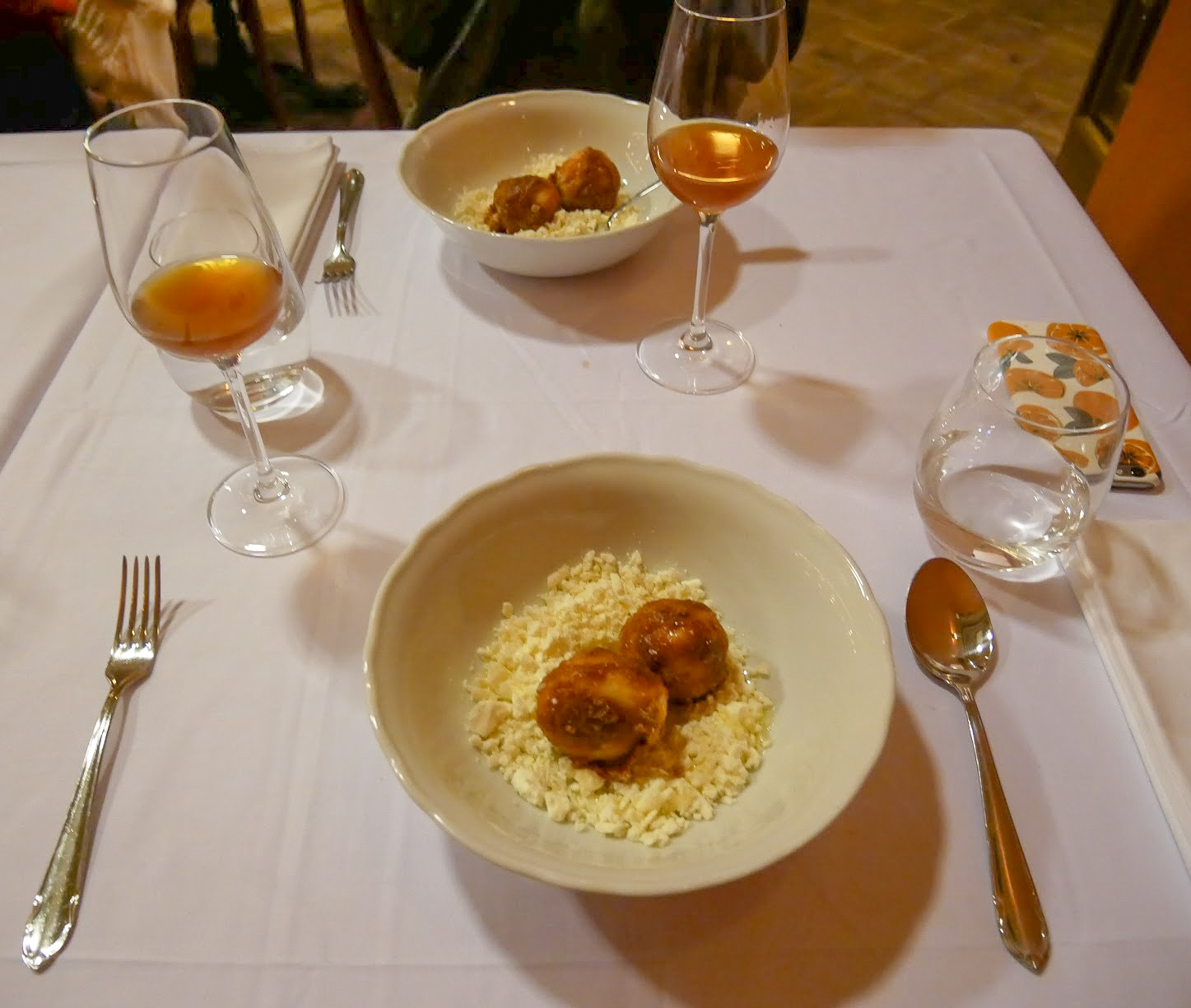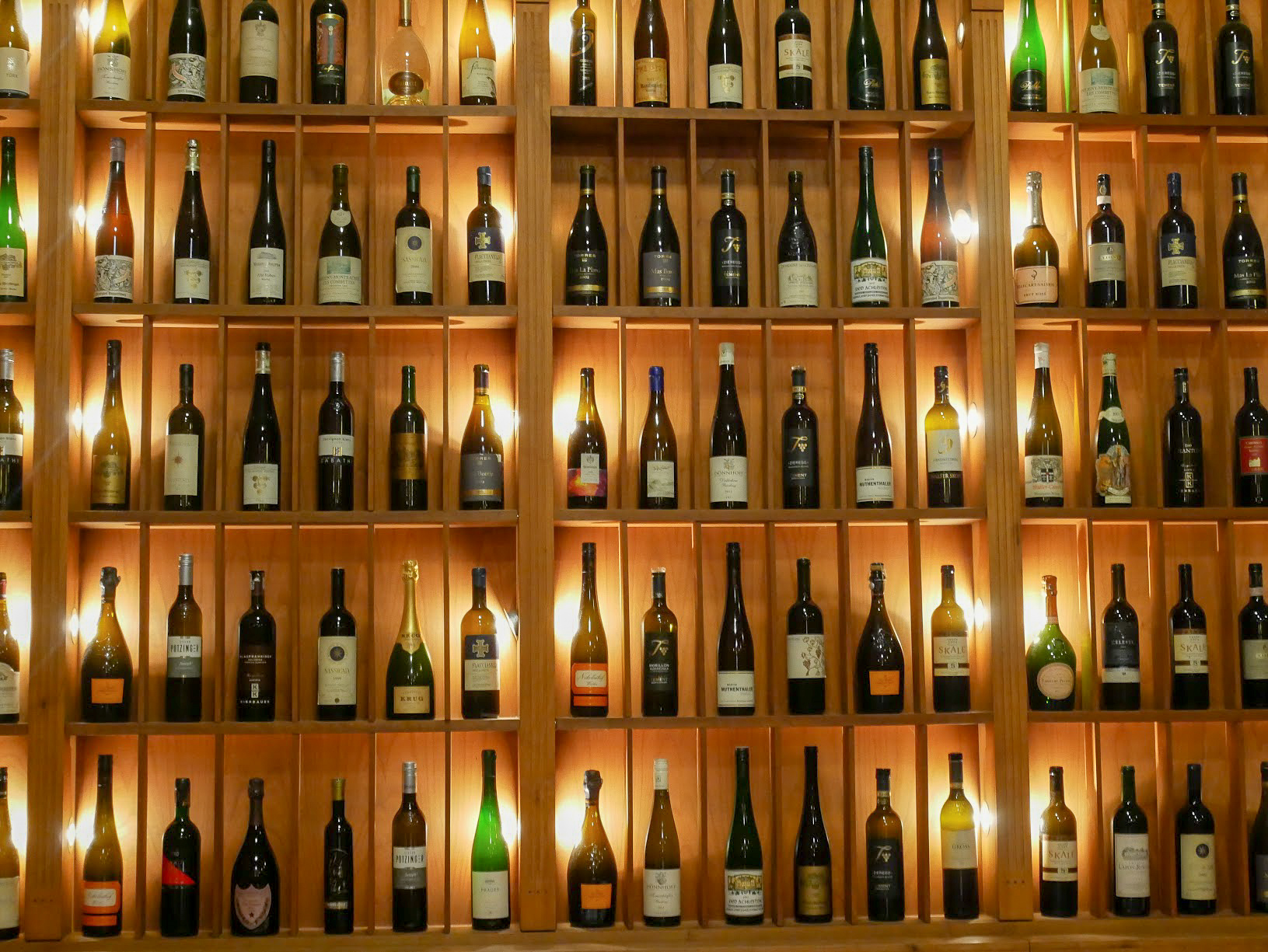 Bellavista

– The Best Restaurant With A View In Prague
Address : Strahovské nádvoří 132/1, 118 00 Praha 1-Hradčany, Czechia
The Bellavista Restaurant really lives up to it's name. The view here is stunning. This is the one restaurant that we haven't eaten in, but we did spend a very lovely time sitting on their terrace and drinking it in. I can"t tell you just how much I wish we had been drinking in some lovely wine at the same time! Luckily, they have a large wine list to work your way through. They also serve beer brewed here in town. The food is mainly Czech, with some light salads and pasta dishes thrown in for good measure.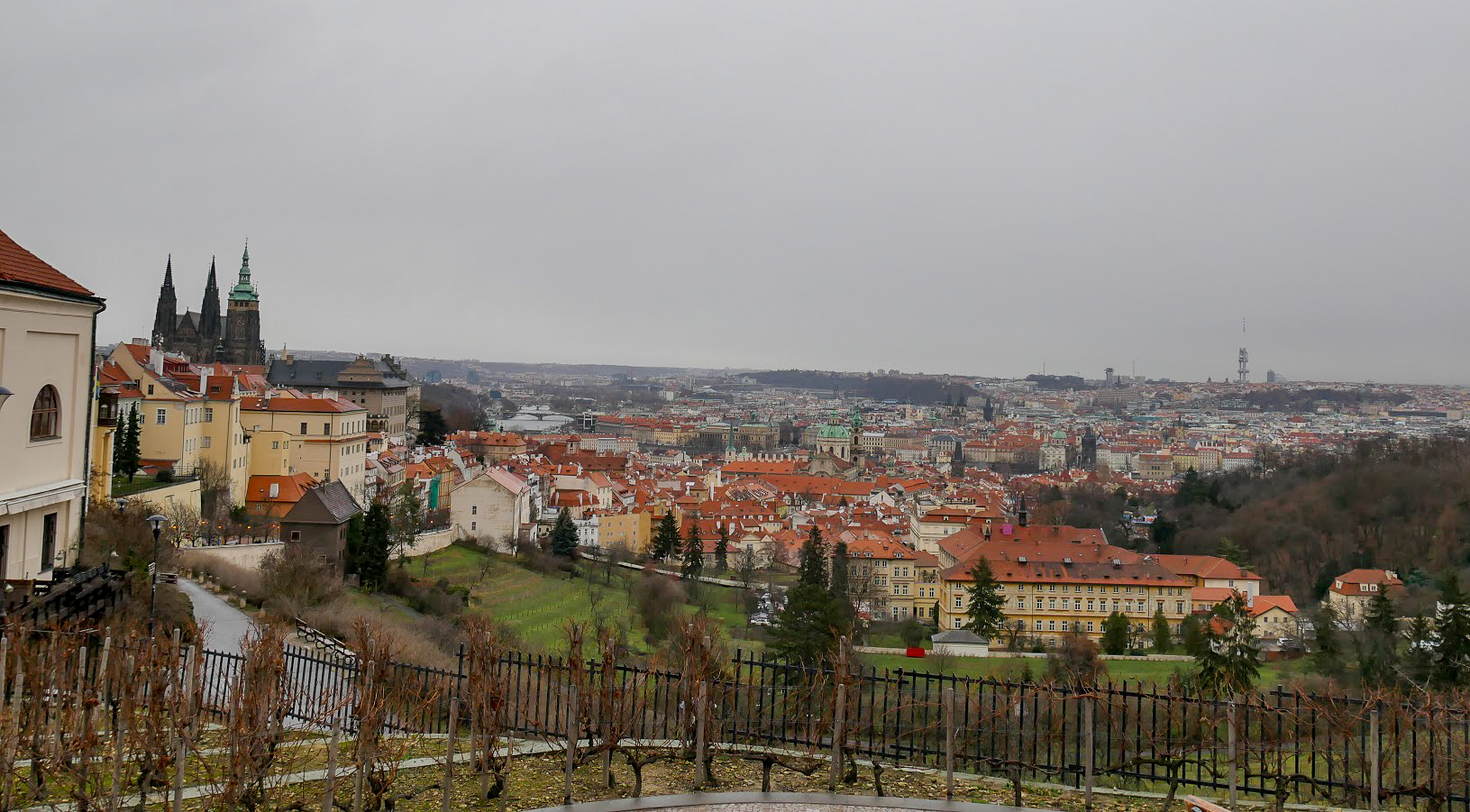 To be totally honest, you probably aren't coming here for the food, or the service if recent reviews are to be believed, but if you do we recommend ordering a snack and making that glass of something cold last while you watch Prague spread out below you.
Final Thoughts
Hopefully, this guide to Czech food in Prague will give you a chance to check out your favourite restaurant. If you are visiting in high season, or even just at the weekend, we would recommend that you try and book ahead at these spots as they were all busy when we visited on our Christmas Trip to Prague. Trust us, if you don't know anything about Czech food in Prague, these wonderful restaurants will give you a stellar education.
Rosie xx