When you think of cheap, budget travel destinations a few ideas might spring to mind. India, Vietnam, Eastern Europe; but have you considered Egypt? Backpacking in Egypt won't break the bank (even an all-inclusive can be a bargain), is packed with amazing experiences and you will be blown away by the stunning landmarks in Egypt. Even if you are just planning a full-blown Nile Cruise holiday, you'll be surprised at how much things cost in Egypt. Read on to discover the 8.5 reasons you will love backpacking in Egypt.
This post may contain sponsored content or affiliate links that help support the blog. All opinions are our own.
8.5 Reasons You Will LOVE Backpacking in Egypt
The Exchange Rate is Exceedingly Favourable
Egypt has always been a reasonably cheap option for travellers with plenty of options for all budgets. In late 2016, Egypt un-pegged the Egyptian Pound from the US Dollar to avert a huge financial crisis. This resulted in a crash in the value of around 50%.
The new exchange rate is great news for travellers from around the world, as your money will stretch twice as far. These days 100LE (Egyptian pounds) is worth around £4.20, $5.50, €4.80
So what does that mean in practice?
You Can Find Great Cheap Accommodation in Egypt
Where in world can you get a dorm bed for just 60LE (£2.50), or a private for 120LE (£5)? Egypt! I think you'd be hard-pressed to find it in many countries that are so easy to travel around A dorm bed will cost you twice as much in Thailand.
Even an all-inclusive hotel in the Red Sea resort of Sharm el Shiekh only set us back 470LE (£20) per person per night! That included food all day, and alcoholic drinks between 10:00 – 00:00. It is a great deal.
Check out our Mount Sinai & Red Sea 3 Day Experience Review
You Can Eat Delicious Food on a Budget
What can you get for 19LE? Two packets of crisps, two soft drinks and a chocolate bar from a street stall, right opposite the Egyptian Museum in Cairo.
What can you get for 75LE? A plate of falafels, bread, pickles and a tahini dip, plus a soft drink in a small cafe right in Luxor's tourist zone.
What can you get for 166LE? Four mezze dishes and a main meal, plus four fresh blended smoothies at a top-rated tourist hangout in Luxor.
What can you get for 175LE? A large pizza and a litre of fizzy pop in a gloriously air-conditioned Pizza Hut overlooking the Pyramids and Sphinx of Giza. OK, so this wasn't a complete bargain but that would have been twice the price at home. It goes to show that even the more globalised products are good value in Egypt.
Public Transport is Super Cheap
Getting from the centre of Luxor to the Karnak temple complex, 2.5 kilometres up the road, cost us just 1.5 Egyptian Pounds each. That is a grand total of £0.13. We caught share taxis everywhere we could during our time in Luxor.
Read Riding the Rails – The ERNST Night Train from Luxor to Cairo
Private Transport is Surprisingly Cheap
Can you believe, an Uber from central Cairo, all the way out to the airport cost just 96LE! It is great value, removes all need for haggling and the cars are all much newer, and nicer, than Cairo's old white taxis.
Even Backpackers in Egypt Can Afford Small Luxuries
Whilst in Luxor, we had a budget hostel room. However, we decided we would treat ourselves. The Steigenberger Nile Palace Hotel, a five star resort on the banks of the Nile, let us use the pool for just 100LE each!
You can also treat yourself to a caleche (horse and carriage) ride around the centre of Luxor. An hours trot is just 25LE. What a lovely way to treat a loved one, without breaking the bank.
Check out when we went Soaring Above Luxor with Magic Horizons Hot Air Balloons
Tourist Numbers are Really Down
Egypt's stunning attractions are not heaving. They are not even busy. They are nearly empty. Come early in the morning, or in the afternoon and you can have phenomenal sights almost to yourself.
There has been some seriously damaging news about Egypt in the past few years. People think that it is unsafe. I'm not going to gloss over it, some of Egypt is still off-limits. You shouldn't travel into the Sinai Desert, and flying in and out of Sharm el Sheikh is still labelled as trave with caution. However, everywhere you would want to visit; Hurghada, Luxor, Aswan, Cairo…the whole Nile in fact, is completely fine. There are no restrictions put down by the Foreign Commonwealth Office in the areas listed above, and we felt completely safe throughout our entire trip. People are still happy to travel to Paris, Barcelona, and London, other places affected by terrorism.
You can't see Egyptian pyramids in Dubai, or New York (although there is one obelisk from the Karnak temple in Central Park). These beautiful temples and mysterious tombs are in situ and can only be seen in person.
The low tourist numbers also means that people are quite glad to see you. You have both great bargaining power, and the power to change someone's day. For example, hiring a guide at the temple you are visiting, means you are putting money into the local economy and won't cost you an arm and a leg.
Egypt's World Class Tourist Sites are Cheap…
….in comparison. You can enter the Pyramids of Giza (the only remaining ancient wonder of the world no less) for under £3.50. Now compare that to:
Egypt really is most excellent value!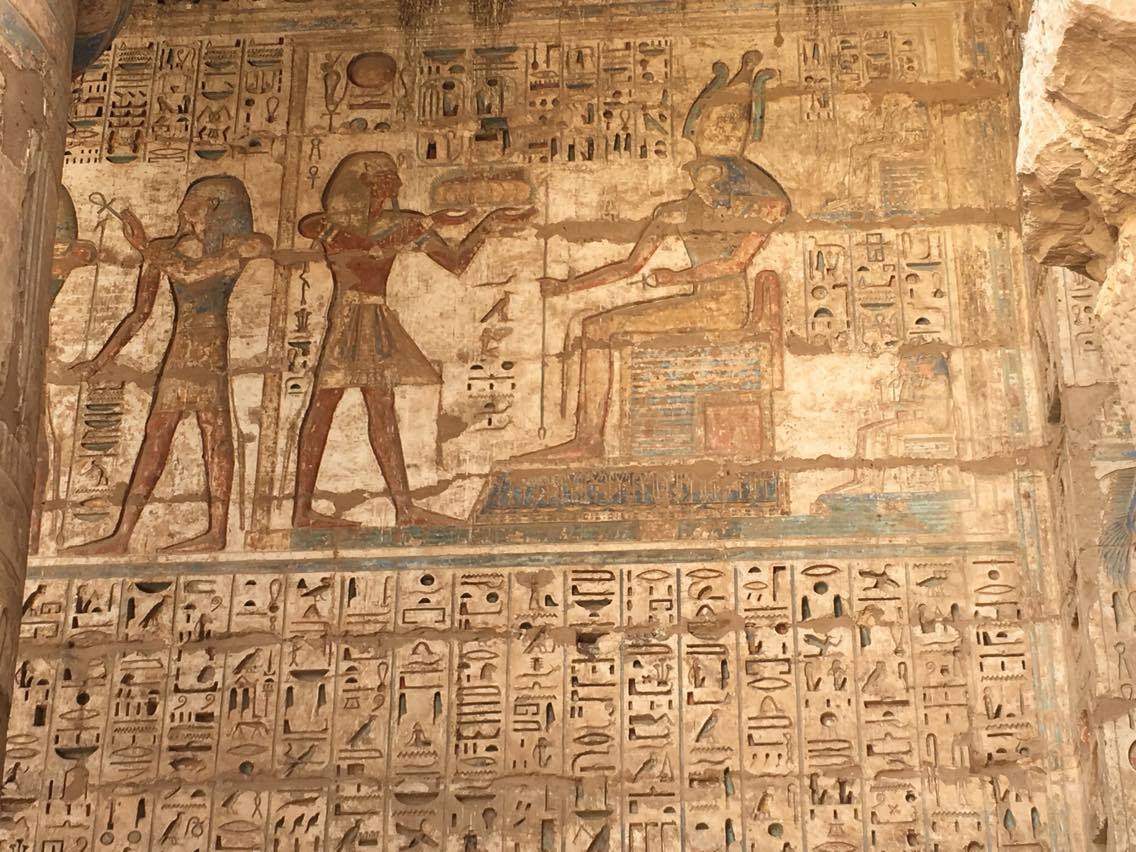 And what is that pesky 0.5 point!?
8.5.) Egypt's World Class Tourist Sites are Super Cheap…and Student Discount Can Make Things Even Cheaper
Are you a student? Do you hold an International Student Identity Card? Then your trip is about to get even cheaper! Most of the sights have 30%-50% off for you lucky folks. Don't have an ISIC card? Never fear, there is a roaring trade in creating them in Luxor. Just tell your hostel owner that you'd like one, and they can take you to an office to get one (shhhhhh!)
Why We Loved backpacking in Egypt
Egypt is a wonderful holiday destination. From cheap scuba diving in the Red Sea (some of the best dives sites in the world) to a huge collection of fascinating monuments, there is SO much to see and do. The weather is warm year round so it is a lovely reliably sunny holiday with a guaranteed dollop of culture. Budget airlines fly to Hurghada, and EgyptAir has bargain flights around the country.
Read about all our travels in Egypt
Final Thoughts on Backpacking in Egypt
We spent 9 days backpacking in Egypt in came home with money in our pockets; a first. Put backpacking Egypt on your bucket list and please feel free to share this with your friends. You never know, you may inspire them to go and spend just some of their hard-earned pennies on a real Egyptian adventure.
Rosie xx