Taking high tea at the Victoria Falls Hotel is a tradition as old as tourism in Victoria Falls itself. Pull up a chair on Stanley's Terrace and let the afternoon sun, gentle clink of china and distant roar of the waterfall take you back in time. Read on for a full review of afternoon tea at the Victoria Falls Hotel.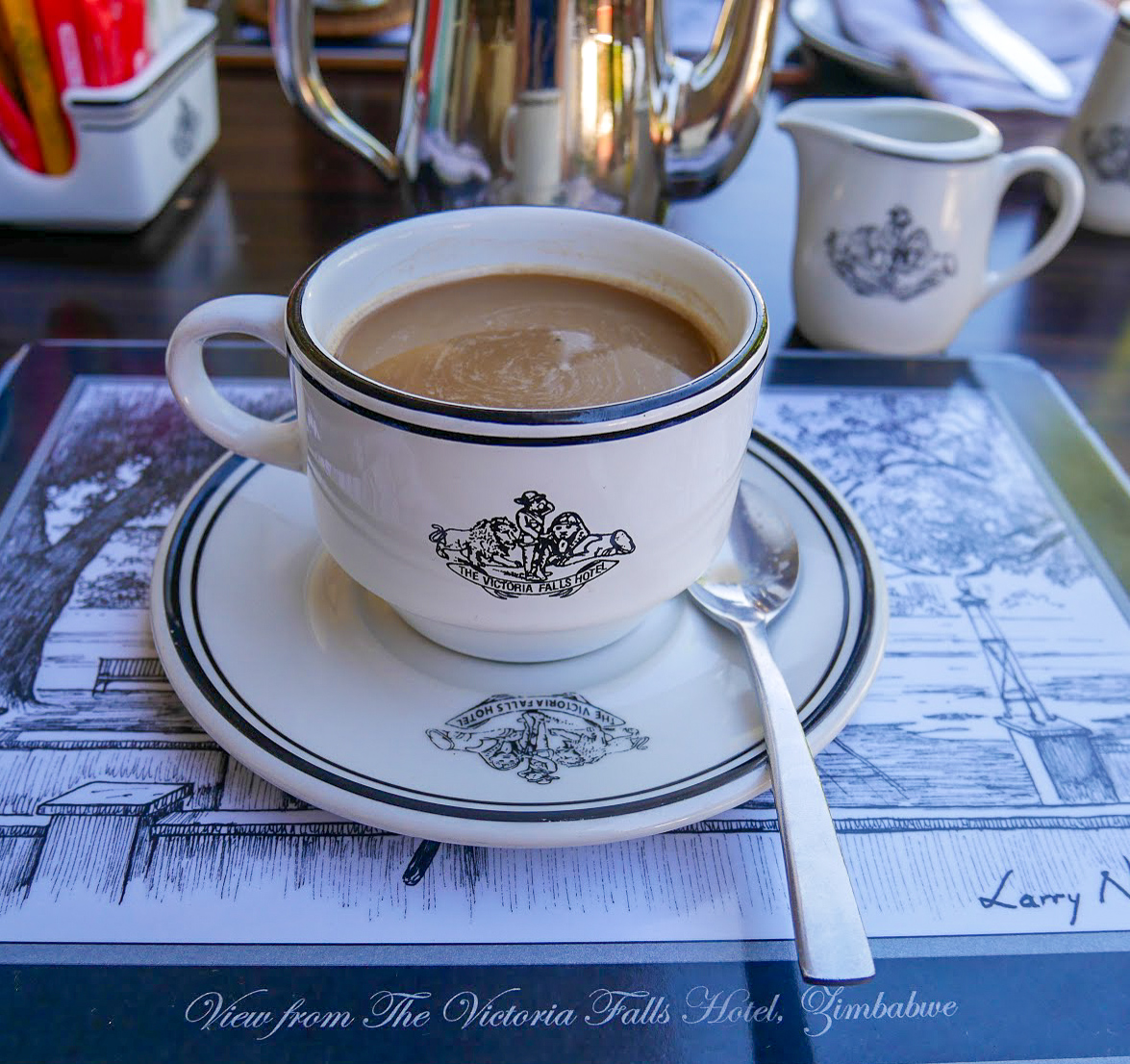 If you want to see our compete review of the Victoria Falls Hotel, check out our blog post: A Bed in Victoria Falls – Victoria Falls Hotel Review.
Stanley Terrace
At the top of a vast sloping lawn is the Victoria Falls Hotel, in the town of Victoria Fall, Zimbabwe. The hotel was built in 1904 and is a perfect example of Edwardian elegance. The hotel's Stanley Terrace overlooks the perfectly maintained gardens.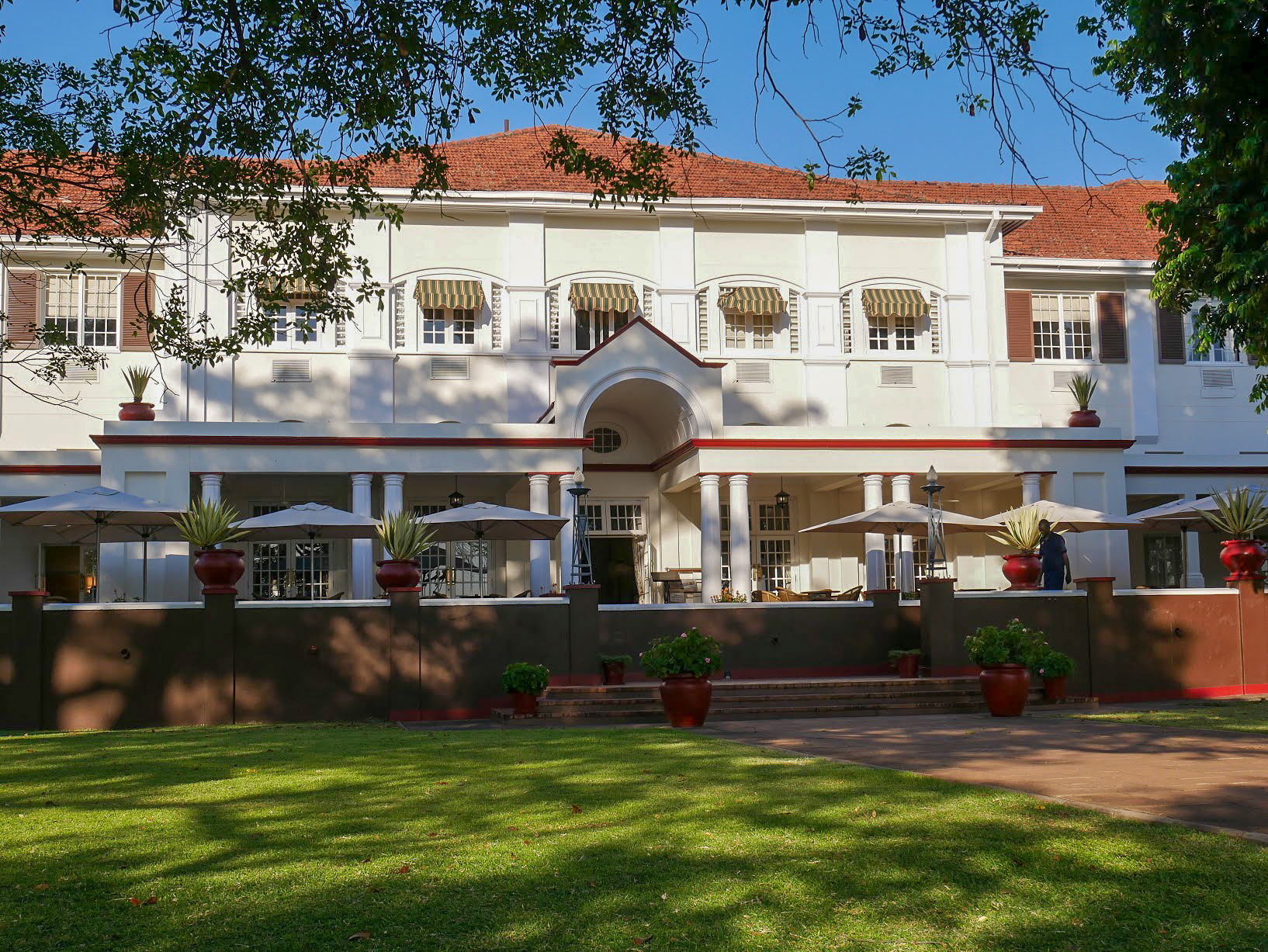 Look past the neatly cut grass and you will see the hillside descend dramatically away towards the Zambezi river thundering below. From the Stanley Terrace, you can see the Victoria Falls Bridge and if the water is high, the spray from the Victoria Falls.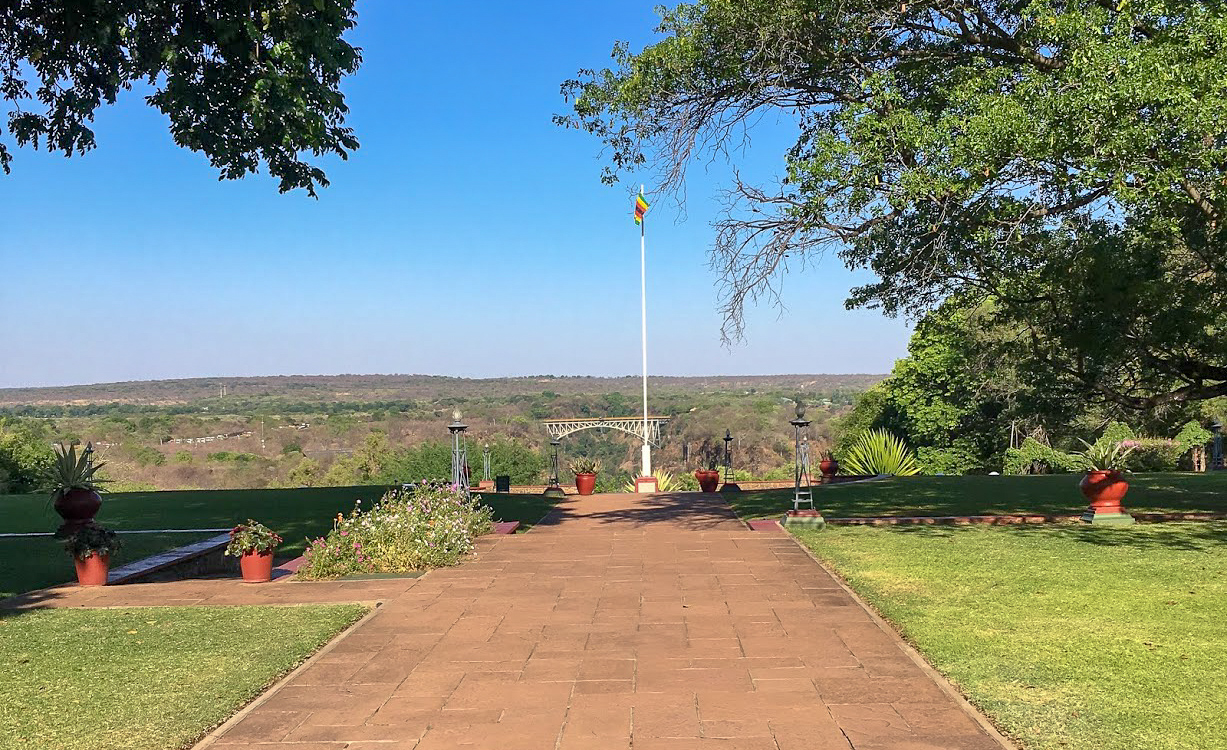 We love afternoon tea! Check out all the other amazing afternoon teas we've had
The Drinks
Taking high tea at the Victoria Falls Hotel starts, obviously, with a spot of tea. The selection of teas on offer is great with everything from punchy black Assam to delicate green varieties. There was also coffee on offer, with I opted for. I felt like a nice caffeine boost.
Mr Fluskey is not into hot drinks so we ordered a soft drink for him instead. This is not included so watch out for the extra couple of dollars you'll have to pay. If, like Mr Fluskey, you don't like hot drinks, or are celebrating something special, you can upgrade your afternoon to include champagne or a cocktail. In the heat of the day, and knowing we were eating a large dinner, I decided to stick with the non-alcoholic option. (If we hadn't got evening plans, I would have 100% gone for the bubbles!)
The Three Tiers of High Tea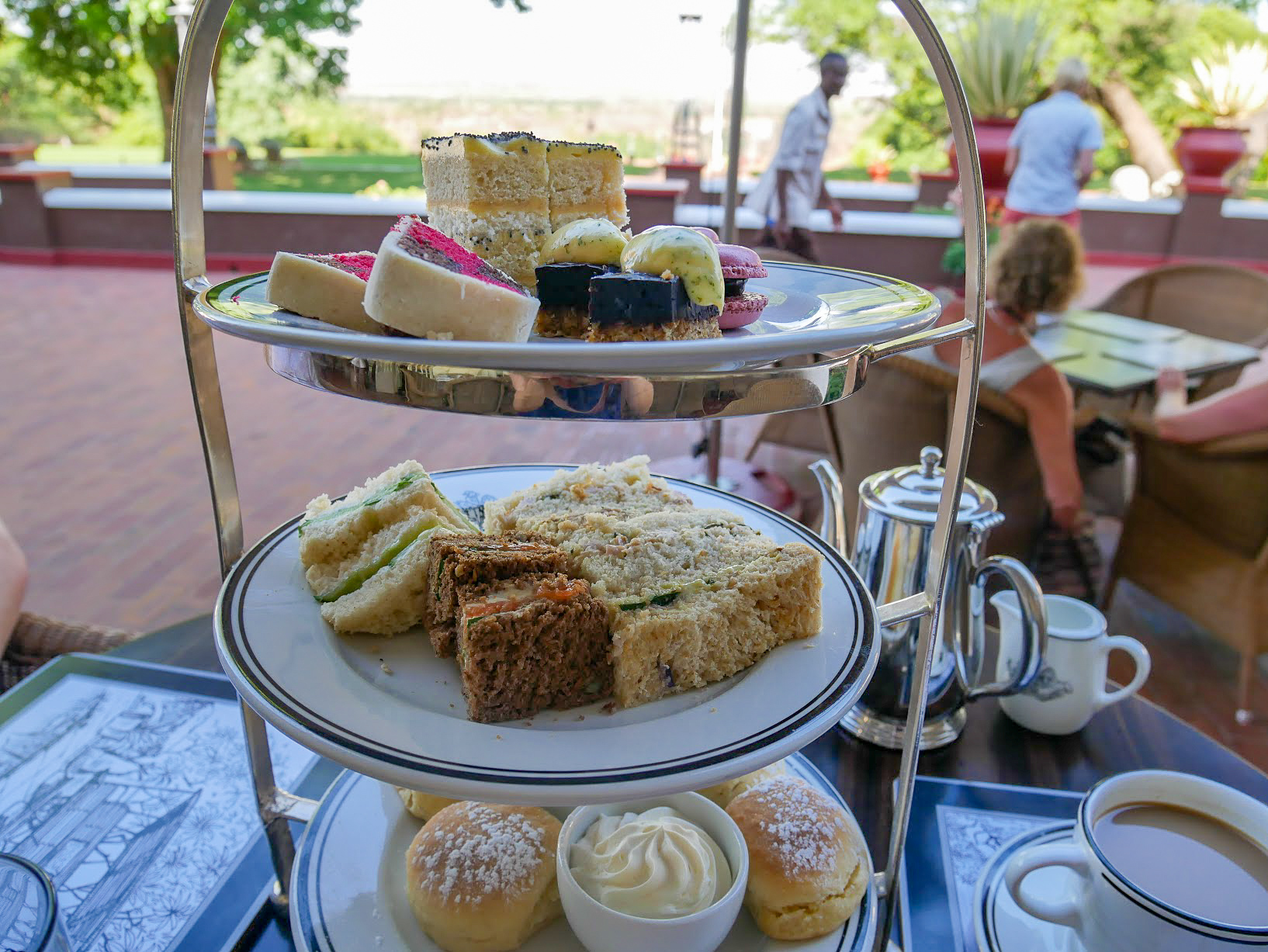 The Sandwiches
Don't panic Ladies and Gents, cucumber sandwiches ARE on the menu!
For those of you who are confused by the traditional cucumber sandwich, come and try it here. A perfectly cut, miraculously cooling triangle of delight, I could have swapped all my other options for these. I never knew a sandwich could be refreshing but in 37 degree heat, it seems to be the case!
Our other finger sandwich fillings were:
Chicken mayonnaise on a nice caraway seed bread.
Smoked salmon on a dark (rye?) bread.
Cheese & pickle.
I traded my cheese with Mr Fluskey's chicken mayonnaise. I really can't stand onions so the pickle was a turn off for me.
A couple of edges were starting to dry a little but I don't know how you could combat this is in such a warm climate. Thankfully, there was no egg in sight. I don't think it would have survived in the heat.
I wonder if eating teeny-tiny sandwiches is so nice because it reminds us of being children? No clumsy half sandwiches out of a boring grown up cardboard packet here!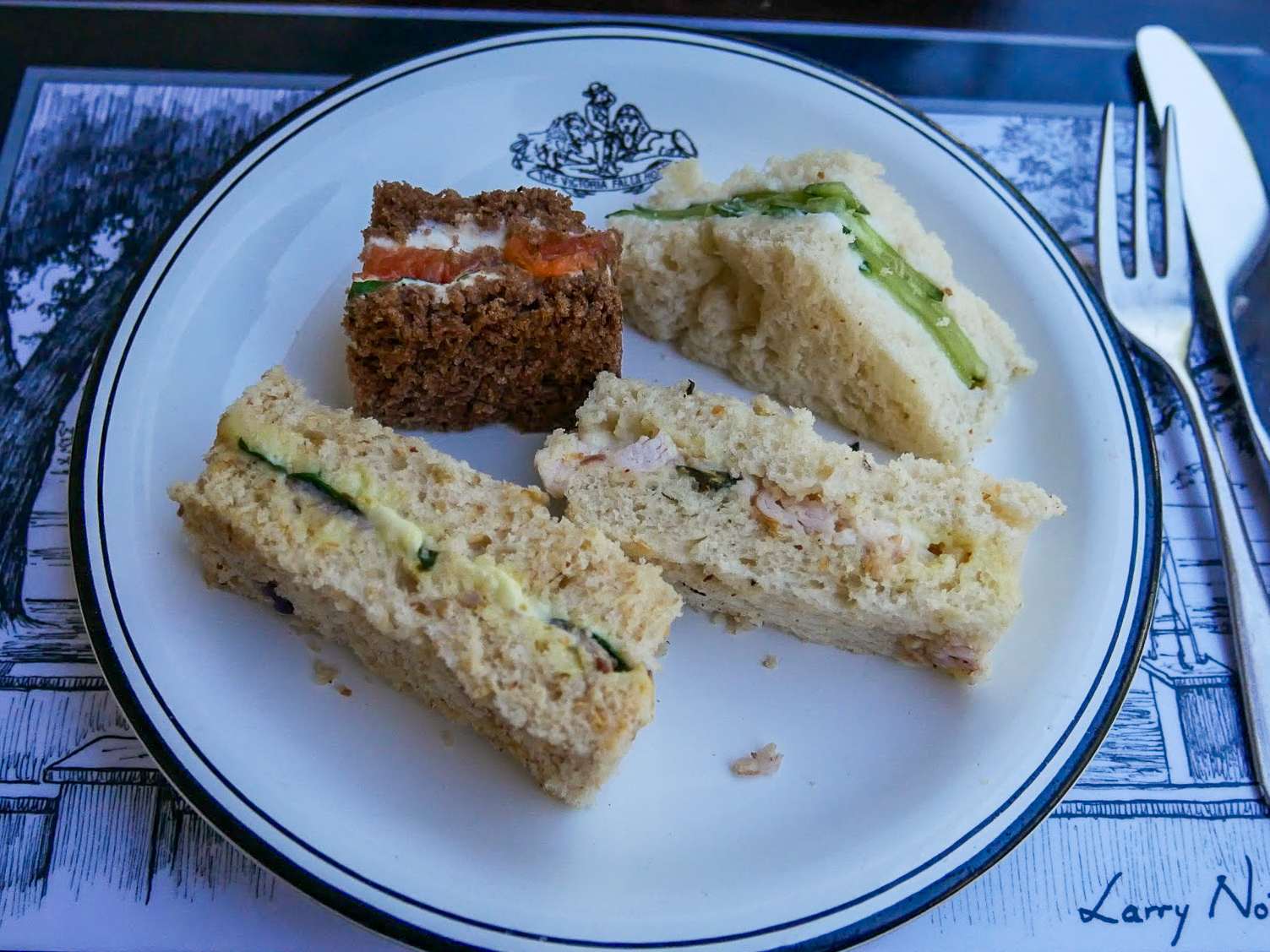 Check out all our travels in Africa
The Scones
I have always been slightly befuddled by the scones on an afternoon tea. If I am taking a cream tea that doesn't give me four other cakes, then I can munch on two. However, in the three tier situation. I can only have one. Luckily, it was a VERY good scone! I mean, just look at them:
…thinking about it, you could be less greedy and share this tower of goodies with up to four people, in which case, the scone quantity would be perfect.
I do have one gripe with this layer. The cream was whipped, not clotted. I may be a purist but I like the sticky, gloopy consistency of clotted cream with the crumbly scone. It also think it holds the jam more easily.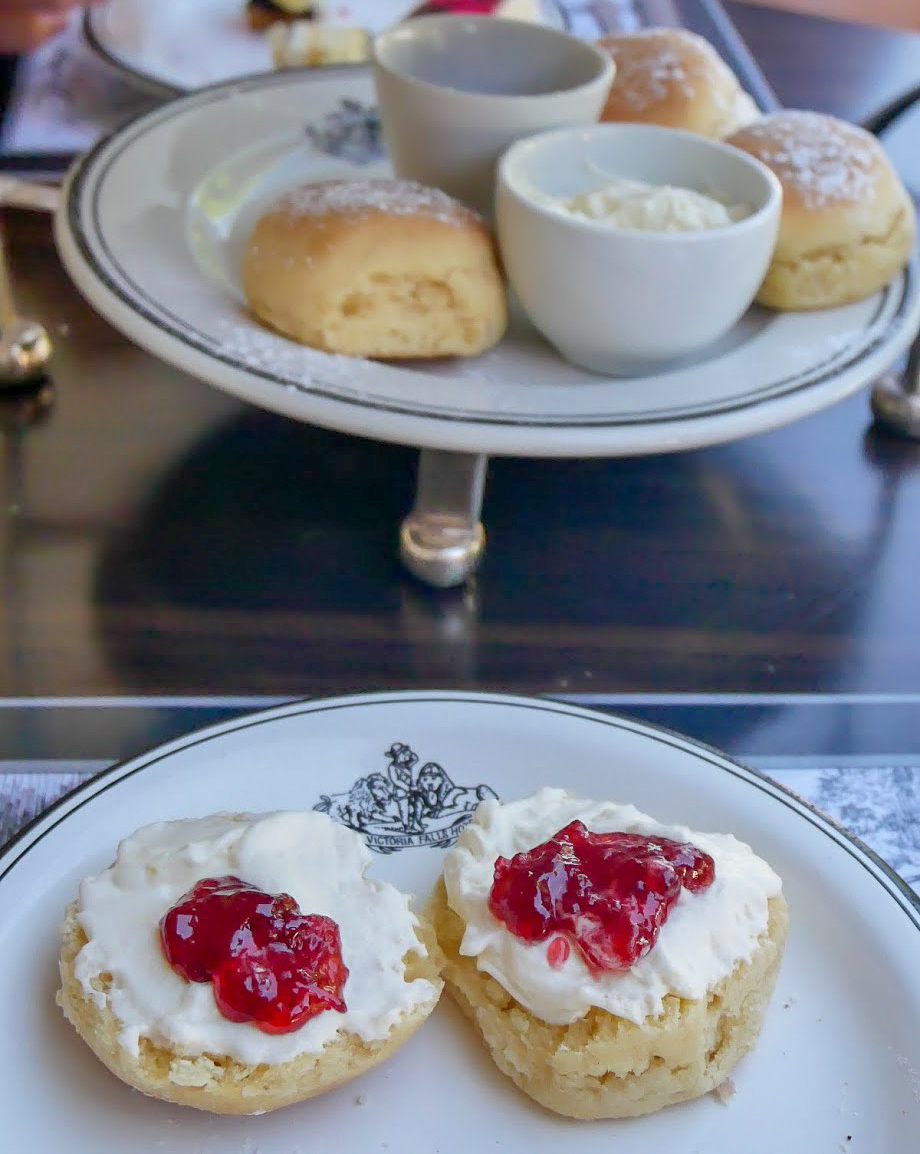 I wonder if the Cornish method of adding the jam first would be better with whipped cream?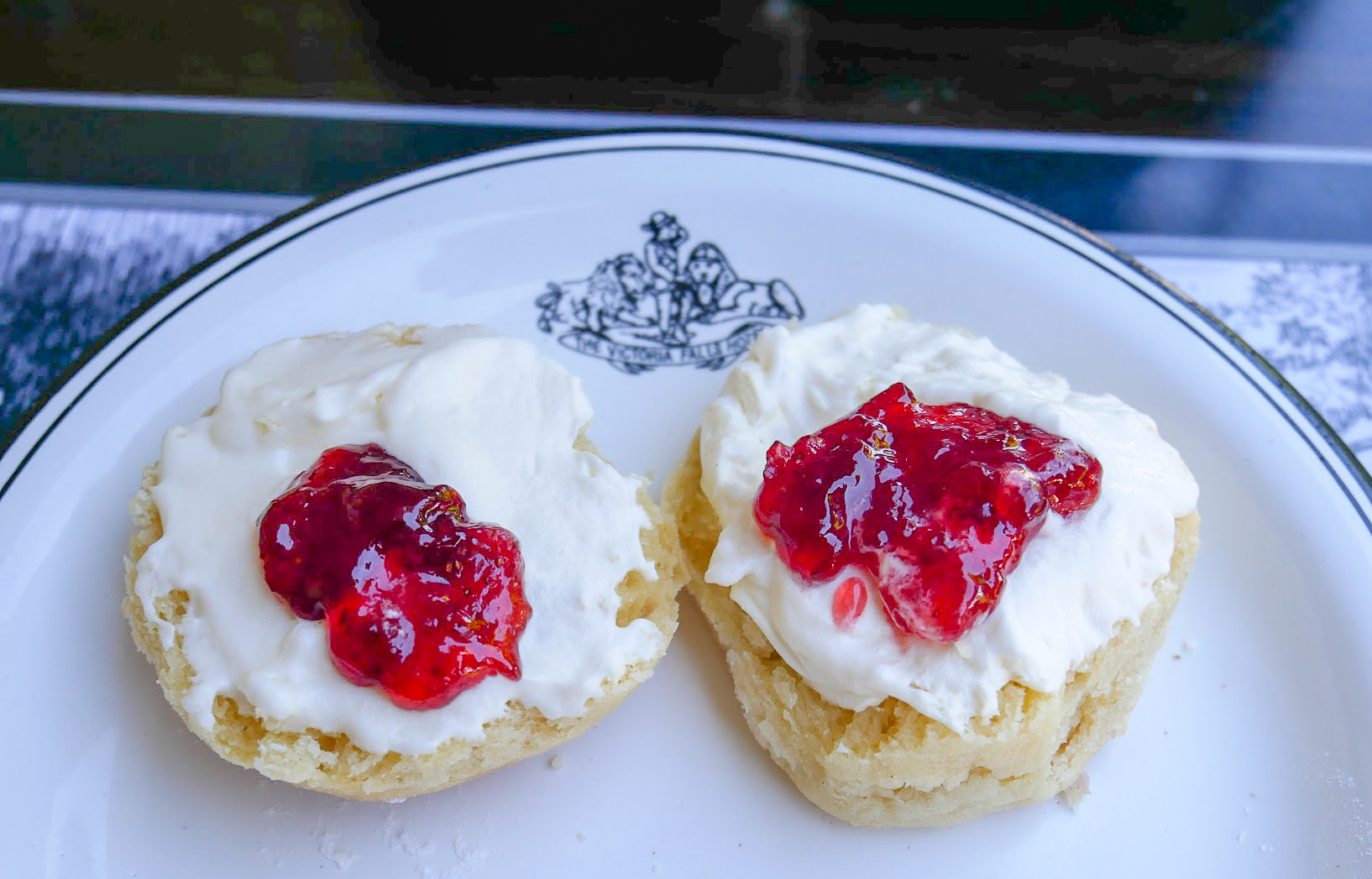 The Cakes
Designed to surprise and delight, these miniature sweet treats really hit the spot. We had:
A raspberry macaron.
A very visually pleasing, and moist slice of battenberg cake.
A slice of delicious, traditional Victoria sponge.
A chocolate and passion fruit something-or-other. I'm not 100% what kind of cake this was but it was my favourite thing on the whole afternoon tea. On a base layer of crumb, a rich dark chocolate mousse cake sat with the passion fruit cream on the top….I am such a sucker for passion fruit!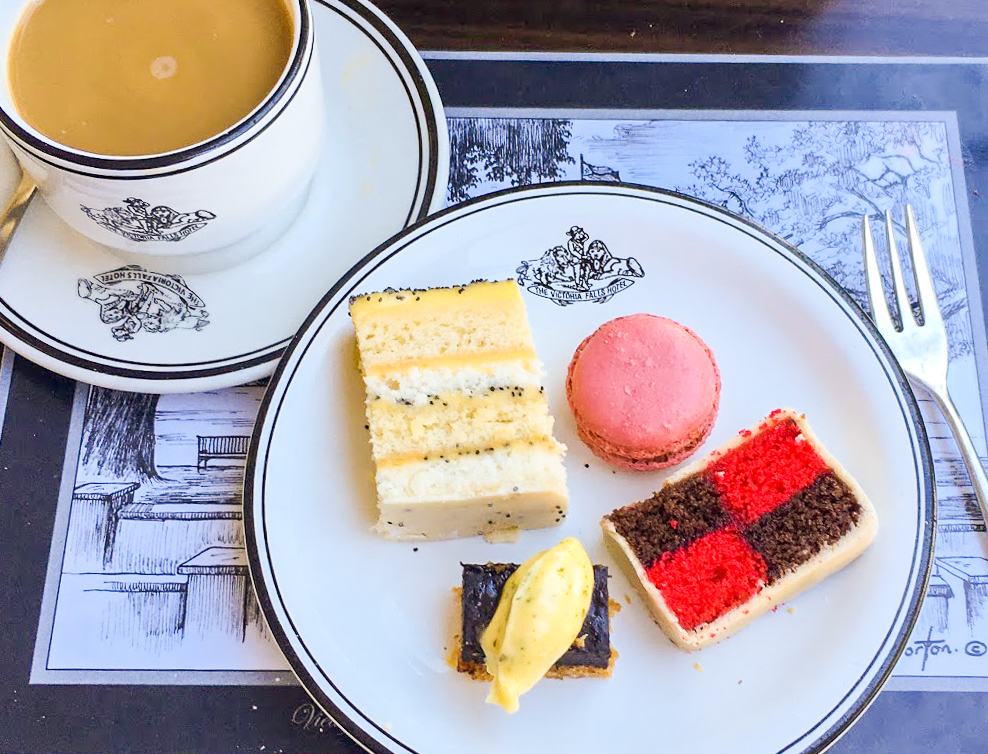 Information
Tea is served every day from 15:00 – 18:00.
The best thing about taking high tea at the Victoria Falls Hotel is the price. At just $15 a person, you will struggle to find an afternoon tea of such high calibre anywhere else in the world for such wonderful value.
You don't have to be a guest to indulge in taking high tea at the Victoria Falls Hotel so anyone can come on in to feel a little fancy.
Booking ahead is a good idea but they always have space for walk-ins.
There is no dress code so you don't have to fret about packing your finest…but you can dress up if you want to.
If you do want to stay at the hotel, check our full Victoria Falls Hotel review.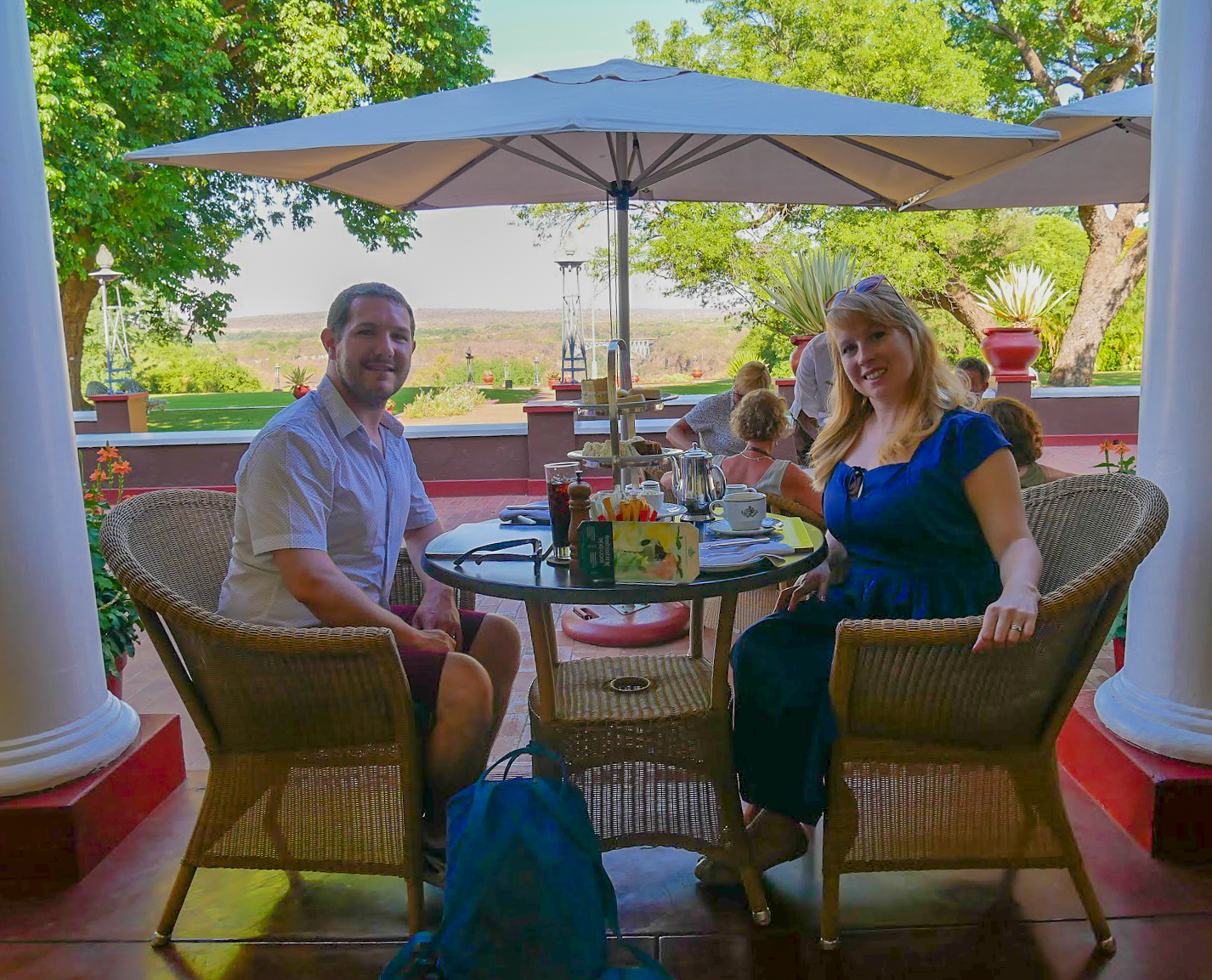 For a higher octane Victoria Falls experience, check our our blog review about taking a dip in the Devil's Pool.
Final Thoughts
Maybe I am terribly British in my love of high tea, but I believe it is a wonderful way to spend a relaxed and elegant afternoon. Oh, I almost forgot to mention the live piano tinkling away in the background!
Taking high tea at the Victoria Falls Hotel is a wonderful way to experience a touch of tradition. Plus, you can take the chance to explore the fascinating curios and memories that line the walls of the hotel; an afternoon very well spent! High tea doesn't cost an arm and a leg so we think it makes a great addition to any Victoria Falls itinerary.
This post was in collaboration with The Victoria Falls Hotel but all opinions are entirely my own.
Rosie xx