"I want to be at the station by 2:30". Mr Fluskey looked at me with exasperation, "The Trans-Siberian train doesn't go until 3:55"! Well, it is better to be safe than sorry though right!? "If we miss this train, there isn't another one for a week", I quipped. Thus, our Tran-Siberian epic fail began.
I was going to name this post How Our Trans-Siberian Trip Went Off the Rails, but I thought it may alarm people unnecessarily.
The Train
Mr Fluskey and I had a booking on the K19 from Harbin to Irkutsk on 27th January 2019. This was the third leg of our Trans-Manchurian adventure, an expensive 2.5 day ride from China to Russia. I was paranoid that we would miss the train, and so we rose bright and early, ready to see the snow festival and make it back in plenty of time.
Read all about the more sucessful parts of our Trans-Siberian adventure
The Morning
No matter where I looked on the internet, I couldn't be sure whether or not Harbin station had a left luggage or locker room. I searched as well as could (being stuck behind the great Chinese firewall). I asked the reception at our hostel and they seemed to think there was…or at least the sweet chap behind the counter seemed more enthusiastic than when our poorly translated conversation began.
We hopped on a bus, slightly ahead of schedule and arrived at the station, full of beans and ready for the day without our bags.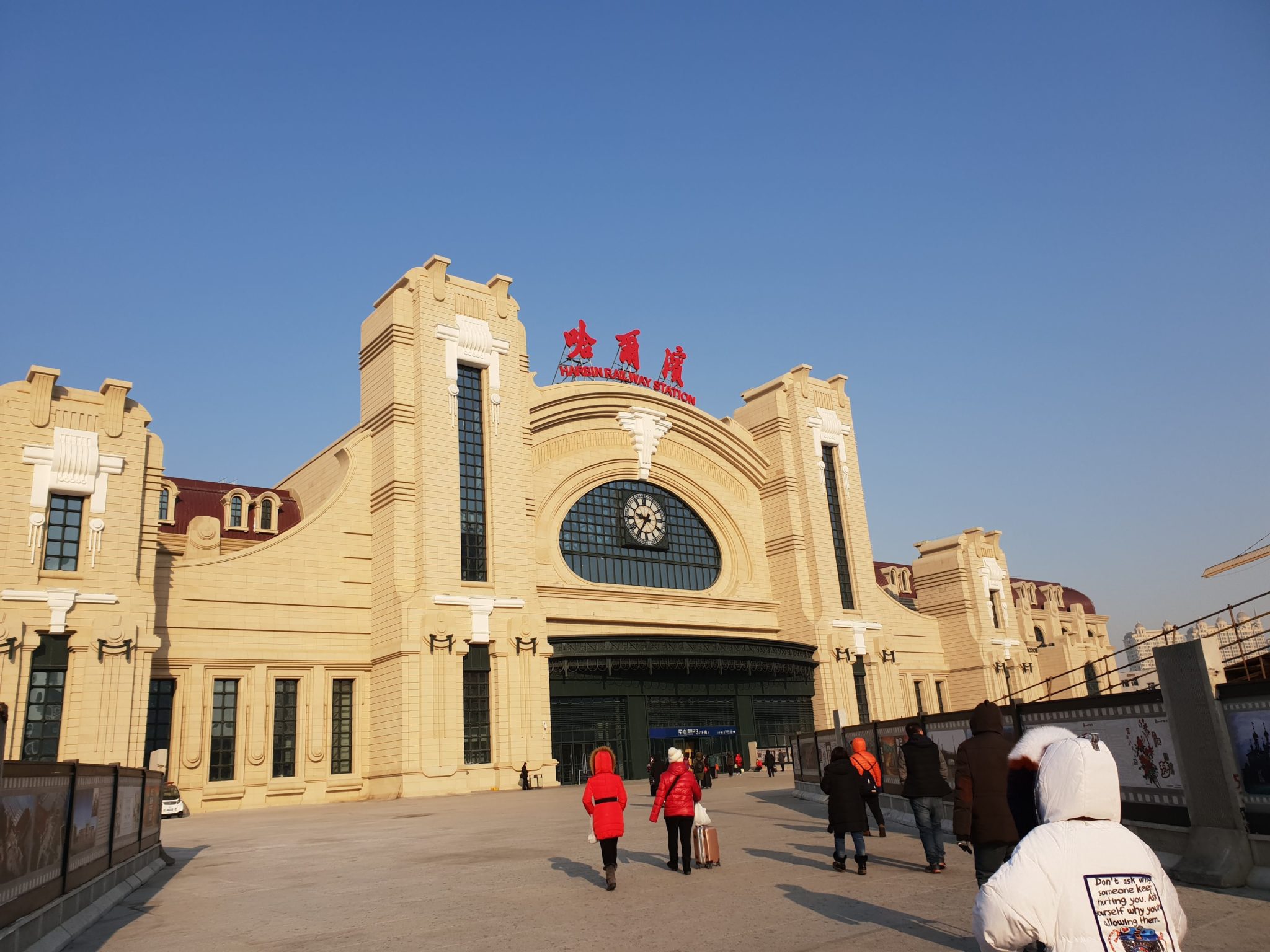 There were no lockers, or luggage room.
The Re-Think
We spent the next hour engaged in various pursuits:
Trying and failing to convince a nearby hotel to store our bags.
Buying Mr Fluskey some more breakfast to prevent a h-angry meltdown.
Trying to find a cash machine that would accept our cards.
It was a massive waste of time and we still had our bags. Our plan of dropping off our bags nice and early, getting a super cheap bus to the snow festival, and enjoying some time there before resuming our trip on the Trans-Siberian was rapidly dissipating.
The Taxi
So our only option, now that time was running away with us, was to get a taxi, keep it for the time we were in the snow festival and take it back to the station. We both knew that this wasn't going to be the value option, but stuck with our backpacks, it was the only workable one.
Taxis in Harbin can be a bit of a nightmare to get. They are usually occupied, the drivers don't use their green flags properly, and of course, hailing a taxi down is always risky. Taxis are so oversubscribed in Harbin, that you will most often be sharing with someone else. It took us a little while to get a taxi to take us. We had asked the hotel (that wouldn't store our bags) to translate for us.
Please take us to the Sun Island Snow Expo, wait for us the there and then bring us back to the station.
A few drivers took a quick look and drove off, but eventually one guy agreed. He already had two ladies in the car and so we drove in the wrong direction for a while.
About five minutes into the journey, he asked for clarification. We had to use the translate app on my phone and communicate through the other passengers. He wasn't happy but by this time we were much further away than when we had started so we had to convince him!
The Rip-Off
He drove us to a travel agent. Alarm bells were ringing at this point. Bad memories of being stuck in travel agencies in Delhi surfaced.
They sold us tickets to the festival for the same price as on the door (I can only imagine they were getting them cheaper) and told us the driver would only do it for ¥200 and would only wait for one hour. This was about double what it should cost but we had committed by then and were running short of time before we needed to get the Trans-Siberian. Screw it, let's do it!
The woman from the agency came with us to the festival entrance and ran off to pick up the tickets. She obviously didn't want us to see the process but considering we paid the same amount as an on the door ticket, and we aren't that naive, I don't know why she bothered.
The Snow Expo
The festival was amazing. I wish we'd had more time to linger over each sculpture or to try out the slides etc, but with the clock ticking, it was quick march around the huge site.
The Triumphant Return
With the drivers tight deadline and my desire to get back to the station in good time, we arrived back there at 14:00. That gave us an exceedingly leisurely hour and fifty-five minutes to find some lunch and then get through security and on to the Trans-Siberian train.
We took a seat near the entrance to our platform and waited. I couldn't keep my eyes open and although I didn't quite nap, my brain wasn't functioning fully.
And then it happened…
(A Little Background
Prior to this journey, we had taken two trains as part of our Trans-Siberian journey in China. We had boarded both of these as part of a huge queue/scrum. Ticket guards came out, the train went green on the departures board, the guards switched the ticket barriers on, started making loud speaker announcements and the mass swarmed forward to enter the platform.
You can't see the platforms from the waiting area, just a corridor, escalator or wall in front of you so it is always a slight surprise once you reach the platform to see that there is actually a train there.
And so we return to the epic fail…)
The Boarding
As our Trans-Siberian train's departure time approached we listened out for the announcement to tell us we could pass through the gates. We also watched to see if anyone was going through, which they weren't. The minutes ticked by and we walked up the the gates, confused as to why nobody was there.
Slowly, a crowd gathered behind us. As this Trans-Siberian train was a slow sleeper from Beijing, we thought it must be late (how British is that!?). The announcement finally came over the loud speaker but still nobody moved. There were no guards either. We were a little puzzled but queued up politely. We needed a guard to let us through as we had a Russian-style paper ticket, and not the small scannable Chinese kind.
At the time our Trans-Siberian train was due to leave, a guard finally came up to the barriers. He scanned the crowd and then locked eyes on us with shock.
Our stomachs dropped.
He spoke to a lady next us who knew some English and she checked our ticket.
"It's gone, your train is gone".
We stared dumbfounded at the guard. How…HOW had we just stood there and missed our Trans-Siberian train!?
We have NEVER done anything like that! I mean, sure, we have missed trains but we ran like hell to try not to! This was a new level of stupidity.
The Fall-Out
Stunned, shocked and stupendously embarrassed we were taken to an information desk for some assistance. Two guards hopped onto the train system and started trying to work out how we could catch our train up. We had no data nor WiFi so we couldn't do any research of our own. It was incredibly frustrating.
It took Mr Fluskey a while to recover. He was seriously frustrated. "What ifs" and "how coulds" weren't any use though, so I told him that we just needed to be as nice and hopeless looking as possible so someone would take pity on us. It kind of worked.
The Nicest Man in China
One of the guards at Harbin Station, tried his absolute hardest to solve our dilemma. He searched trains, rang offices elsewhere and seemingly bent over backwards to try and sort us out.
There were two ideas:
Idea One
Get a sleeper train to the China / Russia border and try to rush through to the Russian border station. Catch the K19 from there.
The issue with idea 1 was the time it would take to cross the border. It is an 18 mile crossing and we had read that going from China to Russia takes a very long time (up to five hours) as the customs guards spend a really long time searching for contraband. We would need all our wits about us and that was never going to happen as there were only hard seats left on the sleeper train. We didn't stand a chance.
Idea Two
Get a fast train to somewhere further North in Manchuria and then take a taxi to the border station on the Chinese side. Catch the K19 from there.
The issue with idea 2 was the cost and uncertainty of getting a taxi. The trip was 300 miles, that's a 600 miles round trip for the driver and that isn't cheap anywhere in the world! Even if it was, convincing someone to drive through the night wasn't going to be an easy feat. We could end up stuck somewhere random without any options.
After considering the options sitting with this lovely guy, we eventually decided that we needed to fly. It was the only way. He got us a cab back to Harbin Hash (the hostel we had checked out of that morning) and left us with his number. He was convinced that we were total idiots and even said he was afraid that wouldn't be OK. We tried to tell him that we are normally quite good at travel but he was seriously unconvinced. I can see why.
Idea Three
Fly.
The issue with idea 3 was our complete lack of internet. Walking away from the train station and super friendly guard meant giving up our "phone a friend" lifeline. We hadn't had a chance to see if there was a flight, how much it would be etc. The other options were so risky though that we exchanged all our cards and began again with a new hand.
Thankfully it paid off.
The Flight
Back at our hostel, we got on the WiFi and found a flight the next morning from Harbin to Irkutsk. I had been very worried that the cost was going to be astronomical but it wasn't horrific, just mildly painful. We said goodbye to luxuries further along the trip and booked it with IrAero
We were actually planning to disembark the train in Ulan-Ude, one stop before Irkutsk so we would miss that one out. However, I realised that if we went from the airport to the station, we could get a night train back east to Ulan-Ude, arriving a few hours before our original itinerary. It was only another £15 each. So that's what we did, and we wrote about it; Ulan-Ude to Irkutsk by train along Lake Baikal
Final Thoughts
This has been a little painful to write. Nobody likes to admit that they have been an idiot, especially when they have reputation to uphold. However, as my buddy Kendra said "Your experiences become our entertainment and lessons". So here it is:
Your entertainment – feel free to laugh at what dingbats we were.
Your lesson? – Don't be a dingbat too. Ask for help if something seems weird. Don't assume you know what's going on just because you've done it twice. Finally, if you are travelling with others, question each other and check each other's decisions to stay alert and on top of things. Don't just let your plane/train/mind go off without you!
Overall the whole trip was amazing. You can read our Trans-Siberian Reflections; The Good, The Bad and The Yummy
Rosie xx