Belize is a small, English-speaking nation south of Mexico, east of Guatemala and north of Nicaragua. It sits n the Caribbean coast and has a huge barrier reef. Natural wonders, delicious dinners and the warmth of the people all combine to make this small country a huge draw for tourists. See the best of this breathtaking country with your perfect 7 day Belize Itinerary.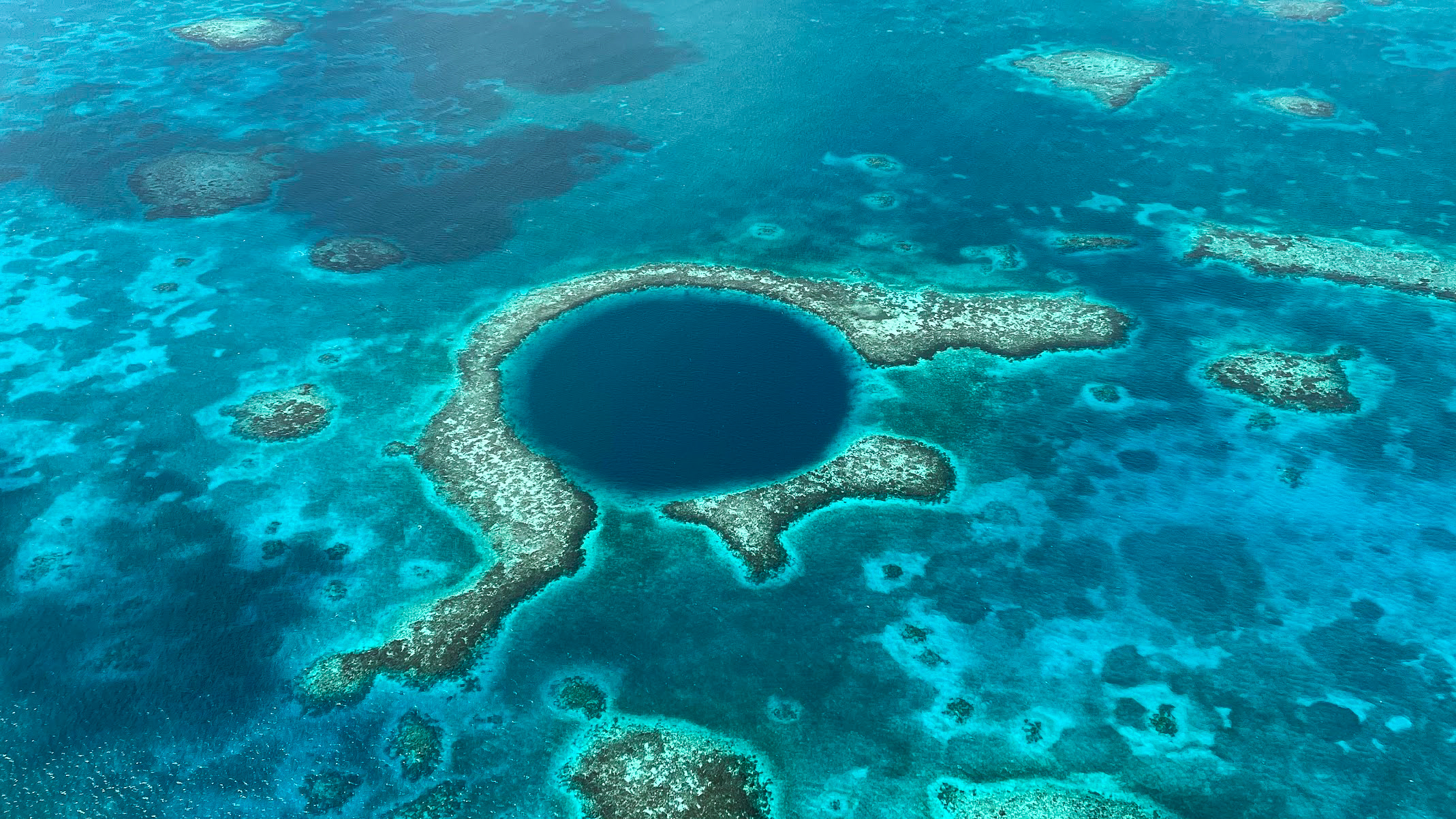 This post may contain affiliate links which help support the blog at no cost to you.
Day One – Belize City Plus
Most international flights to Belize arrive and depart at Belize City Airport.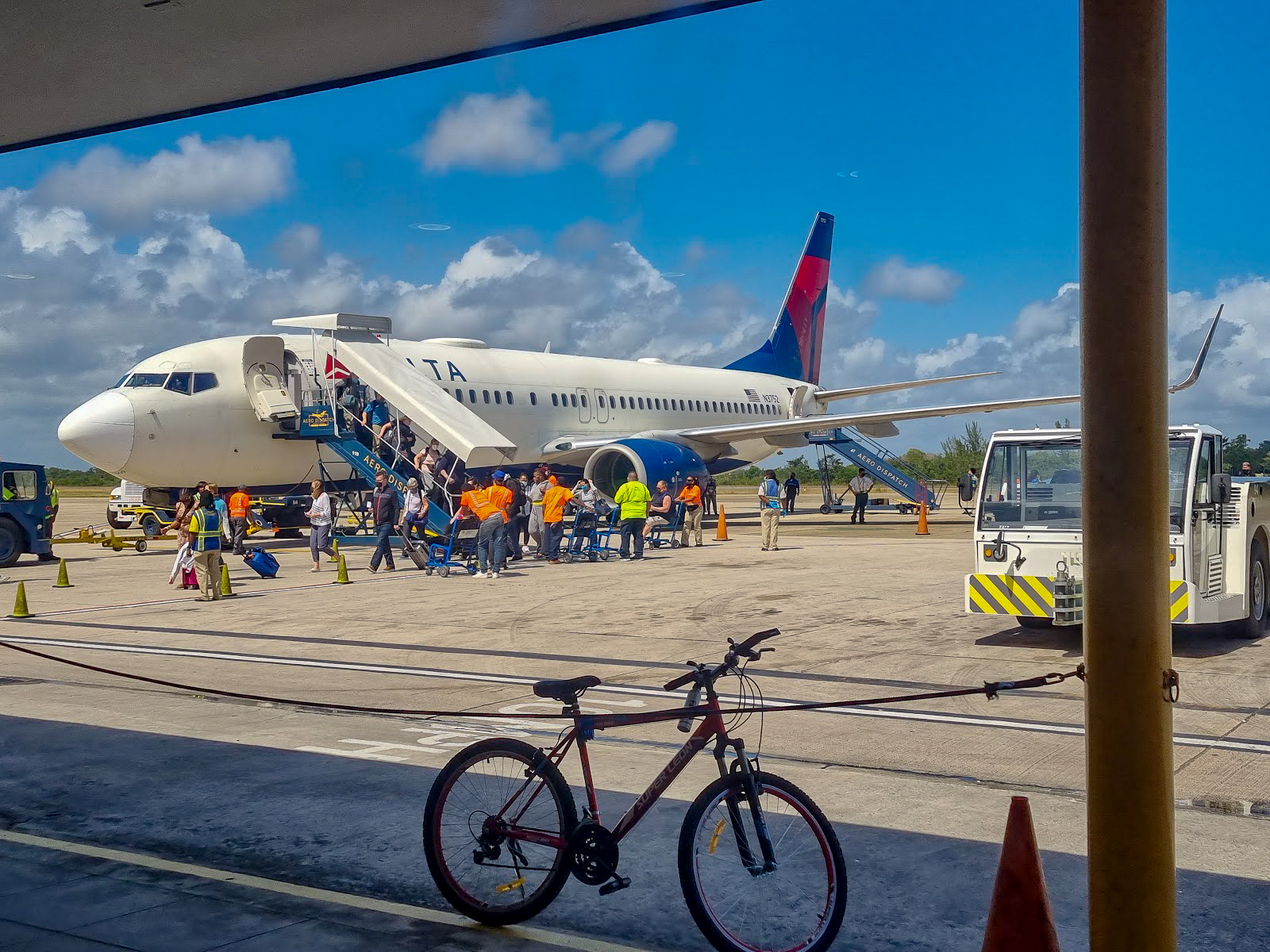 Afternoon – Tour Time
After arriving and droppng your bag, take a tour. There are some very cool attractions near Belize City and plenty of tour operators that provide excellent guided experiences.
Altun Ha
Altun Ha is a complex of Mayan ruins within easy reach of Belize City. There are four large temples, a couple of which you are allowed to climb. The Maya are were the inhabitants of this area possibly back as far as 2000 BCE. They built many magnificent temple complexes that have been rediscovered and some renovated. In fact, Altun Ha was only uncovered in the 1960s which feels so recent! Taking a guided tour here (like this afternoon tour from Viator) will teach you the basics of the Mayan temple culture. This means you can explore other sites independently and spot similar features.
Go On an Adventure
About an hour's drive out of Belize City is a tourist complex of sorts. Here you can try ziplining, cave tubing and more. Most organised excursions are aimed at the druse ship passengers that arrive almost dilly in Belize City. To visit, you could take the afternoon tour we have found that also includes a stop at the black howler monkey (baboon) sanctuary. Alternatively, you could find a pricy private tour. The zipline course is great (lots of fun and nice views) and the cave tubing is fun with not a great deal of physical effort involved.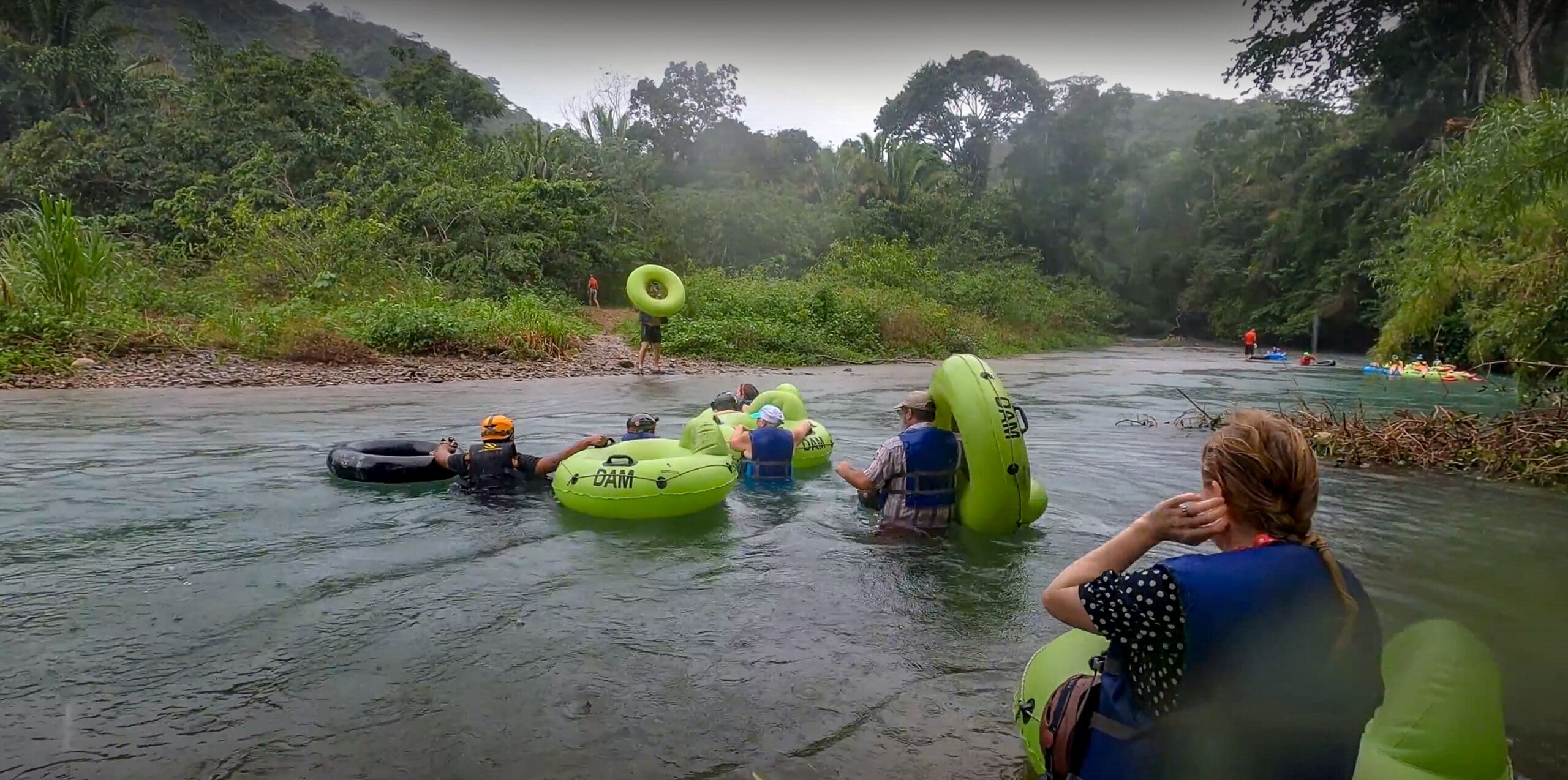 Around Belize City
Exploring the city independently is possible but we would definitely recommend getting a car or taxi if you plan to do so as it does have a bit of a dangerous reputation in some areas. Some sights worth checking out:
Belize Zoo

– This is an excellent example of what a zoo should be. The animals are kept in huge enclosures with plenty of room to move around. Belize Zoo has mostly native animals and all are rescues.

Museum of Belize

– This small, eclectic little museum is housed inside an old British prison. It details the history of Belize from its Mayan roots, through British colonialism and into its independence. There aren't many museums in Belize so if this is your thing, take your chance! (Open Tues – Sat)

Traveller's Liquors Heritage Center Museum

– What better way to start a vacation than sipping on One Barrel Rum? Well, taking a short tour of this spot will teach you about the distilling, ageing and bottling of rum…plus, there are tastings. (Open Mon – Fri).
Day Two – Belize City to San Ignacio
San Ignacio
San Ignacio's main tourist street is pedestrianised and it's a nice five-minute stroll along between restaurants, bars and shops. You'll find plenty of hotels and hostels around from the seriously budget to the more upmarket. However, if you want to do something special, then there are lots of jungle lodges dotted around the edge of town Where you can be fully immersed in nature…but with some luxury perks. All of these hotels can, of course, organise your trips but by doing it independently, you will get exactly what you're after at the budget you can afford.
Morning – Travel to San Ignacio
How to Travel from Belize City to San Ignacio
Bus – Begin the day by travelling down to Belize City bus station. From here, you can buy a ticket for around £5 and hop on the next bus to San Ignacio. These go roughly once an hour and all seating is first come, first served. The seats are quite tight (much better if you know your neighbour) are reasonably comfortable. Bear in mind, there is no air conditioning and it will make lots of stops along the way.
Transfer – Alternatively, you can book a transfer. Of course this is much, much more expensive but it will be door to door, put your luggage in the back and allow you to completely relax. You can book spaces in a shared minivan from $30-$50 or a whole car for around $259.
Self-Drive – You could hire a car for a few days but other than this transfer and one other point, you won't really be using it.
Plane – Finally, you could get a flight in a little 12 seater plane. For internal flights, you should look up Tropic Air or Maya Air.
Lunch –
The Spot Cafe
For a light lunch, either chomp snacks on the bus, or when you arrive, make your way to The Spot Café and Lounge on Burns Avenue. Alongside excellent coffees (hot and iced) you can get sandwiches tamales, cakes, smoothie bowls and salads. Oh, and a cocktail if its that kind of holiday.
Afternoon – A Local Mayan Moment
A short but steep walk out of the town centre will take you to the local Mayan ruins complex, Cahal Pech. Possibly dating back yo 1200BCE, it is believed that some of the complex was built as a rather swanky hilltop residence for am important family. It's name means "Place of Ticks" (that's ticks as in the burrowing bugs). It was originally arable fields wo presumably it was riddled with them. Luckily now, the lawns are very short and well maintained.
Visiting Cahal Pech later in the day means it is pleasingly free of other people. You might not see anyone other than the iguanas.
Evening – Happy Hours and Happy Meals
Cozy Bar – As do you make your way down the hill from the ruins keep an eye out for Cosy Bar. The happy hour extends until 6pm, which makes it the perfect place for a post-Mayan ruins cocktail. The piña colada is surprisingly good and there are simpler options too.
Guava Limb – When you are ready for dinner, make your way to one of the nicest spots in town which still won't break the bank, Guava Limb. (You didn't really think I'd recommend a McDonalds did you)? Guava Limb specialises in taking international favourites and making them just a bit fancy. Add to that the pretty garden setting and decent cocktails and it is conducive to a nice, relaxed dinner. The baskets of seafood are perfectly cooked and the addition of fresh summer rolls keeps the palate interested. Save room for dessert as their cheesecakes are rather super, Reservations are recommended at this popular spot which caters to date night and group bookings alike.
Day Three – San Ignacio
(the ATM Cave)
Breakfast – Grab and Go
It is quite an early start so either grab something at your hotel/hostel or pick up something the night before to nibble on.
All Day – Go to the ATM
No, we aren't getting money out (although, if you do need one, there is one outside the bank on Burns Avenue).
It would be a travesty to travel to San Ignacio and not make a day trip to the ATM Cave. In this case, ATM stands for Actun Tunichil Muknal.
There are several caves located within driving distance of San Ignacio, but the ATM cave is extraordinary. Part adventure part history lesson and somehow slightly magical, this cave is one-of-a-kind. To visit you must join a tour as independent travel through the cave is not allowed. Your guide will take you through rocky caverns, pools that range from ankle to shoulder deep and up mini waterfalls for around one hour to reach the most important area of the cave (that they've discovered so far). There are remains of some unfortunate Mayan people and ancient pottery, as well as intriguing rock formations. Once you've had a look around, you make your way back the way you came through. This soft adventure excursion is a long day so lunch will be provided by your company, as well as transport.
Dinner – Let's Go Eat
Ko-Ox Han Nah (Let's Go Eat) serves up great value Belizean and Mexican food along with international favourites like burgers, steak and curry. The portions are large and flavourful so it is great after a day of travel and exploring. It is worth noting that there aren't many great vegetarian options but if you eat meat or seafood, you're on to a winner!
Day Four – Around San Ignacio
Breakfast – A Full Belizean
Pop's is the most popular place in town for breakfast, and for very good reason. Here you will find classic American staples like waffles and home fries alongside famous Belizean breakfast items. If you are excited to try johnny cakes, stew chicken, chaya pockets or fry jacks alongside perfectly seasoned eggs, this is the spot. Oh, and they do breakfast all day (until they close at 3 pm) so there is no pressure to have an early morning. You can take this one a little easier.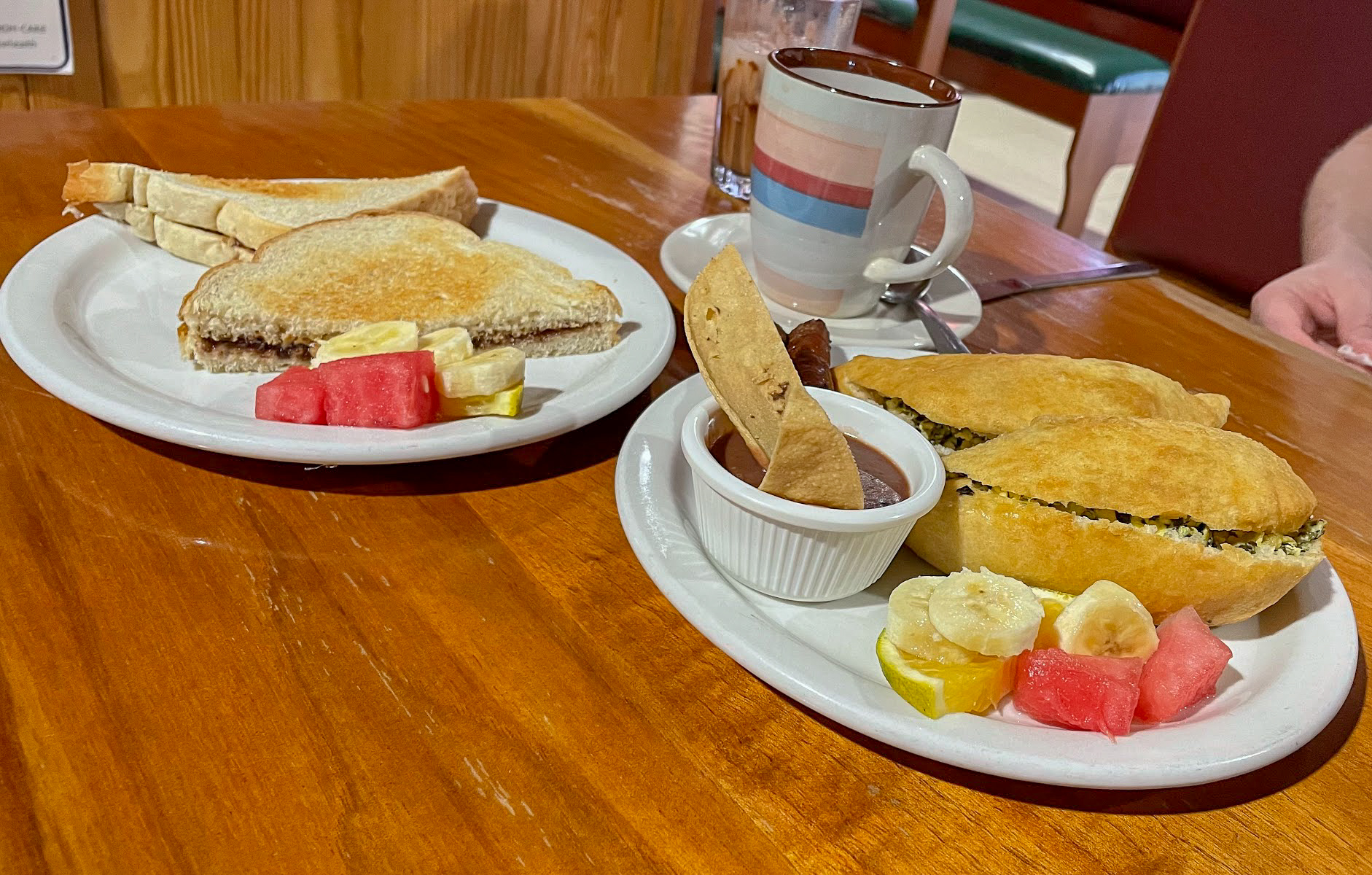 Morning – Sexy Lexie and her Lizard Lovelies
This is "Sexy Lexie" one of the oldest females at the Green Iguana Conservation Project.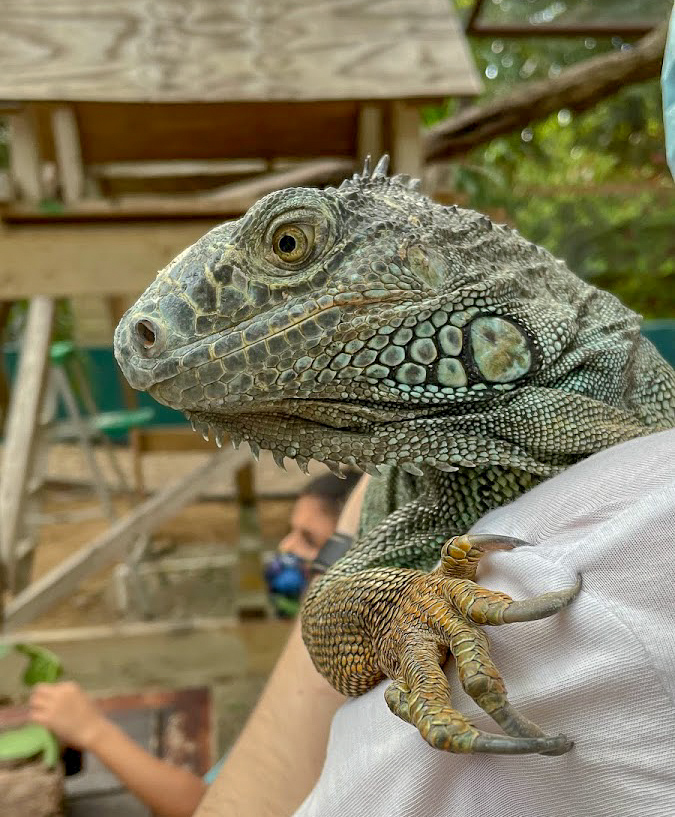 The Green Iguana Conservation Project seeks to educate tourists and the Belizean population alike about these intriguing lizards, leading to reduced hunting and increased protection. They are hunted for food and sadly, are particularly sought after whilst pregnant as a delicacy. It decimates the population as it just doesn't doesn't get a chance to recover. Meeting the iguanas, and getting a chance to hold and feed them is a lovely way to spend a morning.
Take some time to explore the hotel before or after your tour. This is the swankiest place in town, and you can buy a drink from the bar and relax outside in the sunshine. Keep an eye out for the photos of famous former guests, Including the British Royals.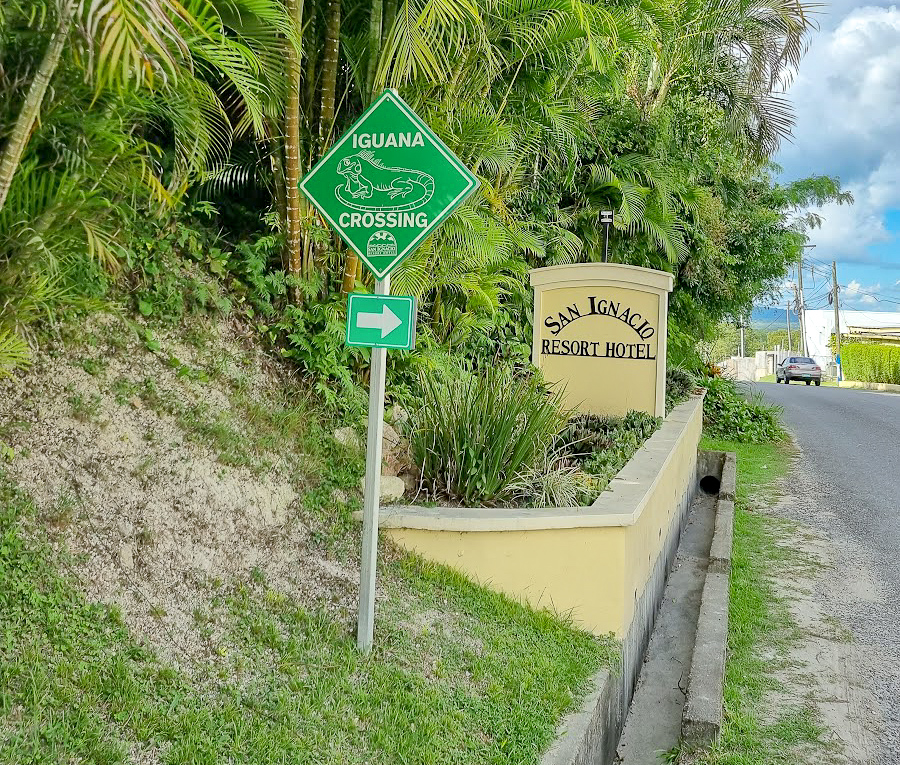 Lunch – Snacks
After a big breakfast at Pop's you may not need a lot of lunch, but instead, a decent snack.
Western Dairies is a very popular ice cream shop. It has no bells and whistles, just big freezers stuffed with yummy frozen dessert. The colours are lurid, the flavours intense and the prices very, very affordable. They do also serve pizza but we didn't see anybody get one so couldn't tell if it was any good.
Afternoon – Xunantunich
Xunantunich is a large Mayan ruin site around 7 miles from San Ignacio with some of the biggest temples in the country. In fact, El Castillo is the second highest building in Belize at 40m and the section you can see in the first photo below is just the top third. The bright carving is covered by a plaster reconstruction to protect the original underneath. It depicts Mayan gods and the tree of life, a Ceiba (say-ba) tree that holds heaven in its branches and the underworld in its roots. It is possible to hire a guide, but if you visited any Mayan ruins previously, or if you eavesdrop on the plentiful guides, showing other groups around, you might not need one.
The name Xunantunich is a modern concoction and means "Maiden of the Rock". Apparently, it refers to a ghostly female often spotted here. Dressed entirely in white, she ascends the steps of El Castillo and disappears. Well, we didn't see her but this maiden in blue enjoyed emanating her.
Getting to Xunantunich
Getting to Xunantunich can be done by bus or taxi. Take a bus towards Benque Viejo del Carmen and ask your bus driver to tell you when to get out. It should take 15 – 20 minutes/.When you hop out, make your way to the slipway, and there is a hand cranked ferry that will float to you across the river. If you ask nicely, they might let you crank it. From the bottom of the hill, it is a 15 minute walk up to the entrance of the site. Keep an eye out for monkeys that live in the trees.
Picking up a bus travelling back to town can be tricky, but there are the odd Taxis that pass by so just keep an eye out for the green number plates and flag one down.
Dinner – The Burn

z

The Burnz, right on Burns Avenue can be easily spotted by the swing outside. It is aiming for a beach bar feel in the centre of town. It has great burgers, ceviche, fajitas, jerk chicken and other international favourites all cooked well and in rather sizable portions. You'll also find brightly coloured cocktails and beers a-plenty to compliment the cool music

Have more than 7 days in Belize? Head South on day five to Placencia for a truly beautiful beach & some stunning resort hotels.
Day Five – San Ignacio to Caye Caulker
Caye Caulker is a small island. Well, technically, it is two islands but everybody stays and plays on Caye Caulker South. It is a lovely blend of relaxed island life and a fun spot with lots and lots to do. It's probably the closest thing to Thailand you'll get in the Western hemisphere. It is oft quoted that it Caye Caulker a car-free island, but there is a large fleet of petrol driven golf carts so you so still need to watch out.
Breakfast – Pick up a Picnic
Just west of the bus stop is the San Ignacio market. It would be good idea to pick up some snacks here for your travels back across the country today. It is also a nice chance to pick up a souvenir or two to take home.
Morning – Travel to Caye Caulker
Ferry – Nearly all journeys to and from Caye Caulker involve taking the ferry. For around $17 USD per leg, its not super cheap but for an hour's crossing, it seems ok. There are seats on the lower deck that are protected somewhat by plastic windows if its chilly or wet and a sundeck upstairs for those who love an excuse to tan. You can buy tickets online or at the ports on the day. Everyone is asked to put their luggage in storage so don't be alarmed if you are asked to leave your bag.
Bus, Taxi & Ferry – For the most budget friendly way to travel to Caye Caulker, you will need to hop back on a bus to Belize City bus station. From here you find a taxi to the ferry port (it should cost BZ$6 per car). From here, take the ferry. In theory you could do all of this in 4 hours but you might need to add some waiting time in there.
Transfer & Ferry – If you are feeling flusher (or are in a big group) you could get a private transfer from San Ignacio direct to the ferry port. This is going to be a few hundred US dollars).
Flights – There are no direct flights from San Ignacio to Caye Caulker. Instead, you'll have to change planes in Velize City. When you arrive at the tiny airport in Caye Caulker, you can hop in a golf cart taxi, or walk for around 25-30 minutes North to where most the accommodation is.
Lunch – Picnic or Lobster on the Beach
If you have any snacks from the market, you would have a nice picnic on the ferry or something n the beach when you reach Caye Caulker.
If there is one thing, you must eat in Caye Caulker before you leave, it is the lobster. Belizean lobsters are indeed smaller than the North Atlantic beasts served elsewhere, but the meat is sweet and served up at a price that almost made me weep with joy. At Chef Kareem's Unbelievable Lunch, you can get two lobster tails smothered in garlic butter and three sides (rice with beans, coleslaw and salad normally) all for $10.
Plus, the guy next door sells fresh coconuts for a couple of dollars and for a couple of dollars more, he will top yours up with rum. Alternatively, there is a shop nearby that sells cheap alcopops or beer which also make an excellent accompaniment. It is a lip-smacking, finger-sucking, deliciously messy lunch. Oh, I suppose I should mention that they also serve prawns and barbecue chicken but that's not really why we're here.
Afternoon – Lounging at the Ledge
After your long journey, walk to the northern point of Caye Caulker for an afternoon at the Lasy Lizard. This spot serves overpriced but tasty frozen cocktails. As you enjoy the cooling, fruity drinks, you can sing along to some classic tunes (Fresh Prince for the win) and watch boats as they pass through The Split, the small stretch of water that separates the northern and southern islands of Caye Caulker.
My favourite spot at The Lazy Lizard is their aquatic bar table. Sitting on a stool, with the gentle ocean waves lapping at your tummy is a novel treat. In one way, it is a shame that they don't have a barman here because its nice to just chill and be served, but it encourages you to get out and seek some shade. Or, if you are feeling crazy, you could jump from their high platform into the sea below.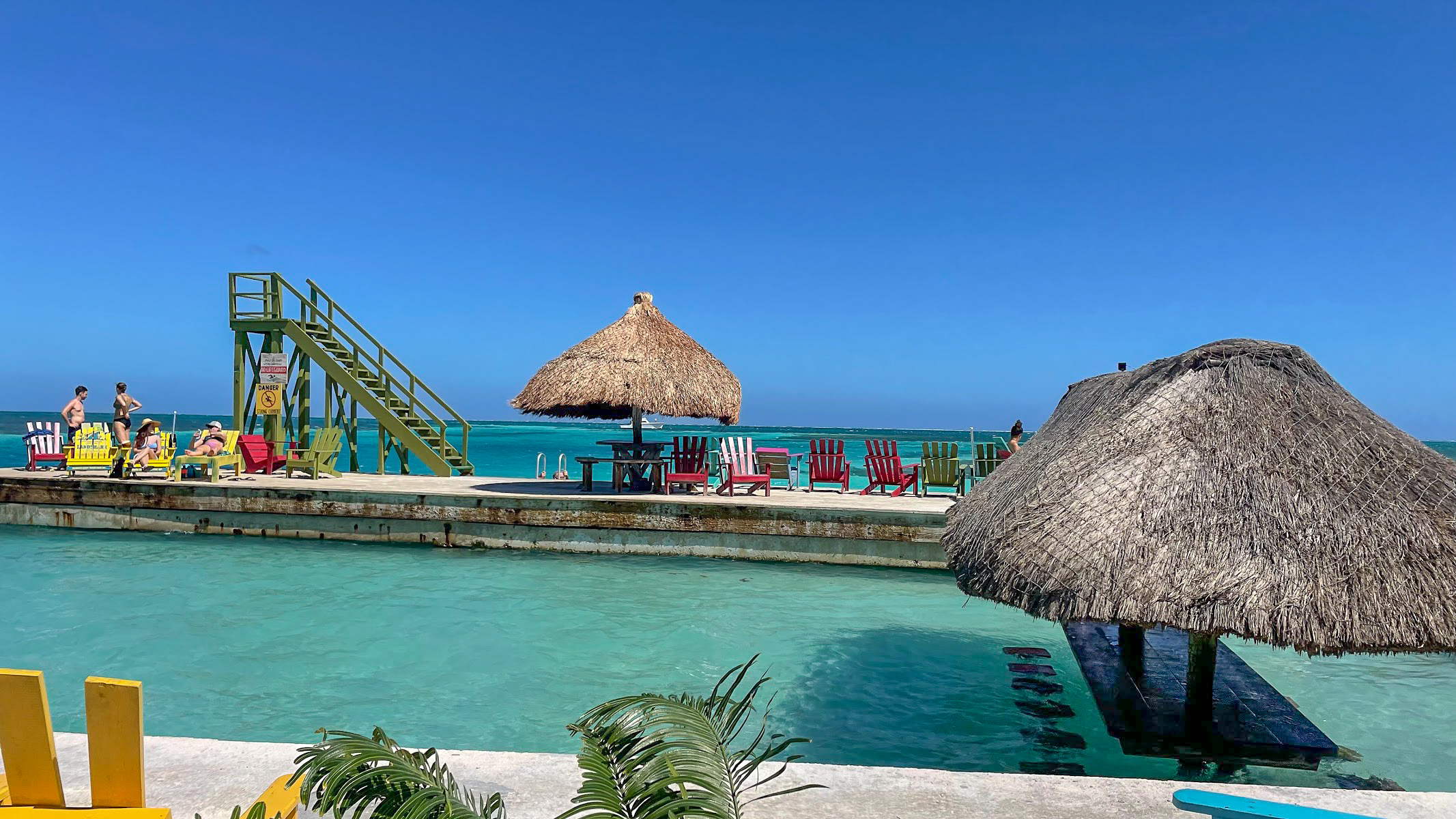 Evening – Sunset Cruise
The best way to see the sunset here is to climb onboard a sail boat and take to the water. This is especially lovely when it comes with snacks and plenty of rum punch. As the warm air lows the boat gently through the alm sea of the lagoon, you can chat to your fellow shipmates and watch the sky turn orange. Then, if youre lucky and have a clear day, the stars come out. It is a relaxing and fun way to spend an evening.
Dinner -Flava Belizean
If the snacks on the boat don't fill you up (they didn't for us), you will be in need of some dinner. The main strip of Avenida Hicaco is lined with options. For another great lobster option, head all the way down to Flava Belizean. This spot, with a grill outside the restaurant, is only open for dinner. They do a lovely lobster with rice and salad as well as jerk chicken, grilled pork, coconut shrimp, salads, kebabs and curries.
Day Six – Caye Caulker From Above or Below
Breakfast – Fill Up on Fry Jacks
Fry Jacks are uniquely Belizean breakfast items, which involve a carby outside shell, (a taco or a special fried bread)stuffed full of delicious, hot breakfast items (eggs, bacon, ham, sausage, vegetables, or really, anything you fancy). The lot is sealed up and fried. It is the perfect hangover food…or perfectly fine food…its just a great grab-and-go breakfast option. The best place on the island to try it has got to be Errolyn's House of Fry Jacks. For a surprisingly low cost, the cook behind the window will whip up, one of 30 or so combinations for you to enjoy on the tiny terrace, or to take away.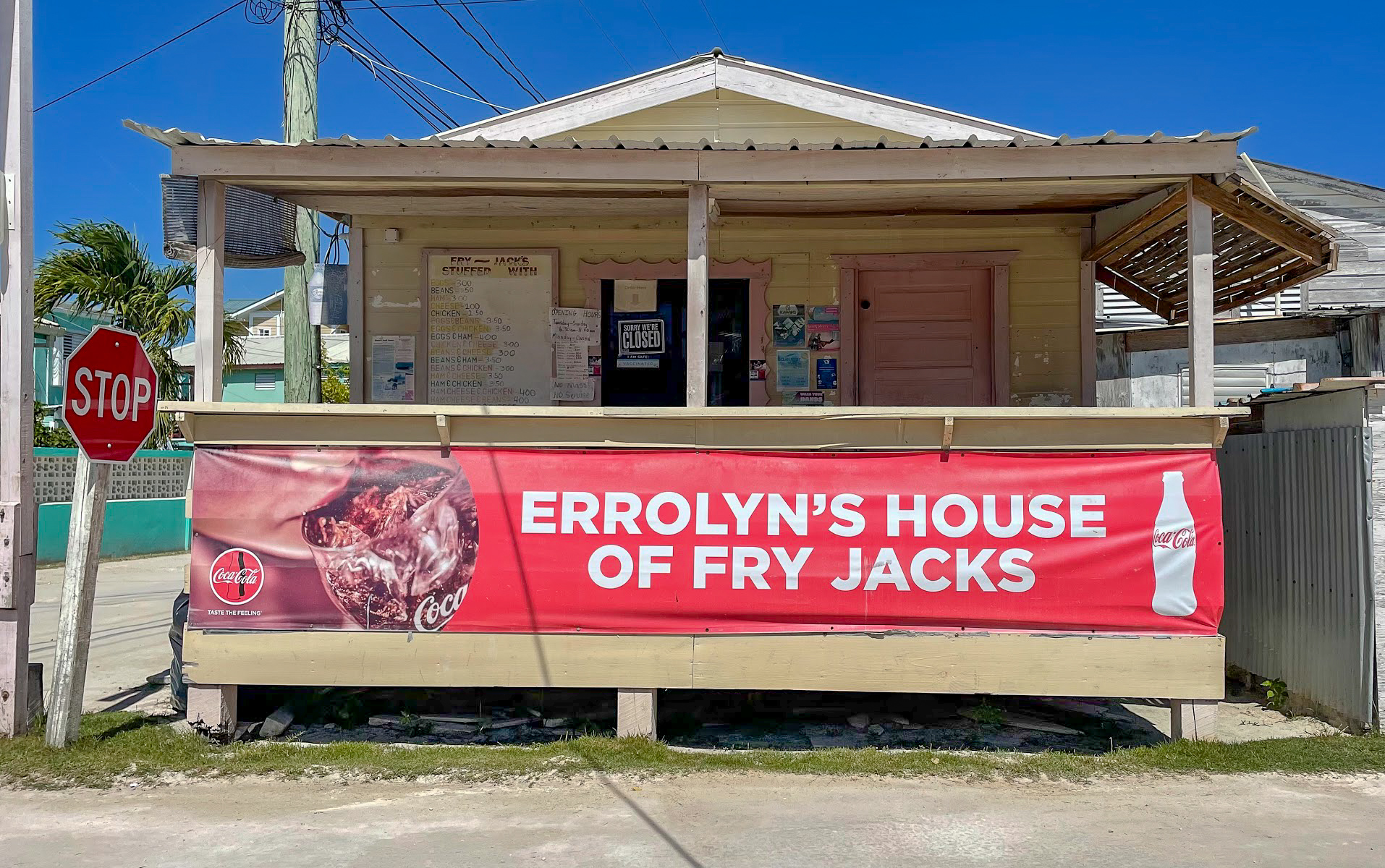 All Day – Take to the Waves
Caye Caulker is within a speedboat ride of the world's second largest living barrier reef. An 18km national marine reserve, Hol Chan, was set up to allow visitors to experience the reef safety. There is a gap here through the reef, which allows both small reef dwellers to be protected and larger sea life to visit. Yes, you can see pretty little clown fish and majestic rays on the same trip. This is one of the spots that is as good for snorkeling as for diving so it is accessible to more people.
Many all day trips also include a little bit of a manatee spotting on the other side of the island and a stop at shark alley. In this area is a great concentration of nurse sharks which, don't worry, are not man eaters. Many boats chum the water to attract the sharks, which is why we picked Salt Life Eco Tours. They do not lure the sharks so their impact on the environment is just a little less. Salt Life's day trips also include an old shipwreck and one more snorkel spot. Due to the long day lunch is provided, including a freshly caught conch from the sea bed, and we even got some rum punch too.
Evening – Sunset in the West
The second best way to see the sunset on Caye Caulker is to make your way to the western side of the island and to Iguana Reef Cafe. If you arrive early enough you will catch the manta rays feeding at around 4pm. Happy hour usually runs from 3-7 but if you arrive a little later, don't worry, the drinks are still reasonably priced. Claim yourself a couple of chairs or a spot on the end of the jetty and relax, as you watch the sun slip below the horizon. You will be joined by the young tarpon fish that glide past the dock and some rather large pelicans.
Day Seven – Caye Caulker to Belize City
Breakfast – Yoga and Yogurt
Every morning Namaste café is full of addicts. There are two distinct kinds; those that love clean eating with bendy bodies, and those that love dirty, dirty caffeine. Luckily, Namaste café provides for both.
At 9am, you will find an all abilities yoga class for free on the top floor. Below are people enjoying great coffee, tea and smoothies along with excellent breakfast options including bagels and croissants. I can attest that both of the cold brew and their chai latte is worth stopping in for even if you don't fancy a morning yoga session.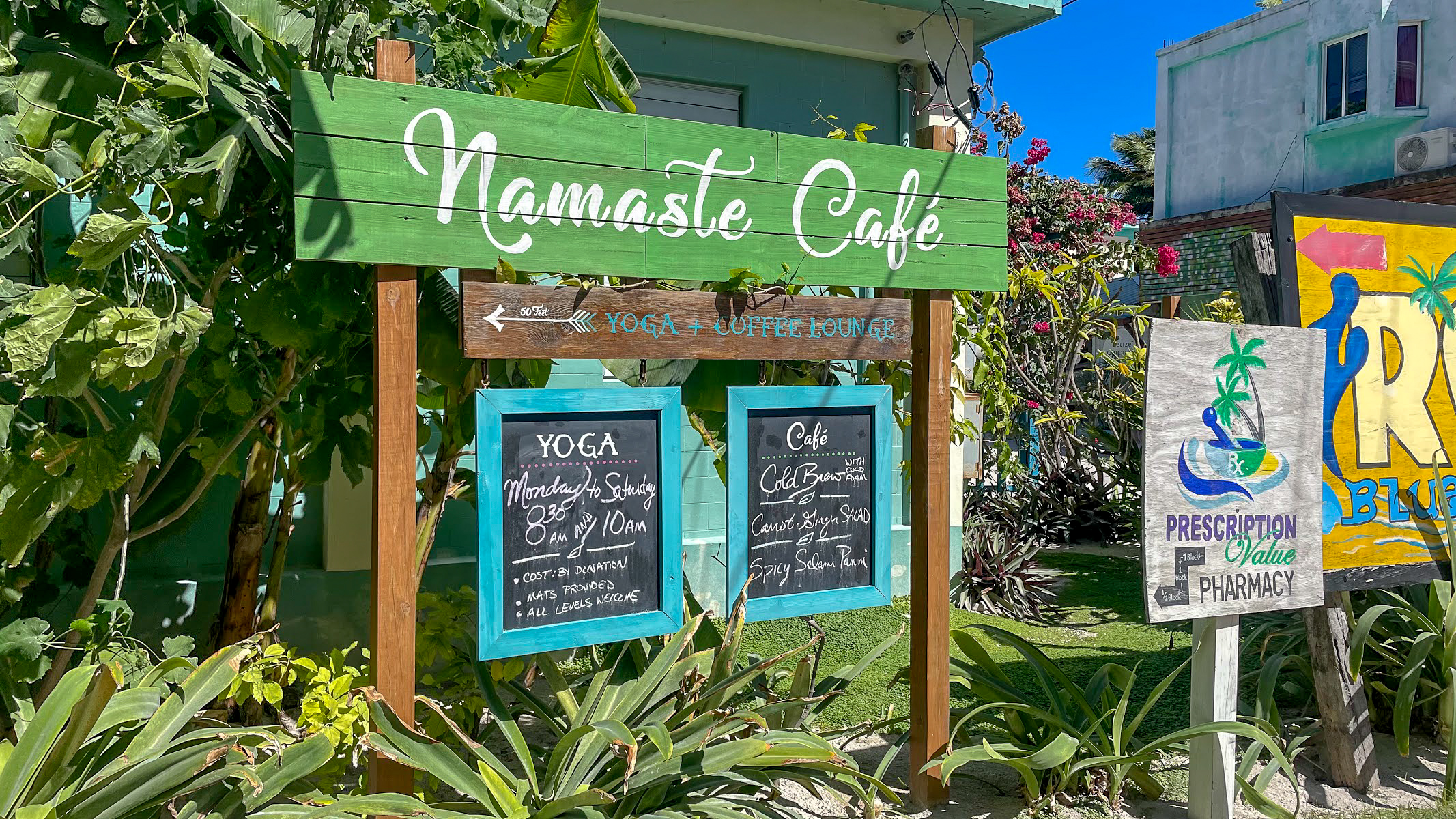 Morning – An Icon from Above
The Great Blue Hole is Belize's big hitter. The near perfect cenote in the middle of Lighthouse Reef has graced many a travel magazine, calendar and mood board! During our trip to Belize, we decided to take a sightseeing flight with TropicAir. The small prop plane takes around 15 minutes to get out to the reef but when it draws near, everyone starts buzzing. It is like being on safari… but for a giant cenote that doesn't run away. The plane circles the Great Blue Hole a few times in each direction so everyone has a nice view before taking in the beached ship that sits on the reef and coming home.
I can't recommend the tour highly enough, Technically, it is possible to dive here, but you need an advance certificate as you will be diving to a depth of and apparently, there is an all that much to see around the edge so it's not worth snorkelling or diving as a regular diver. Taking a scenic flight over is by far the best way to see it.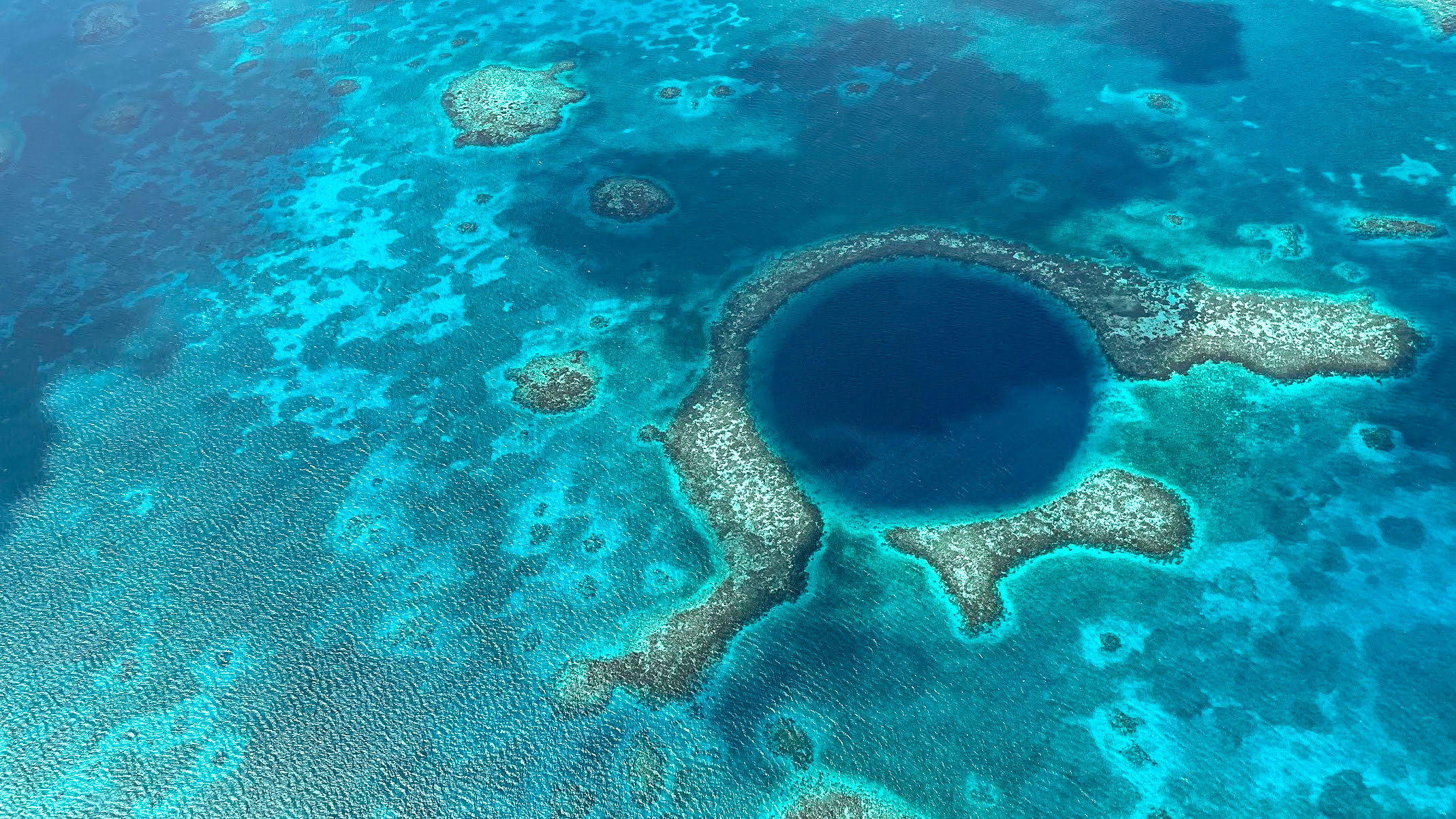 Afternoon – Home Time
When you land back at the airport you have a choice. You can either hop straight back on another tiny plane to Belize City Airport or travel north for a ferry back to the mainland.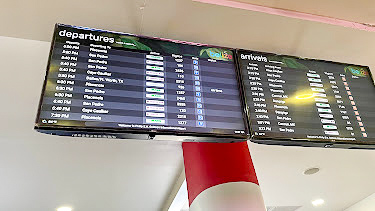 Final Thoughts for Your Perfect 7 Day Belize Itinerary
Belize is the most amazing spot to escape for a week. We fell completely in love! So why should visit Belize:
English is the National language so it is easy to navigate, communicate and chit-chat.
There are plenty of easy, private transfers to get around. On a budget, the local buses are cheap, fun and safe.
The Belizean barrier reef is the largest living reef in the world and excellent for both snorkelling and diving.
There is a rich and exciting ancient history with plenty of Mayan ruins to explore and learn about the culture.
You can be as adventurous (zip wires, rock climbing) or as chilled (a cocktail by the beach) as you like. Or you can mix it up and try both.
Rosie xx