When coming up with ideas for futures trips, there is always a swirling selection somewhere in my brain. Sometimes I want to visit a whole country because I have heard so much about it. Sometimes, a holiday idea grows like an oyster pearl from a tiny piece of grit. A temple, a food dish or a pretty photo in a long forgotten travel magazine can all be the catalyst. For Belize, it was the absolutely iconic shot of the Great Blue Hole. So, in 2022, off we went to see it, and chose Tropic Air as the very best way to do. Read on for our full Tropic Air Great Blue Hole tour review.
For more awesome activities, check out our blog post, 15 fun things to do in Caye Caulker!
Our Blue Hole Tour was hosted by Tropic Air but all opinions are entirely our own
A Few Great Blue Hole Facts
The Great Blue Hole was only given this moniker in 1988. Diver Ned Middleton names it as such but nobody know what the Spanish name was before.
The Great Blue is almost a perfect circle. It spans a whopping 300 metres wide and goes down to 108 metres, making it the largest sea hole in the world. It was once an inland cave but was flooded when sea levels rose after the last ice age.
The cave structure means it is great for divers to explore. There are lots of caverns and tunnel, filled with stalactites and stalagmites. Divers will get the most out of it if they hold a PADI Advance open Water Diver certificate, allowing them to dive to depths of up to 30 metres.
The Great Blue Hole's depth was properly charted by famous diver, Jacques Cousteau in 1971. Of course, he didn't dive all way down. He used a small submarine to reach the bottom.
Real daredevils can combine a flight the Great Blue Hole with a dive there. Adventurers leap from a helicopter/plane before joining a dive boat to kit up and descend into the shadowy depths.
The sight of the Great Blue Hole from above is recognisable to most travel enthusiasts, and it should be. It was voted the most amazing place on earth in 2012 by the Discovery Channel and is a UNESCO world heritage site.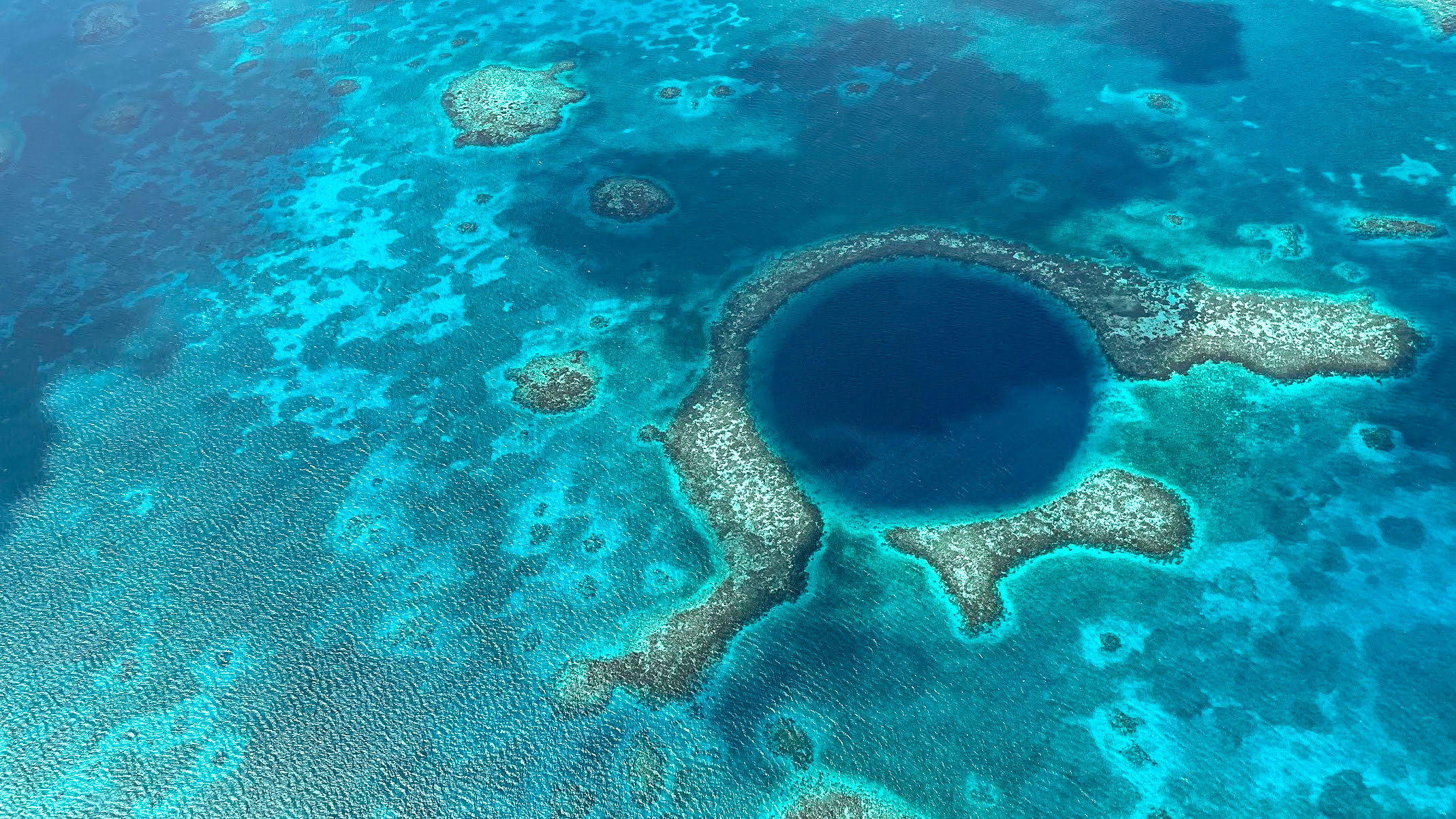 So how do you get your own bird's eye view of The Great Blue Hole? That's where Tropic Air comes in!
Tropic Air
Belize has two local airlines. Tropic Air is the larger of the two, flying to Panama and Mexico too. As well the normal commercial flights whisking people for A to B, they offer several sightseeing flights. Most head inland, flying guests to adventures in caves, around ancient Mayan ruins or on watery adventures. However, their greatest tour has got to be the Great Blue Hole tour.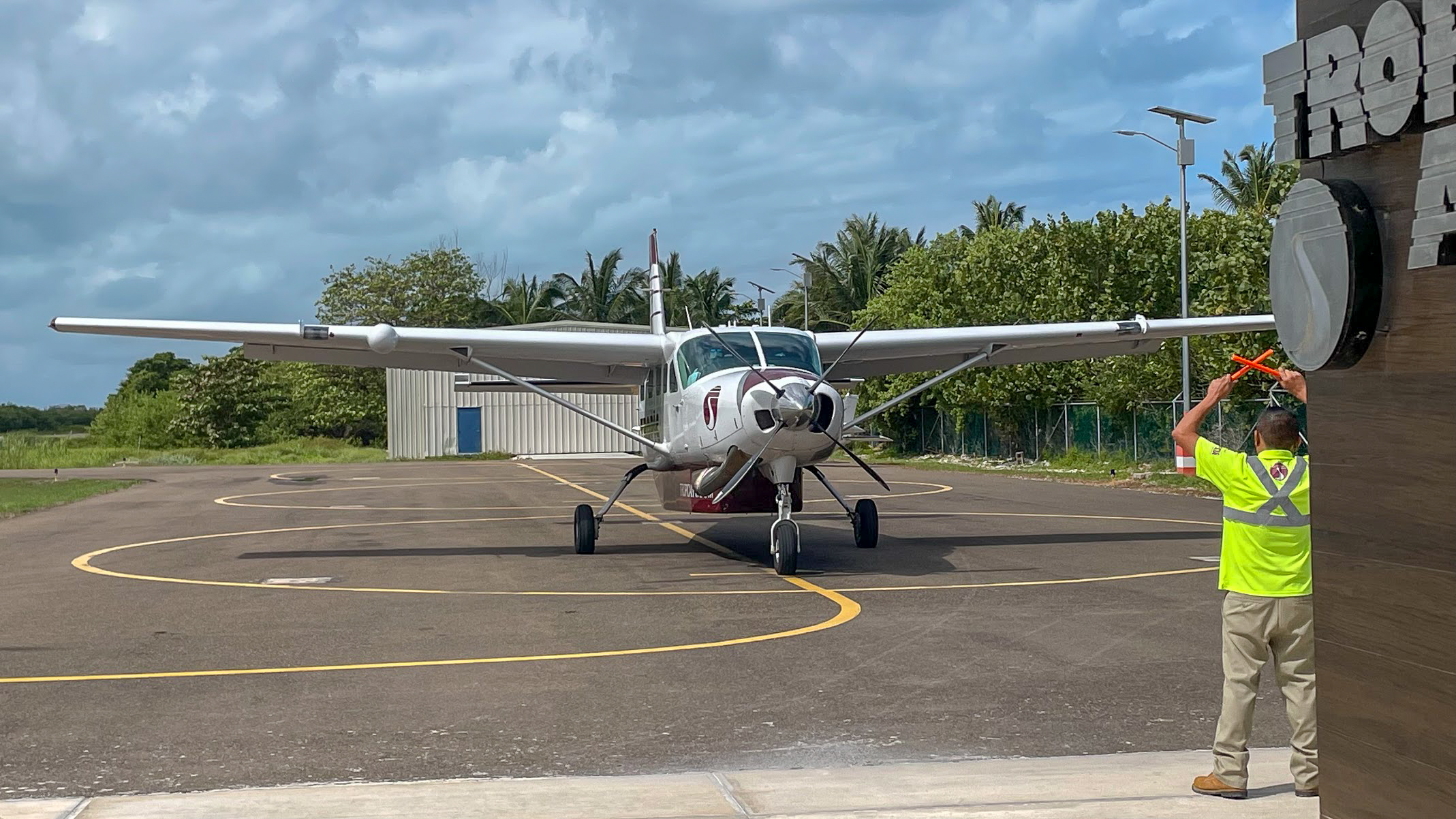 My Birthday
For my thirty-(redacted) birthday, I decided that there could be no better to celebrate than observing the magnificent sight from the air and so we booked the flight from Caye Caulker. That morning we woke up and found some breakfast. I was slightly overdressed in a babydoll dress covered in stars, and a hair bow but its the Birthday's Girl's pleasure, right? The Caye Caulker airport was a 30-minute stroll from our hostel and so we took our time walking south along quiet roads. It was so exciting!
Checking In
We found the Tropic Air terminal. New and airconditioned, it was rather more impressive than the tiny Maya Air office. Mr Fluskey got us all checked in and they handed us two Great Blue Hole Tour tickets with some information on and a big picture of the hole itself.
To capture our plane landing, we waited outside. There was a small plane that landed and a couple of passengers were whisked away personally by the pilot. We were so distracted by this, that we almost missed our plane! The ground staff were not impressed that we missed their announcement inside the terminal building but I figured that since there were only four passengers, they could have let us know.
We climbed on board. Sadly, all the very best seats (upfront and at the back) were already snapped up. The plane had started it's journey in San Pedro on Ambergris Caye so they all had first pick. However, everyone gets a window seat on the Tropic Air Great Blue Hole tour so we still had a great view from our middle of the plane spots.
The Flight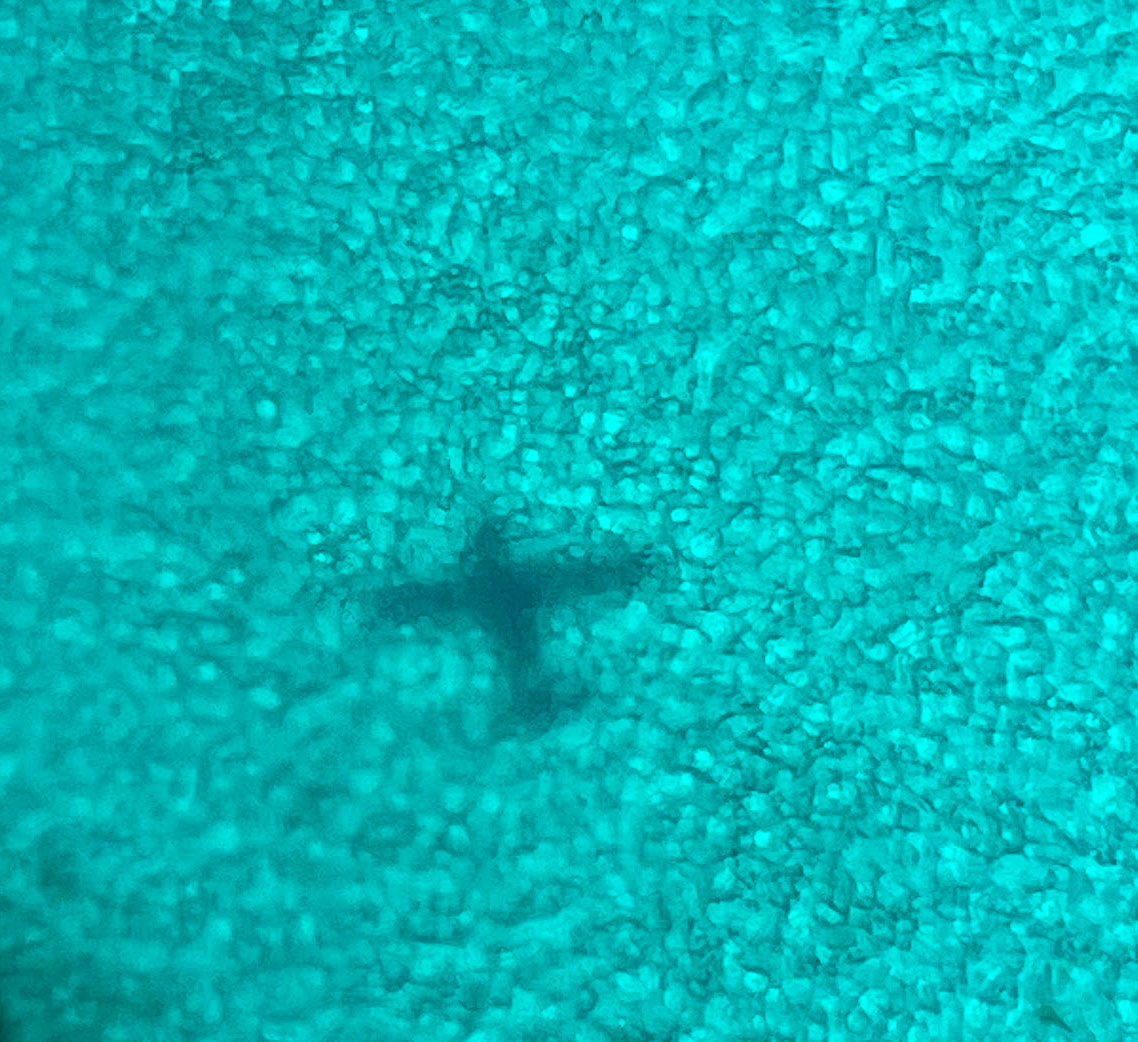 The flight pilots gave us a short safety briefing, and we had a quick look over the safety card, as we taxied to the runway. I had a little tummy flip of nerves and anticipation as the small plane pulled up from the runway. We fly all the time but it feels so different when a small plane takes to the air. We were very quickly at altitude and Caye Caulker was gone. Everyone gazed out at the waves scudding beneath us. I grabbed the GoPro and tried to practise what I wanted to film, quickly realising I don't have long enough arms or a steady enough hand. I figured we would just improvise when we got there.
We crossed Turneffe Atoll, with the deep blue of the ocean giving way to the bright white sand and turquoise water of the barrier reef. Oh to spend a day chilling out in the crystal clear waters. I mean, I would get horrifically sunburnt but it still looks seriously idyllic.
The Great Blue Hole is a Tease
After another five minutes of flying, watching the clouds paint dark streaks on the sea's surface, the colour below changed abruptly again.,
We had come up to another reef wall and the captain announced we had reached The Great Blue Hole.
"Where!?"
"I can't see it!"
Oh dear, I think my birthday brat is showing…
Well, turns out it was out the left hand side of the plane. They explained they would make a few rotations of it before changing directions and giving my side their turn. On our first rotation, I was nice and patient but then I started to feel the jealousy bubble up and couldn't resist the temptation to stick my phone as close to Mr Fluskey's window as I could reach.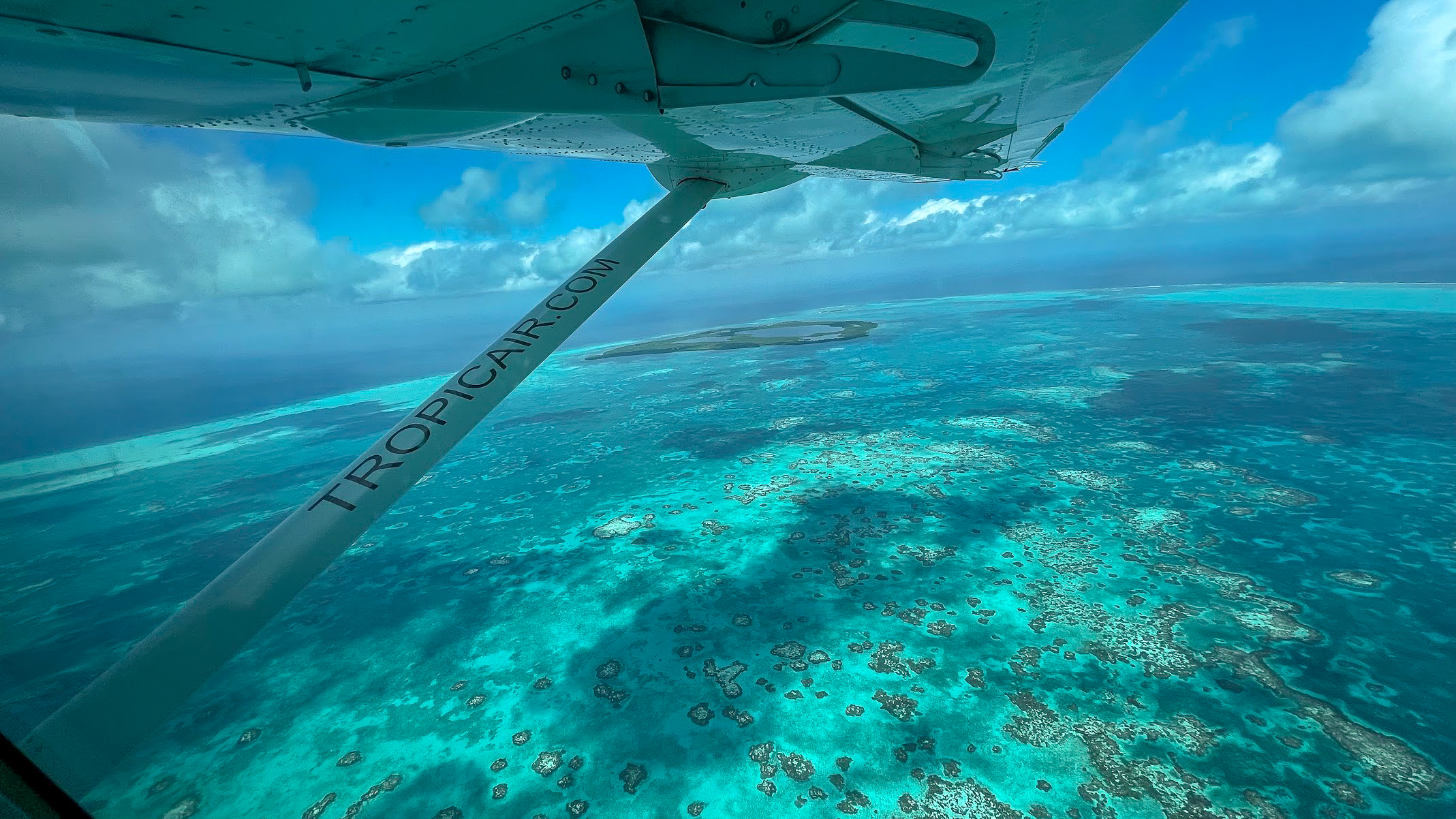 The Great Blue Hole is Amazing
After three revolutions, the plane took a long loop and head back for the right hand side to take it all in.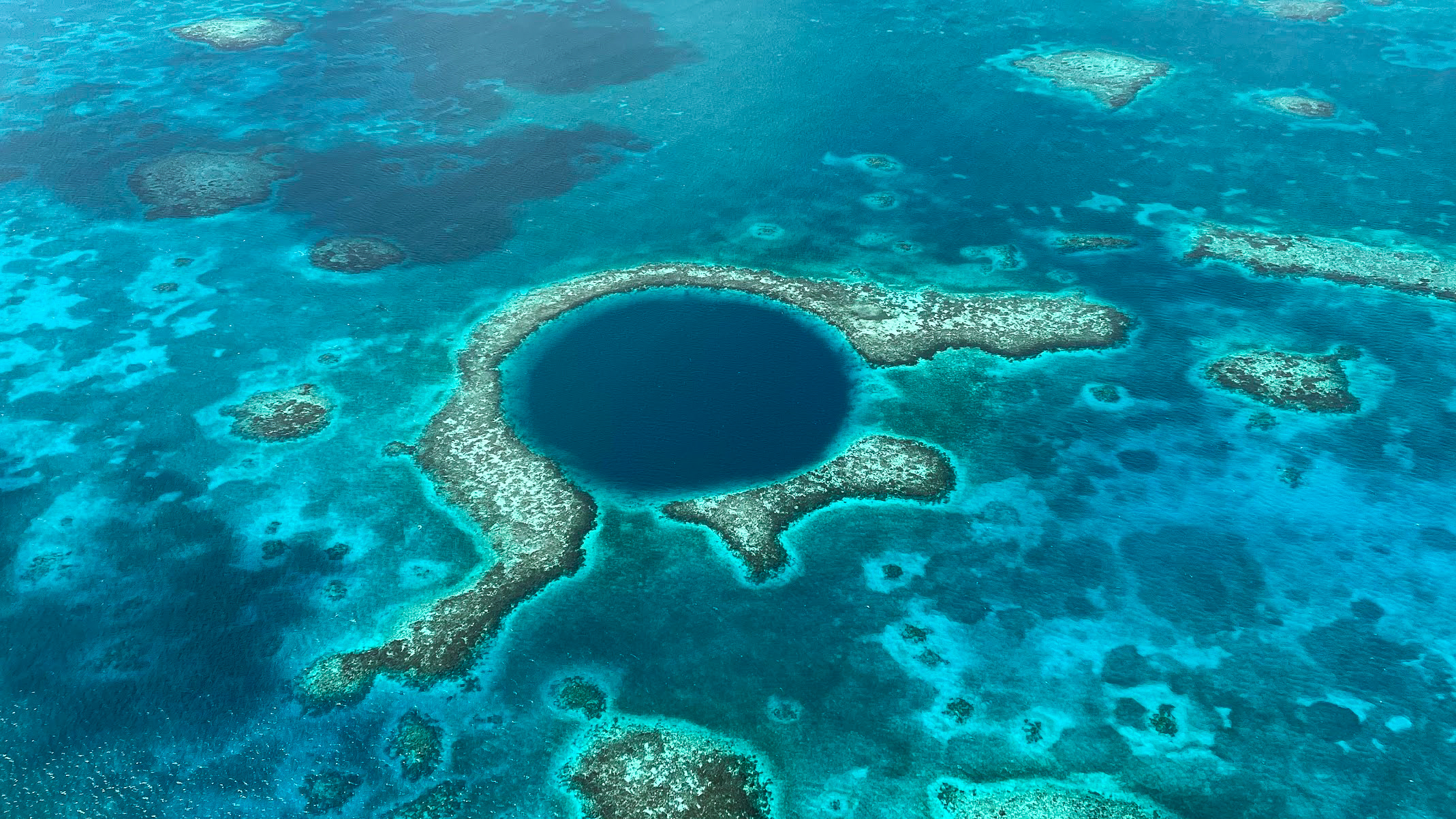 This photo of the Great Blue Hole is iconic. I have seen this photo a million times. I used to spend far too much money on monthly travel magazines and every travel calendar I've owned has had it in. Despite that, it still made me gasp. It is stunning! I know it might sound mad to be so excited by a rock formation but it was hard to control the geography geek inside me from giggling and the travel addict side of me just getting stuck behind the camera and filming the whole thing.
Get ready for an overload of Great Blue Hole photos… #obsessed!
The Lighthouse Reef

Atoll
The other side of the plane got another couple of revolutions (jealous) and then the plane took a turn and we went off to see a shipwreck. This cargo ship, named 'Transfer', ran aground against the reef in January 2005 and sits with its bum in the water, whilst most of it is above the waterline. It was originally just perched on the edge but a big storm brought it out further, making it harder to dislodge. It is sad that it has never been removed but it makes a cool and interesting addition to the tour.
The Return
The plane made its final turn and started its journey back towards Caye Caulker. Everyone turned to see one last glimpse of the Great Blue Hole as the sun glinted off the waves, obscuring it from our straining eyes.
As we neared the islands, the pilot took us up and across The Split (the passage of water that intersects the north and south islands, and across the water. This languorous loop took us on target to land once again at Caye Caulker's airport.
We were at the terminal seconds after landing and just like that, the Tropic Air plane was back into the air and banking left., bound for Ambergris Caye.
Information
If you are thinking about joining Tropic Air Blue Hole Tour r, here are some things you might like to know:
Tours run every Tuesday and Thursday.
Tours depart from San Pedro, Ambergris Caye and Caye Caulker,
The tour lasts around an hour and there is no bathroom on board. Dehydrate slightly if you are worried about your bladder.
Tropic Air runs either 3 or 11 seater planes, depending on the number of bookings. Which ever plane you are on, everyone gets a window seat!
Final Thoughts for Our Tropic Air, Great Blue Hole Tour
I'm not going to lie, there was alot of pressure put on this trip. It was both the original reason I wanted to visit Belize AND my birthday. However, it didn't disappoint! I was strangely emotional seeing the Great Blue Hole and it was a lovely feeling. Everybody in the plane was buzzing…it was like being on safari…but for a giant cenote that doesn't run away. I can't recommend the tour highly enough, it would be a real shame to come all the way to Belize and miss out on its biggest attraction.
Rosie xx