£390 return to Sri Lanka? And on Emirates!? And confirmed!!? A no brainer! We booked that evening.
When January 2017 finally rolled around, we packed our bags and head off to London Gatwick Airport to catch our flight.
The Airport Experience
Emirates uses Gatwick North terminal which (when we visited) was undergoing a large airline switch. As Emirates economy hand luggage allowance is one piece at 7kg (15 1/2 lb) we had to check a bag in. The check in staff were polite enough but uninterested.
The gate we were allocated was up and over the bridge to a remote area with gate numbers in the 100s. These closed gate rooms are not designed to house the 400 plus people that can squeeze onto an Airbus A380. It felt quite cramped and seeing the business and first class passengers through the glass, seated in spacious comfort was a little irritating (especially after one has got up at 05:00 for ones flight). But then I wasn't prepared to pay an extra £2000 plus for business class, so I can't really complain.
The Emirates Airbus 380
First Impressions
Boarding was called in sections. We were sitting in zone D and our turn came in the second economy call. Airbus A380s are long planes and so it took a little while to walk back to our seats. If you are travelling with reduced mobility, I would definitely recommend advising the airline in advance to make sure you get a seat near the front.
I had gambled on our seats a little. The seating configuration in economy is 3-4-3 and so when choosing seats I had put us in the 3 seats on the side, me in the window and Mr Fluskey on the aisle. My thinking was that if someone did take the middle seat, it would be easy enough to swap for their preference of window or aisle. If in doubt, we could always cough on them, or start smooching across them. (Only joking, but I bet these tactics could work).
Read all our flight reviews including British Airways, EasyJet and Turkish Airlines
The Storage
The first thing I noticed, standing a measly 5 foot (or 152 cm) high, was the overhead lockers. They came right down and had loads of space. Even I could get a full size cabin bag in one without looking slightly pathetic. It did mean that I actually had to watch my head though, a novelty. There was also ample space under the seat in front. However, Emirates has a reasonably strict hand luggage limit in economy of one piece at 7kg, so there's little risk that they would run out of room anyway.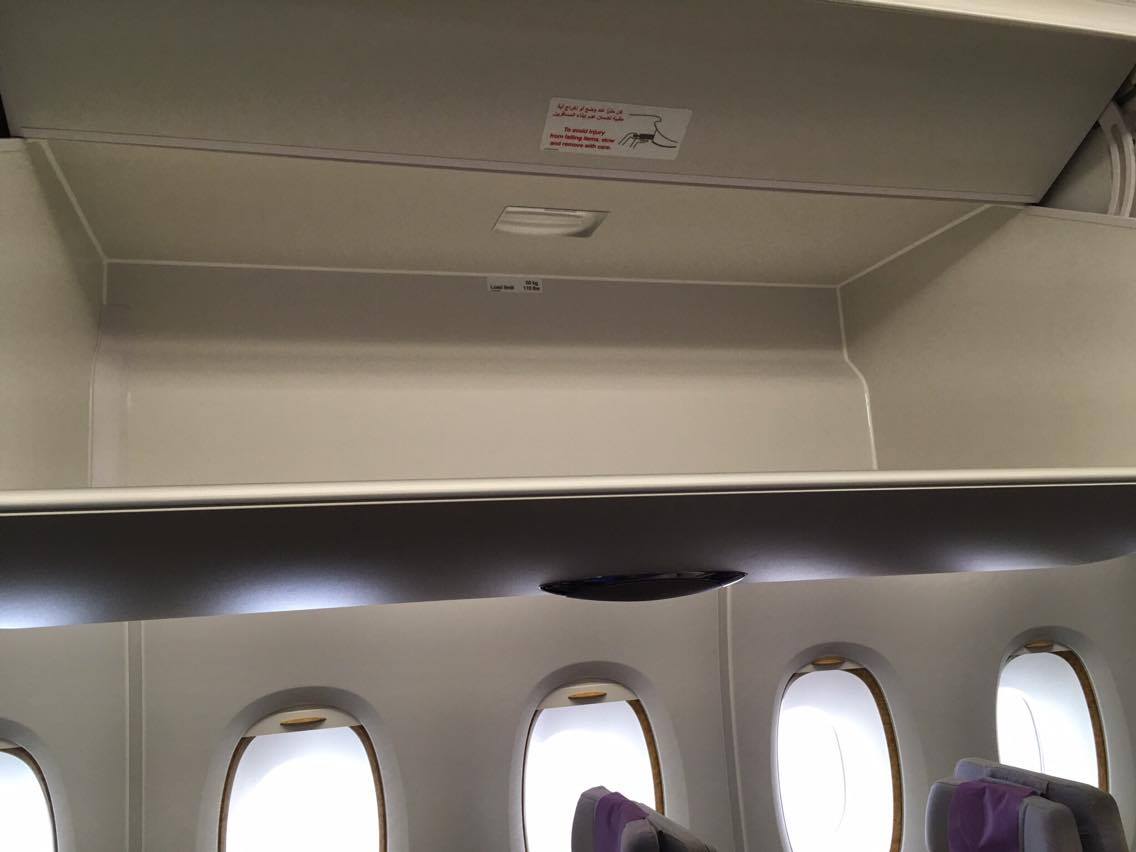 The Interior
The inside of the plane has been artificially reduced so that there is a fake wall between the interior and shell. This allows the windows on the inside layer to be about a third bigger than you might expect. It also keeps the temperature a little balmier for those who, like me, need to lean on the window to sleep.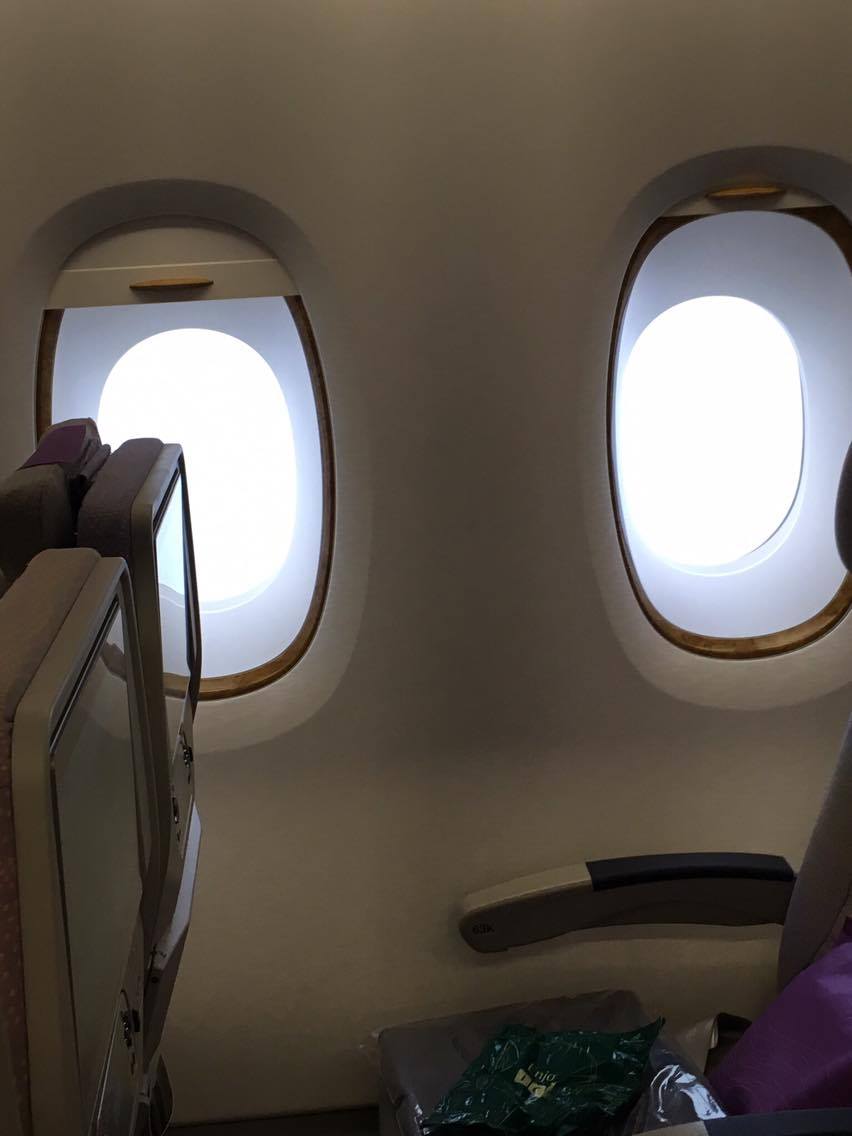 The lighting as we boarded was bright white and so lacked a touch of flare. I think I have grown used to Virgin Atlantic's use of mood lighting. They did have music playing which I always enjoy; a little Frank Sinatra.
The Seat
I was pleasantly surprised with the size of the seats on the Airbus A380. As I've mentioned, I'm a shorty and so legroom isn't really an issue for me while I'm sitting. I do appreciate a little more room when I'm doing the awkward bum shuffle out to the toilet though.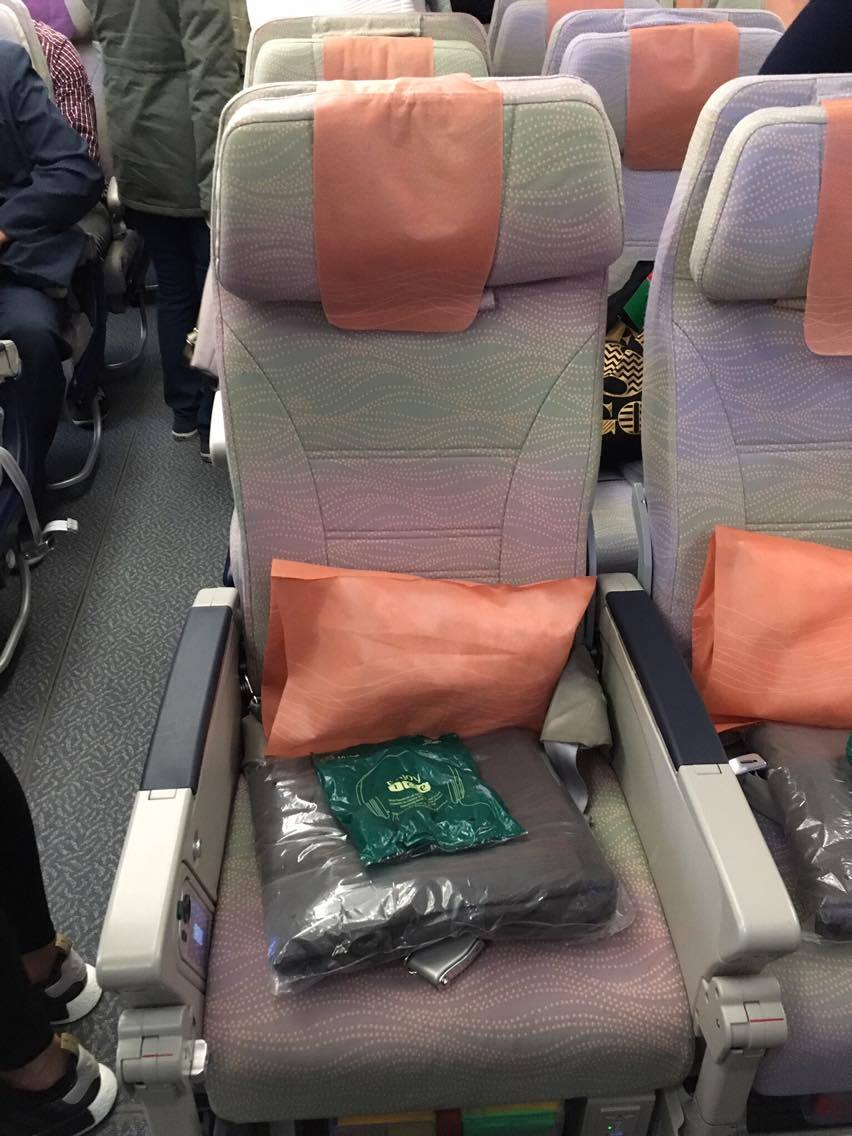 The seat pitch was 34 inches, which is pretty good by economy class standards. The seat itself was 18 inches wide and that I really liked. I like to curl up on flights to get comfortable. I do it on chairs at home and at the cinema, I have to stop myself doing it at fancy dinners, it's just how I feel cozy. The head rest was adjustable so it even came down to my height.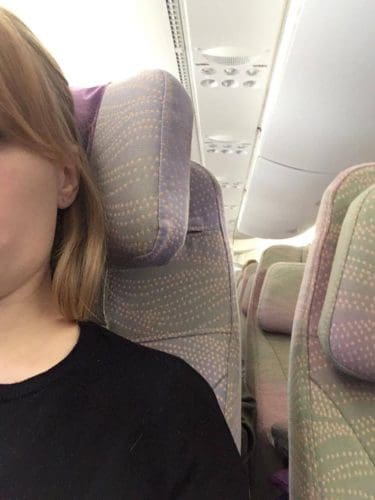 Check out the best place to sit on SeatGuru
My favourite touch was the stickers that were provided. These send a message to the crew about when to prod you awake, or leave you to snooze.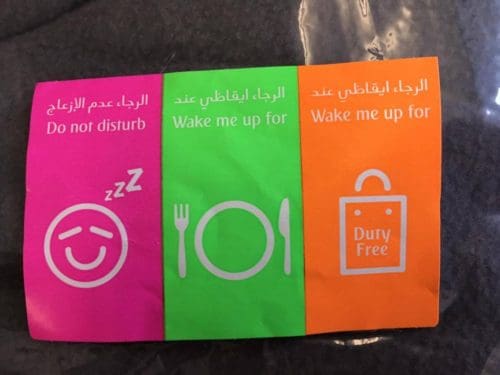 The Entertainment
Emirates' entertainment is called ICE (Information Communication Entertainment) and is exceptional. The touchscreens are huge for an economy cabin at 13.3 inches, the size of a decent laptop screen. Emirates provide thousands of options, headlined by hundreds of films including recent releases and Disney classics. I had to look all the films up in advance so I could plan my viewing or I may have spent the whole flight trying to pick. The touch screens are pretty responsive, but they are never perfect when we are used to our smartphones.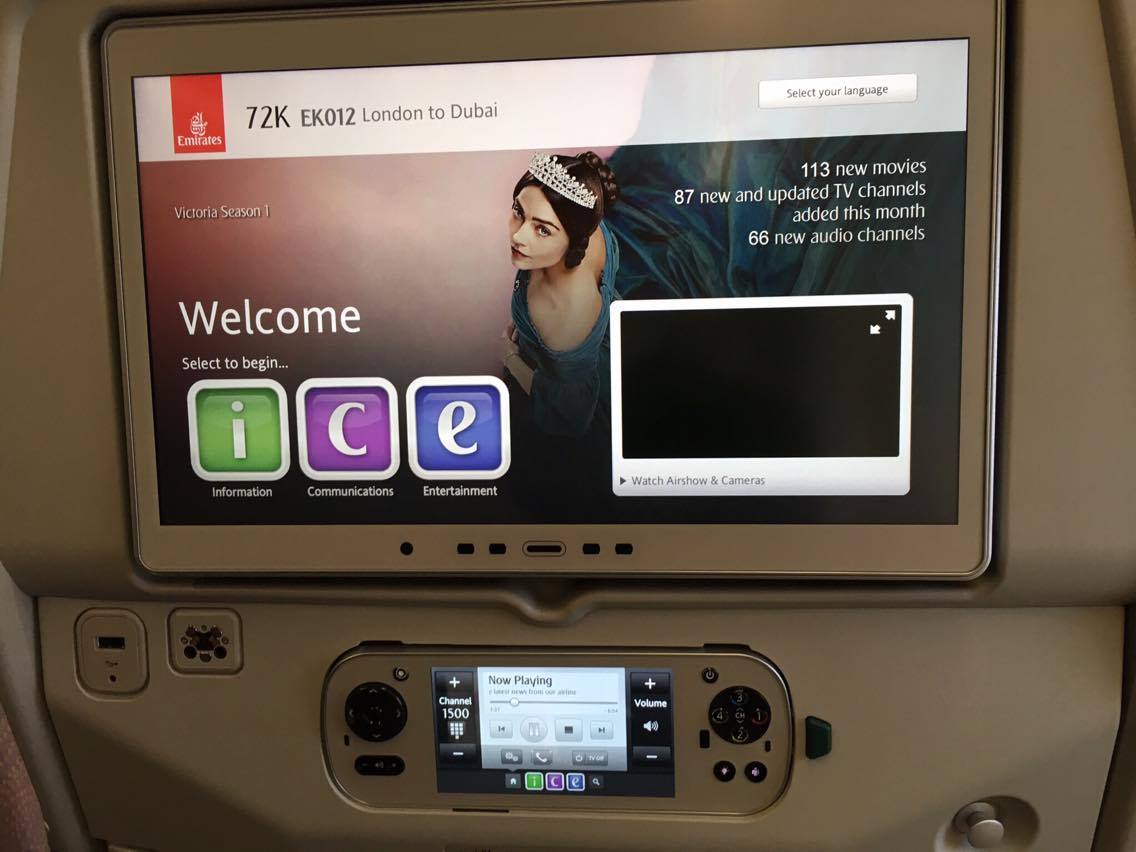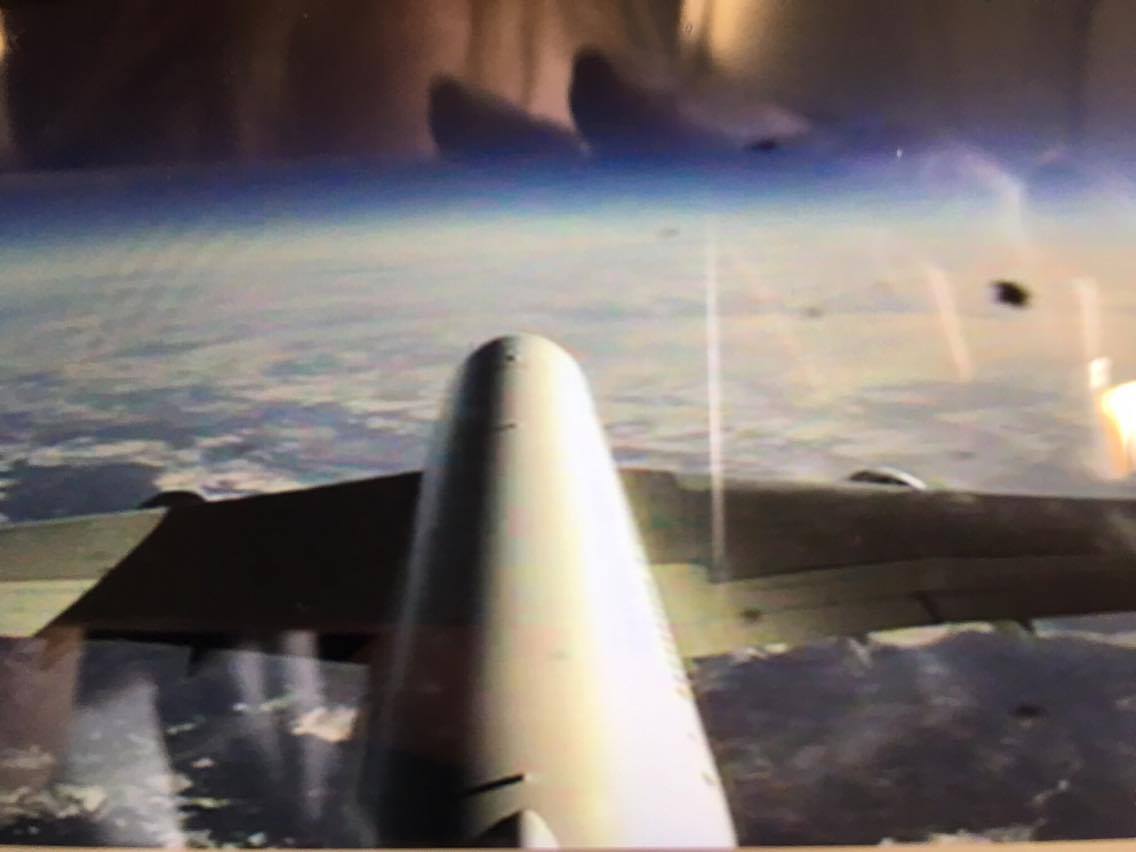 All of the seats had USB plug sockets, and two out of three had a proper plug. I'm not sure why this isn't all of them, but if you need to work on your laptop, I'm sure you can do some negotiating with your nextdoor neighbour.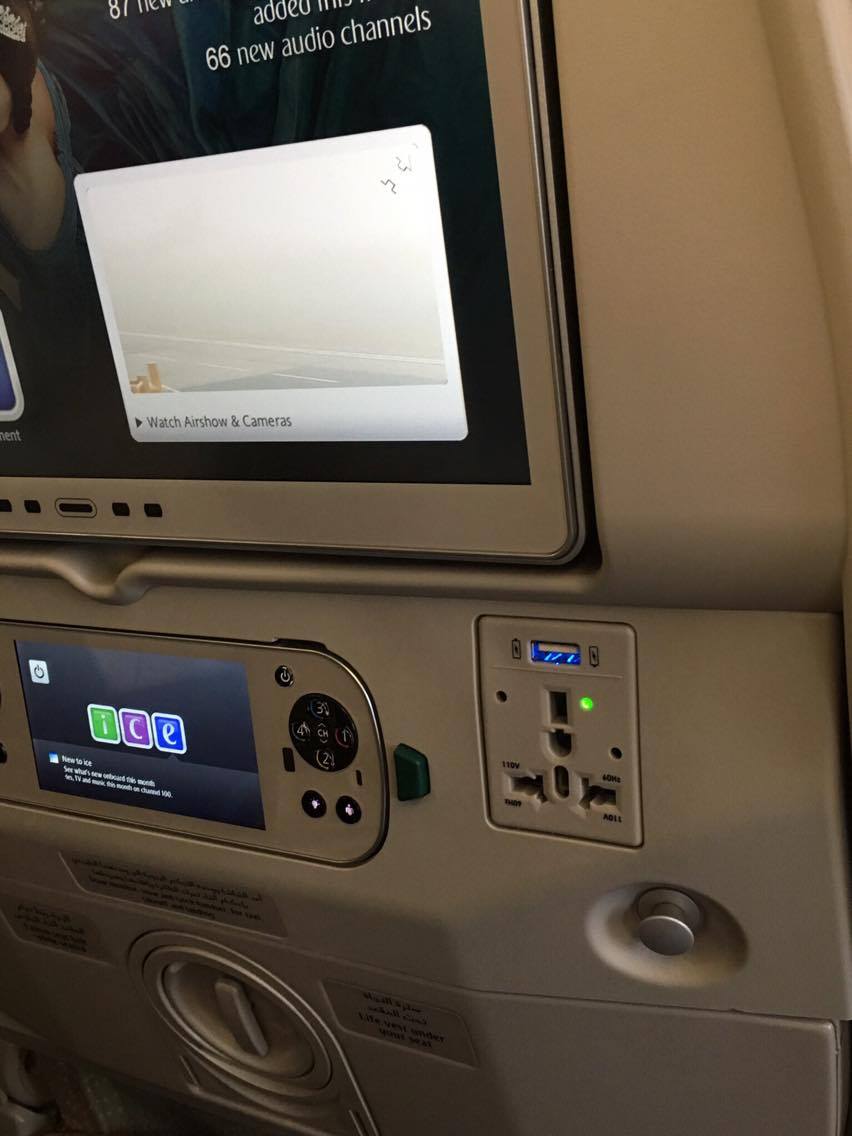 The Amenities
Here I think the Emirates product is a bit of a let down. The blankets provided were well above average in their size and quality, but the headphones were of the two-prong connector variety and more than a little clunky. I know they do this so that you aren't tempted to walk off with them but I didn't enjoy using them and switched back to mine very quickly.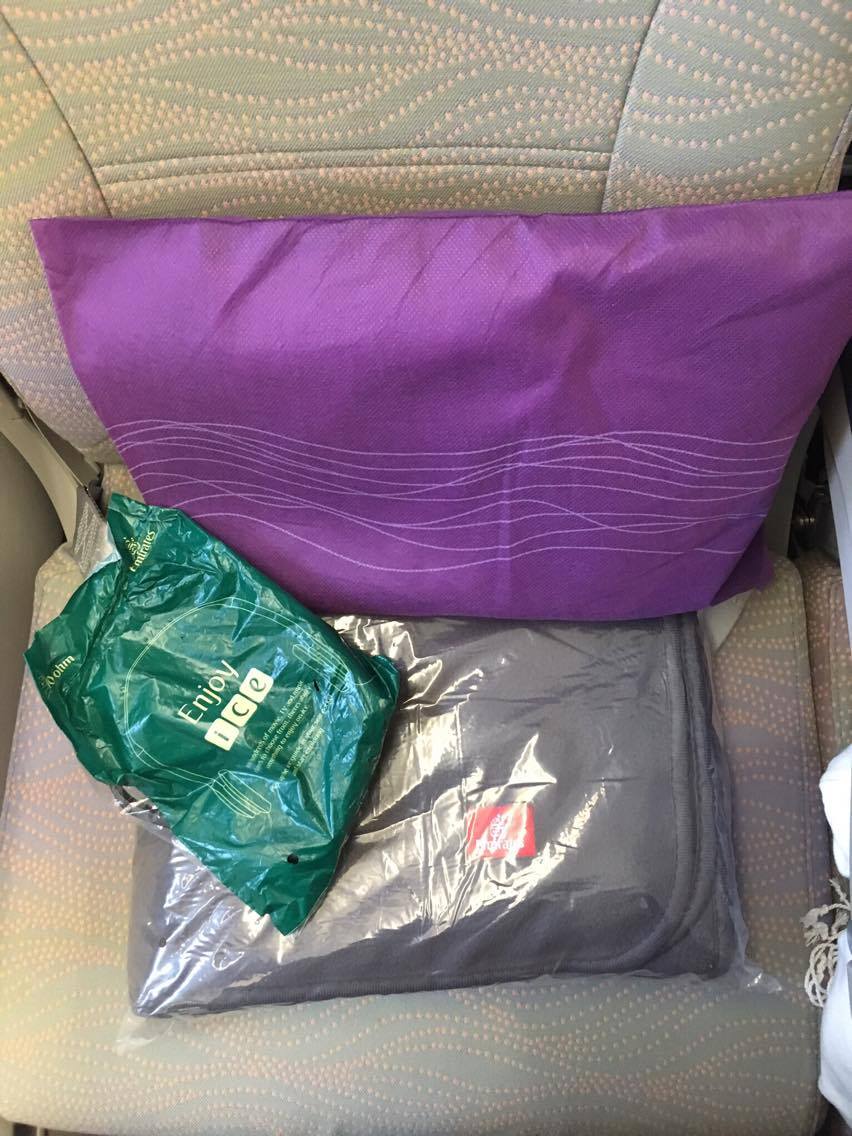 No wash kit was provided. I've come to expect this on other airlines and so I was left disappointed. However, there were hand lotions  and other helpful things in the toilets, a nice touch in economy.
The Food
Salty, salty, salty! I know why they do this, tastebuds are deadened at altitude, but in an already dehydrating environment, it left me gasping for water. There has been research into the umami taste at altitude but it seems Emirates haven't gotten that far.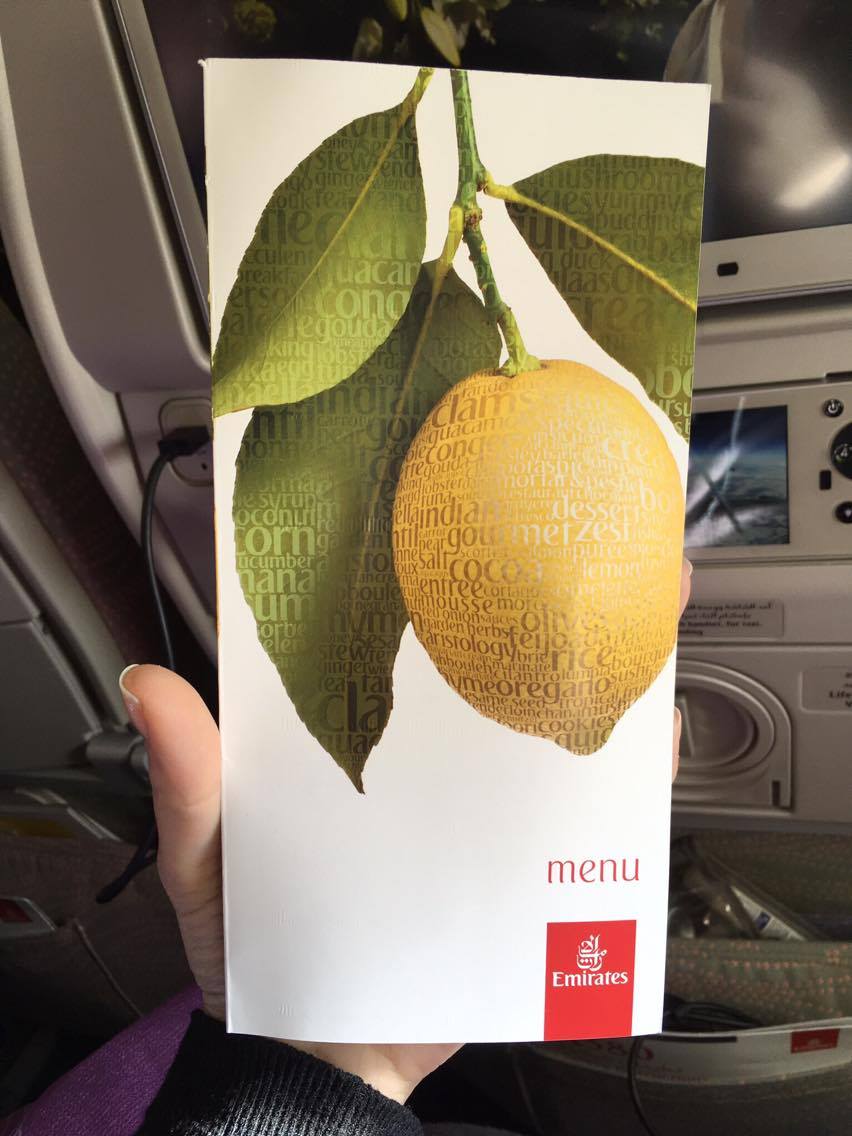 Saying that, I had a meat option and I was pleasantly surprised at how tender the chicken was. It was also a very good portion size.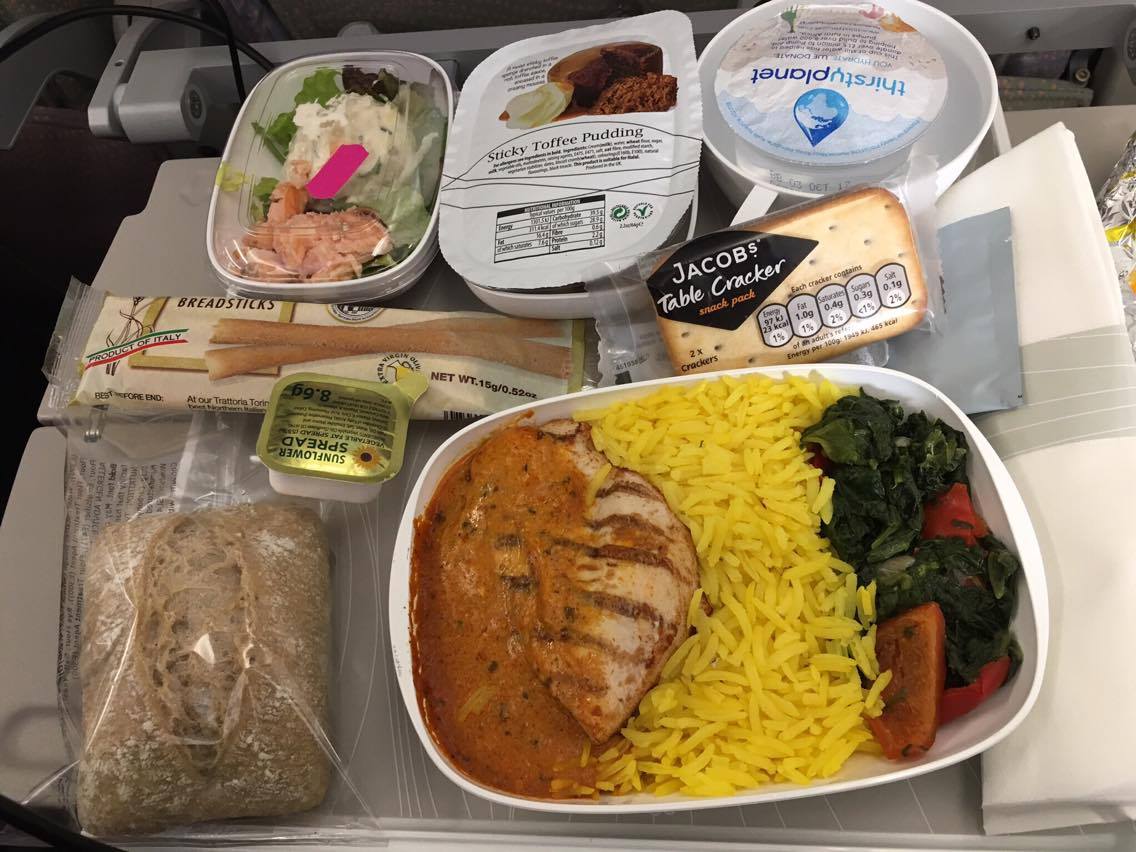 If you wanted an alcoholic drink with your food, you had to ask specifically as they weren't out on the trolley, and the first drinks service was just soft drinks. I suppose this is probably obvious when you think that it's a Middle Eastern airline, but they do have a bar upstairs in business/first so I guessed the drink might be more plentiful.
A word of warning!
If you are vegetarian PREBOOK YOUR MEAL! We took four flights to Sri Lanka and back and not one meal service had a vegetarian option as standard.
The Crew
The crew were delightful. Emirates is very proud of its multinational staff, they even make an announcement to tell you how many countries are represented and how many language they speak.
Considering they have to look after almost 400 economy passengers on a full flight, they stayed calm, friendly and attentive
So should I fly Emirates?
I would definitely recommend flying on the Emirates Airbus A380. It is a comfortable plane and they have multiple flights from London Gatwick and Heathrow so you can choose a time that is right for you. However, next time I will bring a big bottle of water and my own teeth-cleaning kit. It is also worth noting that their Boeing 777 planes are older and smaller. The seats are less spacious and the screens are also much smaller and poorer quality. If you have he choice, go with the Airbus A380.
Read all our blogs on the United Arab Emirates
Rosie xx