It's time to head east again, ah Asia! This time we are off to the Philippines, via Hong Kong. Leg 1, London to Hong Kong is done and dusted (why not read London to Hong Kong in Upper Class with Virgin Atlantic). Now leg 2, and we have chosen to fly with Philippine Airlines.
Check out 42 Things for Your Hong Kong Bucket List / Hong Kong Itinerary
The Airport Experience
Well, I have fallen at the first hurdle here and forgotten to take any photos for this section, but stick with me.
Hong Kong has a train called the Airport Express which leaves from Central (Hong Kong station). Within the station is the "In Town Check In". This is a very convenient service that allows you to check in for your flight, and drop off your luggage before boarding the 24 minute train to the airport. Philippine Airlines is one of the airlines that uses the service and so we checked in on Hong Kong island before jumping aboard the Airport Express. Easy.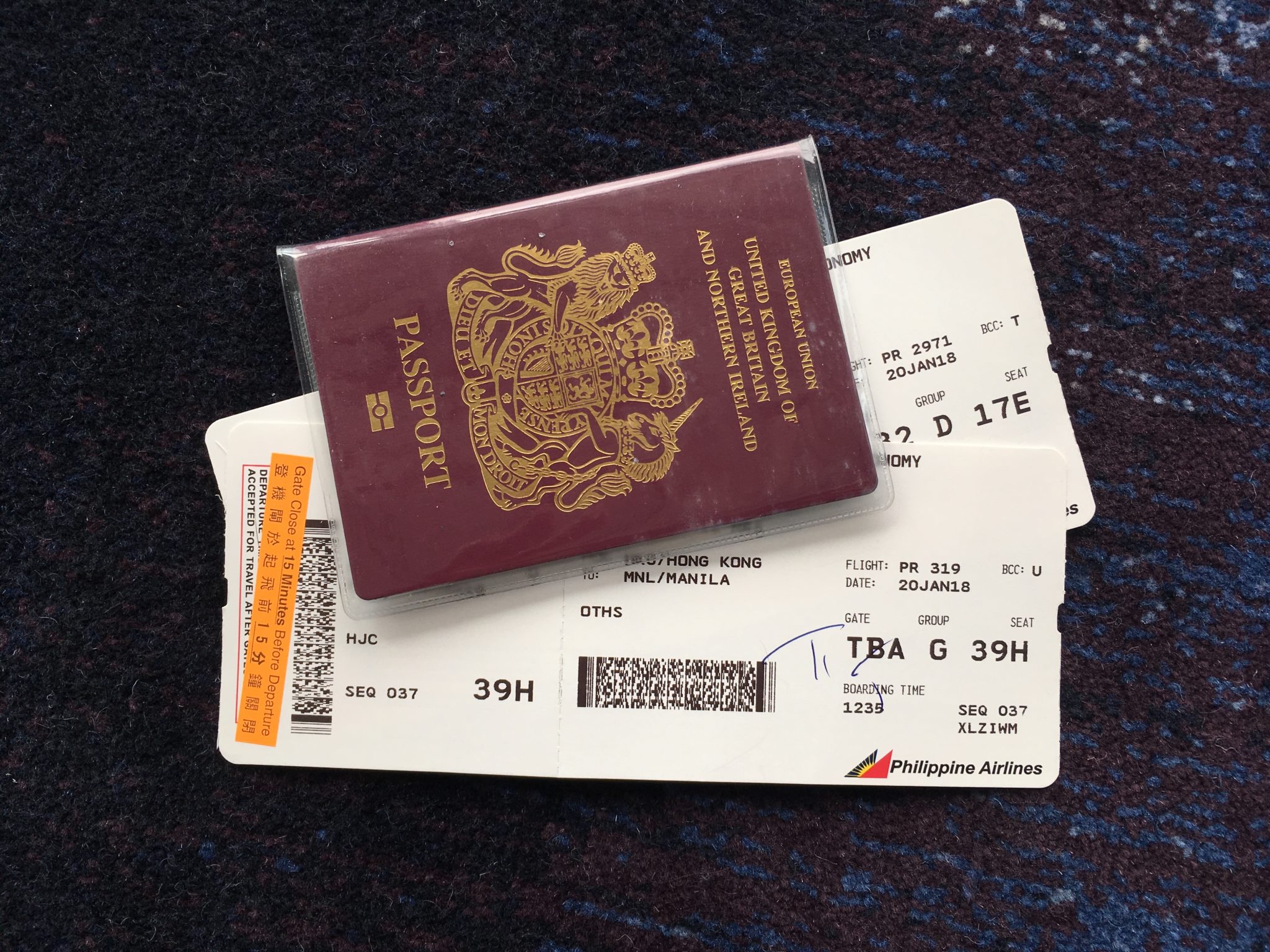 After our arrival at the airport, we were able to go straight to the Terminal 2 security without seeing another Philippine Airlines desk.
Weirdly, although you are processed through security in terminal 2, you will then board a train that whisks you back over to terminal 1 to board your flight. This confused us a little, we thought we had gone the wrong way somehow! Never fear, just head to your assigned gate, you are in the right place.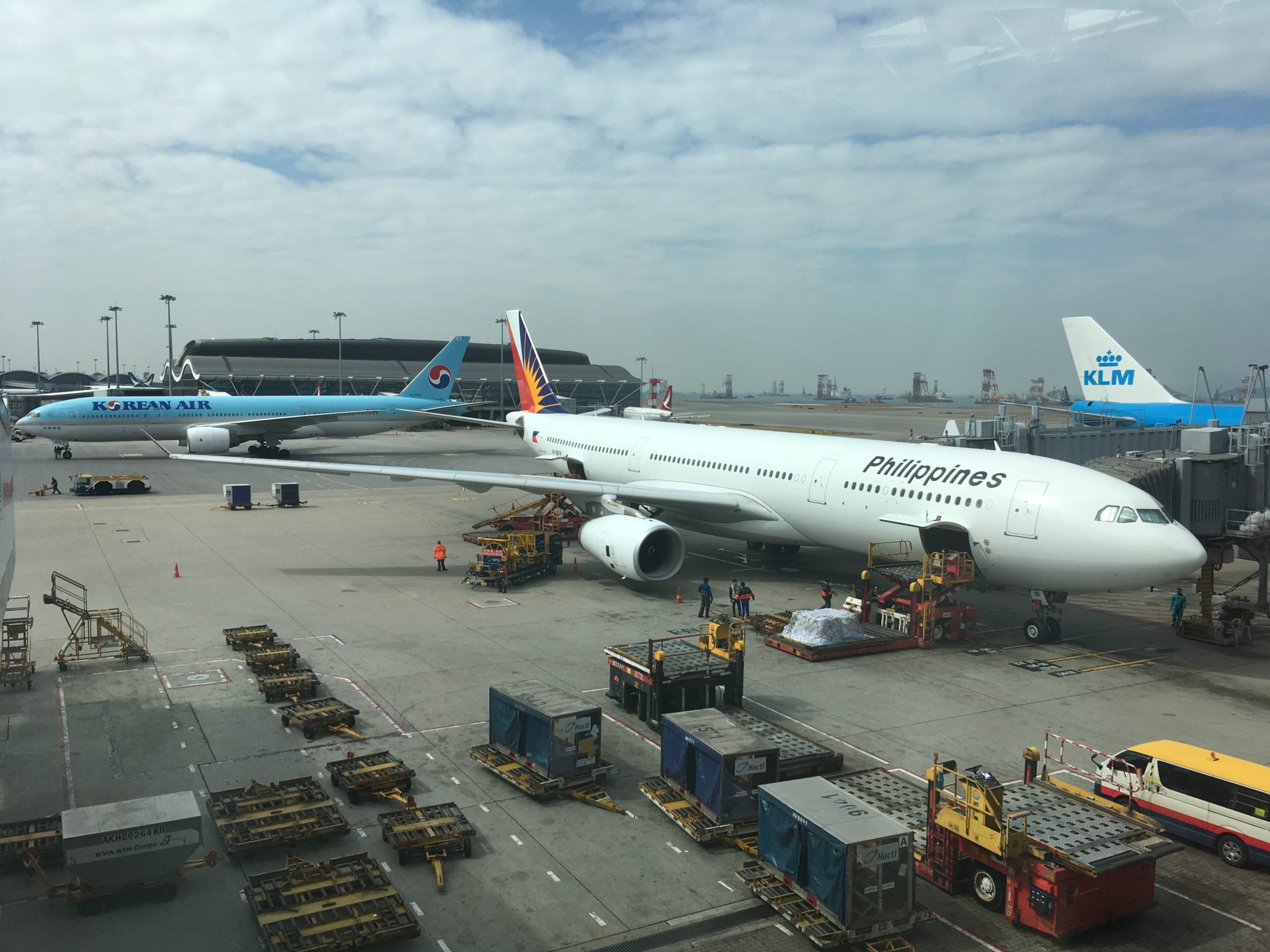 The boarding process was very easy, and well organised. No complaints here.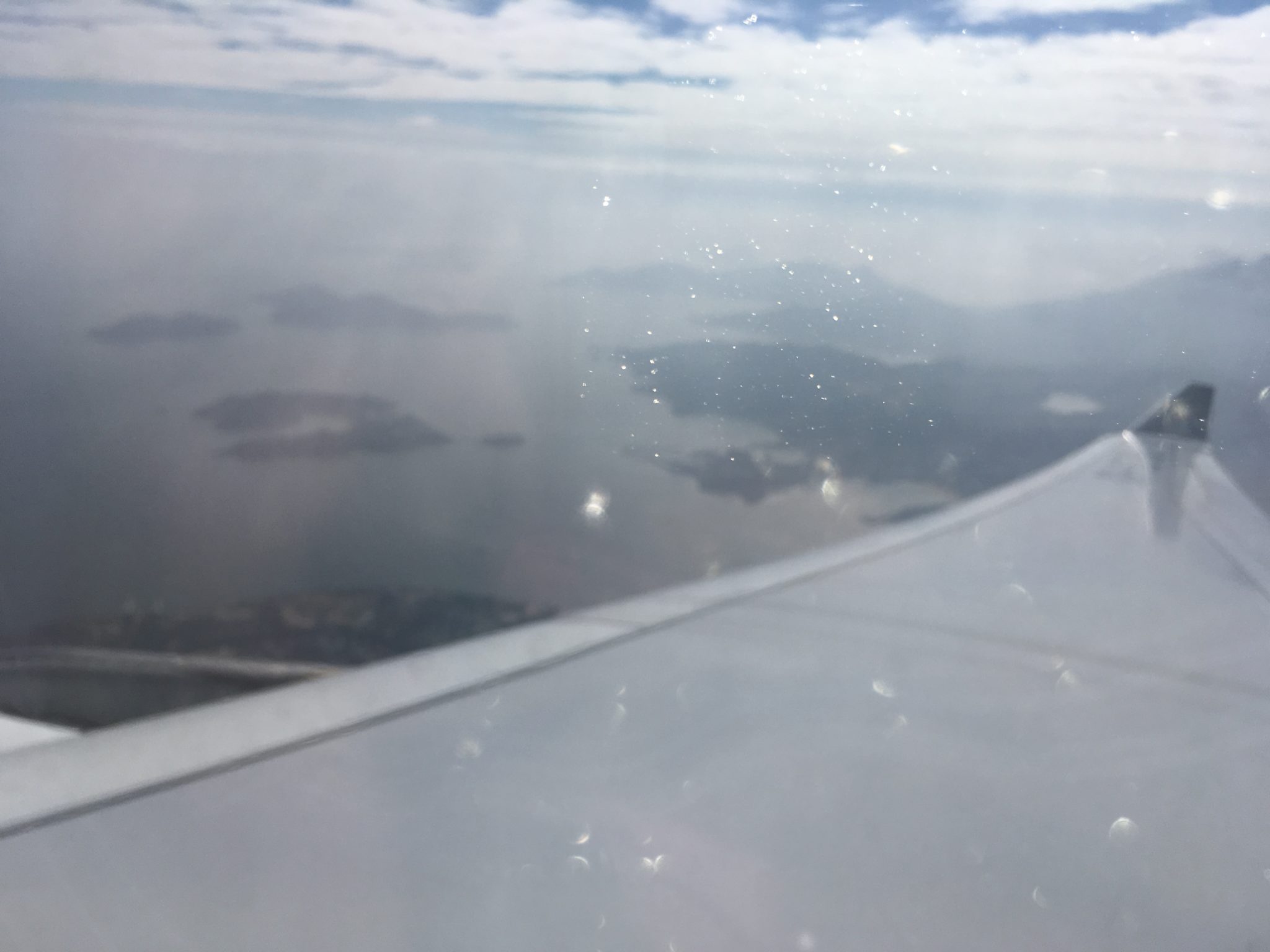 Whilst in the Philippines, we flew with AirSWIFT, check out our review of AirSWIFT to El Nido
The Interior
Our first impressions were good. The colours are clean and fresh with a grey and turquoise colour palette; it was clearly a new plane.
There was no music when we boarded but there was some when we landed. I always like a bit of music, I think it adds to the atmosphere.
The Seats
The seats aren't hugely spacious but are perfectly acceptable for economy. They have a pitch of 32″ and width of 17″. This is enough to sit comfortably, but not to curl up (I struggle with this on long flights).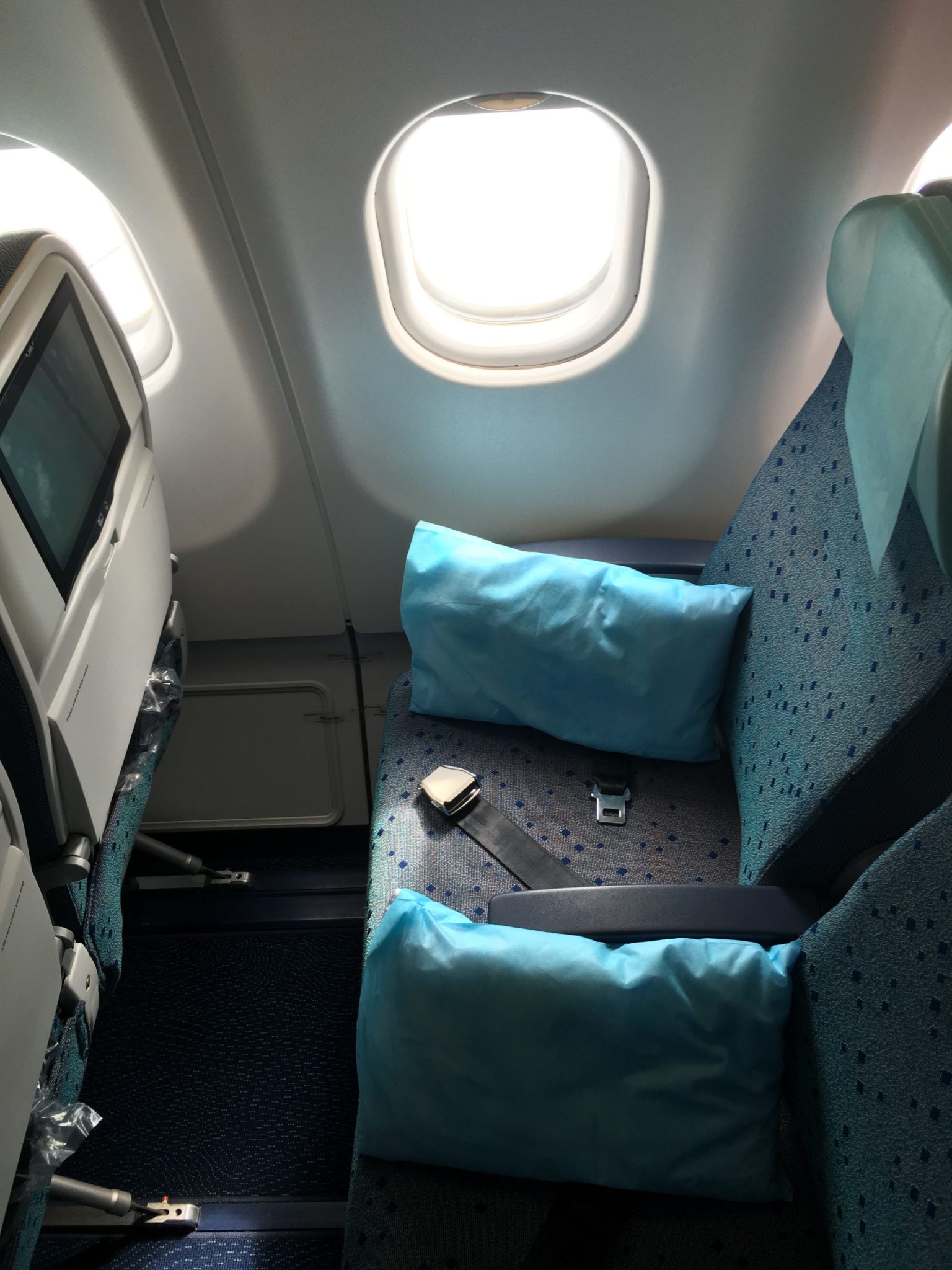 The headrest is pleasingly adjustable. It goes from my head height, to the head height of a much taller person. The best bit, is that the flaps to either side really do fold all the way in properly and can actually support your head.
There was a small recline but as food was served quickly, and people were asked to put their seats back up for the service, I didn't bother to use mine.
The tray table had a button that you push in to open it, and that you click back shut again. At first I thought it was pretty nifty, but I realised that you have to push quite hard to open it, and even more so to close it. This puts pressure on the person in front, and I can imagine it getting quite annoying for them over a long haul flight.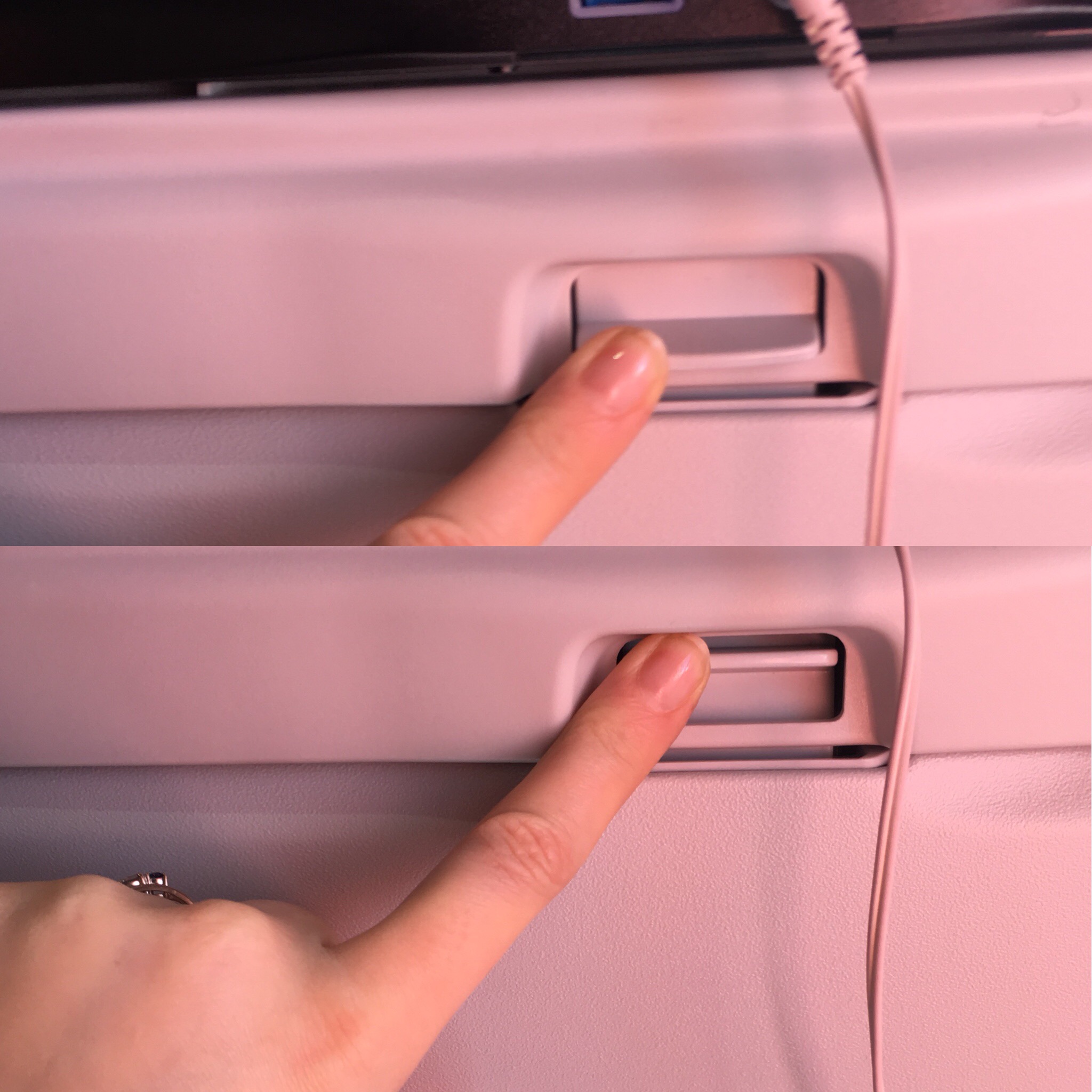 The seats on the Airbus A330-300 V3 are set out in a 2-4-2 configuration, my preferred layout. The other two Philippine Airlines versions of this plane have the 3-3-3 configuration which is great if your plane is half empty but is no fun for anyone if it's full. As a couple, you either have to give up your window seat to have an aisle or the other way around. In a 2-4-2 we had a window and an aisle, and only had to climb awkwardly over each other.
The Storage
The overhead bins were deep enough but the height wasn't very good. An average cabin wheeled luggage couldn't lie on its thin side which means the bins were full up very quickly.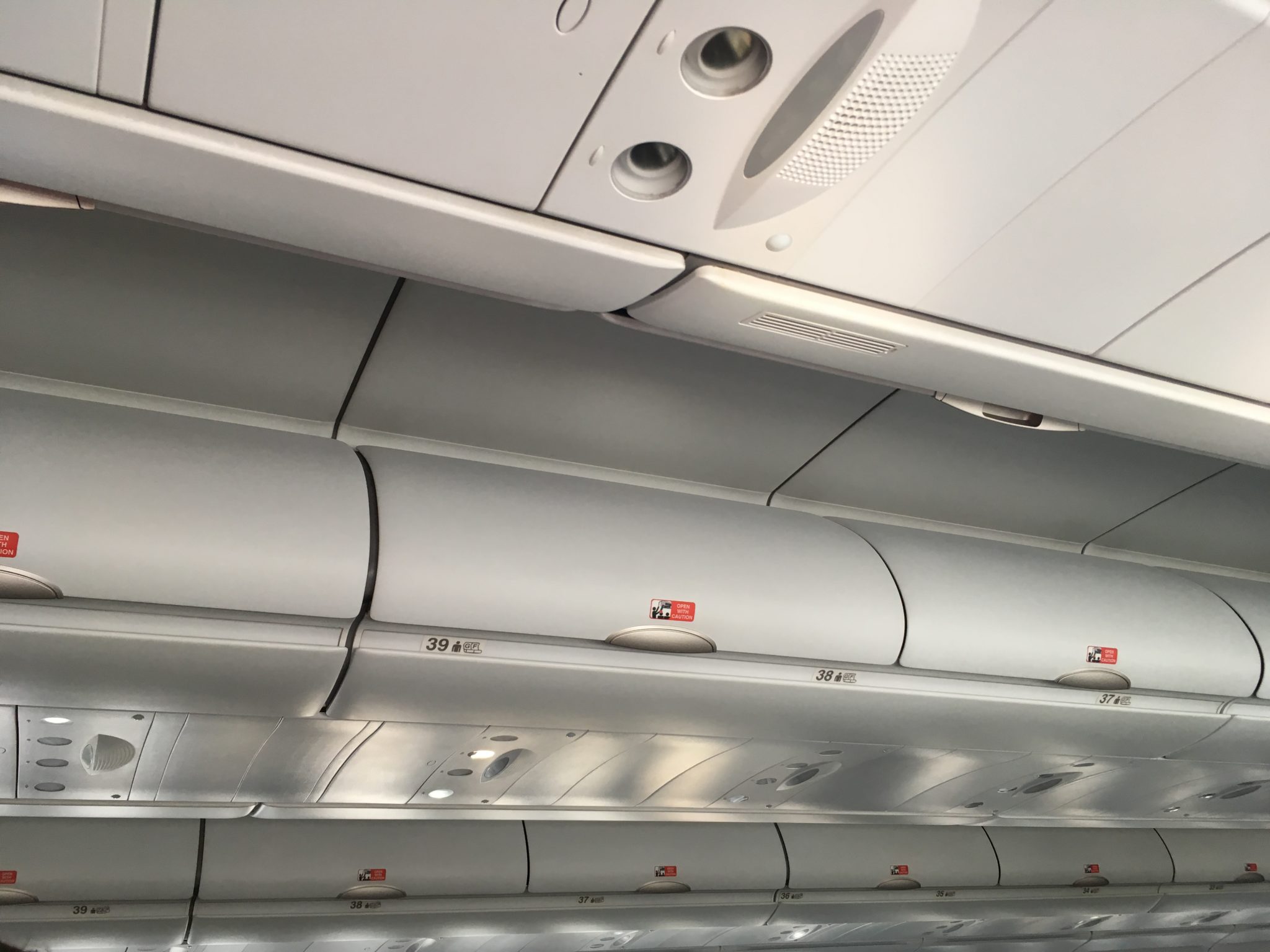 The Entertainment
In the seat back in front you, you have a screen roughly 11 inches in size. This is a highly responsive touchscreen and so I guess pretty new. The only problem is that it is also highly glossy.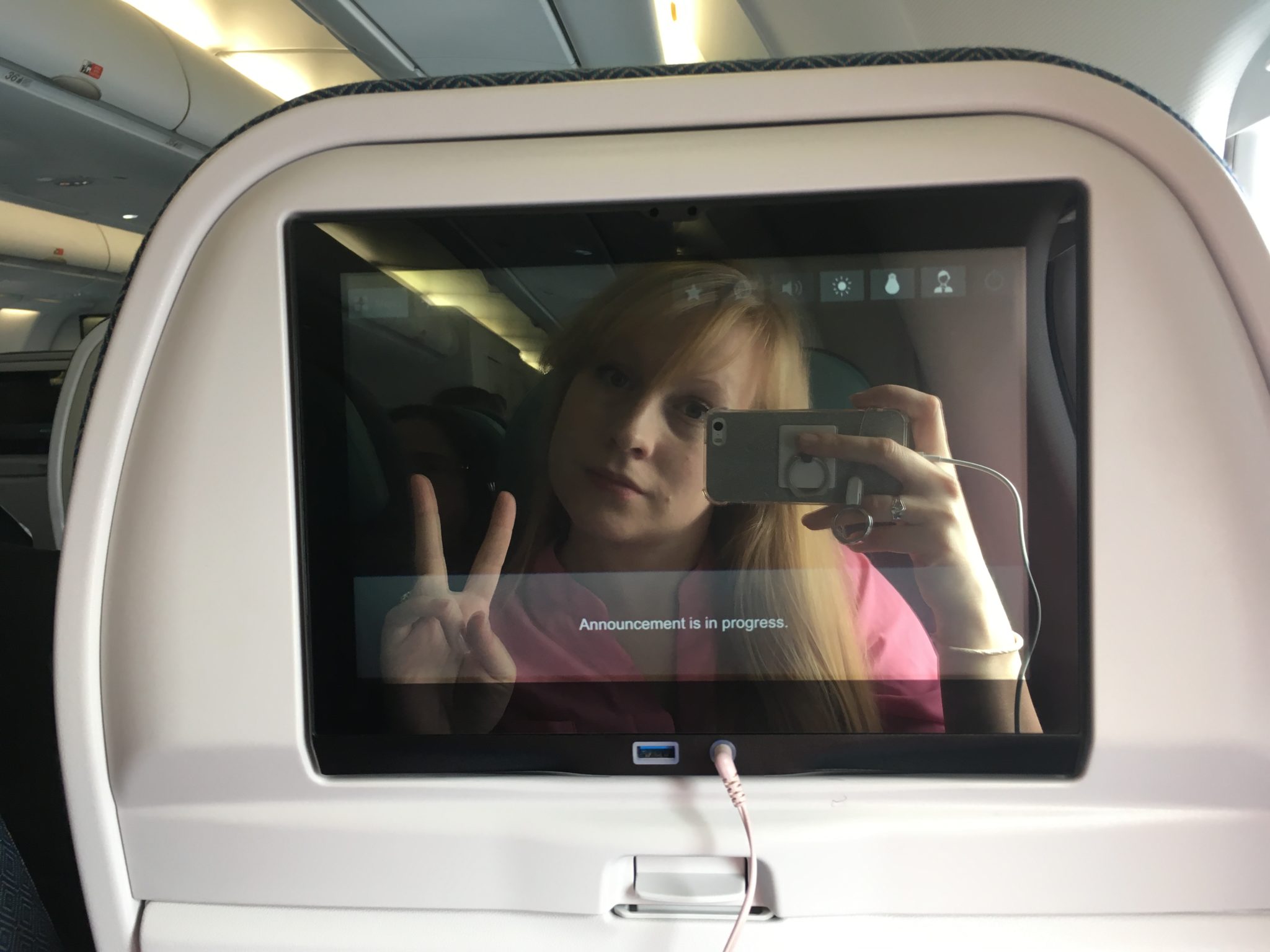 This is the entertainment hub and it fires up from push back so you can get straight into it, with a few interruptions for announcements and the safety video.
If you are into films, you won't be stuck for choice. On our flight, there were around 150 choices, from new releases to some great older films. For example, you could watch Notting Hill or The Birdcage, both beloved older films. I indulged in a re-watching of Moana.
Besides films you will find loads of TV, with some complete series to binge. There's also music, a sky map and games for kids.
I think that the iPad level of touch screen, combined with the ten second back button (so handy when you miss something) makes this the best entertainment hardware I've encountered. They may not have the same amount of options as, say Emirates, but it just works brilliantly.
The seat back screen has a USB port so you can charge your phone or other USB devices. This means you can also use your own entertainment without worrying about running out of battery.
There is an onboard wifi service and they offer you 15 mins or 15MB free, whichever you use up first. I completely forgot to trial it (too busy pretending to sing along to Moana).
Check out all our travels in The Philippines
The Amenities
In your seat back pocket, you will find Philippine Airlines inflight magazine with articles showcasing destinations from all over the world. You will also find the duty free magazine, the safety info and a sick bag…which hopefully you won't need.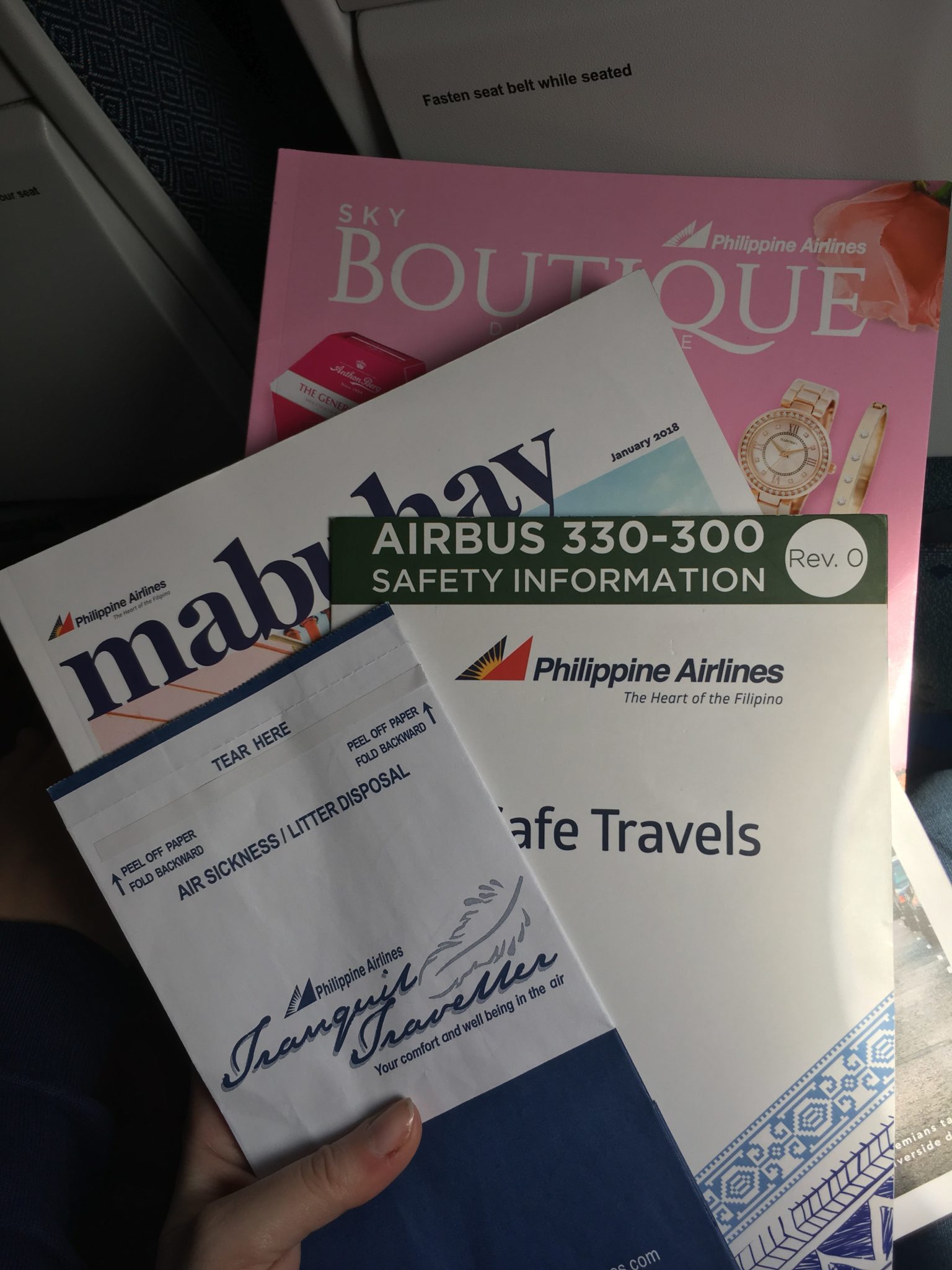 Finally, they provide a pair of headphones. We always use our own but I did test them and these ones were pretty average quality. They blocked out enough noise for a flight but you wouldn't make an effort to keep them afterwards. We were provided with a pillow, reasonably sized for economy but no blanket so if, like me, you are always cold, I'd advise you to bring your own.
The Bathrooms
The bathrooms were small but fine. They do provide toilet seat covers so if you'll be happy if you're squeamish about public loos.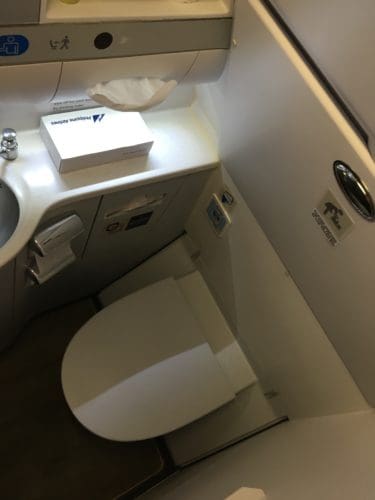 The other thing that I thought was worth mentioning were the little bottles. It's rare that you'll find nice hand wash and lotion in economy. Plus, there's a bottle of perfume! All three were citrusy and fresh, somewhere between a spa scent and a lemon flavour cleaning agent….in a good way.
The Food
Despite the fact this was only a 2 hour flight, we were served lunch, which I thought was pretty generous. It was served about 45 minutes into the flight and so there was no preceding drinks service, there simply wouldn't be time.
Lunch consisted of two choices.
Fish fillet with rice
Braised beef with pasta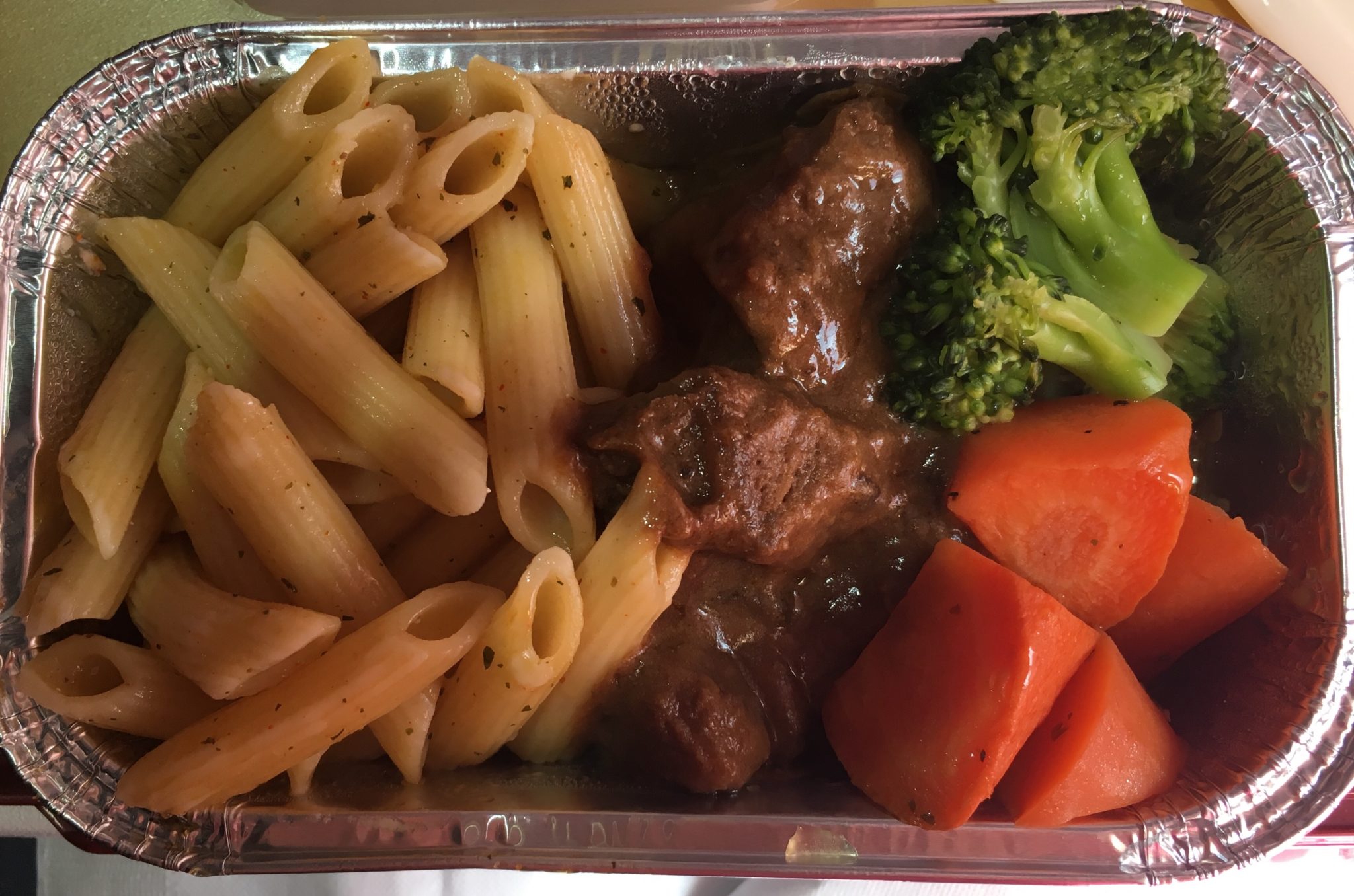 The beef was tender but had a few bits of fat left on it, which turns me off a bit. The gravy was quite salty, but then that is the common curse of airline food. The veg was well cooked, not too squishy, which I was surprised by. Finally, the pasta, an odd companion to what is essentially a roast dinner. It had melted butter on and so wasn't completely devoid of flavour but it did leave it a little greasy.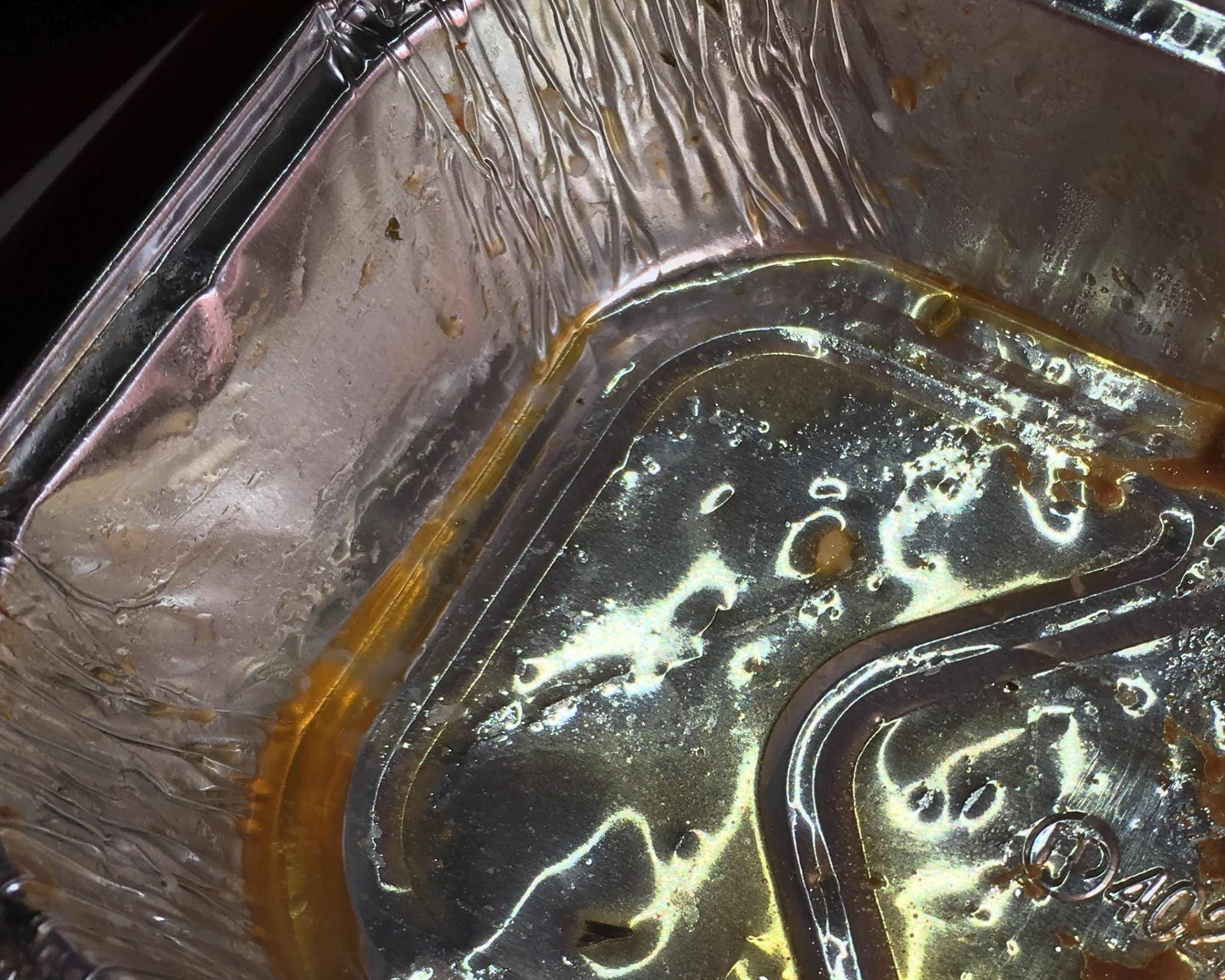 Don't get me wrong, a big bowl of pasta with butter and cheese can be comfort food of the gods, but next to beef and gravy? They were odd bed fellows.
The little vanilla mousse cake, with a sponge base, was sweet and light. It was a completely inoffensive end to the meal and I'm sure that everyone would enjoy it. I certainly was before I remembered to take a photo. This is an improvement though, usually I have finished my dessert before I remember to take a snap.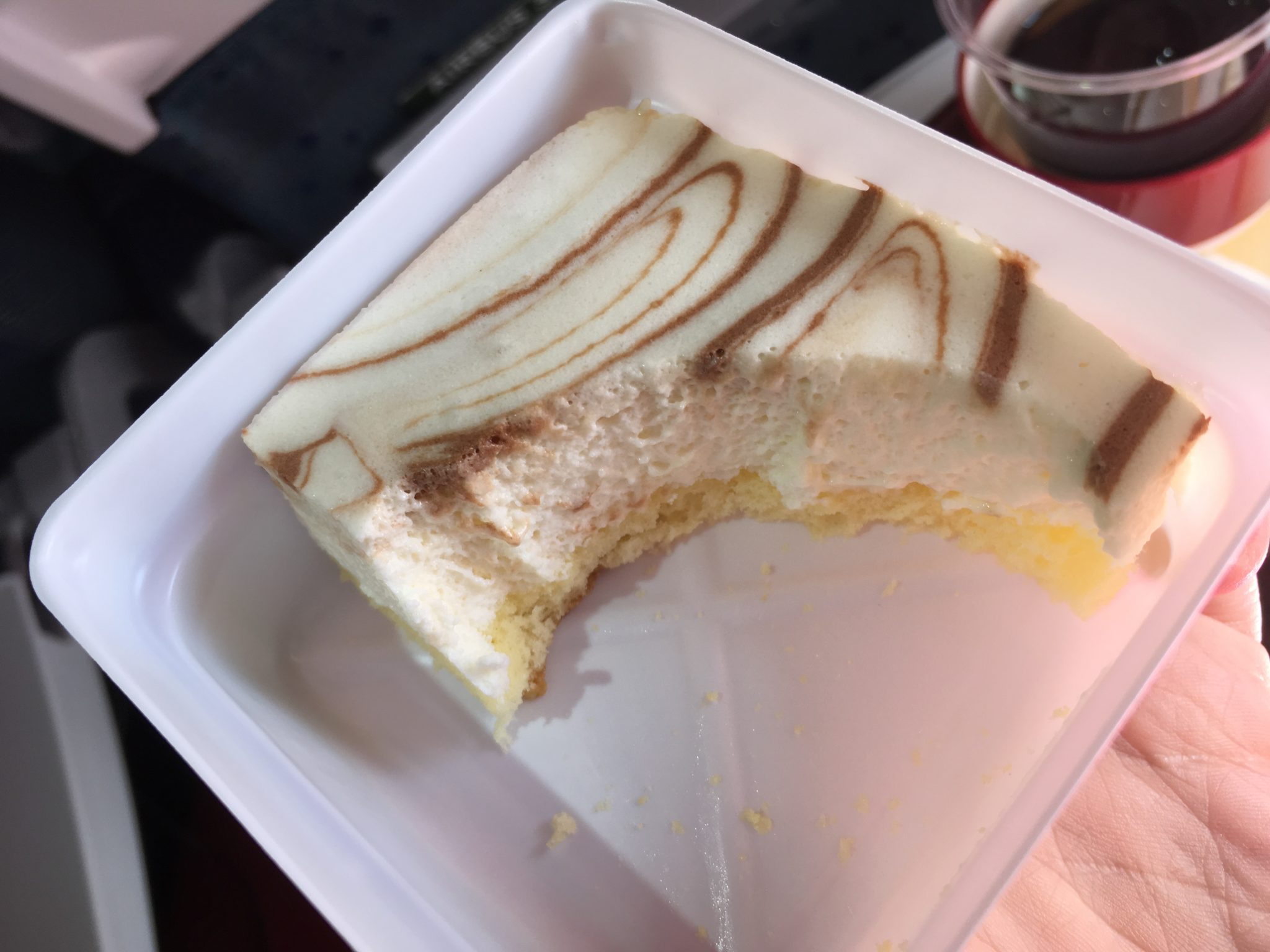 The drinks served with dinner were soft drinks, including hot tea or coffee, or wine. You won't get a spirit and mixer but considering you don't have time to sleep on such a short flight, that may not be a bad thing.
Arriving at the Destination
We had a domestic connection to make at Manila Airport and so we had all the joys of picking up our luggage to clear customs. Helpfully, they announced the baggage carousel when the ground staff made their announcement so we deboarded with a sense that we knew what we were doing. Ten minutes later, we realised that this was a bit of a myth, but we got there in the end.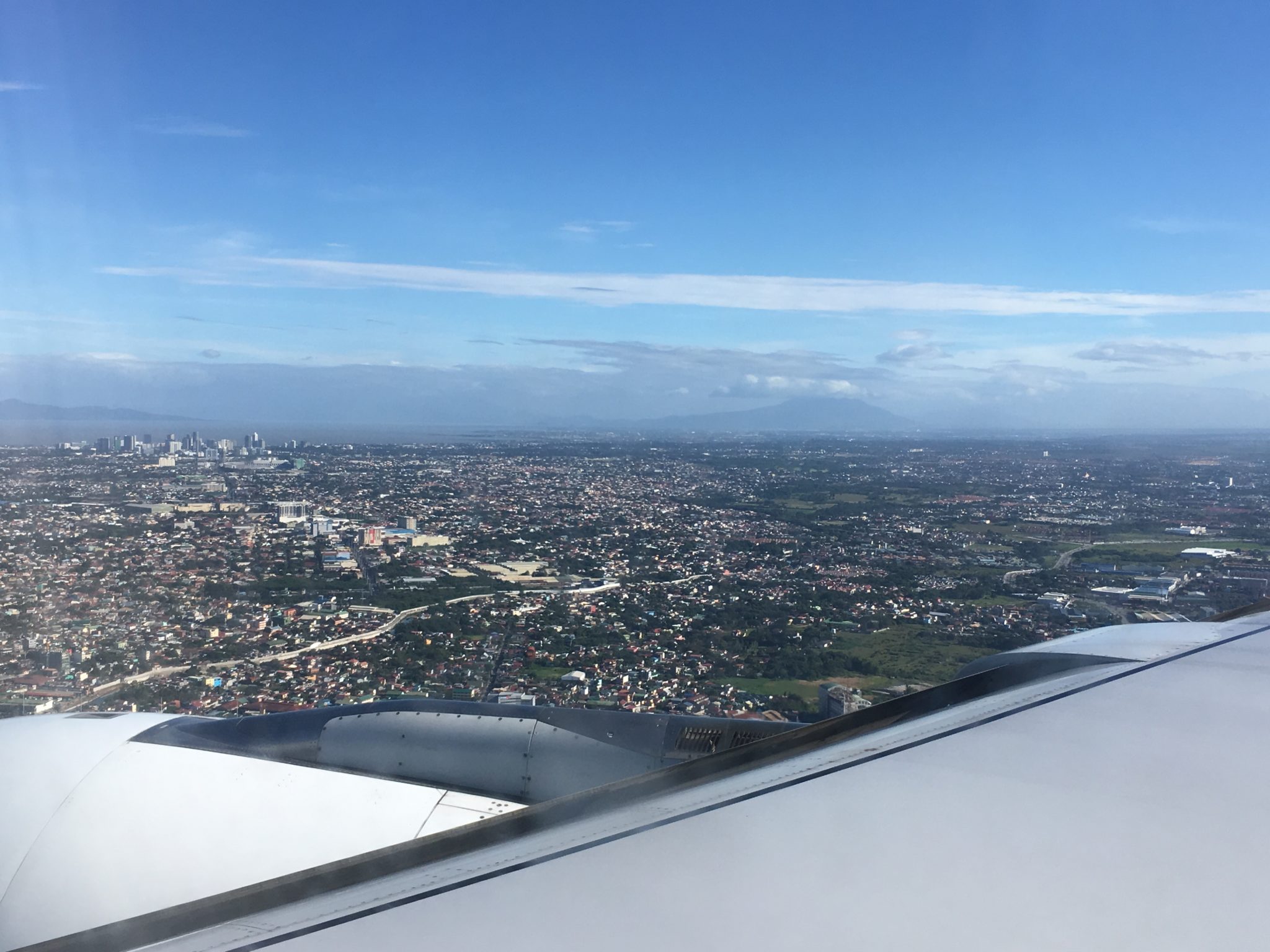 Check out all our other flight reviews here
Final Thoughts
I loved the Philippine Airlines entertainment system, and the headrests on the seats. However, I was less keen on the food, fine for a short flight but less so for long haul, and thought it was a shame that it was a small drinks selection. Overall, a solid 8/10.
I enjoyed my flight with Philippine Airlines and would definitely fly with them again (lucky, seeing as we have an onward journey and a return flight with them).
Rosie xx