Virgin Atlantic's Upper Class cabin is their top most cabin offering. It is listed as the Virgin Atlantic business class cabin and so lies somewhere between British Airways Club World and First Class (just as a comparison). We are very excited to share our experience of flying Upper Class from London to Hong Kong.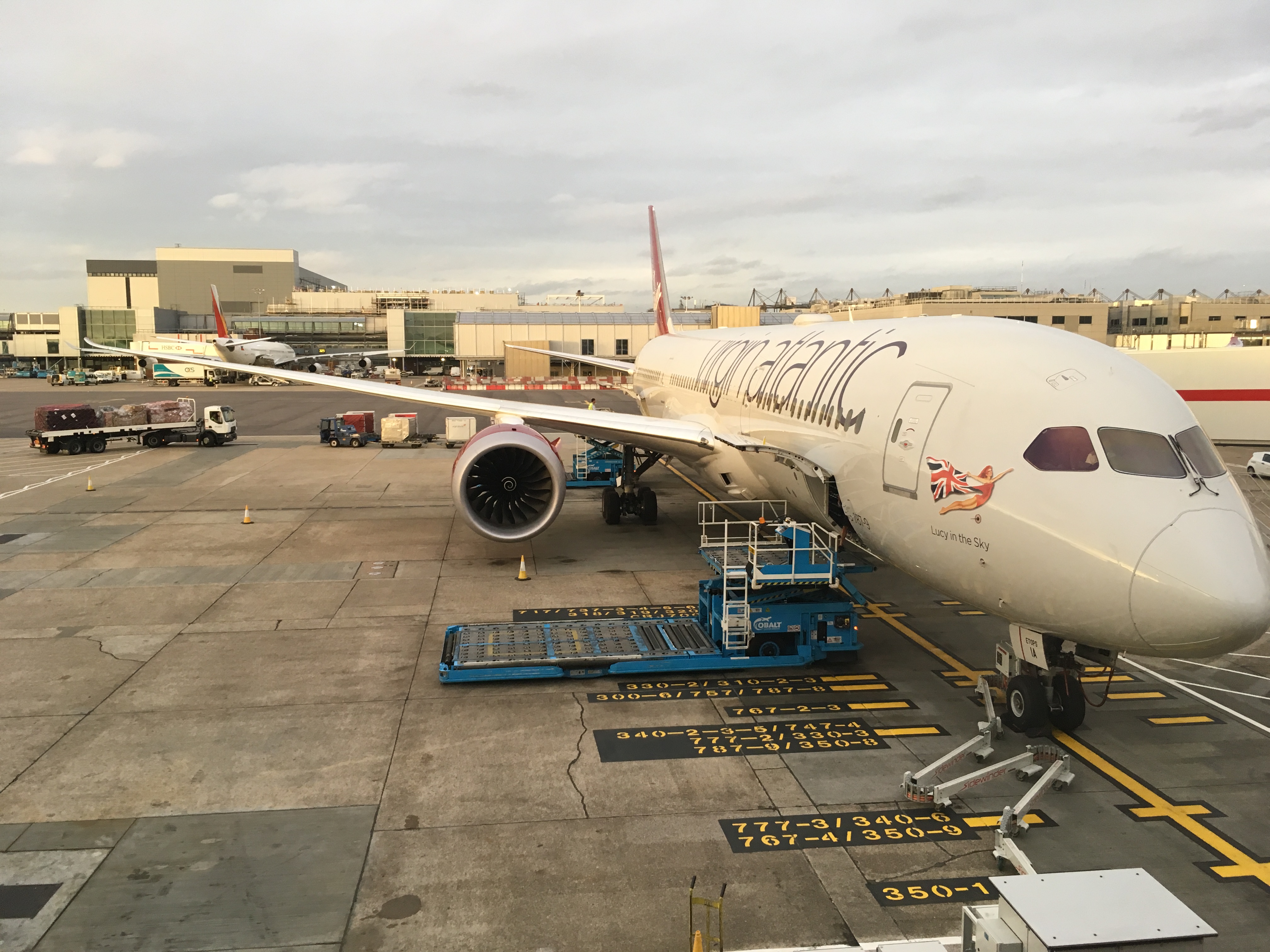 The Arrival
If you are flying in Upper Class you can use the drive in check in. The higher fare entitles you to a pick up, but even if you aren't eligible for that, you can take your own cab up to the drive in check in. Don't like cars? You can take the Heathrow Express instead. It is non-stop from Paddington, leaves every 15 minutes and takes 15 minutes. We decided to get the stopping Heathrow Connect train as it is convenient to our house.
The Airport Experience.
Whether you come through the drive through or not, you can use Virgin Atlantic's Upper Class fast track security. This is much faster than the normal fast track as it is exclusively for Virgin and Delta customers.
Through the duty free shops, you will find Lounge H. Up on the first floor is the Virgin Atlantic Clubhouse where changes are afoot. Since Virgin and Delta buddied up in their cross-Atlantic routes, the Clubhouse has been busier than usual. They needed to create more seating and so building work has been ongoing for a few months.
The clubhouse is super stylish; it has a mad men vibe, reflecting the stylish edge of the 1960's. From the hanging egg chairs to the curved booth seating, the eye is treated to a different look from the standard lounge. There is a spa offering hair cuts nails and massage. These are all included, just pop to the reception and book a slot. On the first floor is a room with lots of screens for your viewing pleasure and there is a large brasserie area for dining…and speaking of dining.
Food and Drinks
Whether you want to eat before your flight and go straight to sleep, or if you are just a greedy guts like us, the food and drink are a cut above. You can pick from full three course meals, the deli counter (with FOUR different kind of smoked salmon) or the Clubhouse tapas. This is a selection of smaller dishes that change regularly and have flavours from around the world. This is what we did.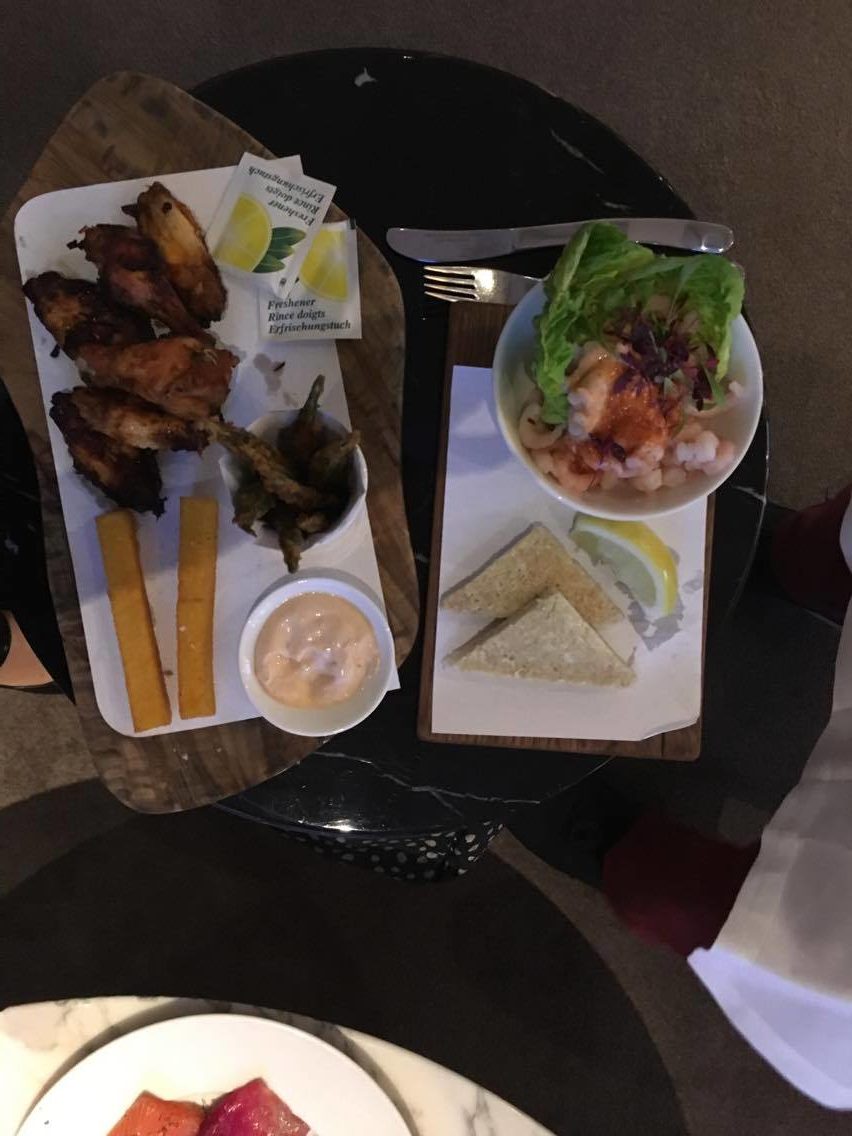 There is a full bar and a cocktail menu. The Virgin classic is the Virgin Redhead, but on this trip we tried drinks from the new collaboration with Dandelyan. It has been named as one of London's best bars so we were keen to try their concoctions. We also ordered some champagne because….well, its yummy.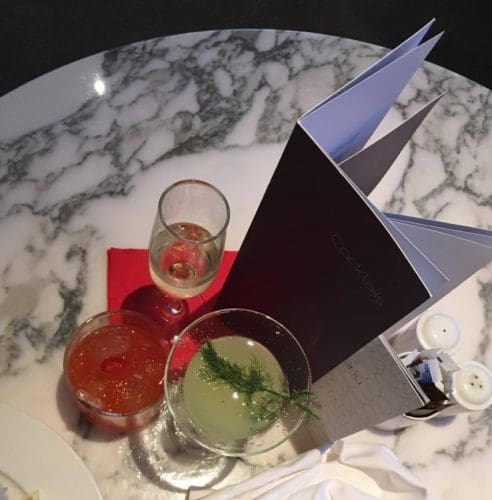 The concierge made an announcement when our plane was ready for boarding and we set off for the gate. We breezed through the priority boarding lane and stepped on to the plane.
Boeing 787




The Interior
Virgin has had quite an intake of Boeing 787-900s in the last couple of years and they have spent a long time making sure they look good. The first thing you will notice is the lighting. This shifts from purple, to pink, to orange throughout your time on board indicating the different phases of the flight.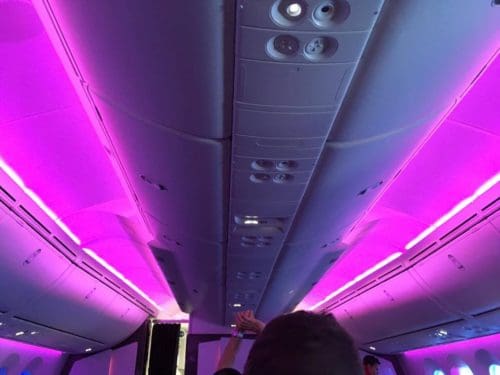 As you step foot on the plane, you see the Upper Class bar. This is backed by a light screen. Here is a small nod to their new relationship with Delta, see how it looks like the Delta widget? (The Logo)
Check out all our flight reviews including Emirates and Turkish Airlines
The Seats
The seats are set up in herring bone design so that everybody has access to the aisle without having to climb over someone else. This is one of the failings in many business class cabins and so I think it gives Virgin the slight edge.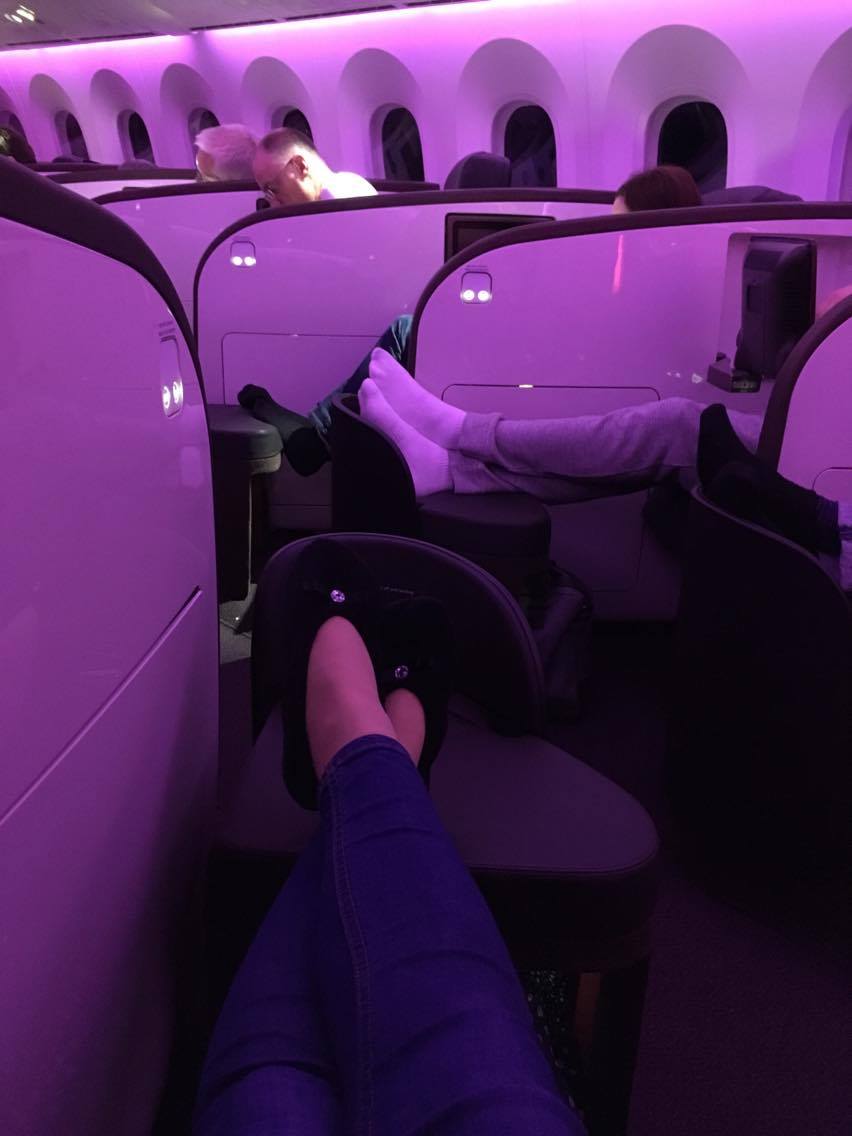 The seats are a dark brown colour and made of leather. They are a touch thinner on this aircraft than in previous incarnations. That's not to say it's thin at 22 inches. The leg room is sufficient for the even the most leggy of passengers. That chap opposite me was a good six foot tall.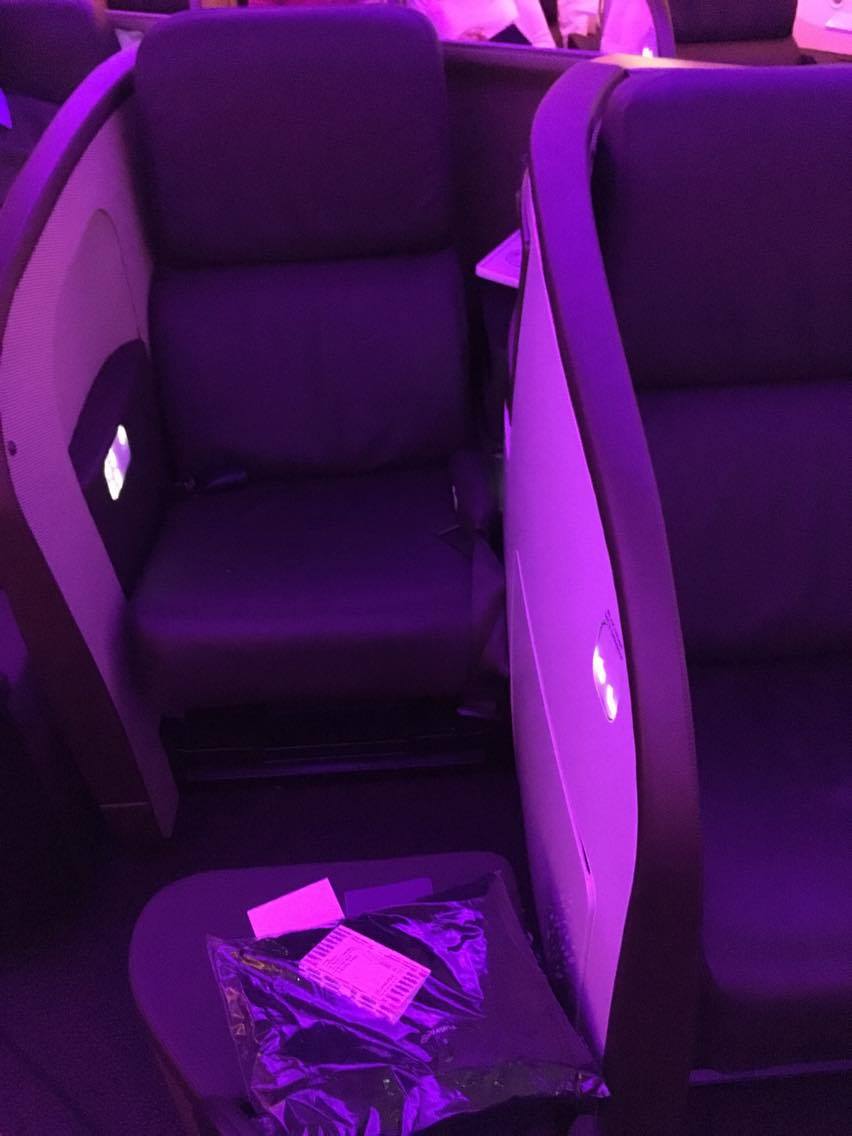 The Bits, Bobs and Buttons
Above you can see the seat as it is on when you board. The foot stool has the headphones and menu on ready for boarding. On the right, the light is the bed mode button. On the left is the seat adjustment lights. You may have noticed that there are two seat belts on show. This is for the dining set up. I'll explain it a little later on.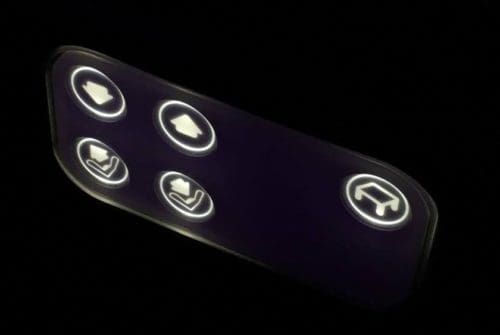 Above are those seat adjustment buttons in more detail. You can see the table button here too. Press this and you can get out your dining table. Also, there's the little shelf that is at shoulder level, above you left hand. In the mug is my yummy breakfast coffee!
The Storage
Under your footstool is some space, you can use it just like your "under your seat in front of you" area. I put my hand bag under it so that I had easy access to it.
Next to your seat there is a small magazine holder. There is enough room in here for your wash-bag and reading material. It means you can put everything in it that you need quickly (I used it for my face wipes, moisturiser and phone).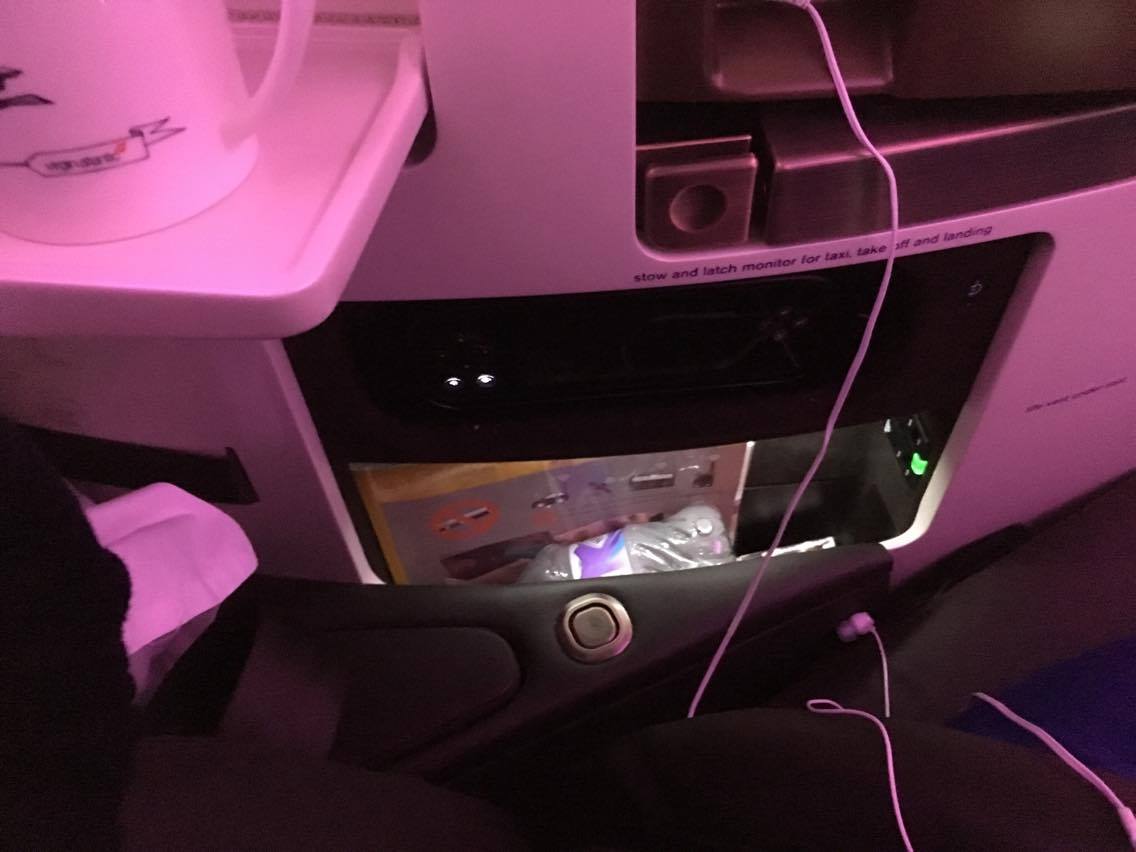 Up above you will find the standard Boeing 787-900 storage bins, but being in Upper Class, there is loads of room for each passenger.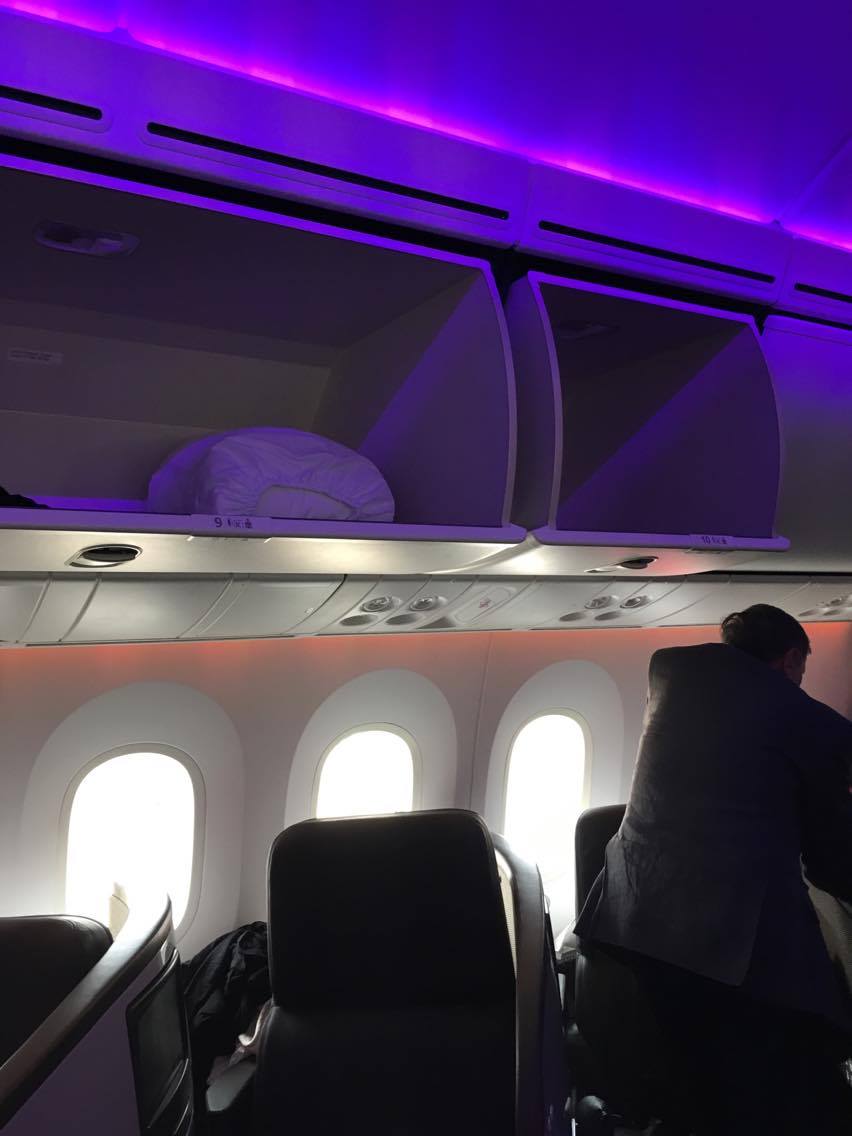 The Entertainment
All classes on Virgin have access to the same entertainment system, Vera Touch 2. There are other airlines that limit economy options and so this is one of the things I like about Virgin. There is a reasonable collection of films, TV shows, games and audio options. The selection isn't as great as some other larger airlines but is definitely sufficient for a return flight. Maybe you would want more if you were a regular flyer. You can add things to a favourites list so you have a shortlist to pick from as you go rather than having to remember what you planned to watch.
In Upper Class you get a screen that flips out from the side wall. It is 11 inches across which is much smaller than other airlines but it is much closer to you than on other business class seating options.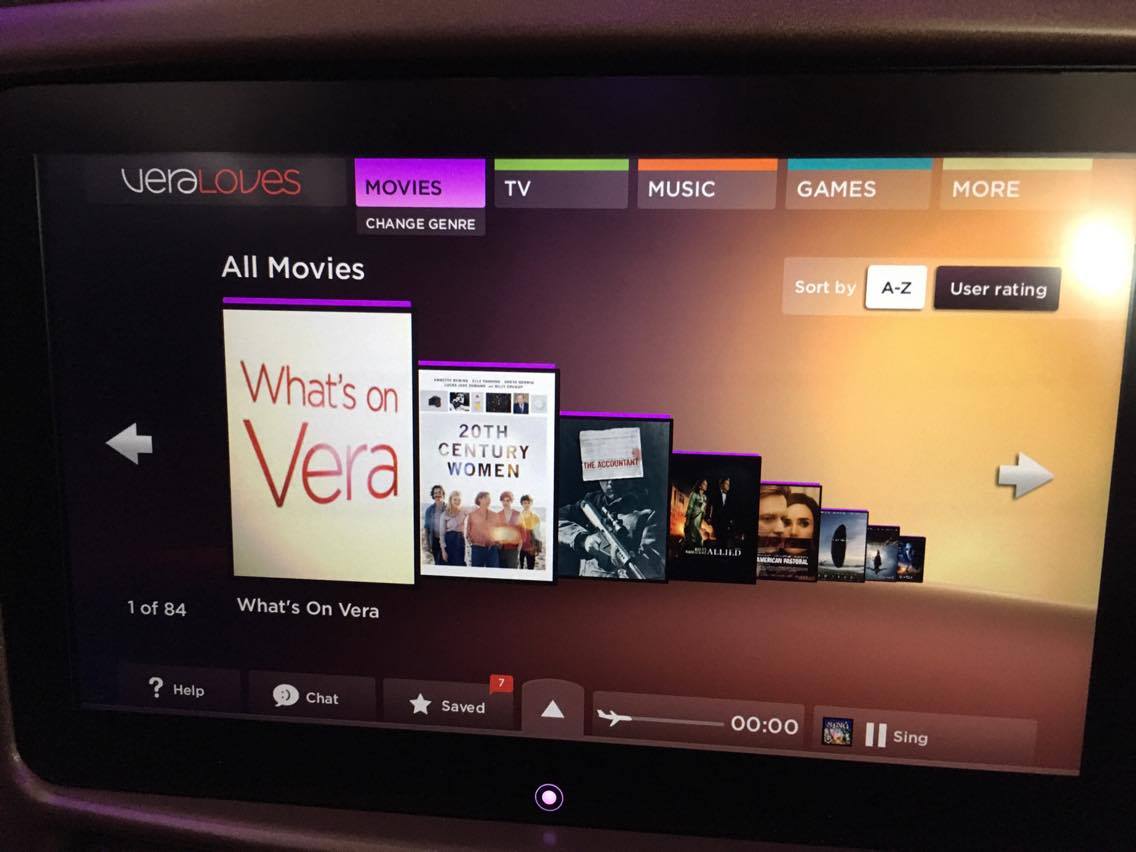 The Amenities
In Upper Class, you get given a wash bag that contains an eye mask, socks and a pen. There's a toothbrush and quite a large toothpaste. Then there's a little pouch with an eye cream, body lotion and lip balm from fancy brand Rituals.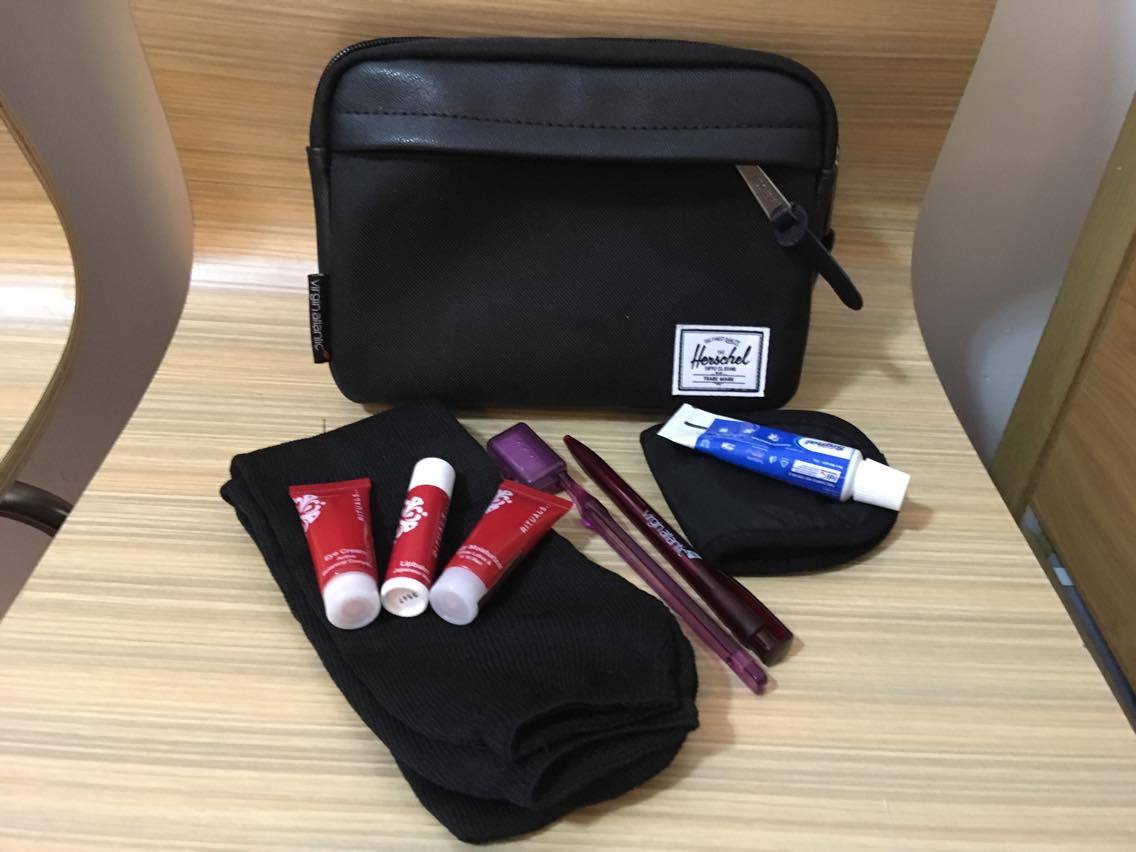 Finally, the pièce de résistance, the sleep suit! This is a pair of pyjamas available in small, medium or large. Changing into pyjamas not only helps with comfort, but keeps your clothes nice (if you are going straight to work) and helps trick the body with a bedtime routine. I have been using mine as pyjamas at home ever since.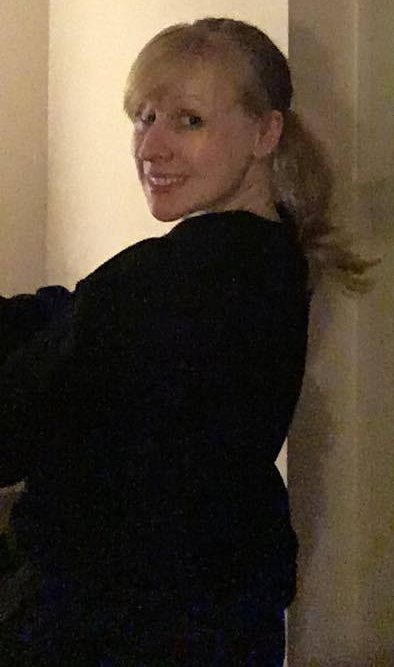 The Food
Taking a seat you will be offered a glass of champagne, always a good start. This is just a little something to get you through the take off.
Next comes the proper drinks service. The crew will take your order from the bar. You can have a soft drink, normal mixed drink or cocktail. When we flew, there was a special mojito menu. I got the Royal Mojito and it was absolutely delicious. These drinks arrived with a little bowl of salty snacks, this time spicy kettle chips.
About an hour and a half after take off, dinner began. Mr Fluskey and I chose to dine together, which was very novel, almost romantic. Don't tell Karl, but I wanted to watch my film and he interrupted! This is when that other seatbelt is to be used. It means your dining companion can strap in safely, just in case.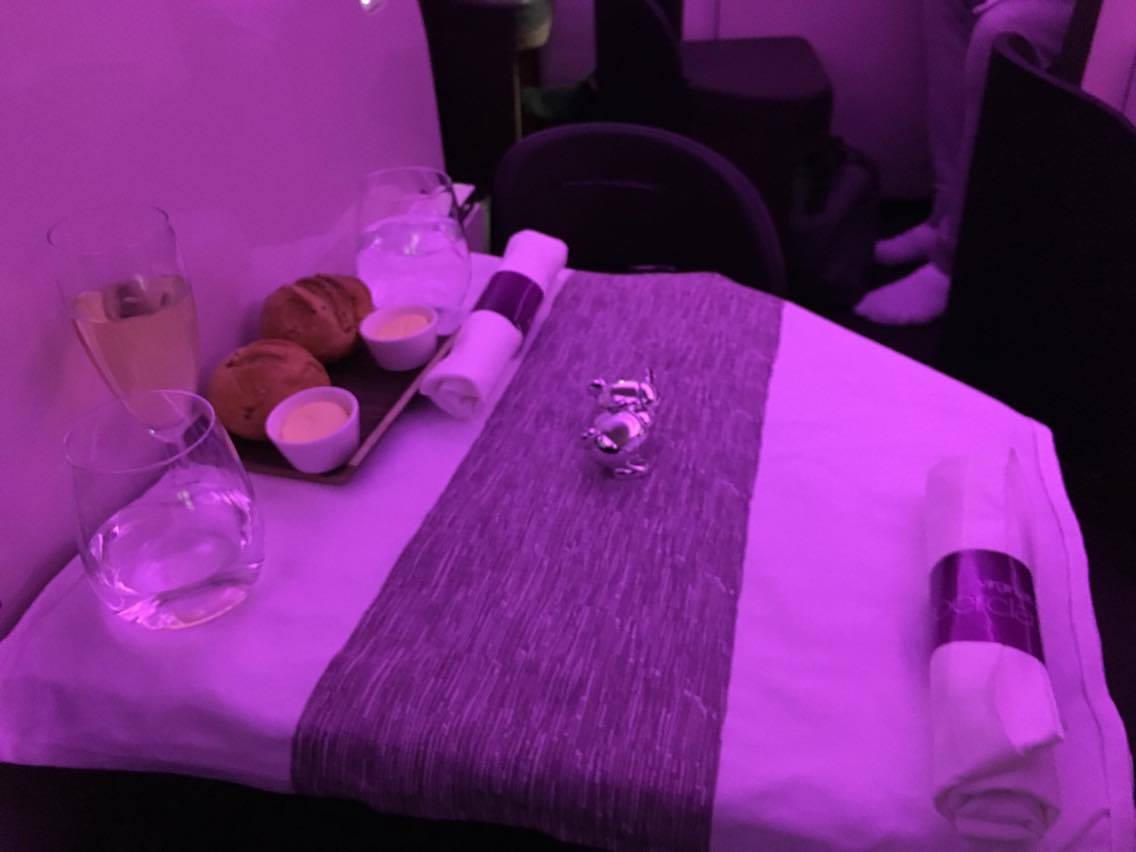 For a starter I had Thai chicken skewers. As with a lot of plane food, the cold food was freezing. I would have left it out a little longer to reach a temperature that was more pleasant, but dining with Mr Fluskey, I was on a tight schedule because he was a very hungry chap. The flavour was good but dulled by the cold. It was very tender chicken which I was surprised at.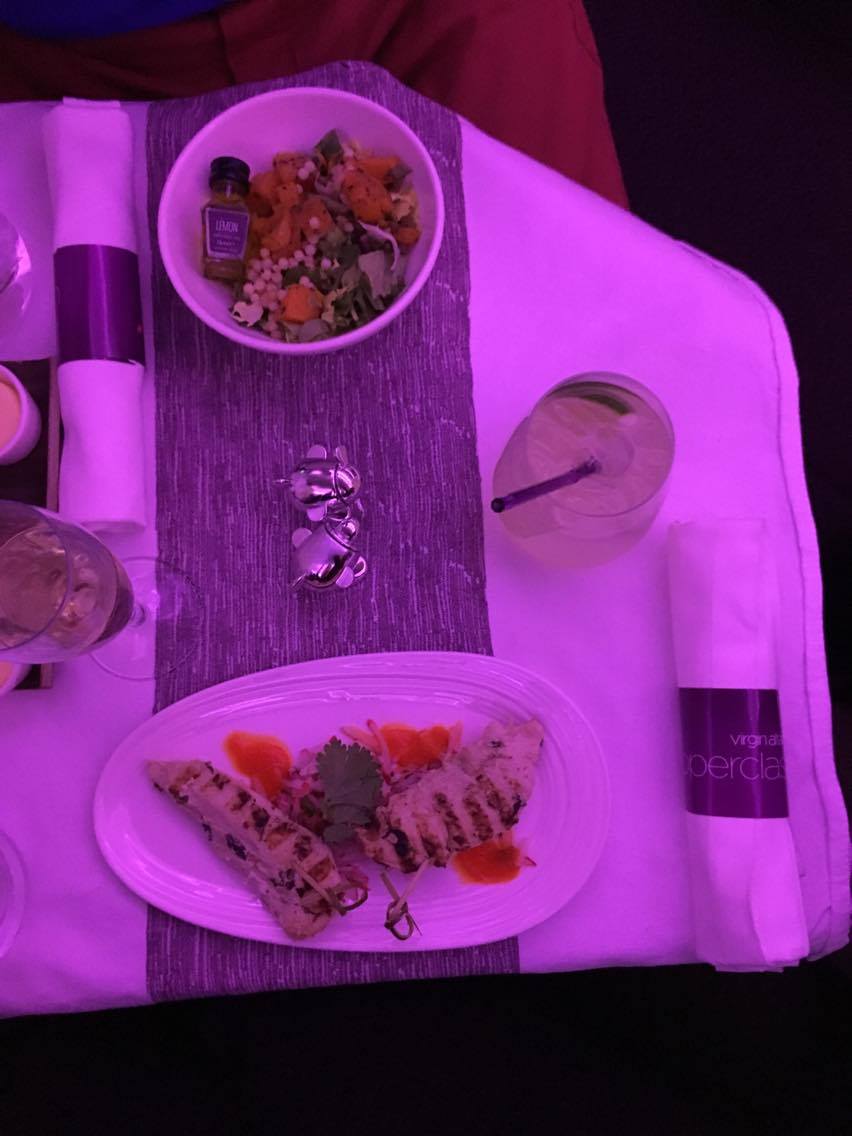 Next we had salmon and vegetables. I was incredibly impressed at the quality of the fish. It can be dry but it was delicious. The potatoes were creamy too. 10/10 so far.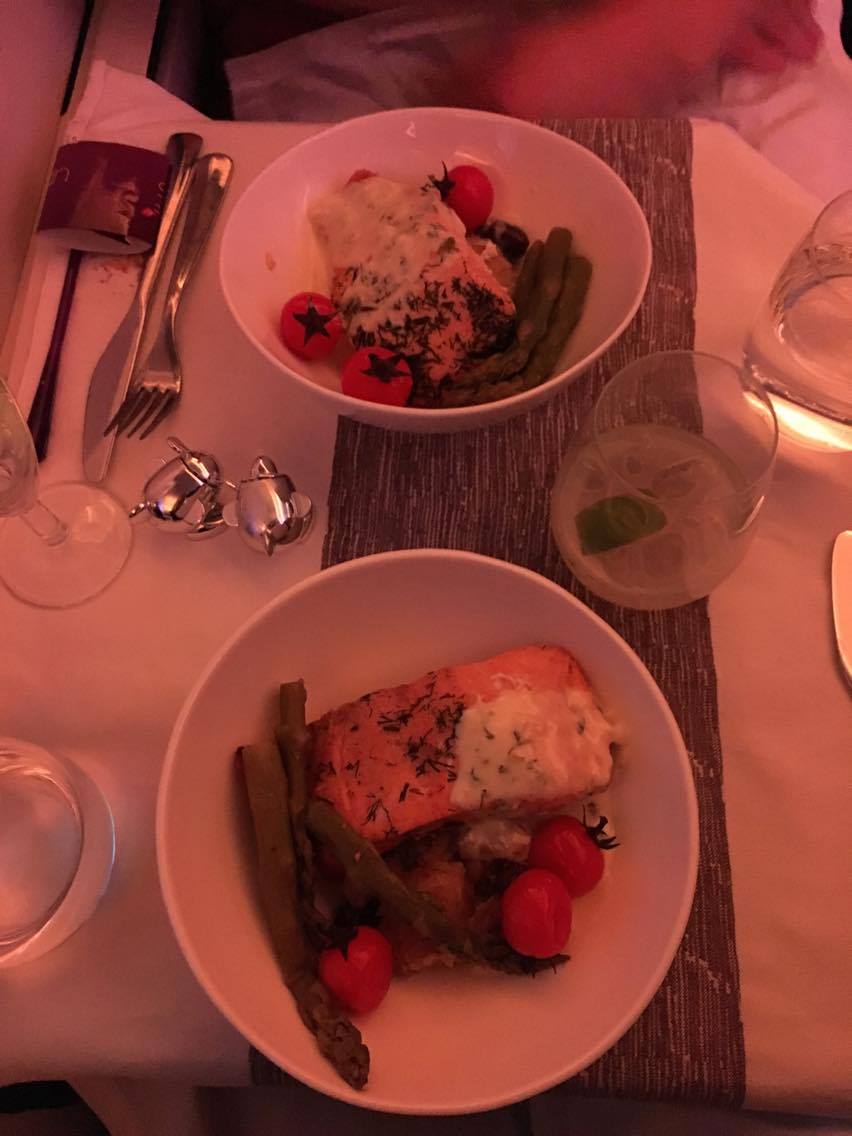 We were so excited by our desserts (warm chocolate salted caramel pudding and key lime pie) that we forgot to take a photo. They were gone almost instantly!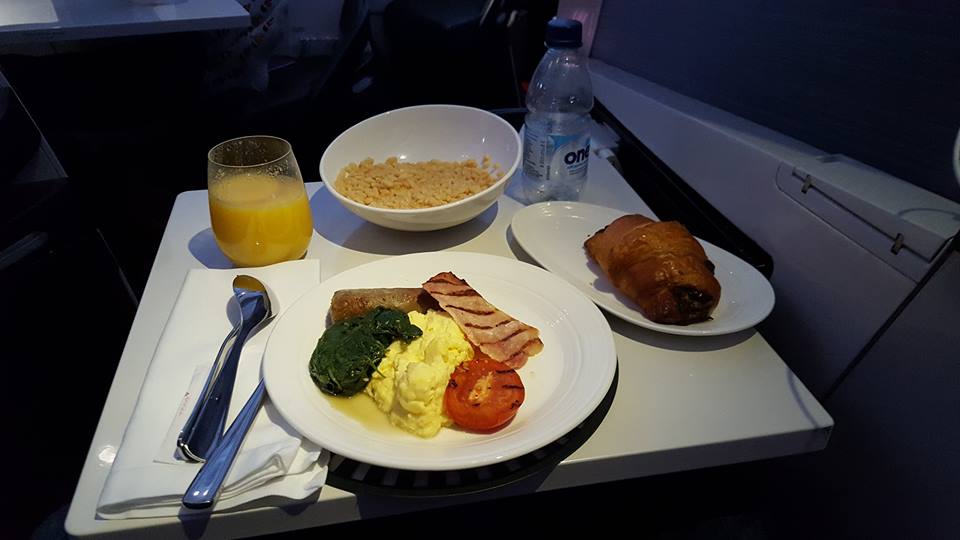 The breakfast in the morning was top notch. The croissant was crispy, the food hot and not-overcooked and the choice really very good.
We love food! Check out all our foodie travels including afternoon tea, food tours and eating out
The Bar
As if all that wasn't enough, at any point, you can wander up to the bar. At the bar, located at the back of the Upper Class cabin, there are a few fixed stools. Here you can order more drinks and even request a tasting session! I liked taking the opportunity to meet my family up there for a chat. Unfortunately the plane hit some bumpy air and we only got about two minutes up there before we had to go back and strap back into our seats.
The Bed
Virgin Atlantic's set design is quite different from other flat beds. Instead of sliding down, the seat flips over. On the back of the seat is a more mattress-like layer. The bed is made by the cabin crew, or you can do it yourself if you know how. It is very comfortable and comes with a proper duvet and pillow. In bed mode, the seat is now much wider, you gain an extra 11 inches width.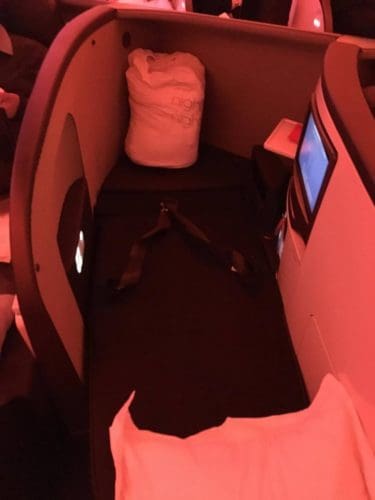 You can still watch TV, as demonstrated by my very happy step-dad.
Arriving at the Destination
One of the many joys of being at the front of the plane is the ability to get to immigration quickly. This can make a huge difference to your onward journey. Your bags are prioritised and come out nice and quickly at the baggage belt. If you have one of those full fare tickets, your limo service will take you to your hotel/final destination. We were at the front of the queue on arrival at Hong Kong and made it onto the train into town in a little over 30 minutes after landing. Pretty swish!
If you are arriving into London Heathrow, you can take advantage of Revivals. In this arrivals lounge you can eat breakfast, get showered, have a mini facial and leave feeling fresh and ready for the day ahead. You can even get a massage to ease the aches of long haul travel, delightful!
If you are looking for things to do when you arrive, check out these 42 Great things to Do in Hong Kong!
So Should I Fly Virgin?
Virgin Atlantic are a surprisingly small airline considering their public profile. They don't fly to hundreds of destinations, but for a transatlantic journey, they are always my top pick. If you can afford a suite on Emirates or Etihad then you may feel a little exposed in the Upper Class cabin but when compared to BA's Club World cabin, I believe that Virgin has the edge. So I suppose my conclusion is, better than business, not not quite as good as first/suites.
Try some of that famous Virgin flair for yourself and consider booking Virgin Atlantic Airways next time you travel.
Rosie xx