Have you heard of Montenegro? Have you been Montenegro? I didn't know all that much about it before I started researching our trip to the Balkans. This itinerary took us to the town of Bar for one afternoon and night and it was great to get to know Montenegro just a little better.
Montenegro
On the coast of the Adriatic Sea, in Europe, lies a country of just under 700,000 people (that's less than the population of Leeds, England). It is about the same size as Wales (or half the size of Vermont). It is a relatively new country, only gaining independence in 2006 after separating from Serbia.
Bar
Before I arrived in Bar, I knew two things about it:
Bar is a port town from which ferries go to Italy
Bar's name makes it super annoying to research as search engines just bring up drinks bars in the general vicinity.
My Expectations
When I think of port towns, that's port towns rather than cruise stops, I think of concrete. I think of functional, dull, grey towns lacking character. With that in mind, I wasn't expecting much from Bar.
Arrival
We got a coach down from Dubrovnik, that left an hour or so late. The drive down was glorious, sweeping coastline, crystal clear water just a foot from the coach and I started to worry that Bar would be a real let down after that.
The coach pulled into a bus station bathed in sunshine. We stepped off and a man in a pink shirt started asking if we wanted a taxi. We declined, we all know the rules about picking up a taxi from a tour. Plus, the bus station is right next to the train station and we needed to purchase tickets to Belgrade for the following day.
It took us around fifteen minutes to get the tickets. In that time we saw about ten other people. The station and bus station are about two kilmoetees South of town and there's not much else around.
The Taxi
We started walking back towards the bus station, and in the direction of town and decided to get a taxi from the rank outside the bus station. We showed the drivers our booking at a private apartment and they went to fetch the chap in the link shirt. He agreed a perfectly reasonable price and we jumped in. He was incredibly friendly, chatting away in Montenegrin with a smattering of English and Italian phrases thrown in. We chatted back in English and cheerfully we head through town. He pointed out the beaches, calling them beach 1 and beach 2. En route he called our host to get directions and we were there in no time.
Apartment Afrodite
I had booked our apartment on booking.com in advance. Bar does have a few hostels but we could have a whole place for almost the same price as a room so we decided to treat ourselves. The place was very clean, and as a booking.com "genius" we had a welcome drink ready for when we arrived. (If you book more than five times a year with booking.com you can access little deals and free welcome drinks, early check in/out etc). Here we had bottle of red wine to share!
This would have been amazing if we drank red, but our tastebuds are still distinctly immature when wine is concerned. It's prosecco, a sweet rosé or dessert wine in our house. But I digress…
The apartment was well equipped with a stocked kitchenette, dining room, a TV and lots of towels and extra blankets, and of course it had wifi.
It was all a rather alarming shade of lime but this soon grew on me. It was next to a residential block. On one side and a large field on the other that was nice.
I believe that the more expensive apartment upstairs comes with access to the roof terrace with small pool.
The Beach
I had wanted to go an visit the old town of Stari Bar. It is a little inland and the views are meant to be spectuacular, but where the coach had been late, we didn't know if we had time. We intended to get an early night, the alarm was going of at 05:00. So instead we decided to take a quick look at the beach as it was only a four minute walk away.
Passing through a small section of woodland, the first thing we came to was a beach cafe with music and a little children's park. The beach itself was a mixture of sand and pebbles, very common amongst beaches on this coast.
It was a nice sunny day, and we needed to buy some food so we decided to walk along the beach to town. Strolling along the promenade, the road was pleasantly far away and allowed sports fields to sit just beside the path.
Small cafes sat on the seafront with a much small but sandier beach. We soon noticed that people were very active. As well as the hurdlers on the sports track, people were zooming past us on bikes, rollerblades and scooters. There were children on group bicycles shouting with glee as they sailed past.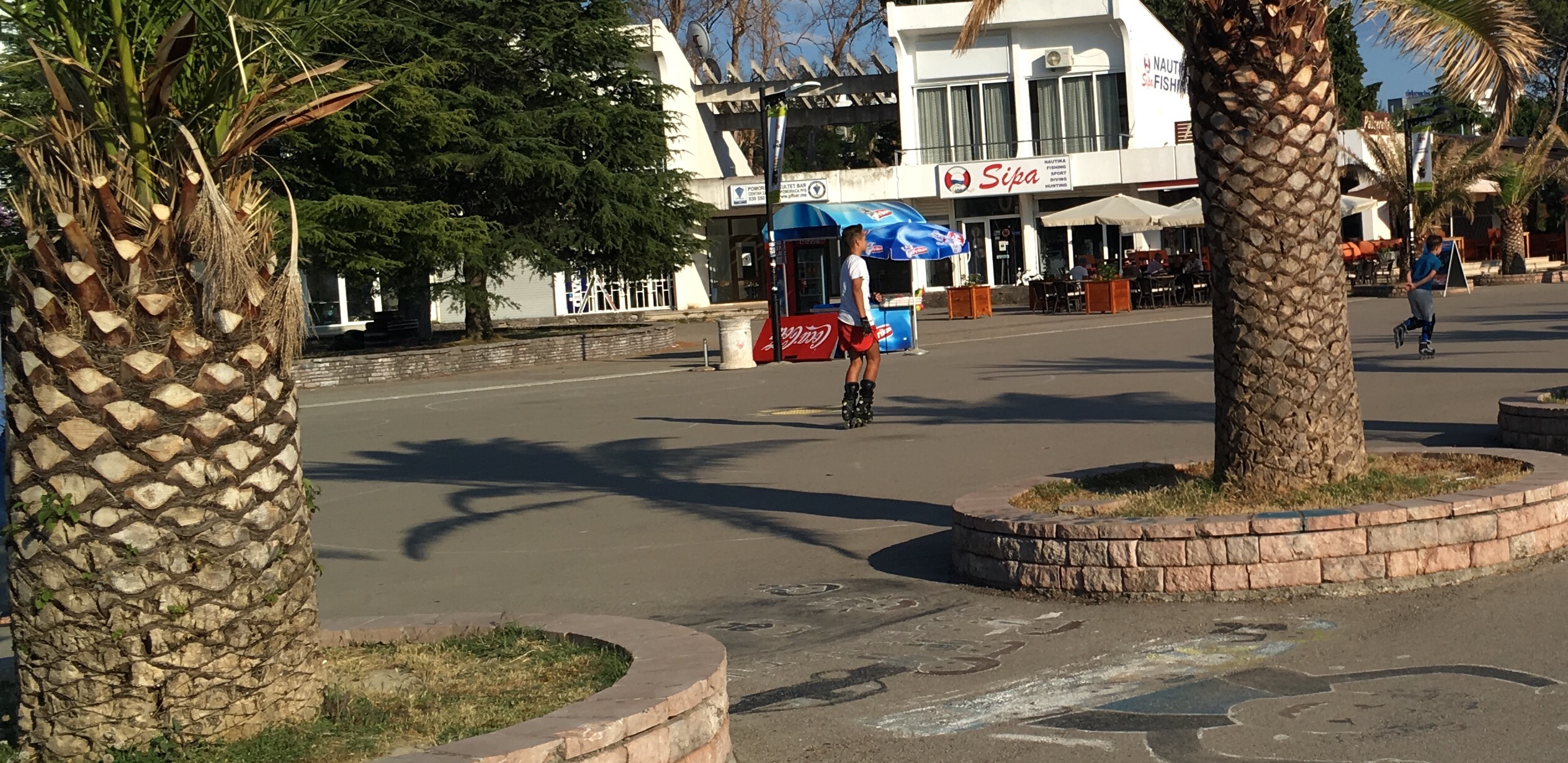 Closer to town the beach became just a few foot wide. Poles stood in the sand and I wondered if they held umbrellas in the high season (July/August). Then we came upon a selection of higher end restaurants and the beach disappeared. We looked longingly at people's plates and planning dinner.
The Town
Before that we had to buy our picnic for the following day's 12 hour train trip. We finally came to the port and saw an old navy ship from WWII. Our French isn't amazing but we think that it was a French ship that was hit and was helped into the port by Montenegrin forces.
Leading up from port is a row of cafe/bar/restaurants serving a mixture of pizza and meaty dishes. They all seemed very generic and the views couldn't compare with those on the seafront.
We came to the "shopping mall" and it was most bizarre structure. A trio of soviet style concrete circus tents. One of these housed the supermarket and we popped in, emerging with our carby, sugary, fatty feast.
Le Petit Chateau
Back down to the sea, we picked a restaurant that had caught our eye on the way past. The menu wasn't particularly French as the name would suggest, but they had an attached bakery. They also had rooms to stay in upstairs.
I was after a cocktail but the waiter explained that the mixologist wasn't there yet for the summer and so no cocktails were up for grabs, a crushing blow as you can imagine! Instead, we ordered a jug of lemonade to share.
When it came it looked so good, condensation dropped down the side and glinted in the heat. The mint and ice cubes swirled as he placed it on the table. I poured some and took a large swig. "Woooooo!" It was so sharp! I'm not sure if they forgot to put the sugar in, or if it's just the way they like it down on Bar but it set my hair on end. We spent the rest of the meal trying to surreptitiously sneak sugar into the drink.
We ordered a platter of meat and cheese and a squid ink risotto to share. The platter was delicious but was lacking a sweet element, grapes or chutney, so it was all quite salty. The chorizo was nice and spicy.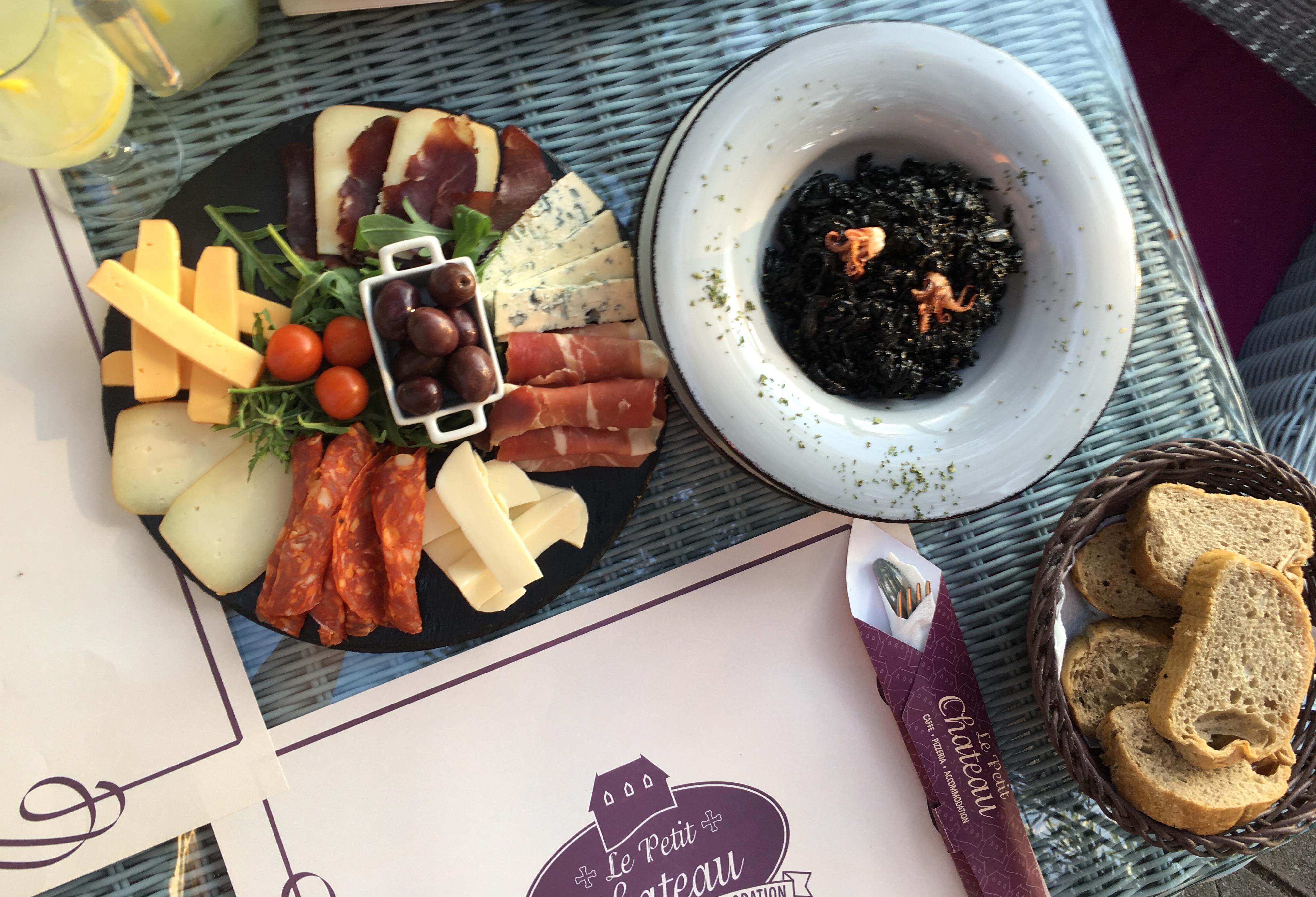 The calimari risotto was absolutely delicious and I immediately regretted that we were sharing. The squid rings were cooked well and there were even two tiny, crispy sets of tentacles. Note to all: Do NOT order squid ink risotto, or pasta, on a date as it will make your teeth a disturbing black/blue colour.
We didn't manage to finish dinner, which was a real shame because the desserts all looked amazing. I suppose having an attached bakery has its benefits.
The Sunset
Bar gives good sunset and I don't think no there's much more to say, have a look.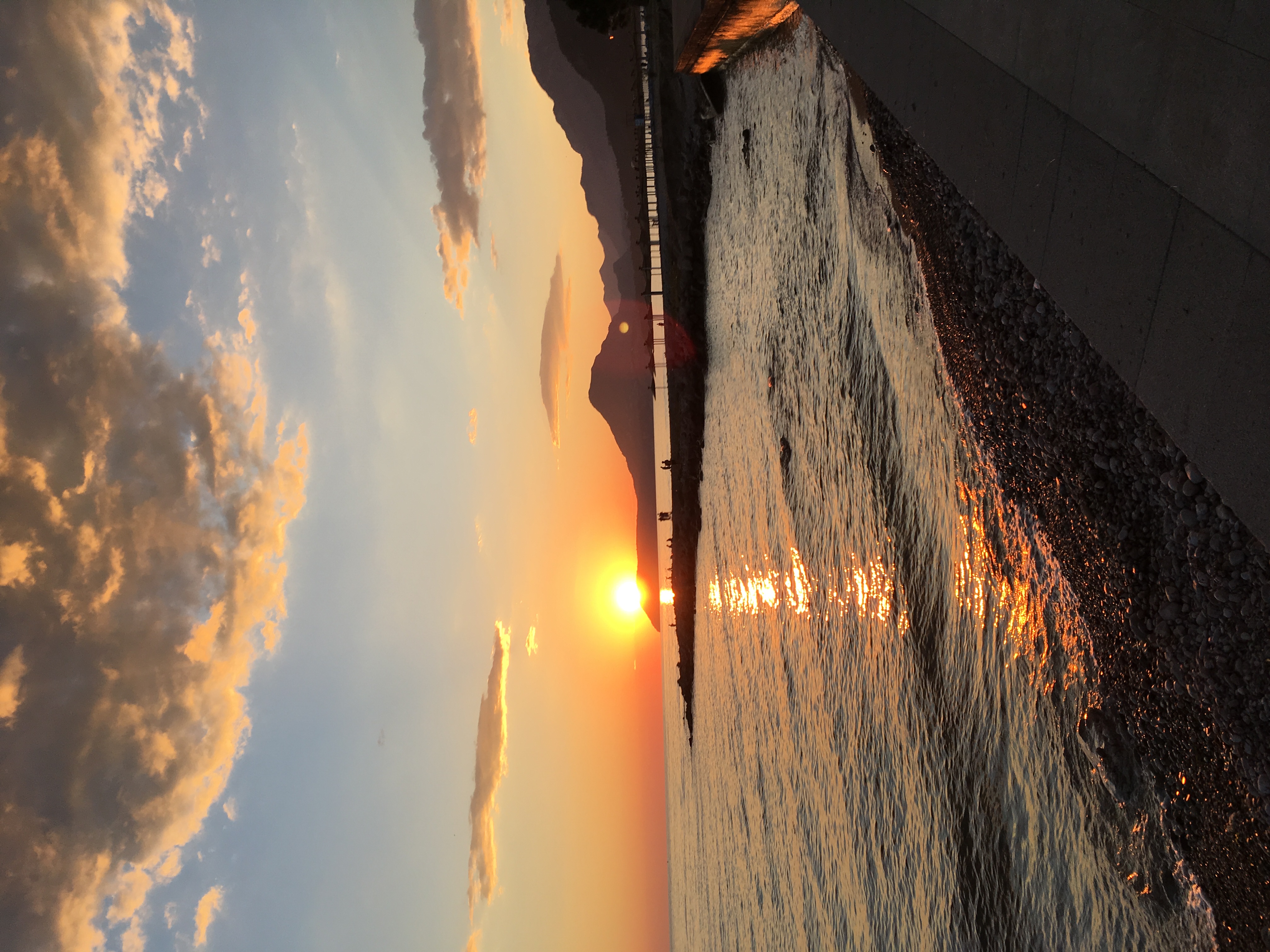 The Next Morning
We intended to walk to the train station, and we set out at 06:15 with good intentions. The sun was just making a fuss of itself but it hadn't heat up too much. We had checked the route and time on google. En route we passed a nice church and were meant to go past the other one that I wanted to snap but realised that our backpacks and the early morning meant we were walking too slowly. We grabbed a taxi that was waiting across the road and drove the last two kilometres.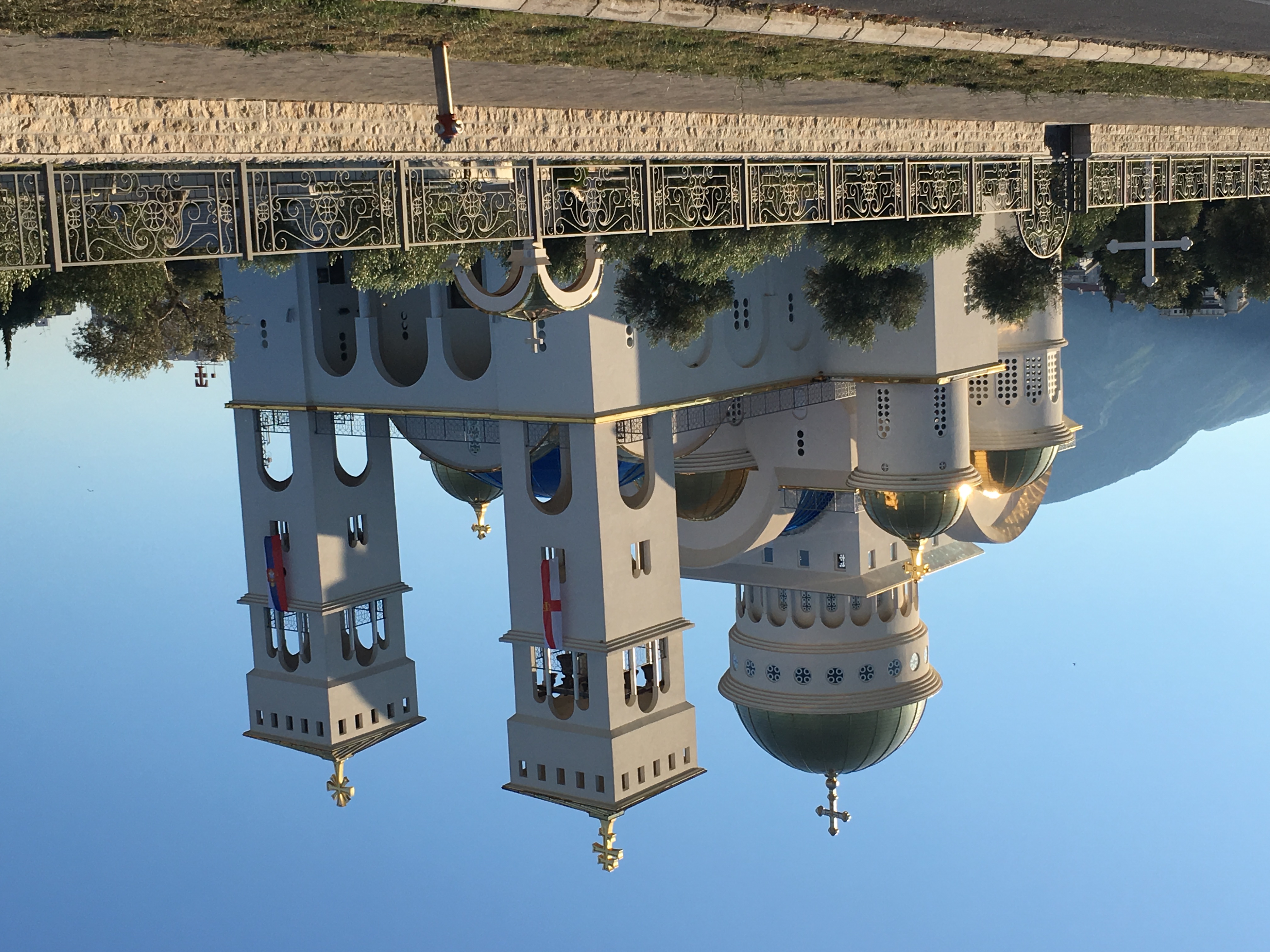 Final Thoughts
I was pleasantly surprised by Bar. Foolishly, I had assumed that it was going to be a mildly unpleasant transient town but it was quietly charming. If you visit Bar, I wouldn't suggest a whole weeks holiday but I think a whole day is required to see it all. It's a shame we didn't just jump straight on a bus up to the old town as I do feel like we missed out.
Info
Visiting Bar? Here are some things you might want to know.
Connections
Bus
We caught a bus down from Dubrovnik but coaches connect it with most points on the coast from Croatia to Albania.
Train
The train will take you to Montenegro's capital Podgorica.
Taxi
Taxis are cheap and we didn't meet any drivers that were unscrupulous. It's between €2-4 into town from the bus or train station depending how far away your accommodation is.
Accommodation
The Princess Hotel is the town's nicest. It sits across the prom from the beach and has a pleasant pool and terrace.
Sobe rooms (privately rented rooms or apartments) are very common and denoted by a blue plaque. We booked ours using booking.com
Currency
Euro
Language
Montenegrin which is almost the same as Croatian and Serbian.
Rosie xx