Italy is a world of culinary wonders. It is only by exploring the country and discovering the local cuisine that you realise it is still a series of states linked by a common country name. In Verona, joining a food tour is the perfect way to learn about the best of Veronese food and wine. After some research, I decided to join Romeo and Juliet's Sunset Food & Wine Walking Tour in Verona. Read on for our full review.
This post may contain sponsored content or affiliate links that help support the blog. All opinions are our own.
Visiting Verona? Check out more things to do with our one day in Verona itinerary
Romeo and Juliet's Sunset Food & Wine Walking Tour
The group slowly assembled by the beautiful Portoni della Brà. This ancient gateway is part of the old wall that runs to the fort. We met our lovely guide, Alessia, who escorted the group for the afternoon and taught us all she could about the city and its culinary traditions.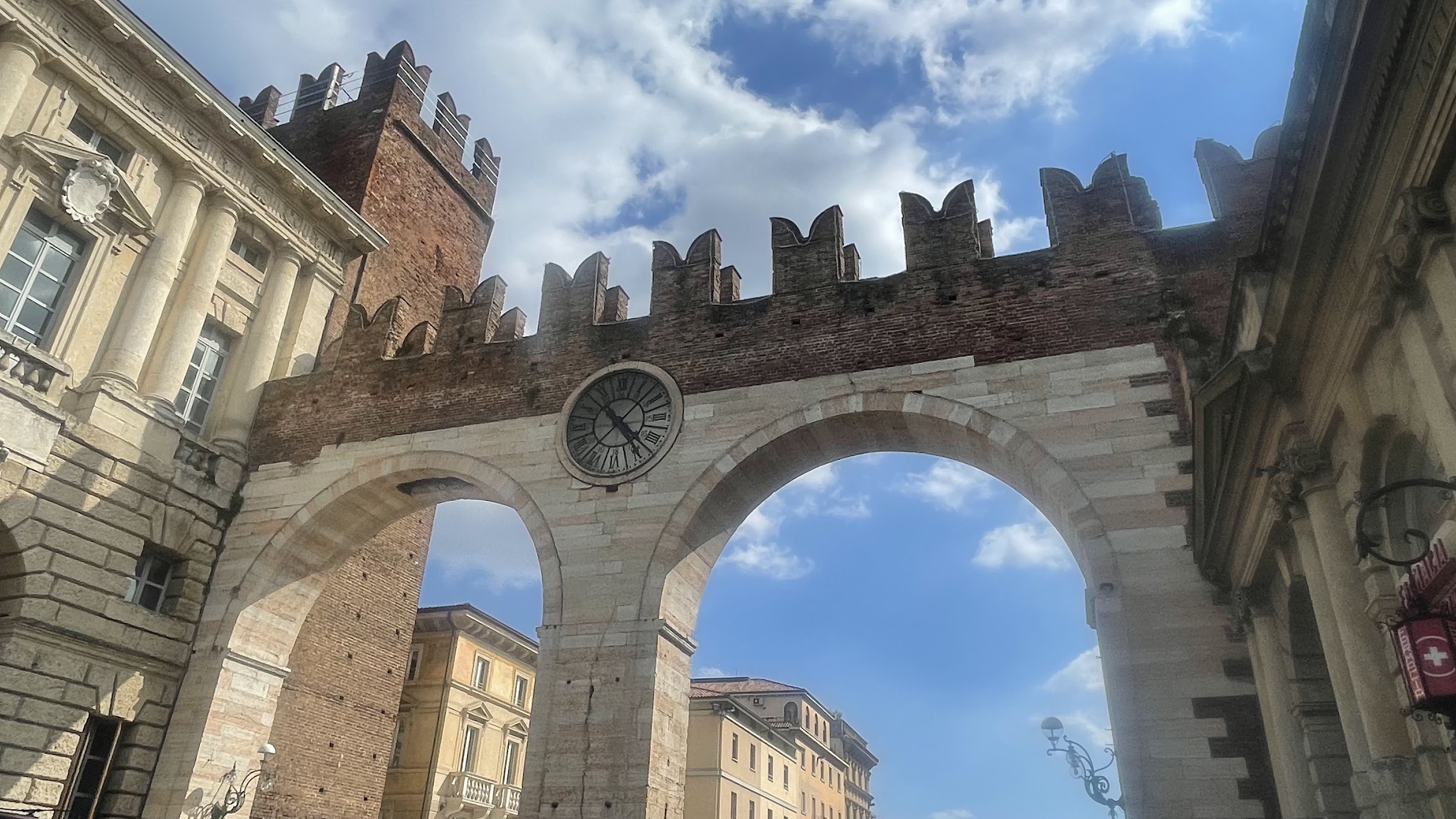 Cafe Pasticceria Barini
A Veronese breakfast involves one very small, very strong coffee and some sort of pastry. Make your first stop Cafe Bar Pasticceria Barini. The stone counters and wooden walls are beautifully mid-century and have a perfect coffee shop vibe. This is not the spot to sit and savour a long latte (well, you could but we have places to be). Instead, pick up your €1 coffee, dump in some sugar if necessary, and perch on the edge as you slam it down. You could also try a risini, a pastry stuffed with sweet rice. It is a carb-on-carb bomb that, combined with an espresso, is just the energy boost you need for a long day of sightseeing.
Strolling the Stradas
From Piazza Bra, we took a walk past the stunning Roman amphitheatre, now used for concerts and opera, and up Via Mazzini, the most popular shopping street in Verona. (Shame, I had to trek out to the far less attractive mall to go to Primark the following day). Alessia taught us all about the layers of history in the architecture all around us as we walked. Then we topped at an unusual little courtyard with a water well in the centre. She shared the love story of Corrado and Isabella, Verona's original star-crossed lovers. As with the more famous Romeo & Juliet, this was a tragic tale and both lovers ended up jumping into the well. Is it dark tourism if it is romantic?
Locandina Cappello
It is weird to say that we stopped for lunch on a food tour but this was a nice restaurant and we had a good sit down here so it felt like stopping for lunch. The first thing to appear was a bottle of crisp white wine. Soave is produced around Verona and has a zingy, fresh flavour. It is light and perfect for the nibbles that came next. The small bites served in Verona are similar to Venetian Cicchetti but are a little smaller. Plus, the bread seemed much softer but that may have just been the style at Locandina Cappello. After the cold starters, we were treated to glorious little oven dishes full of polenta. It was creamy and topped with salty, mature Monte Veronese cheese. It was divine!
Enoteca Baraldi
Our next stop gave us the chance to learn more about local wine, and this one is world-famous. Amarone della Valpolicella is a deliciously dry red wine that comes from the hills around Verona. There were 3 to taste and despite not being a massive red fan, I actually really enjoyed the tasting. I think it is because I would never normally opt to give these a go, I mean Amarone means "great bitter" and I have quite a sweet tooth when it comes to wine. It doesn't have a lot of acid though so it was quite rich and went very well with the food that we were offered.
Charcuterie platters of cured meats and cheeses appeared. We had strong, hard Parmigiano Reggiano which is made nearby. i loved how the acidity of the cheese balanced out the wine beautifully. The salami was exactly the kind I enjoy most. It looks innocent but when you bite into it a burst of oil sends flavour running across your tongue. We were also presented with great slabs of focaccia from the Focacciaria a few doors down, which again were absolutely heavy with delicious olive oil, chunky salt, beautiful olives, or tomato. I don't know if bread that is already that packed full of ingredients can soak up a glass of Amarone, but I enjoyed letting it try.
Colle San Pietro
The Castillo San Pietro Funicular zips up 159m to the top of 55m high Colle San Pietro (also called Monte Gallo) in a little over a minute. The group piled in with the tickets that were included in the tour. At the top, we had a reserved table at Cafe Bar Re Teodorico which has a super view of the city.
Spritz O'Clock
…more commonly known in Italy as Aperitivo. We were offered either an Aperol or Negroni spritz (or a beer if that wasn't your poison). Spitz is a big deal in North-East Italy. Every day, people grab this yummy blend of liqueur, prosecco and soda water before dinner. The idea of the spritz originated in Venice but being such an enjoyable idea, it spread from here across Italy.
After two weeks of rain, it felt just fabulous to be sitting, chatting with new tour buddies in the sun, cradling a cocktail. This is where Alessia left us and pair by pair, the group split off to go for dinner (how?) or to watch the sunset.
Final Thoughts on my Food & Wine Walking Tour in Verona
I love a food tour. Trying all sorts of food from the local region is a total treat and I always learn so much. Romeo and Juliet's Food & Wine Walking Tour in Verona was the perfect way to start my solo city break. It allowed me to get my bearings in Verona and discover yummy things to try more of during the trip.
…And yes, I do mean Soave.
Rosie xx