Sleeping in the desert, under the stars is dreamy enough but imagine doing it in a giant double bed! Its amazing to feel the sand between your toes and gaze across the dunes but the chance to enjoy some rather splendid dining afterwards and then snuggle into a real duvet is a cut above. That is why, when we visited the edge of the Sahara Desert in Morocco, we opted to stay somewhere a little bit special. Read on for our full Sahara Sky Luxury Camp review.
This post may contain sponsored content or affiliate links that help support the blog. All opinions are our own.
Sahara Sky Location
Traditionally, camps have been further west in Morocco but in the past three years, the focus has shifted to Erg Chebbi and the surrounding area. Guests travel down to Merzouga and meet their camp guides from there. Originally, the camps were going to be set up in the dunes themselves but they have been built out of the centre to ensure the protection of the area. Sahara Sky Luxury Camp sits within the strip of camps so it doesn't feel isolated (you can hear the music and laughter of other camps) but with the Erg Chebbi in its back garden, it doesn't matter. You still feel like you've wandered into the desert.
Desert Dunes and Cosy Camels
I have always been a little unsure about taking a camel ride but decided that I waned to do it once in my life while the general consensus is that riding camels doesn't harm them. We met our camel handler right at the sandy edge of the dunes. I was expecting a long line of pachyderms but we hopped straight onto a couple to the side and were off before I knew it. We were the only people on our camel trek so it felt rather VIP. The ride was pleasingly "loppy" with the camels only sinking into the sand q tiny bit. Their feet spread across the surface so they stay on top of the shifting grains.
After a while, we saw a couple of other groups begin their trip into the desert behind us. We had set off before everyone else which meant when we reached our sunset spot, we had it all to ourselves for a little while. We took some photos around the dune we were perched upon and had fun sliding down the slope. Our guide wrote our name in the sand in Arabic. Then we sat and watched the other camp dwellers approach. We set up shop for the impending sunset.
It wasn't the most amazing sunset we have seen but it was nice just to sit and take it all in. As soon as it set, however, the temperature plummeted so I was happy to get on the camel's nice warm back. (We did ask the names of our camels but they don't have any apparently). It was just 10 more minutes across the sand to the gate of the Sahara Sky Luxury Camp which led straight off the sand.
A Spot of Tea
There was a small table set to the side of the gate with some biscuits and tea but we were a little unsure if it was for us so there was an awkward minute of debate as to whether we just steal a nibble. Luckily our host, Mubarak, appeared and confirmed that we could have the nibbly bits and poured us some hand-warming tea. It was a very nice welcome to the camp.
Our Luxury Tent
Our tent was HUGE! It was designed for four people and there was still plenty of room. Each of the tents had big stripes inside which gave them a point of difference to a marquee. We loved all the pretty lighting covers and the hooks on the wall. It definitely gave it a Moroccan flavour. I was also boerline obsessed with the curtain holder between he main room and the bathroom. It was like a giant hair clip with sparkles and integrated metal.
A quick note about the weather in January, Morocco can still be cold…even in the desert. Sure, the high in the day was 15C and in the sun it was pretty pleasant but at night it was going down to 1C and we weren't really prepared. The tents don't have heating so if you are coming in the winter months, come prepared! We brought a hot water bottle but the bed was a little too big to share it.
The Beds
We had three beds in the tent but honestly, it could have slept six. The main bed was ginormous! I think it was the widest bed we have ever slept in. The mattress was firm but comfortable and the pillows were delightfully soft, especially when compared to many others we slept on in Morocco. This was one of the only places we had a nice, thick duvet and we loved every second of being snuggled up inside it. We each had plugs by the bed but it is worth noting that these outlets are shared with the single beds to either side too.
The Bathroom
I was shocked and delighted to see that these luxury tents have some serious bathroom equipment. The sink was beautifully decorated and the mirror with lights almost came home with me in my backpack. They were both gorgeous! On one side was a shower with a square rainfall head. Neither of us used, having showered in the morning but we did test it and it was warm enough. On the other was an actual toilet! It was a very impressive en suite.
Dinner
The Restaurant
Dining happens in another large tent. Luckily, this one had a heater inside so it was a few degrees warmer. There were only a couple of tables set so we claimed one and took a look around. There was a cosy corner which would be a nice place to chill out and a collection of Moroccan instruments in the other. Again, the lighting fixtures were stunning. and gave it a sense of place and a luxury lift.
Being off-season, there were only four guests in the camp, us and another couple. It was nice when they came in to eat and asked the staff to pop some music on. Instantly, the room had a little more atmosphere and we relaxed a little more.
The Drinks
Dinner included soft drinks so we had a quick look in the fridge and grabbed the Hawai. This tropical soft drink with flavours of orange, passionfruit and coconut. It is owned by Cococola and so I am hoping to see it going global. It was very quickly our favourite fizzy drink in Morocco.
The Food
This was not what I was expecting. On a previous desert stay (in Jordan) we had been served a buffet-style meal. I was expecting something between that and an individual tagine but I had obviously forgotten that Sahara Sky is a luxury camp. Instead of a buffet, we were treated to a four course sit down meal.
Our starter was a pumpkin and potato soup with warm bread and salty olives to the side. It was just what I needed to abate the winter chill. Mr Fluskey isn't normally a soup fan but he absolutely loved it and I only just stopped him from licking the bowl.
Next came a sweet and savoury salad with lettuce, red pepper, apple, cheese, courgette and a honey vinegarette. Now, if this had been first, I would have been a little stroppy but with the soup warming me up from the inside. I thought it was seriously delicious.
The main course was presented a little oddly, with things spread out across the plate. The separate elements were obviously cooked independently as some things were on the cold side. That being said it was all very flavourful. We had tomato with garlicky creme fraise, some turkey, a potato, cumin carrots, salty, slippery cabbage and oily green beans. Together, it was all great so I am a little unsure why they were so keen for it not to touch.
The final dish was a flan or creme caramel type cake/dessert. I was pretty much stuffed so didn't think I'd have any but it was very light and the fruity sauces were nice and tart so it all disappeared…somehow.
Our Evening by the Fire
Honestly, I thought that the low guest numbers would put a stop to the evening's entertainment. I was very wrong! After dinner, we were invited to come and sit by the roaring fire pit. The heat was divine and I stood as close as I was allowed. The staff had picked up the instruments from the dining room and brought them outside. Some of them started to play as the big drum was warmed by the flames. It was lovely sitting with our campmates and listening to the traditional music. We had a little dance around the fire which was fun but it did make me long for a more boozy beverage. The hosts even let us try the instruments and I got to practice the metal Gnawa castanets that I had first tried on our desert drive with Gorgeous Morocco. Great fun!
The Next Morning
We rose early to see the sunrise. It may have been freezing in January but at least the sunrise was a little later in the day! We then took a look around the camp in the light. There were loads of spots to sit and relax. I loved the swing and the seating areas that reminded me of Cinderella's carriage or the domes of the Brighton pavilion. If it had been warmer, I'd have taken a coffee and related in one of these pretty places, but with the temperature at about 2C, I dashed into the dining tent for breakfast instead.
Breakfast
Moroccan breakfasts have to be some of the best in the world so I was very excited to see what was on offer. When we walked in, we saw a table with tea, coffee and cereals on it. I grabbed some caffeine and Mr Fluskey dug into the chocolate cereal (his travelling treat). When we took our seats, we were given warm bread and freshly squeezed, zingy orange juice. We also had a yoghurt each which was cereal flavour. It was intriguing and delicious. In the centre of the table was a plate full of condiments, butter, jams, honey and cream cheese and we set about slathering our bread with them.
Next, a plate appeared with the savoury sesame cake and flaky msemen flat bread that I can't get enough of, plus some sweeter loaf cake. We thought this was everything so we tucked into the carbs with gusto. However, a couple of minutes later, a delightful little omelette appeared with cheese on top. It was hot and well seasoned with herbs across the top. Lesson learned, always save a little room at a Moroccan meal!
As soon as we finished breakfast we had to repack and run. It was going to be a long day on the road (and including a hike) so we had to decline our camel ride back across the sand. Instead, Mubarak, our host drove us back to the other side of the desert area in a 4×4. We spotted the large group from the night before all trekking back on their camels. and gave them a wave as we zoomed by.
Final Thoughts for our Sahara Sky Luxury Camp Review
We have no way of knowing if this camp is any better or worse than the nearby offerings. What we can say is that we really enjoyed our stay at Sahara Sky Luxury Camp. It was definitely worth the price with comfortable tents, delicious multicourse dining, wonderful hospitality, fun entertainment and the chance to ride camels. If you are visiting in winter, bring a hot water bottle and a hat. If you are visiting in summer, bring a hat (of a different kind) and sit a little further away from the fire in the evening.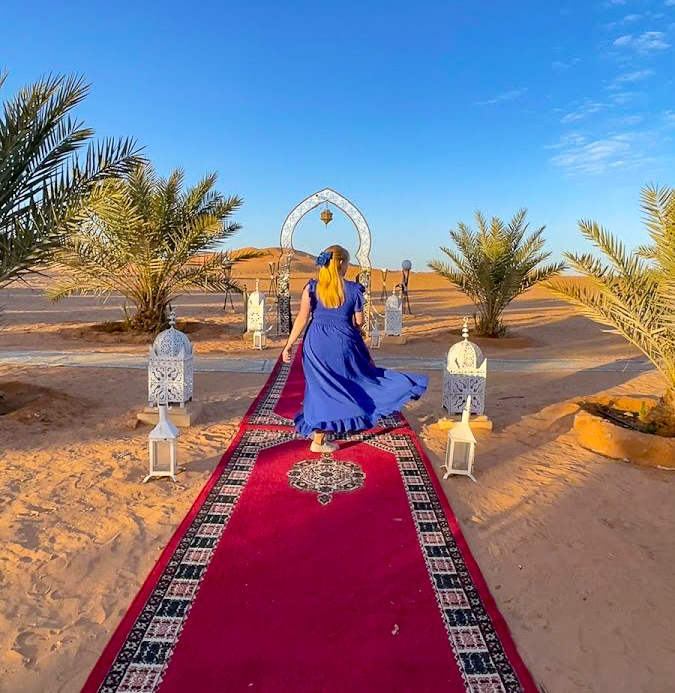 Rosie xx