Edinburgh is the jewel in Scotland's crown, a city of history, arts, culture and beauty. During our time, we wanted to stay in the heart of Old Town, close to the action and chose to stay at Hotel du Vin Edinburgh. Hotel du Vin is French for Wine Hotel, so I knew I was in for a great couple of nights! See how we got on in this Hotel du Vin Edinburgh review.
Our stay at Hotel du Vin was partially-sponsored but all opinions are entirely our own.
Location
Hotel du Vin Edinburgh is just around the corner from the wonderful National Museum of Scotland, five minutes from Grassmarket and ten from the Royal Mile. This enabled us to gamble about the Old Town and get back easily. We walked from Waverley Station and it took about 20 minutes whilst wearing relatively heavy backpacks.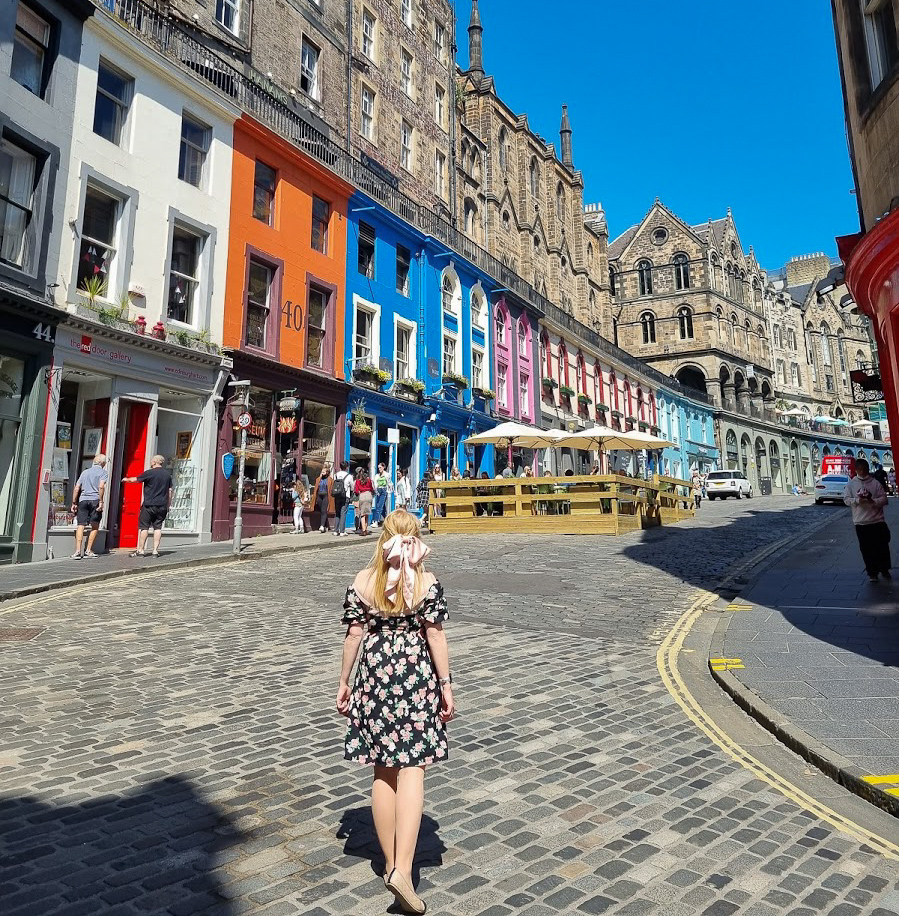 Hotel du Vin Edinburgh
Stepping through the gates, you are instantly transported to a spot a little south of Edinburgh. The decor has a French/Swiss chalet feel with plenty of nods to wine and travel. The walls have a nice selection of distracting decor, especially in the bistro.
The outdoor terrace is open to everyone and is a lovely spot to escape the bustle of the city for a quiet drink. It gets some great sunshine when the sun is overhead so it would a good option for a summer lunch with a grey glass of vino. We especially liked the little chalet in the corner, with its cover and warming fire. Very cosy when the rain makes an appearance.
Inside there are two bars, one above the bistro (more about the bistro later) and one just behind reception. This is a whisky and cigar lounge but to be honest, those are both too grown-up for our tastes. Usually, we were told, it is a little cosier but due to covid, the furniture had all been spaced out and some of the soft furnishings removed. I can definitely imagine it all dressed up properly and it would lovely of an evening.
The Room
Each room is named after a wine-producing region, rather than numbered and so we were escorted up by the incredibly friendly reception staff. Ours was called Grange. I was amazed at the size of the room. From the front, the hotel looks quite small but it is a maze that extends, tardis-like behind and to the side of the entrance. Opening up our balcony, we saw that we were overlooking the courtyard. It was lovely to have a little outside access, even if the Scottish weather is generally a little too chilly to sit out in the evening.
There was a big wardrobe, full of useful bits and bobs. An ironing board, hairdryer, a tea and coffee tray, fluffy robes, wine glasses and even the mini-fridge. it was everything you could need to get ready for a night on the town or a cosy one in.
Below a big TV, we had a writing desk with a fancy espresso coffee machine and a thoughtful welcome gift of everything needed to make a gin and tonic. I'm not normally a fan but we made them anyway and I was pleasantly surprised at how good it was, especially with the pink grapefruit!
The bed was a big wooden sleigh style beauty. It was divinely comfortable and we didn't need to add the extra pillows stashed in the wardrobe. There was a plug behind the bedside table so it was a little awkward but I love a bedside plug. To one side of the bedwas a tartan chaise lounge, giving the room a nice Scottish touch…we mostly used it to store our backpacks, proving once again that we are still flashpackers at heart.
The Bathroom
The bathroom was in two sections. The toilet and sink were on their own in a pretty little bathroom. It had the feeling of a cool Soho restaurant bathroom, with a tiled floor and rectangular sink.
The bath and shower were both amazing and open to the room. On our first night, the plan was to hop into a quick shower and get ready for dinner but the lure of a bubble bath with G&T in hand was just too tempting. We messed about taking photos and I lost 30 minutes to the glorious roll top!
Each section of the bathroom had divine L'Occitane toiletries so with each hand wash, hair wash or bath bomb(!) a new wave of delicious scent was released. After enjoying the bubbles and bath bomb in the bath, I actually hopped into the shower to rinse off and wash my hair. I shampooed a rate of knots before rough drying my hair with the provided hairdryer and yanking on a dress for dinner.
Dining
Breakfast
Breakfast is served in the bistro and is all a la carte. I was very happy to see two smoked salmon options, opting for lovely buttery scrambled eggs on my first morning, and perfectly poached eggs royale on the second. We had overindulged on full cooked breakfasts previously on the trip so we didn't have one here but it was great to see a full english on offer. I wondered why they didn't include haggis to make it a full Scottish. Oh, and of course, the pastries were great! (It would be worrying if this French restaurant messed those up).
We loved Mr Fluskey a little treat in the form of Coco Pops. It left him with a big smile. Speaking of smiles, my coffee came with the most adorable cow milk jug which would surely make even the gloomiest morning grump cheer up.
Dinner
We ate dinner in the bistro on our first night (after that crazy bath). We opted to order from their special British menu for one of us, and normal a la carte for the other, so we could try both their English offerings and traditional French selection. Unfortunately, not everything we hoped to have was available, but they let us have the English wine pairings from the set menu anyway. (Each and every one was great by the way.).
The baguette with oil and vinegar to dip into was a good start and helped to line our tummies as we began our wine pairings. We ordered the special Cuvee created for Hotel du Vin and it was crisp, dry and extremely good drinking.
My garlic butter tiger prawns were perfectly cooked and the addition of the lemon in muslin was fun (although, it took me a minute to work out what it was). The aioli sauce was tasty and Mr Fluskey hung onto it for dear life when they cleared the starters. The chicken liver parfait was delicious and Mr Fluskey really enjoyed it. This was probably unsurprising as he also really enjoyed it when he had it at the Hotel du Vin Brighton! It was oddly spread out on a giant plate, which made it feel sparse, despite being lovely and rich.
For mains, I changed to a steak. It was a special treat as I don't often get to have it. It was cooked perfectly ordered and served with a grilled tomato (meh) and the most fantastic fries! I don't mean to go on about this, but these pomme frites were crispy on the outside, fluffy on the inside and addictively salty… yes, yes, yes. Mr Fluskey went for the Steak Hache, expecting a hamburger. Instead, it arrived looking like a fancy sandwich. Despite the confusion, it went down extremely well, and especially with another portion of those divine chips dipped in my aioli.
We ended the evening with two classic french desserts, Pot au Chocolat and Creme Brulee. Each was just right. They didn't have any bells and whistles but they were simple, sweet and not too heavy.
After Dinner
Above the bistro is the Laroche, Taste du Vin, the wine tasting room. Guests can come and try some beautiful wines from France and beyond. It would be a great idea for a romantic evening, or a party with a few friends, especially if paired with their private dining rooms. We did plan to have a drink at the bar after dinner but we're so full and sleepy that instead, we retired for a happy food coma induced night of slumber.
Final Thoughts for our Hotel du Vin Edinburgh Review
When visiting Edinburgh, you may be after a super traditional Scottish setting. However, as Edinburgh is such a cosmopolitan city, and having done a Scottish castle Hotel elsewhere, we really loved the theming of Hotel du Vin with its blend of Franco/Scottish elements. The service was wonderfully friendly without exception and the reception/concierge staff were especially lovely. Hotel du Vin Edinburgh is an excellent option if you have a few days in the city, allowing you to sightsee with just a short walk, and lose a whole evening to a bath full of bubbles and booze!
Rosie xx