When I first pictured us in Scotland, I had an image of us snuggled in front of a roaring fire with a glass of whisky surrounded by ancient stone walls. That is why I was so excited to check into Meldrum House Hotel. Its turrets ancient and modern additions blend together to create my Scottish dream. Read on to find out more in my Meldrum House review.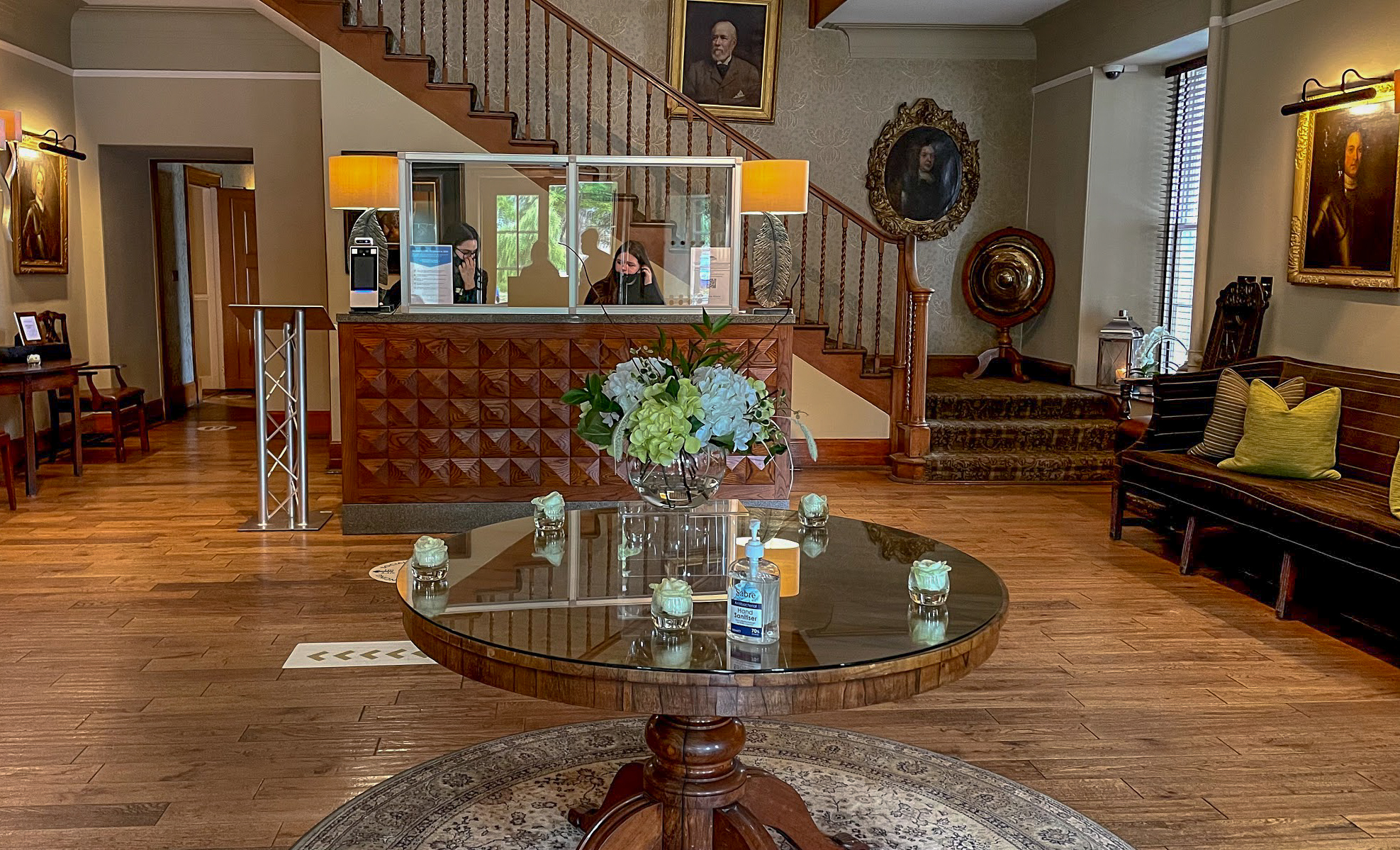 Meldrum House Hotel
Set in heart of Aberdeenshire, Meldrum House Hotel is perfectly situated for exploring the Castle Trail. We based ourselves here and had an excellent day-long road trip, hitting five castles! Some of these castles date back 700 hears and amazingly, Meldrum House has an equally long history. It was a private house until the 1950s saw the owner, Mr Robin Duff turn it into a hotel.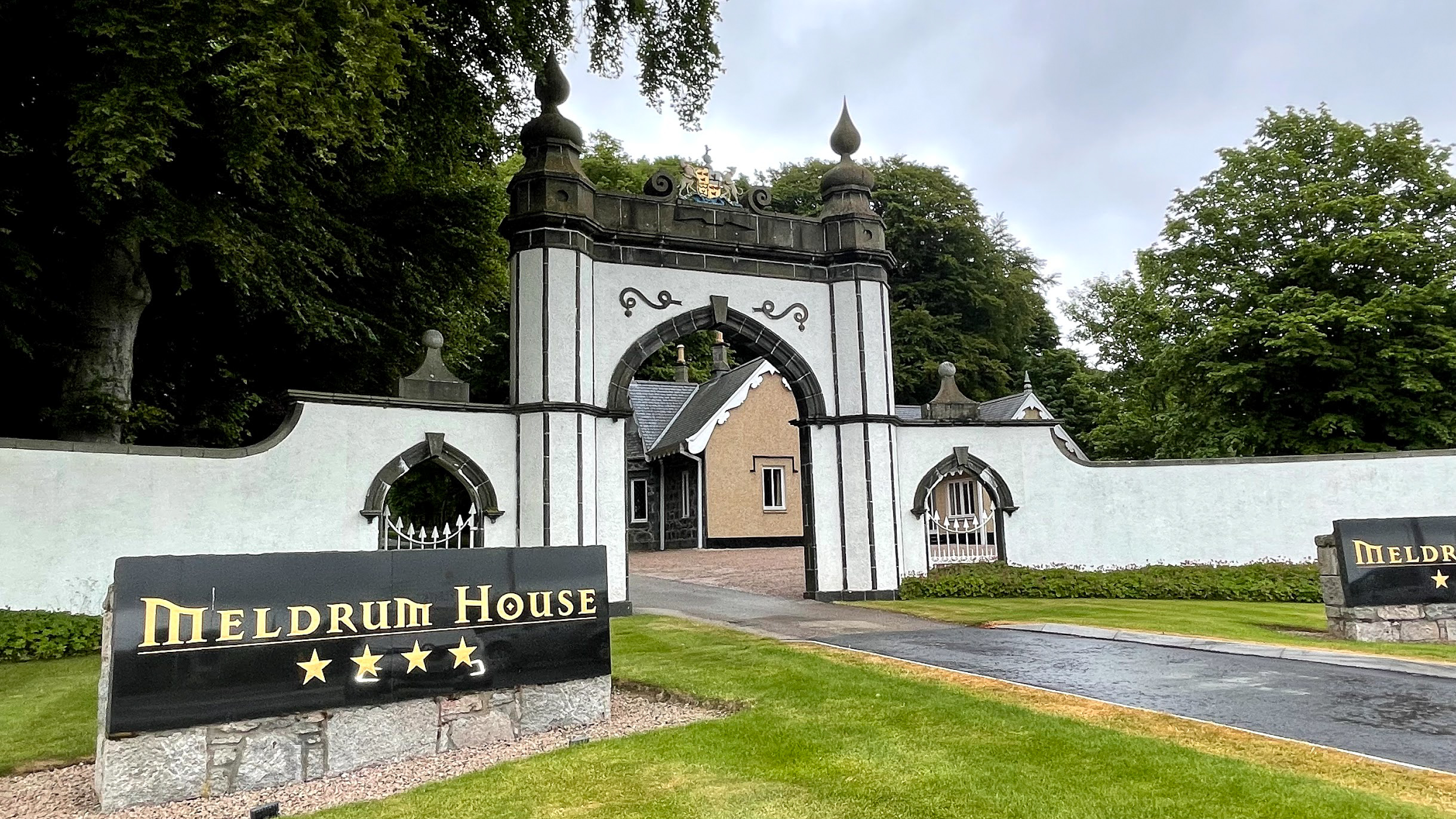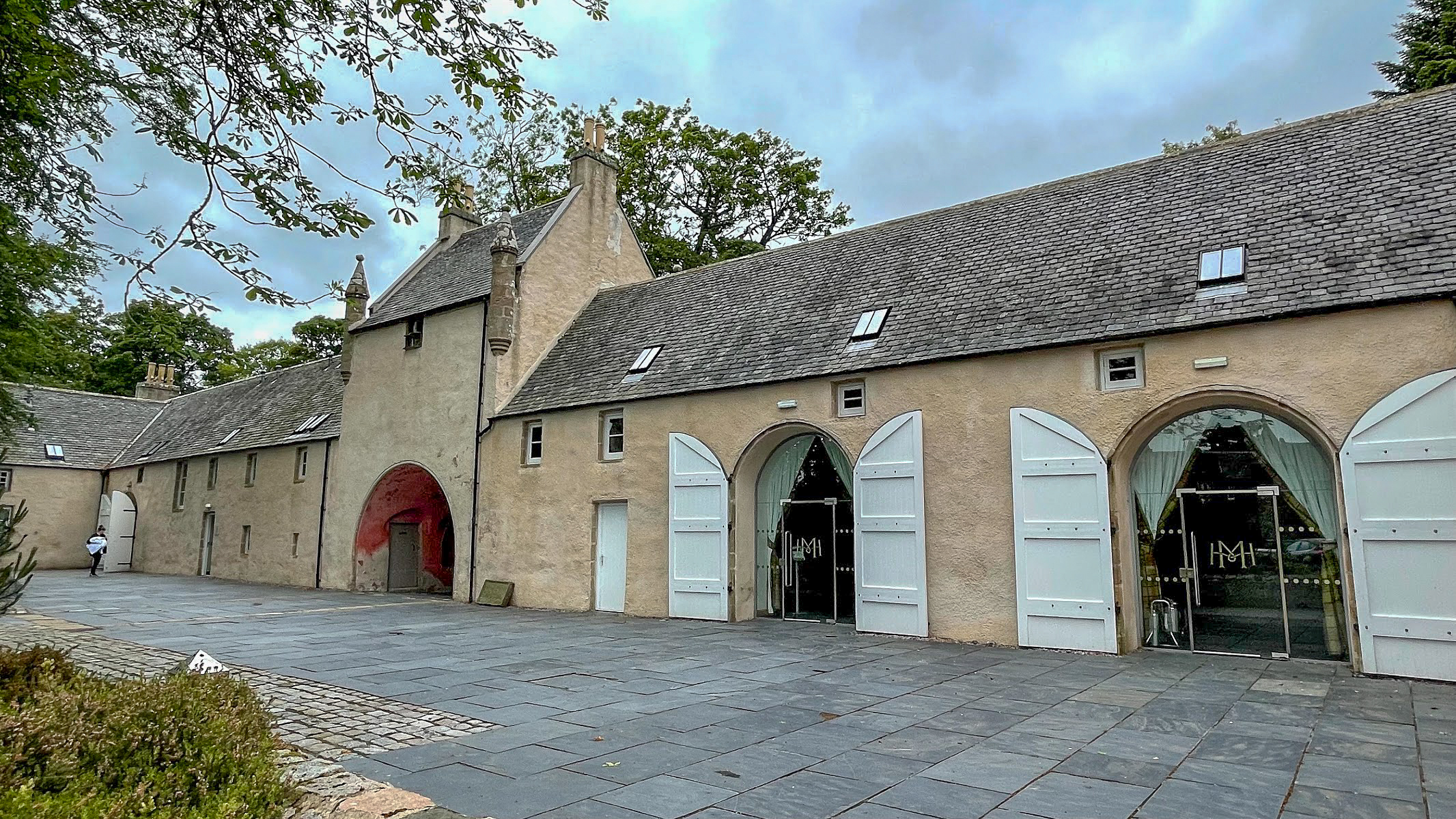 Our Room
There are a variety of rooms including in the main manor house, and in the converted stables. Ours was in the newly built estate rooms to the side of the hotel, overlooking the golf course.
Room 623 was a large guest room that felt very modern, with a muted, neutral colour scheme. I was impressed at the size and the amenities provided. I wonder if the older rooms have as much space? In front of the large windows, we had a little table and two comfy chairs, the perfect spot for an afternoon coffee. Opposite the bed was a large writing desk. Inside was a laundry bag but more excitingly, a book stuffed with Aberdeenshire information. We were already planned to the hilt but if we were searching for ideas, it would have been really helpful. I loved that one end of the desk turned into a dressing table by opening up the hidden mirror. Inside was a hairdryer. Smart huh!??
The tea and coffee provisions were fantastic. The coffee was ground rather than instant and there was a small cafetiere provided (enough for two cups at a time). Inside the mini-fridge was real, fresh milk. Finally, we got a packet of shortbread each. I was so happy to sit and watch golfers with a proper cup of coffee and biscuits.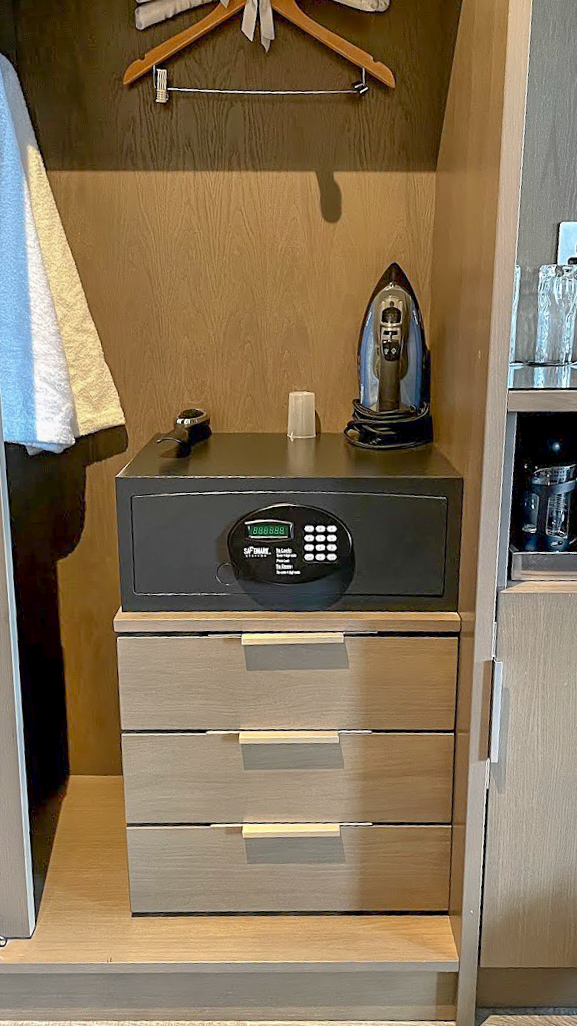 In the entrance to the room, there was a huge mirrored wardrobe, stuffed with robes, slippers, ironing bits and the safe. It was great for keeping my princess dresses nicely for the castle-hopping day we spent in Aberdeenshire.
The bed was huge and incredibly comfortable. I slept like a log through the night, which is pretty unusual for me! (I think the blackout, double curtains really helped with that as well).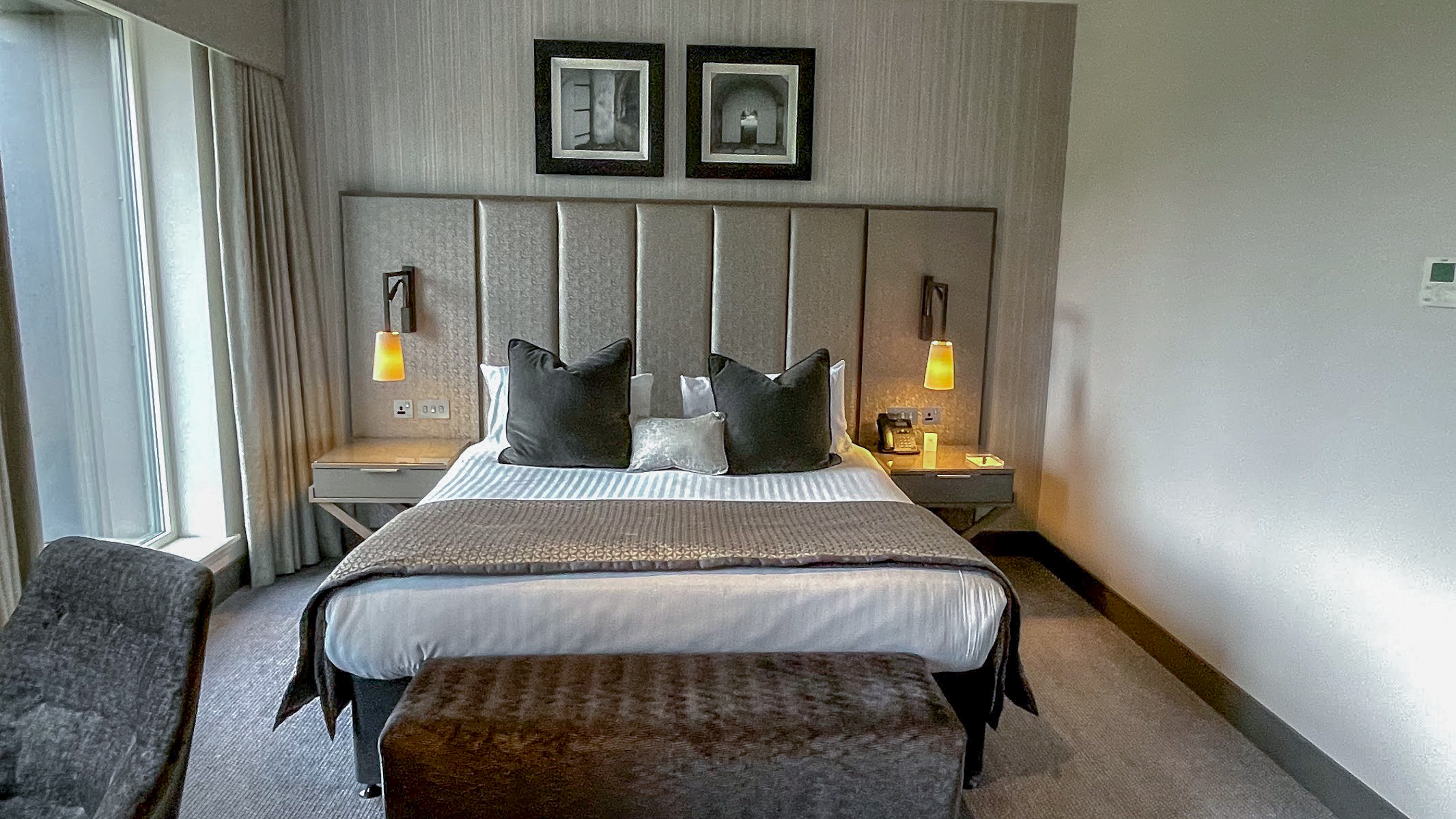 Our bathroom reminded us of ours back at home, with the same neutral tiles…but twice the size. The shower was a double beauty, with one rainfall head and one normal one. Both were hot, satisfying and you do get used to idea that it won't cover the bathroom floor with water after a few seconds.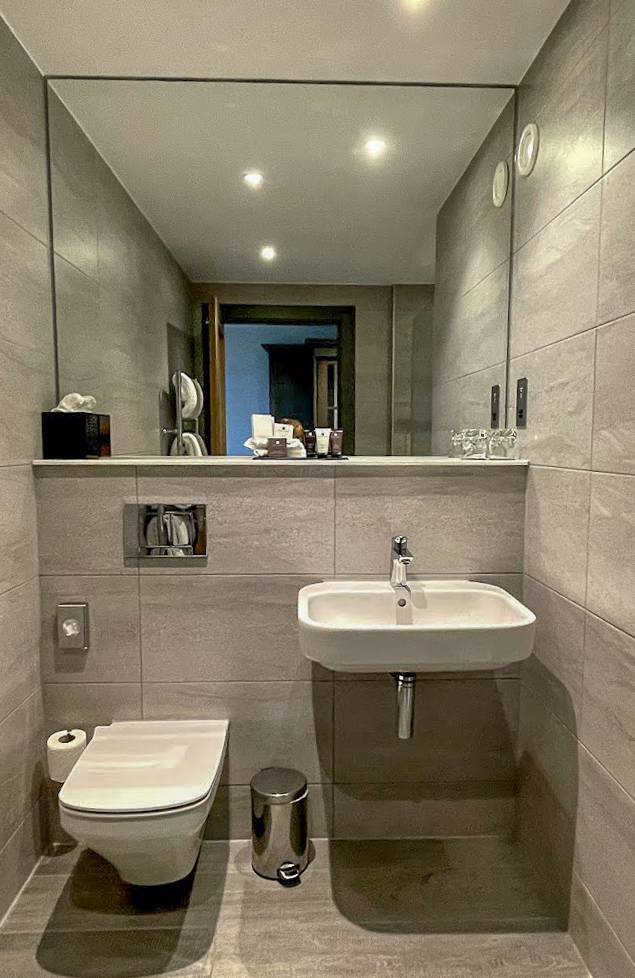 There was a wonderful selection of amenities, including everything you need for the shower (shampoo, conditioner, shower gel and even body balm). I love that you wouldn't have to bring anything with you besides straighteners to feel fabulous.
Dining
Breakfast
Breakfast at Meldrum House Hotel is a fabulous affair. We had breakfast both mornings and were lucky enough to try out the hotel's geodomes. It made it all feel like an occasion and these can be booked for £20 for breakfast, more for dinner. Breakfast is made up of a variety of continental options including:
Fruit Platter
Pastries and Preserves
Toast
Charcuterie Board
Granola with Berries
Cereal
We were thrilled to find out that we were allowed to order as much of this as we wanted. no lunch needed either day because we were still stuffed.
On the hot menu there were loads to choose from, from a full Scottish breakfast including haggis and black pudding to lighter options like kippers, porridge or fancy eggs.
Day One
We were both very hungry for breakfast. While waiting for our hot food, I opted for munching on the mini croissant (excellently crispy and buttery) and toast. When these were gone, the smoked salmon scrambled eggs arrived. I was thrilled to discover that the eggs were creamy and light, surrounded by thick, perfect smoked salmon. I could have eaten seven more slices of salmon. Mr Fluskey had the full Scottish and demolished the lot with toast for good measure. It was all cooked perfectly and we especially liked the sausage.
We were lucky enough to try out breakfast in one of Meldrum House's domes. These cost an extra £20-£30 at breakfast and depending on the size of dome, hold parties of 1-10. If you are with a group of four, an extra £5 each for a pretty unique experience seems worth it. You get your own servers, a heater/fan that you adjust yourselves and a Bluetooth speaker so you can pump out some inspirational tunes for the day. I loved singing along to Katy Perry, with a mouth full of pain au chocolate, watching the mini robot mowers methodically dealing with the grass outside.
Day Two
Usually, breakfast is taken in The Pineapple restaurant and its overspill dining room. This is a bright and cheery space in the morning. We had a table by the window, overlooking our dome from the day before. We saw another couple being sat by the fire, who said it was too hot….I was blown away as there is nothing nicer than a roaring fire when its a 13°C June day outside! Mr Fluskey had the granola with berries which he loved and then the scrambled eggs with salmon He was jealous of mine the day before. I wasn't super hungry so I chose the charcuterie platter (with added smoked salmon because it was SO good) and the fruit platter. I was a bit disappointed with the fruit, some pieces weren't that ripe and it seemed a bit sparse. Why only half of the strawberry? However, I really enjoyed the charcuterie board. Maybe it would be better to do the charcuterie with more bits of fruit included instead?
Dinner
On our first night, we decided to stay in the room and watch a film. We bought a few bits at the Co-op down the road, saving some pennies and with the added advantage that Mr Fluskey could have a drink as there was no more driving to be done.
However, on the second day, we got to try the best of Meldrum House's offerings,
1236 @ The Cave Bar
To make the most of our one night eating in the hotel, we hose to dine in 1236 @ The Cave Bar. This enabled diners to pick from the whole drinks menu and enjoy dishes from both of the hotel's restaurants. Pineapple Bar and Grill is the hotel's award winning restaurant but you can do casual dining to enjoy it here. To try as much as possible, we made a selection of starters and sides from Pineapple and 1236. Got to love small plates! It is also wonderfully atmospheric. The bar is in two halves, one vaulted rough stone area and one bedecked in tartan wallpaper with curios along the walls. There are two tables tucked into the towers, these are especially cosy.
We started with cocktails. I had a French 75, a sweet classic and Karl had something called a Midnight Mint. This was a coconut, chocolate and mint concoction that could have been gross but was weirdly good. It was dessert in a glass! In fact, it was good enough that he ordered it again whilst I had a refreshing glass of rose. The food was all very rich…and speaking of the food, we ordered:
Artichoke veloute – So creamy and light and topped with truffle oil and artichoke crisps. I was sad to share this one
Haggis bon bons – Peppery haggis, coated in bread crumbs and deep fried. We were obsessed with the sweet bourbon glaze and wouldn't let them take the plate until every last drop was scooped up
Beef shin lollipops – Tender umami bombs in a meaty sauce
Scallops, black pudding and cauliflower – A classic combination with perfectly cooked scllops. Again, i was mad at the world that I had to share with Mr Fluskey
Truffle parmesan fries – What can I say? Yummy.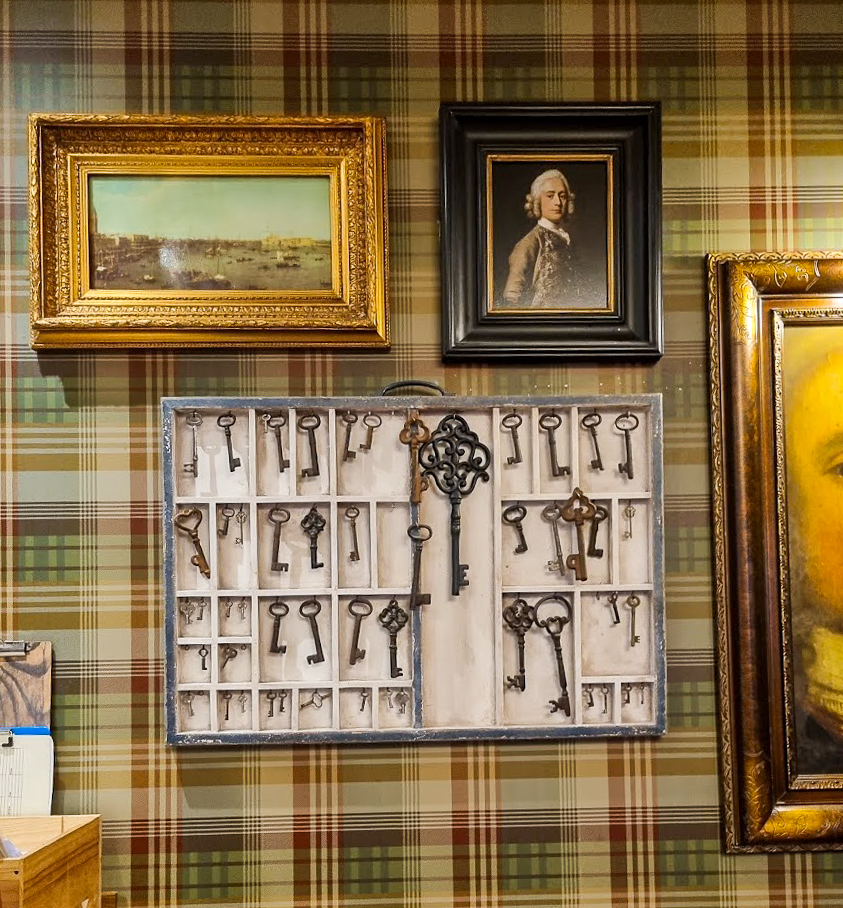 We both felt stuffed but there is always room for dessert. Mr Fluskey couldn't pick so he got the trio of desserts. Each one (brownie, lemon tart and cheesecake) was good but had clearly just come out of a very cold fridge so all the pastry was quite hard. I stuffed myself with a warm, ooey, gooey oreo cookie dough dessert. Every bite was indulgent and divine. The ice cream took down the sweetness which was needed but I wouldn't change it one inch.
The Lounge
After dinner, we took our drinks and head for the lounge. This cosy spot is backed with generous, cracked leather sofas, enhance with comfy cushions. It is the quintessential guest lunge, relaxing but with impeccable service from the wait staff who periodically pop in ask if you need anything else. We loved everything dotted around the room. The coolest addition was a photo viewer, stocked with vintage photographs.
Knight's Golf Course
The Meldrum's Knight's Golf Course is listed in the top 100 courses in the world. Now, if I knew how to golf, I could wax lyrical about the course, the green, sand traps and other golfy things. However, I can't even make it through round a crazy golf without swearing and pleading my visual handicap….rather than my golf one. Mr Fluskey is also rather golf impaired so we are in no position to judge. All I can say is, the golfers we saw out the window looked like they were having a good time.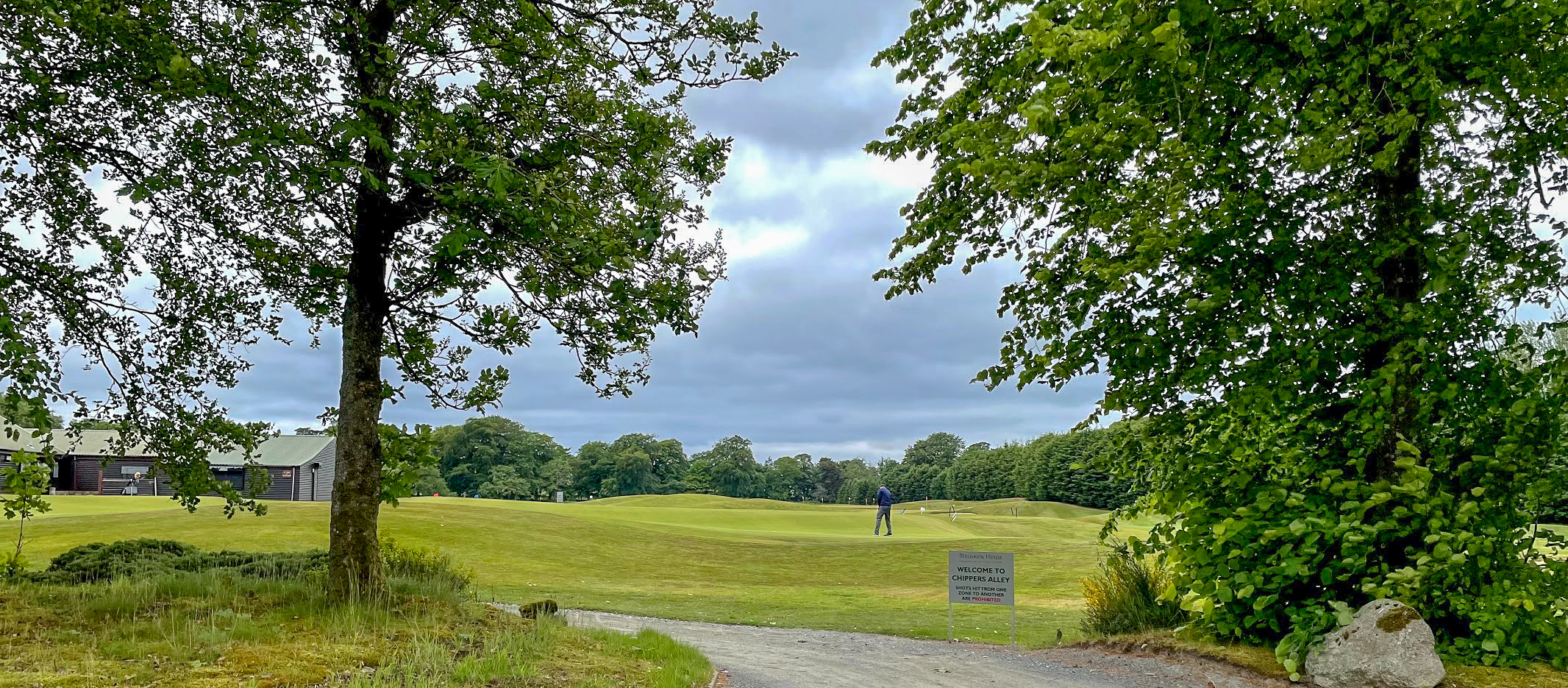 Final Thoughts on our Meldrum House Review
Meldrum House had all the ingredients for a wonderful Scottish hotel stay; cosy spaces full of leather and fire, a warm welcome and delicious dining. So what of my Scottish dream, sitting by a fire with whisky? Well, I don't really like whisky, so it was cocktails instead…but that was my own fault. I actually love the blend of the modern and historical aspects reflected in both the buildings and the food. It was just the right balance to feel relaxed. We had a blast at Meldrum House and thought it was the perfect spot to pretend to be a princess, and from which to explore the beautiful castles of Aberdeenshire.
Rosie xx