Malta is chock full of history, beauty and unexpected delights. Valletta is the obvious first spot for sightseeing but just across the water, extending like a brownie salute into the bay, the three cities (Vittoriosa, Senglea and Cospicua) have their own highlights to explore. Walking would be absolutely exhausting, so for a fun, informative and totally unique experience, check out our Rolling Geeks review.
We were hosted by Rolling Geeks but our opinions are entirely our own
Where is Rolling Geeks?
The Rolling Geeks office is located on the Vittoriosa Waterfront close to Birgu. This can be reached by bus from Valletta. Take bus 2, 3 or 4 and then it is just a short walk past some lovely old cannons and lovely new yachts. Alternatively, if you are staying in Valletta or Silema, Rolling Geeks can organise a water taxi so you arrive by boat. You will see the vehicles before you see the unassuming entrance.
What is Rolling Geeks?
Taking a look at the awkward geography of the three cities area, it can look like a daunting sightseeing trip. Never fear, the clever folks at Rolling Geeks have set out to create an eco-friendly, inclusive way to share their favourite spots. The Rolling Geek's fleet is made up of electric golf cart-style vehicles that are small enough to squeeze through some tight spots that cars struggle with, are environmentally sound and most importantly, are super fun! As you drive along a recorded commentary kicks in and gives loads of history and information about the area you are in. This is available in 8 different languages including English, Russian and Mandarin!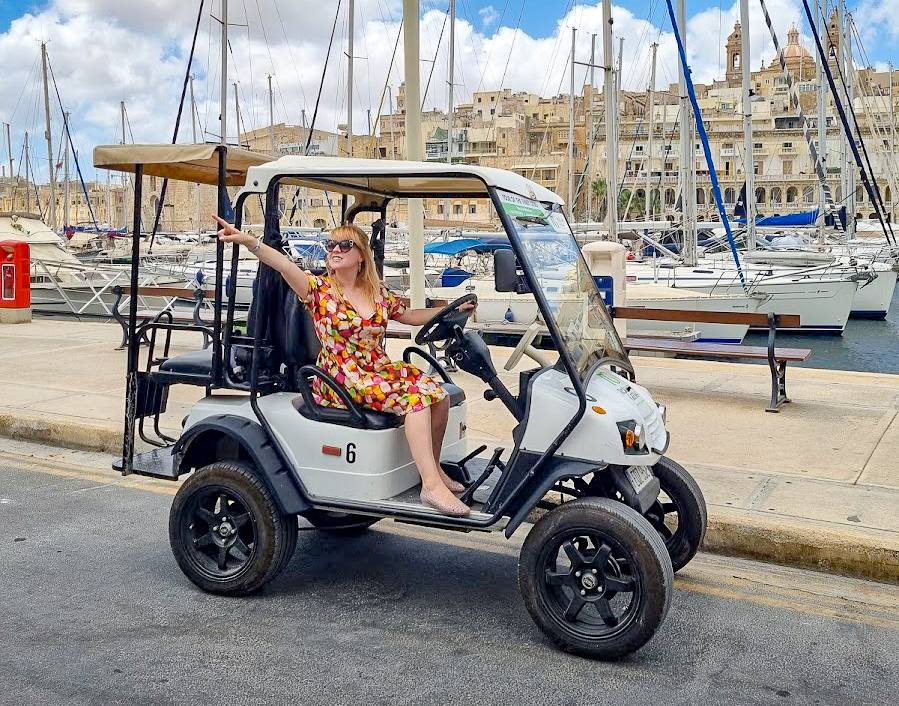 Why is Rolling Geeks Special?
We love how they have thought about including everyone. Kids can hop aboard safely and you won't get the toddler slump when their legs get tired. Speaking of tired legs, if you have reduced mobility or just hate walking for ages, this allows you to cover a lot of ground. I know you might be thinking that this is the same for all tours but not entirely. The things we liked about these, compared with a traditional coach or minibus tour are:
The open-sided cart means you still feel as if you are on the street. You are never moving too fast to take things in, you can stop easily to snap a picture and strains of conversatins can be overheard from the pavement (especially with the quiet engine).
If you are a wheelchair user, they can affix the chair to the car, enabling absolutely everyone to be involved.
There is navigation assistance (more on that later) but it still feels like you are on an independant adventure, not just switching off between photo spots.
There is a chance to hop out or slow down at any point, allowing you to take more time at the things you find most interesting. We loved running around with only our own internal schedule to stick to.
Arriving at Rolling Geeks
We arrived, puffing from our power walk. (We were staying just up the road but left a touch late). The owners, Dawn and Kris, welcomed us and explained how the morning was going to work.
We signed our indemnity forms praying that Mr Fluskey would get the hang of driving these carts nice and quickly! They were so sweet showing us the route map and fun wall of selfies.
Getting to Know our Car
Once the principle was explained we hopped aboard the vehicle. Mr Fluskey had to learn the ins and outs (or was that forwards and backs) whilst I was taught how to use the navigation and communication. The car doesn't have gears, instead, it just goes at a comfortable speed and deals with hills as they come.
The onboard tablet had the GPS in and was also used as a phone. We were shown how to call the office and when they called back, it was as the minions! I was laughing so hard that Kris had to repeat himself a few times. I know that the minions were there for the kids but I'm immature. It also featured a selfie function that people have made such good use of. We almost forgot to use it because we were so enjoying the surroundings but take some time to check out the selfie wall for really funny snaps and some famous faces!
Off We Go
Thankfully, Kris gave us a chance to get used to the driving and voiceover by following him for a little first drive. We didn't crash, or immediately start arguing about the navigation so he let us out by ourselves to begin sightseeing in earnest.
The Tour
Navigation
It took us all of ten minutes to doubt our navigation skills but we were following the directions perfectly at this point. We just doubted ourselves.
That being said, we did find ourselves getting a little lost on two occasions.
At one point along the route, the local government had very recently changed the direction of a one-way street and the GPS hadn't learned it yet. This meant we had to make use of the onboard communication so that they could guide us until we reached the proper route again. Mr Fluskey took it upon himself to drive in the wrong direction whilst I gently screamed at him that he was getting it wrong. The tension was high (we had become lost a lot following Google Maps on the previous day). Poor Kris had to work out where we were and put us right. He had incredible patience whilst getting us back on track.
Divorce averted!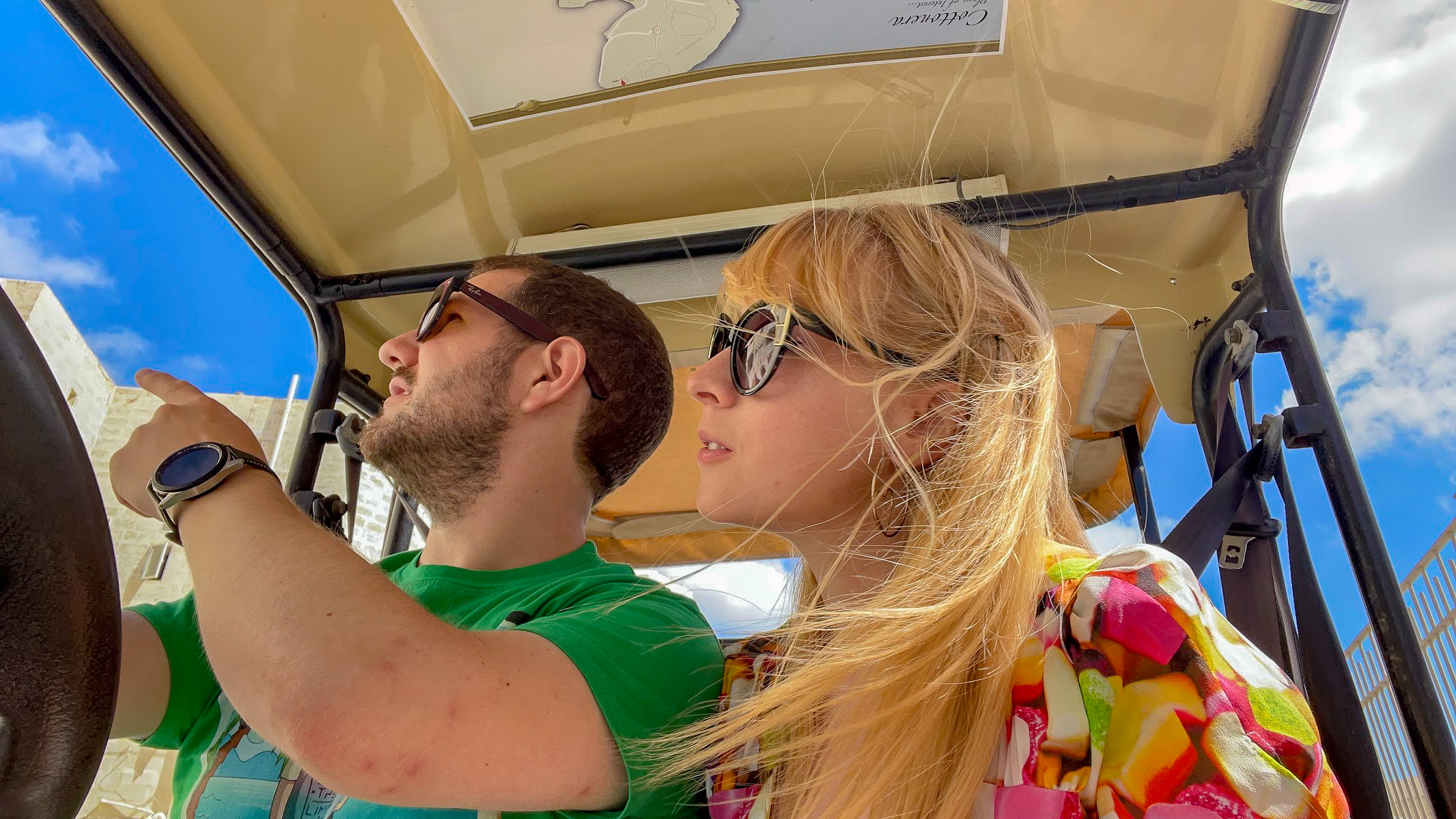 The second moment was in the pretty Victory Square. We circled around it, listening to the commentary but then the direction was to go to the left of Cafe du Brazil that we couldn't see the sign for. It was just up the road a teeny bit on the northeast corner of the square. I realised that it could be the thing we couldn't see and then the Rolling Geek#s sign hove into view.
Sightseeing
There was a great mix of history, views and local life on this trip. Highlights included:
Fort Verdala was a wonderful blend of hundreds of years of history and a slice of modern life.
The Senglea Watefront was full of locals taking a waterfront lunch beside small bobbing boats, sparkling blue water and the cutest feathered friends (with their very own traffic sign).
Gardjola's Gardens had stunning views that wrapped around it for almost 360°. This would be the best place to stop for lunch if the wind isn't up.
Around Victory Square are the most lovely little streets. They are colourful, full of cute houses and if you pass back through the squre, there is a pretty church to explore (quickly).
Now, I don't want to ruin anything which is why I have been a little generic here. However, I have included some snaps. When you take your own Rolling Geeks tour, see if you can spot where they are from.
Overall, the tour lasted about three hours. and we felt like we packed loads in. If we had been staying in Malta for longer, we would have definitely returned to explore the small streets around Victory Square again. There was so much to see and we were sad to miss things like the Inquisitors Palace mind you, that is why these kinds of tours are great. Do it on day one and return to the things that you are most interested in for a more thorough exploration. Sadly, this was our last day….what rookies.
Packed Lunch Time
Every passenger gets a bottle of water provided but in addition, Rolling Geeks can provide a picnic lunch at an extra cost. We opted to order one as it was really nice not to have to think about where to find lunch before moving onto to our next activity of the day. After three hours, we realised that we had a little time left and had totally forgotten to eat our lunch. The cooler bag had been securely fastened into the back seat's seatbelt and we had driven around the precious cargo, totally neglecting to eat it!
Just before returning to the base, the tour takes you to Fort St Angelo. Here we found a little bit of waterfront for a spot of lunch. It consisted of a baguette with ham and cheese, a can of pop and an apple each. It was simple but tasty and a nice way to reflect on the morning.
Information
If you are thinking of booking a Rolling Geeks experience, here are some things you might want to know;
To avoid booking fees and see the latest deals, it is best to book directly on the Rolling Geeks website.
Ensure that somebody has a driver's licence. These are road-going vehiciles (as novel as they may be) so you still need a valid license that can be used in Europe.
There are rain covers for the buggies. These entirely close the front two seats but the back is still partially exposed. if it really coming down, then you can rebook for any time within six months.
The experience comes with comprehensive insurance so yoou don't need to add anything onto your regular travel insurance.
Final Thoughts on our Rolling Geeks Review
We have taken many a tour and I have to say, this is one was incredibly unique. The independence (backed up by support from the home base) was really freeing and even though we were rolling, we still managed to get out and get some steps in wherever we fancied. I can see all kinds of people enjoying this, from older couples to young families. We certainly did!
Rosie xx