Taking a sleeper train can be convenient and fun but it takes a few nights and some top tips to learn how to make it easier and more comfortable. Although I have a brain full of general tips for night trains, this article is all about specific tips for taking the Caledonian Sleeper train to Scotland.
For a full blog post of our time on the night train to Scotland, check out our Caledonians Sleeper review HERE
Top Tips for Taking the Caledonian Sleeper Train to Scotland
So, you've read the official literature, you've watched the YouTube videos but you are still in need of some proper advice about catching the Caledonian sleeper train to Scotland. If you to know know what to pack, where to go for a drink before the train and lots more, this handy guide is full of those practical things that the official website won't tell you. Here are your top tips for taking the Caledonian Sleeper.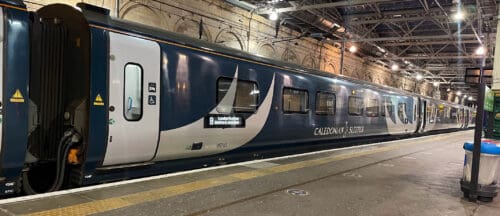 Book Tickets in Advance and Online
It is possible to book tickets for the Caledonian Sleeper up to twelve months in advance. If you have specific dates or requirements, then it is best to book as soon as you can within that time.
Sleeper Fixed Advance

– These are the cheapest tickets that include a bed and are not at all flexible or refundable. These are only for private rooms. If you have set plans, this is the best option.

Sleeper Flexible

– These can be amended up to two days before your travel date for free and are valid for private rooms.

Normal Tickets

– You can book a standard single on National Rail, Scotrail etc. these cover seated accommodation and if you want a private room, you just need to pay a

Rail Pass

– If you hold a Britrail pass or a Eurail or Inter-Rail pass which includes the UK, you will need to pay for a sleeper supplement but the main fare is included.
Booing online allows you to see all the options yourself, meaning you can make an informed decision about prices etc. It also means you can download your tickets and print them at home, or have them on your mobile phone. This is a lot easier than picking tickets up at the station.
Ready to book? Consider booking through this link to support the blog at no extra cost to you,
Choose Your Seat Wisely
Of course, where you feel comfortable is a totally personal choice, but there are a few things to think about. Here are some of the things to consider.
Comfort Seats
Although the chairs in the seated carriages are billed as reclining, they aren't really. The bottom section shifts forward a couple of inches but the back doesn't actually recline. You cannot stretch your feet under the seat in front so it is nice and cheap but not comfortable. Passengers are given a little sleep kit (eye mask and earplugs) but aren't provided bedding in this carriage. You will need to bring your own towel, pillow and blanket.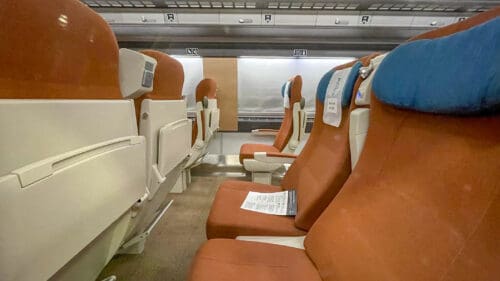 Noise
If you want to be away from the majority of the noise, (that's wheel noise and bathroom noise), then opt for a spot in the centre of the carriage. The wheels and bathroom are at the ends of the carriages so this is where you will find screeching metal and chatty passengers.
Twin Rooms
If you are paying for two seats, it might be worth considering paying a little extra (about a third more for the Classic Twin) for a private room. This would allow you to control your own temperature, lighting and have actual beds. You can also book one berth in this room and you will be put in with someone else of the same sex. It is possible to book these as a solo traveller but you will pay for the whole cabin even if it is just you.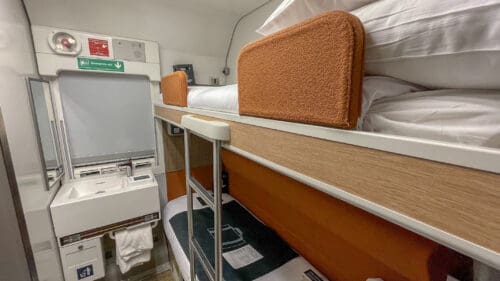 Caledonian Double
The fanciest cabin available contains a double bed. I like the idea of this. It adds to the romance of the thing. However, in reality, a night on a train involves quite enough disturbance already without the flailing arms, duvet wars and snuffling noise of a partner. If this is your honeymoon, or one of you can't climb up to a top bunk then go for it, but otherwise, the twins may afford you a better night's sleep.
Personal Hygiene
Depending on how clean you need to be, pick your class of travel carefully.
The seated carriages have shared facilities for washing up. The sinks are tucked under the big mirror unit with its soap, taps and hand dryer. you won't get under it for washing your face or brushing your teeth.
In the Classic Rooms, you will have a sink within the cabin and get a bar of soap and a towel. This is great for a quick wash.
For those people that need a full shower every morning, the Club Rooms all have ensuite and extra fancy toiletries. The ensuite is a wet room. You fold down the larger lid of the toilet to prevent it all from getting soggy. The shower is overhead and the water pressure is distinctly average. I hear that the water can be a bit chilly…perfect or a brisk awakening.
A Spot for
a Pre-Boarding Pint
The Caledonian Sleeper leaves pretty late at night and sometimes you have spent a whole day out and about and just want to rest your feet. This is especially true if you are dragging luggage around. For weary travellers who like a libation, here are the best/nearest bars to the stations.
Edinburgh Waverley
Cafe Royal – This French-style bistro/bar is hidden along West Register Street. Along with the tasty drinks, and copious oysters, the decor is really worth checking out. There are some gorgeous stained glass panels and incredible Royal Doulton ceramic tile portraits from the 1800s.

Brewhemia

– This cool complex has a variety of bars to choose from. The Prosecco Bar does what it says on the tin, The Bothy is a cosy room for beer and whiskey fans and finally, The Boudoir is a laidback, luxury bohemian lounge with gin flights and cocktails.
London Euston
The Crown & Anchor

– This is a seven-minute walk from Euston and is a lovely, cosy pub which serves everything you'll expect and a fair amount of proper ciders. There is a also a decent selection of non-alcoholic alternatives.

The Euston Tap

– Just outside the station entrance are two old gatehouses. These are actually pubs, called The Euston Tap. One side features standard beers from around the world. The other specialises in northern Ales, reflecting the destinations of many trains from Euston.
Pack for the Caledonian Sleeper Like a Pro
Pack Light
This isn't the airport. You will be holding onto your own luggage throughout the journey and with only a small amount of room to store it. Plus, the corridor is very thin so if you have the choice, bring a suitcase that is taller than it is wide when it is wheeled along, or a backpack. In the seated carriage, there is overhead storage but you need to get on early to snag it! Officially, the bag allowance is 2 bags no bigger than 30cm x 70cm x 90cm, plus standard hand luggage. Honestly, I think you would struggle with that much luggage so we recommend packing light if you can. It is one less thing to stress about.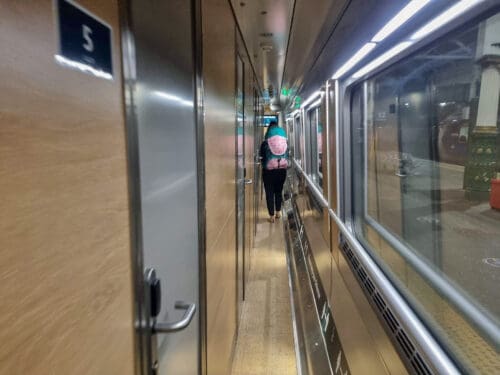 Pack Your PJs!
Changing into comfortable pyjamas is always a nice moment when you are getting ready for bed. Travelling on a train is no exception. You won't want zips or buttons digging into your tummy for hours and bra clasps are very rubby when you are lying on them. Even if you are in your own compartment, or sharing with someone who is used to seeing you in your undies, if you need to use the bathroom during the night, you won't want to be rummaging around to find your clothes and making a dash for it in your smalls could get you in trouble.
Bring Slip-on Shoes
This was a lesson hard learnt on the Trans-Siberian. Bring some shoes that you can easily slip on and off for trips to the bathroom or dining car. Some people recommend slippers but personally, I'd rather not have my slippers soaking up the drips on the bathroom floor. Flip-flops, elasticated top shoes or similar would be perfect.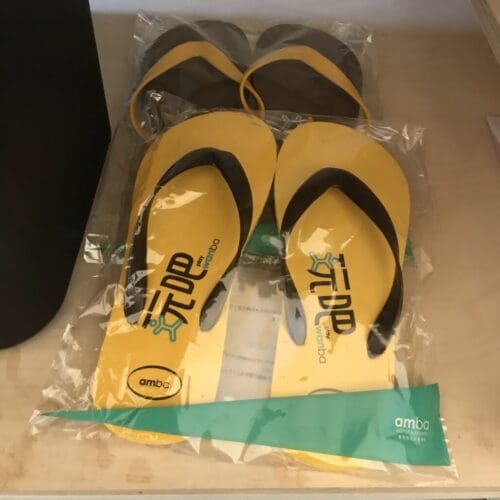 Embrace
the
No Flight Advantages
There are a few things that you can bring on to the Caledonian Sleeper that would cost you dearly, or just not make it through airport security if you were flying. There is no liquid restrictions so you can pack plenty of wine, beer and spirits as long as you can carry them!
Caledonian Sleeper to Scotland will take your bike for free. They have room for six bikes so make sure you book this well in advance! This does only include normal road or mountain bikes however so no tandems or e-bikes.
Finally, you can bring along your four-legged friend. For a £30 cleaning fee, you can bring a domestic pet along. You must book a private room. Assistance dogs ride for free.
For a full blog post of our time on the night train to Scotland, check out our Caledonian Sleeper review HERE
Wear Layers
The train can be chilly when you first embark but as the heat of bodies begins to warm it up you might want to lose an item of clothing. Best it's a jumper rather than your trousers! You may also find you get even warmer overnight (a strange but regular phenomenon) so having some shorts or a beat to strip down to could be a good plan. Of course, if you can sleep without a cover then more power to you but I need something covering me (especially in public) or I get worry dreams all night!
Utilise the Bathroom Early
As with any communal toilet that gets a lot of use over the course of a night, it will get muckier so take your chance to use it early in the evening. Use the sink in your cabin for your other ablutions and brushing your teeth. Those in cabins will find that it isn't too bad but if you are in Comfort Chair Class, bear in mind that you will be sharing with lots more people and they won't have a personal sink so everyone will be in there longer and splashing more.
It is also worth noting that the design of the bathroom, with the hand dryer, tap and soap all within the mirror, means you cannot put your face over the sink for washing or teeth brushing. Inevitably, this leads to a wet floor.
Download Things Ahead of Time
As you travel through the night, the spots where your phone picks up signal can be distressingly far apart. The train travels at speeds of up to 80miles an hour and passes through plenty of tunnels, making catching signal tricky. If you are having a bad night and sleep is eluding you, it is good to have a phone full of TV shows, podcasts or music to play through your headphones. Streaming is impossible at 3am, and there's not a lot happening on Facebook anyway.
Take a Trip to the Lounge Ca
r…if You Can
If you are booked in a private cabin, a little adventure to the dining car is a lot of fun. This is especially true when you are travelling from London to Scotland, the train leaves earlier so you can really sit and enjoy a meal before a full night's sleep. The menu includes plenty of traditional Scottish food and drinks You can have a full three-course menu or just a drink. Some highlights of the menu include a venison charcuterie, haggis neeps and tatties or chicken with black pudding. Drinks-wise, there is Scottish whiskey, plenty of wine, gins, cocktails and of course, Irn Bru! Club Room passengers get priority but Standard Twin room passengers can squeeze in if there's room. If you are in the seated carriage, you will be offered a buffet service from the trolley.
Don't Bother with Breakfast
…unless you are in Club Class. The breakfasts on the Caledonian Sleeper train to Scotland are pretty good with choices including full Scottish breakfast, eggs Royale etc. You can choose to take them in the Lounge Car or in your cabin. If they are included, they are of good value. However, for those who have to pay extra for the simpler options like the bacon roll to eat in their seat or cabin, the quality really isn't up to much. If you are in a Standard Twin you will get tea/coffee, juice and oat snack bars included anyway.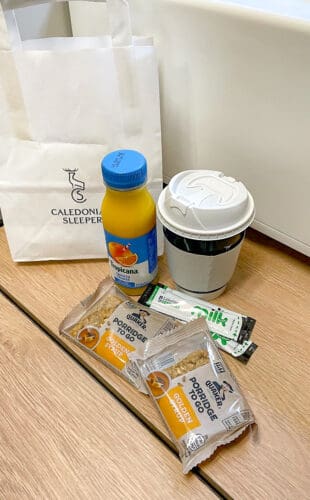 Arriving
at Euston is a Nightmare
There are no two ways about it, Euston is the worst! Arriving in London at 07:something, you will hit rush hour on the London Underground. Euston is on the Victoria and Northern Lines so it seems like a handy place to hop on but it is one of London's most confusing stations. At rush hour, Londoners will have no patience so if you aren't familiar with it, or you have luggage, maybe consider a bus instead,
If you are travelling in Club Class, you can take advantage of the Avanti Lounge where they will let you relax in comfort. You ate entitled to stay for two hours after arrival so you could hunker down here until the madness dies down a little.
For a full blog post of our time on the night train to Scotland, check out our Caledonian Sleeper review HERE
Final Thoughts on the Caledonian Sleeper Train to Scotland
The Caledonian Sleeper train to Scotland is a rather special way to travel across England. There are two sleeper trains that operate within the UK so why not take advantage of this fun, unique and highly practical trip.
Rosie xx