Travel in Western Europe can be expensive. There are plenty of ways to save money and one of the big ones is to avoid big cities like London and Paris…but where is the fun in that?! If you are in France, Paris should absolutely be on your list but if you are on a budget, you need to be a little more mindful to avoid blowing the bank. With these tips for visiting Paris on a budget, you will soon be backpacking in pairs like a pro!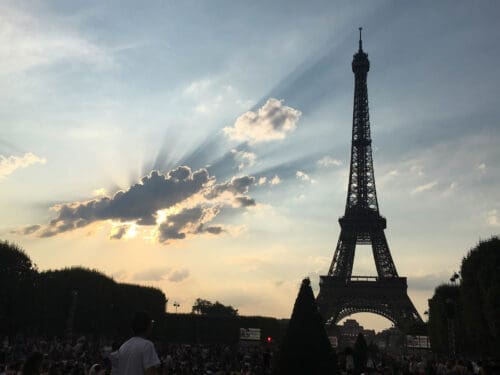 20 Tips for Backpacking in Paris on a Budget
Unleash Your Inner Flâneur
There are few cities that reward the aimless walker as much as Paris. Taking a walk with no final destination is a common thing here, so much so that there is a word for it, "Flâneur". To be " a flâneur" is to saunter casually but take in your surroundings. You will see the most beautiful architecture, observe the street life of Paris and enjoy the lack of deadlines that this way of sightseeing enjoys. The best thing about this activity it is completely free!
Time Your Trip for Free Museum Moments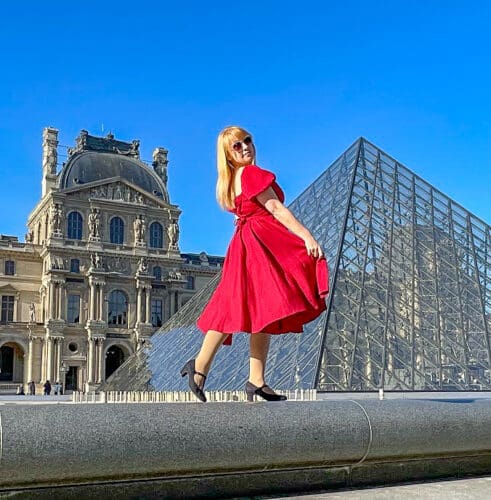 On the first Sunday of every month, many museums in Paris are free This includes the big hitters of The Louvre and Musee d'Orsay. Of course, you will have to queue as there are plenty of people that want to visit without an entry fee but considering just those two museums will set you back a total of €33, it is probably worth the waiting. Pick your favourite, get there early and have a game plan. Mona Lisa? Napoleon's apartments? The clock of the d'Orsay? There is a lot to see so be picky.
There are some museums that are free all month long so if you can't make it for that Sunday and are backpacking in Paris, you can still have a slice of high culture. Our favourites are:
Musee d'Art Moderne

–

Petit Palais

– The Musée des Beaux-Arts la ville de Paris is within the beautiful Petit Palais. As well as the artwork, there is a beautiful courtyard with a pretty cafe so it is a lovely place to stop for a little sit down in summer.

Musee de La Vie Romantique

–

Centre Pompidou

– Not only does this modern art centre hold some fun modern pieces, and ever changing exhibitions but it is the most incredible architectural building. The insides of the building (escalators and pipes) run across the façade.
Avoid Taxis
There are some cities where hopping in a taxi is cost effective way to travel as a group, but Paris is not on that list. The starting fare for a taxi in Paris is a whopping €7, that's what you'll pay even if you don't move a meter. The traffic can be as slow as walking in Paris so you will be paying through the nose without much of a time benefit.
Take this advice and double it for travel from the airport! The fares from the Paris airports are fixed and rather steep. You will be paying €50-70 as a bare minimum. There are also extra fees for having large luggage, and for travelling on public holidays, Sundays or morning rush hour. This one is particularly tough for those arriving after an overnight Trans-Atlantic flight. Instead, look for public transport options. Both airports are connected by train to the centre of the city and it by far the best option if you only have a backpack.
Party in the Park with a Picnic
Eating out is likely to be your second largest cost when backpacking in Paris, after your accommodation. If the weather is good, there is no better way to save money than with a picnic. (That being said, if the weather isn't great, you can always have a room picnic in time-honoured "on a budget" tradition). Paris is absolutely stuffed with shops that sell fresh, delicious, seasonal food. Monoprix is always a good bet! There is something magical about sitting down to a slab of gooey cheese, a stick of incredible smelling baguette tradition and some juicy berries is a total joy. Far superior to a flabby Croque Monsieur in an overly touristy restaurant that'll cost you twice the price.
As well as great food, markets sell quality alcohol for much less than you might expect. There are bottles of wine for €5 that are just as good as you would get in a London restaurant for five times that. You are allowed to drink in public in Paris but there are certain places where it is not allowed. Obviously, drinking on the steps of a church is frowned upon so I wouldn't if I were you. Drinking booze is technically not allowed on Champs de Mars (the park at the foot of the Eiffel Tower) but a discreet glass of wine or glug of cidre will be overlooked. As long as you are just having a nip with your picnic and not getting overly drunk, you will be fine. We spent time here on Bastille Day, waiting for the fireworks, and I don't believe there was a single picnicker that didn't have a tipple of three on their picnic blanket.
Don't forget to pack your bottle opener and corkscrew!
Stay at a Hostel
Paris is one of the most romantic cities in the world, or so they say. A lavish hotel might be in the plans of many visitors but if you are doing Paris on a budget, that is not going to happen. Airbnb is alive and well in Paris but we believe that the best option is to stay in a hostel. You will not have to worry about waking up your host, ending up in a dump or being stuck outside with your luggage for three hours because your host is in China and forgot to send the instructions on how to get in….to take a random example.
Hostels tend to be quite cool in Paris and are often a little cleaner and well thought out than budget hotels. You won't be in the room much anyway but the lack of curfew and different room options mean that the time you are in your room should be comfortable.
For those doing Paris on a very tight budget, dorm beds abound in the city and you can get private rooms with or without bathrooms too. There are several independent hostels that are worth a look but we recommend the Hiphophostels group for a very cool, homegrown collection of properties.
Take Advantage of Happy Hours
Bars in Paris host great happy hours! Bars throughout the city drop their prices between 4 or 5 pm and this offers usually runs for three hours plus. It is possible to get a beer for less than €4 and there is even a bar that does wine for €1.50! That is a total bargain for a world city. Here are a few of the best bargain booze bars to be found:
Le Dude

– When happy hour hits, you are going to get two cocktails for €8 and the cheapest wine in town. This bar is all themed for The Big Lebowski, that…classic…Parisienne..cinematic…moment?

Le Nouvel Institut

– Happy hour runs every night from 4 pm until close and beers go down to €3. There are some fun bar games but they do cost extra so watch those pennies!

L'Attirail

– The happy hour here comes with wine for €2 a pop and occasional servings of free fried garlic potatoes. Free food AND cheap drinks, it's a real backpacker win.
Make Lunch Your Main Meal
It would be sacrilege to travel to France and leave without having at least one meal out, Throughout Paris, hardworking, talented chefs create butter-laden delights which leave diners in happy food comas. To get involved, it is best to eat at lunch. Most restaurants offer a lunch menu for a very reasonable price. These can be as little as €10 for a two-course prix fixe menu and sometimes they include a glass of wine. It makes a change from tap water. Oh, and in Paris, the bread popped on your table is free so go to town on it!
Take a Free Walking Tour
One of the best ways to discover a new city, take in the main sights, get a lay of the land and maybe meet some new friends is with a walking tour. Paris has a great choice of free walking tours but our favourite is Sandeman's. They are the OG free tour of Paris and the 3-hour walk is in-depth and hits all the highlights! Alternatively, Guruwalks have history tours, tours of separate areas, Emily in Paris tours and much more.
Of course, tips are very gratefully received by the tour guides so they aren't totally free but they are MUCH cheaper than an officially paid tour.
Find Free Wifi
It really isn't worth paying for an expensive data plan in Paris. Bars, restaurants and hotels all offer wifi to guests. If there is a password, just can just ask for the "wee-fee". So far, so normal, but Paris takes it to a whole new level. As you walk down the street, open up your settings and look for "PARIS_WI-FI_". This is free wifi that anyone can use without any kind of payment and can be found throughout Paris. Most parks are connected and it permeates galleries, museums etc. Once you are connected, a splash page should pop up for you to put in your details and then you are away.
Have Some H2O
At any restaurant in Paris, tap water is free. This means you don't have to break the bank further when you sit down for your bowl of moules frites. Just make sure, if you are ordering water, you specify TAP WATER, "Une carafe d'eau". If you leave it to chance, you could end up paying for the fancy bottled kind.
Even if you are being a flâneur, you can fill up your water bottle at one of the city's public water fountains. The water is totally safe to drink and a godsend for backpackers in Paris. If you are out and about and don't know where your nearest watering hole is, check out this brilliant list, separated by arrondissement.
Pick Public Transport
Paris Meto is reasonably priced We have always recommended getting a carnet of ten single tickets to save money but these small, cardboard tickets are being phased out. Next time we visit, we will be buying a Navigo Easy Pass for €2. These contactless cards will make travelling on the Metro even cheaper. A single would be €1.90 but topping your card up with ten tickets at once will be €14.90. This covers ten journeys within zone one. This will cover most journeys you need within the city. If you're going to Disney, the airport or Versailles, you will need to get a different ticket. You can top these up in stations or certain shops.
I will miss these cute little tickets but having experienced the frustration of losing them and having the odd one demagnetise in my bag. A card makes sense.
Take the Stairs
Paris is FULL of stairs. You take the stairs to:
Take the metro.
Reach Montmartre.
Climb to your hotel room.
Save a little money!
The top of the Eiffel tower is at the top of many Parisian bucket lists. We could tell you to see it from a nice rooftop like Teras Hotel or Pullman Hotel. We could suggest you get a nice view of it from the Trocadero Gardens or Champ de Mars, but let's face it, if you want to climb it, there is no substitute. You can save around €7 on your ticket price by skipping the list and climbing the 705 stairs to the second level. It actually means you get to skip the long line for the lifts but it is a test of your thighs! You can get the price down to just over €10 if you only go to the second floor but if you've come that far, the extra €10 to get to the top might well be worth it.
Hop on a Velib
If you like to take in a city on two wheels, you are in luck. The city bike scheme in Paris, The Velib, is pretty good value. Taking just one journey will cost €3 and this includes both the classic push bikes and the e-bikes. For just €2 more (a total of €5) you will get 24 hours of 30-minute pushbike rides and it is €10 for 24 hours of e-bike usage. You can cover an awful lot of ground for that. The best value of all is the 3-day pass which will set you back €20 but includes 72 hours of pushbike and e-bike rides (60 minutes on a classic bike, 45 minutes with electric assistance). It is really worth considering if you are planning to travel all over the city and don't have the time (or desire) to walk.
Visit During the Off-Season
January to March
Throughout Europe, the low season hits hard as soon as the New Year's Eve confetti is swept away. Days are short and cold, the kids are back at school and everyone is feeling poor after the excesses of Christmas. This is when the true bargains are to be had. However, it does make it quite unpleasant to be outside for long periods of time. Those park picnics lose their appeal rather. Instead, eating dinner in your hostel kitchen is the way forward. Saying that, you might even be able to afford a nicer hotel as rates plummet. You will find shorter lines at big attractions and cafe/museum/hotel staff less rushed and therefore a little more inclined to kindness. If you are in Paris in March, you may witness the city burst into pink with the city's numerous cherry blossom trees and you may get really lucky and have a mini heatwave.
Avoid the February half term holiday, valentine's day and the two weeks around easter as these will bump the price up tenfold,
August
I know that this sounds like I have gone barmy. Travelling at the height of the British school holidays might sound counter-intuitive but it is also the holidays in Paris. The weather is usually nice and warm, if not hot, so being outside in the city's many bistros and parks is a joy. Plus, Paris puts on a far few special events and you'll find lots to do…but more about that later. You will need to book anything touristy way in advance. This is high season for tourists. However, as the locals decamp to the South of France, or further afield, there is plenty of AirBnB or rental accommodation that becomes available. It is also the perfect time to explore the less touristy areas of the city. If you plan to visit Paris in August on a budget, you will have to be organised and get everything booked early, last minute just won't work. Oh, and if you plan to visit a certain shop, restaurant or bar, give them a call to check they aren't actually shut for their holidays because Google just doesn't know,
Payment Pointers
Tipping is usually included. If someone has been incredible, consider leaving a euro or two but you really don't have to. For those from North America, this can take a lot of getting used to. To go from a standard 20% to nothing can feel like you are being sure mean, Don't worry though, there is a very reasonable wage in France and you may be paying a service charge anyway.
If you are offered the chance to pay in your home currency, don't take it! Your exchange rate is going to be terrible and over a few transactions, this really adds up. Bring a payment card with no foreign transaction fees (we favour our Revolut cards) and always opt to pay in euros.
Don't Bother With Breakfast
Don't pay extra in your hotel for breakfast. They are often wildly overpriced and chances are, you will get a better pastry at a boulangerie down the road. Croissants and pain au chocolat are usually quite large, and around €1. Alternatively, you could opt for a stick of bread, and you can order some with a slather of butter. I know bread and butter sounds dull but fresh french bread is a real thing of beauty!
If you find a nice little cafe with the glorious aroma of fresh coffee wafting through the door, you might not be able to resist. Coffee is an expensive habit if you are trying to stick to a tight budget but there is a little hack that can help. Your cafe au lait is €1-€2 cheaper if you stand at the bar. If you see other people doing so, ignore the server's insistence that you take a table (#touristproblems), prop yourself up and enjoy the caffeine hit! There will be a menu somewhere on the wall with the two different price lists so you can see it ahead of time.
Obviously, if your accommodation includes breakfast at no extra cost, you are on to a winner!
Grab a Crepe
Crepes are always a good idea! Crepes start at about €4 and can serve as a cheap dinner and a temporary hand warmer! However, not all crepes are created equal. Avoid any stalls where the ingredients look improperly stored or a bit sad, this could end in a sad tummy. I would also steer clear of anywhere where the crepes are not freshly made.
For a slightly more expensive but reliably delicious crepe, head for L'Epicerie du Breizh Café. This lovely shop specialises in all things Breton. You can grab a cider, a jar of salted caramel and best of all, a crepe. They have creperies throughout Paris and the takeaway crepes are just as good. You can get traditional buckwheat galettes or the white flour kind with sweet fillings. Below, you can see what their crepes look like but these were consumed one of the creperies.
Get Some Summer Sun
When the sun is out in summer, Paris has some lovely cheap options.
Have a beach day at

Paris Plage

. It may be 170km from the nearest coastal beach, but every summer, Paris gets its very own beaches along the Seine. People play and sunbathe, just like they are by the sea and its totally free.
In July and August,

L'Été du Canal

takes place along the Canal de l'Ourcq. There are super cheap boat rides, dance parties, sports activities and art exhibitions to explore.
For just a few euros, you can relax in one of Paris' lovely

open-air swimming pools

. Georges Vallery (20th) and Roger le Galle (12th) both have retractable roofs and so you can swim and sunbathe all day for just €3.5
Find the Free Views
There are so many spots around Paris that you can head up to the rooftops and take in the view. These are all free and give a great vista:
Avoid Scammers
If someone approaches you out of the blue, they are very likely to want something from you. Sometimes it is just to take their photo, sometimes it is a little more sinister. Occassionally, you walk away with a lighter wallet, wondering what just happened. This applies in any city, anywhere in the world but here are some specific scams to look out for in Paris.
The Clipboard Clowns – In a few spots around Paris, but mostly congregated around the Louvre are a few people carrying clipboards. They approach people and ask for a signature on their petition. It is for a good cause and out of the goodness of their hearts, people sign. These scammers then demand a donation, claiming that by signing, they had agreed to donate. It is also worth noting that sometime, the distraction of the clipboard can allow someone to be pickpocketed.
The Sacre Coeur Bracelet Boys – At the base of the stairs that lead to Sacre Coeur are two groups of young men. As tourists pass, they are offered a woven friendship bracelet. It is deftly tied around their wrists and then money is demanded. Sometime, these guys can be very handsy, grabbing people by the wrist and can sound aggressive if you challenge the behaviour. the best thing to do is cross your arms as you walk through and not respond if they try to talk to you.

Chase The Queen/Ball/Scam

– Games of chance on the street are rigged. There are lookouts around that are checking for the police. Plants in the crowd come forward to play and win…they are in on it. You won't win, they will take your money with slight of hand games and you will perpetuate the cycle; don't do it.
@£!&%*(? Pickpockets – As in any big city, don't leave your valuables where they can be pinched. Don't put your phone in your back pocket or even a front pocket unless it zips up. Make sure you handbag is securely closed and keep a hand on it in a crowded situation. It might sound paranoid but we have both been pickpocketed, or been with people who have in major European cities and it is just worth that level of caution.
A Bonus Tip – Be Young or Disabled
I know, I know, this isn't something you can control, and that's why it is only a bonus.
Looking at the price of museums, you will often notice a list of those who are entitled to free entry. The two most common that would apply to those just visiting Paris on a budget would be:
People under the age of 18
People 18 – 25 who are residents of the European Economic Area (countries in the EU, Iceland, Liechtenstein and Norway, but sadly, not the UK)
Those with a disability and an assistant
For all of these, you will need ID/proof so come prepared. It would be an awful shame to arrive in Paris without the right bit of paper to save you a small fortune.
If you are disabled, you will often get a free carer even if you are paying for your ticket. Unfortunately, Paris doesn't seem to offer free audio tours for the visually impaired and in general, it is not that accessible so take advantage of what they offer whenever you can.
Final Thoughts for Backpacking in Paris on a Budget
Sometimes, backpacking can leave you feeling a little left out. Seeing people sipping fancy cocktails, or hopping on a dinner cruise can give you a touch of FOMO. Hopefully, our tips for backpacking in Paris can save you enough money to splash out on a big, fancy treat…or to stay in Paris for an extra night. Even if you are eeking out every penny, you can see that it is still possible to have loads of fun in Paris on a budget. Maybe you'll meet some new friends and you can crash at their house next time (we are still working on that one).
Rosie xx