Travelling between Edinburgh and London, travellers have a wide variety of options. They can whizz down on a high-speed train in just four hours, zoom down on a short-haul flight or even drive in a day. However, there is no mode of transport so exciting as the final option, the night train. So what is it like onboard? Join us for our Edinburgh to London Caledonian Sleeper review.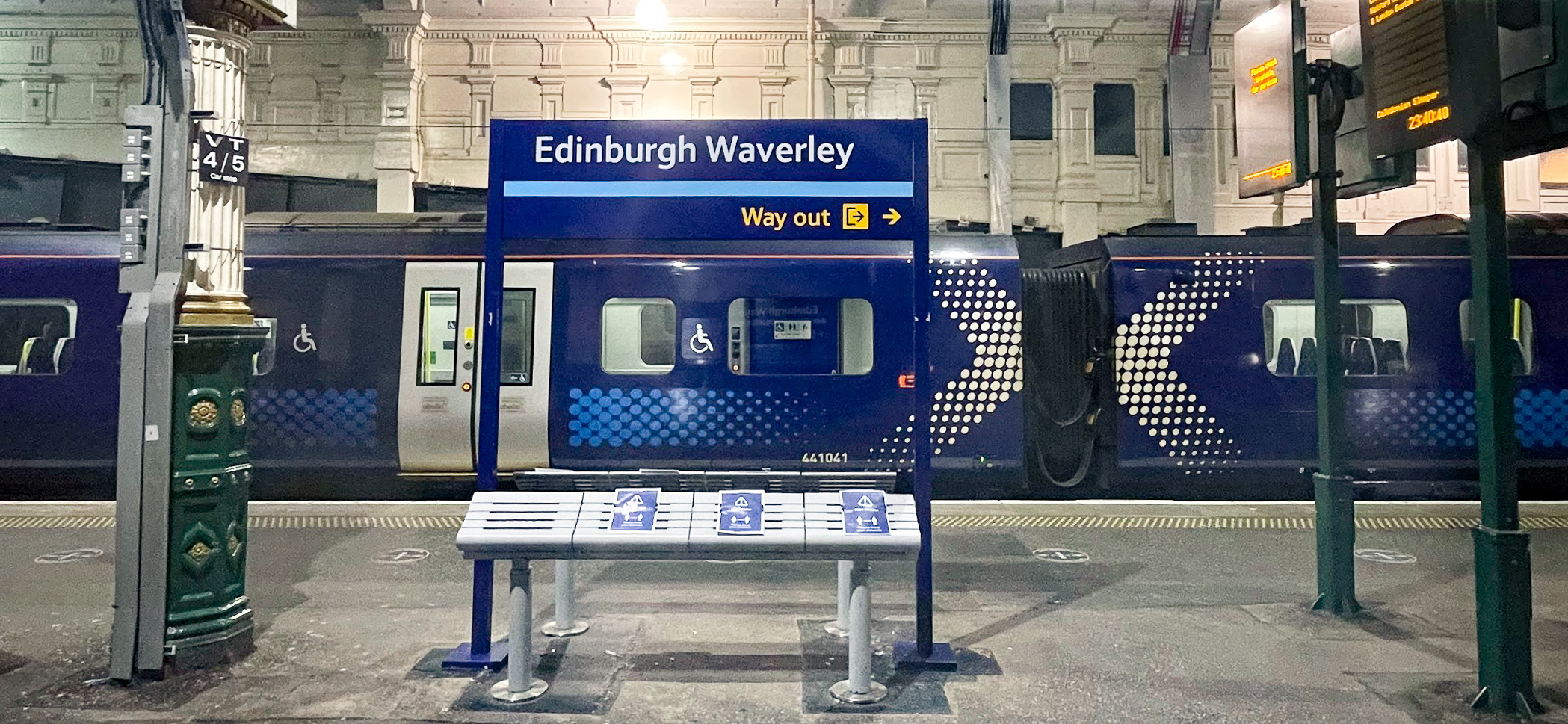 If you are planning to take the sleeper train between London and Scotland, check out our 10 top tips for travelling on the Caledonian Sleeper HERE
The UK's Sleeper Trains
The U.K. is blessed with two sleeper trains and I cannot tell you how much I have wanted an excuse to hop aboard one! We love a night train. One price and you've covered your transport and your accommodation. You can get up and wander around at any point unlike a coach and you can pack a whole bottle of wine, unlike a flight. It's a dream. Plus, they are so much fun!
The Riviera Sleeper is operated by Great Western Railway and runs from London Paddington Station to Penzance in Cornwall.
Leaving London in a distinctly Northerly direction, the Caledonian Sleeper heads up to Scotland from London Euston.
The Caledonian Sleeper
There have been night trains running between London and Scotland for almost 150 years. The Caledonian Sleeper in its current iteration has been running since 1997. It was originally part of Scotrail but since 2015, it has been its own company.
By the late 20teens, everything was looking rather old and tired so in 2019, new carriages were introduced and the older ones retired. Reviews written before 2019 bemoan USB plugs above the cabin windows, beaten up surfaces and no personal wash areas.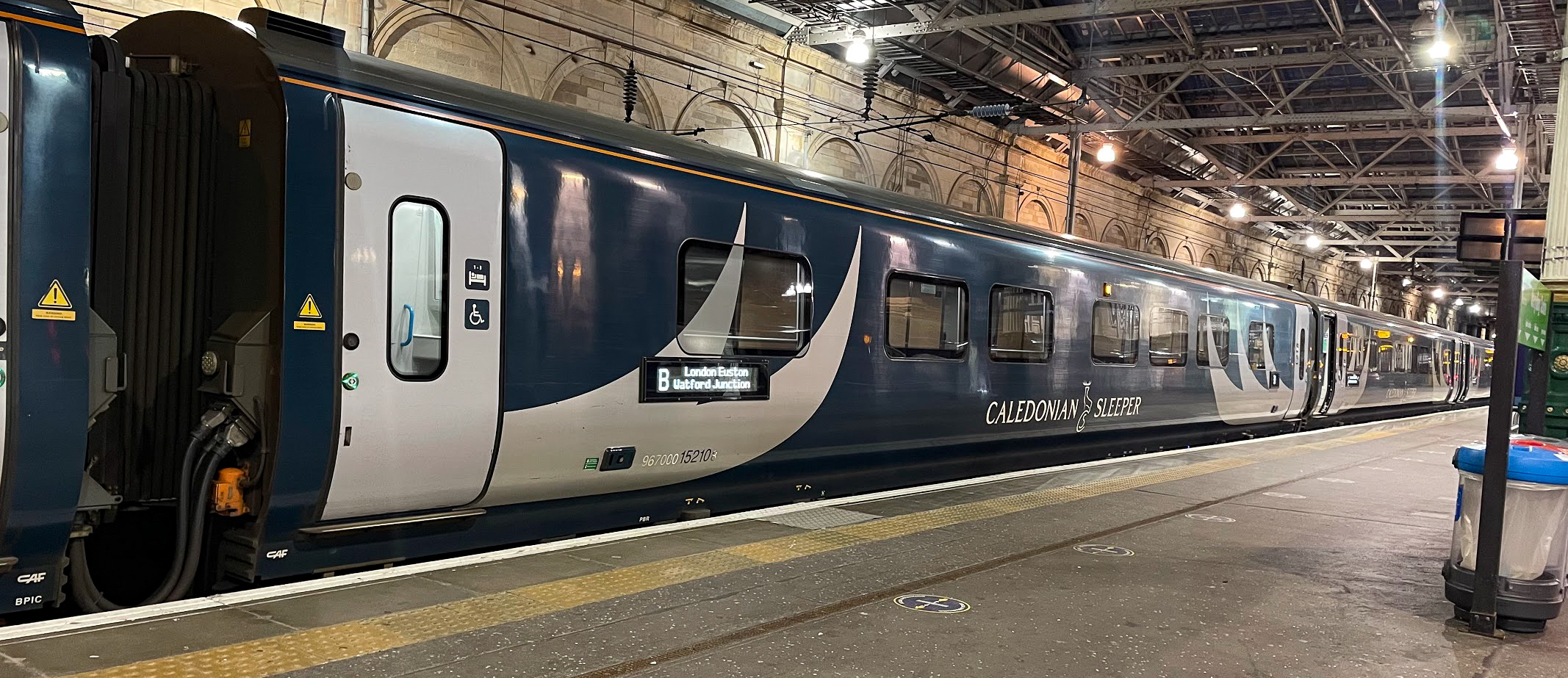 So what is it like on board the shiny new Caledonian Sleeper MX5 carriages? Let's start in Edinburgh.
Caledonian Sleeper Review
Edinburgh Waverley
The Caledonian Sleeper leaves from Edinburgh's Waverley Station. This huge station sits in the valley between the Old and New Town sides. Most of the station looks like a normal, slightly dismal station, especially at night. However, there is the most divine waiting hall. A huge dome rises from the centre of the patterned glass ceiling. This dates from 1897 and is truly impressive. However, it is pretty chilly in here and feels slightly creepy by night. We popped in to have a look and then head to the train.
For those in the Club Rooms, a first-class lounge was available serving snacks and drinks. I am sure it's a much more comfortable spot to wait.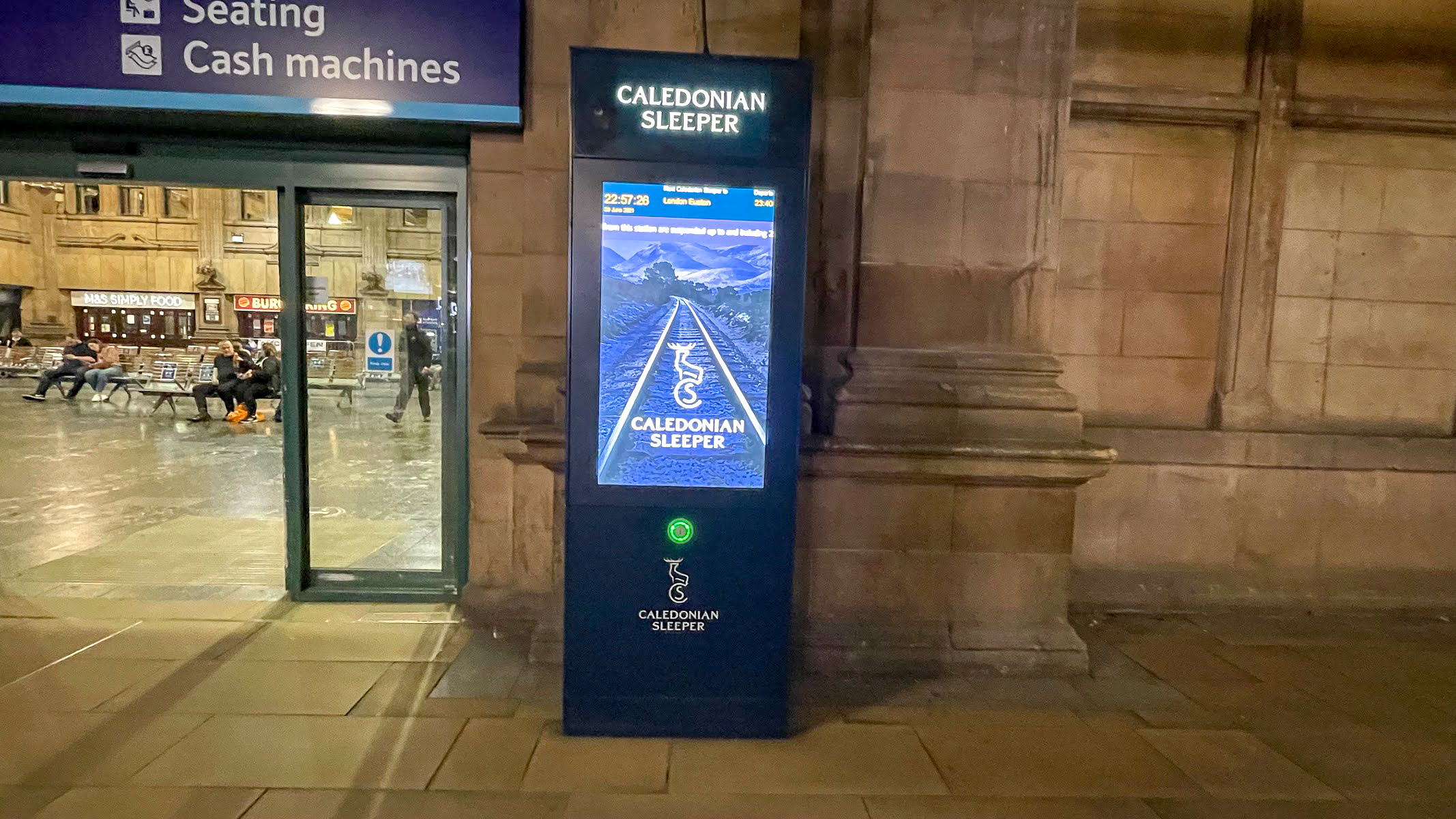 A quick thing to mention – Our trip was taken during the COVID-19 pandemic so certain things were off-limits to us. Where this impacted our journey, this has been noted.
We scanned our mobile tickets onto a wide platform and the waiting purple train. Hosts immediately came to tick us off the list and direct us to the right carriage. We were on and getting comfortable within ten minutes of arriving at the station entrance. It was all very easy and efficient.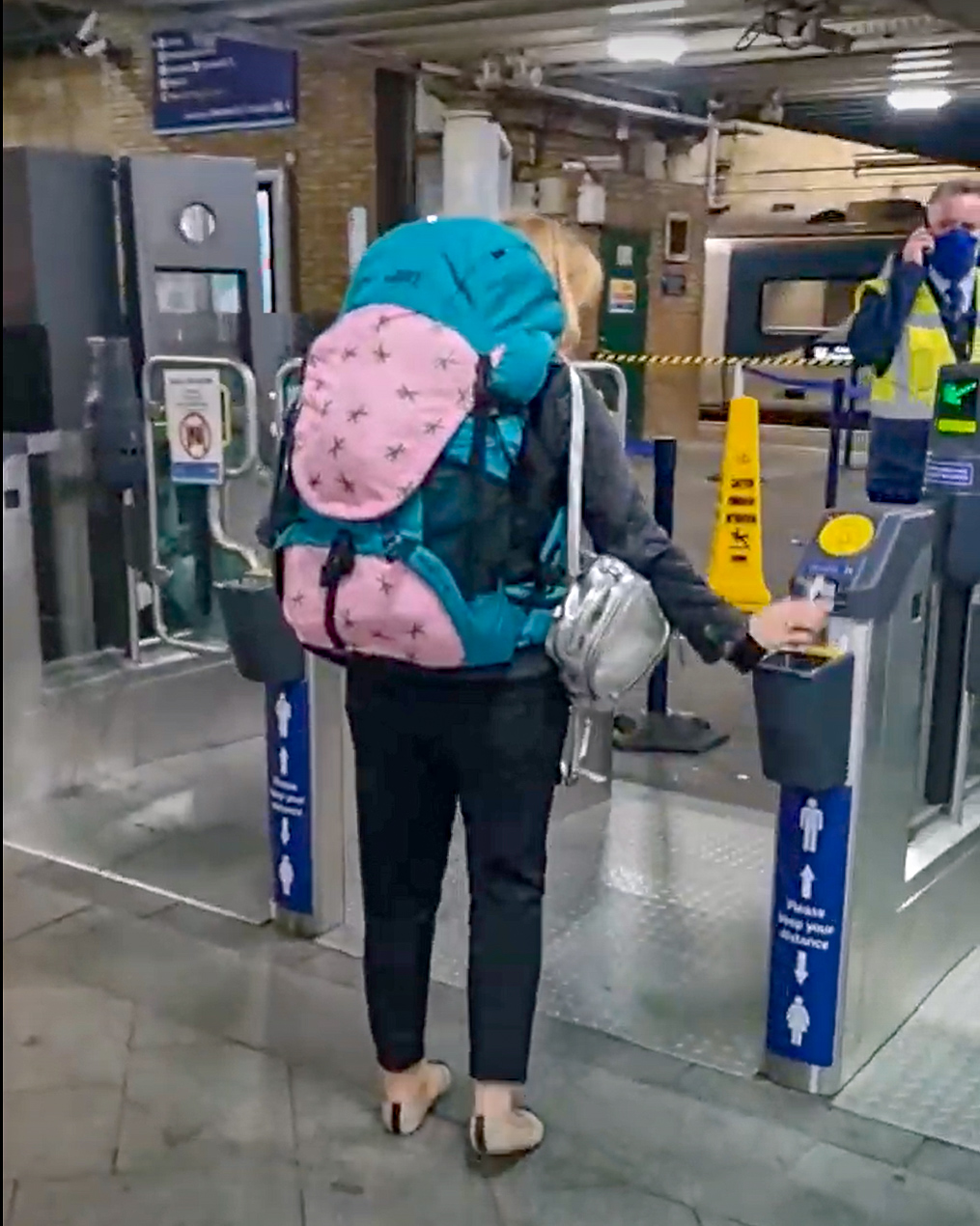 If you are planning to take the sleeper train between London and Scotland, check out our 10 top tips for travelling on the Caledonian Sleeper HERE
Exploring the Caledonian Sleeper
The Train
The Caledonian Sleeper is a normal width train. This means that the corridors are all on one side of the train, and quite thin. It can feel quite cramped when you encounter another passenger going in the opposite direction but as people are mostly in their cabins, this doesn't happen often. We had our backpacks so it was easy enough to squeeze on but it might be a pain with a wider form of luggage.
Our Room
During our trip, we were in Room 10 in coach D. It was a Classic Twin so our berths were 10U and 10L (upper and lower). The room was very thin. Thinking back over our previous night train experiences, it probably isn't any less floor space than we would normally have but having the wall on one side instead of another set of bunks means there was a little less room for shifting. We were in each other's way quite a lot of the time. That being said, there was a good amount of space under the bunks for our backpacks.
When we boarded, we thought that the cabin was very clean, bright and neat as a pin! The carpets and warm colours of the wood and wool-style decor even made it feel a little cosy. It was built straight across the train with a window at one end and the door to the corridor to the other. There was a door that connected to the next door cabin. This would be unlocked if we were travelling with family as part of the same booking. The main door was locked automatically and opened with a keycard just like a nice hotel.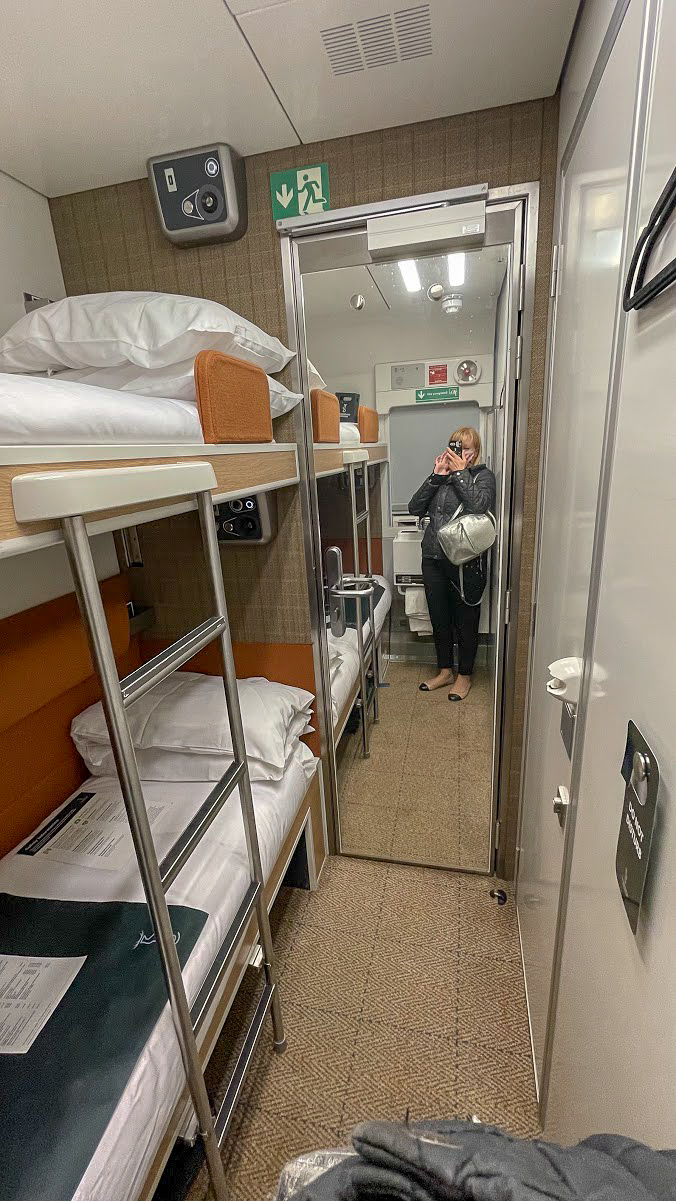 One nice detail was the fold-out table that came out from under the sink With such limited space, this was a very nice detail.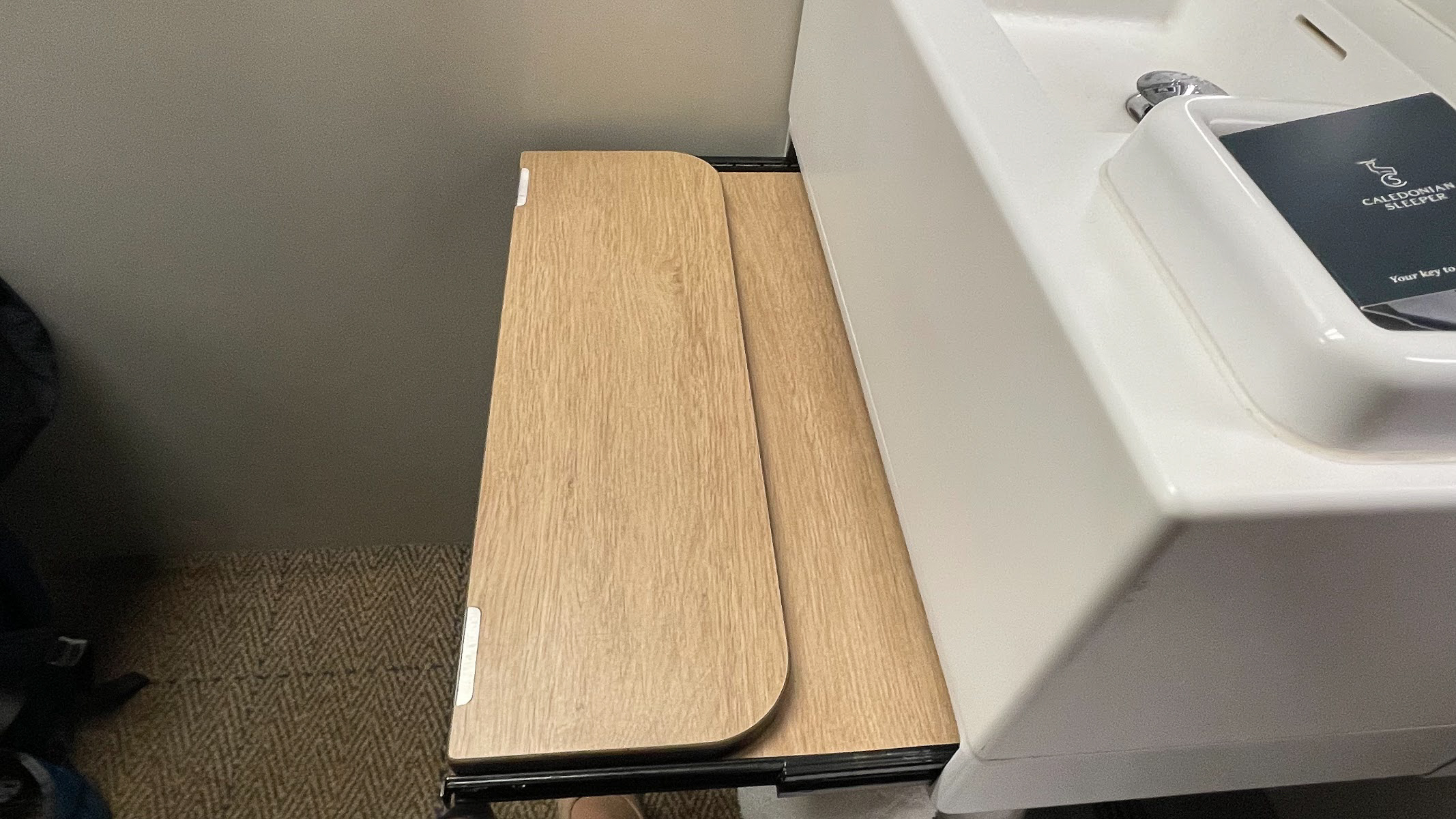 The Amenities
In the room, we had a sink with towels and soap below the window. I had googled whether we would need towels. We had travel towels with us anyway but if you were travelling to a nice hotel, it is nice to know you don't need to drag one with you.
Each bunk had a set of dials and plugs to fiddle with…I mean use sensibly. On the lower bunk, there were two mains UK plugs and two USB plugs, plus the switch for the window light and a call button for the train host. We resisted pressing the host button, we figured the poor person deserved some sleep! On the top bunk, there were a couple more light switches for the mains, a USB plug and the temperature controls.
Taking a look around the bed, we found two cute little bags which contained earplugs, eye masks and little bottles of drinking water. There was also a luggage bag (for those fancy cases that don't like being scratched across the floor) and a menu full of Scottish favourites. What isn't enhanced by an Irn Bru?! Usually, you can pop along to the restaurant car for dinner or a beverage but it was shut so they were doing delivery to the cabins instead. It was really fun discovering all these lovely touches.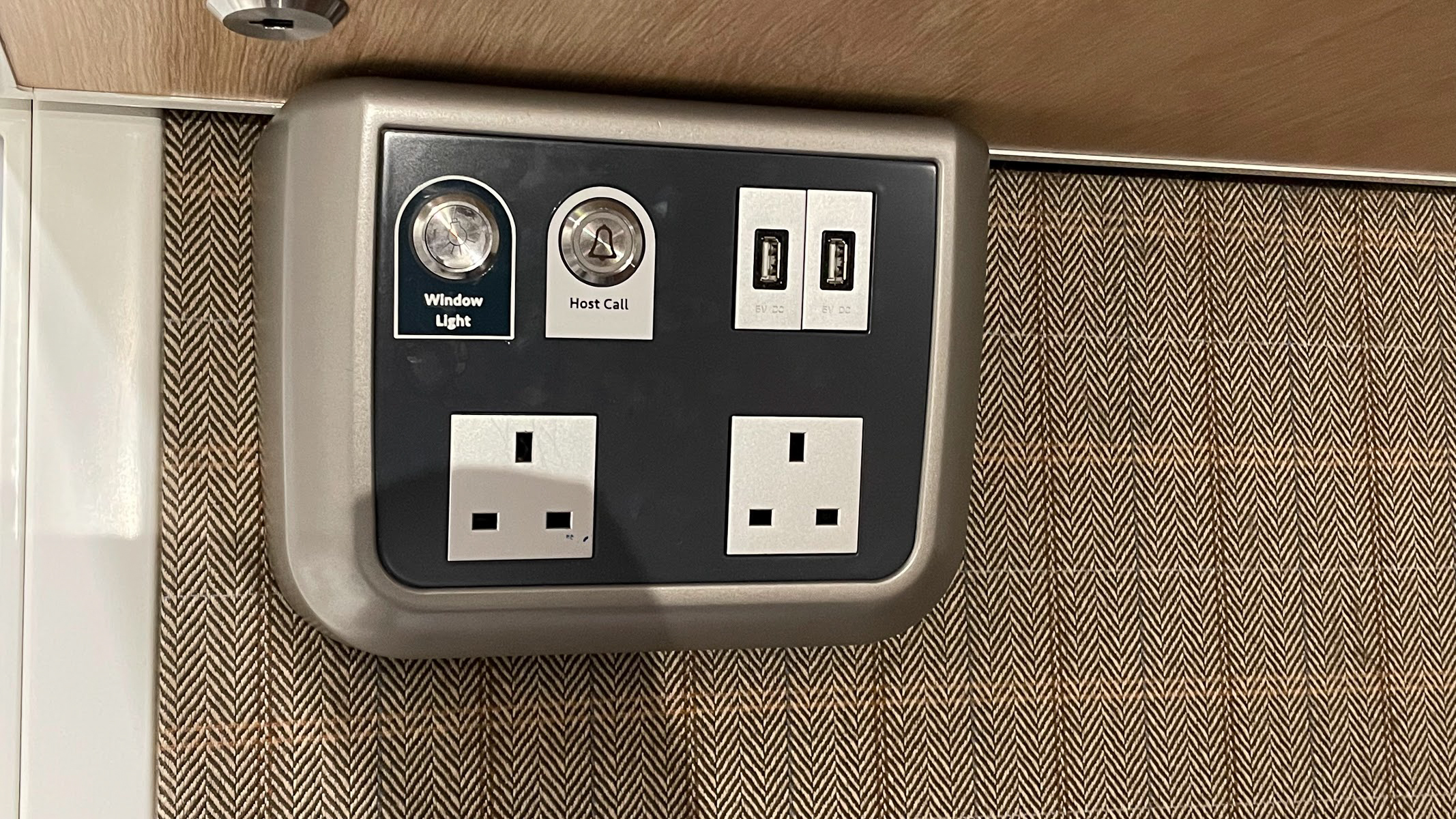 The Bathroom
The reason you are unlikely to bump into too many of your fellow passengers is the provision of a sink in every cabin. This means the bathroom is purely used for its toilet function. The way the toilet is built means you cannot bend over to wash your face or brush your teeth over the sink. It is just another reason to use your own sinks for these activities.
The toilet is quite compact, think an airline toilet rather than the lovely big disabled toilets found on the U.K. trains these days. When we embarked it was spotlessly clean but obviously, got a little worse as the night went on. It was never bad mind you.
Don't forget to check out our 10 tips for taking the Caledonian Sleeper HERE
The Journey
Dinner
Before heading to Waverley Station, we popped to Sainsbury's to grab some dinner. We love a train picnic and to be honest, we needed to kill a little time. Everything in Edinburgh was shutting and our train wasn't due to leave for ages. Plus, we knew that the lounge car was shut so we couldn't go and have a sit-down meal in there anyway. Crisps, sandwiches and some mini bubbles, what else do you need?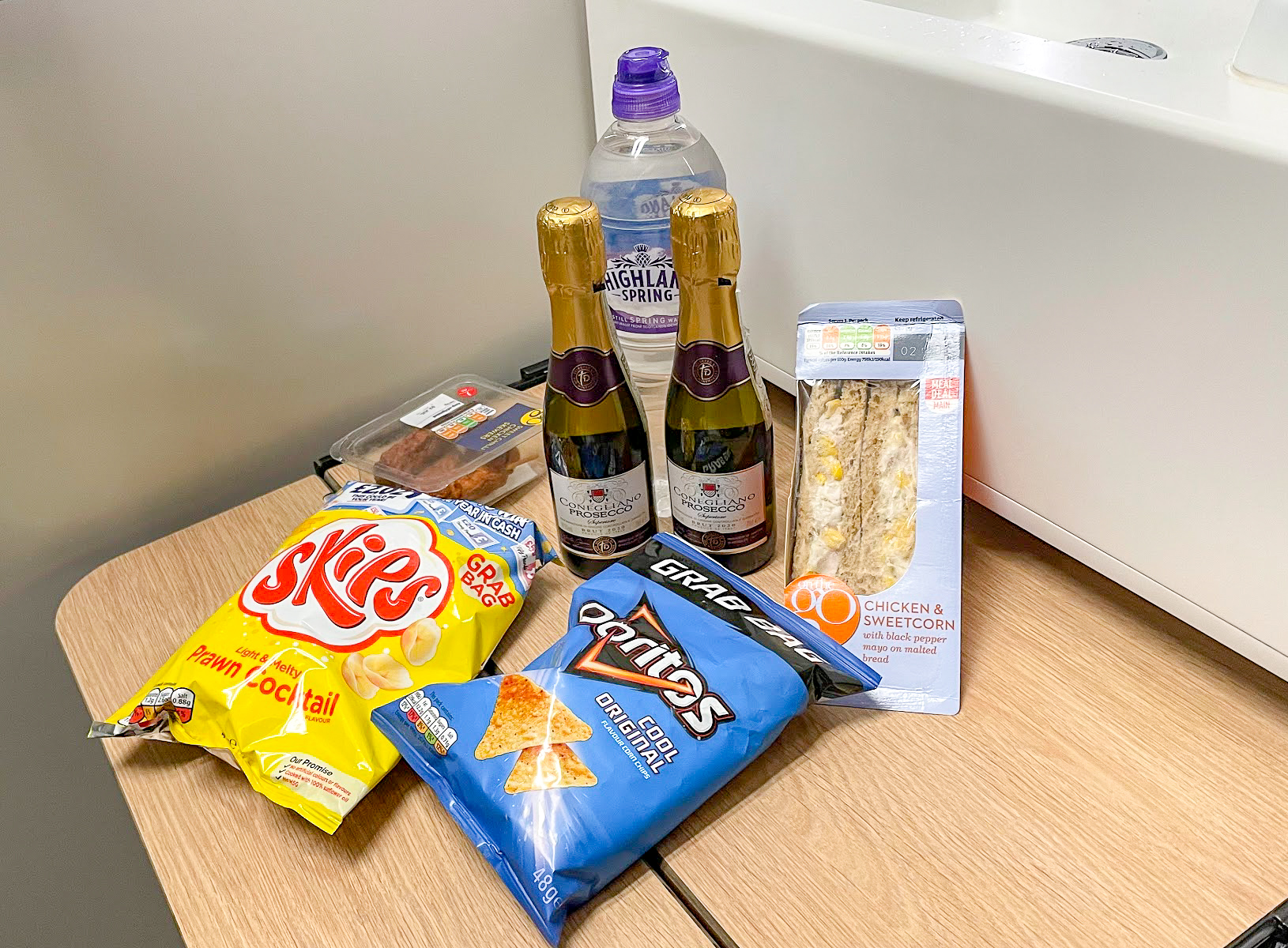 Bedtime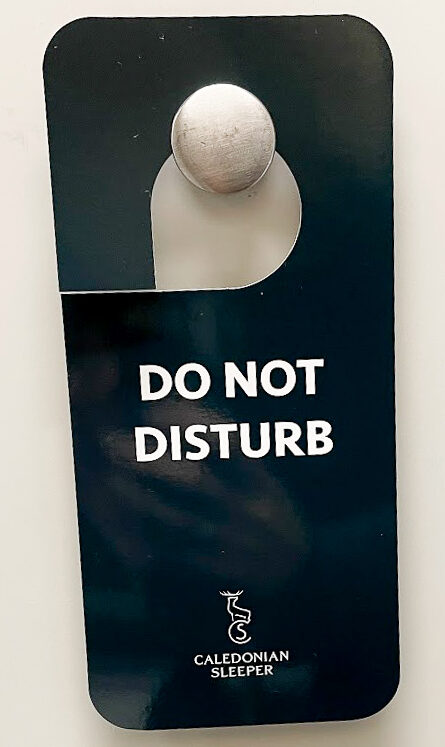 What a difference having our own sink made! There were no inpatient queues outside the communal toilet as everyone takes turns brushing their teeth, having a wee and washing their faces. it was so lovely to get into our pyjamas and brush our teeth without being in a hurry or trying not to drop our clothes on the toilet floor. Plus, Caledonian Sleeper provides towels. These are only for onboard use, not souvenirs!
I normally sleep pretty badly on night trains. The movement can be jerky and the train noise too much. However, I only woke up twice on this journey and slept like a baby for about four straight hours at the end of the night. The blackout blind was great and having plugs next to my head meant I could easily listen to an audiobook to block out the noise of the rails. I think having a cabin closer to the centre of the carriage helps to make the ride smoother and quieter for the occupants within.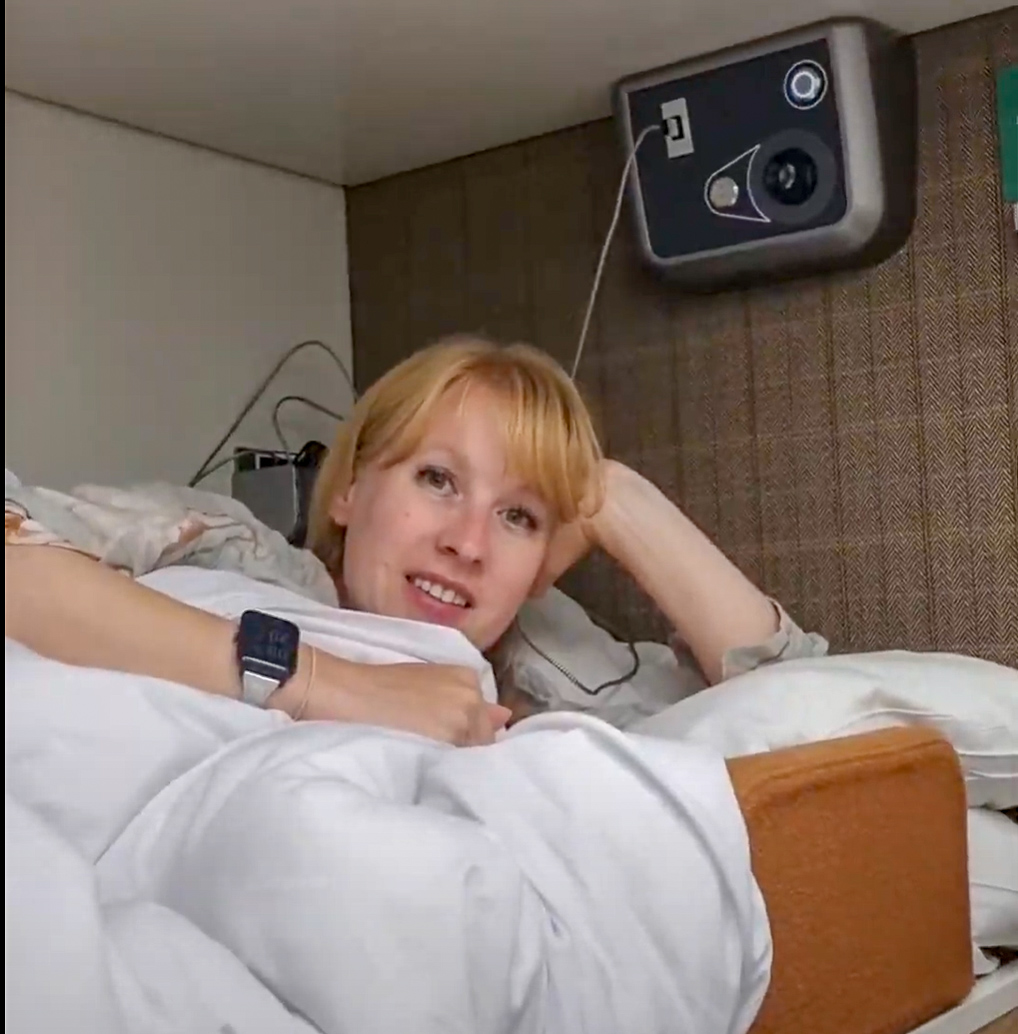 Breakfast
I opened the window to have a little peek outside and film our arrival into London. To my shock, we were already there! I decided I might as well wake Mr Fluskey up and start getting ready to be in public again.
A few minutes later, our train host wrapped on the door to check we were awake. We were then presented with a small paper bag and the question of which hot drink we would enjoy. We weren't expecting breakfast so the steaming cup of coffee was a very welcome surprise. The menu had a breakfast option that could be ordered. For £6.50 you could have a bacon roll or granola and yoghurt, plus a Quaker Oats bar, orange juice and a hot drink. Turns out, in the sleeper cabin, you get the drinks and oat bars anyway!
If you are planning to take the sleeper train between London and Scotland, check out our 10 top tips for travelling on the Caledonian Sleeper HERE
London Euston
Euston Station breaks my heart. It was once a beautiful old station with gorgeous iron gates and plenty of Victorian charm. However, some bright spark in the 1960s decided to completely overhaul it and build a concrete monstrosity in its place. Work has been done to improve things but, along with New York's Penn Station, it is probably beyond help.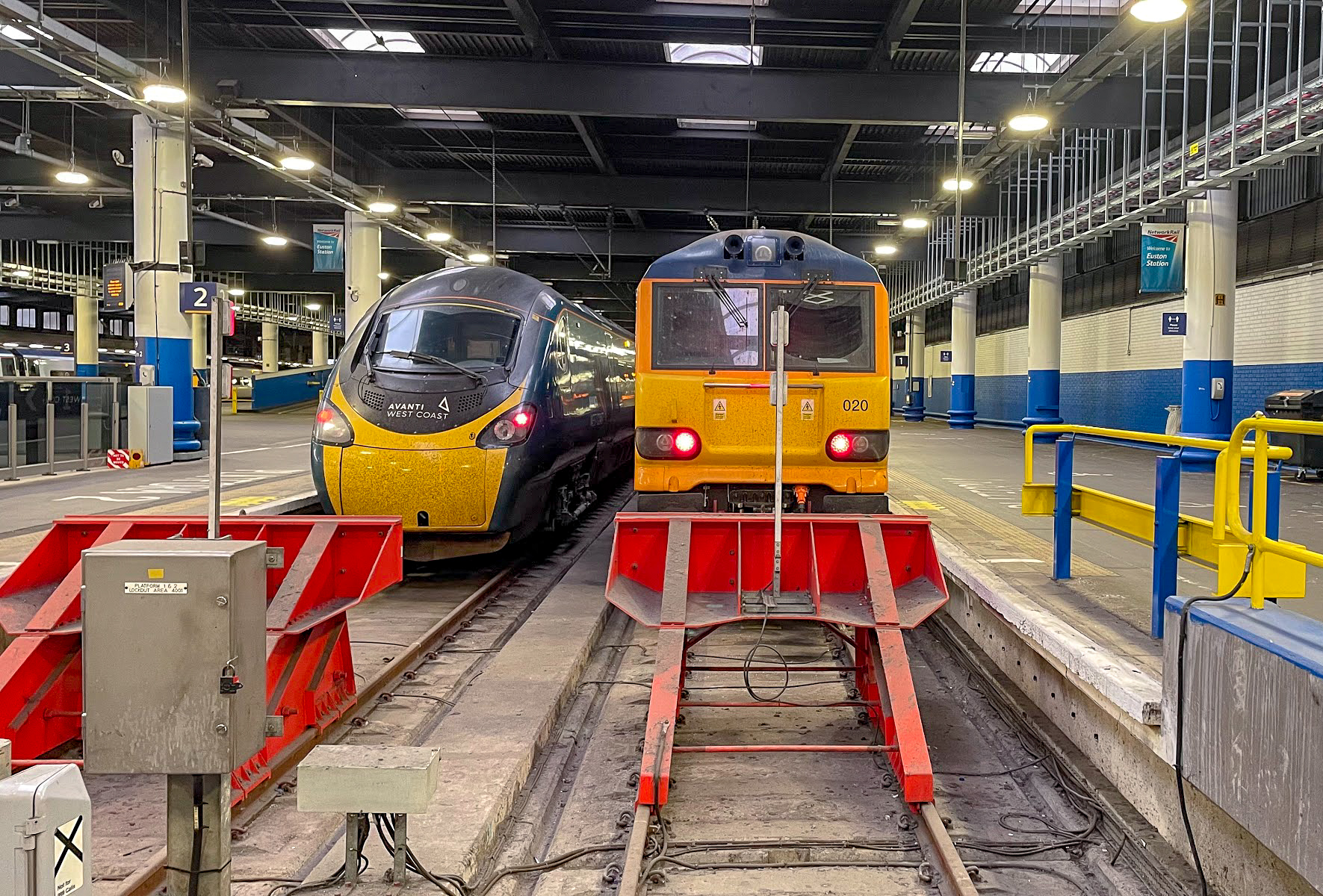 We mentally prepared ourselves and descended into the messy London Underground Station, bound for home. Thank the lord for that little caffeine boost!
Final Thoughts in our Caledonian Sleeper Review
There can be a few downsides to travelling overnight by train. Sometimes they are really noisy or brightly lit and you arrive in desperate need of a nap. Often they are busy with lots of stops and people getting on and off at all hours of the night. In some places, hygiene is less than desirable. However, let me put all your fears to rest. The Caledonian Sleeper is quiet, direct and perfectly clean.
I thoroughly enjoyed my trip onboard. I'm not sure we would have faired so well in the seats but as with a hostel, once you have paid for two seats, you might as well splash out on a private cabin! Seats start from £48 each and with my railcard, the cabin was £105…so it made total sense. I would absolutely take the Caledonian Sleeper again. Next time, I think we might even splash out on a Club Room.
Rosie xx