Taipei is Taiwan's capital city, intriguing in its mix of the old and new, the Chinese and a mixture of other worldwide influences. If you want a base that is as fun, functional and fabulous as the city through the window, then check out amba Zhongshan.
This post was written in collaboration with amba Hotels but all opinions are our own.
Location
Taipei has several distinct districts, each with their own character. Zhongshan, in the city's centre, sits in the middle of the tourist areas tend to visit. The amba Zhongshan sits opposite a bus stop that will whisk you into the historic area in just fifteen minutes. You can also walk to an MTR station about ten minutes. Best of all, the coach that travels from the airport to the city also stops right opposite, a delight if you have lots of luggage.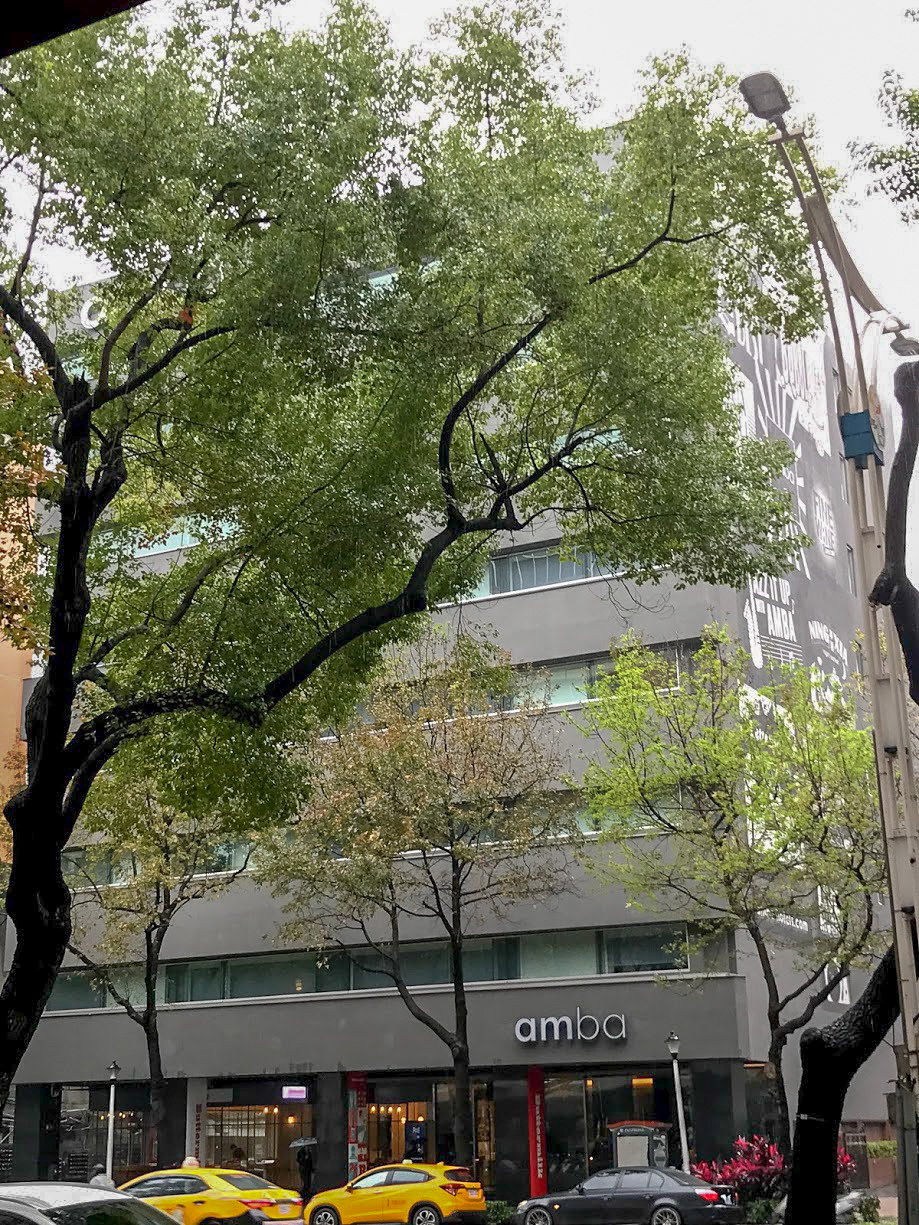 A Look Around amba Zhongshan
Entering the reception, you get an instant taste of the amba style. Up on the wall hangs a bicycle and the walls are painted a powerful ….. The amba hotels are utterly instagram-worthy and it is the cheeky hipster styling that attracted us to them in the first place.
Check out all our travels in Taiwan
Our Room
Our room at amba Zhongshan was a masterclass in using space effectively. Had I designed the room, it would have been cluttered but there seemed to be lots of space and it was very bright. The window stretched across the width of the room and must have had nice thick double glazing as we had next to no sound from the road outside. There was a large space underneath the window which was perfect for our backpacks, keeping them very accessible, but out of the way.
We had a desk with a WiFi booster and lamp. One of amba's most fantastic plus points is the epic WiFi. We blogged, jumped on social media, and streamed videos, all at once, and all without hiccup. Every room has its own booster which makes this an ideal hotel if you need to get things done online.
To our delight, amba has welcomed us with some yummy local sweets and a bottle of Ramune. If you have never tried this soda, I would advise you to hunt some out…even if it's just for the novel way you pop the glass marble into the bottle open it.
The Clever Bit
In the entrance way to the room (between the bathroom and living area) was one of amba's signature counter tops. A good two metres long, this has the bathroom sink (making it easier to share the bathroom with others) and loads of space. On the counter you will find the tea and coffee making facilities and a basket full of super amenities. They have thought of everything you could need during your stay and it is all presented with a fun and cheeky aesthetic. Underneath the counter is loads of storage for towels, a safe, a kettle and a fridge. We think it is a GREAT use of space.
The Bathroom
How happy Japanese toilets make me! I was very thrilled to see that I would have a nice, warm seat. The bathroom is actually pretty tiny, but with the sink outside, it doesn't seem that way. The shower cubicle feels very roomy, and has a lovely big rainfall showerhead.
We were particularly keen on the locally made ginger washroom goodies. We don't often take these mini shampoos home but we made space in our little liquid bags for these. They are punchy and very revitalising.
Dining
Buttermilk
There is one onsite restaurant and if you are looking for local fare, this is not the spot for you. Instead, Buttermilk, serves up delicious American classics. We popped in for a drink and I can confirm that their chai latte is incredibly comforting and pleasantly spiced. Along with my drink, I spotted, and just HAD to try, one of their seasonal specials. From the small menu of strawberry delights, the "croffle" stood out. Forget cronuts, this is the new croissant hybrid. It had the lamination and lightness of a croissant, but in waffle form. It was SO good!
We were keen to get out and about for food as we were only in Taipei for a short amount of time. However, if we were staying longer, I'd have stuffed myself with their namesake fried chicken and the key lime pie. For his part, Mr Fluskey was left dreaming about the chocolate and peanut butter pie.
Looking for Dim Sum? You have to try the Original Din Tai Fung
Breakfast
Buttermilk turns into a breakfast buffet in the morning. It is a reasonably small buffet and I think they may struggle if the whole hotel descended upon them at once, but everything we had was great.
The Food
At first glance, the breakfast buffet looked quite small. However, a closer look and we realised that it was small but perfectly formed…much like the cheese plate, People had been politely cutting the cheese into tiny versions of itself. I am partly proud and partly embarrassed that we cleared the lot.
Alongside the cheese were some yummy Asiam options like pork, rice and noodles and sim sum. I tucked into this but we all know that Mr Fluskey is very fussy at breakfast. He stuck to the cute little pastries, a few slices of toast and an egg and sausage combo.
The Tea and Coffee
I think the hot drinks at breakfast are worth their own little section. The coffee machine produced a surprisingly great cup of the good stuff. I went back for a second one because it was so good. For those who prefer their morning cuppa to be a little leafier, there were three different kinds of tea.
MUD Bar
The hotel's bar is actually just around the corner from the main entrance. Descend the stairs and you will very quickly realise that this is not your average hotel bar offering. Instead, MUD Bar is a destination in itself. The dark walls surround a collection of funky furniture. We loved the giant "Pixar" lamp and the two large sections that could be hired for larger groups.
The bar was incredibly well-stocked and we were excited to see what the menu had to offer. We weren't disappointed. There was a wonderful collection of original cocktails. They must have had a serious mixologist working on it. They also have all the classic cocktails but we were keen to try something new. I chose the Dutch East India and it was a heady mix of English garden flavours and exotic spices. I sipped it slowly, enjoying each layer of flavour; the mark of a truly grown-up cocktail.
We also stayed in amba Songshan, check out our full review
Final Thoughts
The amba Zhongshan seems to have bridged an interesting gap. Its fun style and quirky additions appeal to a younger audience (like us flashpackers) but its brilliant wifi, clean lines and well-thought out space makes it a great hotel for business trips too. We even saw families staying so it has great appeal across the ages.
We really enjoyed our time at amba Zhongshan and wouldn't hesitate to recommend it.
Rosie xx