London is a very green city, (or so they say). As many of the green spaces are closed off in the form of private squares and gardens, it can sometimes feel a little grey. However, there are some gorgeous public parks right in Central London, and my personal favourite has always been St James's. If you are visiting London then you should definitely try exploring St James's Park.
The clothes in these pictures were provided by PrettyLittleThing. Tap the pictures or captions for links.
Why I Love to Visit St James's Park
As a London girl, I have my pick of parks to explore, and don't get me wrong, they are all rather lovely. However, there is something about the compact nature of St James's that appeals to me more than the sprawling greenery of Hyde Park, Hampstead Heath or Richmond Deer Park. It is harder to get lost, and it concentrates its attraction into a very easily digestible stroll. It's the park equivalent of an amuse-bouche.
A Quick History of St James's Park
This is in no way a full and complete history, more, it is a snippet of the things that made me sit up and pay attention.
The Early Records
The land that we now call St James's Park, was used in the 13th Century as a grazing patch for animals. These belonged to a nearby leprosy hospital for women called "James the Less". This is where the name of St James comes from.
The Royal Seal of Approval
Henry VIII bought the land to hunt deer. He realised that the land was too small for this and moved his deer to Richmond. However, it was still used to raise young deer.
James I drained the land and it became a perfectly nice wooded area. It became the first Royal Park in 1603. In 1649, his successor Charles I said goodbye to his garden by walking through it en route to his own execution. England was in turmoil, the monarch beheaded and Oliver Cromwell became Lord Protector. During these years, St James's Park took some abuse as most of its trees were chopped down and used as firewood.
Royal Pleasure Gardens
The son of the executed king, (later to become Charles II) was hiding out in France and developing a taste for the formal gardens that surrounded the palaces and chateau. When he returned to claim the throne, he decided to redesign St James's. The swamp was turned into a canal, and straight walkways and hedges were all the rage. He used the gardens to entertain his guests and mistresses (Nell Gwynn amongst them). John Wilmot's poem "A Ramble in St James Park" is a very naughty poem all about it. There are so many rude words that I can#t post it here…but here's a link! Exotic animals were housed here from crocodiles to a vast collection of tropical birds. Birdcage Walk, the road that runs along the south of the park, gained its name from this abundance of aviaries.
John Nash
Queen Caroline, was very interested in the new art of landscape gardening. She was instrumental in Hyde Park's Serpentine Lake, and creating mini vistas in one's backyard (if you can call Kensington Gardens that). This became the blueprint for fashionable gardens all over the country and helped inspire John Nash when he began a re-imagining of St James Park in 1814. John Nash was a prolific architect, you can see his work in Buckingham Palace, Regent Street, Marble Arch and Brighton Pavilion. His official post of Official Architect to the Office of Woods and Forests made him the perfect person to turn St James's Park from a Royal retreat to a public park. He transformed the canal into a free form lake, and shunned the dead straight formal paths in favour of meandering walkways for a nice wander in the park.
And Today?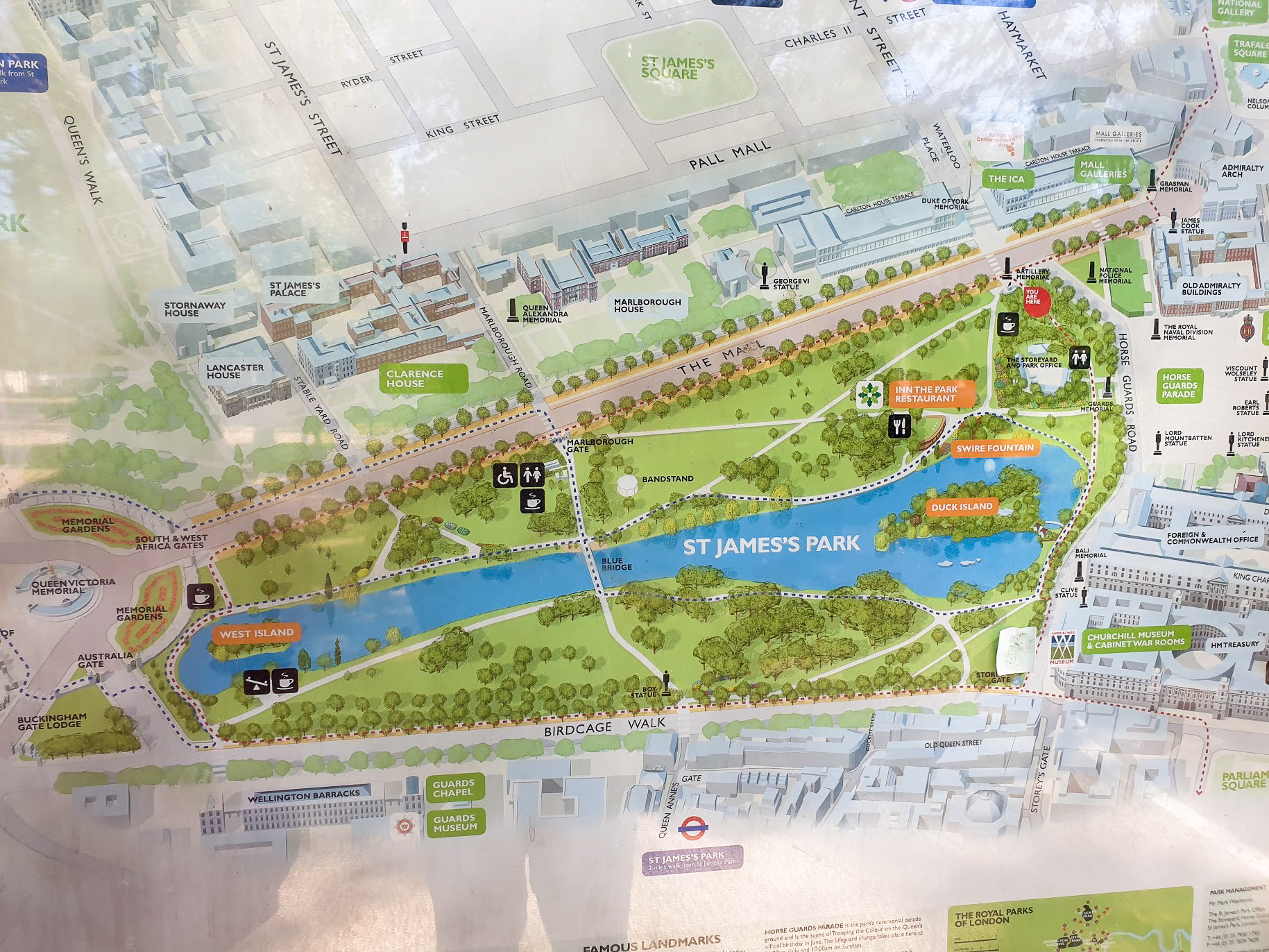 Despite a few changes (we are now on our third bridge across the lake) the park is very much the way John Nash designed it. Take a step back in history as you amble his romantic avenues.
The Flora in St James's Park
Shrubberies
When John Nash transformed the park, he created what was known as floriforous shurbberies, These were clusters of shrubs, trees and a large variety of plants. Leaves if different green were interspersed with flowers, and climbing plants snaked up the trees at the centre. Unfortunately, the trees grew and spread their canopy to such an extent that the plants beneath couldn't survive.
Flowers
Throughout most of the park, flowerbeds have been created in a riot of colour. The gardeners have run with idea of informal planting and try to create pops of bright florals among rich green plants.
The formal flowerbeds in front of Buckingham Palace are the contrast to this. Designed by Sir Thomas Brock, these are replanted every year and are memorial gardens for Queen Victoria.
Spring is particularly lovely time to visit St James's Park. First there is a wash of yellow daffodils and just a few weeks later, they are followed closely by armies of tulips.
Mini Habitats
The intrepid explorers amongst you may be happy to hear that there are some interesting areas within St James's park that just like their own little mini habitats.
Forget paying £20 to visit Kew Gardens, you can check out a lovely selection of tropical plants in St James's Park. We spotted a mini pineapple (did you know that pineapples are actually orchids), a banana tree (did you know that bananas are actually berries) and palm trees….I have no fun facts about those.
(Actually, Kew is amazing so go there too)
There is also a lovely reed bed, populated mostly with the common reed. As well being rather pretty, these reeds are home to a cavalcade of insects like dragon and damsel flies. They also help filter the water they live in and help prevent flooding.
The Trees in St James's Park
Looking around the large trees that line the park, you may be fooled into thinking that they date back a few hundred years, but this is not the case. Most of them were only established by Nash in the early 1800s.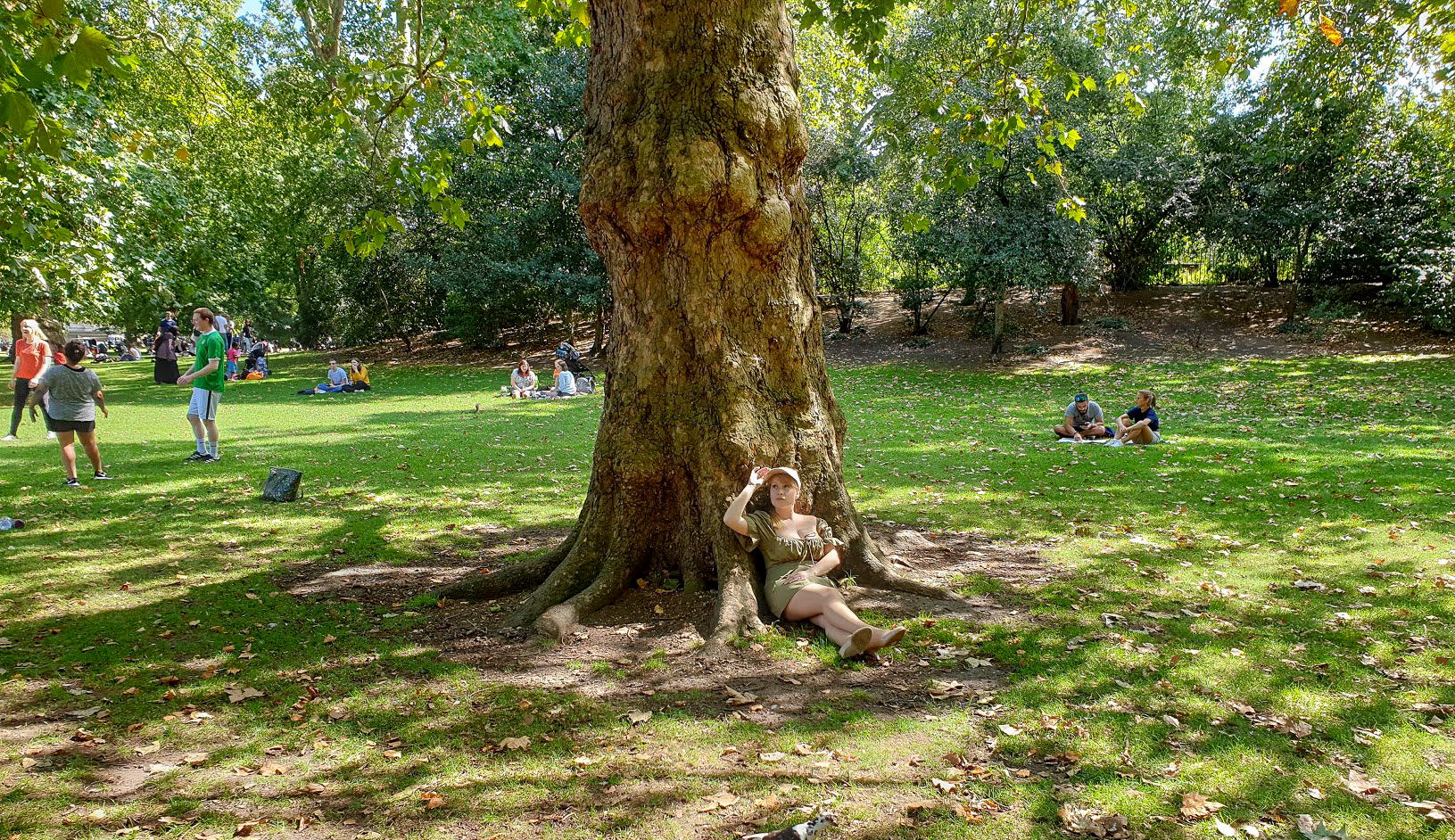 Most common are the plane trees that line the Mall and other edges of the park. These sturdy specimens do well protecting themselves against pollution, making them an excellent choice for a city park where they were first battered by industrial waste and coal smoke, and now by traffic fumes.
Elsewhere in the park you will spy black Mulberry trees. These were leftover from a failed attempt to start an English silk industry by James I. You can also see Scarlet Oaks. In autumn, the leaves on the scarlet oak burst into leafy flame…figuratively.
And speaking of fire.
When fireworks became fashionable in the 1700's, much damage was done to the trees that had scraped through the tree-felling of Cromwell's rule. Thank goodness Nash decided to plant some more!
The Fauna in St James's Park
Things on Land
Although St James's is home to lots of scurrying critters like mice and rats, you are most likely to come across its resident squirrels. These fluffy-tailed rodents are very used to claiming food from the crowds of adoring tourists but do remember that they are wild and rather territorial.
Things in the Sky
As you explore the park, keep your ears open for the telltale knocking of the woodpeckers. It's a wonder they don't wake up the tawny owls that are their next door neighbours. Amidst the tree branches you can also spot three different kinds of tit (blue tits are always my favourite).
However, it is not all about feathered friends here. The Park has a colony of common pipistrele bats. At dusk they perform aerial acrobatics across the park on their hunt for dinner. In fact, they are so happy to feast on bugs, that they keep that they keep the mosquitoes that love the lake at bay. The reed beds make the perfect bat buffet spread.
Things in the Water
There are an impressive 41 kinds of waterbirds that call St James's park home. You'll find both white and black swans paddling their stately way across the lake, with accompanying cries of "They can break your arm you know". Swans aren't inherently aggressive, unlike the Canada and Greylag geese that also occupy the park. Best to leave them to it.
You find a large variety of ducks including the well known mallards, awesomely named Goldeneye ducks (are you singing James Bond too?!) and tufted ducks. Bobbing along with them are the moorhens, coots and grebes. This is one of the reasons St James's Park is so wonderful. It's great to see wildlife thriving.
The Pelicans
OK, I know that Pelicans are also waterbirds, but I think they deserve their own section.
In 1664, the Russian Ambassador gifted Charles II eastern pelicans to add to his menagerie. The elephants and camels are long since gone but the pelicans remain and are arguably the park's most famous inhabitants.
Pelicans are huge, they can grow up to 1.8 metres tall (taller than me), have a wing span up to 3 metres and live up 50 years. They are very impressive birds!
St James's Lake
As I'm sure you've noticed that the park is centred around the lake. Luckily, it has a lot going on.
St James's Park has two islands, Duck Island and Western island. Duck island is at the eastern end, and unsurprisingly Western Island is at the other. Western Island is never visited by people and is a wildlife sanctuary.
A beautiful wooden bridge and pagoda was constructed over the lake in 1814 (you can see is a picture here). It was built to celebrate the end of war with France. Sadly, during some celebratory fireworks something went wrong, and the bridge pagoda went up in flames! Many spectators were injured and one person killed. In 1857 an iron suspension bridge was erected, and this was eventually replaced in 1957 with the concrete structure we pose on today.
Standing on the Blue Bridge, you get gorgeous views across the water. Looking one way, you can see Horse Guards in the distance. In the other direction is the front of Buckingham Palace. It is easy to forget that you are in central London.
Duck Island Cottage
The cutest little house in London! This Swiss style cottage was built in 1837 by the Ornithological Society. They provided lots of the waterbirds already mentioned to the park. It is grade II listed and hides a treatment facility for the lake water and a pump for the Swire fountain. It has both a kitchen garden full of veggies and a cottage garden with lovely flowers and swishy plants.
The Bandstand in St James's Park
Every year, a temporary bandstand is constructed for summer. I have passed a jazz concert and a traditional big band before.
To check out the event listings for St James's Park, check out their website.
Green Spaces and Place to Sit in St James's Park
This is one might seem obvious but we have been to many parks around the world that either have no grass, or grass that you aren't allowed to sit on. Happily, there are lots of places to lay out your picnic blanket in St James's Park.
If you knees won't thank you for sitting on the floor, there are plenty of benches and even deckchairs. There is a charge for the deckchairs though.
The Food and Drink in St James's Park
Running around the park in 20-something degree heat, it is imperative that a good ice cream can be found!
The main cafe is run by Benugo and sells a great selection sandwiches and salads. Just outside is the ice cream counter. £3 will get you a huge scoop of deliciously creamy and flavourful ice cream. My raspberry ripple was surprisingly great.
If you need a Mr Whippy style cone, you'll find them in the concession booths near the entrances of the park.
The Statues in St James's Park
Duke of York
Across the road from the park, and the way I like to approach the park from, there is a tall statue of the Duke of York (yes, THAT duke of york). He stands atop a 124 foot column and looks over the park.
Boy Statue
This cute little marble statue used to be a water fountain when it was built in 1864, but now this lad just sits at the South of the park next to Birdcage Walk.
Queen Victoria Memorial
As the formal flowerbeds that go with this statue are all part of the memorial, I am including it in the park overview. Queen Victoria sits on her throne staring stoney-faced (literally) down the Mall. The statue is built of Carrara marble. Above her, bronze gilding shines in the form of Winged Victory. It's rather impressive but hard to get near as it sits amongst the traffic.
South African Royal Artillery Memorial
This bronze statue of a winged being (peace) controlling the horse beneath it (war) is in memorial to those that died in the Boer war 1899-1902. It is a favourite spot to sit and relax.
Attractions Around St James's Park
Horse Guards
Originally a barracks and stables, this has been an important military and royal building since the 1700s. It now contains the Household Calvary Museum. This is the place to come for that classic London shot with a Queen's guard (the guys in red with the bear skin hats).
Buckingham Palace
The official London residence of the Queen (although it has never been her favourite) this immense palace had a rather dull but very famous facade. The balcony that overlooks the mall has played host to many a kiss from a newly married royal couple. Buckingham Palace is only open for two months over summer and it is vital to book ahead!
Royal spotting on my urban safari.
Wearing PrettyLittleThing – Khaki Trucker Jacket
Churchill's War Rooms
A wonderful museum built into the vast tunnels constructed beneath Whitehall. It's not a cheap museum but it is a fascinating glimpse into the workings of WWII London.
St James's Park Location – How to Get to St James's Park
St James's is very centrally located just five minutes walk from Trafalgar Square and Westminster The nearest London Underground stations are:
Victoria – Victoria Line, Circle and District Line
St James's Park – Circle and District Line
Westminster – Circle and District Line, Jubilee Line
Green Park – Jubilee Line, Victoria Line, Piccadilly Line
If you are using Google Maps (or another map provider), the postcode is SW1A 2BJ.
Useful Information About St James's Park
If you are thinking of visiting St James's Park, here is some other useful titbits you might like to know:
Park opening times vary but as a rule of thumb they are 05:00 to just after dusk.
Deckchairs cost between £1.80 for one hour and £9.00 for the whole day (there are discounts for students OAP, famiies and disabled patrons).
Toilets in the park cost 20p. There are contactless cars readers on the entrance gates if you don't have change.
If you are visiting St James's Park in June then you may see the trooping of the colour. This military parade takes place on the Queen's official birthday.
You may spot some plaques on the floor. The park is on three wonderful, free London walks – The Jubilee Walkway, Princess Diana Memorial Walk and Jubilee Greenway. These cross the city, taking in top sights, parks and other points of interest.
Every day you can watch the pelican feeding from 2:30 – 3:00. This happens over at Pelican rock and Duck Cottage.
Final Thoughts on St James's Park
This is the perfect place to take a short stroll during your trip to London, or to sit for a lovely picnic in the sun. St James's Park will always be my favourite park in London.
Rosie xx