Your Virgin Voyages cruise is booked, you are staring at an empty suitcase and suddenly you have a crisis, what on earth do you pack for Virgin Voyages cruise?! If, like us, this is your first cruise, or if it is just your first cruise with Virgin Voyages, there are a few things to know about before you embark on your packing mission. So, if you want to know what to pack for a Virgin Voyage cruise, read on: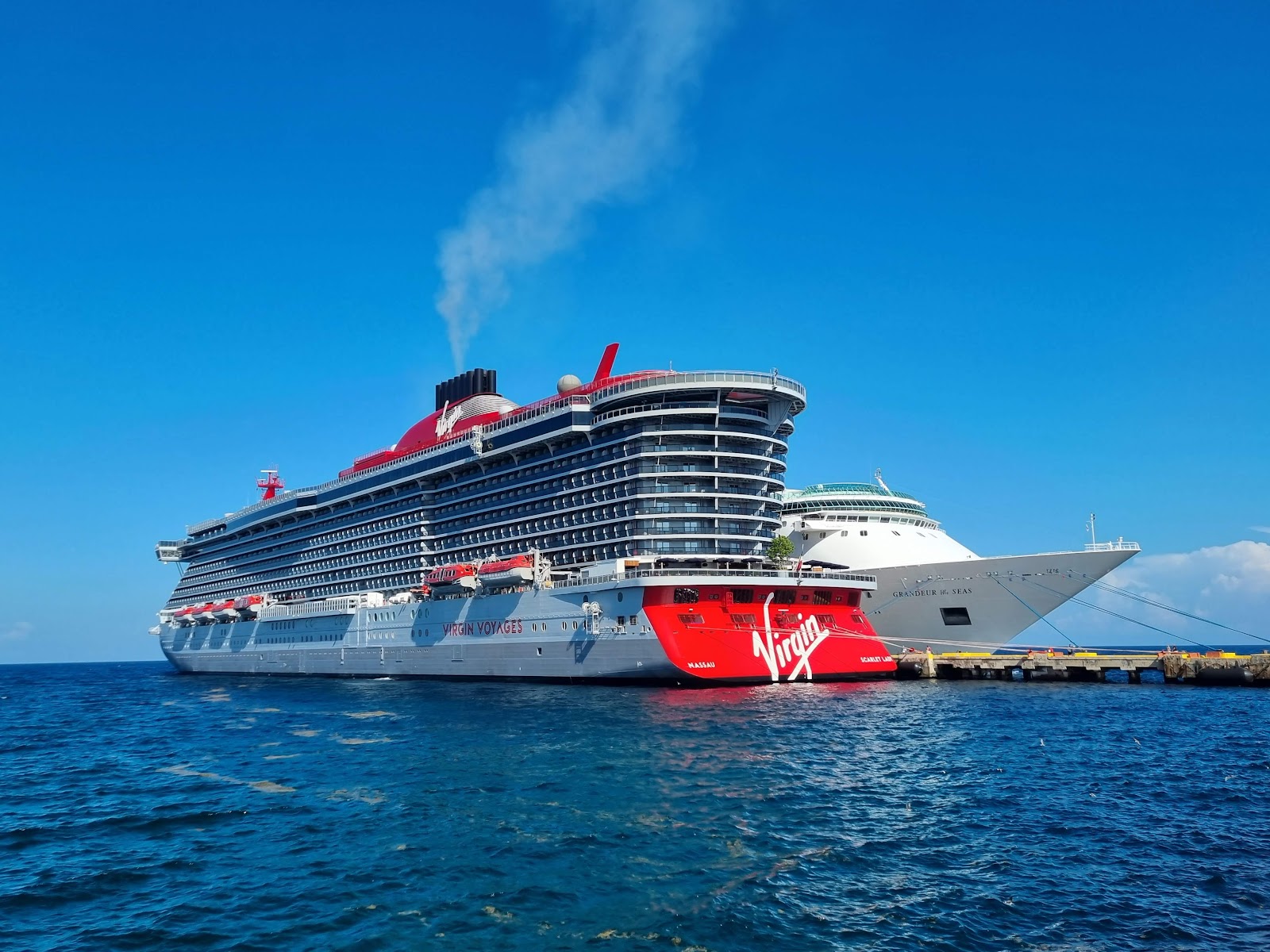 This article may contain affiliate links. These help support the blog at no extra cost to you. Thank you.
Things to Pack for a Virgin Voyages Cruise:
1 – Most Importantly – Don't Forget a Flash of Red
Forget formal night, on Virgin Voyages, it is all about Scarlet Night. You don't need a ball gown or top hat and tails. Instead, you are encouraged to wear something red. Anything red. This could be a full red suit, a shirt, a dress or top. Even just a little red hair bow would qualify. As long as it is maroon, ruby, vermillion, cherry….you get it! The only thing to remember about your Scarlet Night outfit is that it could get wet. There is a pool party in chlorine-filled water. I have a gorgeous red dress but it is silk and I didn't want to get ruined so i opted for a cheap, puffy number.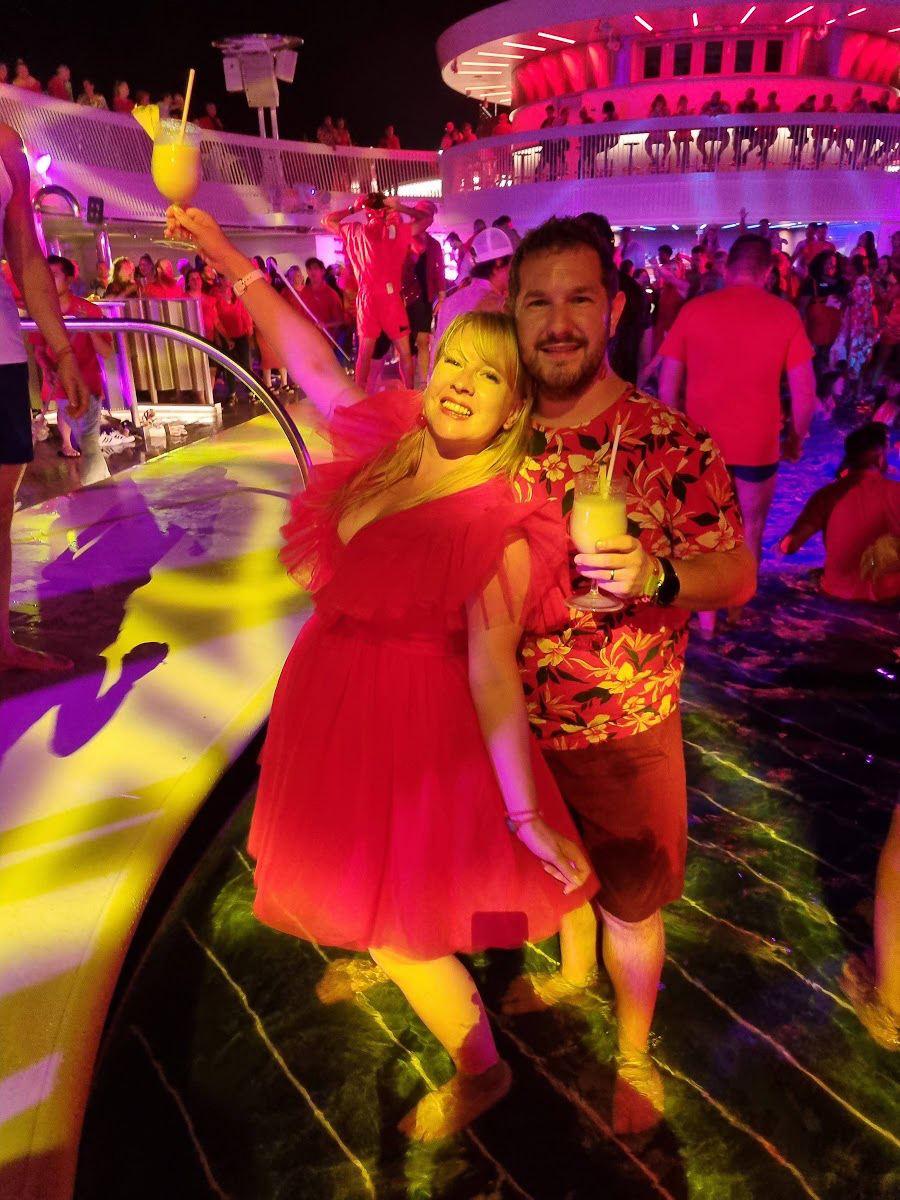 2 – Pack A Pair of Pyjamas
Pack your pyjamas, not just to cover your bedroom modesty, but for the first night PJ party. On the first night of every cruise, there is a late night disco either on the Dock or in the Dockhouse (back of the boat on deck six). Of course, you could wear your normal pyjamas but it can be hot and sweaty, especially in Miami, and you might spill a cocktail or warm milk on them and that wouldn't be nice to sleep in for the following nights. Plus, you might want something a little more boujee than your normal old t-shirt and shorts with weird holes in. We saw gorgeous prints, lots of caribou feathers, robes galore and even some rather sexy slips. We bought some cheap and cheerful cute PJs for this purpose and now they are in our normal PJ rotation.
3 – Sort Out Some Stunning Swimwear
The pool on Virgin Voyages is quite small. Well, the swim-able portion is. On either side of the middle section are two "lounge-able", shallow shelves. This means, most of your pool time, you are on show so flaunt some stylish swimwear! Plus, there is probably some beach time during your voyage too and it feels pretty fantastic to wear something that makes you smile.
You might also want to bring a swimsuit for Scarlet Night. I am not suggesting you strip right down but some people jump in the pool. If you are tempted, it would be a real shame to be put off because you are wearing your best bra and need it for the next day. It might be conducive to dancing in the water to have a swimming costume or bikini on under your red get-up instead.
4 – Select Some Serious Workout Gear (and Some Silly Workout Gear)
If you plan on doing some exercise on the ship then don't forget to bring your trainers/sneakers and a sports bra. I know it is not the usual plan of most people to exercise during a holiday but Virgin Voyages has some incredibly unique and fun ways to work out. You could be doing a boyband dance class on the basketball court, playing dodgeball on the basketball, or I suppose you could try playing basketball n the court too. There are also HIIT classes, spin classes, a fully stocked gym and even a bungee class!
So that is the serious workout gear, what about the silly? The VHS workout is a brilliant 80s themed group class with banging pop tunes, shake weights and neon a-plenty. Bring something neon or lycra to get yourself in the mood. You could even bust out the leg warmers! I took mine but totally forgot t put them on until we got down to the class. Oops.
5 – Pick A Party Outfit or Two
There is no dress code on Virgin Voyages. You can spend the whole time in shorts and t-shirt if you like. However, it does feel kind of nice to dress up for dinner, drinks or dancing. Whether that means a jazzy shirt, puffy dress or some glittery jewellery, bring a little something that makes you feel fun!
You HAVE to get that iconic shot in the entrance corridor to The Manor nightclub and it's nice to have a glitzier outfit for it.
6 – Choose Your Casual Clothes Carefully
Trust me when I say, you will want a little extra room in any trousers/jeans/pants/shorts you bring. There is SO much food and even if you don't pile on the pounds, the bloat is real…worth it though. Instead, opt for your more relaxed fit, or something that can be adjusted.
Steer clear of polyester if you are travelling during the hot months. There is air-conditioning on the boat but some of the nicest spots on board (the Aquatic Club, the Dock, Richard's Rooftop) are outside and it's not nice to feel sticky. Instead, opt for breezy cotton or cooling linen.
7 – Choose A Reef Safe Sun Cream
If you plan on getting in the sea anywhere during your voyage, whether is the Med or Caribbean Sea it is best practice to wear a reef-safe sun cream. These are free of the harmful chemicals which cause reefs and sealife real problems, using minerals instead. Look for the active ingredients zinc oxide and titanium dioxide. Don't worry, they will still keep you safe too with high SPFs available. The only thing you need to be careful of is sticking to a lotion rather than a spray as these minerals aren't great if you inhale them.
8 – Speciality Gear for Your Shore Thing Excursions
Do you have water shoes? Save the rental fee and bring them. Prefer a long sleeve swimsuit for a day of snorkelling? Make sure you have it in your suitcase. You might not want to wear your best Lulu Lemon leggings to slide down rocky waterfalls. The risk of tearing something that costs that much is stressful. Instead, bring some clothes that you don't mind ruining or getting filthy if you have any adventurous excursions planned. You might even consider bringing old items you can throw away or donate. It saves having to pack them on the way home too.
9 – Take Two Bottles of Wine
There are some restrictions on what food and drink you can bring on board. However, you ARE allowed o bring on two bottles of wine per cabin. If you are on a budget or just think you will burn through your Virgin Voyages Bar Tab, it is nice to have your room wine. We enjoyed having a glass or two while we got ready for dinner. Every room has a rather cool bottle opener/corkscrew so you don't need to worry about opening your room wine. Oh, and if you are planning to bring sparkling wine, don't forget to bring a clip on stopper.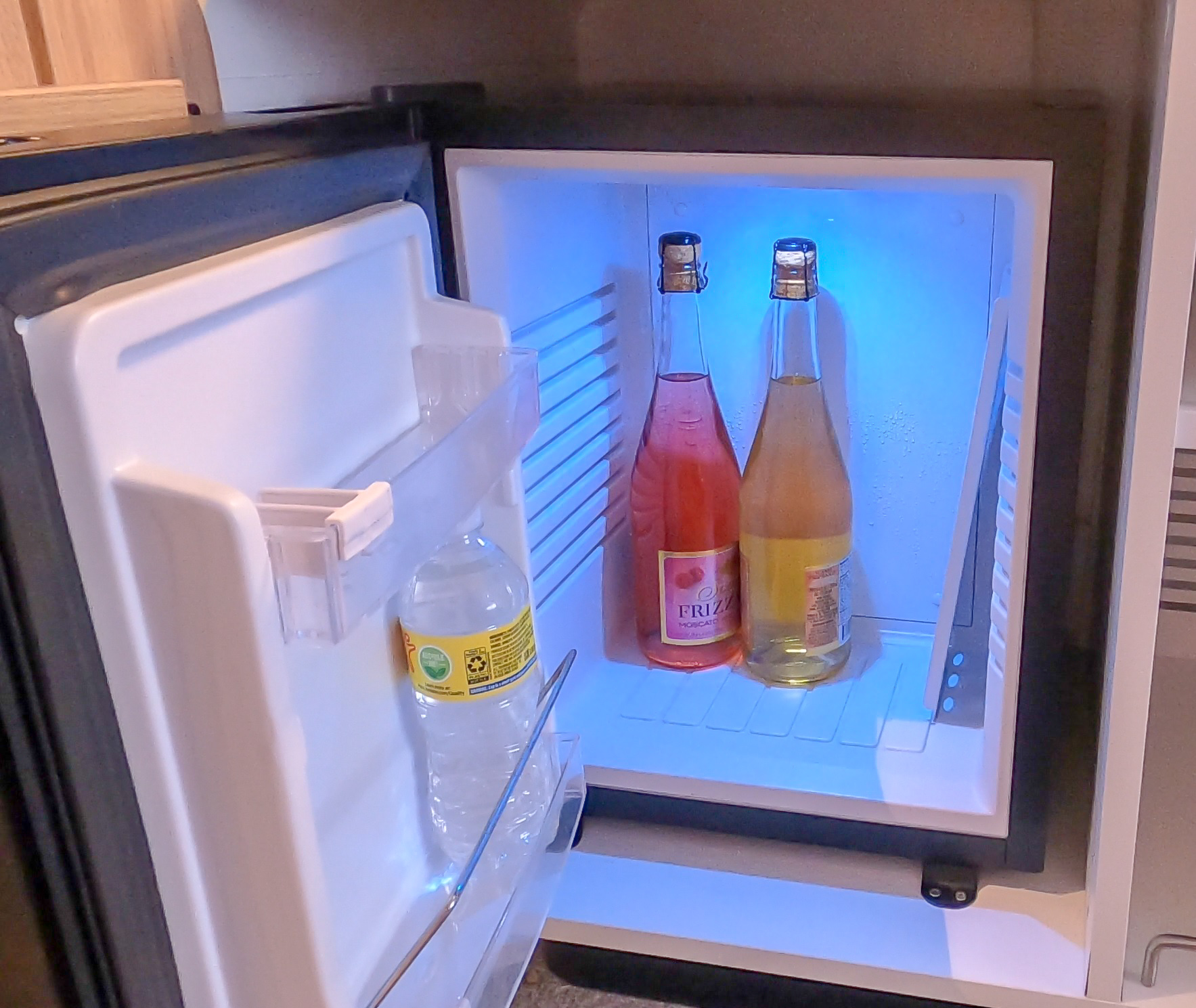 10 – Remember a Refillable Water Bottle
Water, soda and other "basic bevvies" are included on Virgin Voyages. Of course, when you are by a bar, in The Galley, or at a restaurant, you can use a glass. However, if you are exercising, wandering around the ship or just like to have water on hand, you'll need to use the water filling stations around the ship. They don't have cups by them so it is best to have your own receptacle. We also found that it was good to fill our bottles up in The Galley with ice and our favourite Coca-cola products. This meant we had a nice big drink to sip on.
11 – Pack Your Passport
This might seem obvious but there are lots of cruise lines, especially those that leave from the USA, that allow people to travel with another ID and their birth certificate. Not on Virgin Voyages. It is a passport or you don't go! Obviously, you will have one with you if you are flying internationally to reach your cruise port, but if you are driving or flying domestically in the States, it is worth adding it to your packing list so you don't forget.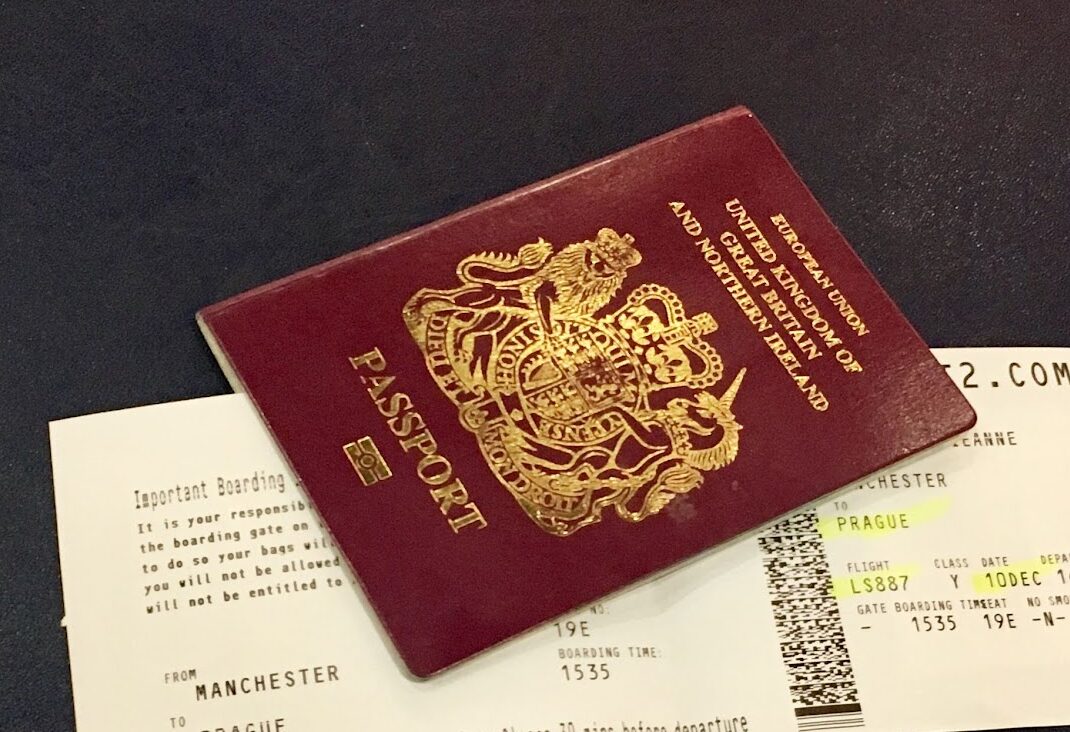 12 – Don't Forgo Your Phone
I know it feels pretty good to turn off your phone when you are on vacation but you'll want to keep your smartphone with you during your voyage. Virgin Voyages has an app. It can be glitchy but when it works, it is really useful. It is used for booking restaurants, picking workout classes, scrolling the day's activities and getting notifications about anything important. We got reminders for activities we were booked on to, information about how to disembark, an explanation when our itinerary changed and much, much more. Technically you can cruise without it, Sailor Services can help with most things, but it makes your journey much more enjoyable to have it with you.
Things NOT to Pack for a Virgin Voyages Cruise:
Virgin Voyages provides a few things that you won't need to pack for yourself.
1 – Hang Up the Hair Dryer
The hair dryer in your cabin is definitely good enough to leave yours at home. It is not one of those wheezing beige waste-of-time ones stuck to the wall in many a hotel bathroom. However, if you need a curl diffuser attachment or similar, you might want to bring your own.
2 – Cancel the Cash for Tips
All tips and gratuities are included on Virgin Voyages. There is no race to the top of the bar queue by flashing the cash, your cabin will be taken care of perfectly and the staff are all thoroughly genuine, not fighting for tips. The crew are paid a great wage and your cruise fare covers all your tips. It really helps those of us who don't come from a big tipping culture relax. The only tip we had to part with was for the porters at Miami cruise port as they work for the port and not directly for Virgin Voyages.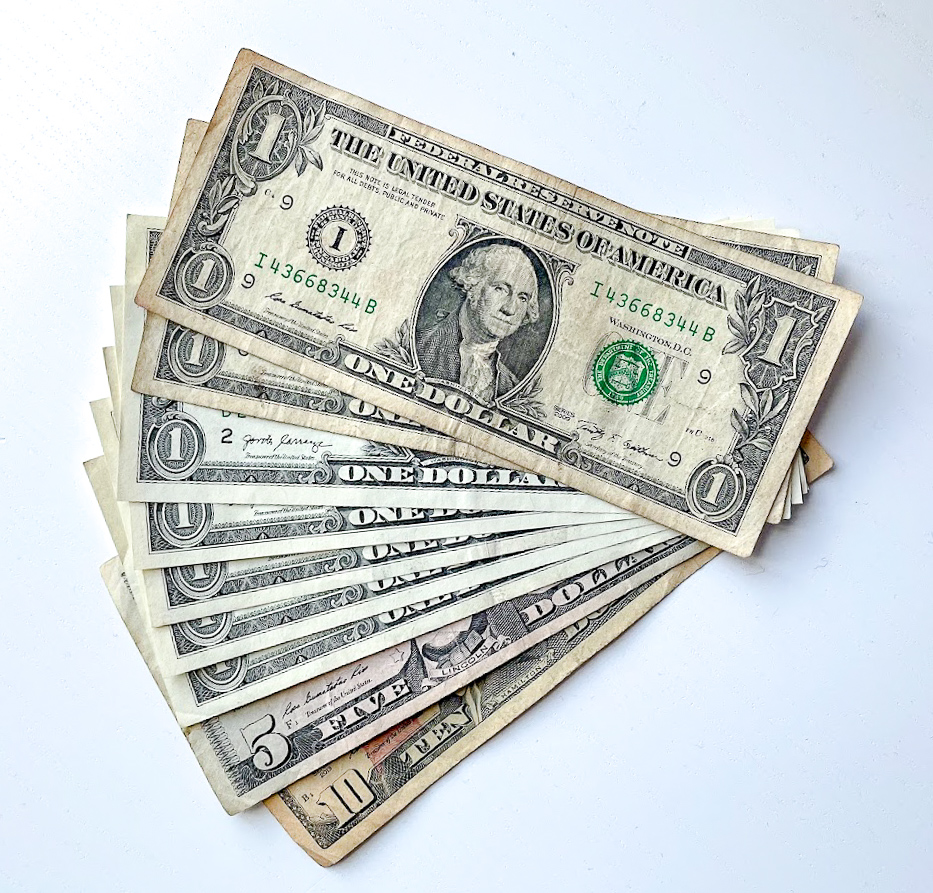 3 – Take Out the Toiletries
Not all of them. You will still need your deodorant and make-up. However, the shower gel, shampoo and conditioner are all really nice. The hair care had a fruity, tea tree scent and didn't leave terrible residue or dry my hair out so it must be decent quality. Again, if you have any speciality hair products, bring them along, but for most people, you may not need to. One note about the hand soap….it is charcoal. The soap is black so although it cleanses well, if a bit of black gets under your nails, you might look mucky. We just used the shower gel for hand soap.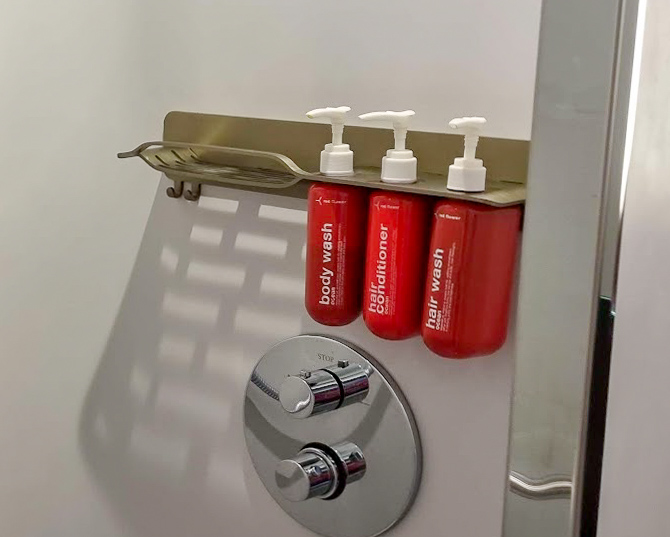 4 – Bin the Beach Towels
In every cabin, you are provided with face towels, bath towels (well, shower towels) and beach/pool towels. As well as these, there will be a big supply of beach towels available as you disembark the ship for beach fun. It is quite nice to use theirs and know that you won't be shaking sand across your room, into your bed and deep into the seas of your suitcases.
As well as the list of items you would expect to be banned (weapons, flammable things, illegal drugs, explosives/fireworks etc etc) you are not allowed to bring:
5 – Reject Heated Rollers and Curling Wands
These heated devices are not allowed to prevent fires.. You can bring straighteners or dryers like the Dyson Air Wrap. No, I don't entirely understand the logic either but there we go. Time to practice your straightener curls! (If you are bringing straighteners, ensure they are dual voltage. The US voltage used on the ship won't heat European models up past a gentle glow).
6 – Ditch the Drone
For most people, flying a drone is not allowed. Some content creators are given special dispensatin but for most of us, it is just better to leave them at home.
7 – Sacrifice Some Sporting Equipment
If you love sports, and not just as a fan/observer, then you might be tempted to bring your kit along with you. However, quite a bit of it is not allowed. The main way to figure out what is allowed, work out if your sports equipment fits into these catalogues;:
Can your sports gear be used as a weapon?
Can your sports gear be accidentally hit into the ocean? Or be used to do the hitting?
Does your sports gear have wheels?
Is your sports gear linked to scuba diving? (That one is a little more specific but it wouldn't fit neatly into the other sections!). Snorkels and flippers/fins are allowed but proper scuba stuff (tanks, spears, etc) are not.
There is plenty of gym equipment, basketballs and other things to keep the sportiest of people entertained.
8 – Forget the Food
You are not allowed to bring home-cooked or pre-purchased food on board. If you have a special requirement/supplement then you can contact Sailor Services ahead of time for individual clearance. It is worth noting that there is a wonderful amount of care taken over dietary requirements. Every restaurant will check if you have allergies and can give you a guide on what you can have or how they can alter things to meet your requirements. (It is just another reason that it is so great they cook from fresh). Rest assured, you will eat often and very, very well.
9 – Put Down the Kettle
I know, I know, you can't start your day without a cup of something hot and caffeinated. Sadly, there are no tea and coffee facilities in the cabins. It could be just too long to get ready and trek up to The Galley for your breakfast bevvie but you are not allowed to take your own kettle. To get around this, you can order Ship Eats to arrive at your door every morning. This is Virgin Voyages' room service. It costs $5 unless you order something that is chargeable. If you get normal tea, hot water or a filter coffee, you will be paying that $5 charge. If, however, you order a $5 fancy JoJo tea, $3 espresso or $4 cappuccino, that is all you will pay.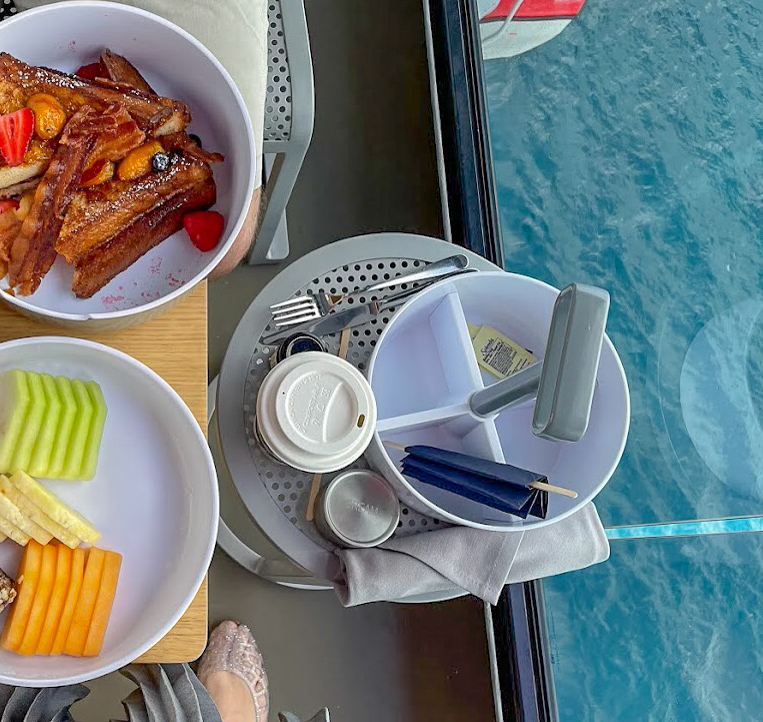 Oh, and this also goes for coffee makers, blenders and other kitchen equipment.
Final Thoughts on What to Pack for a Virgin Voyages

Cruise
Whether you are a hand luggage only obsessive like us, or a self-proclaimed over-packer, we hope this list has helped you figure out a little about what you need to pack…or not. Have the BEST time on your Virgin Voyages cruise and if there is anything you think we have missed, let us know!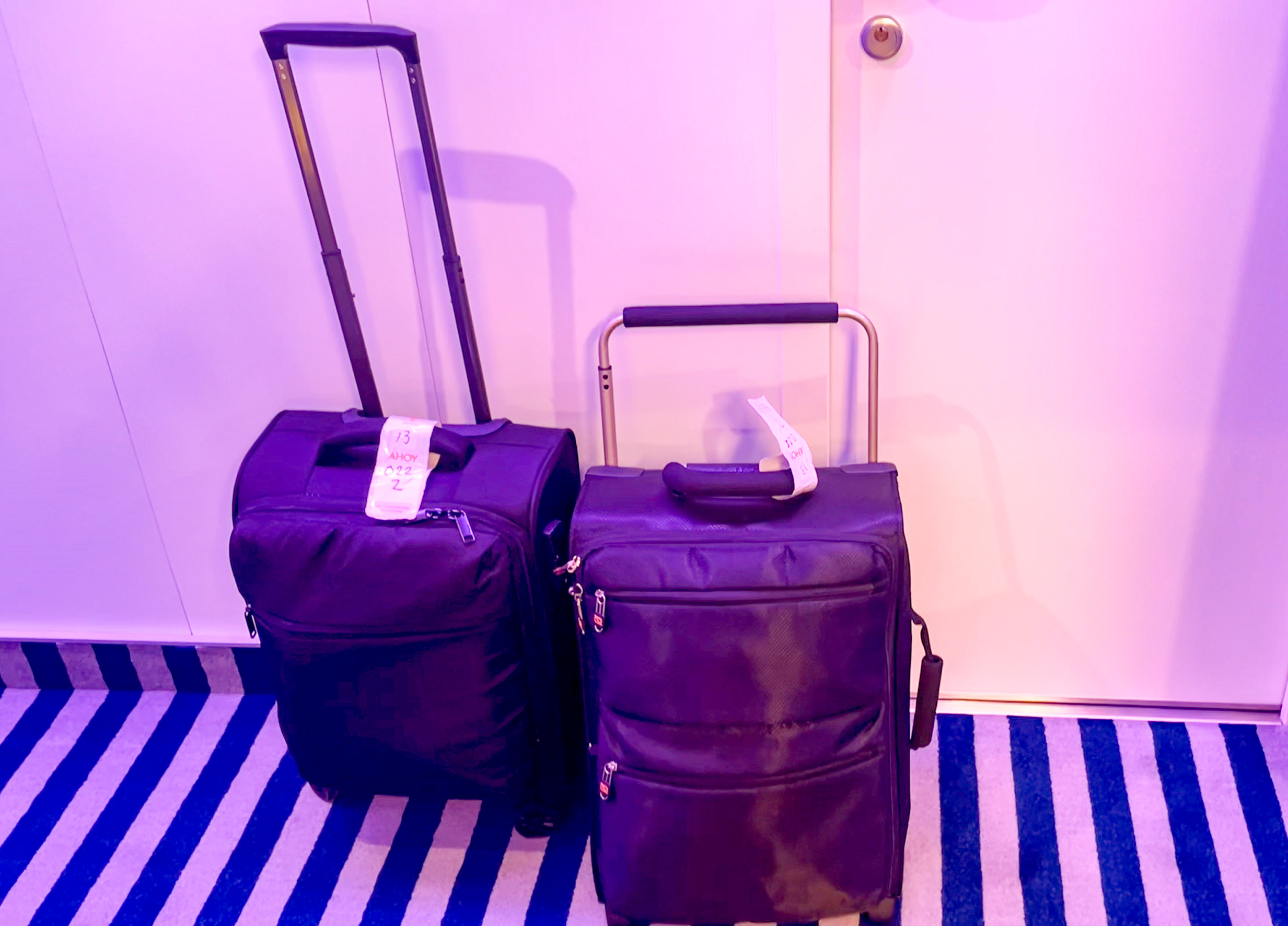 Rosie xx