Strasbourg, located in the Alsace region of France, is a pretty city famous for its beautiful architecture, rich history, and delicious food. It has a unique Ascharm which is no surprise as it changed nationality between France and Germany 4 times in 75 years. If you only have 2 days in Strasbourg, this two-day Strasbourg itinerary, combined with your Strasbourg Pass will help you make the most of this special spot.
This post may contain sponsored content or affiliate links that help support the blog. All opinions are our own.
The Strasbourg Pass
Commonly referred to as the Strasbourg Pass, this handy tourist pass is actually called the Strasbourg City Card. It gives holders access to special discounts throughout the city for 7 days from activation. The Strasbourg City Card costs just €5 for adults & €3.50 for children and you can make that back in just two attractions.
For example, you will save €4 on the climb to the Cathedral roof and €3 on the boat tour with Batorrama. Those are our first two suggestions for day one of your Strasbourg itinerary.
2 Days in Strasbourg – Day One Exploring the Old Town
Cathédrale Notre-Dame de Strasbourg
Start your day at the imposing Notre Dame de Strasbourg. The size may take you by surprise if approaching from the narrow street in front as you cannot see the total facade or the bulk that lies behind. This is one of the world's largest cathedrals (and the tallest building in the world from 1647 – 1874) with a tower that stretches up to 142 metres. Yes, there is only one so it does look a tiny bit lopsided. The original plan had two towers but the second was never built.
That single tower was nearly destroyed in 1793 by the mayor of the town who was destroying churches but someone popped a red hat on top (the favoured headgear of the revolutionaries) and it was left standing. There was talk of completing the second tower by the Germans when they regained Alsace in 1871 but locals fought against it as they believed it would stand as a symbol of German occupation.
The Astronomical Clock
The famous and intricate astronomical clock inside the Cathedral is the third of its kind on the spot. Even this third iteration is from 1843. Its dials and displays show a calendar, the gravitation of the planets in the solar system and the lunar phases. Every day, at solar noon (12:30) it puts on a show. Figures file past Jesus and are blessed as a cockerel crows three times. (Remember, it is a French rooster so it says "cocorico"). If you plan on seeing this, be here EARLY. Turning up just on time means you are late.
The Rooftop
Purchase an extra ticket to climb to the roof terrace. There aren't many places to get views across the city so this is one of your only chances. Bear in mind that the climb is steep and many of the spiral staircase windows are open to the elements so it can be windy. It is not for those with a fear of heights.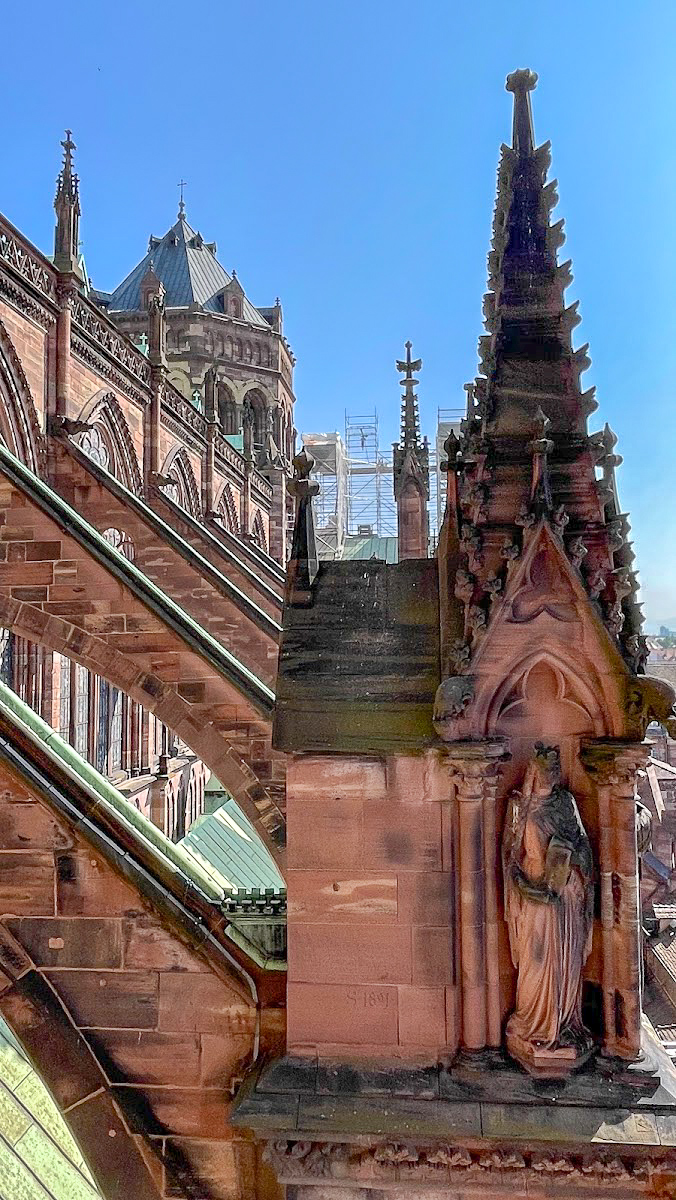 Petite France
If you have seen photos of Alsace, I am willing to bet that it was the gorgeous half-timber buildings that attracted you to the area. Well, Strasberg doesn't disappoint with a stunning part of town known as Petite France.
Many of the unusual buildings, with multiple wooden floors, were actually tanneries. Luckily, the distinctive aromas of the tanning industry are a thing of the past. Consequently, the river that flows through Petty France, split by the picturesque islands is clean and pretty. Take a stroll through the area, crossing bridges, passing locks and soaking up the jovial atmosphere on the cobbled streets.
Once you have explored on foot, it is time to have a fuel stop. This is a perfect time to try an Alsatian classic like flammekueche, a thin tart traditionally topped with creamy soft cheese or creme fraiche, onion and bacon lardons.
Ponts Couverts
Built in across the River Ill in 1250, this large bridge was the first line of defence for Strasbourg. The name (Covered Bridges) comes from the wooden roofs that no longer exist but protected patrolling soldiers from attack…and the weather. These were removed in 1784 but the name stuck. Its distinctive square towers once served as prisons. Oh, and those little holes in the bridge are called the Mouths of Fire as they were designed to fit the muzzles of cannon.
Barrage Vauban
In 1690, the newer, bigger dam and defence system Barrage Vauban was built in front of Ponts Couverts. Its recent restoration has both strengthened it and allowed the space to be used for art displays. Head upstairs when you visit for beautiful views of Ponts Couverts. (This is especially popular at sunset).
Cruise the Canals on a Batorama Boat Tour
One now, it is time to see Petite France from a different angle. Every day, the boats of Batorama take visitors around the centre of Strasbourg. You take a seat and plug in a set of headphones (they do provide some, but bring your own from print sound quality). They have commentary in several different languages and even ones, especially for the kids. It is not constant, and it makes the whole boat jump when it's been silent for a while which is quite amusing.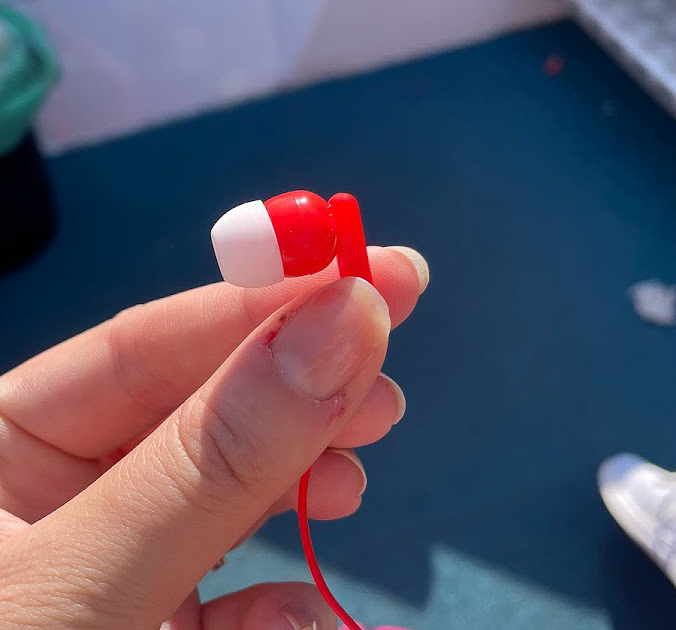 The tour takes around an hour and is a relaxing way to see the city, particularly fun is there. Particularly fun is passing through the big lock in the centre of Petty France. Your boat quickly becomes a tourist attraction all of its own as crowds gather to watch the water rise, and the boat ascend to the higher level of the canal.
The boat glides around the river, allowing small glimpses of the New Town and its slightly more modern buildings (its all relative). Then, it takes the straight path out to the European Parliament buildings, a real contrast to the medieval centre and even the New Town's architecture. The shining silver building (free to visit but impossible from the boat) was completed in 999 so it too will soon be "classic".
Dinner – Chez Yvonne
Dark wooden walls and booths, plenty of trinkets, and thick curtains all give you a sense of being in someone's cabin, high in the Alps. Although being Alsace, I suppose I mean deep in the river valley. The food at Chez Yvonne is staunchly traditional, delightfully hearty, and unfailingly delicious. When I visited, my French let me down and I ordered the wrong dish. I thought I was going to have a tasty fish fillet but instead was presented with a fillet of beef. Never mind, it was perfection with a nice pink blush and seriously crispy potatoes on the side. The wines were all local, featuring plenty of dry Reisling and Pinot Gris so I treated myself to a carafe. Don't skip on the choucroute, the Alsatian pickled cabbage that is cooked in wine and isn't quite as sharp as raw pickled sauerkraut.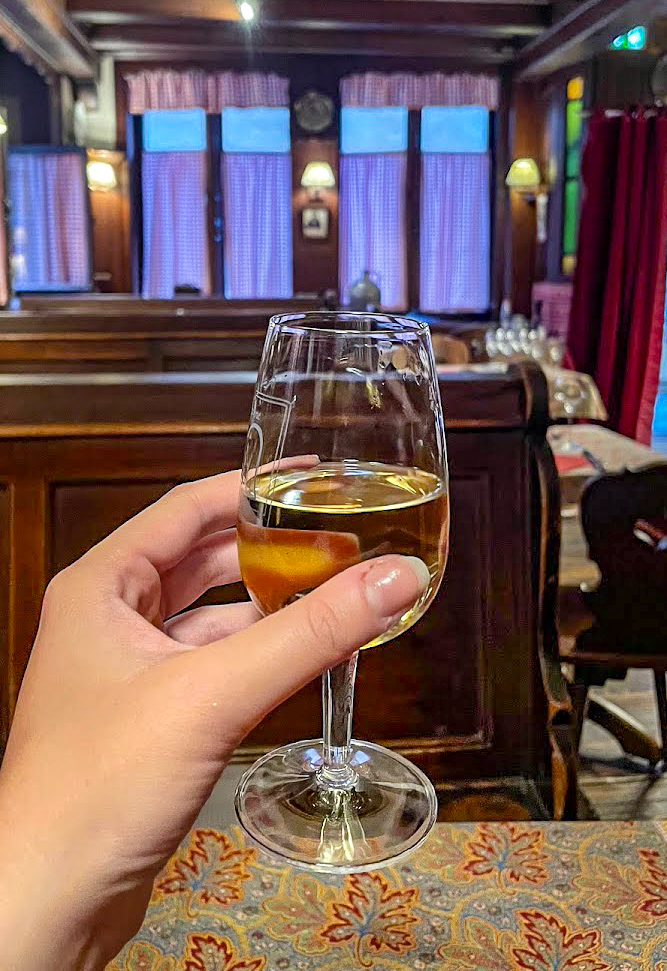 2 Days in Strasbourg – Day Two Museums and Meanderings
Enjoy a Breath of Fresh Air in Parc de l'Orangerie
Start the day by hopping on a bus or a tram out to Parc de l'Orangerie. This feels a world away from the hectic centre of town and is the perfect place for a quiet stroll before attacking the sightseeing ahead. Around the park. There are some nice cafés for a quick morning coffee and a beautiful lake surrounded by cute follies and inhabited by storks which were bred here to save them from disappearing. It gives great people-watching opportunities as dog walkers, joggers, students and ladies, who lunch promenade the paths. Pavillon Joséphine houses temporary exhibitions so see what is on offer if you are swinging by. Even when it is shut, the formal gardens in front are lovely.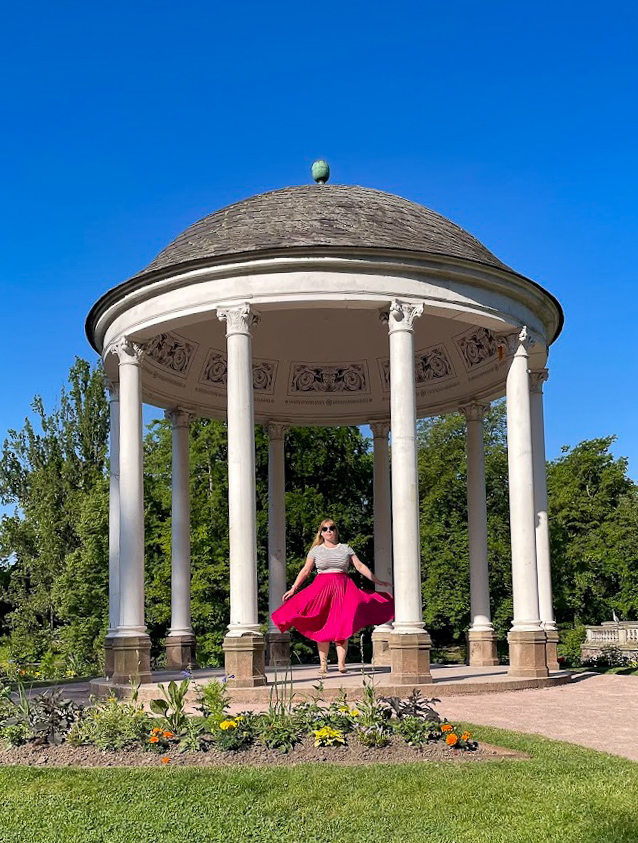 All. de la Robertsau
Take a walk west, towards town, along All. de la Robertsau. This is not the most exciting walk if I am honest, but there are some beautiful old art nouveau buildings to pique your interest. Keep your eyes peeled for number 56 which is a blend of French and German art nouveau styles. The European Audiovisual Observatory at 76 is also rather attractive. The building on the left here is neither of those…I just liked it.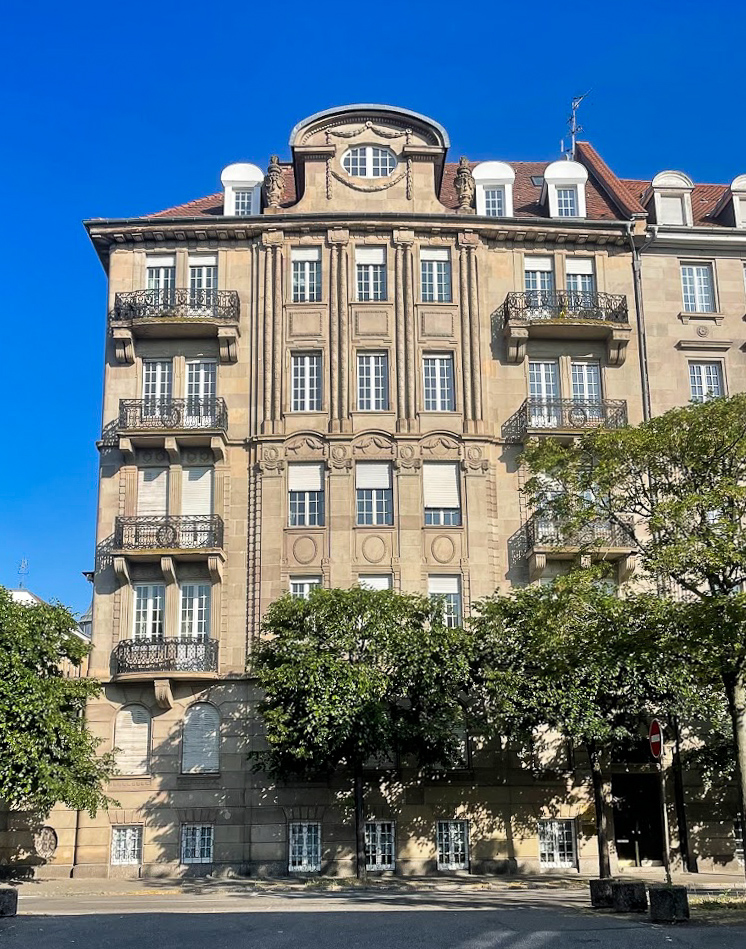 From the entrance of the park, it is around 18 minutes to reach our next stop, Eglise Réformée Saint-Paul.
Pont d'Auvergne, Église Réformée Saint-Paul. & Pont Royal
St Paul's Church may look as gothic as its cathedral big sister but it is actually gothic revival and was built in the 1890s. It was built for the German Lutherans who occupied the area at the time. They had to build 19 entrances to ensure that every military rank could come through their own special door. The rose window is particularly lovely but has been reconstructed after both Allied bombings in WWII and a huge hailstorm in the 1950s. From afar, the towers are the most striking features and they are best snapped from one more bridge along, Pont Royal.
A Drink on the Ill
Have a drink on the river in one of the many bar boats lined up along the blah blah blah. These are total sun traps which makes them the perfect stop for a quick Aperol Spritz. If you don't fancy a drink and just want to keep walking, there is a very good just past the last boat. It may be a nice place to return to later in the day before dinner if you haven't walked your socks off by then.
Learn About Amazing Alsace at the Alsatian Museum
This small museum is absolutely packed with artefacts and information about Alsace. Visitors learn about local dress, architecture, customs, and design, and there are weird and wonderful quirks that are unique to the region. In one room, you can see a birthing chair, in another, the scary, but very cool mouths of the flour barrels. Even the building itself feels like a part of history with its creaking wooden floors and pretty courtyard.
Lunch – La Bolée de Cidre
This is slightly out of the way…but only slightly. If you love crepes and/or cider then it is something to seek out. There are two kinds of cidre, sweet or dry and they are served in the cutest set with either 25cl or 50cl in. You can choose from savoury Breton crepes including ham, cheese…or ham and cheese, eggs, mushrooms, bacon and chicken. Alternatively, you can have a savoury white flour crepe with fillings like Nutella, fresh fruit and berries, caramel, Kinder and cooked fruits like caramelised apples and bananas. It is the perfect lunch, big enough to keep you going and light enough that you won't be weighed down as you do. Plus, cider is the best!
Join a Walking Tour
If your feet can take some more walking, and your brain has some more room for information, then join a walking tour. There are several in the city, but we favour Happy Strasbourg's Original Walking Tour. The guides are fun, informative and you can just donate what you would like to them at the end as the tour is free. There are several places along the route that you will not have visited or may have passed without knowing what they were so it is definitely worth it to see a little more of the old town and to discover the new town. The tour lasts just shy of 2 hours and each guide will take a slightly different route. Here are some of things I saw on my tour:
Dinner – Les Chauvins Père & Fils
As you peruse the menu, the owner of the restaurant may pop by with an iPad. On said tablet, you can see the dishes on offer, which could help you make your choice more easily. If anything, it is a way to see the whole of this interesting menu. The cuisine at Les Chauvins Père & Fils focuses on local produce and traditional dishes given a modern treatment. Particularly good were the asparagus cappuccinos, the trout and horseradish sushi and the planchette of local cheeses. The atmosphere is busy with families, dates, nights and groups of friends having a wonderful time. I think the wine list that is full of Alsatian tipples adds to the jollity.
Final Thoughts on Your 2 Days in Strasbourg
This itinerary offers a mix of history, culture, and delicious Alsatian cuisine, allowing you most of your 2 days in Strasbourg. Of course, there is more to see and do in Alsace, especially if you are heading to nearby pretty villages or cycling through vineyards but even if you only have a short time in the city, use this two-day Strasbourg itinerary as a jumping off point and you are going to love it!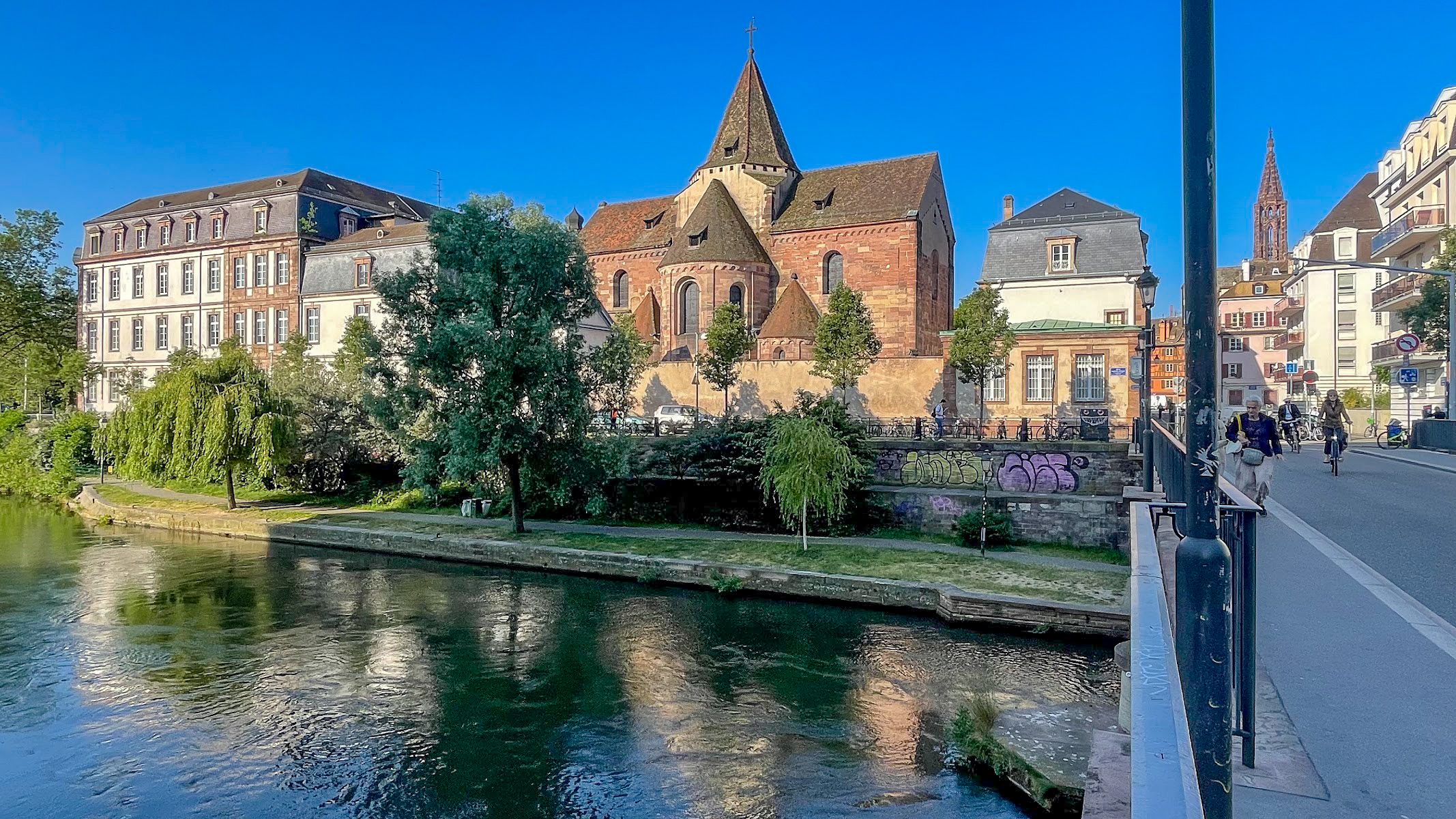 Rosie xx