London, capital of the United Kingdom, wraps around the twisting river Thames and extends its urban arms out to the huge ring road, the M25. It boasts years of history in and under its winding streets. Trying to see London in 4 days is probably a crazy thing to do. However, with an awful lot of walking and a whole load of enthusiasm, you'll have a great time with this perfect 4-day London itinerary.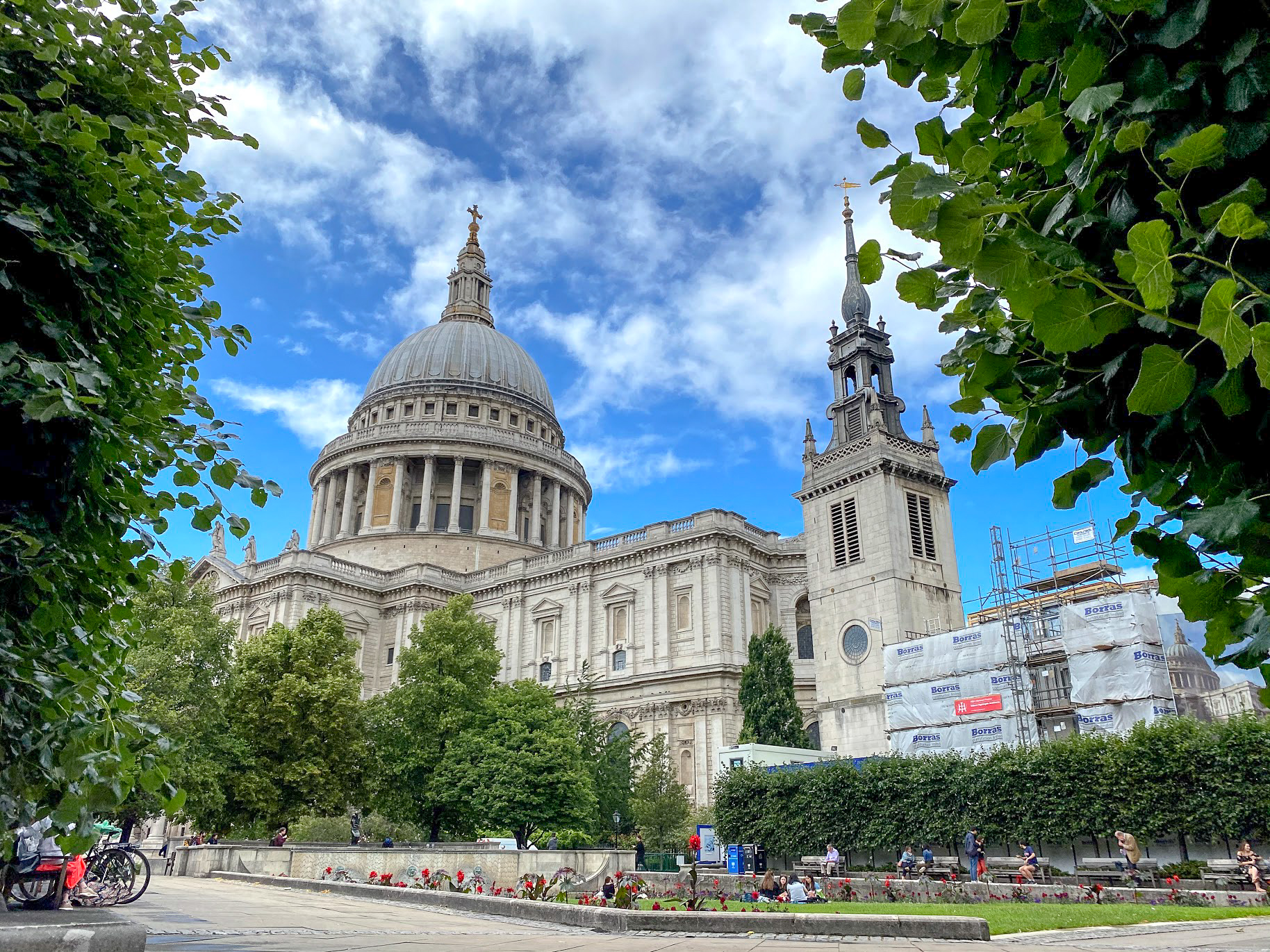 This post is going to be very long and very detailed. Why not save it or pin it to look at again in the future?
A Few Highlights of London's History
You are more than welcome to skip this section if you are ready to get going, but it does help put some of the big sights in context.
London first came to prominence as Londinium during the Roman occupation. It wasn't the capital, but a pretty big settlement. After a few attacks (including one by badass Boudica) it was surrounded by thick fortress walls. 
The first Lord Mayor of London was elected in 1186. His name was Henry Fitz Ailwin (not Dick Whittington). 50 years later, the first parliament sat in Westminster. 
During the Elizabethan period (1559-1603) most of the city was north of the river but Southwark along the South Bank was a slightly seedy entertainment district with a couple of famous theatres called The Rose and The Globe. Shakespeare was "quite the thing". 
In 1605, a plot to kill King James was foiled. The conspirators of the Gunpowder Plot planned to blow up the Houses of Parliament. and this is still celebrated all over the UK on 5th November with bonfires and fireworks. 
In 1665, the Great Plague swept through the city, carried by fleas, and wiped out 15% of the population. This was the last in 300 years of outbreaks. Plague pits (mass graves) are still untouched under the ground around London. 
In 1666, just a few months later, the Great Fire of London demolished 70% of properties. Christopher Wren redesigned much of the city and the street plan is almost the same now. 
The Victorians enjoyed a mini ice age by holding frost fairs on the frozen River Thames. It took their minds off the terrible workhouses and shocking living conditions of the poor. It was literally all very Dickensian.
The first tube line was opened in 1863 using the "cut and cover" method. You can still see how shallow it is on the Circle and District platform at Paddington.
London got its red telephone boxes in 1924. They were designed by Sir Giles Gilbert Scott who also designed the striking Battersea Power Station and Bankside Power Station buildings. (The latter is now the Tate Modern)
During the Second World War, London was bombed very badly, especially the East End. People built Anderson shelters in their back gardens or head down in to tube stations for cover. 
The 1960s saw the city become "Swinging London". Being British was very cool, the shops of Notting Hill took the fashion world by storm and The Beatles conquered the music charts.
2012 was a fun year in London. Queen Elizabeth II celebrated her diamond jubilee with a flotilla of ships on the Thames. Then the Olympics took over the East End and revitalised some of the more unloved parts of the city. 
So let's see if we can cram 2000 years into a long weekend…I hope you brought comfortable shoes!
Your 4-Day London Itinerary
Day One – Seeing the City of London
Tower of London
Start your day at Tower Hill Underground Station. Pass under the pedestrian tunnel and the first things you will see is a large section of the old Roman wall. 
Way back in the 1070s, the victorious William the Conqueror set himself up in a fortress designed to show Londoners who was boss. Now known as The White Tower, it sits at the heart of this huge complex. The fort was expanded by several rulers in the 1200s and 1300s and was used for all kinds of business. It was a living space for medieval royals, the mint for making money, an armoury and a prison. It has had a few royal prisoners including Mary Queen of Scots, Anne Boleyn and tragically, the two young princes, nephews of Henry VI.
The guards in their iconic red uniforms are called Yeoman Warders, but most people refer to them as Beefeaters. It is thought this is because they were allowed to share the beef of the King. 
From the bare cells of the prison to the unbelievable bling of the Crown Jewels, there is a whole lot to see in the Tower of London. 
Did You Know?
The Crown Jewels have never been fully appraised or insured which means nobody knows exactly how much they are worth. Experts think it is probably about £2,860,000,000 and if you did manage to whisk away in a heist, the Royal Family wouldn't get a penny. 
Staying at the Tower
If you want to spend most of the day at the Tower of London, you will probably want to hop on a bus back into central. Route 15 passes along the route we will be walking so you can catch a glimpse of all of these famous spots. Bear in mind you will be able to see St Paul's Cathedral tomorrow so if you want to take great photos, you will have another chance. 
SkyGarden or 120 Street
Fenchurch Street offers not one, but two fantastic views of London. Both spots are free to visit but one is covered and higher while the other is lower and nicer for a sit-down.
SkyGarden is the city's best alternative to paying for The Shard or the London Eye. On a clear day you can see down the Thames but when it is hazier is hard to see. (Ah, London weather). There is a balcony outside that can be fun but a little windy.
The Garden at 120 Fenchurch Street has some nice seating areas, and 15 floors up you still get a good view over most of the surrounding rooftops. Plus, its lack of food makes it feel bright and open. On a sunny day, it is superb.
Which options to choose is a hard decision but luckily, we have a blog post designed to help you make this decision. 
Leadenhall Market
There has been a market on this spot since the 14th century and it has been trading in food ever since. The beautiful metal and glass structure was built in 1881 and it is kept in pristine condition. Within the walls, you will find top-quality butchers, cheesemongers and pubs, as well as a couple of high street dining options.
Fans of Harry Potter may recognise the interior of this market as the way to Diagon Alley (although we still have come across The Leaky Caudron here or in Charing Cross Road where it is located in the book).
Monument to the Great Fire of London
Pudding Lane had a few bakeries churning out delicious cakes and bread to the city of London. On Sunday 2nd September 1666 a spark from one of the bakeries set it alight. By the end of 6th September, 70% of the city had burned in a firestorm whipped up by a fierce wind. Somehow, only six deaths were recorded but it is likely these were just the people wealthy enough to notice.
A 62m high column was constructed in the 1670s as a monument to the event. There are stairs and lift up to the viewing balcony. Considering you have just seen an excellent view of London for free. It is not worth paying to climb the stairs to the top but do take a stroll around it to see the carvings at the base.
The Bank of England
Constructed in 1734, this building was the bank's third location. It had been set up in the previous century to act as a lender for the government as they waged war on France. It holds the gold stocks for other banks as well as itself so it is called the bank of bankers. 
There is a museum at the Bank of England. It is probably more interesting for those who feel some nostalgia for British currency but is interesting either way. Plus, you get to touch a gold bar worth around £30,000 (don't get any ideas, it is VERY well secured).
Did You Know?
Did you notice how far you walked between Bank and Monument? That whole distance is covered by underground tunnels connecting the two tube stations. It is one of London's worst underground interchanges.
One New Change
Just east of St Paul's Cathedral is a shiny glass shopping centre. It is a wonderful place for a photo of the cathedral. Plus, it has a great rooftop and clean bathrooms on the lower ground floor. Win, Win, Win.
St Paul's Cathedral
St Paul's Cathedral is one of London's most recognisable landmarks and probably Christopher Wren's most famous architectural wonder. It has survived, largely intact, since it was finished in 1710. (There has actually been a church dedicated to Saint Paul here since 608AD but this was built after the previous one burned down in the Great Fire of London). 

Did You Know?
This giant Anglican cathedral became a symbol of hope during World War Two. It was famous for not being bombed but a bomb did land on the cathedral, bust through the roof and did damage to the alter. Another incendiary bomb was removed from the roof in a dangerous operation BUT nothing exploded and it survived. It remains a shiny white beacon for Londoners.
Fleet Street
Fleet Street is named after the river that used to flow down this section of London, The Fleet. It still flows below street level but only as a trickle. There are some gorgeous old buildings along this street which is a wonderful mismatch f architectural styles. 
As you walk up Fleet Street, on the right-hand side of the road, keep your eyes peeled for the brass plaques in the floor. From the early 16th century, this was the heart of British publishing. This developed into the main home of British newspapers (until they were all moved out in the 1980s). 
The Pubs of Fleet Street
Ye Olde Cheshire Cheese – A maze of dark drinking rooms dating back to the late 1600s.
The Old Bank of England – The Italianate building was originally built as the law court's branch of the Bank of England. It is rather ornate inside. Mrs Lovett's Pie Shop from the Sweeney Todd books would have been just around the corner. They do sell pie…of course.
Did You Know?
The lines between fact and fiction are often blurred by tourists visiting London. While Sweeney Todd and Sherlock Holmes are just fictional, Jack the Ripper was a very real serial killer.
Royal Courts of Justice
Further along the road, you will see the fairytale building of the Royal Courts of Justice. You cannot go inside but the Victorian Gothic facade is a treat to see. 
Covent Garden
Once the home of a famous flower market, Covent Garden is now an entertainment hub. Within an easy walk of several theatres, boasting the Royal Opera House and chock-full of shops, restaurants and bars, there is something here for everyone. If you don't fancy spending much money, you may be lucky enough to see one of the famous street performers. Classical musicians, circus acts and a host of singers and dancers make this is fun space during the day. All of the acts are auditioned to be here so you know they are fabulous. Donations are well very received. 
Within a minute of Covent Garden, you will find two bold and bright Instagram locations. 
Day Two – Strolling South Bank
Make your way to London Bridge Station. Leave via the Tooley Street exit. Turn right and walk down the road until you can cut across Potters Field Park towards Tower Bridge.
Tower Bridge
London's most famous bridge was built over six years, finally opening in 1894. It was designed to open in the middle, allowing larger ships to pass underneath. Originally, the public could across the high-level walkways when the gates were up but nobody used them, leading to their closure in 1910. However, visitors can once again take in the view from these walkways by paying entrance to the Tower Bridge Exhibition.   
Did You Know?
Some visitors are SO adamant that this is London Bridge, they can be halfway through the Tower Bridge Exhibition, with "Tower Bridge" written everywhere and still argue with staff that it is, in fact, London Bridge.
From here, we will be walking west.
City Hall & More London
More London is a modern development created by architect Normal Foster. It is a collection of intriguingly curved glass and steel buildings. It had been the home of the Greater London Council until very recently when they decided to move out. it remains to see who will occupy the building next. If you have watched The Apprentice, you may recognise it from the final pitches of the last few series.
The shape is incredibly unusual and is mostly designed to make it as efficient as possible. It lets little heat out, not too much sun in and is even bent away from the riverfront to ensure it doesn't cast too much shadow on the walkway. How considerate. 
Hay's Galleria
Hay's Galleria is an old covered dock or wharf that at one point took in 80% of London's dry goods. It was upcycled in the late 1980s into the mix of shopping, offices and cafes it is today. It is a wonderful place to hide from the rain. On a sunny day, the sunbeams flood the space with light. 
In the centre of Hay's Galleria is an 18m long sculpture with the face of a man and the body of a ship. The sculpture, called "The Navigators" by David Kemp commemorates the shipping history of the area. The bronze artwork ticks and moves over its fountain base, the oars pushing through the water.
The Shard
Towering 310m above the London Bridge area, The Shard is Europe's 7th tallest building and the tallest in the UK. You can't get all the way to the top but buying a ticket to The View From the Shard can get you all the way up to the 72nd floor. The Shard opened in 2013 and is home to business space, a luxury hotel and a great collection of (rather expensive) bars and restaurants. We would normally suggest getting dinner rather than paying for the viewing gallery but the highest restaurant is only on floor 35, so splash the cash for the bird's eye view!
London Bridge
London Bridge is so boring to look at that it doesn't even come up first on google images. Instead, the oft mislabeled Tower Bridge comes up! Instead of heading across this commuter thoroughfare, take the stairs across the road and descend into Borough Market.
Did You Know?
The previous London Bridge lives in the Arizona desert? It was built in London in 1831 but was purchased by American millionaire Robert P. McCulloch in 1968 and shipped to Lake Havasu City.
Borough Market and Southwark Cathedral
Borough Market has been an operating food market since 1014, but its only in the last few years that a number of street food stalls have been added to their own area, Borough Market Kitchen. If you want a hot lunch, there is a HUGE selection of food including vegan burgers, scotch eggs, bao buns, falafel wraps, Gujrati veg goodies and more food from all over the world. 
If you cross into the fully covered Green Market, you will find more permanent shops. Fresh oysters are shucked for happily slurping tourists, proper cider is served up at The Cider House and beautiful cheese and charcuterie is sliced for posh picnics.
The Golden Hinde, Winchester Palace and The Clink
The Golden Hinde is a fun reconstruction of the famous boat that Sir Francis Drake used to circumnavigate the globe in the late 1570s. This wooden galleon, built using traditional techniques, can be taken to sea (and has actually been sailed around the world a few times) but now spends its life in St Mary Overie Dock. They run tours of the ship, a great educational programme and cool sleepovers. 
Winchester Palace is a ruin that dates back to the 12th century. It was a home for the Bishops of Westminster. It was used for It is just one of those lovely little pockets of ancient history that are hidden amongst London's streets. 
The Clink Museum celebrates the capital#s oldest prison. It is a strange mix of waxworks, fun facts for children and quite adult themes. Add to that, the "authentic" smells and you have quite an odd attraction. 
Shakespeare's Globe
Pass the Anchor Pub and under Southwark Bridge and you will come to Shakespeare's Globe. This is not quite the site of the original Globe Theatre, home to Shakespeare and the acting troupe that brought his pays to life. However, with this amazing reconstruction using entirely Tudor techniques and materials, you will feel as if you have been transported back to the original. The theatre is open to the elements. Fancy visitors sit on wooden covered seating that surrounds the open courtyard. Here the "groundlings" enjoy cheaper tickets and watch the plays on foot. Shows here can be enjoyed throughout the sunnier months (with inter shows taking place in other indoor spaces) with tours running throughout the year.
Millennium Bridge
Millennium Bridge is a pedestrian suspension bridge that was opened in June 2000. It connects the South Bank to St Paul's making it an excellent place for another snap of the Cathedral. 
Did You Know?
The bridge had to be shut just days after it opened. People walking in step caused it to sway alarmingly. Thankfully, it has all been recalibrated and since it reopened in February 2002, it has been free of sway.
The Tate Modern
On your left, you will see a large chimney rising from a huge brick building. London's second most visited free attraction is the Tate Modern, housed inside the old Bankside Power Station. The main collection here is totally free and full of works from the world's most renowned modern artists. The main Turbine Hall, where most people enter, usually boasts changing artwork on a magnificent scale. Past works have included a selection of slides, Ai Weiwei's sunflower seeds and the Shibboleth that started as a little crack and ended up as a great chasm by the time it reached the far wall. 
Plus, enjoy the view of St Pauls Cathedral, just across the river, from their balcony!
OXO Tower
Further west, you will find another old London building, the OXO Tower, so named for its previous owners (yes, the stock cube guys). Most people just walk straight past it, but if you take a little time, you'll find lots of independent shops, cafes and galleries. 
Did You Know?
When the building was partially rebuilt by OXO, they decided to find a fun loophole in the ban on skyline advertising. They created the shapes f OXO using the building's windows so that, at night, these illuminated sections would spell the companies name. 
National Theatre
Love it or hate it, the National Theatre's brutalist facade is certainly striking. Housing three different performance spaces and putting on some of the country's best theatre, a show here is very special.
BFI
The British Film Institute is a building of two halves. Under the bridge, opposite the endlessly diverting book market, you will find their lovely public bar. This a great place to stop for a drink or for a spot of dinner. Behind the bar is the cinema. Films tend towards the classics and arthouse, especially celebrating British film. 
Royal Festival Hall
The South Bank Centre, also known as the Royal Festival Hall is the large glass building rising from the riverside, on two different levels. They often hold free lunchtime concerts so you can sit inside and watch a world-class musician, a local choir or join in with a workshop without spending a penny.
London Eye
For a modern classic of a London experience, take a rotation on the London Eye, London's giant big wheel. This is not the cheapest of London's attractions, but you get a wonderful view and it is definitely exciting. The 32 capsules (one for every London borough) rotate constantly, taking guests up to 135 metres above the glittering Thames river.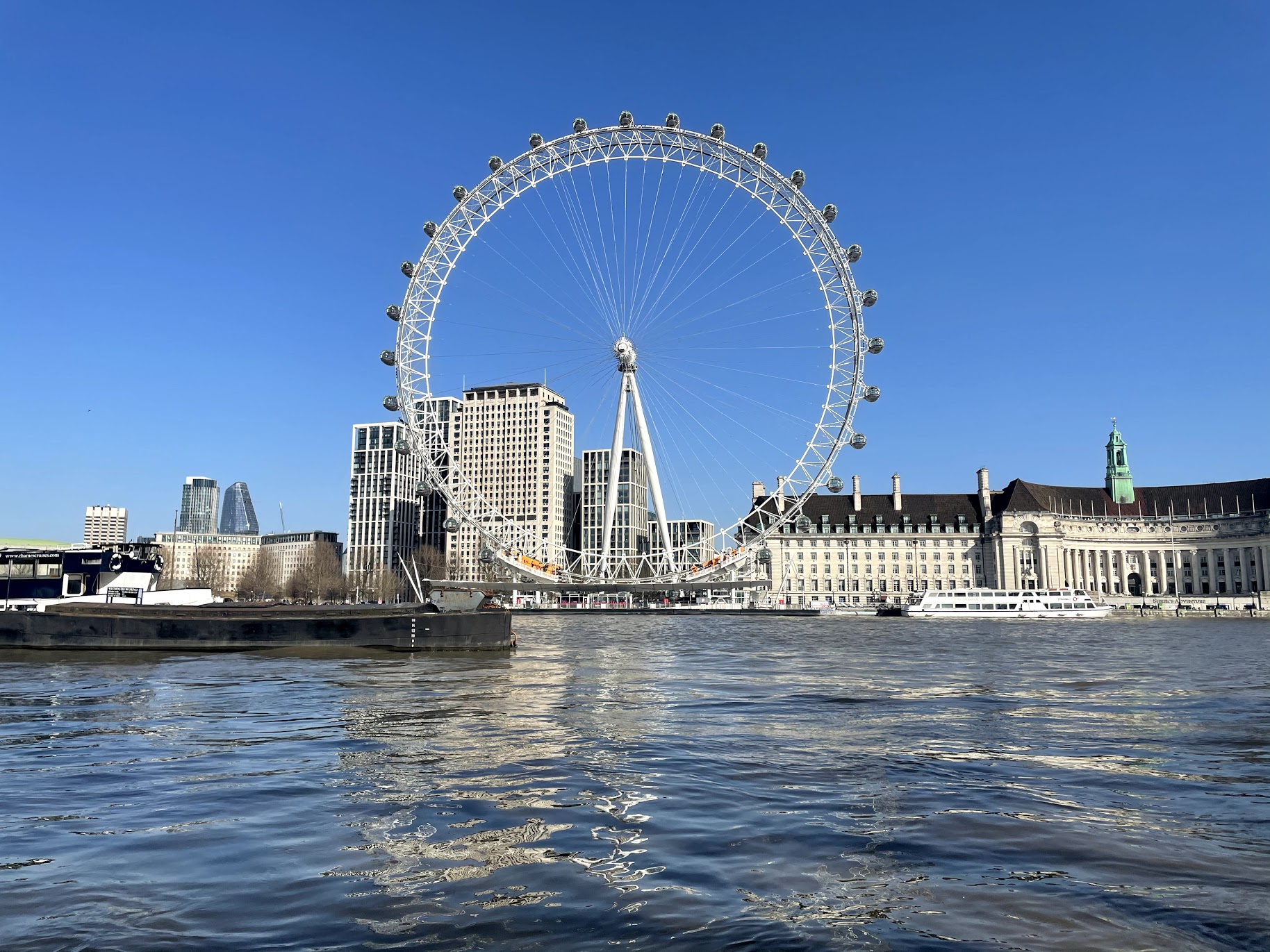 Did You Know?
British Airways was the original sponsor of the London Eye. When the engineers were struggling to raise it to its vertical position, their rivals Virgin Atlantic flew a blimp past with the cheeky message "BA can't get it up".
The Palace of Westminster/The Houses of Parliament
Cross Westminster Bridge and you will find yourself gazing up to the magnificent clock tower of Big Ben. Well, actually it is Elizabeth Tower you can see, Big Ben is the name of the great bell inside. The tower was completed in 1859 and has been under a long renovation for a few years now. 
Westminster Abbey
There has been a building of worship on this site for nearly 1000 years (just 59 to go). The building seen today was started in 1245 but has been extended, added to and renovated ever since. It was a Benedictine monetary until the order was dissolved by Henry VIII. Since then, the building has been neither an abbey, or a cathedral, but a Royal Peculiar (an important Royal building in the Church of England). A tour takes in the old monetary grounds as well as the famous church. You may recognise from the televised coronation of Queen Elizabeth II or the weddings of Diana and Charles or Will and Kate.
Did You Know?
Sir Isaac Newton, Stephen Hawking, Queen Elizabeth I and Charles Dickens are all among the famous people buried within Westminster Abbey.
Whitehall
The stretch of road between Westminster Square and Trafalgar Square has some incredibly important buildings along its length. Many are hulking government behemoths like the ministry of defence (although, I suppose that HAS to look imposing). 
After passing the War Epitaph in the middle of the street, the centre of remembrance celebrations, keep an eye out for Downing Street on your left. This gated road is home to the home of the prime minister, the famous 10 Downing Street. It is hard to see the door from here. The famous black door may look wooden but it is actually a hugely reinforced steel replica, fitted after a bomb damaged the wooden version. 
Did You Know?
Number 10 wasn't big enough for Tony Blair's family so they moved into number 11 next door and just used number 10 for official business. 
Horse Guards is on your left. It is home to the famous mounted soldiers with their fabulously, shiny swishy helmets. The building was completed, as seen today, in 1805. At this time it had space for 65 horses but today, that has been restricted to just 17.
Head through the arch and take a quick look at the Horse Guards Parade and St James Park opposite. When the horse guards clock strikes 11:00, the parade ground is the site of London's second most famous changing of the guards. 
Trafalgar Square
Trafalgar Square is the heart of London. Well, Charing Cross Station technically. It was from here, all distances from London were measured. 
Trafalgar Square is a large, open space containing several important statues, one changing artwork on "the fourth plinth" and two large fountains. Looking up, you will see its most important resident, Admiral Horatio Nelson atop his 51m column. Four large bronze lions protect the base, mounted by many a happy tourist and drunken stag do. 
National Gallery
On the northern side of Trafalgar Square, the great facade of the National Gallery looms. This free art gallery houses paintings from the European masters. Probably its most famous artworks are Sunflowers by Vincent Van Goh and Waterlilies by Claude Monet. We do like flowers here in London!
Leicester Square
Continue North and you will emerge into Leicester Square. This is a strange space that doesn't feel like it is in London. The wonky square is lined with international companies and less than stellar restaurants.
Leicester Square was originally built as just another residential square in London. From a fashionable strolling spot, with a few commercial enterprises, it evolved into a popular spot for entertainment lined with museums, theatres and "dancers". One large theatre called The Alhambra (amongst other names) was located on the eastern side of the square, attracting a bawdy crowd. It displayed a huge variety of entertainment, all under the umbrella of "Music Hall". As the decline of Music Hall set in post-WWI, it was demolished and a huge cinema replaced it. The Odeon has remained extremely popular for film fans and hosts huge film premiers. Around the square, other cinemas are also playing the biggest hits in cinema at premium prices. 
Piccadilly Circus
Just west of Leicester Square you will find Picadilly Circus. This is London's answer to Times Square, but its advertising wall is MUCH smaller. There has been illuminated advertising here for over 100 years and it used t stretch around the whole area!
It is cool to see the lights but there is not an awful lot to do here other than the signs and the statue of Anteros. This is usually mistakenly referred to as Eros (his brother) so if someone asks to meet you at Eros, this is where you are heading. You may get lucky and see a fun street performer, but if there is nothing going on, head into Soho or Chinatown for a delicious dinner. 
Day Three – Parks, Palaces and Purchases
Hyde Park & Kensington Garden
Hyde Park is huge so whichever tube station you decide to start at, prepare to walk a bit to reach the Albert memorial. 
As you wander around the park, here are some highlights to hunt out:
Speakers' Corner is in the northeast corner of the park. It has been the site of demonstrations, speeches and lively discourse for around 200 years. See if you can find a soapbox to hop on and have your moment.
Hyde Park's Rose Garden is directly south of here. Beds of beautiful roses bloom amidst other delicious smelling plants. There are spring and summer plantings so it is a delightful place to wander for half of the year.
There are plenty of statues to discover as you navigate the walkways of the park. Serenity is modelled on the heron-like Egyptian goddess of nature. Peter Pan, surrounded by small woodland creatures looks over the Long Water. Achilles, the first statue in the park, has stood here since 1922. (although the outraged public added his fig leaf very shortly after it was first unveiled. Finally, as you pass through the Rose Garden, look out for the Boy and Dolphin. It is one angry looking sea mammal.
The Joy of Life Fountain has a beautiful bronze statue of two figures, embracing or dancing. It is surrounded by 60,000 daffodils so make sure you see it if you are in London in early spring. 
The Serpentine is the large lake that sits in the centre of the park. You can stroll around it, hire a boat to row across it, or even swim in the lido section. 
The Long Water is the western section of the Serpentine. It was created in the style of Capability Brown style of natural landscaping. 
It sits next to the contrasting, Italian Garden. The perfectly formal, symmetrical pools and fountains are dotted with beautiful Carrara marble.
The Diana Memorial Playground is an incredibly fun and interactive children's playground. At the centre is a huge pirate ship. Be prepared to spend at least an hour here if you have little ones.
Albert Memorial & Royal Albert Hall
Looking at each other across Kensington Gore is a stunning gold state of Prince Albert and the building he inspired. The Albert Memorial was commissioned by Queen Victoria when her beloved Prince Consort passed away at the age of 42. It was tackled by three different architects which led to its electric appearance. Around the edge are depictions of creatures from the four corners of the British Empire (as was) and in the centre, a recent renovation has left the man himself radiantly gold in the sunshine.
The Royal Albert Hall has been home to a huge variety of events since 1871. It was originally conceived by Albert as part of a vast construction project of the area South of Kensington Gardens. He wanted the whole area to be used for the study. In fact, the original name of the hall was "The Central Hall of Arts and Sciences" but as Albert passed away during construction, Victoria decided to rename it. The Royal Albert Hall hosts pop gigs, film premieres, lectures, orchestral concerts, sporting events, ballets, and even Cirque du Soleil. You can take a tour if you aren't around to watch a show.
Did You Know? 
The main staircase was designed with shallow stairs and the perfect width to allow two ladies in large crinolines to pass without displaying their sexy ankles to the gentleman present. 
South Kensington Museums
To be completely honest, you could easily lose an entire day in the museums. These museums are all free so you can really indulge in all three. If you wish to do so for the rest of today, just start here again tomorrow and follow the rest of the day as your day four. 
The Natural History Museum
This is a giant cathedral to the globe and the creatures that inhabit it. From the Victorian cases full of stuffed beasts to the charmingly 80s bodies section., kids and adults alike are delighted by this huge museum. You can just pop in to check out the famous dinosaur exhibit or amazing complete ancient Ichthyosaurus and Plesiosaurus skeletons discovered by Mary Anning. Alternatively, head upstairs and marvel at the in-depth collections of rocks, insects and other quiet items.
The Science Museum
From early steam power to the latest in computer research, the Science Museum covers all aspects of science as it applies to the world around us. You can really lose yourself in the space section, full of facts ad items that have spent time in orbit. Young science fans can sign up for a day of hands-on science experimentation through the Wonderlab programme although this does add a price to the visit. For a free interactive experience, download the Treasure Hunters app and you will learn lots of extra bits and find a new way to explore the museum.  
The V&A (Victoria & Albert) of Art and Design
The V&A take visitors through the most beautiful through history. There are magnificent plaster casts of ancient wonders from around the world and originals of statuary, carvings, paintings and even fashion. Plus, the building itself is very pretty, especially the surprisingly cheap tea room. 
Knightsbridge & Harrods
Stroll along Old Brompton Road past the boutiques and cafes until you reach the great behemoth of Harrods. this is one of London's most famous department stores. It dates back to the 1800s but the building here in Knightsbridge was completed in 1914. Well, I say completed but it constantly evolving inside. It is so old that it housed the UK's first escalator. Stewards handed out snifters of brandy at the top to calm the riders' nerves.
Harrods has sold everything from lion cubs to huge geodes, Persian rugs and a pair of Stuart Weitzman ruby slippers that cost over £1.3 million. If you want to purchase something a little more affordable, check out the amazing Art Nouveau food hall, toy department or Harrods signature range covered in the famous scribble.
Hyde Park Corner
As you traverse Hyde Park Corner, pass under the Wellington Arch. This huge arch was constructed in 1827 and was originally planned to be a gateway for Buckingham Palace (just over that large wall to the south). 
It was moved here in the 1880s and at that time, it was missing any kind of statue on the top. A sculptor called Adrian jones had created a plaster version of this quadriga (a four-horse chariot) and the royals rather liked it. They decided it would look good just here and it took until 1912 for the bronze version to be funded, built and placed atop the arch. 
Buckingham Palace
Buckingham Palace was originally constructed as a townhouse for the Duke of Buckingham (duh) in 1703. It was in the hands of private owners until 1761 when King George III bought it for his wife Queen Charlotte. It has been royal ever since, and as such, it been expanded and enhanced quite a bit. The facade seen from the front was added, with two other wings that create a courtyard, in 1837. You can see the back of the original Buckingham house in the picture below. The palace is open to the public for two months every summer. Visitors can pass through the state Rooms and end in this green garden. 
Buckingham Palace may be one of the most famous palaces in the world but the Royal Family aren't big fans. The Queen is far keener on Windsor Castle and when asked, Prince Charles made his feelings clear.
"I know he is no fan of 'the big house.' He doesn't see it as a ­viable future home or a house that's fit for purpose in the modern world. He feels its upkeep, both from a cost and environmental perspective, is not sustainable." – A Source Close to the Prince to the Sunday Times
Could we see it being turned into a museum one day?
Did You Know? In 1982, a man called Michael Fagan managed to break into the Queen's bedroom. Rumour has it, they had a calm chat until security arrived. Trespassing in the palace grounds wasn't a specific law until 2007!
St James's Park and Green Park
In front of Buckingham Palace, and running between there and Whitehall, is St James's Park. The park is built around a long lake teeming with beautiful waterbirds, including the famous pelicans. These huge white waddlers have been around for over 300 years. 
Wander the length of St James's Park and you will pass some gorgeous flowerbeds which fully burst to life in mid to late spring, lasting right through until autumn sets in. On a clear day, it the most colourful and charming park in London….well, I think it is anyway
To see a more in-depth look at the delights of my favourite London park, check out this blog post.
Shopping
If you have any time (or cash, or patience) left, cut north past the column of the Duke of York and make your way up Waterloo Place. You'll pass some more statues including one of Florence Nightingale and a memorial to the Crimean War.
Continue to Piccadilly Circus. From here, you can start to walk up Regent Street and up to Oxford Street. Along these roads are a huge collection of famous high street brands and some special locations like Selfridges (Harrod's big rival). One road west of Regent Street is Saville Row, the best spot for a made to measure suit that will leave you bankrupt. To the east is Carnaby Street, full of fashion-forward boutiques. 
Once again, you are nice and close to Soho for a great dinner!
Day Four  – A Very British Day Out
With only a 4 day London itinerary, you simply can't squeeze everything in. Therefore, I have three different suggestions for your fourth day. Feeling brave? You could try and combine two of these but you are going be VERY tired if you do!
Option One – Go West
Notting Hill and Portobello Road
Take the tube to Notting Hill and follow the crowds to Portobello Road. Here you will find a marvellous road full of antique stores, market stalls, tourist-friendly shops and plenty of cute cafes. Test your knowledge in sorting the genuinely cool retro clothes from the cheap knockoffs! You will be especially rewarded if you visit on a Saturday. This is the market's ain day and there are a lot more antique dealers around. You'll have to come early if you want to spot something special as everyone will be on the hunt!
As you walk along the road, keep an eye on the roads to either side. Some have the most gorgeous coloured houses. If you are stopping for a photo, be respectful and don't lounge across their doorsteps (many have little barriers as a not so subtle hint). 
Royal Botanical Gardens – Kew
From Notting Hill, hop on the District Line towards Earl's Court and change here for another District Line train to Kew Gardens. After the madness of Portobello Road, Kew Gardens feels like a world away! 
This 300-acre garden is home to a huge variety of flora, historical buildings (including Kew Palace) and is endlessly wanderable. It is one of the world's first and most important botanical gardens, established in the 1750s and opened to the public in 1840. 
Don't miss the incredible Victorian Palm House with its rooftop walk and roof-brushing plants. Elsewhere in the gardens, you can find:
The incredible modern art piece "The Hive" teaching visitors all about the importance of bees for our ecology.
A tall Chinese Pagoda that has been here since the 1700s (when this was just the back garden of Kew Palace.
The perfectly manicured rose garden displays heavenly fragrant flowers in summer.
The Japanese Landscape with an intricate gravel shaping and sometimes the resident peacock. 
And so much more. Just explore!
Option Two – Go North
British Museum
London's most famous free museum is The British Museum. This is absolutely stuffed with ancient antiquities from around the world. It may be slightly controversial (Elgin Marbles anyone?) but it is amazing to spend a couple of hours marvelling at the huge collection. From the cartoon-strip storytelling of Greek urns, to priceless Chinese jade carvings and actual Egyptian mummies, there is something to enhance any history school project.
Forty years ago, Camden was gritty. Punks and rockers ruled, shops selling records and leather were thick on the ground and it was all about counter-culture. Even ten years ago, the grit almost remained, coating the trendy Vans shoes of the skaters, dealers and slightly alternative kids who passed through. Now, after a HUGE fire, Camden has embraced gentrification with open arms. Yes, you are still going to find fun shops full of leather, studs and stripy tights, but they will be cheek by jowl with high street brands like H&M and some high-end restaurants 
To make the most of Camden, head from Camden Town station and stroll North along the high street. Along the way, make sure you do some snooping in the brightly coloured shops that line the street. Get a tattoo to commemorate your trip (just remember that ink here is quite expensive)! When you reach the canal, Kurb, the huge street food market is a lovely place to grab lunch in the sun. The Regent's Canal runs from here to Paddington and is a lovely walk on a sunny day. If you carry on, you'll reach the Stables Market. This houses another huge food market, loads of amazing clothes shops, antique shops, artist showrooms and if you can find it, a cool statue of the late, great Amy Winehouse.
Highgate Cemetery
Take the Northern Line (towards High Barnet) from Camden to Archway. It is a ten-minute walk to Highgate Cemetery. 
A cemetery may sound morbid but it is a very beautiful space and has some famous residents. For sci-fi fans, a small grave labelled with the number 42 shows the resting place of Douglas Adams and for British TV fans, Jeremy Beadle is here too. ven if you don't know who anybody is, indulge in the peace and quiet, look out for some gorgeous angels and other carvings and in spring, enjoy the flowers.
Probably the most well-known resident for most visitors is Karl Marx. This German gentleman was the philosopher, economist and socialist, who penned a little pamphlet called "The Communist Manifesto" and a rather larger book called "Das Kapital". 
Did You Know?
The rich folk of London chose this protected, out of the way cemetery, to avoid the graverobbing taking place in the Parish Churches of London.
Hampstead Heath
To the west, through the pretty mock-Tudor Holly Lodge Estate, you come to the giant park, Hampstead Heath.  Hampstead Heath is designed to be a swathe of nature, rather than a formal park. Seven ponds run along the eastern edge. Some small lakes for wildlife and three, for human bathers. Swimmers can choose between gendered or unisex swimming ponds. 
Head up Parliament Hill for one of London's iconic protected views. It has been enshrined that the view from here to St Paul's Cathedral is to remain clear. (You can see it here, just left of the Shard). 
Kenwood House
At the north end of the park is the large mansion, Kenwood House. This magnificent 17th-century house was home to the Earl of Mansfield for around 150 years. It has been open to the public since the 1920s. Inside you will find beautiful art and rooms preserved in their original stately glory. 
Outside, the bright facade stands out from the rolling green surroundings. You might recognise it from the films Notting Hill and Sense and Sensibility. 
Hampstead Pergola and Hill Garden
Towards the southeast, through a rugged wooden area, is one of London's best-kept secrets. The Pergola is a pocket of country garden with just a hint of Tuscany thrown in. Rising above a series of gardens and a perfect pond is the pergola, entwined with vines and flowering bushes. 
The Pergola is a favourite spot for Instagram fans. It was constructed by a soap mogul, Lord Leverhulme, who had it constructed to host lovely outdoor soirees. It was finished in 1906 and for a good few years, played host to many a party. However, it suffered neglect after WWII and although restoration work still goes on, the rundown air is part of its charm. 
Option Three – Go East
Following the Thames east, leads Londoners to Greenwich. If you don't fancy the 8-mile walk from Central London then travel to Cutty Sark on the Docklands Light Railway. If possible, taking the DLR from Bank will give you a lovely overground ride through the Docklands regeneration. It also whisks you through the Canary Wharf area which is nice to see from the train, but not really worth the extra stop. 
Cutty Sark
From the station, head down towards the river and you can't miss the mighty Cutty Sark. This tea clipper was the fastest ship on the ocean when it was first built in 1869, carrying large cargo loads of tea from China. It was one of the last of its kind, the opening of the Suez Canal meant that it was time for steam ocean liners to take centre stage. Sadly, the ship has been damaged by fires in recent years but tireless work has restored and renovated it. The redesign of the museum means it is now better than ever. 
Greenwich Foot Tunnel
Bult in 1902, the Greenwich Foot Tunnel is not an obvious tourist attraction, but it is quite unique. A lift descends toward the tunnel, surrounded by a helical staircase. Greenwich tunnel runs under the Thames between here and the riverside park, Island Gardens  When it was built, the tunnel allowed workers to commute safely and reliably to find work in the docks. As tunnels go, it was a real socialist boon.
Greenwich Maritime UNESCO World Heritage site
From the perfectly symmetrical riverside aspect to the beautiful chapel, there is plenty to wander around within the large site. The design was designed to ensure the Queen's House still had a view down to the river. It was originally built as a hospital for sailors but has since been converted into the Royal Naval College.
The highlight of the Old Royal Naval College is the stunning 18th century Painted Hall. The walls and ceiling are bedecked in huge paintings inspired by the Sistine Chapel. Sir James Thornhill was the original artist but it was been fully restored in 2019, giving it a much-needed facelift. Take a seat in the centre of the hall to take it all in, better yet, lie back and really enjoy it without cricking your neck!
Did You Know?
The college has been in lots of films. You may recognise it from Pirates of the Caribbean 4, Gulliver's Travels, The King's Speech and it has even featured as Washington DC for Patriot Games. 
The Queen's House
Dating back to 1635, this house was built for Anne of Denmark. It was designed in the Classical style and inspired a whole wave of stately homes across the country in the same vein. It is now part of the Greenwich Maritime Museum, displaying nautical art masterpieces. A favourite spot in the Queen's House is the Tulip Stairs. The stunning spiral staircase is totally self-supporting and the first of its kind in the UK. 
The Royal Observatory and Greenwich Park
Greenwich Park is another one of those Royal Parks that was once hunting grounds for the royal family. Many years later, t was chosen for the site of the Royal Observatory. The steep hill at its centre, and distance from the industrial centre of London, made it an excellent place for stargazing. You can visit the Royal Observatory and Prime Meridian. The line that runs through the site is the point from which we measure time (GMT is Greenwich Mean Time). It is also Longitude 0, so all east to west measurements are from here. Inside the observatory, you can find a huge collection of vintage clocks and timepieces to celebrate this connection the standardisation of time. 
Even if you aren't paying to visit the site, it is still worth walking up the hill to see the gorgeous view down through the park, and across the Thames to Canary Wharf.
The Fan Museum
After all this grandeur, the Fan Museum may seem a little unassuming but its small but perfectly formed collection of fans is truly engrossing. Fans have been part of cultures worldwide and here you can see some fine examples from across the globe. Our favourites , however, are the Georgian fans (perfect for this Georgian property) which were not just for cooling ladies down. Some have spy glasses, some family trees of prominent society families and maps. They were the swiss army knife of any fabulous lady's evening attire.
It is also worth visiting for the cheap and wonderful afternoon tea, served in the Orangery. For just £15 each, it is one of London's best value spots for three courses of sandwiches, scones and cake!
Some Things to Avoid in London
Madame Tussauds – These days, waxwork museums are available all over the world and with your favourite celebs all over the internet this seems like a very expensive waste of time. 
London Dungeons and The London Bridge Experience – As With Madame Tussauds, the ticket price is high and even though they tell some fun stories, there is nothing genuine to see here.
Pub Fish and Chips – Getting a plate of fish and chips is often on people's London bucket list but these are pretty terrible most of the time. If you want great fish and chips in Central London, check out Poppy's in Soho.
Paid Views – Forget the Shard and London Eye, the recommendations in this itinerary will save you a bundle on enjoying a great view.
Picking One Season to Dress For – Welcome to the UK. We can often experience summer, autumn, winter and spring all in one day. Check the weather forecast at the start of each day but pack an extra layer in your day bag either way. 
Not Planning Ahead – If you want to tour SkyGarden or Buckingham Palace, you will need to book in advance Check the websites of London's big attractions, even if you don't need to book early, it could save you a few pounds.
Where to Eat in London
Fifty years ago, the UK was the laughing stock of the culinary world. Now, London has a huge array of places to enjoy a meal. Our recommendations here are affordable options but not super cheap. If you want to save money, keep an eye out for mini supermarkets. 
Soho is a special area of London that is packed to the rafters with amazing restaurants. Picking can be hard as there are restaurants from all over the world. Check out our blog post about how to eat your way around the world in Soho for some more fantastic recommendations. (We end up in Soho for dinner 90% of the time). 
China Town
Misato – Japanese food is not normally a cheap or filling option but the giant, great value dinners at Machiya are a real crowd-pleaser. You may need to queue.
Four Seasons – This is the best place in China Town for reliably great Cantonese style roast meats.. 
Dumplings Legend – There are a few spots offering dim sum in China Town but this is the king of them all. Service is brusque but dumplings are perfect. After 6 pm the steamed dimsum selection below is the only option. 
West London
Abu Zaad (Shepherd's Bush) – Self-proclaimed Middle Eastern, these guys do dishes from all over the region well. Portions are cheap, giant and almost all totally delicious. 
Newens, The Original Maids of Honour (Kew) – The cutest little tea room in West London. The smell wafting from the door is distinctively tea and cake. For an afternoon or cream tea, it would be a real treat.
Farm Girl (Notting Hill) – Utterly instagrammable food and drinks are the order of the day at this trendy cafe. Everything you order is as beautiful as it is tasty. 
South Kensington
Rocca – The food is Rocca is surprisingly cheap and even more surprisingly delicious. You can have a huge Italian feast and a bottle of wine without feeling too pinched in the pocket. 
Jia – A Chinese restaurant with a great dim sum menu and a full menu of main treats all served n a modern setting. 
Comptoir Libanaise – Always busy, indicating that the food here is extremely tasty and well-priced. Lebanese influenced wraps, salads, mezze plates and grills abound. 
Honest Burger – A small but perfectly formed budger joint. The plump beef burgers are cooked perfectly and served with a lovely Aperol Spritz…if you order one. 
Chains
These can be found throughout London. Eating in a chain isn't such fun but it can be a cheaper option and at least you know your in for a decent standard for your money. 
Nandos – A cheeky Nandos involves some delicious grilled chicken doused in a spicy marinade. Add sides, table sauces and begin your own Nando's traditions. 
Wagamamas – Wagamama is an Asian fusion chain serving up great noodles and some interesting curries. Their healthier dishes don't feel like you are skimping on the calories, which is nice. 
Franco Manca – Sourdough pizza served cheaply and topped with quality seasonal British produce. 
Itsu – Cheap, grabbable sushi and a few hot dishes behind the counter. You may not feel classy but they do have bag hooks and free phone charging points so you can relax there during a day trip and recharge both you and your electronics.
Gourmet Burger Kitchen – There are several burger chains in London but GBK is a popular choice with great choices like the Pestarella or Kiwi Burger alongside great milkshakes.
Pizza Express – Pizza Express actually began life as the first place to serve real Italian style pizza in London and it has gone from strength to strength ever since. The pizza isn't authentically Neoploitan any more but it is pretty good for the price.
Busaba Eathai – Unswervngly delicious Thai food in a fun but quite classy atmosphere. The calamari is a firm favourite.
The Real Greek – All your favourite Greek classics are served up in several spots around big tourist centres in London. The menu shows all your calories which is great for some..not so fun for others There are often good value set menus on offer.
Where to Get a Drink in Central London
Cahoots – Cahoots is heavily themed, but not in a tacky way. This 1940's WWII/London Underground themed bar serves interesting original cocktails and has a variety of spaces to suit everyone, including a tube carriage. Such fun!
Waxy O'Connors – An Irish pub designed around a large treehouse idea. Big cavernous spaces are surrounded by smaller hidden spots. It's great for a quiet Guinness on a Tuesday lunch or a party on a Friday night. 
Players Bar and Kitchen – If you enjoy a good singsong around a piano, this is the spot for you. Featuring some musical theatre and plenty of pop/rock classics, you will leave happy and with a slightly sore throat.
Simmons Bars – There aren't too many places to get a "cheap and cheerful" drink in London but budget chain Simmons Bars are a good bet, especially at happy hour! There are around 20 of these across the city. 
The Red Lion Pub – This small, traditional pub serves organic spirits which are rumoured to reduce hangovers. It still retains the feeling of a small neighbourhood boozer, even as Kingly Street gentrifies around it.
Opium – Amazing original cocktails and top-class dim sum are served in a classy, high-end atmosphere in this hidden Chinatown bar. 
London Cocktail Club – With a few LCC's scattered throughout the city, you are likely to find one of these fun bars near you, or that specialises in your favourite spirit. Each has a happy hour one night a week that is an all-night thing. 
Bar with No Name / 69 Colebrooke Row – This bijou bar has created some of the most innovative cocktails in the city. Prices are steep but the amount of work that goes into each drink is totally worth it.
The Churchill – This electric pub has been open since 1750 but the name was adopted after WWII. At some point in the mid-1980s they added a Thi restaurant, the first pub to do so n the UK, and they have served up excellent Thai food ever since. On the walls and ceiling, you will find tankards, clippings, paintings, and plenty of bric-a-brac to gaze at.
The Harp – A classic pub within spitting distance of both Covent Garden and Trafalgar Square. The beer on tap is all CAMRA friendly and they often have a good selection of proper cider too. Downstairs is tight and covered in beet mats but upstairs is light and airy so you can pick the style that suits you.
Final Thoughts on this 4-Day London Itinerary
A trip to London can be utterly exhausting. There is far too much to see and you have to do so much of it on foot. There is always something else to discover "just a little further on". Even if you only decide to follow one of these days, chill out in a sunny park all day or totally lose yourself in a museum for an afternoon, there are enough ideas in here to cover all kinds of visits. 
After 16 years in London, I am constantly discovering new places. It is such fun being a tourist here too. It has been a real pleasure to share the city I love with you and really hope you have a great 4 days in London.
Rosie xx