SOWETO is Johannesburg's most infamous suburb. it was once a township out on its own. Its name is abbreviated from South Western Townships. During apartheid, it was a place to keep the black community away from central Johannesburg. However, once apartheid ended, urban sprawl invaded the borders between the Joburg and Soweto. There was a change in reputation and now living in Soweto is a rather trendy thing to do. So why should you visit? Here are 5 reasons to visit Soweto on a township tour during your next trip to Johannesburg.
This post was written in collaboration with icelolly.com who very kindly sponsored our half-day tour to Soweto
1.) Soweto is the Home of Legends
The most famous address in Soweto is Vilakazi Street. It can boast not one but TWO Nobel peace prize recipients. Nelson Mandela and Archbishop Emeritus Desmond Tutu have both lived here. In fact, Archbishop Tutu still lives here so you may catch a glimpse of him if you're lucky. Nelson Mandela's old house is now a museum and you can stop to visit it during your Soweto tour, and learn all about his life and work.
You will also find a couple of famous restaurants serving slightly overpriced but nonetheless delicious South African cuisine. Alongside those is Soweto TV, the homegrown network.
2.) Soweto is Home Some Serious Entrepreneurship
Amongst the informal settlements and markets of Soweto are people who are using their skills as businessmen and women to make a living. There are initiatives to help recent female immigrants to the area to build successful businesses. It is pretty amazing. For example, there are those who will buy whole fruits in the market, divide them into more sensible portions and then sell them across to the road at an inflated price. Simple but effective. I mean, who can eat one of those HUGE South African watermelons?
3.) You Can Take a Flying Leap
The Orlando Towers stand tall against the Soweto skyline. Big, bright and covered in storeys high advertising, these are a symbol of Soweto. You don't just have to observe them from afar. Instead, you can get a bird's eye view of Soweto before leaping off the bridge and on a bungee rope.
With the resident Vertical Adventure Centre, you can either:
Bungee from the bridge
Abseil down one of the cooling towers
Tackle a climbing wall
Try something called SCAD jumping(!?)
Personally, I would rather sit and have a meal in the lively restaurant below, Chaf Pozi. Is there anything better than a nice cold beverage accompanied by the terrified screams of thrill seekers?
During your Soweto tour, you may only get to visit them briefly, but it worth coming back to make the most of the Orlando Towers.
Check out our travels around Amazing Africa
4.) Soweto Gets Pretty Handsy
Most bus systems work in the same way. Check a route map, read the bus stop and double-check the front of the bus for the number and destination. Not here. The informal nature of Soweto's public transport meant it developed with a system all of its own.
If you need to catch a taxi in Soweto, you are not calling over a private car and driver. The minibuses that ply the routes here are shared taxis and to call one over, you aren't using an app. As you see a taxi approaching, you make a special hand signal to the driver to see if he is going your way. It is fascinating to watch and so ingenius. Mind you, being partially sighted, I would never get anywhere!
5.) Learn the Amazing Story of Hector Pieterson
The highlight of my trip into Soweto was undoubtedly our time in the Hector Peterson museum.
During the horrors of apartheid, the government took the decision to make all teachers conduct lessons in Afrikaans. There are eleven official languages in South Africa and Afrikaans wasn't widely spoken in the black community. It was just another way to ensure white supremacy. School children revolted. It was during a standoff between police and children in Soweto, that a 12 year old boy called Hector Peterson was shot and killed. Riots flared and Soweto became the heart of apartheid resistance.
The museum is very moving and we were genuinely captivated. I think we read every word in that building. If you are coming to visit Soweto, make sure this is on your bucket list. Most Soweto townships tours will visit this.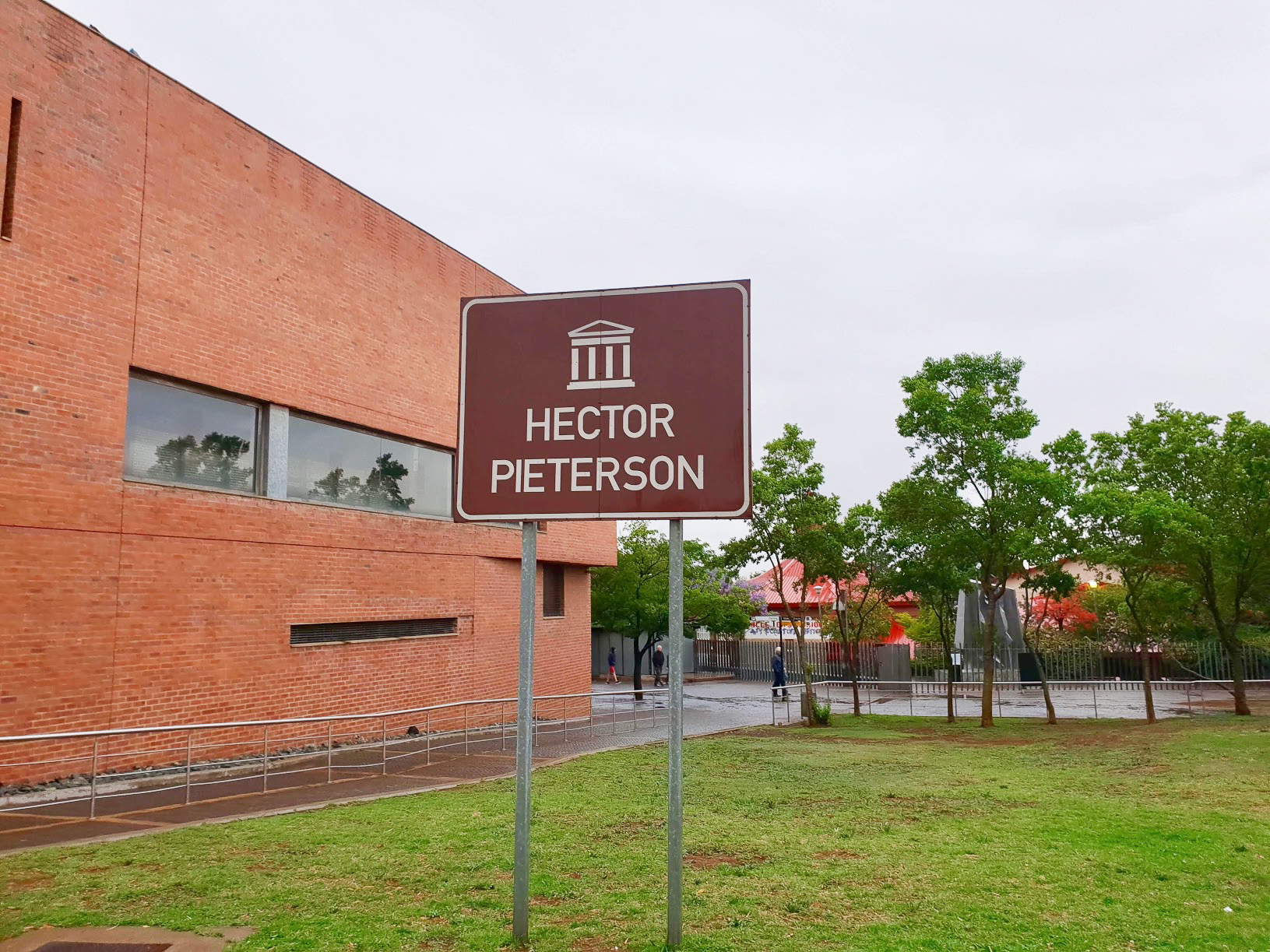 MoAfrika Tours
Soweto has a reputation, there are no two ways about it. We were a tiny bit nervous about visiting but jumping aboard our MoAfrika Tours minibus, we were very quickly put at ease. In fact, we were sad that we weren't staying there for longer. The van is air-conditioned (not that we needed it on our day tour) so you could happily cruise around all day. They actually do have a whole day township tour where you get to stop for lunch. I would love to try that one too!
Looking for somewhere to stay? Check out A Bed in Johannesburg – The Michelangelo Hotel Review
Final Thoughts
Soweto is an incredibly inspiring place to visit. It is amazing to see how much it has changed in the past twenty years. Yes, it is weirdly trendy. Sure, it is becoming awfully middle class. Undoubtedly, it is still super diverse. Who needs the reasons above? Soweto is just worth seeing so book that Soweto tour!
Rosie xx