Oh the joy of having friends who live abroad. OK, so you don't get to see them that often, but it means that you get to visit them. Back in 2008 we had the chance to visit our friend Phil in the south of France, and so I can write this Aix-en-Provence travel blog. It is not "the best of Aix-en-Provence" but more a couple of highlights and a sense of time and place.
Arriving in Aix-en-Provence
Marseilles Provence airport, Marseilles and Aix-en-Provence form a triangle on the map. The airport is roughly 25km from each of the towns. It has been cited as one of those mislabelled small airports that low cost airlines use, named after big cities, but it was perfect for our to visit Aix-en-Provence. When we arrived at the airport we jumped on a bus from just outside the terminal which took just under half an hour to reach its destination. Two of our friends, Phil and Abi were living and working in Aix-en-Provence, and Phil was putting us up for a couple of nights.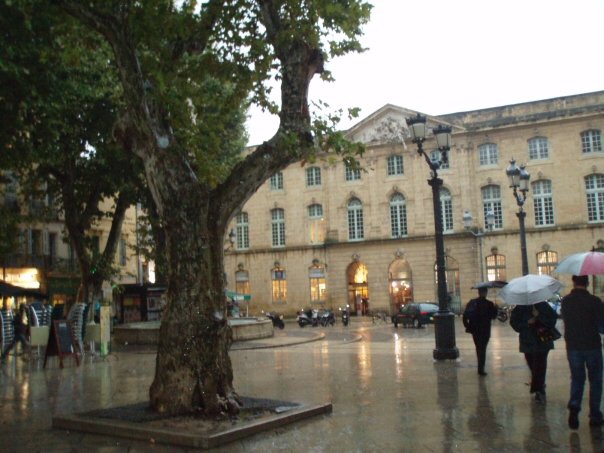 We arrived in the main square to an absolute deluge of rain. We were wildly under prepared but Phil, sensible chap that he is, had brought his umbrella and donated it to us, so Mr Fluskey and I huddled under it as we climbed the hill towards his flat.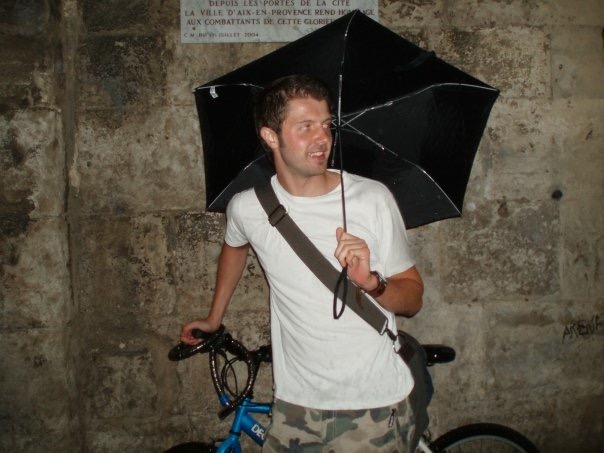 The Town
Aix-en-Provence is a wonderfully compact slice of French perfection dans le sud-est de la France, (oh that GCSE has NOT gone to waste!) It is just the kind of place I had imagined when I read Chocolat. There is an outdoor market piled high with fresh produce. We visited on our first morning and I marvelled at the French people shopping fresh and local.

In the UK it would have been a farmer's market with half of the stalls preparing hot meals and the other half way over priced and "artisan". We watched as a grande Madame inquired about the price of some vegetables. She didn't like the answer. "Oo la la!" she cried and plonked them back down with a haughty flounce. It was all we could do to contain ourselves.
The Food
We were invited to eat dinner a couple of times at Phil and Abi's friend's houses. These evenings went by in a blur of great company and great food. I must have chomped my way through at least three feet of baguette and four wheels of brie, topped with litres of tapenade and washed down with lashings of white wine. If this was the way they lived, it is a wonder anyone can still fit into a size eight. My bulging belly ached in glorious agony. I now understood why Phil used his bike to get around the hilly town.
The Museum
I couldn't write an Aix-en-Provence travel blog and fail to mention the museum. Aix-en-Provence is a meandering place, a place to sit in street cafes and people watch. It is a place to soak in slowly, like a luxurious bath. It is not packed with must see attractions. We decided to take a punt on the diminutive Natural History Museum. Aix-en-Provence being in France, all the signs were in French. Now we should have expected that, but speaking English as a tourist is so common that we often forget that the whole world isn't set up for our reading pleasure. The exhibits went from the dull (rocks) to the terrifying (taxidermy). Stuffed animals that looked as if they had been possessed leered at us from their dusty displays. We didn't manage more than an hour.
The museum is moving to a new site, and I'm sure they are taking the chance to revamp it. It is closed for the whole of 2017 except for special children's events.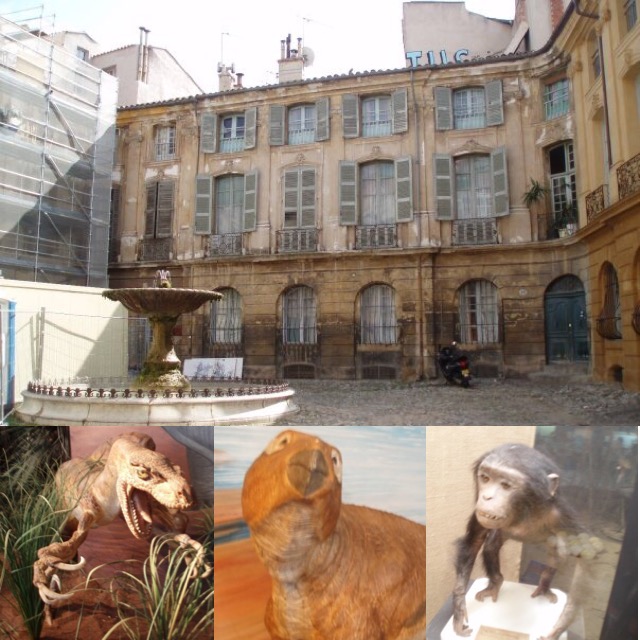 The Beer
Realising that our greatest chance of having a lovely time was just to settle into Aix-en-Provence life, we went for a drink with our friends. Abi convinced me to try a demi-peche. It is a highball glass of lager with a huge glug of peach puree. The drink had a very pleasing golden hue and I decided to approach it with an open mind. Now, I have tried easing myself in with a fruit beer a few times, we had kinder-bier in Berlin (read about it in Berlin – Bikes, Barricades and Beers), but after the first taste of fruit, it all gets a bit…well…beery. My demi-peche was the closest I'd ever come to enjoying a beer. Lots of fresh peach seemed to do the trick. I may have had to wash it down with a few large glasses of white wine though.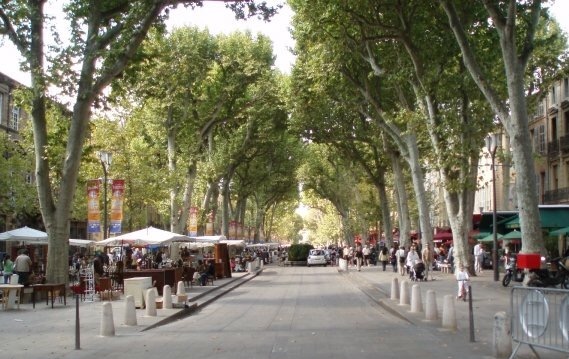 Why not read about our day trip to Marseilles from Aix-en-Provence. For now, I shall bid you a hiccuping adieu.
Rosie xx