Philadephia, in USA's Pennsylvania, is chock full of history and is famous worldwide for its cheesesteaks. Turns out there is so much to do in Philadelphia! Somehow, we had never hopped on a bus from our many visits to New York to explore. With a friend's wedding a short drive away in Maryland, we decided to see what we were missing and spent two nights at Apple Hostels of Philadelphia.
Location
Hidden along a small road between Market Street and Chestnut street, Apple Hostels of Philadelphia occupies an excellent location for exploring the main tourist area of Philly. You can reach a well-reviewed cheesesteak shop by walking just one minute (Campo's Philly Cheesesteak) and within just five minutes you'll be at Independence National Historical Park.
Check In
We arrived too early for check-in and made use of the free luggage room before heading out for a spot of sightseeing. After an afternoon of scary, old prison fun, we arrived back at Apple Hostels and could check-in. We produced our ID and in return, we were handed bedding and towels. Backpacks hoisted back on our shoulders, we made for the doors that led upstairs.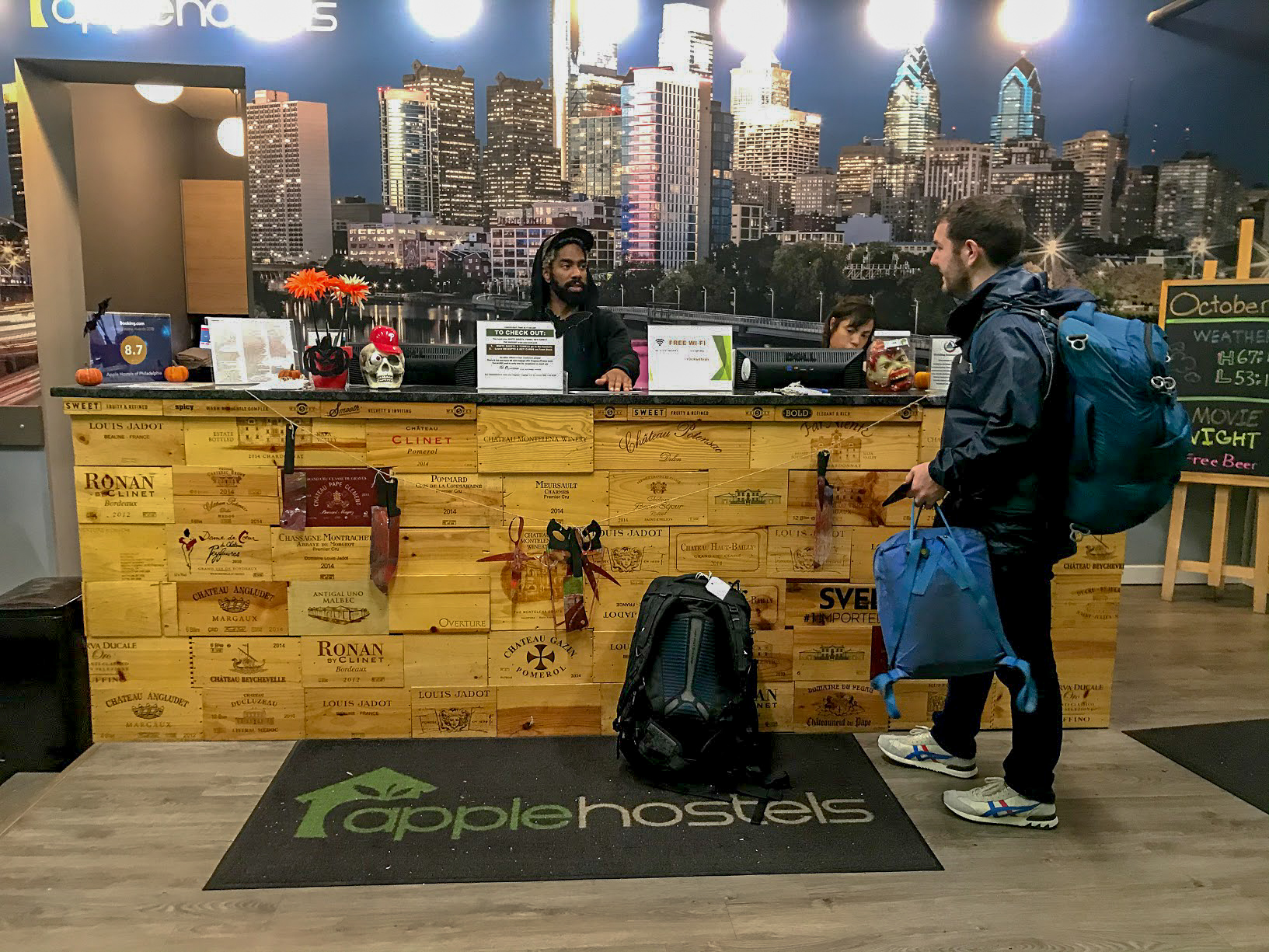 A look Around the Property
The Stairs
Now I know we don't normally write a section about stairs but to things about these made them rather cool. There was a definite pride in Philly about their connection to Rocky movies. Every day hundreds of tourists run up the stair of the art museum and punch the air just like that infamous boxer did at the end of his montage. These stairs celebrate it in two ways:
The Rocky montage music  (Gonna Fly No_ is played at the bottom of the stairs. It is not often you'll find me jogging u three flights of stairs but this was oddly motivating. I must be embarrassingly influenced by pop culture.
Continuing the Rocky theme, each floor is marked by the corresponding movie poster. We were up on the fourth floor so our Rocky was the most financially successful movie, probably because Rocky patriotically defeating a soviet rival was perfect film fodder in 1985.
Our Bedroom
I was shocked at how big our room was. You could have a fit a decent sized dorm in there but it was designed for a family of four. It was dominated by a large double bed and a huge industrial contraption. It looked like a giant sewing machine to me but I am well aware it was something a bit more hardcore than that. A winch of some kind? It is beyond me how they got it up the stairs. I'm not sure that the Rocky music was THAT motivational.
The floor was a little dusty but only if I am being super fussy. I was still happy to plonk my bag down and sit on the floor to pack/unpack or to do my hair and makeup.
Electricals
The room was full of plugs which always makes us very happy. There are just so many things to plug in and charge now!
We had an air conditioning unit but it turned out that the remote control was down at reception and so we had to walk down to ask them for help. As autumn was drawing in, we asked for it to be turned off.
Bathrooms
This was not an en suite room so the bathroom is further down the review.
As the bedroom was opposite the male bathroom, there was an amount of door slamming to contend with. There was a closer to help but it was still quite loud at 3am!
Our Bed
The main bed in the room was a large, creaky double. In the corner was a set of bunk beds but we stuck to the grown-up one. We had to finish making the bed with the linen given to us at reception. Having stayed at hostels before, we didn't mind this but it is something to near in mind if you are looking for a more hotel-like experience. The mattress was quite comfortable, but it did sink into the middle a bit.
The Bathrooms
Mr Fluskey was lucky as on the fourth floor there were solely male bathrooms. This meant he could dash across the hall. Being a lady, I had to go down a floor to pop to the loo or shower. There were two female bathrooms on the floor below that as well.
The bathrooms were in great condition. Very clean, large and with a nice big mirror in. I particularly enjoyed the piping of radio into the loos. I let the morning rush go before I had a shower and even after the onslaught they were fresh. Impressive!
The Kitchen
Downstairs, on the ground floor, the kitchen was big and seemed well stocked but we didn't use it for cooking. I was dubious about putting my giant cheesecake slice in the fridge overnight but joyfully, it was still there when I wanted to devour it for breakfast.
As well as ovens. hobs and coffee machines, there were a couple of vending machines. I tried to buy a Pepsi but it got stuck en route. It was retrieved very quickly by someone from reception which I really appreciated. These things are all too often met with a shrug and a passing of the buck.
The kitchen on the other side of the hostel was much smaller but this lovely lady said she had everything she needed to cook breakfast.
The Common Room
Also on the ground floor was the communal space. It was full of seating areas and seemed like a cool cafe, with plenty of people tapping away on their laptops. Here you will find sofas and musical instruments for a jam session.
Over the speakers, a German radio played a blend of rock and pop. We were a little confused about this until we got into a taxi with a local station. That was about 80% adverts, and so with this in mind, Random Deutsche FM is a wise choice.
The common room was full later in the evening with groups of friends indulging in a few drinking games and games of pool but it never got too boisterous and couldn't be heard in the bedrooms.
The common room on the other side of the road was a little smaller and much quieter. It had both a table football set up and darts. There was also a computer for printing out those pesky flight/coach tickets.
Socials
To increase the communal feeling at this hostel (something that is dwindling in so many hostels) they run a few events every week. I was a little heartbroken when I forgot it was pasta night during our stay. We went for a Philly cheesesteak and so we missed both my favourite comfort food, and meeting new people.
On other nights, you can also see join a movie night, a pub crawl, a ghost tour and even a cheese and wine night. So fancy!
Information
If you are thinking of booking a room at Apple Hostels, here is some information you might like to know:
For those catching the Megabus into Philadelphia, the stop for Market Street is just ten minutes from the hostel.
If you are coming from the airport, a taxi should take 15 -20 minutes.
You need to be from out of town to stay here.
As the hostel expanded, they spread over two sides of Bank Street. Google will take you the older building but the reception is now on newer side.
WiFi is available in all rooms and the common areas on both sides of the road. It was fast and reliable.
Dont just take our word for it, check out some more reviews of Apple Hostels of Philadelphia on Tripadvisor.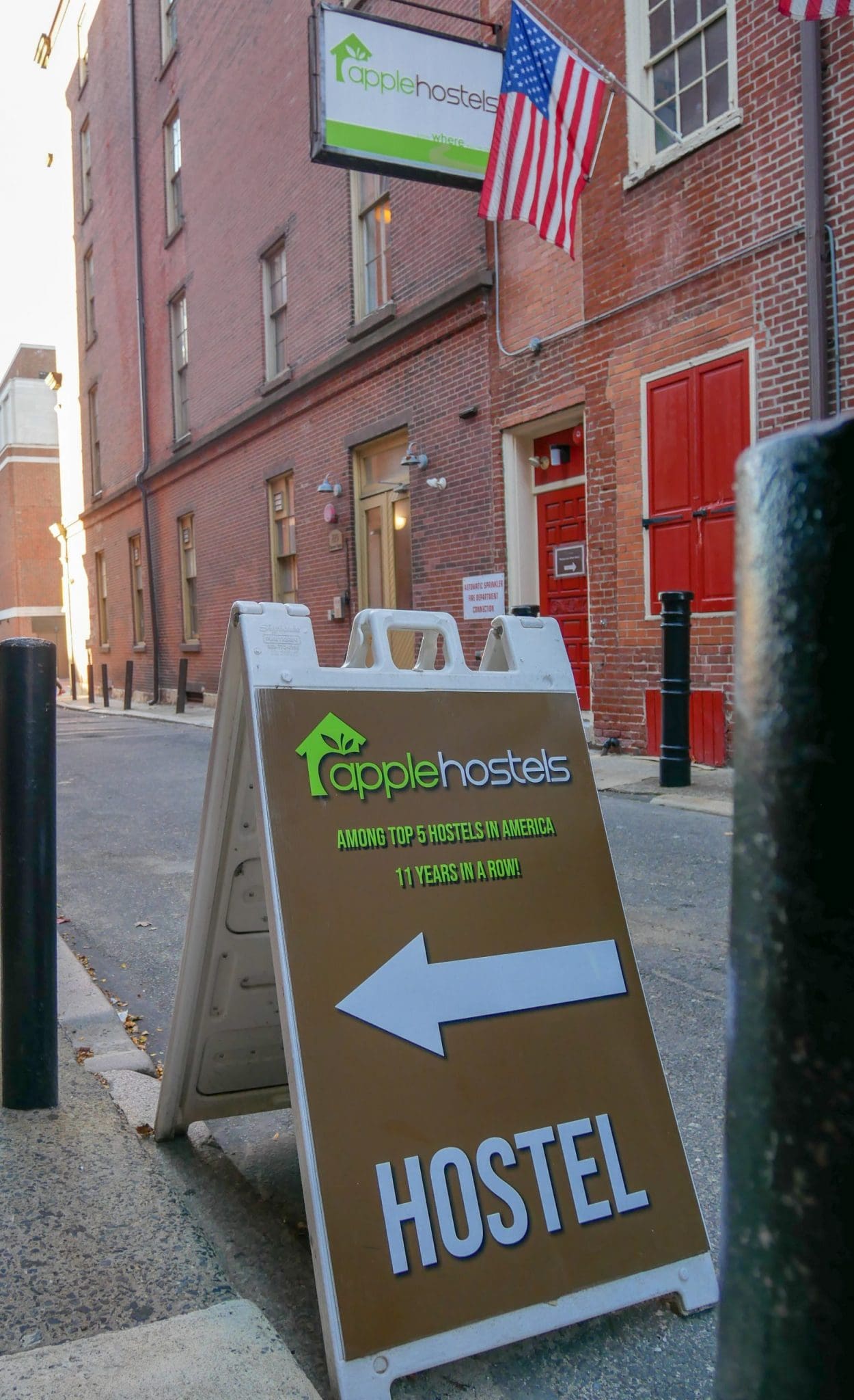 Travelling around the USA? Check out our other USA articles
Final Thoughts on Apple Hostels of Philadelphia 
Apple Hostels of Philadelphia is a hostel in the old-fashioned sense of the word. You are going to make your own bed, you are going to share a bathroom BUT you may also meet some great new people, and you are DEFINITELY going to have best value room within a three-mile radius! For those after a more hotel-like stay, this may not be for you but we had a great stay as it suited us down to the ground.
Rosie xx