We were about to take the bus from Vientiane to Hanoi overnight, as part of our five-month trip around Asia. In Vang Vieng, we had been tubing and watching TV. Whilst in the capital, Vientiane we had been soaking up the culture and wandering the street markets. We join our heroes as they climb aboard their worst travel experience to date, "the journey from hell".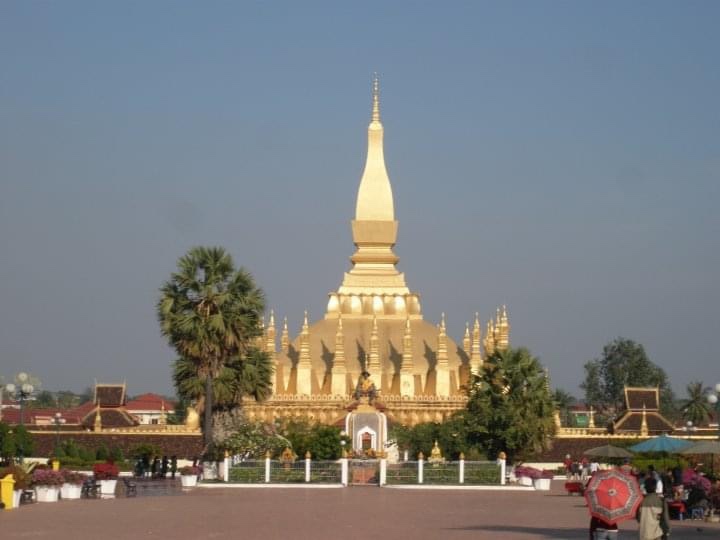 We lost a lot of photos of our travelling due to a corrupted camera SD card. You'll just have to imagine a larger selection of accompanying snaps.
The Previous Day
Sat in the booking office, a small debate was taking place. Should we wait two days for the more expensive sleeper bus with proper bunks, or bite the bullet and jump on the cheaper version now?
Things to be considered:
– There is not a lot to do in Vientiane
– The buses so far have been pretty good
Fine, the ticket was booked and we prepared to leave for Vietnam.
Read more about Vientiane here
The Present
We stood in the bus-station-come-car-park looking confused. Staff and locals had pointed to various buses and our fellow passengers didn't seem that bothered about helping us. Through the gathered passenger, I spotted another pair of travellers and had to do a comedic triple take. That guy with the guitar was Alan, my friend's teenage boyfriend whose parents lived just down the road from mine in Brighton.
"Sometimes the world is just too small", I thought. Turns out, the more friendly faces on this journey, the better.
We were finally allowed onto a bus that was sitting, stuffy from the heat of the day, and grabbed a couple of seats at the back
The Bumps
I've never been on the bus ride like that one before or since. The bus was hurtling down tiny, twisting roads at alarmingly high speed. These roads weren't just potholed, they were similar to the surface of the moon; craters and all. You would have thought that at this speed we would fly right over the holes, but no, the wheels found their way into every single one.
I spent the first four hours of the journey suspended above my seat, crashing back down every so often with a painful slap. What was the worse, my seat was broken so the cushion and lower section flew into the air, never to land in the metal frame as it should. Thus, I kept sliding off into oblivion.
I did attempt to curl up in the foot-well and sleep there but the bumps were brutal, and it seemed that the engine was directly below us. The roar of the engine aside, the metal areas were hot enough to slowly burn me.
Terror, discomfort and the anti-gravity effect ensured we got no sleep all night.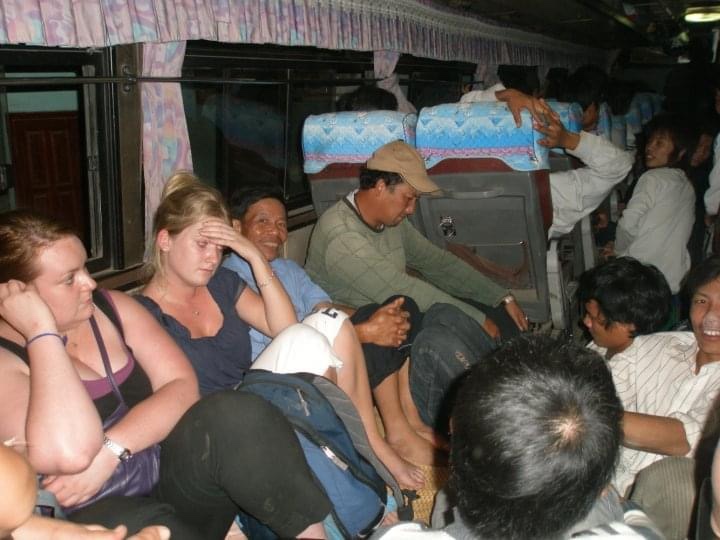 Th

e Respite
The bus slowed to a stop somewhere around 4 am and suddenly there was a flurry of activity. Several people dashed off the bus and those passengers that remained quickly flung themselves across the spare seats. One enterprising chap even strung a hammock across the aisle.
It took our addled brains far too long to realise that we were at the border crossing, the bus couldn't continue until it opened later that morning and the building to our right was a cheap hotel or dosshouse. To be honest, at this point we were all physically battered and mentally broken so we just sat upright in our crowded back row and prayed for a nap.
The Border
Unlike the backpacker buses we had in encountered up to this point on the trip, this bus was clearly for locals. As such, nobody fancied trying to guide, help or advise the clueless tourists.
We had to get off the bus and walk between the two sides of the border, across five minutes of concrete no man's land. They told us to leave our bags on the bus for this walk.
"Cool", we thought. "That makes life a bit easier"
On the Vietnamese side, the guards were stony-faced and seemed disapproving of the dusty, puffy-eyed, wild-haired Westerners in front of them.
Our hand luggage was scanned through a large x-ray machine and then we waited for a bus on the other side of the road. I honestly can't remember how we realised, but all of a sudden we were wildly gesticulating towards our bags, begging to be allowed back across the border to get them. They had been left on the side of the road in no mans land, waiting for us to pick them up and send them through the x-ray machine. No one had told us that this was going to happen.
The guards acquiesced with a curt nod and we hastened to gather our belongings, go through the X-ray rigmarole all over again and then run for our lives as the bus threatened to pull away again.
Back on the Bus
How blissfully bump-free Vietnamese roads were. With the sun streaming in through the windows, the scenery now visible and the seats staying reasonably still, this new day felt like it was going to be better…but as you can see, this post is only half over.
Liquid Lunch
The bus arrived at a road stop and it was time for some food. I ordered some phở, well, cheap ramen noodles, and a can of Coke. We didn't have long so we ate and drank in a matter of minutes before jumping back on board.
20 minutes later, the bus stopped again. Curious? It seems that this was as far as it would go and yet again, everyone else seemed to know what to do, leaving us struggling along behind.
The group was divided and we were pointed to a small coach. There was no luggage rack on top and as we looked down the bus we could see that there were no seats either. Someone put down a small flip seat that stretches across the aisle. It was barely padded and had no armrests. As a single traveller it would have been pretty uncomfortable, but in order to fit the whole group onto this mini coach, Mr Fluskey and I had to share said flip seat between us. Our backpacks had to go beneath our legs and there was another flip seat almost directly in front of us. It was unbelievably cramped, unbelievably uncomfortable and we both had numb bottoms within minutes.
Phong Ve Sing (Fong Ve Sin)
Two hours into this new form of cruel and unusual punishment, and another problem presented itself. The phở and Coca-Cola had settled into my bladder and I wasn't the only one. Most people surrounding us needed a bathroom. We called forward to the driver to ask for a toilet, a call which he resolutely ignored.
We left it for a few minutes but then tried again, and again.
Nothing.
Okay, Plan B.
We dug out our guidebook and looked up the words for toilet and please. Again we called out but this time in the local lingo, "toilet please, toilet please."
Nothing.
I was worried that with the tonal language we may be saying something else by mistake, but finally, a fellow passenger jumped in to help and ensure we were pronouncing it correctly.
Still nothing. Yet more passengers joined in.
NOTHING!!!!
Our driver left the entire bus dying for a wee for hours. Almost 8 full hours! Lord knows what would've happened if someone needed to poop!?
When we finally came to a stop the toilet was a squalid squat affair that hadn't seen the loving touch of cleaning products or possibly even water, for a very long time indeed. You'd have to be desperate to use it, but I was, and it was sweet, sweet relief.
The Villain on the bus
That's got to be it right?
Sadly not.
Back on our hell bus from Vientiane to Hanoi, with new bits of our bums going numb, we stopped on the side of the motorway to pick up two new passengers. They crammed in at the front.
About an hour later, we stopped again. Now, it's very normal for people to wear face masks in Southeast Asia to protect them from the pollution, especially in Vietnam where everyone's on a motorbike. However, this new guy is wearing a scary black version and he looks genuinely like a film villain.
This man started shouting at a female passenger sitting in one of the front seats. We think he wanted her to give it up and she didn't want to. To my absolute disgust, this guy used two handles to lift himself into the air and kick her! Honestly, this was a level of violence I can't fathom. What the hell was going on? Stuck in our seats, it was like being in a nightmare. We couldn't move or help. We just had to watch as he began to threaten yet another male passenger. They began to argue intensely but thankfully other people helped deescalate the situation. The two angry men were dropped off at the side of the road. Presumably, they were going to fight it out there?
Hanoi At Last
Eventually, after 26 gruelling hours, we arrived on the bus from Vientiane to Hanoi, and we practically dived off. With two hours of sleep and bottoms that had been thwacked, burnt and denied blood supply, we stumbled into a city full of mopeds and noise like zombies. It was important to get to bed and wake up in the morning to start our Vietnamese adventure with fresh eyes.
Final Thoughts
I guess these awful things make good stories, and it taught us a lesson or three about just booking the cheapest tickets. But I wouldn't recommend it to anyone.
If you are planning to take the bus from Vientiane to Hanoi, just, for goodness sake, wait for the sleeper!
Rosie xx