London is a special city…but then I have lived here for sixteen years so I may be biased. After such a long in the city, it could be easy to think that I have seen the river and all it has to offer. However, taking a dinner cruise with City Cruises proved me wrong. To find out what made it so special, read on for our full City Cruises London review.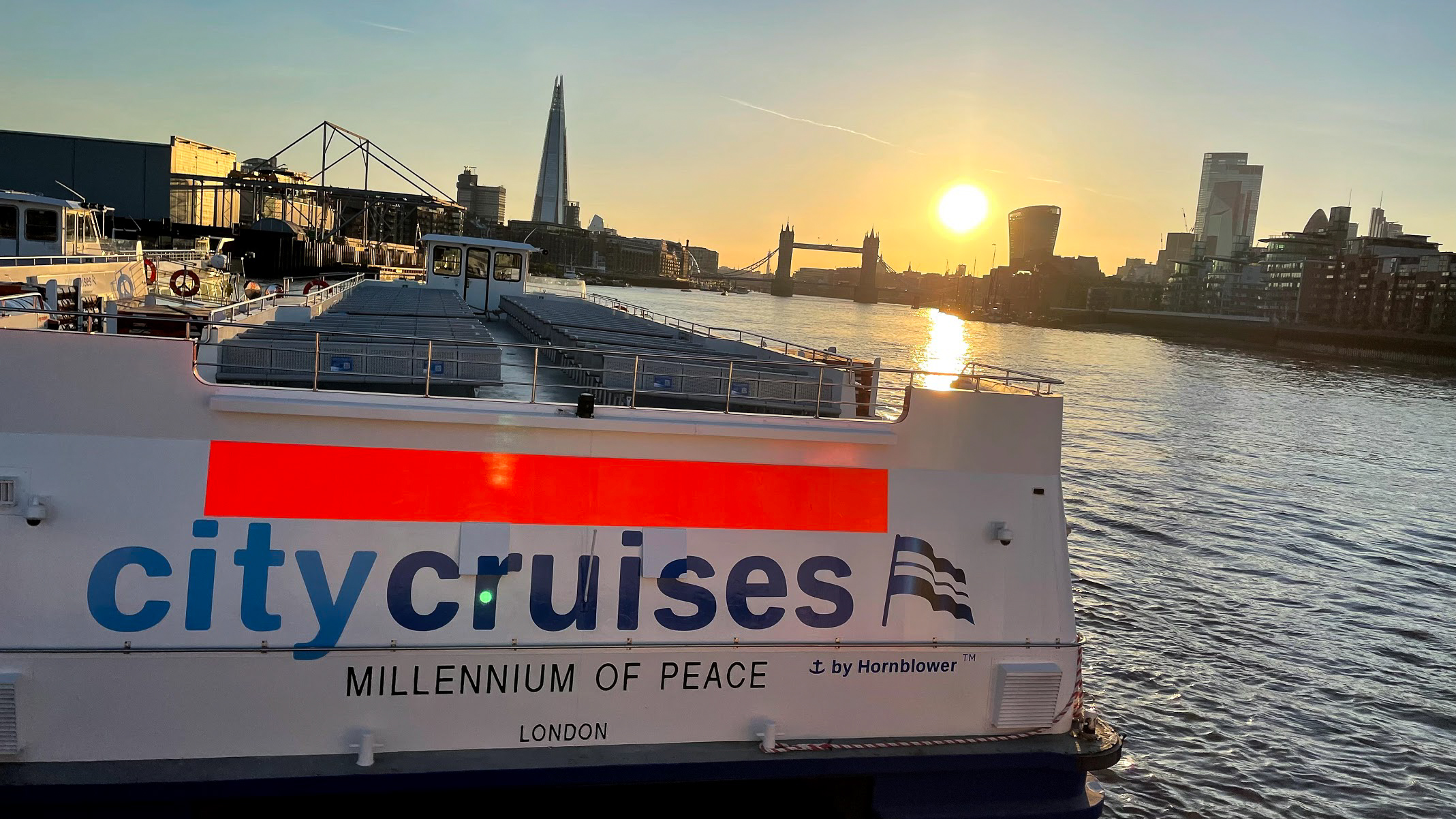 ---
We were guests of City Cruises but all opinions are entirely our own.
Westminster Pier
For the London Dinner Cruise, the boat departs from the Westminster Pier. This floating pontoon is right by Westminster Bridge, Big Ben, Westminster Abbey and the Houses of Parliament meaning you can do a spot of sightseeing before even embarking. We were in the area far too early so we went and relaxed in nearby St James' Park. It was a swift 12 minute walk back to the river, ready for our cruise at 19:30. All guests are asked to arrive at 19:30 and it is very important to arrive on time. The boat pushes back at 19:45 and if you miss it, there isn't a chance to hop on.
On arrival, we were shown to a queue which moved forward quickly as the boat pulled in. Each group of guests was welcomed, checked off and shown to their spot with a welcome drink. We were incredibly excited to find out that we had front row seats which meant great views. Being visually impaired, sitting close to the action is so important to me!
Central London Part 1
The boat pulled away from the pier, under Westminster Bridge which we thought was a little curious. However, it soon made a U-turn and began to sail back east, through Central London.
Upstairs, we snapped photos galore but got totally distracted as the boat passed smoothly past our favourite London landmarks. I have enjoyed many a stroll along South Bank since I was a child so it was very cool to see the buildings from a different perspective.
Visiting London? Check out our ideas for 101 Things to Do London
Karl poked his head over the side and saw that those below were already eating so we dashed down for our starters.
The Starters
After ordering a couple more drinks (a rum for Karl, and a kir royale for me), we were served with our first course. Now, I am a pushover when it comes to all things smoked salmon but this was particularly good. It had all the flavours that mix so beautifully with salmon, the dill, lemon and prawn but they had obviously thought about texture too. The salad was crunchy, the prawns meaty and I loved the little bits of salmon on top too. It was my perfect fish starter…and not a drop of marine rose sauce to be seen!
We then had a nice bowl of simple soup. We had demolished the first lot of bread brought to us, completely forgetting about the soup course, but luckily they served it with a choice of rolls. It is a testament to the steady boat captain that I didn't end up with any soup on my dress!
As we sipped on our beverages and chomped on the starts, we continued to sightsee. Golden Hour was setting in and the sun bathed everything in a warm, glittering light. If you are serious about using this as a photo cruise, stay upstairs until you pass under Tower Bridge so you don't end up with little reflections in your photos.
What it is Like On Board City Cruises?
The City Cruises boats are incredibly stable. At the water level, you feel like you are floating across the water. The decor is a little 1990s, like a business hotel lobby but who is there to look inside? What made it special was the performer. He sang and played guitar over three sets, covering modern easy listening favourites. At the end of the night, he got a big cheer. I wonder if people are normally allowed to get up and dance in non-covid times?
Upstairs, the seats are simple and designed for big groups of tourists to take in the views en masse. We never sat up here but just ran around for photos. The boat holds far fewer people for dinner so there was plenty of room for everyone to get their angles.
The Main Course
The main course was a game of two halves. I could have eaten the entire oven dish of dauphinoise. It was a creamy, garlic-laden delight. The sauce was sweet and sharp with tomato and red wine, and heady with thyme. The crispy parma ham was a lovely addition. However, the cute carrot flowers were a bit overcooked and my chicken breast was quite dry in the middle. I didn't end up finishing it.
What a Sunset
After speeding quite quickly through the curve f the Thames that runs between Westminster Bridge and Tower Bridge, the boat pulled over in a City Cruises docking area. We were a bit confused, wondering if that was as far as it went, but enjoying the time to finish our main course without having to rush upstairs for photos.
As we finished eating, the colours outside had gone from blue and bright to pure gold. We popped upstairs and we greeted by a stunning skyline. We took a thousand photos until the boat pulled out and started to speed eastwards once again.
East London Hightlights
Between Tower Bridge and the O2 in North Greenwich, the boat passed some famous spots. Sadly, we missed the infamous pub, The Prospect of Whitby on our left hand side in Wapping We were just too distracted by the sun. However, as we passed through Bermondsey, Limehouse and Rotherhithe everyone's attention was captivated by Canary Wharf. The Docklands was regenerated in the 1980s when river trade died off. Along the waterfront, a cluster of tall, very shiny skyscrapers now dominates the area.
From the new to the old, just around the corner is Greenwich. From afar, one can see the masts of the venerable ship, Cutty Sark. The tea clipper
The Dessert
Oh dessert,. When it arrived, it looked pretty but its simple appearance belied its perfect chocolate hit! I took a bite and was instantly sad that it wasn't ten times the size. The blend of the three chocolate mousses was bang on to ensure it was creamy, not too bitter and not too sweet. The raspberry sauce gave it a fun, fruity punch every so often and at home, we'd have licked the plates.
The cake was so good, I considered minesweeping the few that people hadn't touched. I restrained myself….! I settled for the coffee served as a closing number for the meal.
Central London Part 2
Our second pass through Central London was much slower. They took particular care to go through Tower Bridge at a stately pace. The sun was celebrating its last few dying rays, the lights were on and it all made for a rather nice snap. We were all furiously photographing the bridge, the sky and each other.
The eleven bridges over the Thames have been undergoing some work and now all boast a light installation. the overall work is called Illuminated River. Each bridge is different and the LED lights seem to pulse as you pass below each bridge. The lights are on until 2 am so we got to see them in all their glory.
Along the banks, a few building showed off their lights, reflecting boldly on the shifting water. The brightly coloured lights of the London Eye, and the fun rainbow Town Hall welcomed us back to Westminster Pier.
Final Thoughts on our City Cruises London Review
As a London resident, this was an amazing way to see London in a new way. I have walked the Thames from the O2 to Kew Bridge, but how many people cn say that? It opens up sections of the river many haven't seen, and you can see it all whilst enjoying a tasty meal. Taking the trip in summer is definitely the best plan as the chance to see central London by day and by night was special. In winter, the sun would be gone by the time you boarded.
As a visitor to London, any of the City Cruises tours would be a special way to see lots of the city in a short time. It's worth remembering that the classic cruises journeys have a commentary for a little history along the way (great if you don't know London well) but if you just want to relax, combining sightseeing and dinner, then the dinner cruise is a fabulous option. We saw so many different groups of people on board. Romanic nights out, groups of friends having celebrations, families taking in the sights. It just goes to prove that this is for anyone! I mean, I'd happily go again tomorrow!
Rosie xx