The Portuguese island of Madeira is a remarkable place. Great water channels carve their way across the island, known as Levadas, dramatic camel cliffs rise from the blue sea and there is an awful lot of fabulous places to enjoy a tasty meal or delicious drink! So, how do you make the most of a 3 day sojourn? This is your long weekend in Madeira itinerary.
---
Funchal
Madeira's capital, Funchal is located on the south-east of the island giving it an abundance of blue sky and killer sea views. White houses, topped wth terracotta roofs climb their way up the sides of the natural valley. Pretty squares, cute cafes and little lanes make it very pleasant. Being the closest spot to the international airport, and with plenty to keep you occupied, it is the best place to base yourself for a long weekend in Madeira.
DAY ONE
Arrival
Landing at Cristiano Ronaldo International Airport is a thrilling experience. Make sure you get a window seat, preferably on the right-hand side as you look towards the front of the aircraft. As it descends, the plane passes craggy coastline and beautiful blue sea.
Getting into Funchal
Funchal is just 12 miles from the airport so it is easy to hop on the Aerobus into town. This public bus runs roughly once an hour from the front of the terminal. The journey takes between 30-45 minutes depending on your hotel's location. It costs €5 for an adult single, €8 for the return.
If you are travelling in a larger group, it makes sense to catch a taxi, which will work out at around the same price each and take you right to your hotel. The drive is roughly 25 minutes.
Once you are settled into your accommodation, it is time for your first adventure.
Cabo Girao Cliffs and Skywalk Madeira
Just outside of Madeira, you can visit a stunning natural vista. The glass Skywalk sits atop the precipitous cliffs of Cabo Girao. The view is not for the fainthearted as the edge drops away 580m below you. There is no denying that view is breathtaking, even if you don't venture out onto the viewing platform.
Most Rodoeste buses that go west will stop near the viewpoint. The stop is called Cabo Girao. The journey is around 45 minutes and on our visit, we chose to use bus number 7 with no problems.
Dinner – Casal da Penha
Casal da Penha is an excellent location to discover some of Madeira's finest seafood. It is all prepared simply but perfectly, at a surprisingly affordable price. Yes, the menu has some meaty options and a selection of pasta dishes but it is the fish we urge you to enjoy. Look out for these Madeiran specialities both here and across the city:
Black Scabbard Fish (Espada)

– This fish is NOT a looker, it is probably best you don't google it until you've finished. It is a deep sea fish and as such, it has evolved to cope with pressure, not win beauty contests. However, the soft meat is utterly delicious and traditionally served with bananas and a passion fruit sauce. At Casal da Penha, there are many sauces to choose from if a sweet option sounds just too strange.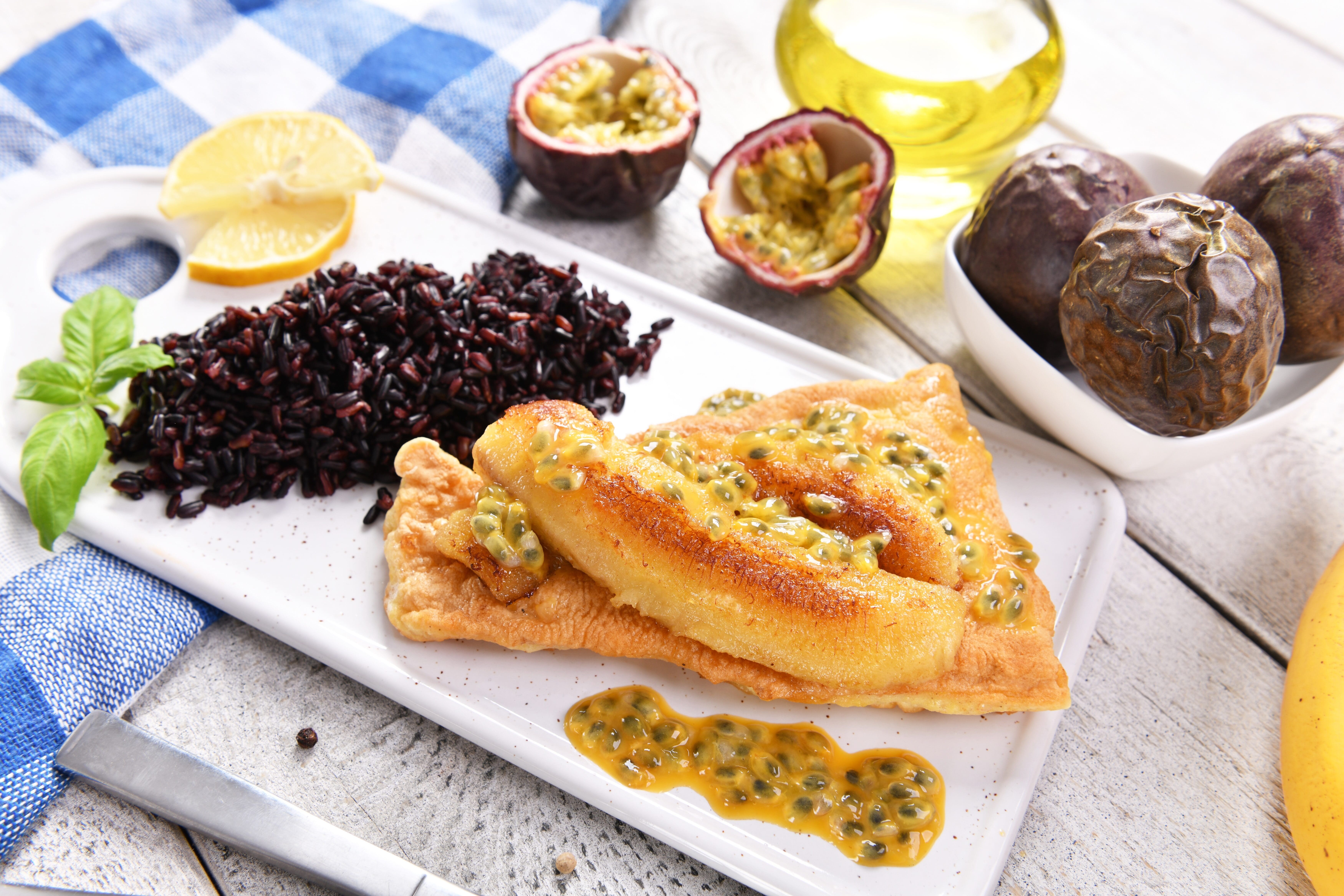 Limpits (Lapas)

– These overly clingy seashells actually contain delicious morsels of meat. Here they are grilled simply as a starter, served in their shells. It makes a fun change from mussels.

Octopus (Povlo)

– The difference between an octopus cooked well, and one cooked badly is the difference between enjoying a scallop and chewing a rubber band. Luckily, Madeira seems to have found the secret to tender, sweet octopus. Order it at Casal da Penha without fear!

Salted Cod (Bacalhau)

– This dish is popular throughout Portugal. Cod is preserved in salt, but desalinated before cooking. It loses most of its salty taste but stays preseasoned (as it were) and has a slightly denser texture than fresh cod. Try it sizzling in olive oil or with plenty to drizzle over.
Oh, and pair your seafood with a glass of

Green Wine (Vinho Verte)

. The aromatic, slightly sparkling zing of the young wine goes wonderfully with fish.
On a cooler winter evening, you can choose to sit inside or out on the patio, but the most pleasurable way to dine is on their roof terrace. This is open May to October. Here, the sea breeze reaches the faces of the guests as they tuck into seafood prepared with skill.
DAY TWO
Saturday Strolling
Take a little time to wander around the town. You could just enjoy getting lost but there are a few things we think you should look out for along your walk.
Start at Town Hall Square. The chequer board stones of the square's floor are a perfect example of this beautiful curiosity of Portuguese pavements. The town hall itself is a mansion from the 1800s with a beautiful arched doorway, the shape echoed above each window.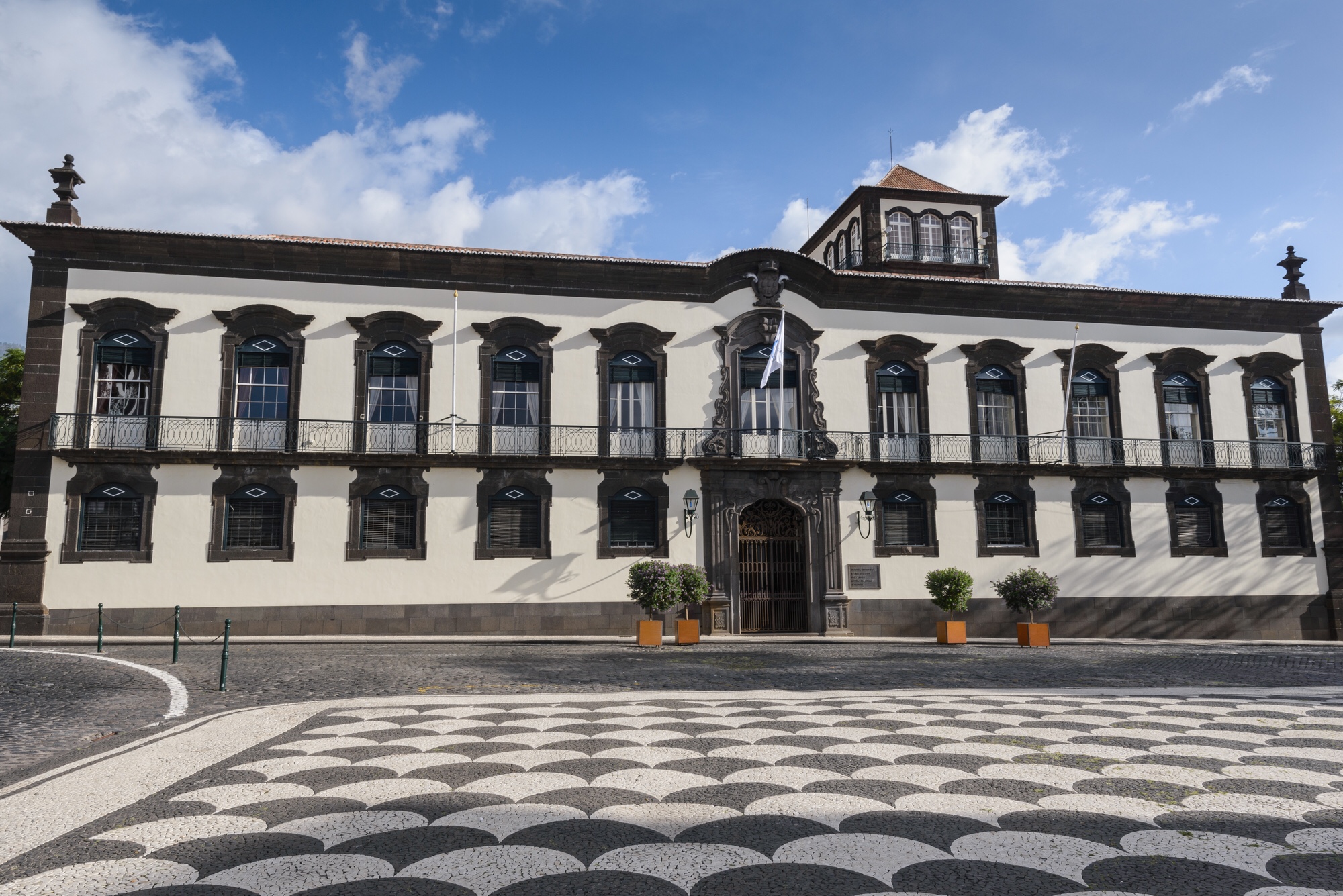 Madeira Cathedral may look modest from the outside, but inside the wooden ceiling is beautiful and paintings and sculptures abound around the alter.
Mercado dos Lavradores is the farmers market at the heart of Funchal. It is absolutely stuffed with fresh produce, allowing you to sample and shop to your heart's content. Look out for the huge variety of Maracujá (passion fruit). Coming from the UK, we are familiar with just one type but here, there is a myriad to try. Watch the prices though, these can be pretty pricy!
Rua de Santa Maria in the Zona Velha (Old Town) is lined with brightly decorated doors. This was a part a project to revitalise this area, bringing an art gallery to the streets. There is street art all over this area but this is the most concentrated and well maintained section. Along this road is an abundance of bars and cafes.
Teleferico Cable Car to Monte
Opened in 2000, this relatively new cable car was constructed to replace an old railway. It is now a great way to see the old town from above.
Along the waterfront, south of Rua de Santa Maria you will find the bottom station. Climb aboard your gondola and ride the 3700m cable up 500m to the suburb of Monte. It takes around 15 minutes and gives ample time for sightseeing, photo snapping and relaxing. Not bad for under €20.
Monte Mooching
Monte is lucky enough to have a rather lovely microclimate so take the time to wander this pretty suburb. Keep an eye out for the lush Municipal Gardens giving both excellent greenery and nice views.
Monte is home to the Church of Nossa Senhora. This church hosts one of Madeira's biggest religious festival every 14th August. Worshippers celebrate with a huge street party full of traditional food stalls, lots of music and flowers everywhere.
Especially fabulous is the Monte Palace Tropical Garden which is in full bloom in spring/summer. It hosts over 100,000 exotic plants, koi ponds, beautiful tile displays and all backed by a beautiful palace.
It is no wonder these gardens are so famous, The island is overtaken by flowers in late May, even hosting a huge flower festival that attracts visitors from all over the world.
Toboggan Time
When you step off the cable car, you are immediately greeted by people dressed like a little like gondoliers in their straw boaters. These deceptively fit chaps known as Carreiros, are the pilots of a rather unique Madeira experience. From Monte, they direct sliding wicker baskets with wooden skis downhill. They are a touch reminiscent of the waltzer. Locally, these are called "carro de cesto".
Originally used as way to transport wealthy locals into town, baskets have been hurtling through these streets for over 100 years. There is no motor just the power of gravity. It can feel scary, the walls along the route seemingly too close for comfort, but they are experts and deliver adventurous tourists to the end of the run safely.
Dinner
Located to the east of the old town, O Tasco is located on a quiet crossroads. It specialises in traditional Madeiran cookery at a very reasonable cost. As well as the seafood mentioned before, on this menu check out:
Meat Skewers (Espetada)

– Beef cubes on a laurel skewer and cooked over wood or charcoal to add maximum smoky flavour. It's the fanciest shish kebab going.

Fried Maize (Milho Frito)

– Served as a side, these deep fried cornmeal treats are similar to polenta fries but the corn gives them a natural sweetness making them a great accompaniment to meat dishes.
A Few Drinks
Madeira Rum House has a staggering selection of rums sourced locally and from around the world. Sit and sip some of your favourites or allow the owner to talk you into new tastes.
This is an excellent spot to try Poncha, an extremely potent sugar cane rum mixed with honey, sugar and citrus juice. It will cure your cold and put hairs on your chest. I guess that is why it is the national drink and a firm favourite of local fisherman.
Vintage 23 is a fun cocktail bar on Rua de Santa Maria. They mix simple cocktails, and more importantly, play a fun playlist of pop hits so you dance the night away.
FugaCidade is all about interesting beer. Somehow this relaxed bar has all the knowledge and variety of craft beer you could want for, with none of the hipster pretension. They even have a few gluten free options, plenty of Portuguese wine and handmade poncha.
DAY THREE
Wildlife Watching
The waters off the coast of are teeming with wonderful wildlife. The very best way to spot dolphins and whales is to take one of the numerous boat tours that sail the waters daily in search of sea life. VMT Madeira does an excellent tour that has excellent spotters, an interesting live commentary and even time for a swim if you are hardcore enough to brave the cold seawater.
To find out more about our day tour spotting whales and dolphins, check out our VMT Madeira review.
Sunday Sips – Blandy's
Forget sea legs, the drinks at Blandy's will really leave you wobbling home. The Blandy family have been producing wine here since 1811, perfecting the famous fortified Madeira wine. Over the last 220 years, the business has expanded and with the purchase of the wine lodges, the Blandy family have cemented their place as premier Madeira producers.
Visitors can take tours of Blandy's Wine Lodge which are conducted in five different languages throughout the day. Tours last around 45 minutes, cost just over €10 and includes a tasting. For twice the cost, you can opt for the vintage tour which enables a taste of their vintage Madeiras…one for the connoisseurs.
Top Tips for Visiting Madeira
1.) There are many hotels located in the western Lido hotel zone but if you only have a short amount of time, we don't recommend staying here. It is a 30-40 minute walk into town. Instead, find an apartment or small hotel in the centre, allowing you walk everywhere and not waste time commuting to and fro.
2.) Madeira has great weather year round, with day time temperatures rarely (if ever) dipping into single digits. However, for the very best trip, consider September and October. The air is warm, and the sea has had time to warm up as well. Plus, the schools have gone back so prices come down and it is less crowded. Spring is another nice time to visit, with the best of the flora, but carnival and the flower festival push prices sky high.
3.) Funchal is incredibly manageable on foot but the hills can be steep, and the pretty monochrome pavements are a touch slippy. Bring shoes that are flat, comfortable and armed with grip!
4.) From the UK, direct flights are operated by British Airways (check out our flight review), Jet2 and easyJet. Alternatively, you could fly with Portugal's national carrier TAP and work in a free stopover in Lisbon.
Final Thoughts on Your Weekend Madeira Itinerary
Madeira lies around 700km off the coast of Morocco, quite a distance from Portugal, but it shares a soul. From the perfectly cooked simple cuisine to the pavement motifs and intricate Azulejo wall tiles you won't forget that it's linked to the country across the waves.
There is easily enough to enjoy across the island to fill a week. Taking a levada walk, enjoying thrilling adventure activities in the air or on the Atlantic ocean, or relaxing by a pool in a resort hotel would all make excellent extensions to this Madeira itinerary! If you do only have this short break, I hope this helps you make the most of your weekend in Madeira.
Rosie xx