When we were invited to visit friends in South Yorkshire, we decided to make the most of our time and add in a little staycation. We wanted something that was most of the way up, surrounded by interesting sights and somewhere we could relax for a day. After researching around Nottinghamshire, we found the perfect spot, Ye Olde Bell Hotel & Spa.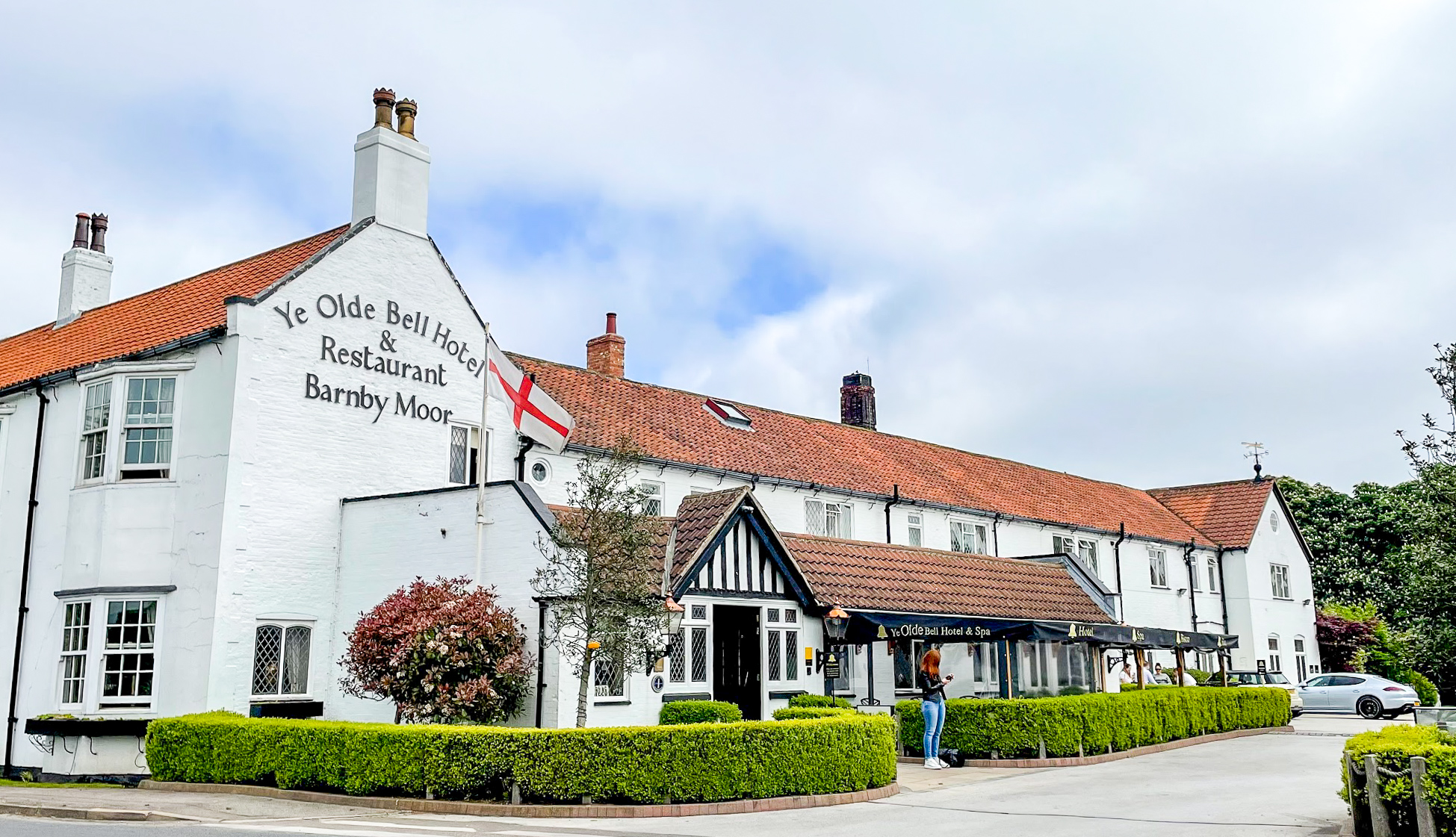 We were guests of Ye Olde Bell Hotel & Spa but all opinions are entirely our own.
A Quick Geeky Moment
Now, let me have a little history geek moment. It is awfully tempting to pronounce the name "Yeeee Oldeeee Bell". However, the letter Y was actually pronounced as "TH" back in the 1600s and the "E" was silent. Therefore, the name is actually just pronounced as "The Old Bell".
Thank you for coming to my TED Talk.
Location
Ye Olde Bell Hotel and Spa sits on the Great North Road, in the village of Barnby Moor. The Great North Road was the main thoroughfare between London and Edinburgh. It started as a farm in the 17th century that took in occasional travellers but as its reputation spread, they built large stables and an inn to host the stagecoaches of tired travellers and the drivers of the new postal service.
Barnby Moor is a small village, even today, and is close to lots of local sights. From here you can reach Nottingham in one hour, Sheffield in 40 minutes, Lincoln in 45 minutes and in 35 minutes. There is lots to see and do if you are using the hotel as a base….or you could just stay here and relax.
A Look Around Ye Olde Bell Hotel
Our Room
Our classic double room was restored beautifully. The decor was simple and traditional. Looking at other rooms, it seems we had one of the most basic on offer, with white walls and no flounces on the bed. There are also rooms with blue or peach walls.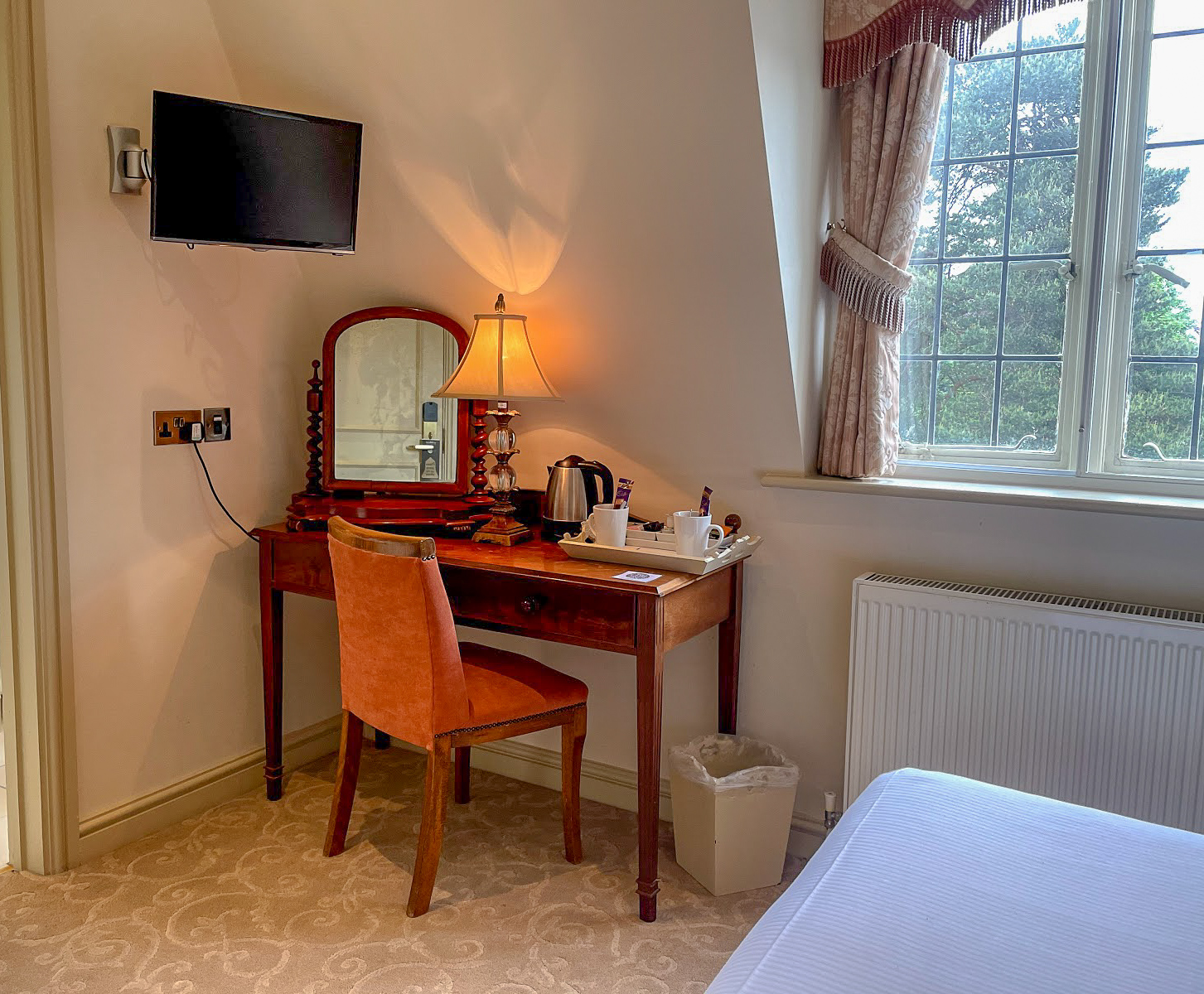 Below the TV, we had a dressing table with an extra lamp on and a nice tea and coffee station. On a cold evening, settling in with a giant hot chocolate would be such a treat.
We loved that we had both the original leaded windows and modern glazed windows across them to stop drafts. When it got warmer in the day, we opened them up and enjoyed the view of the garden.
The bed was big enough for two flailing adults and exceedingly comfortable. We both got two plump pillows but only needed one. On either side of the bed, we had bedside tables and plugs right next to them (oh, how I love bedside plugs).
The Bathroom
The bathroom was quite small, set in a corridor style room but, the clean, airy decor made it feel bigger. Although the room itself wasn't huge, the shower was nice and spacious. Within the room, there was a little table topped with a wooden tray stuffed with toiletries (and a doily). It was a good selection of goodies, including a handy shower cap and yummy body lotion. It was just missing hair conditioner but luckily I had my own.
Other Rooms
Ye Olde Bell Hotel has a wonderful collection of unique suites. The Victoria Suite was named after a rather famous queen that stopped by with her mother. This opulent suite boasts a large, topped with a gold and black canopy, and a separate lounge area for relaxing in. Similarly, the Bowness Suite has a huge four-poster bed in dark wood and rich fabrics. These rooms are all about luxury.
Around the Hotel
Take some time to wander around the corridors of the hotel to get more of a sense of the hotel's history. Somewhere between a museum, an archive and a quirky personal collection, you will find all kinds of curiosities. One table, a vintage telephone sits below cuttings of newspapers and prints of famous paintings from the last 200 years. Did someone say British eccentricity?
In the lobby and guest lounge, you can spot a stuffed bear just across from an old fashioned weighing chair. These visual treats make sitting in this room for a drink, a novel experience.
Elsewhere around the hotel are memories of one of the previous owners. Mr George Clarke owned the hotel from 1800 – 1842 and loved to breed horses. This passion is celebrated in bold style! We loved the colourful mural by Mary Daw.
The Garden
Around the back of the hotel is a perfectly mowed lawn of the garden. This is open to all residents but if there is a wedding happening, these guests have preference. Dotted across the lawn is a smattering of picnic tables with their parasols. Explore further and there is a love seat, a pretty swing and a very instagrammable heart frame to find. You will also discover the wood-fired pizza oven, supplying the restaurants with crispy,-based pizzas.
If you keep walking towards the back of the garden and car park, you will arrive at a public park Here, there is a playground for the children to enjoy.
Dining
Breakfast
At Ye Olde Bell, there are two options for breakfast. You can either have your meal down in the restaurant or if you are feeling lazy/indulgent, take it in your bedroom. Of course, we had to try both.
Breakfast Room
Breakfast is served a la carte, so there is no queuing for the buffet. There is a big English breakfast along with the classic blend of pastries, meats and cheese if you prefer a continental style breakfast. We particularly liked the lighter option section of the menu. Mr Fluskey loved starting the day with American style pancakes and syrup!
I wasn't hungry so I just had some coffee. Mind you, if I was peckish, I would have happily chomped my way through eggs benedict, boiled kippers, egg and soldiers or porridge. I especially loved their omelette listing, "Choose your own filling. If we have it, so can you".
When I ordered my coffee, I was informed that they were brewing up a fresh pot. Excellent news, I thought, but then they forgot that I had placed the order and Mr Fluskey managed to eat his whole breakfast and grab his bag from the room before it was followed up. When it did finally arrive I asked them to throw it in my bottle to take sightseeing as we were due to leave. I must admit, it fuelled me excellently. It was great (if late) coffee.
Our Room
On Sunday morning, we decided to be a little lazier and get our breakfast delivered to the room. The day before we filled out the room service card. Normally guests can just leave them on their door handles overnight and the night porter picks them up, but due to covid, reception asks you to take it down to them instead.
Still in PJs, we eagerly awaited our breakfast. About 09:05, a knock on the door announced the two members of staff holding a silver tray each. As this was an indulgent breakfast, we ordered lots to munch on. We started with a full English each and also asked for pastries and coffee.
Both Mr Fluskey and I asked for the breakfast without mushrooms and we were pleased to see that this was listened to. We also loved the locally sourced sausage! It was delicious and along with everything else, was perfectly cooked. Along with pleasingly crispy pastries, we were very impressed at the offering.
Oh, and how cute are the tiny sauces and jams?!
Lunch
Our waiter looked politely uncomfortable as he struggled to find our name on the lunch bookings. It wasn't there.
"No problem, just take a seat."
Most people had opted to sit outside under the canopy and we fancied a little sunshine so we did the same. We began to look over the menu, deciding on light lunch options. The waiter returned with a relieved demeanour. We were actually booked to have lunch in the spa's restaurant! Oops! Our mistake! We grabbed our swimwear and dashed across the courtyard to the spa building.
To read all about our meal and time in the spa, check out our full review!
Dinner
The fine-dining restaurant at Ye Olde Bell Hotel is called 1650, celebrating the long history of the building. Most of the interior is very traditional, with a grandfather clock and wrought iron cage for the most expensive alcohol bottles. However, one of the rooms is lit with both a chandelier and a colour-changing bar. It would make an excellent event room for the disco at the end of a wedding!
Starter
I was very excited about dessert so opted to just have olives with my predinner drinks. Mr Fluskey, on the other hand was determined to eat as much as possible. He opted for the prawn cocktail to start. This was elevated with the addition of Thai flavours and crayfish tails. I had a little try and regretted my decision not to order my own.
Mains
Any time I see pork belly on a menu, I HAVE to go for it! It is one of those food items that, when done by a professional, is a thing of beauty. When it does by me, it is shoe leather. 160 produced a melt in your mouth piece of pork surrounded by tasty additions and topped with a perfectly shiny sauce.
Mr Fluskey opted for good ol' fish and chips. The chips were fantastic, crispy on the outside and fluffy on the inside (and served on a cute fake newspaper). The fish was excellently moist and flaky with a nice light batter. He was a little bemused that it came with crushed minted peas rather than the mushy peas on the menu but they were far superior to mushy peas so stole some.
Dessert
Having left room, I was so ready for dessert! We decided to order two and share. They were good but not stunning. The plum tarte titin seemed like it had been cheated somehow but I couldn't work it out. It was still delicious though. The posset could have done with less cream and more lemon. I was hoping for a zing but seemed a little heavy with cream but I am totally aware that this is personal preference and we absolutely demolished both of these with gusto!
We meant to finish with a glasses of dessert wine from the genuinely impressive wine list, but totally forgot. ah well….next time!
Overall, the service in Ye Olde Bell's dining options is attentive but can take a little while to get going. We had to wait for a while on each of our meals, but once it started, we couldn't fault it.
The Spa
We were lucky enough to spend a wonderful afternoon in the modern spa, owned by the hotel but in a spereate buiding. It has a very open feeling, in contrast to the traditional feel of the hotel itself.
Final Thoughts on our Ye Olde Bell Hotel & Spa Review
Staying at Ye Olde Bell & Spa, you will be in excellent company. As well as many stagecoach passengers, they have taken in Queen Maude of Denmark, Charlie Chaplin, Bing Crosby, One Direction…and us!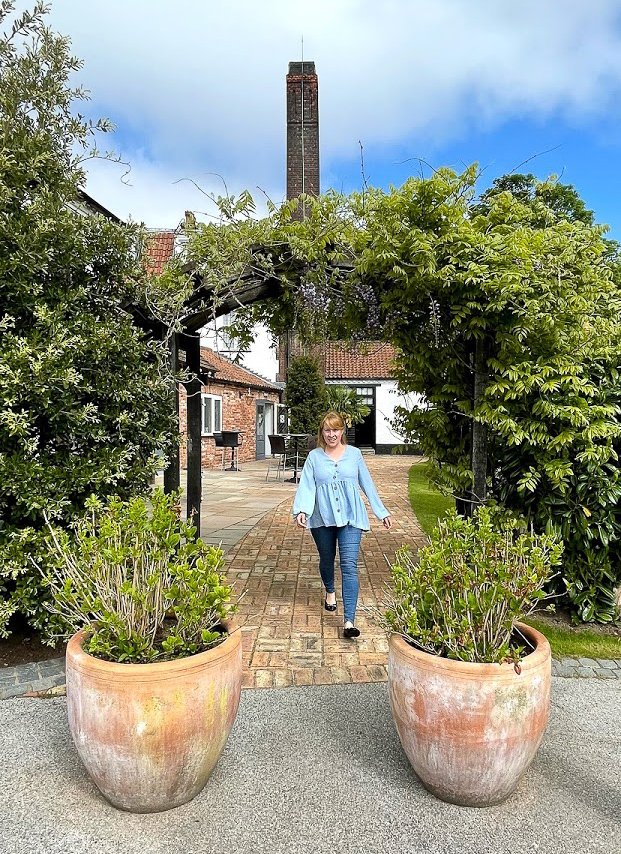 Rosie xx