When you think of winter activities there are few that immediately spring to mind. I bet dog sledding is one of them! That is why it has always been on our bucket list and so dog sledding in Russia was must do for our TransSiberbian travels. After a little research we found out that the best place to try dogsledding in Russia was a small village called Listvyanka and we signed ourselves up to try Lake Baikal dog sledding.
This post was written in collaboration with Real Russia who sponsored us for this excursion.
Lake Baikal
Lake Baikal is a large (very large) freshwater lake in Russia. Here are some quick facts about Lake Baikal:
Lake Baikal is the deepest lake in the world. Maximum depth 1,642m deep
It is the biggest lake in the world by volume.
22% of the World's fresh surface water is here!
It is the world's oldest lake at somewhere between 25,000,000 and 30,000,000 years old.
An adorable species of seal, the Baikal seal, lives here and they are the area's mascot.
Omul, a white fish endemic to Lake Baikal, is a local delicacy. It is usually smoked and is super tasty.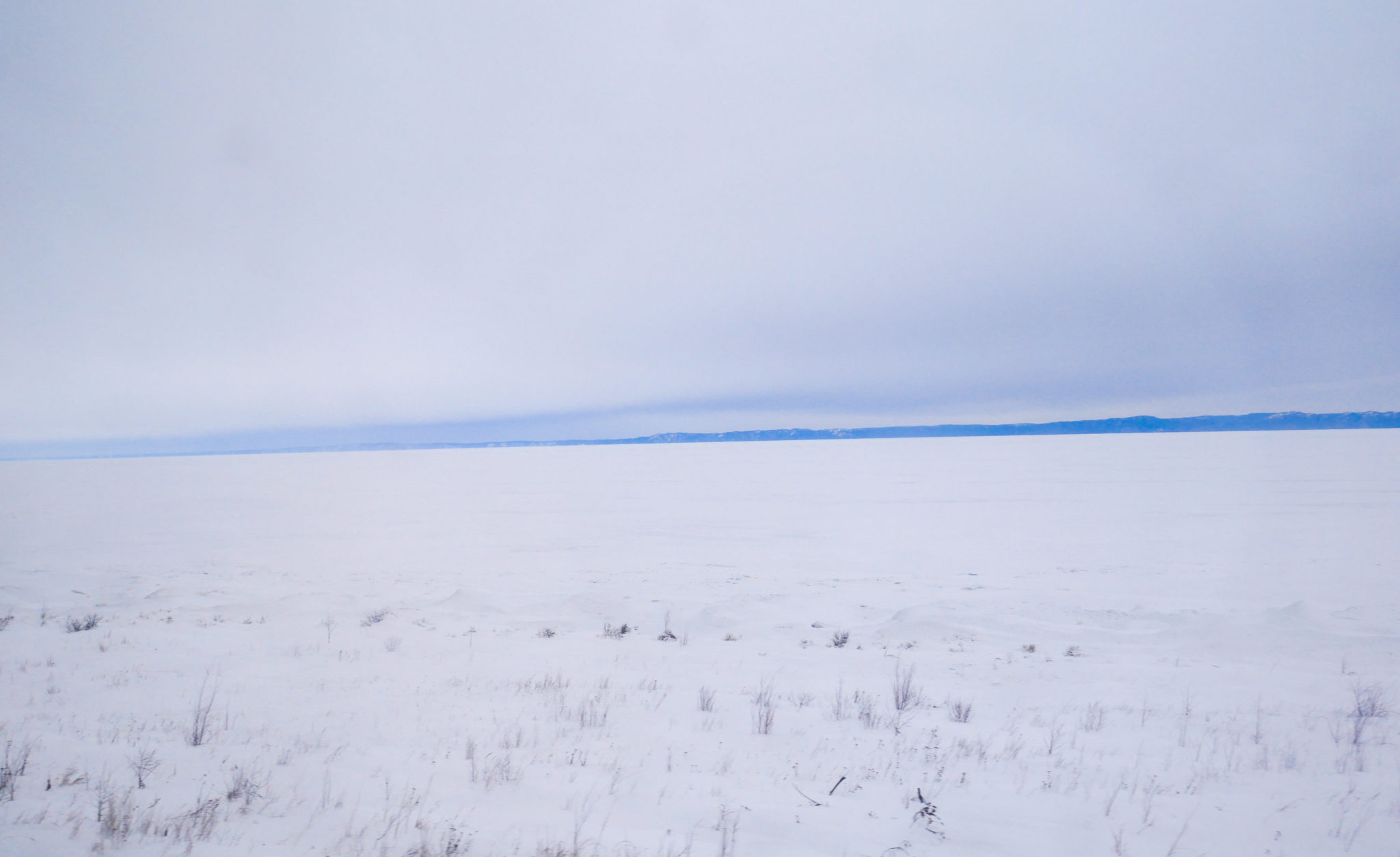 In summer, small towns like Listvyanka that dot the shore are bursting at the seams with tourists. Fishing, swimming, boating and other waterborne activities are incredibly popular, but why on earth would anyone visit during winter?
Why Take a Lake Baikal Winter Tour?
During the coldest winter months, the lake freezes. In huge areas, the ice is so sturdy, that a road is built across the surface every year. At 75cm thick, it can support trucks up to 15 tonnes, and in some places it is up to 1.5m thick. The craziest thing? The ice is so clear that you can still see through it! Venture out on foot and you'll have a fun but unnerving experience.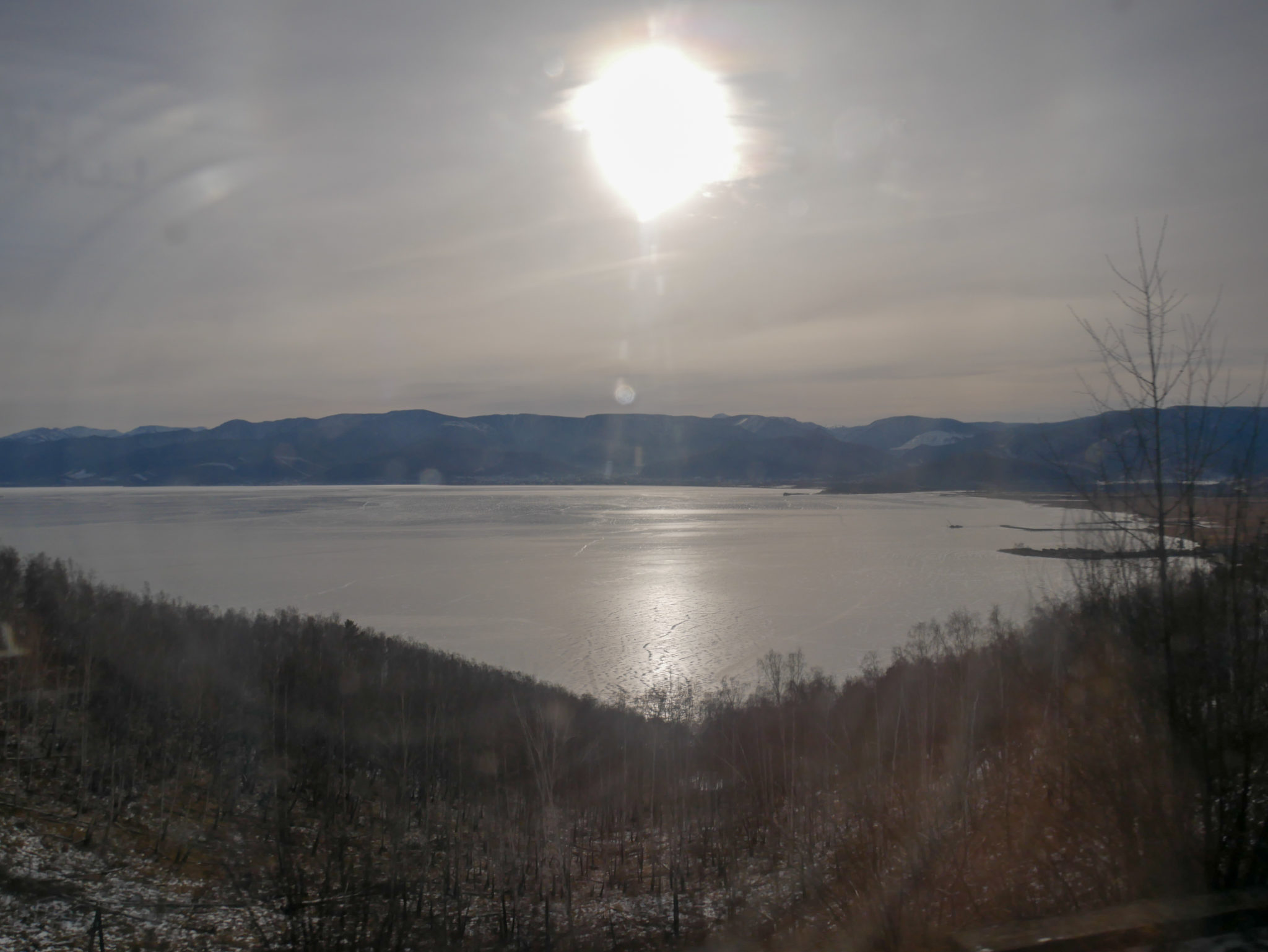 Baikal Dog Sledding Centre
An entrepreneurial couple has taken the cold weather and turned it to their advantage, setting up the Baikal Dog Sledding Centre. It is a family affair with Oleg Tyuryumin, his wife and sons all having worked and lived at the centre. The family and their friends compete in dog sled races around Russia and sometimes further afield, so they really know what they are doing. The whole centre is run to support the dogs, keeping them happy and healthy. They really are the experts when it comes to dog sledding in Lake Baikal.
Arriving at Baikal Dog Sledding Centre
After an hour's drive from the nearby city of Irkutsk, we jumped out of the car into the cold, crisp air. It was -6°C which might sound quite cold, but we were actually very lucky. Had we visited a few days before or after, we would have been in temperatures of -26°C to -36°C. Factor in the wind chill of being on a dog sled and that doesn't make for a very happy Flying Fluskey!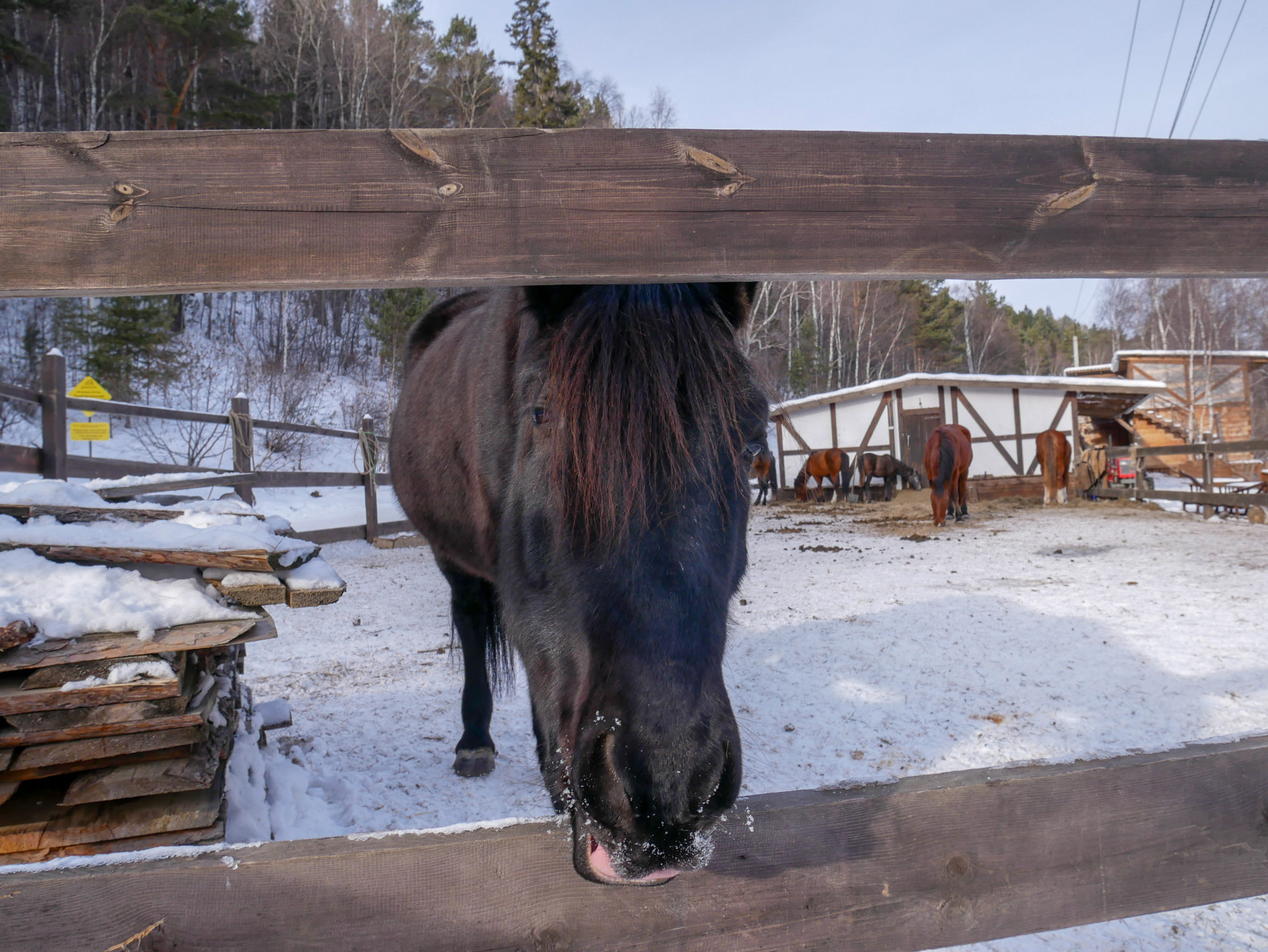 The Dog Sledding Outfit
We had wrapped up as warmly as we could. Heated gloves, hats, ear muffs, a lovely warm jacket, and several thousand layers of base layers, tops, tights and leggings. However, they insisted that we add a few finishing touches to ensure we had an enjoyable time.
Firstly, they added some overalls that were basically made of sleeping bag material, fashioned into a pair of dungarees. I could do with some of these for lazy days in front of the telly. Next, they swapped out our normal winter boots for a pair of HUGE moon boots. There was no denying that these were super cosy but mine were a few sizes too big (five sizes too big at least).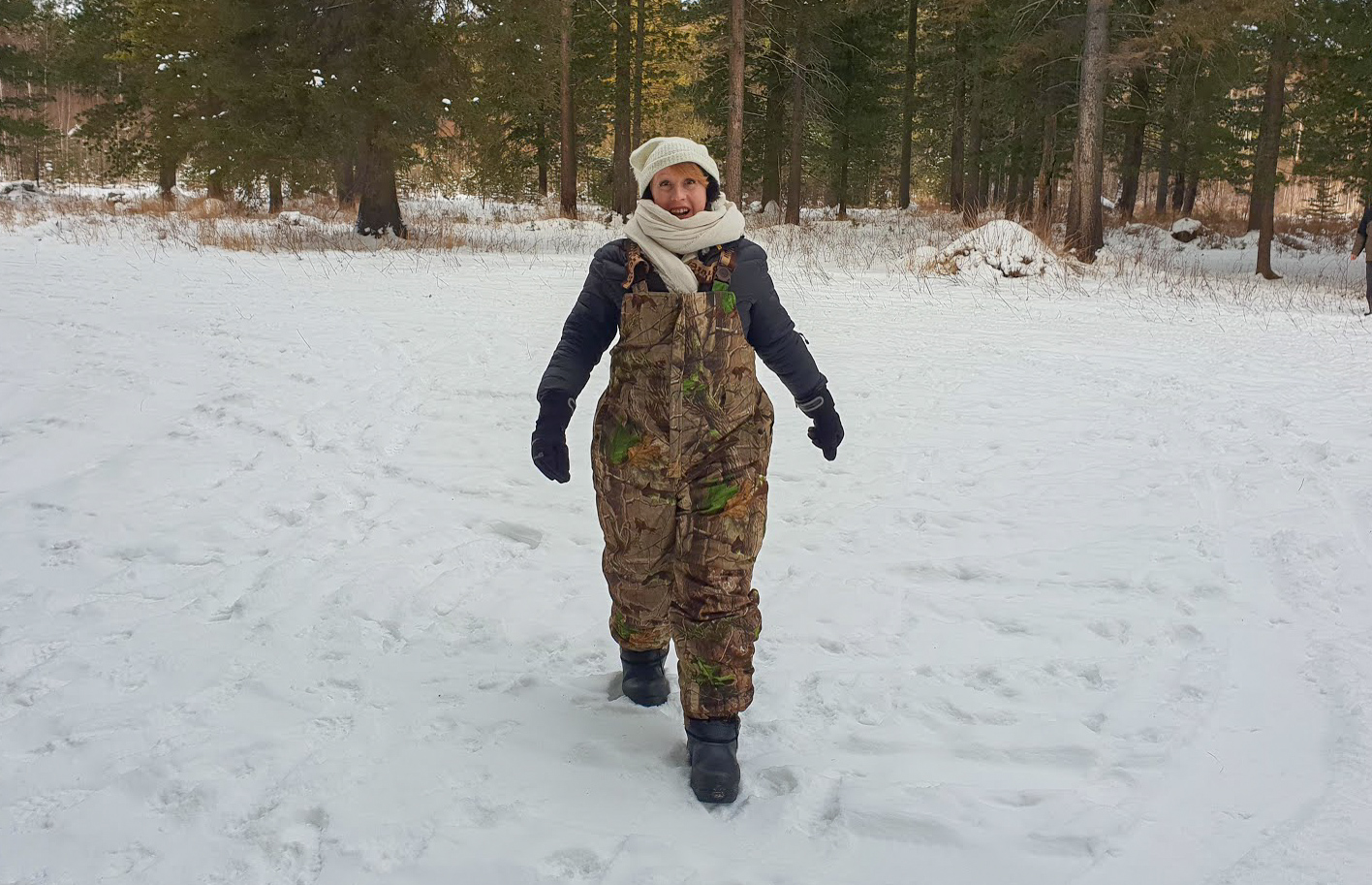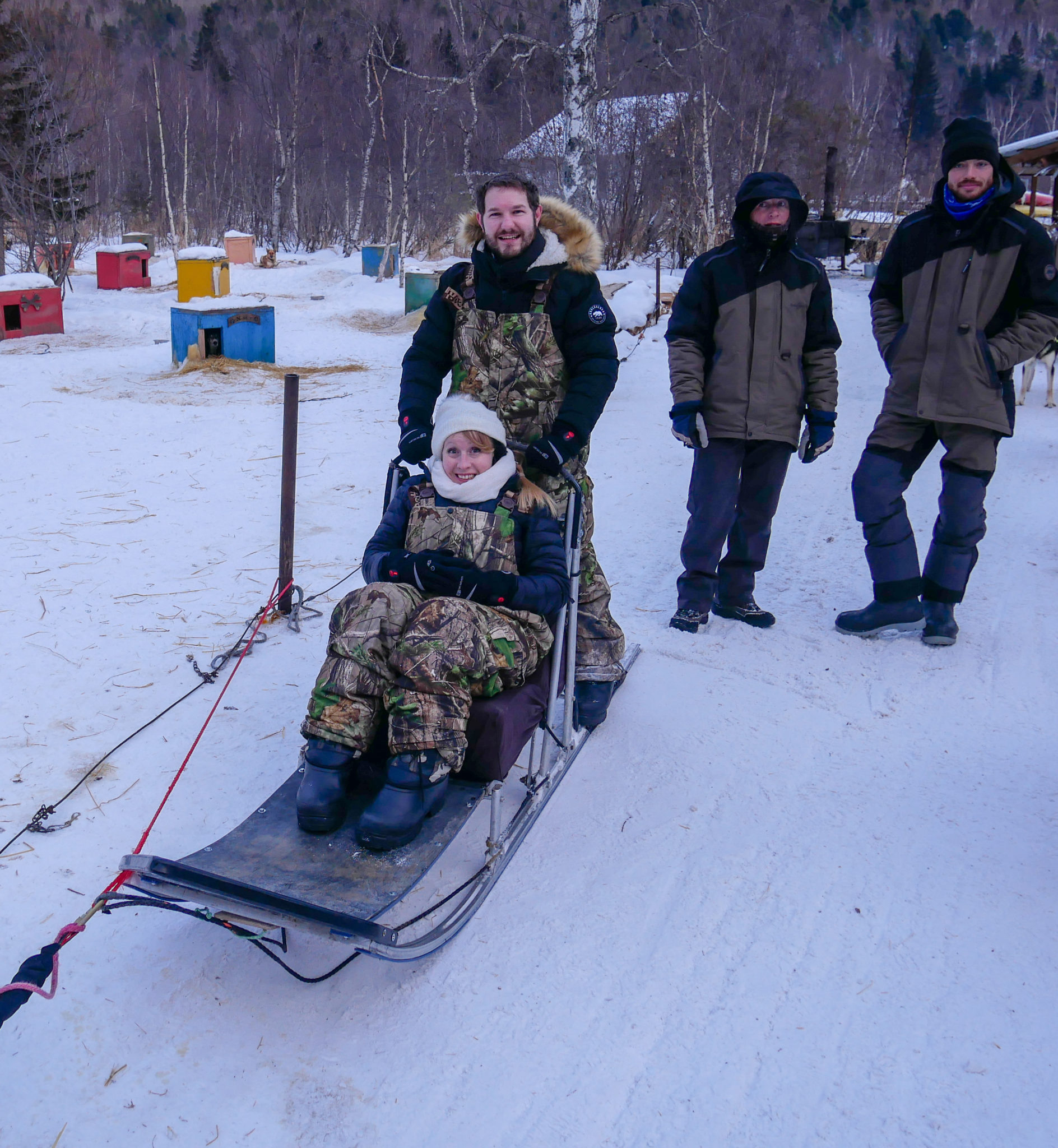 The Toilet
I thought it best to go for a wee before a bumpy session on a dog sled so I ran off to the small bathroom hut, tripping in my giant, squishy moon boots. There are three things you should know about this hut:
It is very cold
There is no toilet, just a hole in the ground
The smell is powerful, even in winter
Basically, what I am saying, is that maybe dehydrate a tiny bit before you come.
Preparing the Sleds
I was expecting big, fluffy huskies but the dogs here are of different breeds. They ran out eager and twitchy. Steam rose from their muzzles as they barked and whined, straining at their reigns. Each sled had nine dogs to pull it along and after watching the dogs for a while, all of a sudden it was time to jump aboard. We had one each, with a driver behind us to steer and usher the dogs.
"Keep your gloves on", they warned us, "Or your hands will freeze to the metal".
Well, you don't need to tell me twice. The metal was freezing, even though my thick gloves. Thank goodness my gloves had heating in them!
Into The Woods
As soon as the signal was given, the dogs set off at apace and we were suddenly In fact, they are the experts when it comes to dog sledding in Lake Baikal, eek! We had been warned that the dogs would be faster at the beginning and they were so keen to get going and the sled set off like a rocket. It whizzed through the field of snow and towards the woods. When we first booked, we thought we would be going out on to Lake Baikal but the excursion was bound for the forest.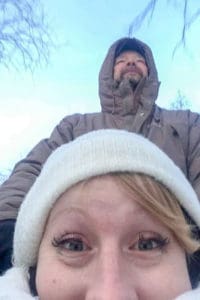 The sled bounced and bumped over the snow. I was sat on a large pile of boxes, covered with a tarp, and so it was relatively cushioned. Mr Fluskey just had a wooden baseboard so I can only imagine he got rather spanked. The snow whipped behind us and flicked up from the paws of the racing dogs. The cold air bit at my nose as it whistled through my ear muffs. I loved the bumps and turns; flying over the paths felt just the right amount of thrilling.
Overhead, the snow-capped trees loomed dark against the blue sky. Some birch trees were bent almost double as a result of the snows and icy winds. They created magical tunnels for us to race through. It was in the familiar landscape of trees and snow that we had become used to on the train but from a very different angle.
Lunch Time
After about an hour of swishing through the snow, the dogs needed a break and my bum had gone rather numb. The party pulled up in a clearing somewhere near the bottom of Cherry mountain. Our drivers set up a campfire and started preparation for cooking dinner. I realised that I had been sitting on all of the equipment and food on my sledge. THAT'S why I had a different seat from Mr Fluskey!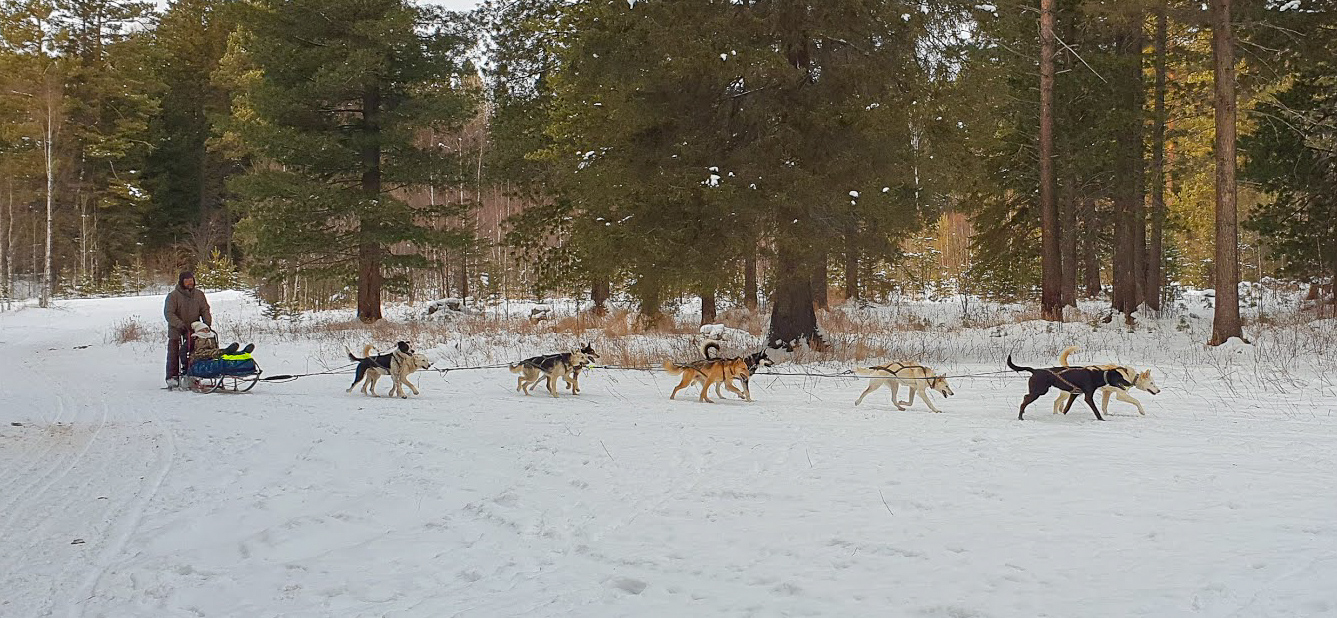 The Dogs
We wandered off to explore the surrounding Taiga forest but the snow was snow deep that we were soon back and decided, instead, to get to know our doggy jet engines.  Both of us had the mixed breed teams that they call Baikal or Kamchatka Huskies. I am a bit nervous of dogs and so it took me a minute to pluck up the courage but they were all incredibly relaxed and mild-mannered.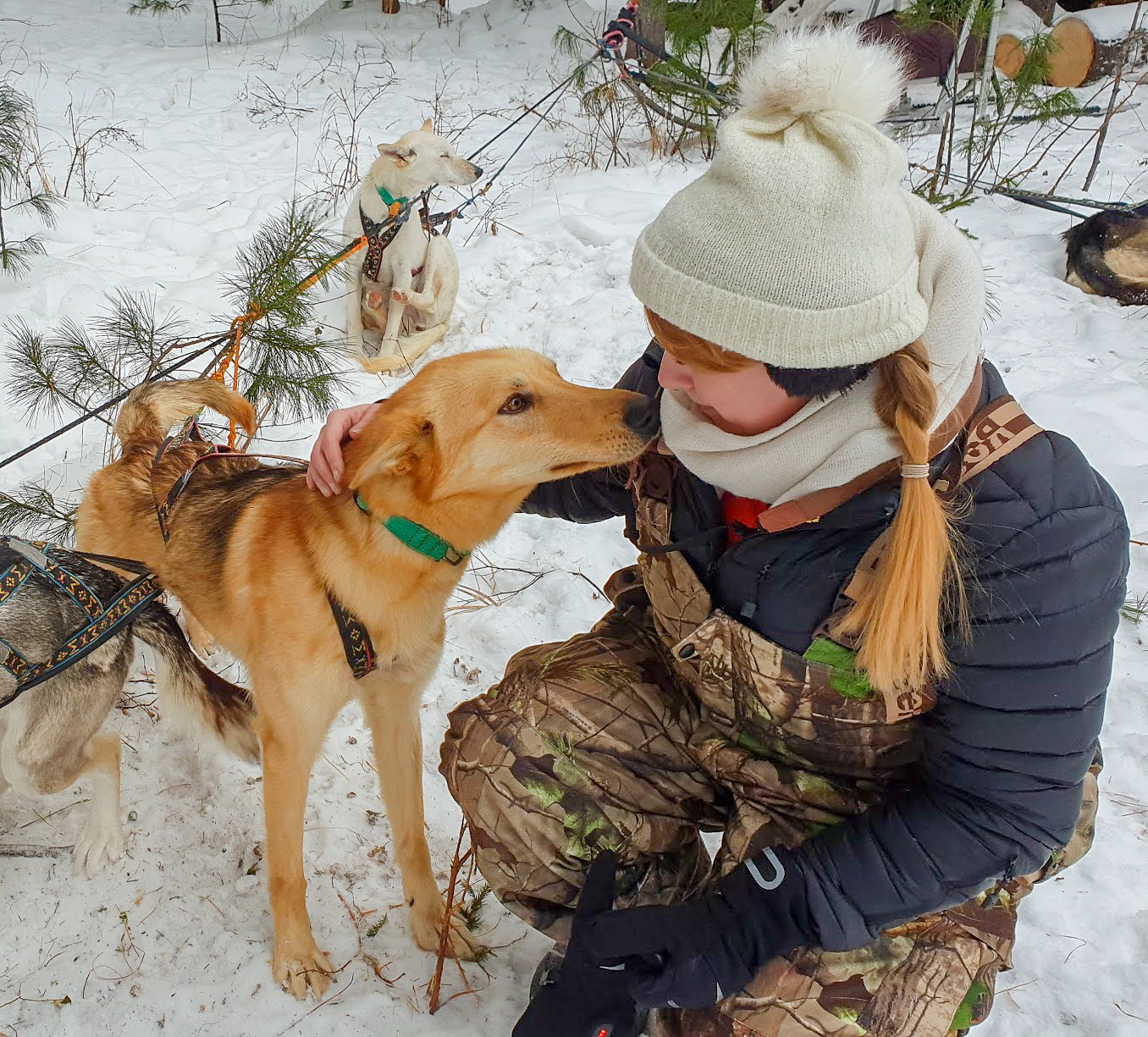 The Food
We had no clue what we were going to get, but we were very pleased. The chaps prepared a big, steaming pot full of pelmeni (Russian boiled meat dumplings). Up to this point of our journey, we had tried a few different kinds of dumpling, and the excuse to eat another one was more than welcome. They had a tomato sauce that tasted a little like it had pickle water in it to mix in with it. It was very tasty and the heat was more than welcome.
We also had nice, thick slices of ham and sausage and hearty slices of rye bread. Alongside the fiery Russian mustard and red pepper sauce, we had the things to make open sandwiches. It was cold enough that the ham started to freeze while it sat on the table.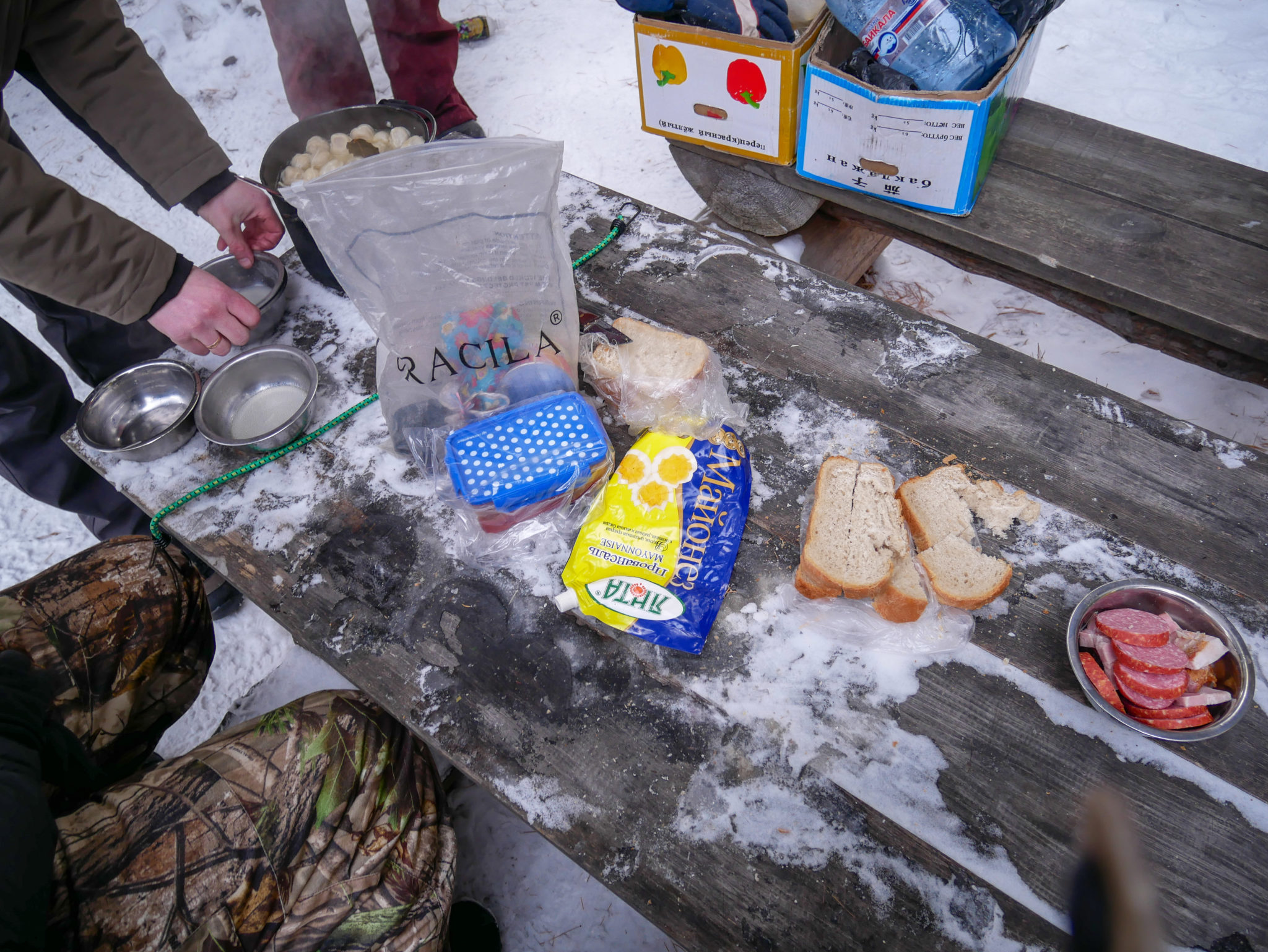 The tea that they brewed was a local herbal variety. It was really tasty and they couldn't translate what was in it, but we gathered that everyone has their own recipe.
It was a simple but very satisfying meal.
Back on the Dog Sled
After my sled was packed up again, it was time to pop myself in place. This was a much shorter run back to the camp and the dogs had their energy back. We sped back in top gear until we got near camp. A group of snowmobiles were coming the other way and they didn't move out of the way very well. We had to squeeze by and being at such a low level, the engine fumes were choking. I snuggled deeper into my scarf to cover my mouth. My driver was furious with them.
It was all over in a flash and we had to jump off at the finishing point. I saw Mr Fluskey coming around the bend into the dog sledding centre, but hang on…he was driving!! Mr Fluskey was offered the chance to "drive" his sled. I couldn't help but wonder if he was offered because he was a guy, or just because we had different drivers.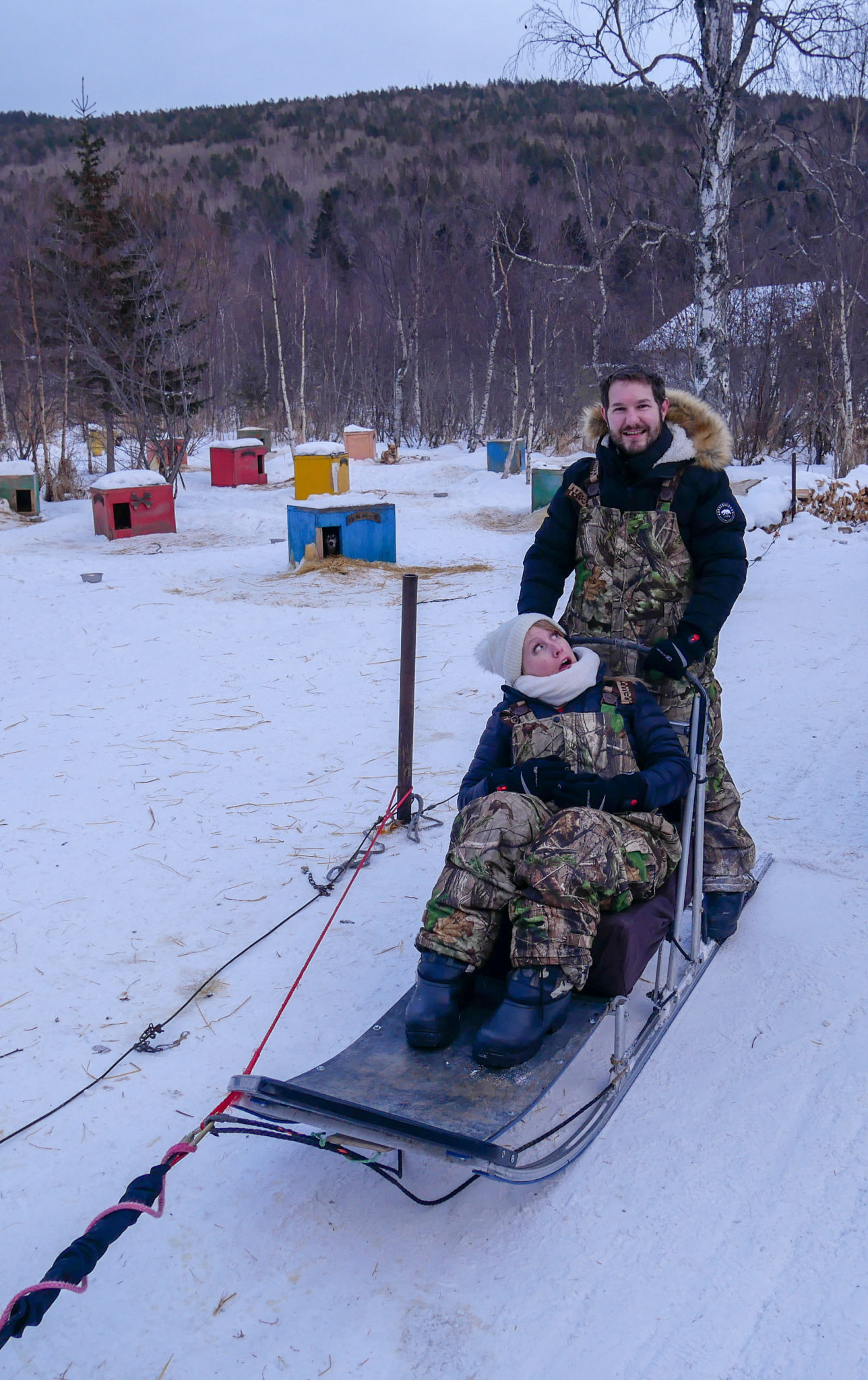 Information

About Lake Baikal Dog Sledding
If you are considered dog sledding in Lake Baikal, here is some information that you might like to know:
Excursions are offered from just 30 minutes to overnight camping adventures.
However long you are going for, wrap up warm. You can't underestimate the wind chill.
You could book directly but we would recommend booking through a tour company. Your tour guide can provide transport to and from the dog-sled centre as well as provide translation. We would have struggled without the help of our tour guide to translate for us.
We booked our dog-sledding tour through Real Russia, an expert in Russian travel.
Even if it is summer, you have the chance to try a doggie-led mode of transport. The centre has big buggies that the dogs can pull in summer.
If you have a gentle constitution please be aware that the dogs go to the loo, as they dash along so you will get some whiffs.
Still need your Russian visa? Check out our post all about Real Russia's visa services.
Final Thoughts about dog sledding on lake Baikal
Being a little scared of dogs, I was a bit worried about dog-sledding, but I had a wonderful time. I am incredibly glad that the weather wasn't completely freezing, as that scared me too! I thoroughly enjoyed my dog-sledding experience and I would definitely have another go, especially as Mr Fluskey got to drive his and I didn't. Maybe I will one-up him by renting a snowmobile next time!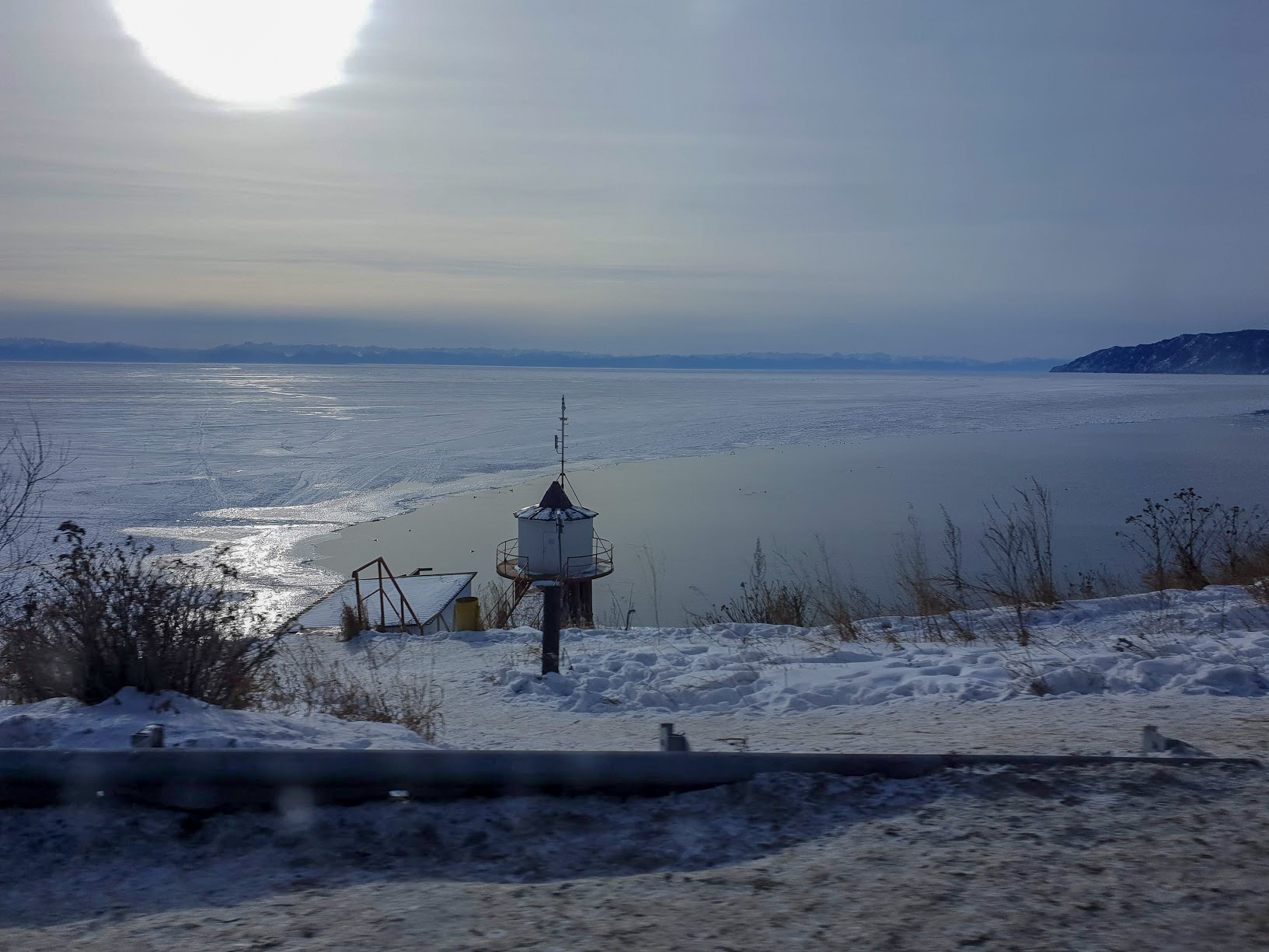 Rosie xx