Getting into the spirit of the festive season was a little harder in 2020 than previous years for us. Tough times and restrictions galore meant we were struggling to find enjoyment in the twinkly lights or shopping for gifts. However, our trip to Bath in Somerset really pulled us out of the doldrums and into the mood for merriment, especially our very festive afternoon tea at The Pump Room which left us full of festive joy….and cake.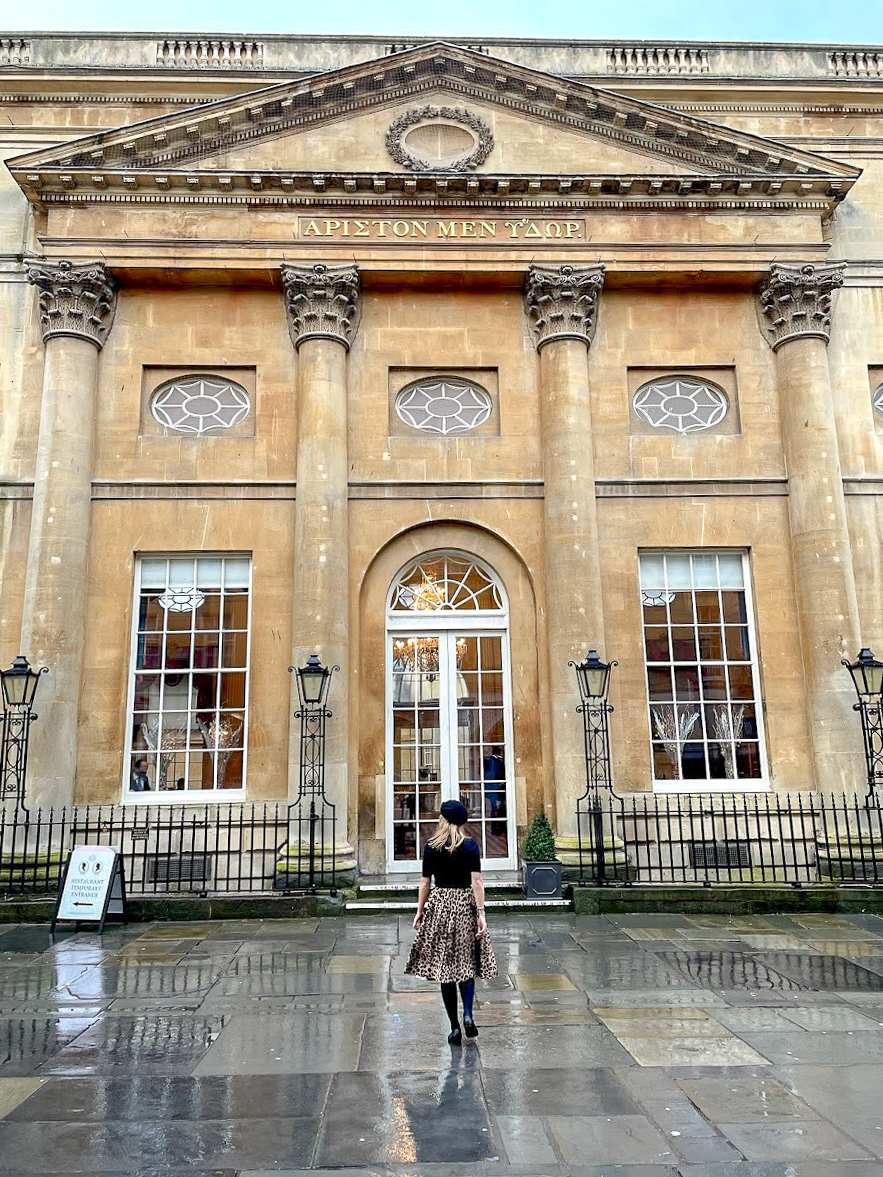 We were guests of The Pump Room but all opinions are entirely our own.
Afternoon Tea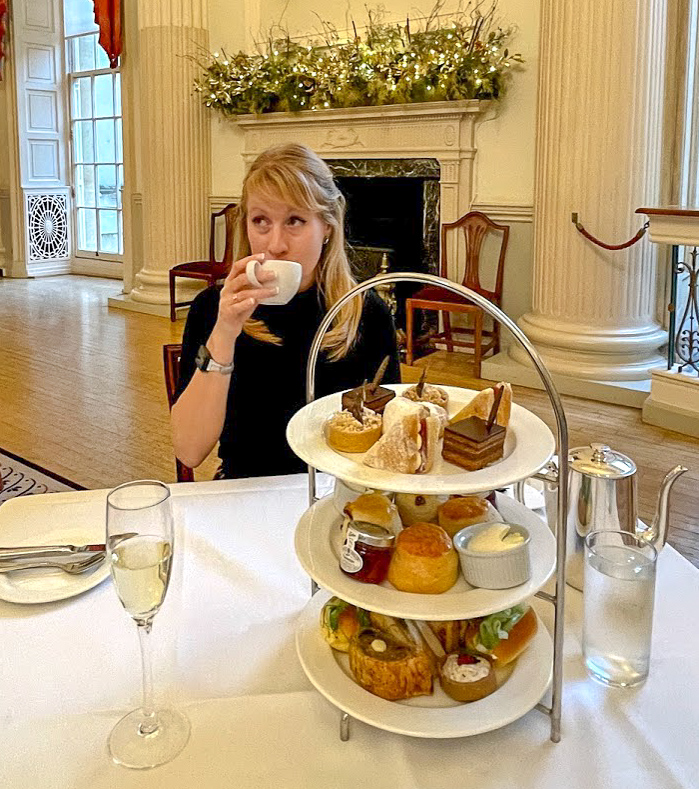 I love afternoon tea (just check out our other afternoon tea reviews). There is nothing more quintessentially English than sitting down to a pot of something warming and a host of teeny tiny baked goods.
First, the fine, white table cloths and refined atmosphere bring a sense of anticipation. Then there is the moment a tiered selection arrives and you wonder how on earth it is going to fill you up. Finally, there is the moment you accept that you might not finish the whole thing and sheepishly ask for a takeaway box. Truly, the afternoon tea is a thing of wonder.
Bath
Bath is a small British city, set amidst the hills and valleys of Somerset. It is absolutely packed with history and culture. The jewel in the tourism crown is the astonishingly preserved Roman Baths, an original health and temple complex that lies below the modern street level.
Around the Roman Baths, visitors can discover marvellous architecture from the city's moment as the most fashionable location in Georgian England. From the grand sweep of the Royal Crescent to spots you've read about in many a Jane Austin novel, like The Pump Room.
Looking for somewhere to stay in Bath? Check out A Bed in Bath – Julian's Place
The Pump Room
The Pump Room (also known as the Grand Pump Room) has been in this spot, in one guise or another since the early 18th century. It has been at the heart of Bath's social life ever since, and a bucket list destination for those looking to "take the waters".
When we first walked in, we were taken aback at the grandeur. The chandelier certainly had the wow factor and we could instantly imagine balls full of dancing gentry under the glimmer of its candle-lit predecessor.
Now, run by Searcy's The Pump Room is the perfect spot to try water from the famous baths below and something a little special. From morning coffee and pastries to fine dining by candlelight on weekend evenings, The Pump Room has something for everyone. On our visit, we were very excited to indulge in the Festive Afternoon Tea with Fizz.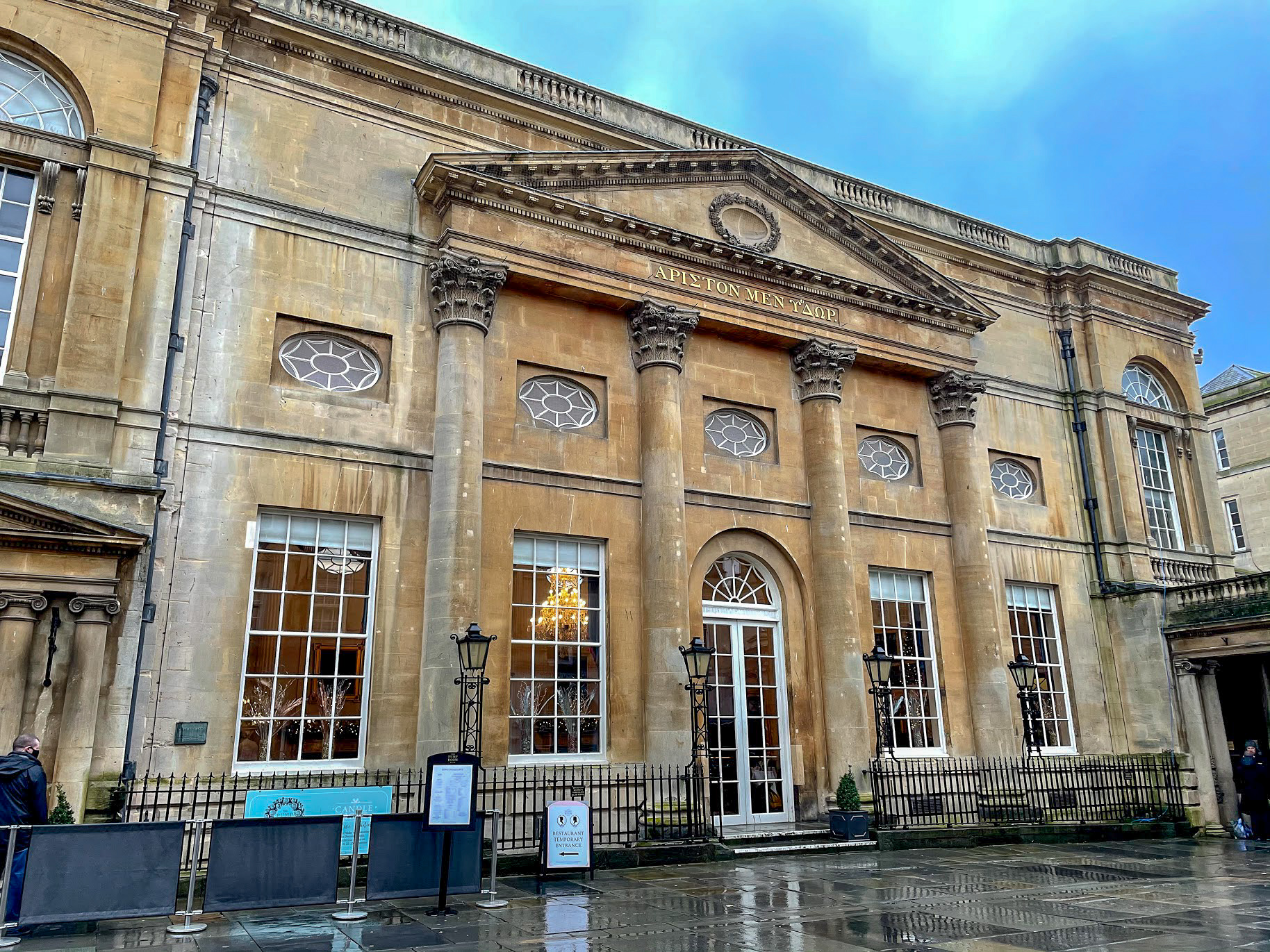 The Drinks
As you may have noticed, this afternoon tea comes with fizz. Right after we sat down, two glasses of fresh bubbly were whisked to our table. It was listed as an extra dry prosecco but both Mr Fluskey and I really liked it, and we both have quite a sweet tooth when it comes to alcoholic beverages.
Neither myself nor Mr Fluskey, are big tea drinkers so we opted for alternative hot drinks. I had a pot of coffee, roasted just down the road in Bristol. Throughout the course of the sitting, I devoured the whole pot. It was quite mellow, not such a bitter shock against the tasty treats.
Mr Fluskey had a cup of hot chocolate, topped with marshmallows and whipped cream. It was sweet, rich and warmed his chilly fingers after a long time outside sightseeing.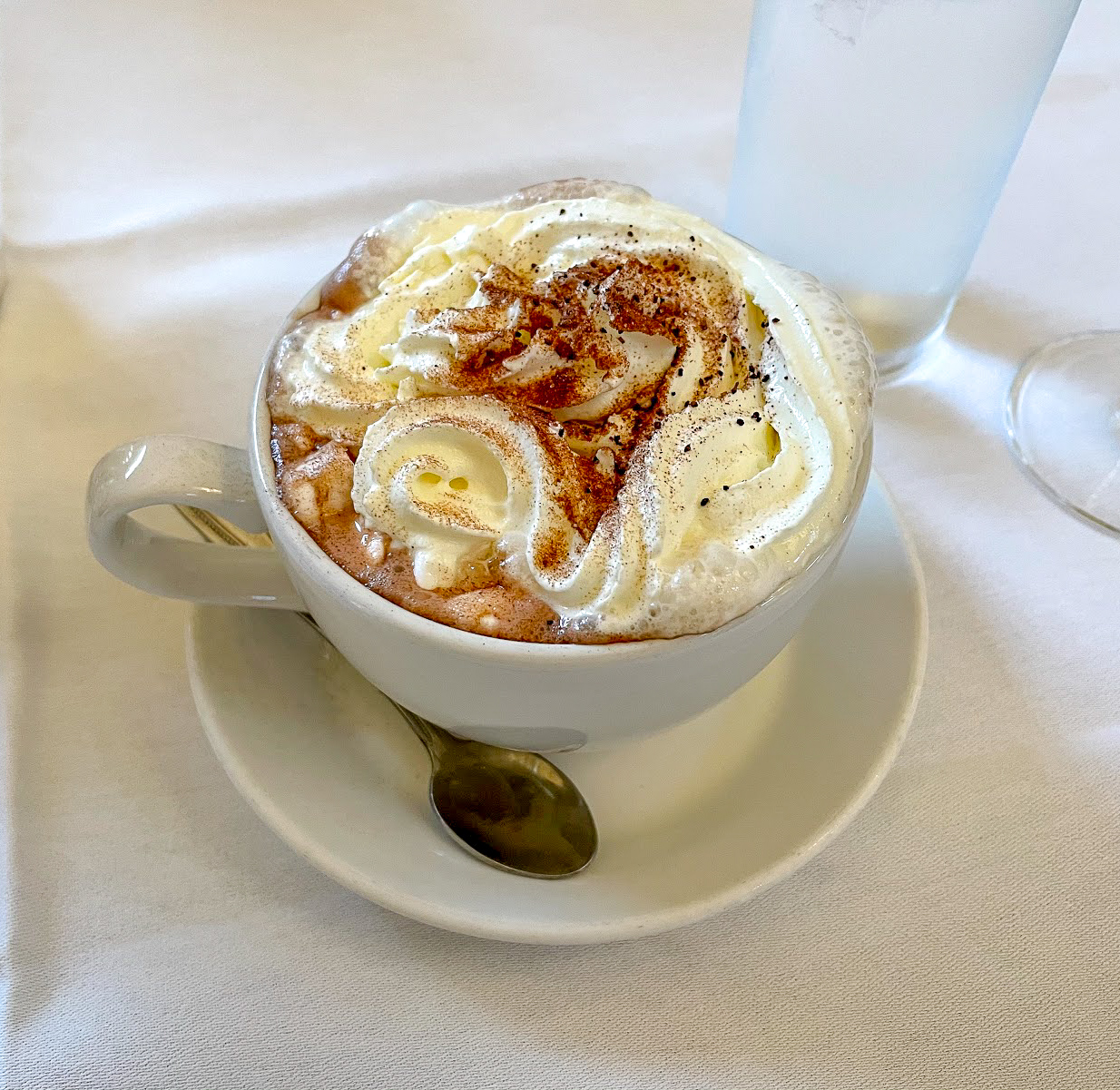 The Starter
Visitors to The Pump Room have the option to add a salmon starter onto their afternoon tea. I am a total smoked salmon fiend and need no convincing when it comes to paying a little extra for it. At an extra £5.00, I thought I was getting a little, fancy canape, but it was actually pretty sizeable. The salmon was thick, lightly smoked and cured with beetroot. The blini was large and pillowy, which was good considering how much food we had to come. I was a very happy Fluskey.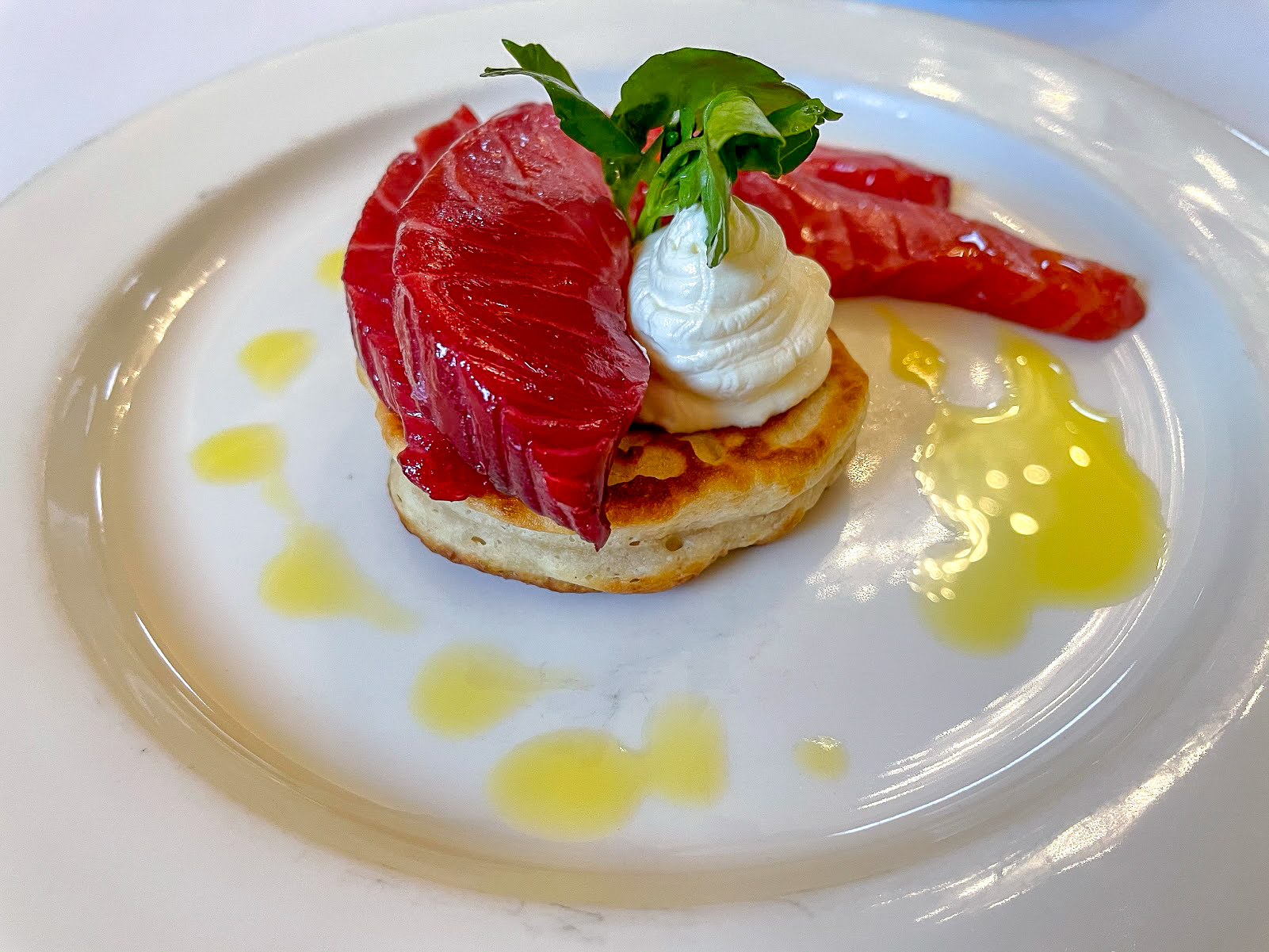 The Stand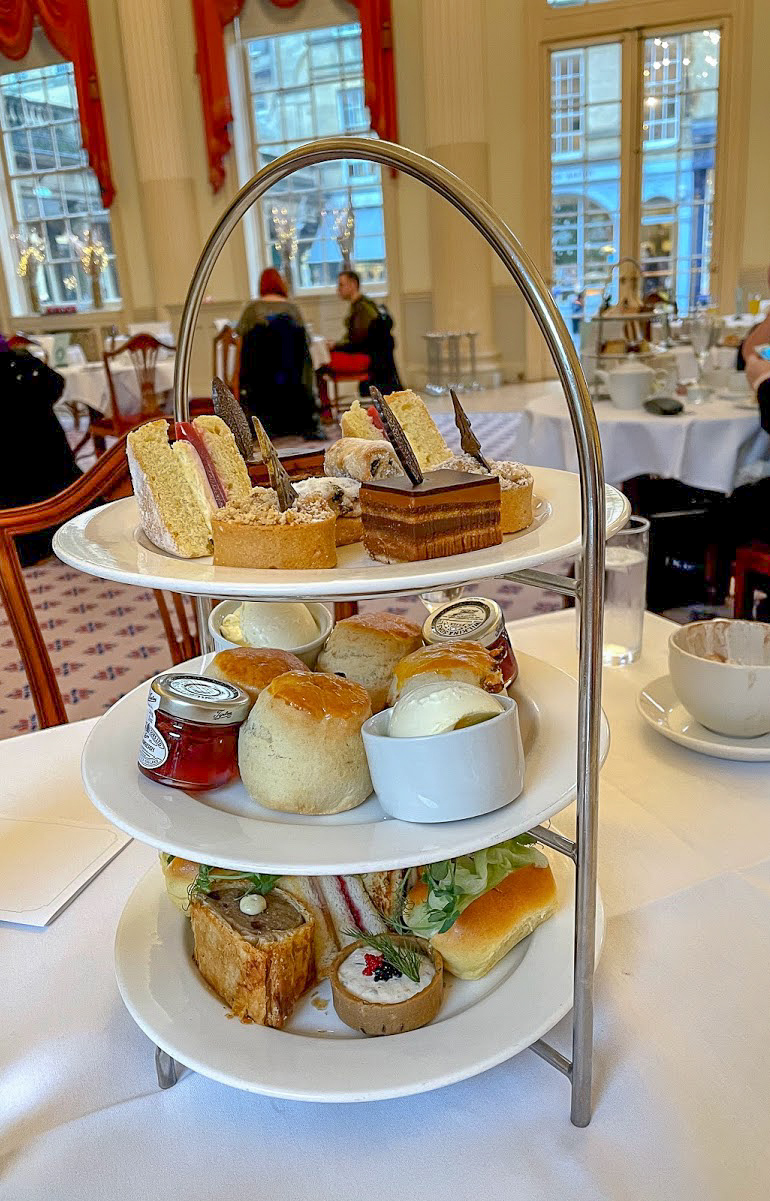 Looks appetising, doesn't it!? Let's get into the nitty-gritty…
The Sandwiches
The first course (bottom tier) of this afternoon tea was more fun and exciting than expected. Rather than the usual selection of finger sandwiches, each component was intriguing and different. We had:
Smoked Salmon Mousse Tart – So light but still a very indulgent little thing. I loved the fish roe and dill on top.
Cucumber, Cream Cheese and Mint Brioche Bun – A twist on the classic cucumber sandwich. The sweetness of the brioche bun made it all the better.
Turkey and Cranberry Toasty – Whoever thought of putting a toasty on an afternoon tea is some sort of genius. It was really nice to have something warm as the "main course" and it stopped the turkey from being dry.
Festive Sausage Roll – I was expecting something a little sadder when I first read this but it was mightily meaty and the festive fruit wasn't too prominent.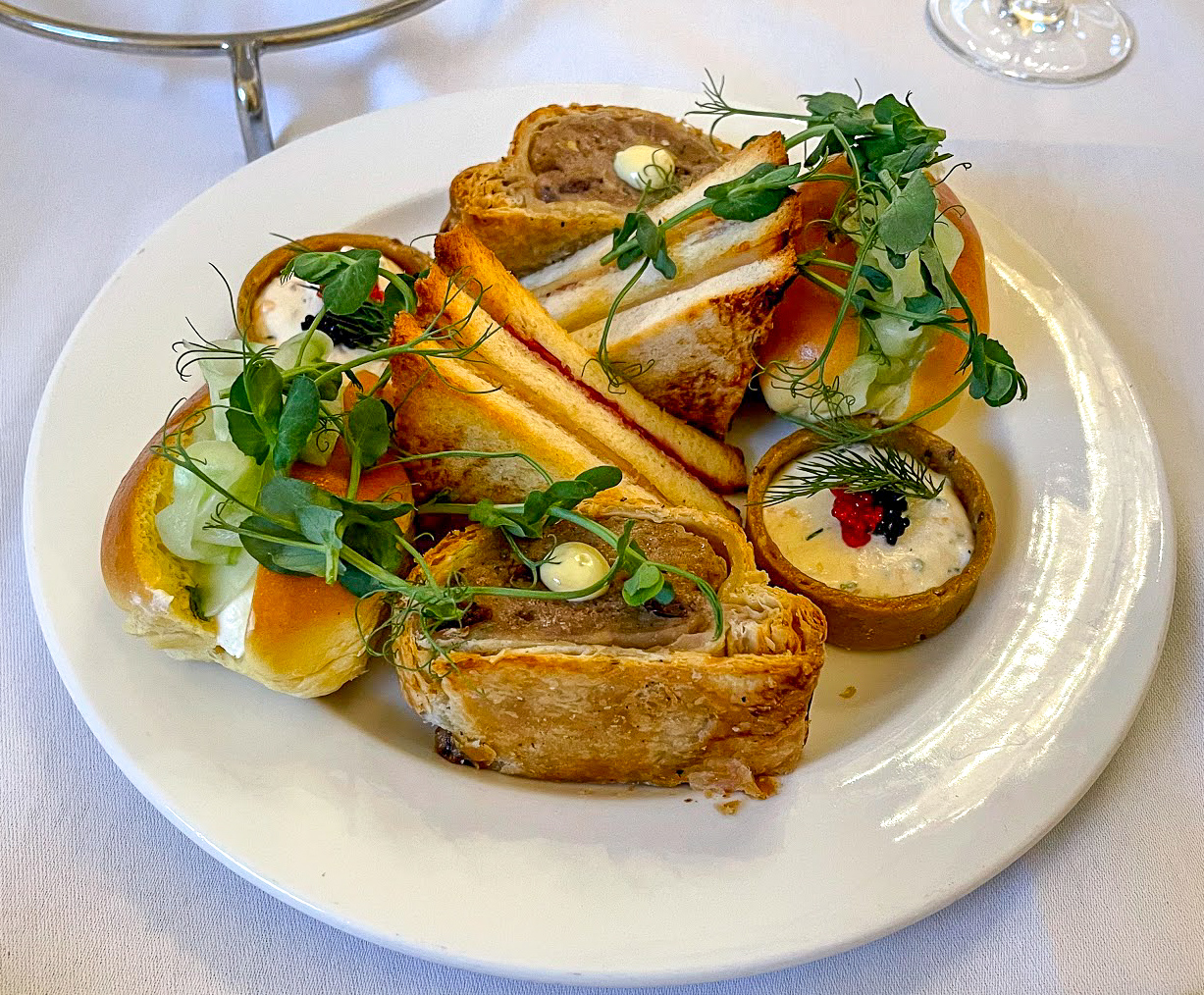 The Scones
The middle tier of the afternoon tea is always scones. There would be uproar if this wasn't the case. In this case, we had two buttermilk plain scones and two fruit scones. They came with a beautiful egg wash shine, some wonderfully thick Dorset clotted cream and those adorable little pots of strawberry jam.
Honestly, I think the scones are the least exciting bit of any afternoon tea. I love the cream, and the jam but sometimes scones can be a little dry. These fruit scones were pretty good and I got to double up on the cream, which made them even better.
Already starting to feel my tummy filling up, I decided to save my plain scone to take home and had it the following day with some cheese and chilli jam. It was great so I may steal my own tip for the future!
The Cakes
Time for dessert(s).
Victoria Sponge – The classic sponge with cream and strawberry filling. It was light and tasty. This was a classic done well.
Apple Crumble Tart – I could have eaten a giant version of the apple crumble tart. It was both light and perfectly warming. The cinnamon wasn't overpowering and let the apple flavour shine through. It was eaten in three bites, not two as I was tempted to do, only because I didn't want to scoff it in such refined surroundings.
Chocolate Opera Cake – The opera cake was the real surprise here. It was so small and dainty but packed such a deep, chocolatey punch with bitter coffee and an almost fruity note.
Stollen – Stollen is a dense thing so these looked tiny but when you are quite full already, they will finish you off! Christmas in two bites.
By this point of the meal, I was almost full to bursting but my dessert stomach announced itself just at the right moment.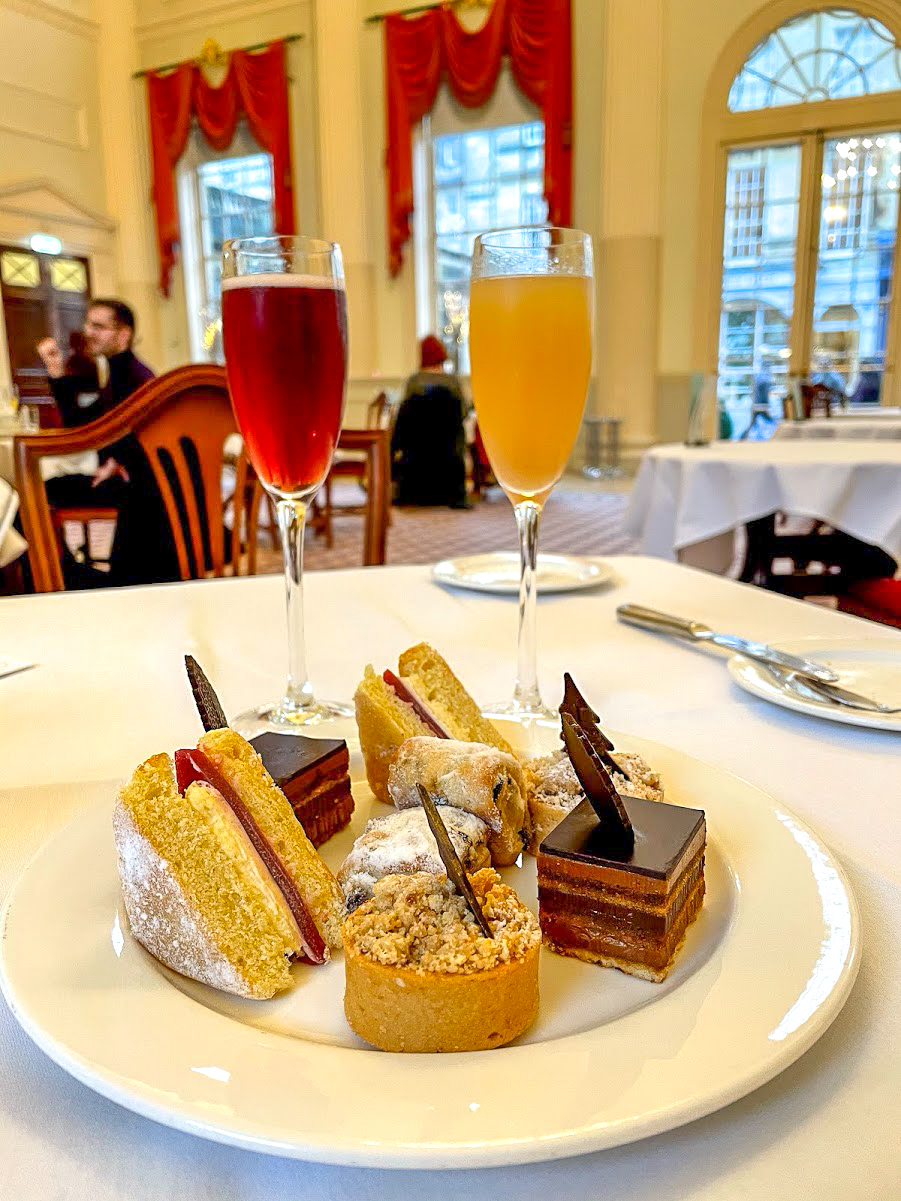 To go with our desserts, we decided to get one more sweet drink each. After a quick look over the cocktail menu, we opted for two more fizzy favourites. I got the Peach Bellini whilst Mr Fluskey opted for the Pump Room Royale (a kir royale made with a British Cassis). They were both made with Nyetimber English sparkling wine. We were slightly nervous about the English sparkling wine after a previous bad experience with another brand, but these were both scrumptious. Thank goodness they have clearly done their research!
The Atmosphere
During our festive afternoon tea, we were treated to music performed by the Pump Room Trio. Although their members have changed over the years, there has been a trio performing here for over 300 years. During our sitting, they played two sets on the cello, piano and violin, consisting of classical favourites and Christmas tunes. It made the atmosphere a little cosier and it helped guests feel more comfortable. It was a very welcome addition.
Our experience was made even better by the chance to chat with James, one of the restaurant managers. He was the server for our half of the room and glided between guests with a smile that reached his eyes from under the mandatory mask (2020). His passion for Searcy's and customer service shone through.
Travelling around the UK? Check out all our UK blogs including London, Brighton, Stonehenge and Nottingham
Final Thoughts on our Festive Afternoon Tea at The Pump Room
We have had some mediocre bits and bobs on afternoon teas before, but these plates were playful and utterly stuffed full of flavour. I know some these options were probably more specifically for the Festive Fizz Afternoon Tea but the competency of the chef's work leads me to believe that any version of an afternoon tea at The Pump Room would be top-notch. At £34.50, I think the price point is just right. You won't need lunch or dinner and the glass of bubbly makes it feel that little bit more indulgent. Overall, taking afternoon tea at The Pump Room is a sublime addition to any Bath itinerary.
Need more inspiration on what to do in Bath? Read Two Days in Bath, England – A Perfect Bath Itinerary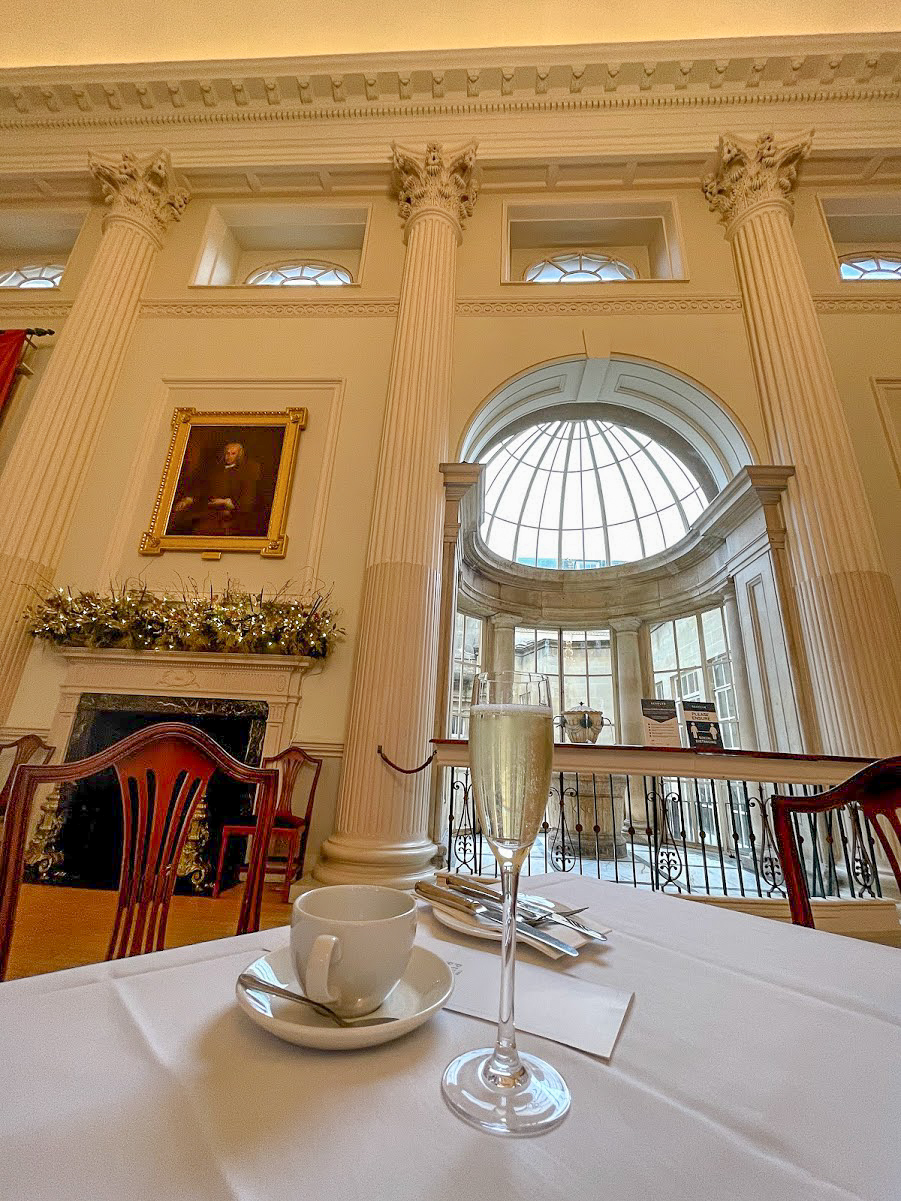 Rosie xx