New Orleans has an air of the macabre about it. It could be the city of the dead graveyards, the voodoo rituals and rights in the city's parks. Maybe it's the gaunt faces of hungover bachelorettes climbing gingerly into their minivans early in the morning. With Halloween just three days away we got spooky with the Ghost City Tours for their Ghosts of New Orleans tour for a dose of terror.
We were hosted by Ghost City Tours but all opinions are our own.
The Ghosts of New Orleans Tour
After massively underestimating the amount of icing sugar on a fresh beignet, I arrived with a suitably ghostly white face and speckled black T-shirt for our tour. Our awesome guide Elaine introduced herself to the group. There must have been 20 tourists booked onto the Ghosts of New Orleans tour. As this was the kid-friendly version there were one or two under 16s in the group. We had tried for one of the adult-only tours, but being so close to Halloween, they were totally booked up.
The ground rules were laid down, with a fair few jokes thrown in, and I could instantly tell that I was going to enjoy Elaine's presentation style.
I don't want to spoil all of the stories but here are a few highlights.:
Muriel's Restaurant
On the corner of Jackson Square stands a restaurant. Wandering past, you can spy white table linen, lavish decor and patrons who have made a bit of effort to dress up for dinner. This lovely establishment has had a few problems…problems of a paranormal nature. One of the original owners wasn't so keen on his old house being used as a place to wine and dine the tourists that flock to New Orleans. Things were hurled across the room, waiters prodded and pushed, and a distinctly uncomfortable feeling for some diners.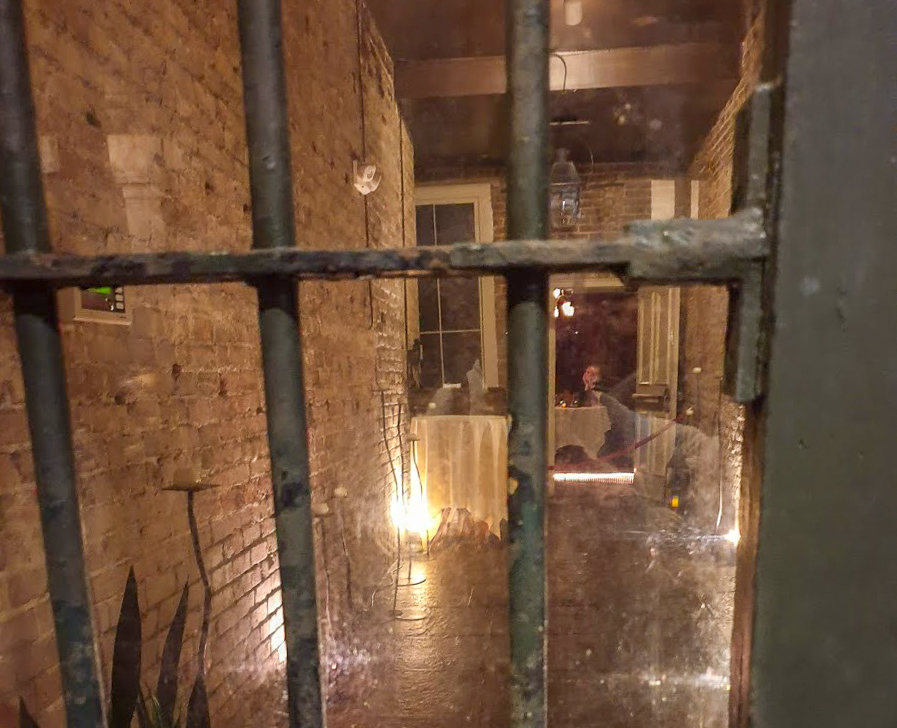 The restaurant came up with a very novel way of solving these problems. Every night, they set him a table and it seems to have settled the spirit.
Whilst we're talking of food; check out 8 Foods You Must Try In New Orleans
Old Ursuline Convent
Vampire Nuns from Paris may sound like a niche fetish film but it was actually the story that surrounded the Old Ursuline Convent in New Orleans. It was long rumoured that this convent held a covenant of vampire brides of Christ.
Boats full of thin, pale young women disembarked here with their coffins in tow and chose to disappear behind these thick walls and closed shutters…so they must be bloodsuckers, right?
LaLaurie Mansion
This infamous house is said to be cursed. There is no doubt that Delphine LaLaurie left some bad juju there by committing awful acts of cruelty to her slaves. Mutilation, starvation and horrible experiments were discovered. It was even said that she pushed one young girl to her death from a high balcony.
Since then, anyone foolhardy enough to live here has suffered horrible hauntings and very bad luck. A famous movie star owned the house for a short time, his career stalled and he declared bankruptcy. I don't want to name names so see if you can work it out from this riddle:
A guy, wearing no underwear living in an enclosure (let me know if you get it)
It is now owned by a rich Texan but the future of the building is unknown.
Andrew Jackson Hotel
There are two creepy stories at the Andrew Jackson Hotel. Yes there are sounds of children playing but I am more likely to be annoyed than scared by that. However, there were some unusual goings-on at the hotel with someone's instant camera and it seemed that whether the culprit was supernatural or not, it would freak even the bravest souls out! You can book to stay at this hotel, keep an eye on your camera roll if you do!
In New Orleans we stayed at The Quizby, part-hostel, part-boutique hotel and part-y spot
Information About City Ghost Tours
If you are thinking of joining Ghost City Tours for a Ghosts of New Orleans Tour, here are a few things you might like to know:
It all begins and concludes in Jackson Square in the French Quarter.
The Ghosts of New Orleans Tour costs $26.49 for adults, $10.59 for children 6-11 and free for under 6s.
If you are planning to book around the city's peak times (Mardi Gras, Jazz Fest or Halloween/Voodoo Fest) we would advise booking well in advance.
Ghost City Tours currently offers 5 tours in New Orleans including a Haunted Pub Crawl and Cemerery Tours.
Final Thoughts on Our Ghosts of New Orleans Tour
Now, I love a good story (it's basically all I can remember from my psychology lessons) but I really enjoyed the history that came along with them. All of the information was presented in such an engaging way. The ghostly aspects were not horribly over-egged but in a fun way with a nice balance of cynicism.
Doing a speciality tour not only helps you discover a new city; they're also loads of fun in their own right. That means whether you are just visiting New Orleans, or a Nola resident, you will have a great night learning the secrets of this intriguing city. Plus, the novelty of taking a drink around with you never quite wears off, so drink some slushy cocktails for the little shivers, but join a Ghosts of New Orleans tour for the big ones!
Rosie xx