Galley Bay Resort and Spa is a five star property on Antigua's west coast. The whole place is dedicated to relaxation and rejuvenation but the absolute best place on the resort to be utterly spoilt is the Indulge Spa. Here you will find all kinds of treatment to pamper you from head to toe. We were lucky enough to enjoy some time here during our stay at Galley Bay and we wanted to share it with you.
Check out our full review of Galley Bay Resort. (I realised that I really wanted to write so much more about Indulge Spa, hence it has its very own post).
The Welcome
As you approach the reception of Indulge Spa, you might think that it is a tiny facility. But as you sit to fill out paper work, you get a glimpse through to the world behind. A few steps in, a mini jungle resort opens up in front of you. Little round huts and tree houses surrounded by foliage, a relaxation deck and even a plunge pool. Lush greenery rustles with occasional ocean breezes, and it is incredibly tranquil.
Looking for somewhere to stay? Check out all our accomodation reviews including budget, midrange and luxury
The

Indulge

 Spa Menu

I always find it slightly overwhelming when I first look at a spa menu. The first things to discount are the treatments I had just before setting out (having my nails done for example). The next decision is whether to go for your face or body. Facials usually result in breakouts for me and so the choice was narrowed to my body. There were so many options; wraps, massages, polishes and a whole host of ointments to be rubbed all over us. I was particularly pleased to see two unusual offerings. The first was an after bite treatment for the poor people like me who are mosquito bait, and the second a soothing after sun concoction for people like me who burn easily. It's like they knew I was coming!
The
Treatment
Our Choice
We chose the Tropical Retreat. The menu told us that we were in for a "…two-step treatment [that] unites the tropical extracts of Mango and Passion Fruit and infuses them with the repairing power of Vitamin C." After several painful massages over the years, it was a quick decision to go for something a little different. Neither Mr Fluskey or I had ever tried a wrap and tropical yogurt just sounded so good! We were shown into one of the small rooms. It had a "Flintstones spa in Bedrock" vibe.
The Scrub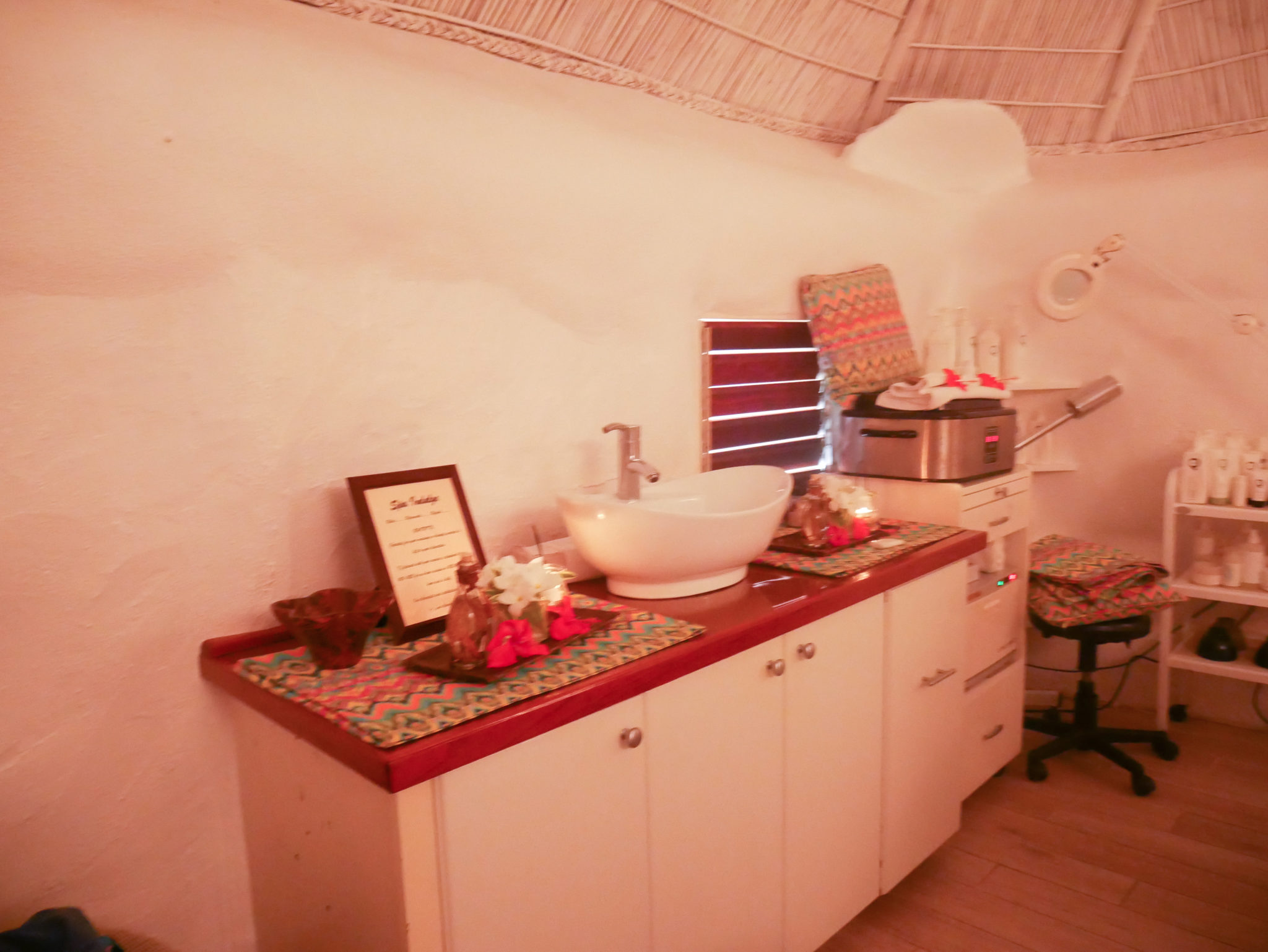 Changing into our disposable knickers, we self-consciously clambered onto the cling film covered tables. The embarrassment quickly evaporated as we made chit chat with our two spa therapists who were an absolute delight. They were funny and put us completely at ease as they began to exfoliate us. The scrub was intensely fruity, mango and passion fruit aromas filled the space (anyone fancy a pornstar martini right about now?). We were given a thorough rub down and as ever, I was horrified at the layers of dead skin that came off me. My skin was left feeling glowing and pink. It was a joy when the next stage came.
The Wrap
A warm substance was slowly applied to our skin. This was the warm yogurt and tropical fruit mixture and it smelled divine. If the idea of eating warm yogurt wasn't so off-putting then I may have tried just a tiny bit. When we were completely covered and hilariously slippery they wrapped us up. I felt like a doggy bag of leftovers…in a good way. First came layers of plastic like cling film, followed by tin foil. The final layer, cotton sheets, swaddled us like Egyptian mummies. The two ladies then turned down the lights and left the room. It was so warm, and so comfortable, that I was asleep in two minutes. You could have left me there for the rest of the holiday and aside from the yogurt curdling, I'd have been the happiest person on the resort.
The therapists came back into the room after about 15 minutes to peel us out of our cocoons. I slid off the bed and into the waiting robe feeling a little guilty about the Petit Filous trail that I was leaving. We waddled, giggling, over to the bathroom to rinse off.
There's More?
We thought it was all done and stood drying off and marvelling at our tropical scent. A discrete knock came on the door and we were led back into the room for even more pampering. We had a ten minute moisturising massage which was just bliss. We felt, and smelt delicious!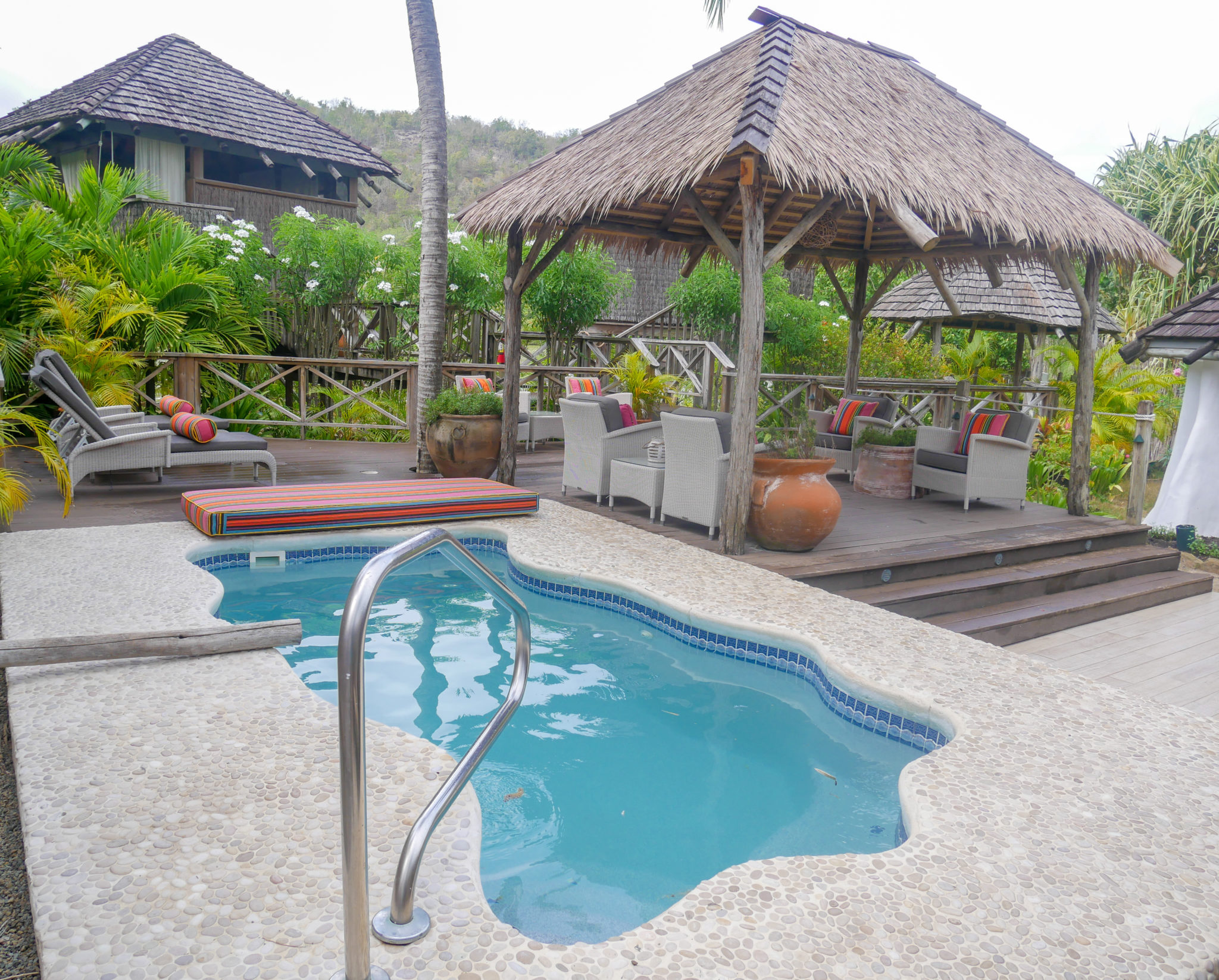 Enjoying Indulge Spa
Feeling completely supple and relaxed we slid back into our clothes. I was really craving some sort of huge tropical fruit salad so imagine my joy when we were both handed a mango and passion fruit smoothie. I took to a sun lounger to enjoy some serious relaxation. Our skin was so soft and the sweet, sharp flavours were so reviving, I got the feeling of total body rejuvenation.
Our treatment was meant to take an hour but I think we lay around, lazily slurping on our smoothies for another forty minutes or so before accepting that we should head back out into the rest of the resort for….well, for even more relaxation.
Take a quick look around.

Check out all our travels around the Caribbean
Final Thoughts
Both Mr Fluskey and I adored our time at the Indulge Spa. It is such a lovely setting, the staff were brilliant and our treatment was one of the best I've ever had (I am definitely a wrap convert now). If you are staying at Galley Bay Resort, or are staying anywhere in Antigua in fact, Indulge Spa is totally worth a visit. You never know, they may let you enjoy some of the other facilities around the resort as well.
We were hosted by Galley Bay Resort and the Indulge Spa but we genuinely had the most wonderful time and all opinions are my own. Honestly, go there and get wrapped in yogurt, it's weird but you'll love it!
Rosie xx