Forget Secret Lagoon, scoff at Hidden Beach, LIO Tourist Estate is the only place you will avoid the crowds on a trip to El Nido in the Philippines. Check out LIO Beach – El Nido's best kept secret.
There are those that will tell you it is an exclusively high end area and therefore super expensive, but let me tell you all about it, and you will see that it won't cost you a penny more than a trip out to Nacpan Beach, it's more famous counterpart up the coast.
LIO Tourist Estate
Located a 10 minute (200 peso) trike ride from El Nido town (Buena Suerte) there is a stretch of beach that is picture postcard perfect. I bet you've heard of Nacpan, the backpackers favourite spot. If you've been to El Nido before, you have probably heard of Las Cabanas too, it is everyone's favourite sunset beach. However, both of these stretches of sand were super busy compared with our time at LIO beach.
We spent a whole day at the resort and must have seen around 30 people. It was a bit of a ghost town which surprised us. They have obviously invested a lot into it, and it's been open for 3 years.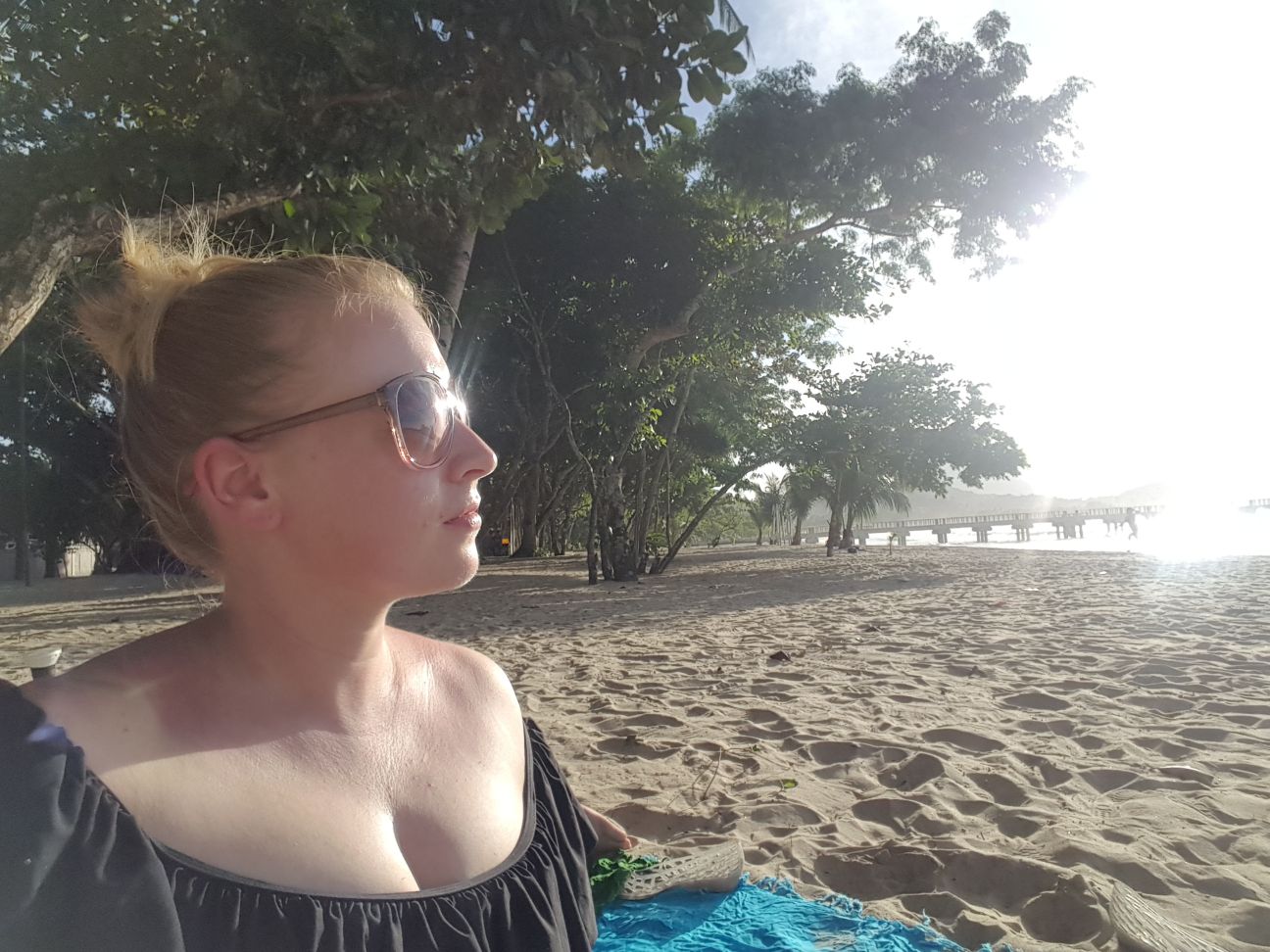 Development compay Ayala has upped sticks from El Nido town, and concentrated its efforts up the coast. Here they have created a tourist paradise town, complete with great restaurants (with the kind of service you can only dream in El Nido) shops and air conditioned accommodation. It's all a little like being in a fancy 5* resort but the beach is free and the food is costs the same as the restaurants in town (300 – 600 for main courses). Add to this a complete lack of tours and you are in for a good day.
Food & Drink – Lunch
From pizza to Chinese, from burgers to Laksa, you will find something to suit most tastes.
Fat Choy
Wandering around, perusing the menus, we decided that the Chinese/Taiwanese looked good. We walked away to check the next place's offerings and a waiter dashed out to give us a voucher for a free side dish. Well, that clinched it.
For our side dish we could choose between a Taiwanese salad, or stir fried veggies. We opted for the latter and some sweet and sour squid.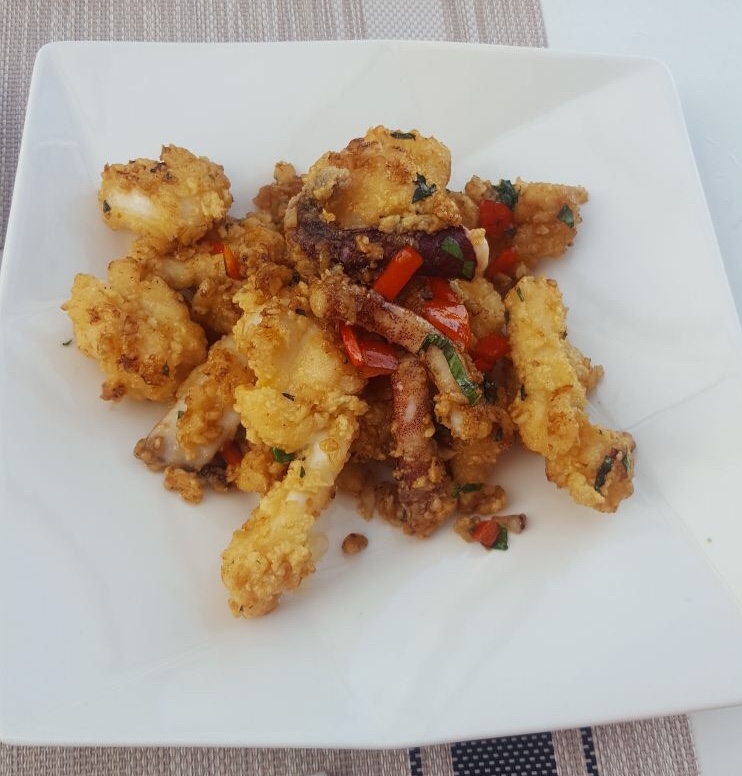 Both dishes were on the table in 5 minutes flat. We were very impressed with the quality of the food. The lettuce still held some crunch and was wonderfully garlicky. The squid was very lightly battered and the sauce was sweet but by no means the overpowering. It was more like a glaze than the gallons of bright red goop is Britis think of as sweet and sour.
With the free dish, the meal, including two cokes and tip, came to 570 pesos.
Whilst in the Philippines, we flew with AirSWIFT, check out our review of AirSWIFT to El Nido
The Beach
After lunch, it was time to get our beach on!
We picked a spot right by the restaurants and had a 30m stretch of sand to ourselves. We really enjoyed watching the small aircraft buzz in and out of the airport every 30 minutes or so.
The sea had a little swell, enough to keep us entertained, but not enough to wipe anyone out. After a twenty minute splash about, we got out and relaxed on the beach until sunset.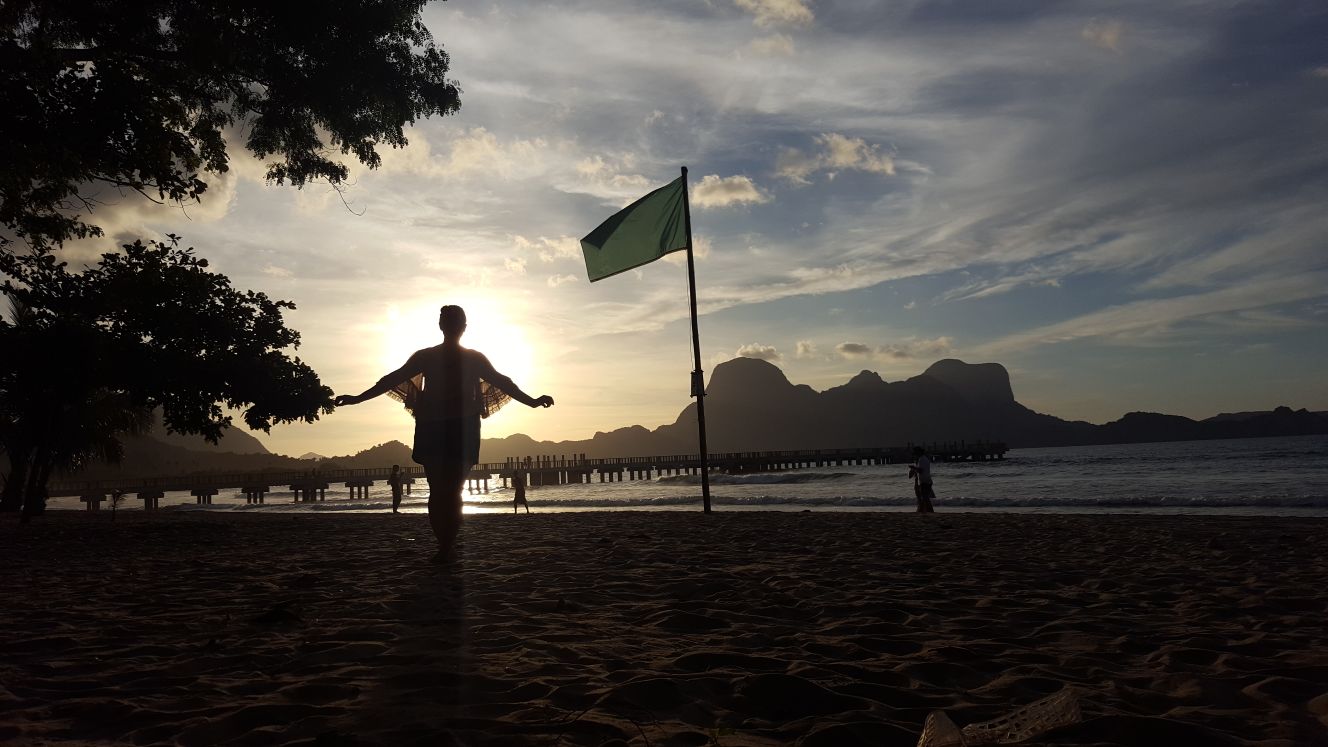 It may not be the most famous spot for a sundowner in El Nido, but it still looked pretty great!
Food and Drink – Dinner
Pukka Bar
After the sun had said it's farewell, we got a couple of rum and cokes (just 100 pesos each) at Pukka Bar accompanied by a live reggae band.
It was very convivial and more people arrived to liven up the atmosphere.
Pair-A-Dice
For dinner we popped next door to the upstairs burger spot. To start, we tried the dynamite fingers. These were chilli peppers stuffed with mozzarella and deep fried. Mysteriously they were 200 pesos cheaper than the plain mozzarella sticks (250 rather than 450). They were serviced with a tomato salsa and sitting atop a pesto and balsamic glaze. For a deep fried nibble, they were very large and very tasty!
For mains we both indulged in the burgers. I chose the Hawaiian, with bacon and pineapple, and Karl had the signature Pair-A-Dice with bacon, cheese and onion. The fries that were on the side of both were well cooked and came with a sweet mustard dip, an unusual choice but a nice change from endless ketchup.
Overall, I was impressed but the beef patty was a little salty. This wasn't noticeable as part of the whole though.
Check out all our travels in The Philippines
Amenities
So apart from restaurants, what is there?
Shops
We saw a swimwear and beach clothes shop. I didn't venture inside but it seemed like similar fare to the cheaper shops in town. There was also a pharmacy for those of you (us) that always seem to be running out of suntan cream due to frequent reapplication.
Bathrooms
Set two blocks back from the beach, these are meticulously clean. There is a guy who will sweep them out every ten minutes or so. There's no shower, but there is a tap for washing your feet/swimsuit. There is also a little urinalysis so mums can take their sons into the bathroom with them, which I thought was cute.
A note to remember – The toilet roll is on the wall BEFORE you enter the cubicle!
Free Shuttle
You can actually get a free shuttle bus to and from the resort from 'The White House' in El Nido town. This runs every 30-60 minutes. We did this to get back to town and it saved us a bundle.
Activities
There are bamboo bikes that you can hire to peddle around on, a volleyball court that you can play on and kayaks to hire. Ask around and you'll find paddle boarding and other water sports too.
In the evening there is live music you can listen too. The day after we visited there was an acoustic festival going on, completely free.
Why We Thought LIO Beach was Better than Nacpan Beach
You can get there and back for free (or 200 each way in a trike) whereas a trike to Nacpan could cost you 1000.
There is no entry fee at LIO Beach, unlike Nacpan.
It's 30 minutes closer than Nacpan.
You can eat pretty cheaply, just ask if they have offers. If not, the food is similar to that sold on Nacpan.
Or share. My burger would have fed two of us if we weren't being greedy guts
The sunbeds cost 400 pesos, the same as Nacpan or you can just lay out your beach covers like we did.
The beach is wider, and has more shade than.Nacpan.
It also has far fewer visitors.
We only saw 3 stray dogs on the resort. We saw at least 30 at Nacpan.
There are NO cockerels (seriously, once your spent a night or two elsewhere on the island, you see why this is a bonus).
The toilets are scrupulously clean and free.
The sunset was pretty gorgeous.
Whilst in El Nido, we stayed at El Gordo's Action Adventures Guesthouse. Check out our full review
Final Thoughts
With rooms costing 1600 pesos upwards a night, I don't think I would opt to stay at LIO Beach. However, if you can afford it, the hotels all look super lovely. However, I would most definitely return for a day or two of relaxation.
You should go too…quickly…before the secret's out
Rosie xx