Riga is an incredible blend of interesting history, impressive architecture, fun places to party and plenty of activities to suit everyone. It is the perfect place for a city break, but how do you see the best of the city if you only have 3 days in Riga? This is your perfect long weekend in Riga itinerary.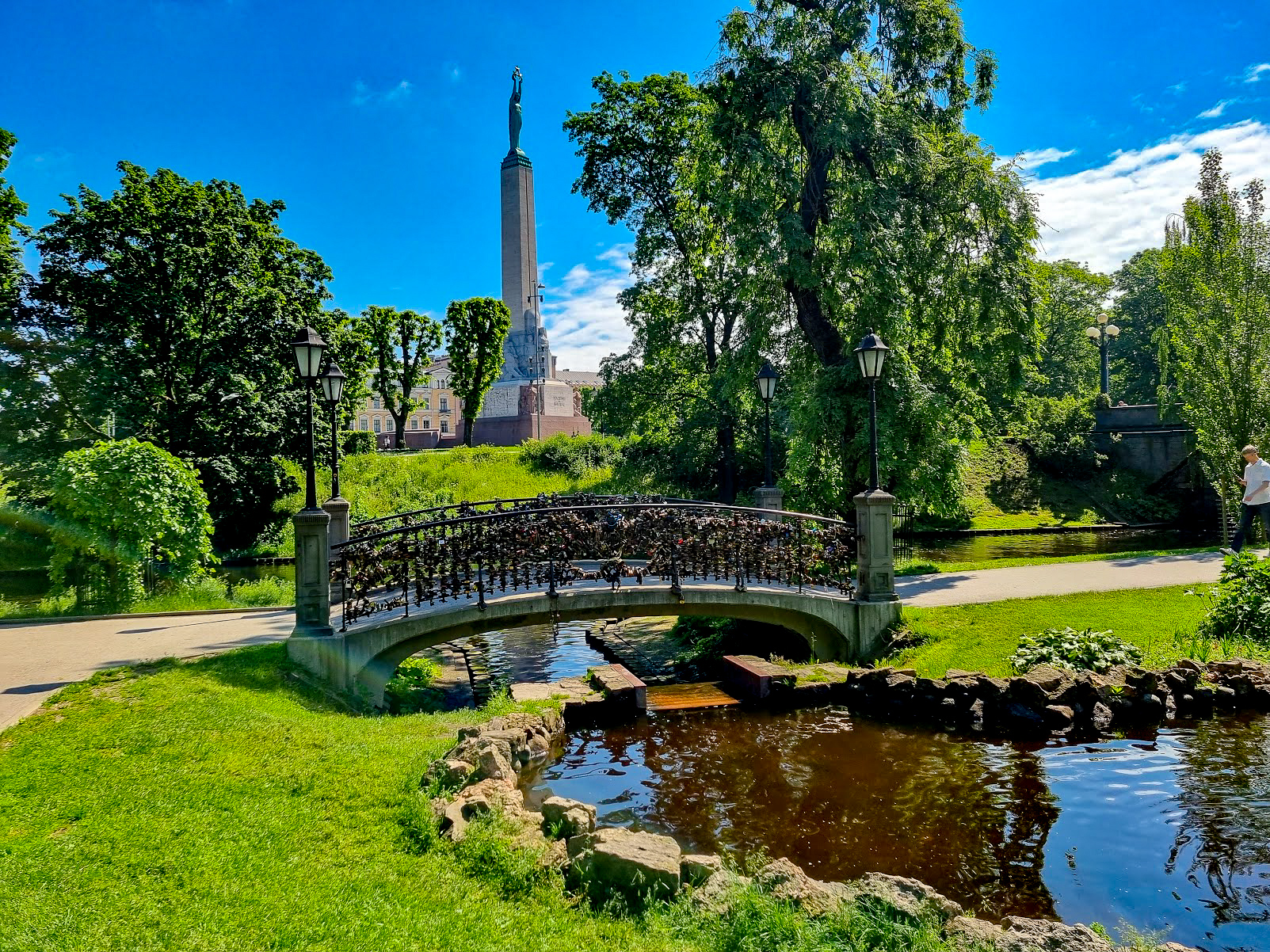 Our stay was partly sponsored by Live Riga. All opinions are entirely our own
A Little Bit About Riga
Riga is the capital of Latvia. It is the largest and busiest of the Baltic capitals. The city is spread across the area where the wide, grey Daugava River meets the Baltic Sea. As you explore the city you will be treated to architecture that ranges from the modern to the medieval and wander streets from curving cobblestones to wide, tree-lined boulevards. Most visits are centred around the gorgeous Old Town but if you have 3 days in Riga, you have time to see some of the wider city. Trust me, it is NOT to be missed. I have visited twice and been charmed by it on both occasions.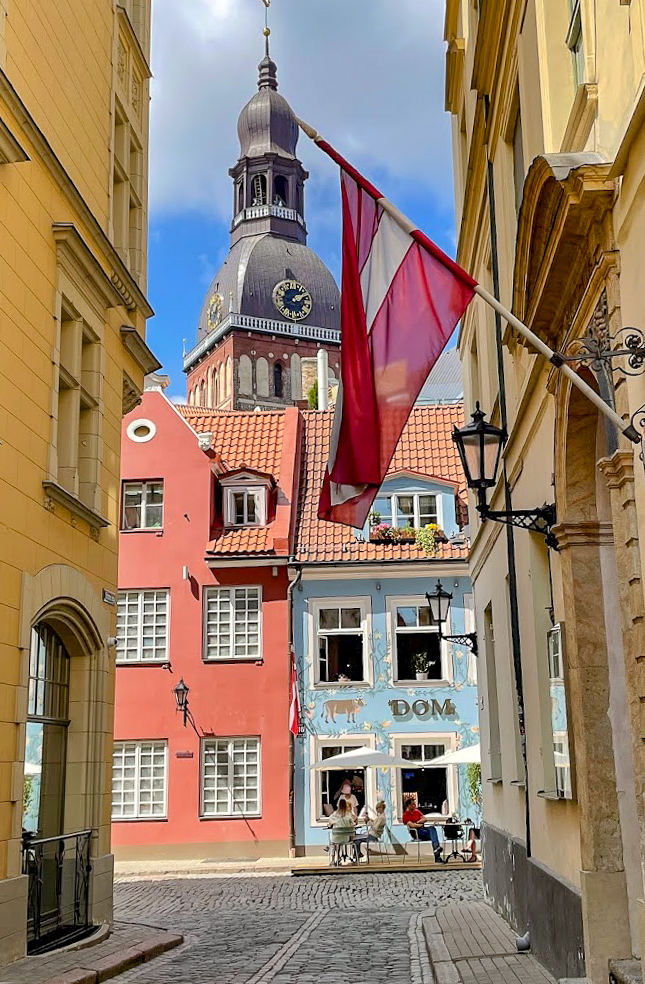 If you enjoy this post, check out our other Baltics content here!
Your Long Weekend in Riga Itinerary
DAY ONE
When you arrive at the neat and compact Riga Airport, hop on the 22 bus (just through the car park and across the road from arrivals). Buses run every fifteen minutes and it takes just thirty minutes to reach Vecriga (the best stop for the Old Town). Check into your chosen accommodation and then it's time to hit the sightseeing trail!
Get Your Bearings with River Cruises Latvia
River Cruises Latvia is located on the canal that snakes its way around the edge of Riga's Old Town. The trips are taken on traditional flat-bottomed canal boats. Each has its own name and seats a different party size so you can book one that suits your group. Of course, you can join other small groups too. As you travel the canal, and out on the river, there is a prerecorded audio tour that they play through the speakers. Luckily, the windows are clear plastic so on sunny days they can be rolled up and when it rains, (and when we visited, it was really chucking it down) they can be rolled down.
Spots to look out for on the boat:
The Central Market – The fur halls of the central market which is great to grab some dinner…more on that later.
National Library of Latvia – The building that is reminiscent of a pyramid, also called the Castle of Light, was designed in 1989 and is a striking piece of architecture on the bank of the river.
The Bridges of Daugava River – These are genuinely impressive bits of engineering.
Riga Radio and TV Tower – Standing at 368.5m tall, this is the tallest TV Tower in the EU.
The Green Banks – Running up from the canal are some really pretty parks and fountains burst from the canal water. It is a lovely swathe of green through the city.
There are a few spots on google maps, but this is the launch you need.
Grab a Snack at Central Market
Riga's Central Market is located in five huge buildings, utilising old Zeppelin (airship) hangars. Overall, the market covers 72,300m², which makes it the largest market in Europe. The inside areas are split into different sections so as you wander through, you will find ready-to-eat delights, pickles, sauerkrauts of all flavours and colours, honeycomb, raw fish and meat, cheeses, plenty of bread and baked goods. This isn't just a tourist market, it gets 80 000 – 100 000 customers a day that browse the 3000+ stalls for their dinner ingredients. As well as the inside area, the market spills out across a huge concrete area. It is outside that you will find a large fruit section boasting HUGE punnets of fresh berries.
If you are on a budget, ignore our dinner recommendation and grab some nibbles here for the evening If you are planning on eating out then grab some fruit and snacks and enjoy them as and when.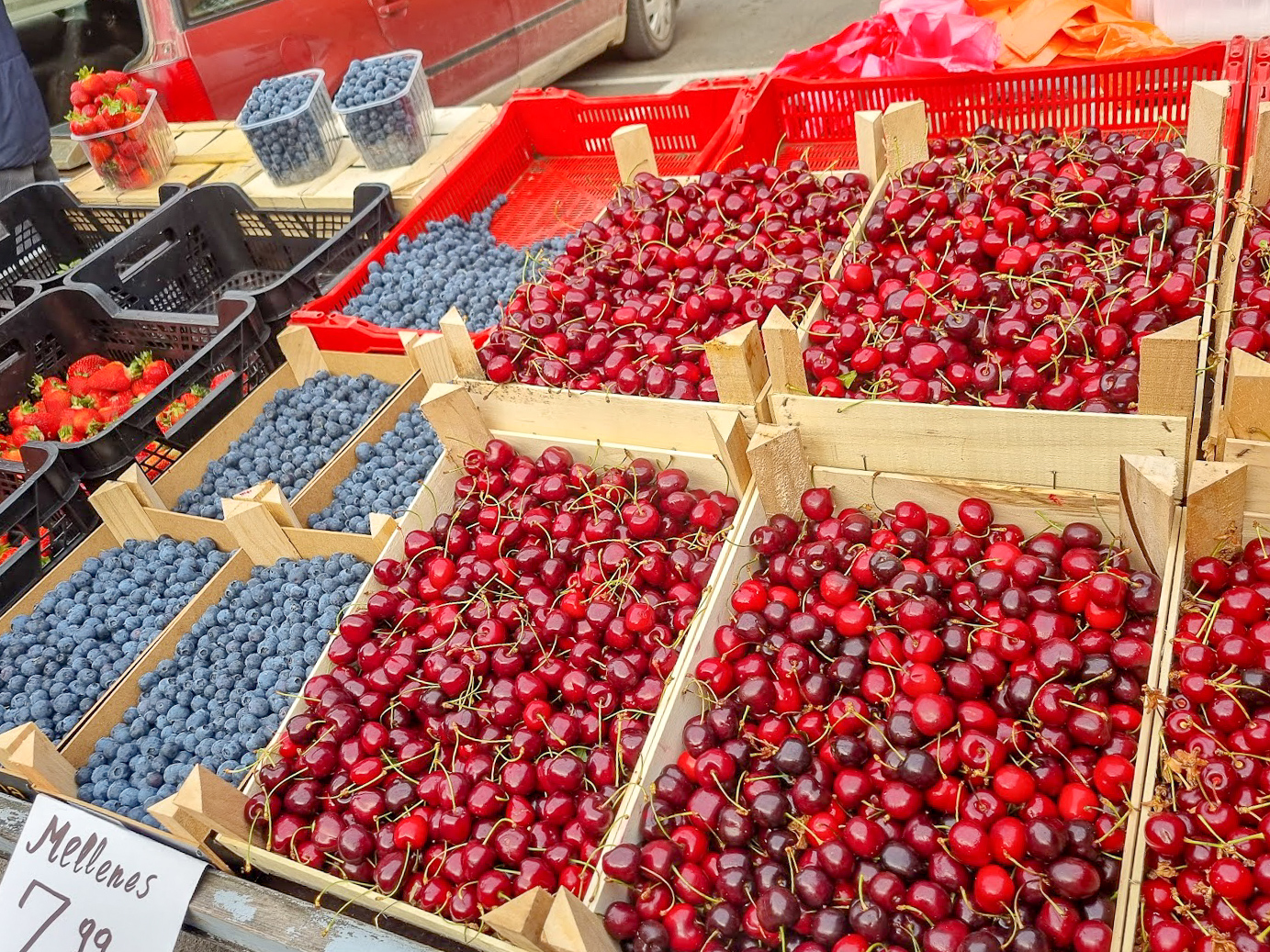 Catch the Sunset at Latvian Academy of Sciences Observation Deck
The Latvian Academy of Sciences is not one of those highly glassed, super fancy observation decks that were built for the purpose. Instead, it is a gloriously Soviet concrete building with a lovely golden stone facade and fantastic 360-degree views over the city. It was built between 1951-61 using voluntary donations from the Latvian population…and we all know what voluntary meant when the USSR says it.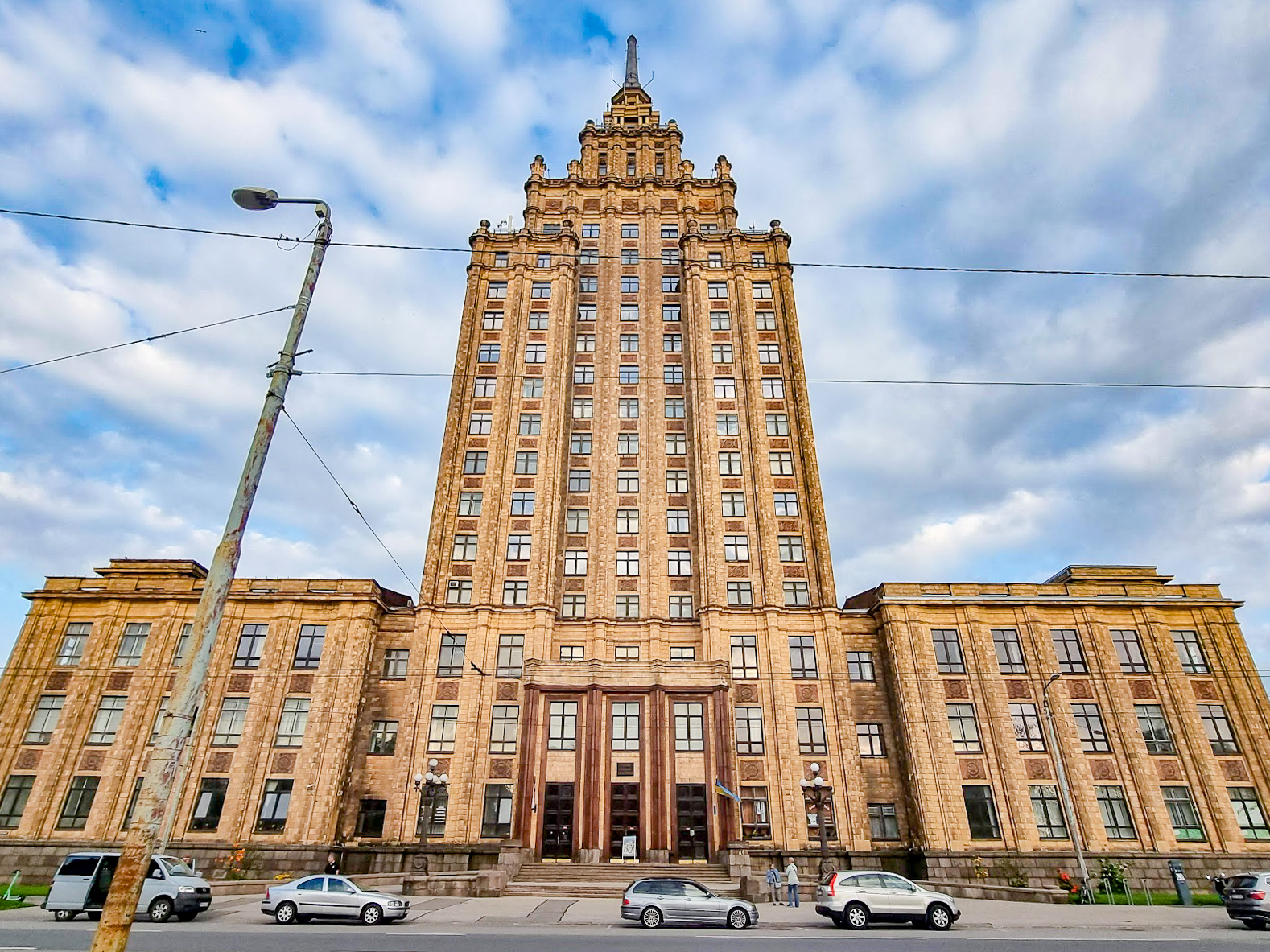 To reach the observation deck, you need to head into the main entrance and pay the delightfully unimpressed matron at the desk.She will point you to a lift, over in the right hand corner. This will take you up to the 15th floor and you need to walk up two more floors until you emerge outside. From the balcony (65m up) you can see the TV across the river in one direction and across the central market and Old Town in the other. As well as the great view (especially at sunset) there are some interesting information boards to peruse and a crazy selection of stickers, added by visitors over the years.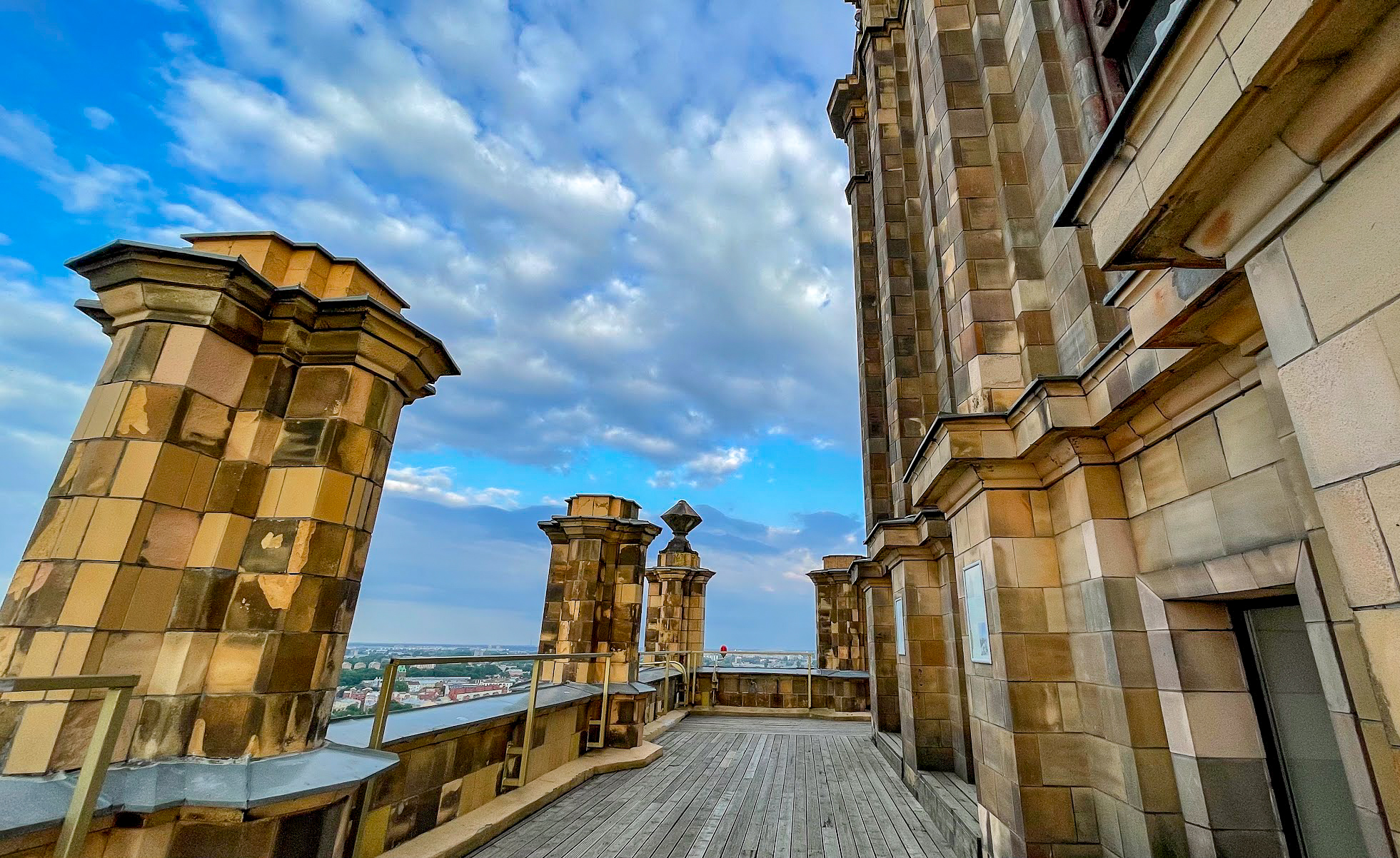 Delightful Dinner at B Bars Restoran

s
B Bars Restoran is a slightly bonkers restaurant and bar located right opposite the entrance to Riga Cathedral. In the summer there is a lovely little outside area but when the evening is a little chillier, opt for a table inside. There is a jovial atmosphere with a blend of people out for dinner and those steadily on the drinks!
The menu has some traditional favourites but is also full of dishes that are totally unique. Plus, there is sushi! During our visit, Mr Fluskey had an avocado burger which was a hardcore salad, presented in burger form. I tried an intriguing south-east Asian pasta with seafood, mango, cheese, chilli, coconut milk and olives. It confused and delighted me.
The drinks menu is even more fun and we enjoyed a decent glass of rose, a deliciously tropical Sex in Jurmala and some awesome shots with grapefruit juice and black balsam. Black balsam is the local herbal liqueur and you HAVE to try it whilst you are in town. It is surprisingly delicious, a little like Jeager but with more cakey flavours (liquorice, ginger, cocoa, spices and berries).
For dessert, we chose a frozen cocktail with strawberries, vanilla vodka, ice cream and strawberry liqueur. It was huge so we shared. it was an excellent end to the meal.
Check Out the Old Town Bars
Riga's Old Town is absolutely chock full of bars. The best thing about spendng a long weekend in Riga is having the time to explore lots of them. There is something to suit everyone, and here are three of our favourites:
Cuba Cafe
If you have read some of our other articles (especially those from the Caribbean) you'll know that Mr Fluskey LOVES rum. At Cuba Cafe there is a large selection to choose from and a brilliant cocktail menu with lots of rum options, summery spritzes and all the classics. The Clavis Riga (with more of that black balsam) was surprisingly delicious. Even the pina colada was great! For something a little softer, they have excellent Cuban coffee too.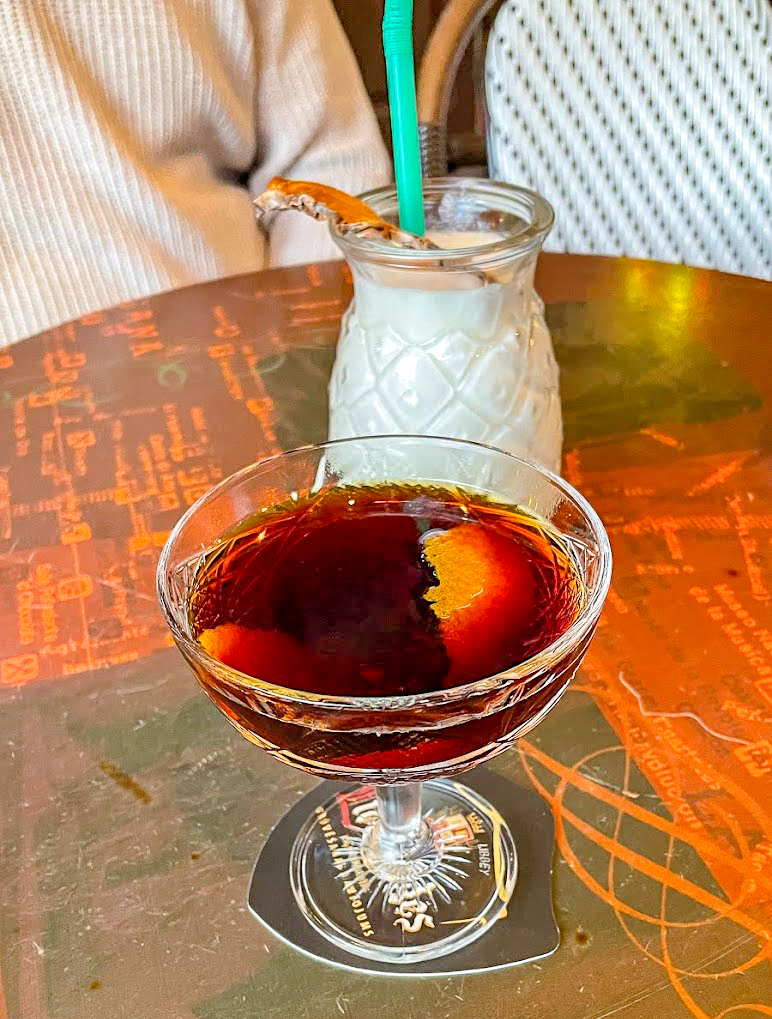 Sidrērija
Cider isn't that common around Riga, with maybe one or two on each menu (and no, I don't count Strongbow because it is god awful). However, at Sidrerija, cider is their passion. They have an ever-changing selection mostly from the MŪRBŪDU cidery in northern Latvia. There are classic apple ciders from sweet to dry but they also produce a cool selection of flavoured cider. The staff were telling us about past drinks and it would be great to return and try some more! Inside is a cosy bar, a restaurant and outside is a cool courtyard but it was a little chilly for that during our visit.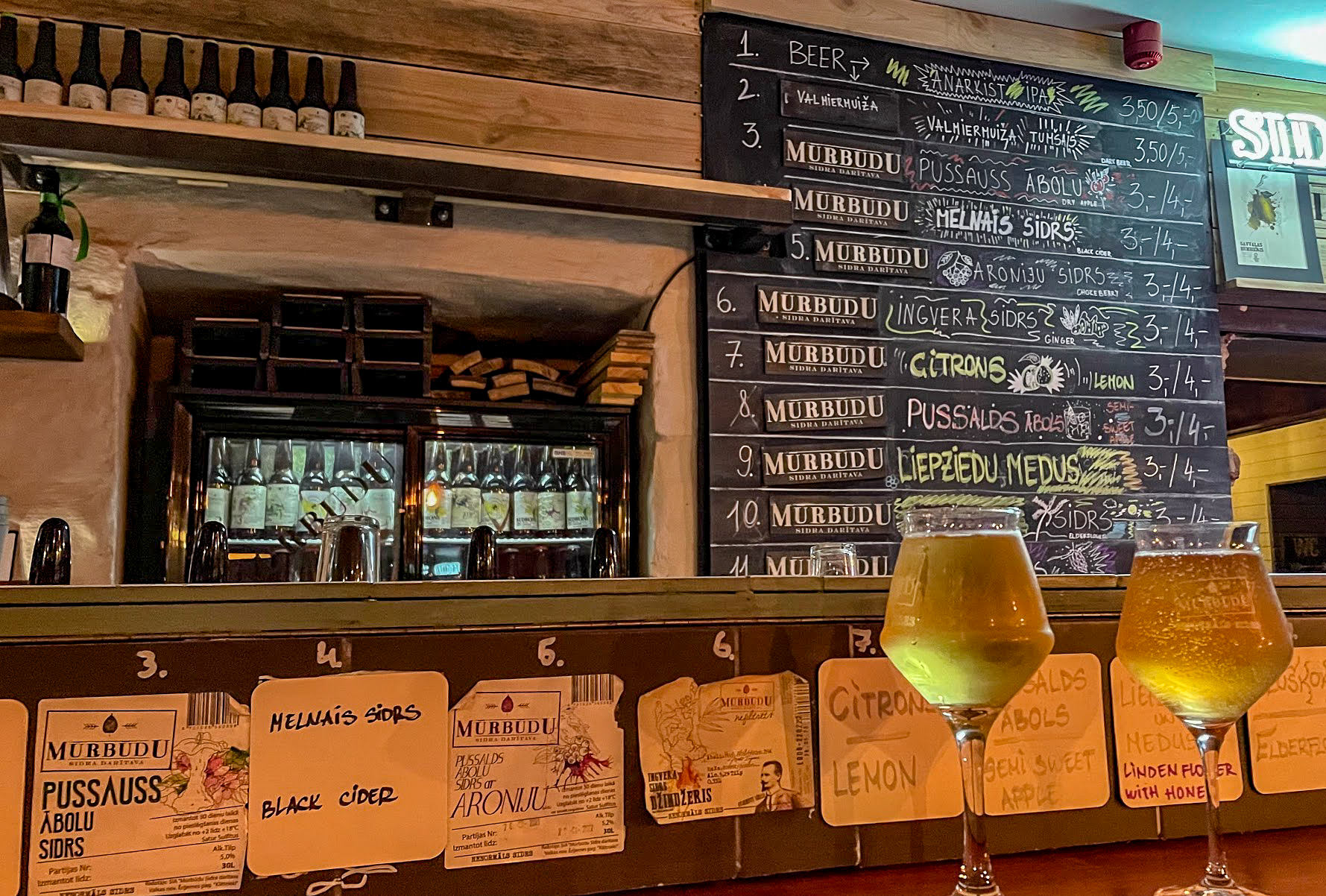 Folkklubs ALA Pagrabs
As you enter the entrance to Folkklubs ALA Pagrabs, you might notice a little whiff of pee but keep walking and you'll emerge into a cavernous bar. The bricked walls and dipping candles are very amospheric. The drinks menu is full of local beers and a crazy range of brightly coloured cocktails and shots, which go some way to explaining the jovial vibe. Add to this the folk singers, dancing and musicians and you have the secret to a great evening.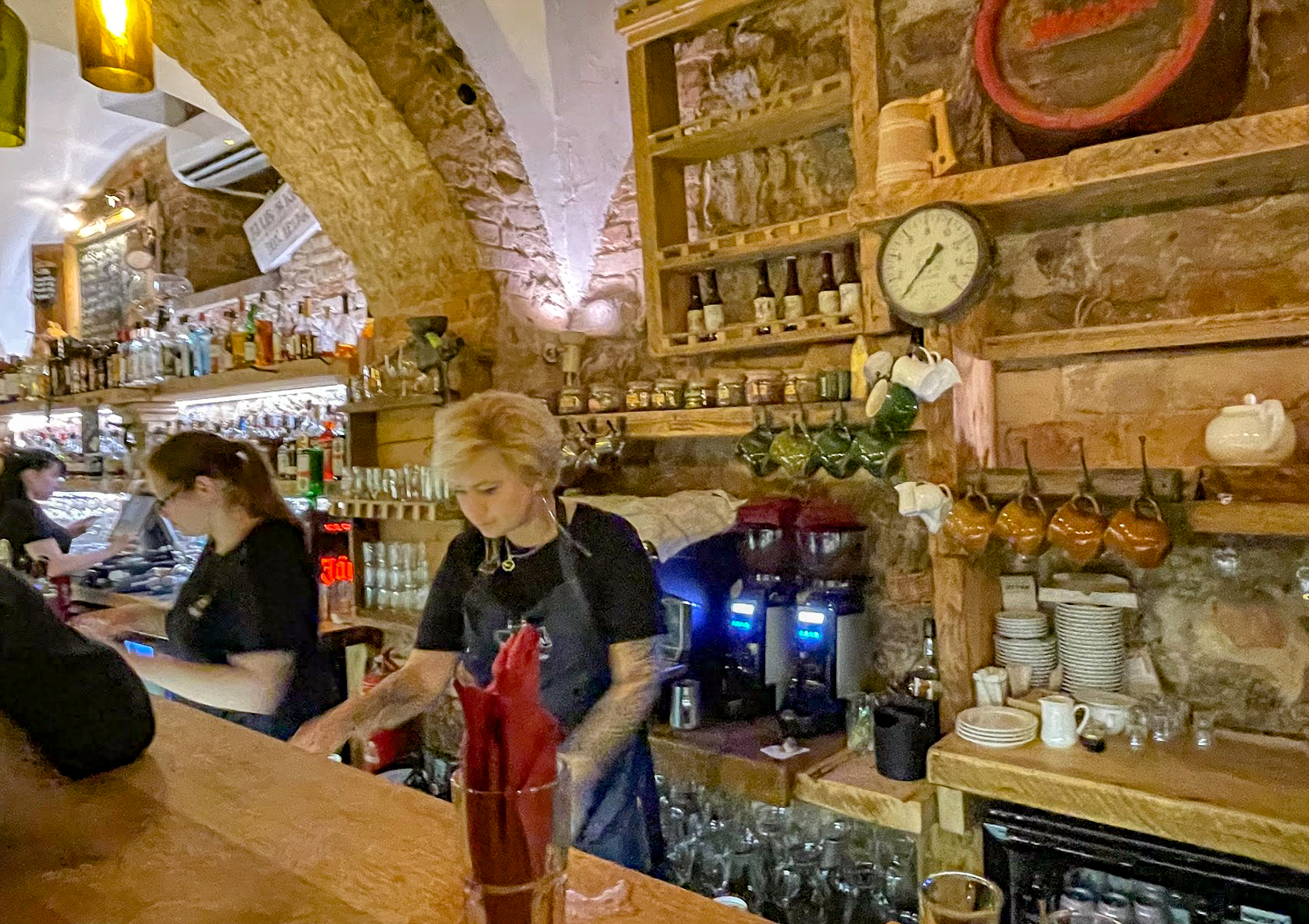 DAY TWO
Uncover Layers of History with a Free Walking Tour
Free walking tours are the backbone of European city travel. Backpackers, families and those who can beat their hangovers can join Riga Free Tour for a stroll through the streets. As you walk, your passionate guide shares their local knowledge of history, culture and a city's secrets. We took to the streets of Riga with James, one of two guides that morning on the Old Riga Free Tour. We explored the Old Jewish Quarter, the main squares of the Old Town, and the Swedish Gate, and ended at the Freedom Monument. The tour lasted around 2.5 hours and was an amazing way to get n overview of the city and decide which sights we wanted to return to for a proper explore.
Enjoy Coffee and Cake in Riga's Most Romantic Cafe
Tucked down a cute alley just next to The Three Brothers is Parunasim kafe'teeka. This cafe is seriously cute, full of vintage touches, mismatched chairs and a sunny terrace too. We came in with plans to grab a drink but the cakes looked so good. We asked what they all were and as the lovely wait staff listed them off, we realised that there was no way we could skip a slice. After some hardcore negotiation we settled on a strawberry yoghurt cake, a light and fluffy, fruity little number. The coffee was fantastic and the cake was even better. Parunasim kafe'teeka also provides light bites and tasty cocktails so there is something for everyone.
Take in Some Culture at Dome Cathedral
Riga Cathedral is the large church at the centre of the Evangelical Lutheran faith and had been on this spot since the foundation stone was laid in 1211. It grew to be the largest medieval church in the Baltics. Of course, it has changed hugely throughout the years. When it was converted to Protestantism in the 1500s, the interior was stripped back and much else was lost when it was converted into a concert hall during the Soviet era.
Visitors can pick up a printout as they enter to discover the best bits of the Cathedral. There are also audio guides that are definitely worth it. My favourite highlights were:
The Golden Rooster – The rooster is the symbol of Riga. Although now these shining cockerels are decorative, they used to be weathervanes. Riga depended heavily on naval trade so the wind was vital to the success of the city. Looking up, they seem pretty small but here you can the original rooster from the 1500s and it's rather sizeable.
The Organ – Riga Cathedral has a stunning organ that dates from the 1880s. It has 6718 pipes in a dramatic, decorative balcony at the back of the naive.
The Stained Glass – The stained glass in Riga is unusual and gorgeous. Instead of small, simple pictorial scenes, the whole windows are huge pictures with almost a graphic novel style.
The Black Heads Pew – The Black Heads (more about them in just a second) had a special spot in the Cathedral, their own private pews decorated with Moors. It is carved in dark wood and it is strikingly different to the other seating the church.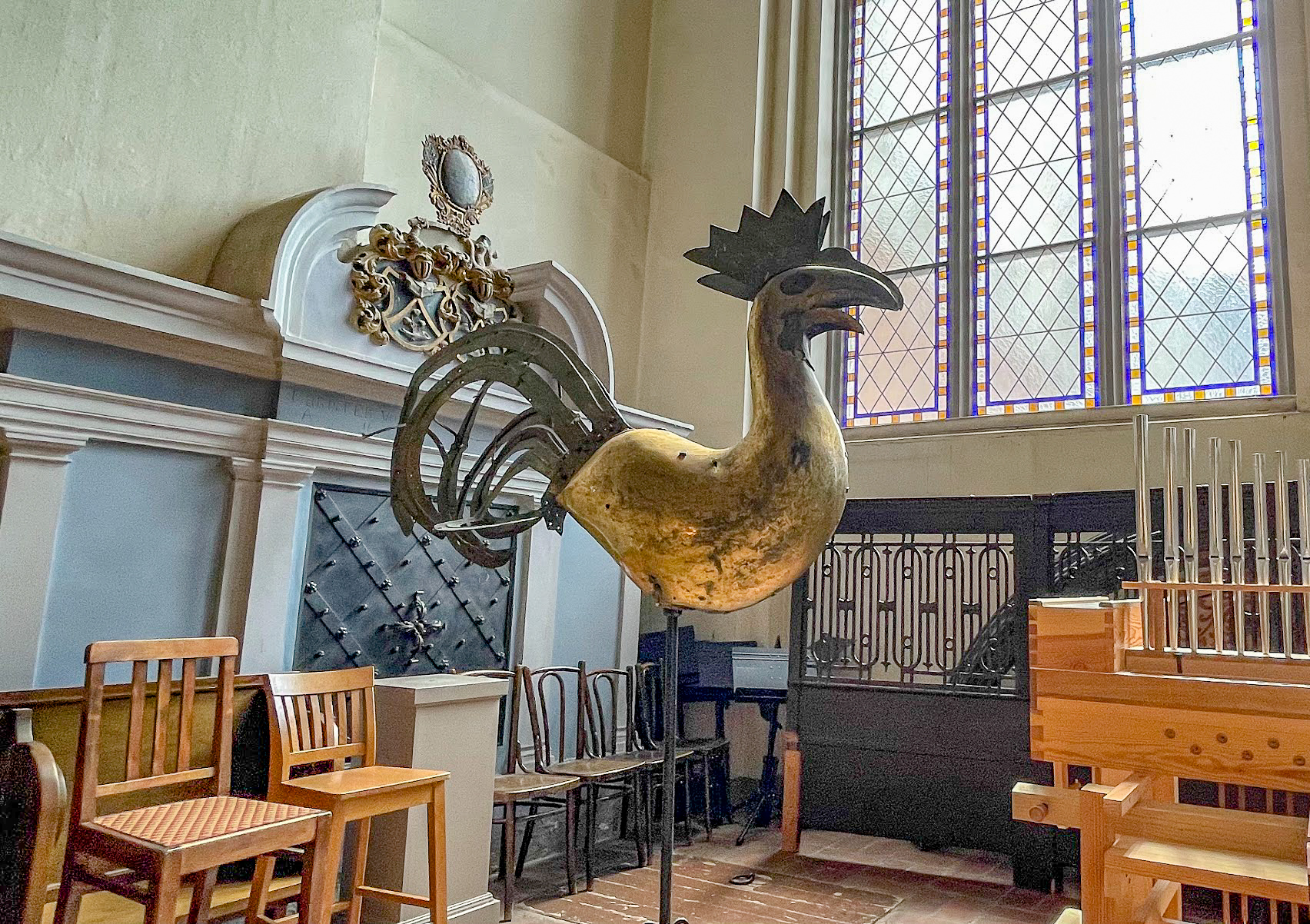 Visit the House of the Black Heads
So, a little more about the Black Heads.
The Brotherhood of Black Heads was a guild, started in the mid 1300s. It began with a military bent but in Riga, it became more about merchants and shipowners. They had to be male, and they had to be unmarried. When a guild member died, their money was left to the powerful organisation. Of course, get lots of rich, unmarried men together in one spot and they are going to throw some epic parties. There were rumours of huge gathering at the House of the Black Heads and as your tour the building you can see just where the wealth went. The building had extensive renovations in the 1700s with the addition of lots of late-renaissance decoration.
The building was hit during WWII and the Soviets removed the rest of the house. Luckily for us, however, a passionate fundraising campaign led to the reconstruction of the entire house between 1996 and 1999. It is now a museum, as interesting for the Black Head history as it is for the architecture and artisanal crafts on show.
Just outside the House of Black Heads is a small iron Christmas tree. It was thought that the Black Heads in Riga were the first people ever to decorate a Christmas Tree. In fact, Riga was organising a huge tourism campaign based around BUT it turns out that their brothers up in Tallinn got there first!
Explore The Three Brothers, Latvian Museum of Architecture
Riga has a totally unique corner where three generations of architecture live side by side. These buildings together are known as "The Three Brothers". The building at 17 Maza Pils Street is the oldest stone house in Riga, dating back to the late1400s. Notice the tiny windows, at the time property taxes were based on window size! We have floor-to-ceiling windows with a tiny flat so we would have been screwed! Next door at 19 Maza Pils Street, the Dutch-style, late renaissance facade dates back to 1646, with a stone door frame added 100 years later. Gotta love those gables! Finally, 21 Maza Pils Street, is a baroque building from the late 1600s. See if you can spot the masks added by the owners to ward bad spirits away.
Together these buildings make the oldest housing complex in Riga. The oldest house now houses the Latvian Museum of Architecture, which opened in 1994. In the 1950s a restoration took place which integrated elements from other buildings affected by WWII shelling. These are displayed in the courtyard. whilst the rest of the museum displays temporary exhibitions.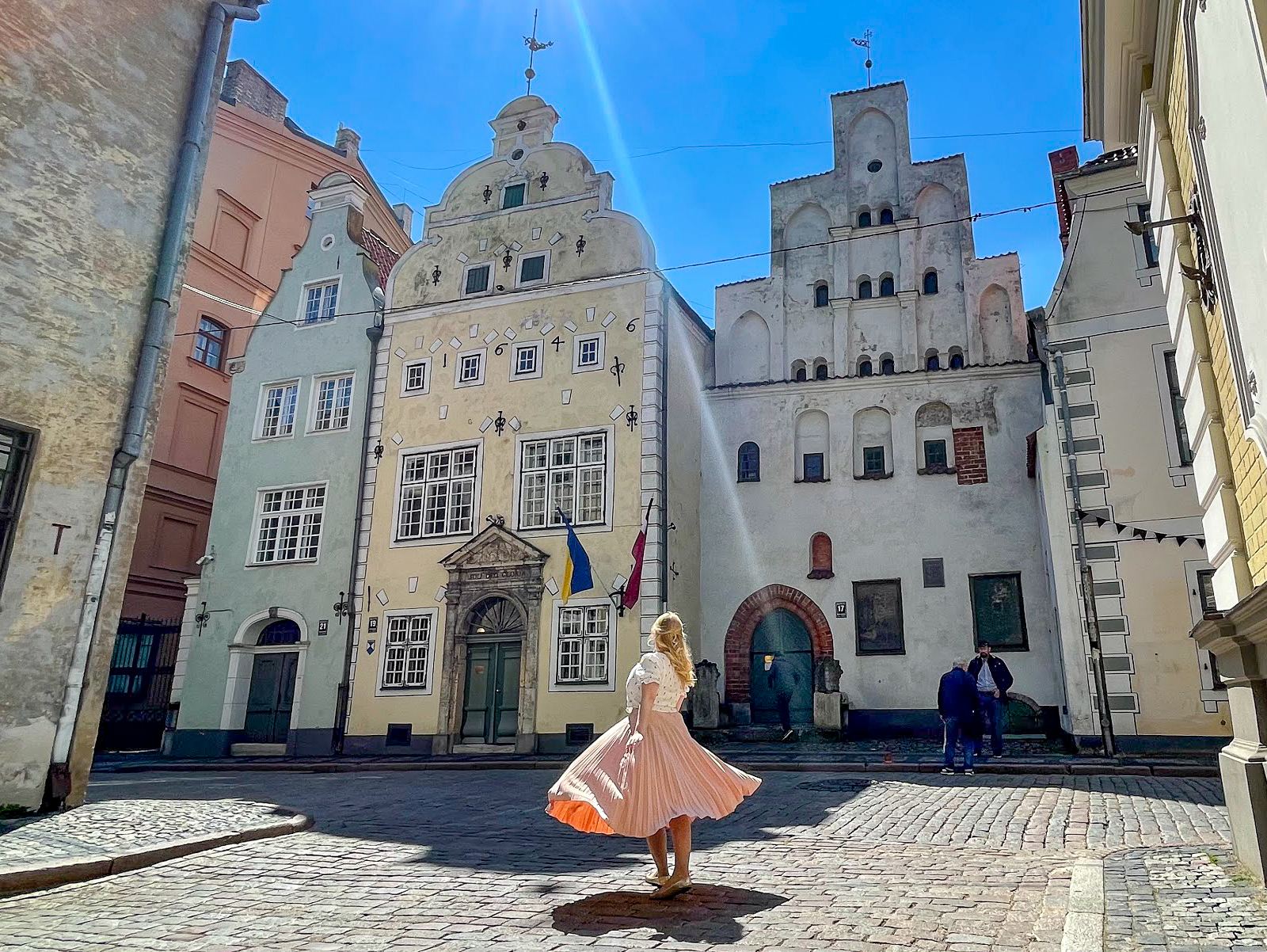 Try a Divine Dinner at 3 Pavaru Restorans
Riga's fine dining scene is still developing but an early, stand-out candidate for the best restaurant in Riga is 3 Pavaru Restorans. 3 Pavaru means 3 chefs, which is curious because it was founded by 2 chefs! There is an open kitchen allowing you to watch the chefs at work. It is so exciting!
Diners can opt for the 6-course tasting menu for just €65 or go a la carte and choose just what they fancy. It is possible to pop in and just have one delightful main dish for €15 – €37. We tried a weird and wonderful saucy starter which was live-plated at our table. There were three different sauces/purees served alongside plenty of crusty fresh bread to scoop it all up.
See a Show at the Latvian National Opera and Ballet
If you fancy a bt of high culture at a perfectly reasonable price, then pop on a nice frock and head for The Latvian National Opera and Ballet. There is a fantastic roster of world-class operas and beautiful ballet performances. During our stay, there was a production of Swan Lake with tickets starting at just £7! It is especially exciting to visit in June/July when the Riga Opera Festival is in full swing. There is a different show every night.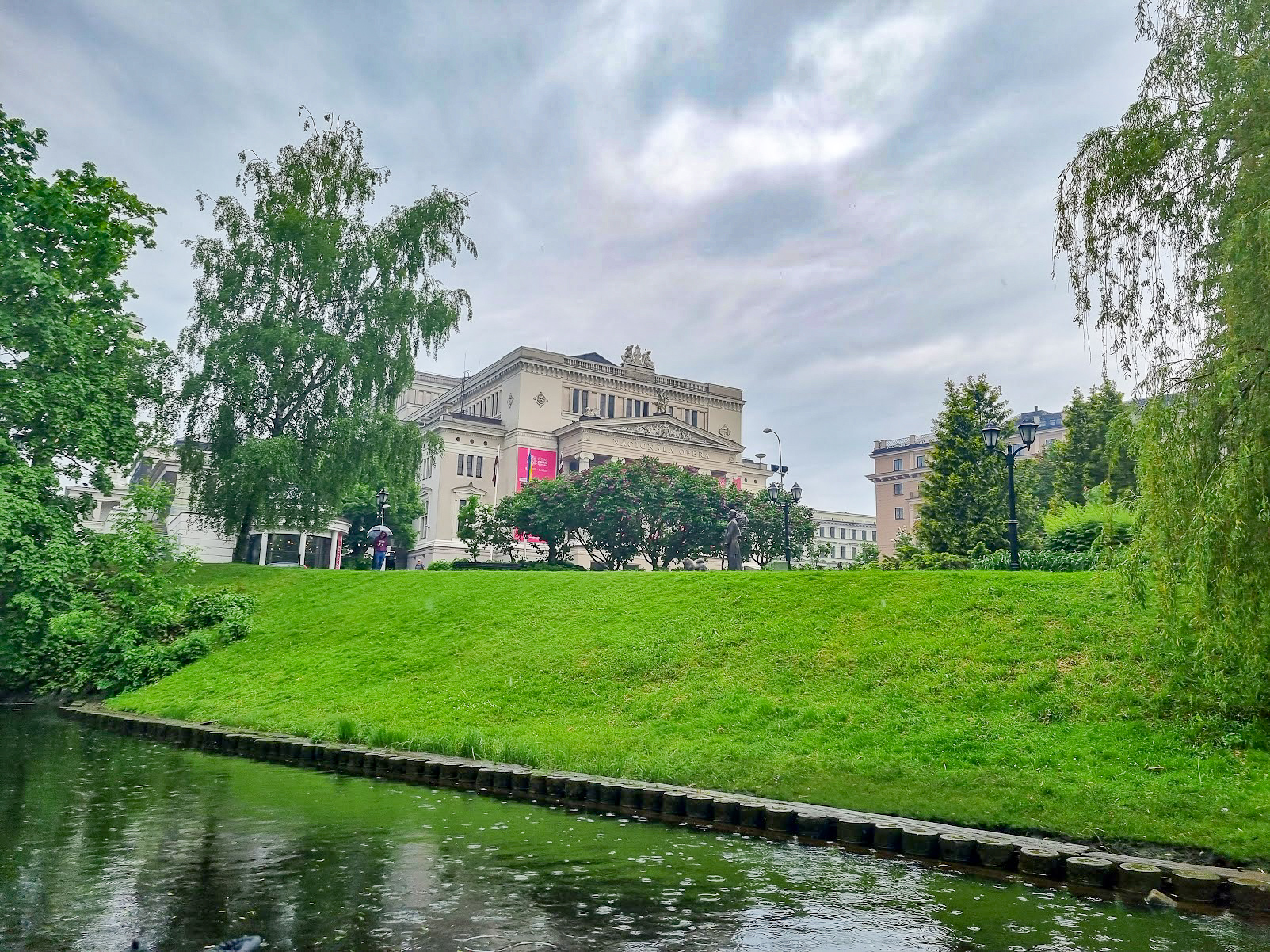 DAY THREE
Today we are leaving the Old Town again and heading across the canal to explore some of the wider city.
Marvel at the Freedom Monument
Officially unveiled to the public in 1938, the Freedom Monument commemorates the soldiers lot in the Latvian War of Independence (1918–1920). The woman at the top of the 42-metre statue is a copper rendering of Liberty holding three stars. The three stars represent the three regions that originally made up Latvia. There are a few more now but who's counting? Around the base are 56 more statues that represent historical figures, cultural fathers and other figures representing Latvia.
When the Soviets took over, it still represented the city's sense of independence. The Soviets banned people from laying flowers or gathering at the statue so when 5000 people came together to do just that in 1987 to do just that, it was a powerful message!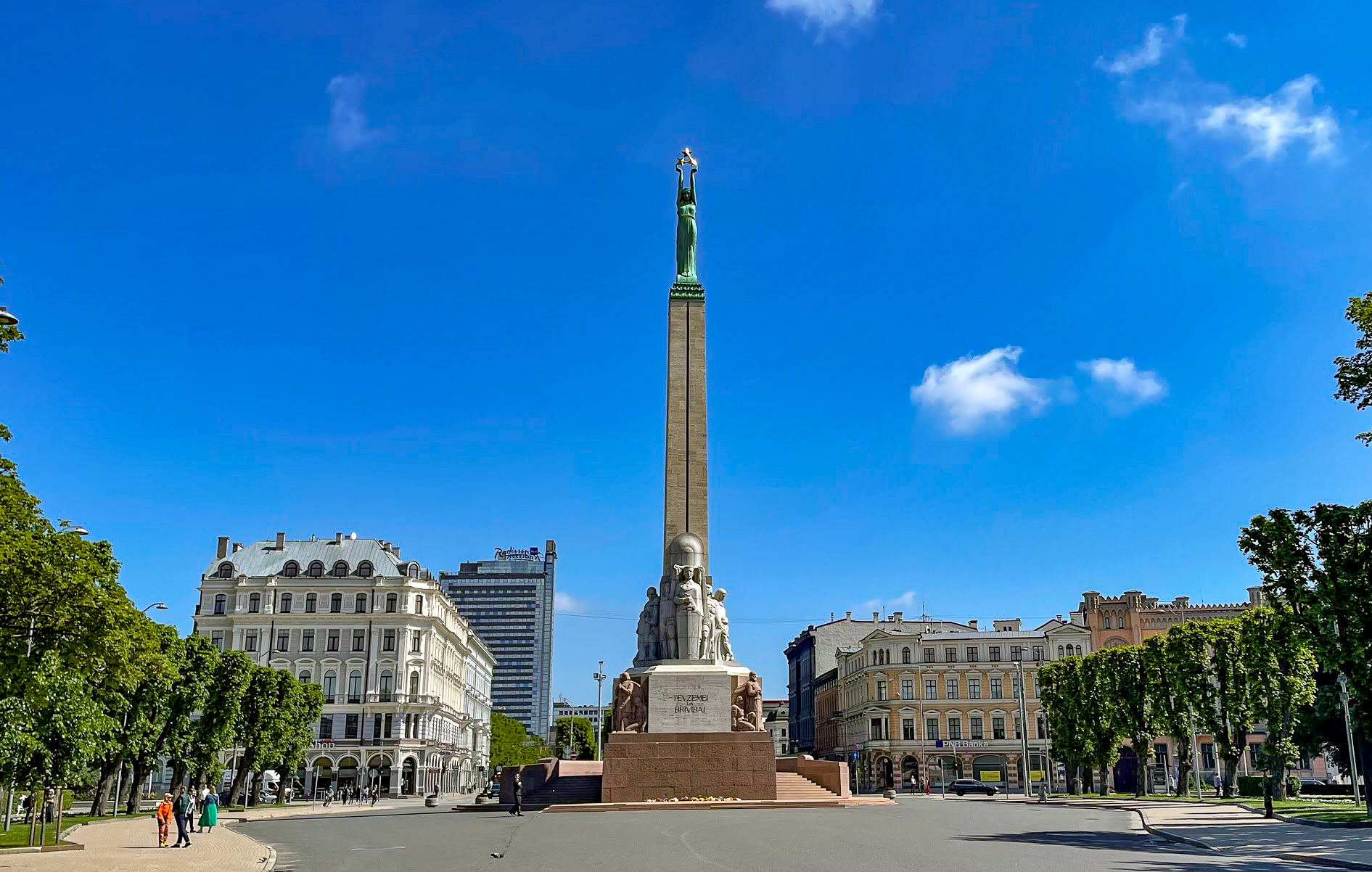 Learn the Dark Side of Riga's History at The Corner House
Continuing up Brīvības Iela, you could easily miss the Corner Huse. It blends into the surrounding architecture and that is exactly why it was the perfect base for the KGB. The KGB, the police force of the Soviet Union, operated out of the Corner House secretly. They rooted out decenters, rebels and other undesirable…or at least, that is what they claimed. Although some genuine subversives were caught and interrogated legitimately, there were many, many more people that were imprisoned, tortured, deported or executed with little to no evidence against them. The Corner House was the place these people were bought to for confinement until a confession was "obtained" …and then that was it for them. The only way out was to turn informant. This all took place over around 50 years.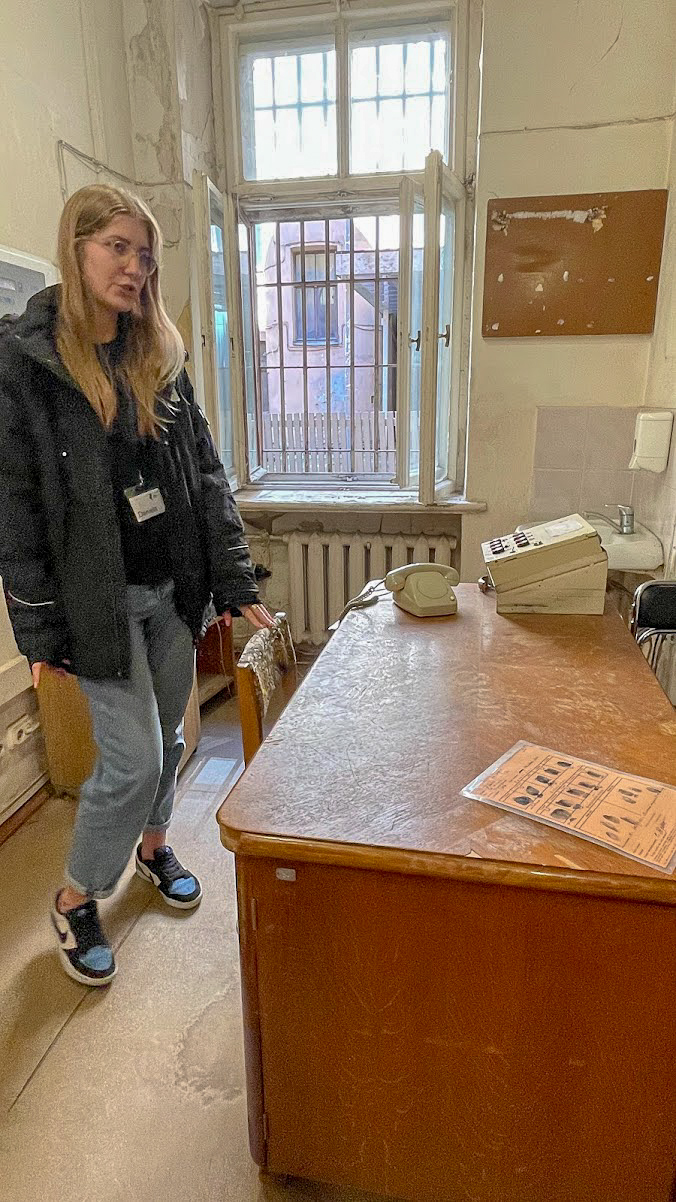 Visitors are given a one-hour guided tour, offered in several languages at different times throughout the day. Your guide will take you through the offices, cells and exercise yard of the building. It is fascinating and can be a little upsetting at times. We visited in summer so it wasn't too cold but in winter it can be very cold so bring your coat with you!
You also have as much time as you like to explore a small but densely packed exhibition with more info putting it all in context. You can also get lost in the real-life stories of people who were kept here. They are amazing people and their stories are sometimes funny, sometimes harrowing but always fascinating.
Pop into Old St. Gertrude's Church
As you are nearby, it is worth popping into Old St Gertrude's Church. St Gertrude is the saint of travellers so it is only right to see her on your long weekend in Riga. There has been a church on this site since the 1400s but this one was constructed in the 1880s after a series of wooden churches burnt down. It has some lovely neo-gothic touches. As there is a large German population that worships here so sermons are usually in German. The church is free entry unless there is a concert on.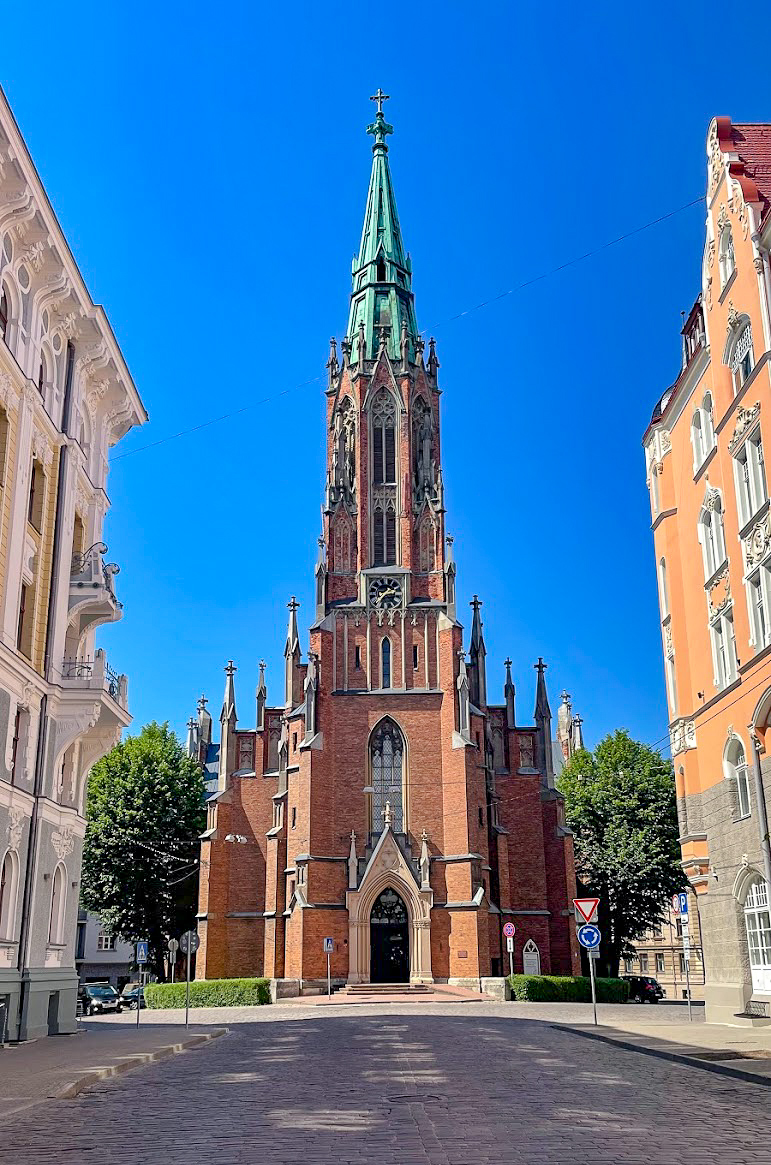 Stroll Albert Street for World-Class Architecture
Art Nouveau was a popular style in art, illustration, architecture and fashion during the Belle Epoque period (1890 – 1910). Forms from nature are combined with You may have heard about the cool Art Nouveau metro stations in Paris. Yes, they are beautiful but to see the most wonderful collection of Art Nouveau buildings in the world, it is ALL about Riga.
Riga has its own style of Art Nouveau (Jūgendstils) which combines:
Perpendicular Art Nouveau, highlighting geometric shapes.
Eclectic Art Nouveau which integrates floral motifs and other shares from nature
National Romantic Art Nouveau draws on folk tales, legends and traditions from Latvia.
Around 1/3 of the building in Riga's newer sections are influenced by this style but the best stretch is along Albert Street built in 1901. You can see lots of Mikhail Osipovich Eisenstein's work. He was a Russian-born architect that took these ideas and ran with them along this stretch of apartment buildings.
I cannot claim to be an expert, or be able to guide you around the street properly so let me give you the blog post that we found to be super useful HERE
At one end of the street is the Art Nouveau Museum. This is the former apartment of another famous art nouveau architect, Konstantīns Pēkšēns. Probably the best bit is actually the gorgeous staircase in the entrance but if you are interested in how Riga's Art Nouveau developed, then head in for a beautiful time capsule.
Don't forget to check out the gorgeous Stockholm School of Economics in Riga, the Riga Graduate School of Law and the College of Business Administration that is just down the road.
Pick up a Pizza at Zefirs
You might not think of pizza when considering Latvian cuisine but Zefirs might just change your mind about that. Head past Skonto Stadium and across the road to the Sports 2 complex. Zefirs makes top quality Italian-style pizza with a buzzy atomphere that is (somehow) both family friendly and like a super cool bar. We tried a plain mozzarella and chorizo pizzas and they were both top noth. Thin and crispy with a chewy, bubbly crust. Oh, and along with your pizza, you can grab some great spritz or gimlet cocktails or a tasty local beer.
After dinner, pop around the corner for an amazing wall covered in street art.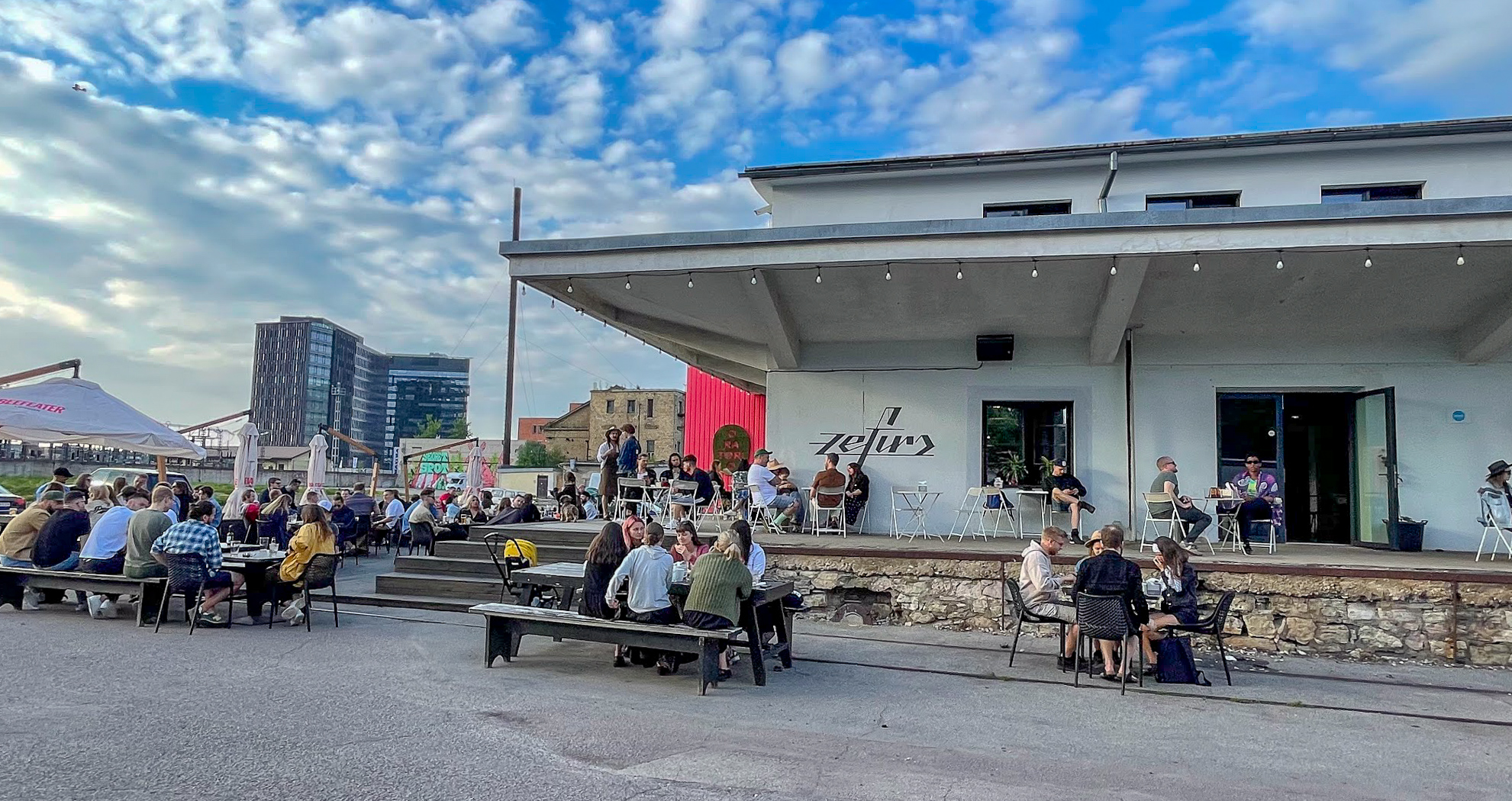 Sip Cocktails with a View at Skyline
From the ourside, the Radisson Blu looks like a pretty plain hotel but if you hop in the lift to the 26th floor, you will get one of the best views of Riga. Skyline could easily be all style and no substnce but the cocktails are splendid! We resisted the temptation to order the Gold Digger at €21 (brandy, Tatti, hazlenut, bitters and gold) but thoroughly enjoyed the drinks we did sip our way through.
Green Mile – Rum, limoncello, amaretto, matcha, lemon and pineapple.
Ligo Spritz – Aperol, blackcurrant gin, strawberry and rose wine.
Honey Cake – JD, yogurt liqueur, brownie, lime, pineapple and dark chocolate.
Perfume – Vokda, peach liqueur, rhubarb liqueur, apple and white chocolate syrup.
Of course it not all cocktails. As well as a full bar there is a food menu too. As we were already set for dinner, we just got some of there prawns crackrs…which they insisted on calling prawn crisps. They were covered in wakame seaweed which gave them a huge umami kick and made them utterly addictive.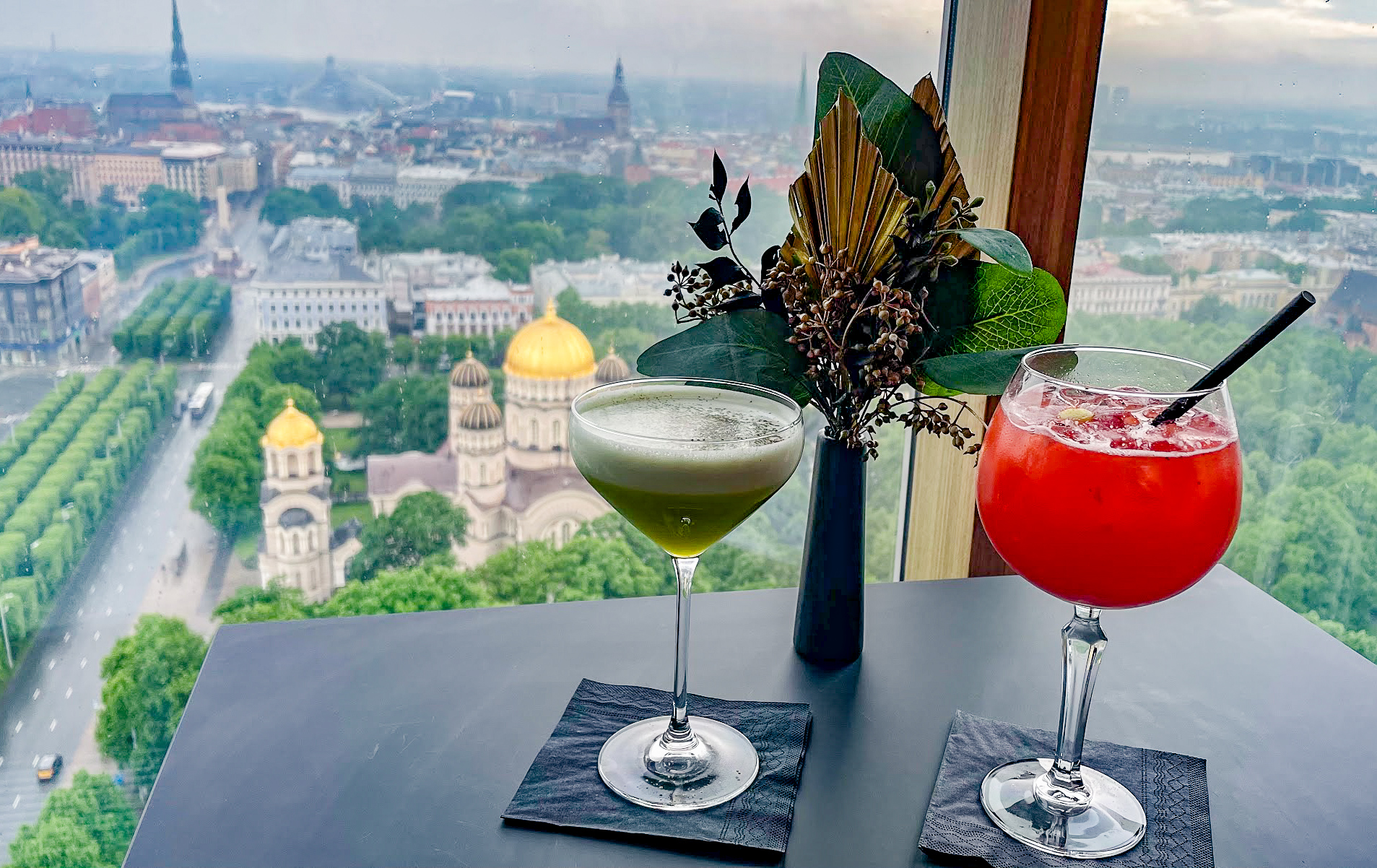 Where to Stay in Riga
With the amount of walking you will be doing, it makes sense to stay somewhere near the Old Town. For a truly special stay, we recommend the Pullman Riga Old Town. Their breakfasts are absolutely scrummy and can be enjoyed in their modern restaurant or in your room at no extra cost. The gues rooms are modern, the beds huge and the service impeccable. Plus, there is a very cool gym, pool and sauna up on the top floor. Oh, and it is only a ten minunte slow stroll from Riga Cathedral.
Final Thoughts on Your Long Weekend in Riga
Don't sell your time in here short, you will want at least 3 days in Riga. We are definitely planning to return for another long weekend in Riga, heading across the river to learn about the Old Jewish Ghetto by bike, and exploring the wooden houses moved here for preservation. There is so much to see and do! Plus, it would be so lovely to see Riga decked out for Christmas…even if the tree wasn't their idea after all.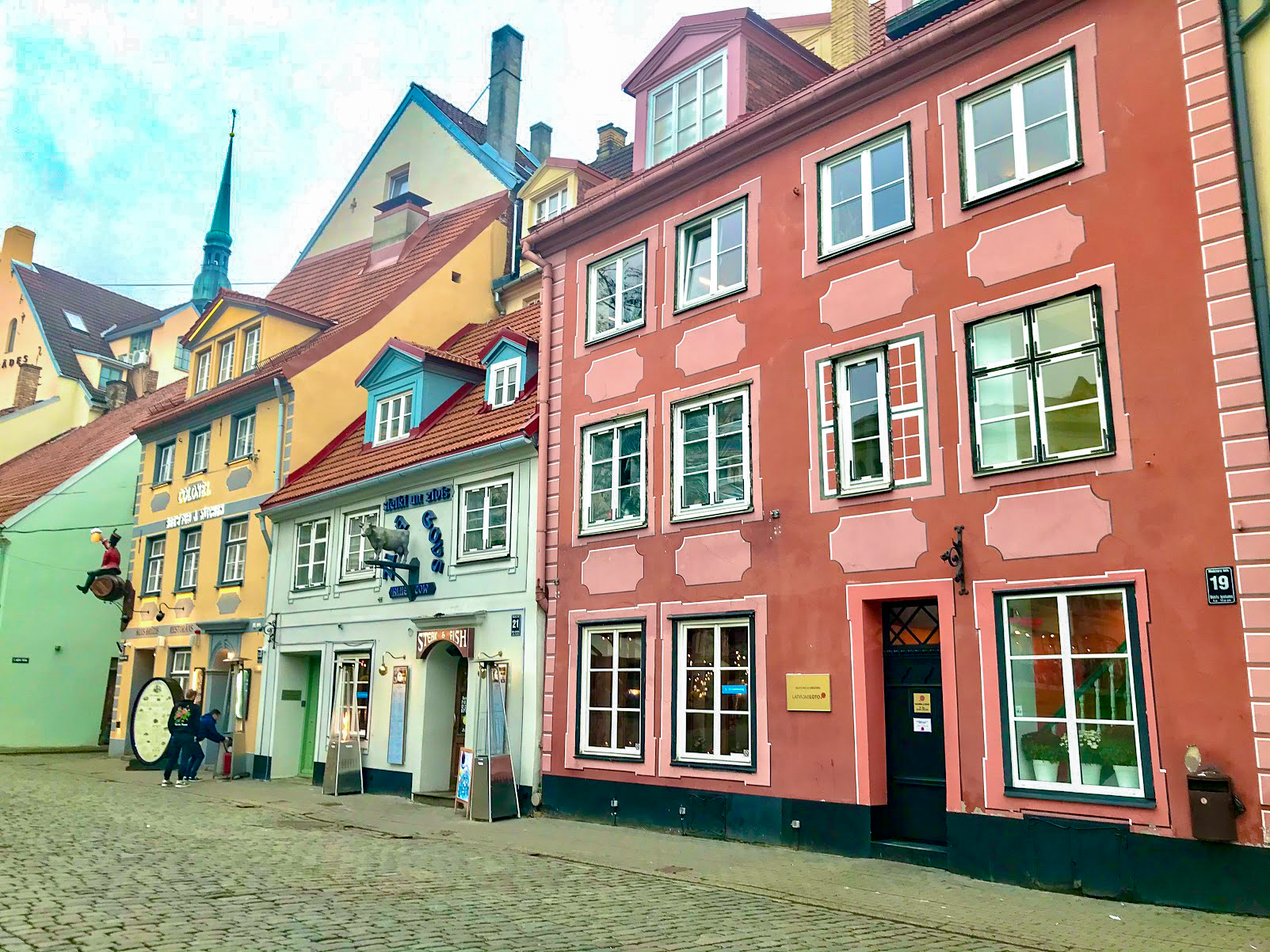 Rosie xx