Arriving at Madrid International Airport was a real shock to the system. After using smaller airports, our legs almost couldn't stand the strain of the long walk between the plane and passport control. Posters dotted the terminal, the faces of wanted Basque separatists and other terrorists staring blankly across the immigration hall. In 2004, a terrorist group had bombed and devastated commuter trains across Madrid in a coordinated attack. Spain was still feeling the after effects, and the tension was tangible.
The Arrival in Madrid
The metro link into the city was cheap and very easy. After traversing the never-ending travelators, we purchased an airport to city metro ticket for about €4 and sped to centre of Madrid. We walked to our hostel and checked into our dorm room. Mr Fluskey and I use hostels or guesthouses 90% of the time but I can count the number of times we have dormed with strangers on one hand. I am a terribly light sleeper and once you've paid for two beds, it is usually only a little more to get a private room.
I'm not entirely sure why we ended up in a shared room but luckily, the hostel was great. There was a locker for each person in the room, and the chance to hire a lock if you didn't have one for €5. The en-suite bathroom was clean and the beds were very comfortable. Obviously your roommates can make or break the dorm experience, but I think we got a good bunch. Back out in the sunshine, we went off to see how much we could do for free.
Plaza Mayor and the Palace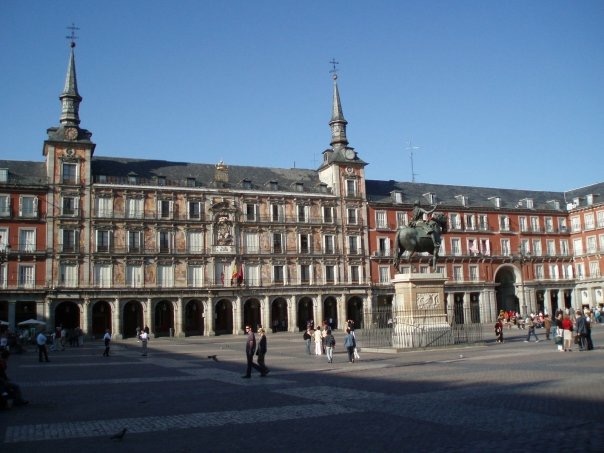 We started by walking through Plaza Mayor, Madrid's main square, lined with restaurants and bars. The building that sits on the north of the square looks very grand, until you look closer and realise that that it is painted with some rather racy pictures.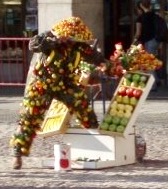 Next we visited the palace, but in a bid to save pennies, we gazed through the bars like paupers. It looked very grand and I bet the interiors were lovely, but I'll have to go back and confirm that another time.

The Temple
We went to the Temple of Debod. Happily it is in the Park del Oueste (the West Park) near the palace and it is totally gratis.
The temple is an ancient Egyptian monument to Amun, one of the big daddies of the Egyptian Gods. It was due to be flooded when the huge Aswan Dam was constructed and so it was saved from a watery fate. In thanks for their efforts to save these monuments, it was sent as a present to Spanish archaeologists in Madrid, where it was reconstructed block by block. Its waterside setting is a nice reminder of its lucky escape.
If you are after the full Egyptian experience, check out our travels in Egypt
The Time-Wasting
Our guidebook told us of an amazing tapas and jazz place and so we jumped excitedly onto the metro. Arriving at the bars supposed location we couldn't see it. We wandered the urine-stained pavement hopefully, thinking we had just missed it but as the sun set, we had to accept that the place was gone. Despondently, we got back on the metro and went back to Plaza Mayor in search of food.
Check out all our travels in Spain
The Tapas
We circumvented the square to pick a restaurant. One chalkboard proclaimed that all its tapas dishes were €5. As tapas fans, we knew we could get our money's worth by choosing carefully. By avoiding potato and ordering lots of seafood and fancy meat, we would fill up on the good stuff. Now I know that to do tapas properly, you need to pick a place, stand at the counter and eat the speciality before moving onto the next bar. But we had been walking all day and were seriously hungry. Sitting in the square, the buildings radiating the heat of the day, we scanned the vast menu with practised eyes. We over-ordered gleefully and sat back to watch people meander in laughing groups, stopping to listen to the band busking in front of the fountain.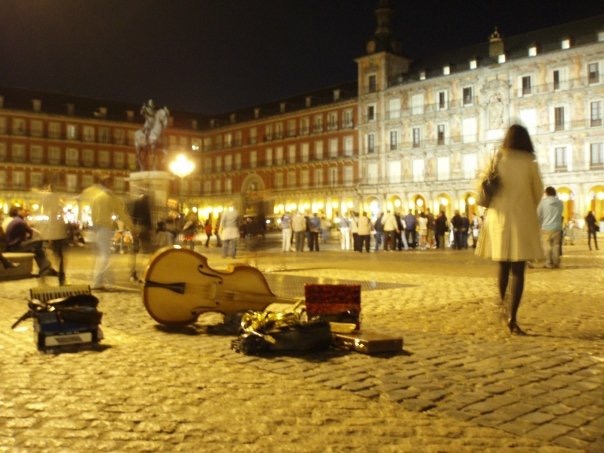 The Tipsy Boyfriend
The waiter arrived with our vodka oranges and to my surprise, he proceeded to free pour two exceedingly generous doubles. The vodka half filled the glasses. Noticing there was little left in the bottle, another shot was merrily sloshed in before he diluted it with orange juice. In bars, I believe they would describe it as a "dash" of orange. I just couldn't manage it. I sipped at the drink, trying to will myself into believing it was palatable. But when a plethora of tapas dishes arrived, I pushed it towards Mr Fluskey with a meaningful look. Contented silence settled over the table as we turned our attention to filling our stomachs. That was, however, until he started giggling to himself. He had finished his drink, finished my drink, and had ordered another for himself. He was drunk.
In hysterics, and unable to see straight, I propped Karl up as we swayed and staggered back to the hostel. We arrived, exhausted and worse for wear hours before the 01:00 pub crawls that criss-crosses the centre of Madrid had even kicked off.
We didn't get a great deal done the next day. Karl slept off his hangover (as he always manages to do) but we had a relatively early flight to Marseille, so we had to get going.
Rosie xx