The best thing about having a February birthday is the chance to run away and celebrate with a cheap, off-season holiday. Ryanair's January sale usually throws up some good deals and for my 20th birthday, I snagged a return to Venice for £10. OK, so it was to the small Treviso Airport rather than the slightly more exciting Marco Polo Airport, but the coach ride into town was cheap and very easy. If I'd known I was landing into the heartland of Prosecco, I may have stayed somewhere local for the night to indulge in the local tipple.
Read how to enjoy a Day in Venice – The Perfect 1 Day Venice Itinerary
The Transport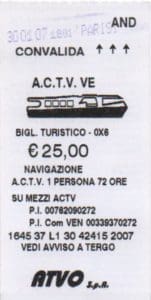 A three day vaporetto (water bus) ticket was €25/£20GBP. In hindsight, we didn't really need the three day pass as Venice is quite compact, but we really enjoyed skimming across the water and taking in the sights of the Grand Canal.
On a budget break, we couldn't afford the quintessential gondala ride, so this was a nice way to explore the canals.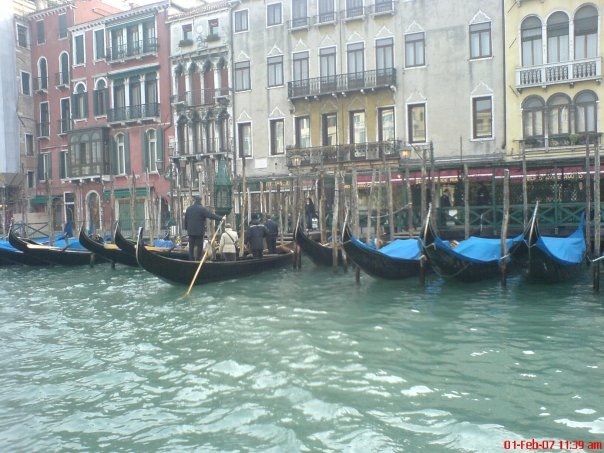 The Accommodation
We arrived on the first night and a lady from our apartment met us straight off the boat to give us the keys. She walked us through the maze of streets and bridges to our home for the trip. It would have been very difficult to find in the dark, and in such a labyrinthine place. Our apartment was booked on lastminute.com. It was a small self catering place that gave us a little slice of the city. It was just £100 for three nights. I'd imagine AirBnB now has a hold on the apartment market but I felt quite advanced back then.
We popped to the supermarket and bought some pasta, tomatoes and few other Italian bits to make dinner. Cosy in the kitchen, and with everything prepared, we realised we couldn't cook anything, as there was no way to light the stove. Reluctantly it was back into the cold and dark we ventured, eventually finding a news stand who sold us a lighter after quite a lot of miming. With our bellies full of pasta, we flopped onto the bed and fell fast asleep.
In the morning we realised, we even had a very Venetian view out of the little window. Sheer joy.
St Mark's Square
On day two we jumped on the vaporetto to Piazza San Marco, the main tourist hot spot in Venice. St Mark's Campanile looks over the square and the square is surrounded by grand buildings including the Doge's Palace.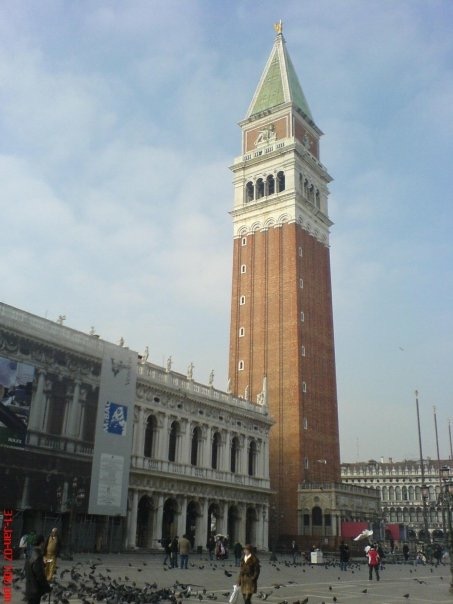 The Doge was the ruler of Venice when Italy was series of city states. The square is now ruled by pigeons. People purchase bird seed to fill up these flapping, grey beasts. Karl enjoyed getting covered in them, I am less keen on pigeons and looked on in puzzled wonderment, secretly hoping one nervous bird would leave their digested bird seed on his coat.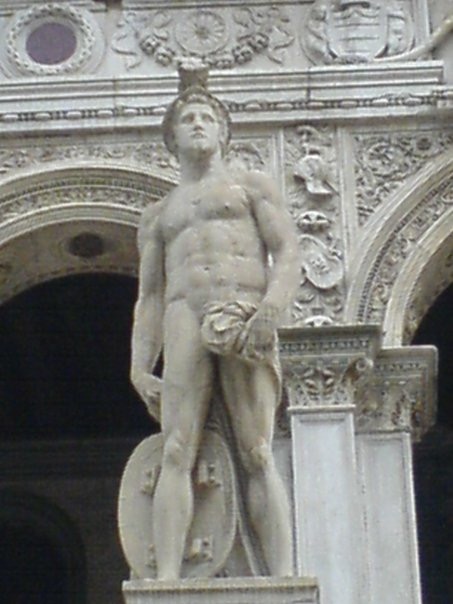 The Doge's Palace
The Doge's Palace, had an excellent access policy. After standing and scrutinising the wall (the ticket price list was painted on it) we worked out that "invalide" must mean disabled. As a disabled traveller, I was allowed to enter for free with a carer for free as well. Massive budget traveller win!
The Doge's apartments were exquisite, very opulant and immaculately kept. I particularly liked the ornate ceilings and the Murano glass (made on Murano Island nearby) both of which had me gazing upwards like a plane spotter. Crossing to the business side of the palace we wandered through large meeting rooms full of dark wood and renaissance paintings.
Across the canal sit the prisons of the palace. Understandably, these are bare and bleak. It's always a tricky business to make a prison cell anything but dull, that's just how they're built. I think that the Bridge of Sighs is best viewed from a gondola, although these don't come cheap. It suffers from the plight of most famous bridges, it is nicer to admire it than to stand upon it. You can cross the Ponte della Canonica bridge between the palace and the prison but I bet the gondoliers add a touch of storytelling magic.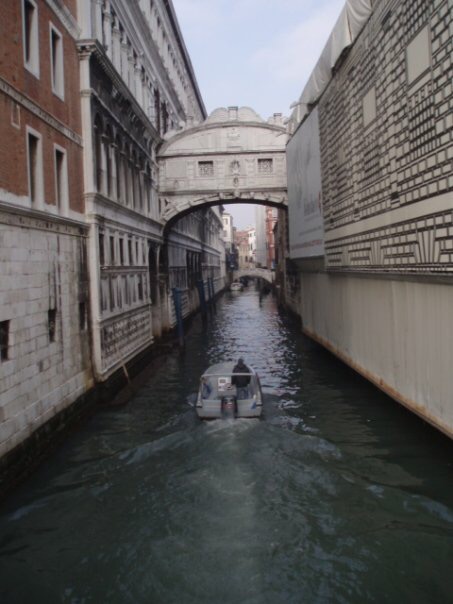 After a good two hours of sight-seeing, and with acute neck ache, it was time for lunch. Pizza, pasta, pesce…? No, it was time for our first Italian McDonald's. Karl had his customary Big Mac. I had a Big Tasty.
For more on this odd travel custom, check out Backpacking with Burgers – Munching on McDonald's
The Rialto Bridge
This bridge, built in the 1500s, spans the Grand Canal. It is lined with small boutiques, and equally small shops of tourist tat. Numerous restaurants and bars fringe the canal either side of the bridge with a prime view. We trotted across in both directions before wandering home to our budget dinner.
The Atmosphere
In the build up to Venice Carnival, which was due to take place the following week, cheap versions of the famous masks were out in every shop. We spied a shop selling the real costumes and I was fascinated. I completely forgot to take a photo…! But in this externally photographic city, we got a few others.
Read how to enjoy a Day in Venice – The Perfect 1 Day Venice Itinerary
Back on the coach on day three, we sped North to catch our flight. Treviso airport is, admittedly, a crummy little place. It has two gates and a floor plan no bigger than a school playground. But for £10, I'd have queued in a field.
Rosie xx