Welcome to this No1 Traveller Lounge Gatwick North review. Having not been away for many months my planning for our trip to Sri Lanka got a little out of hand. I had booked the hostels, the flights and the trains, and with little else to do, I booked us into an airport lounge. Hence we found ourselves with two passes to the No1 Traveller Lounge Gatwick North terminal.
The No1 Traveller Lounge Gatwick North Terminal costs from £32 (when booked online) for three hours unless you have a Dragonpass card or are a Premium passenger on China Eastern, Finnair, Georgian Airways, Icelandair, Royal Air Maroc, Rwand Air, TUI, Westjet or Rossiya.
No1 Traveller Lounge Gatwick North review
We arrived at about 06:45 in time for our 09:00 flights. My first impression as I walked in, was of a hotel breakfast buffet. The chatter, the clatter of cutlery and the whirring of coffee machines filled the air.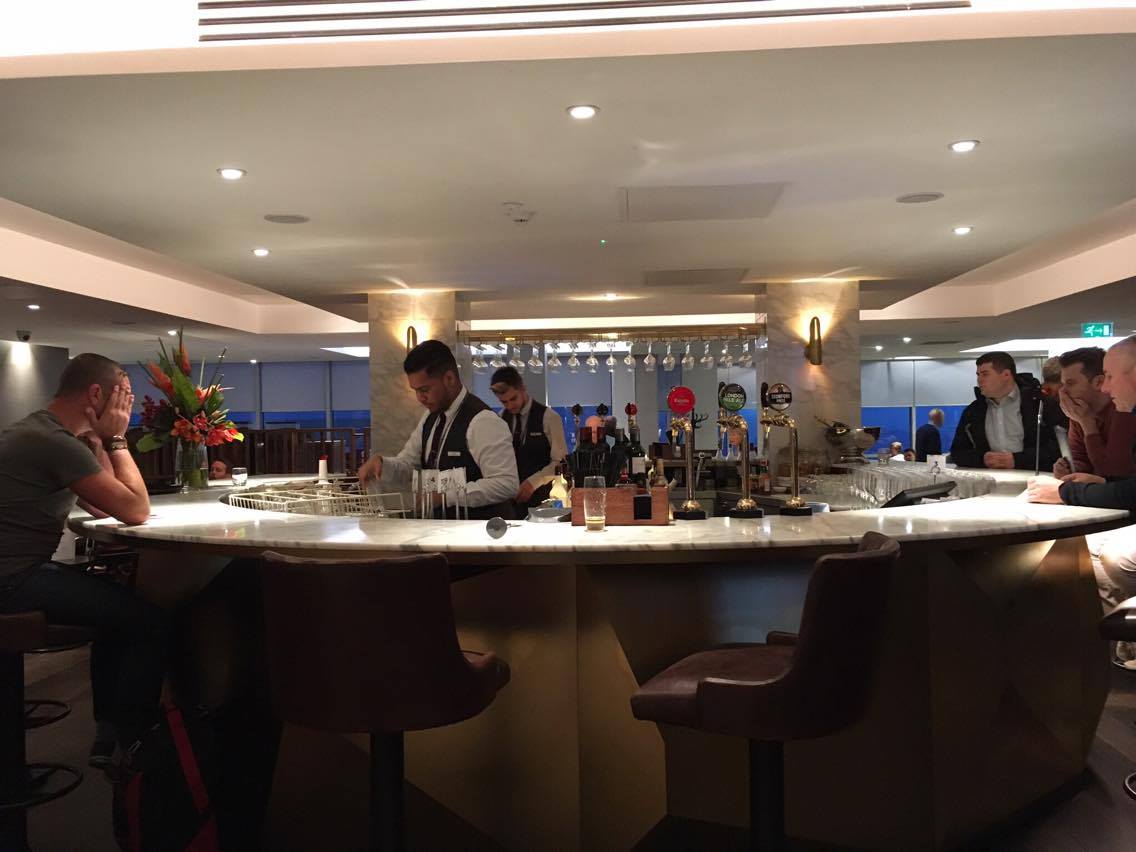 The Seating
Passing the island-bar, we took a look around at the seating areas immediately in view.
Firstly, to the right of the bar was the mini cinema, which appeared to be the middle age men den. The news was on quietly and it was quite dark.
Between that and the window was the busiest seating area. It's the first area you reach after the bar and sits to one side of the breakfast buffet.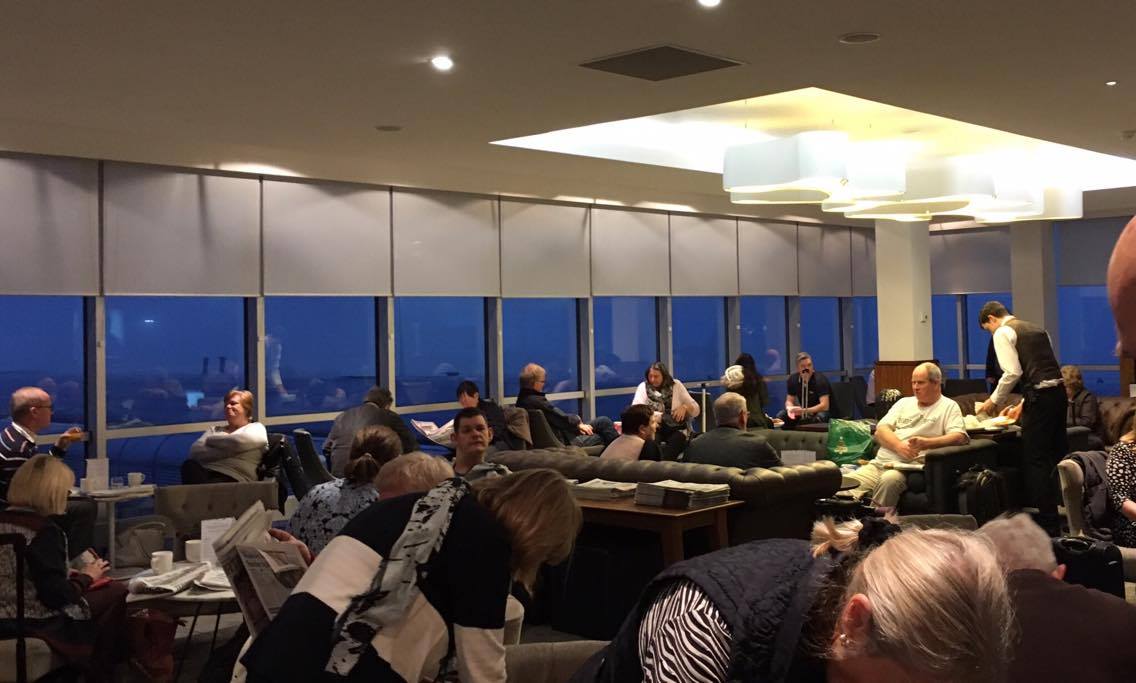 The temperature in the lounge was a bit too cold for comfort. I overheard people saying they had moved seats several times to avoid the worst of the air conditioning. The temperature outside was -3°c/37°f and so I was hoping for a cosier inside experience. You can see the people sitting by windows in their jumpers and scarves.
On the other side of the buffet was the bistro area. It consisted of a few sets of tables and chairs, rather than the front room feel of the other areas. The larger tables had all been reserved and so there wasn't much room.
Feeling a little disheartened at the crowds and cold, we decided to have another look for a good spot. Turning back towards the bar area, I spotted a doorway that I hadn't seen on the way in.
The Library
Down two steps lay a room of tranquility. This clearly had a bit more thought put into the design elements. It felt vaguely reminiscent of a gentlemen's club, but with rather hipster additions. Round to one side lay a snug, the reading room which is where we based ourselves. It had a larger corner sofa/bunkette which was surprisingly comfortable, spotlight lighting and small marble topped tables.
Turning left led to a larger room with vast leather sofas, a meeting table for eight and another meeting room for more private business lunches. Both of these areas were much emptier and the clients were quieter.
The Drinks
Once we were settled in, it was time for breakfast. We started with a quick trip to buffet and the bar.
The coffee machines were fine, but the coffee was a little uninspiring. I managed to walk off with a cup of hot milk when one of them forgot to put the coffee in my coffee.
The Food
On the buffet you'll find fruit, yogurt, cereal, cheese and crackers, and jams etc. The cheese was a bit on the boring side; mild cheddar and Red Leicester but we took some of that and a few mini pastries.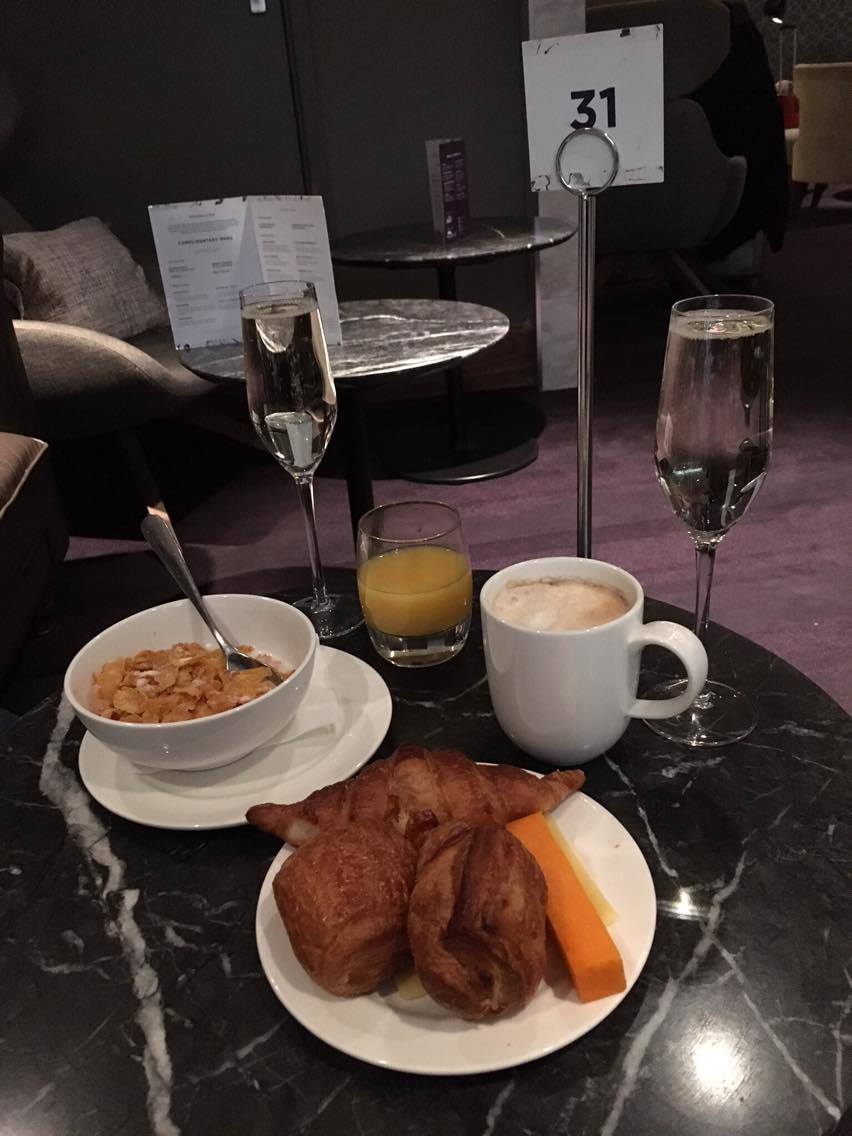 Mr Fluskey said his orange juice tasted rubbish. The mini pastries were chewy rather than crisp, but they had a good flavour.
Starters done, we ordered beans on toast, and kedgeree from the a la carte menu. We were informed that there was no toast as the ovens weren't working properly (I can only assume he meant toasters) and so would we like our baked beans and cheese with a roll? We would!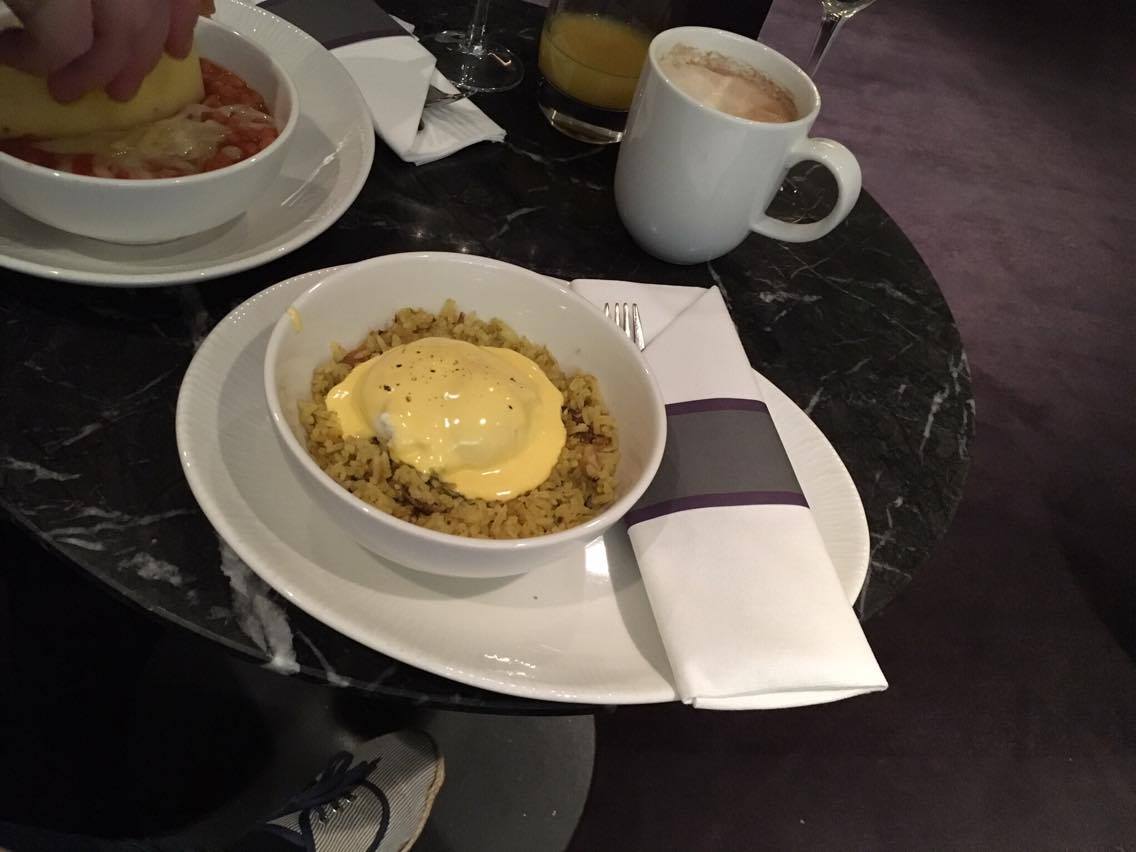 The Staff
We found all the staff to be very friendly and attentive. We overheard some other people who were disgusted at the lack of toast and the staff's response when they asked to know more. Honestly, I think they just couldn't bear the thought of a roll with their baked beans (which nobody should order before they get into an enclosed metal capsule anyway!).
The Bathrooms
Determined to make the most of my time and money, I took a quick trip to the ladies. I was quite impressed with the facilities. There was obvious thought put into the design, with enough room in each bathroom to change clothes, brush teeth if needed. The only problem with having individual sinks in each bathroom, is that the queue can get quite bad as people spend longer in there.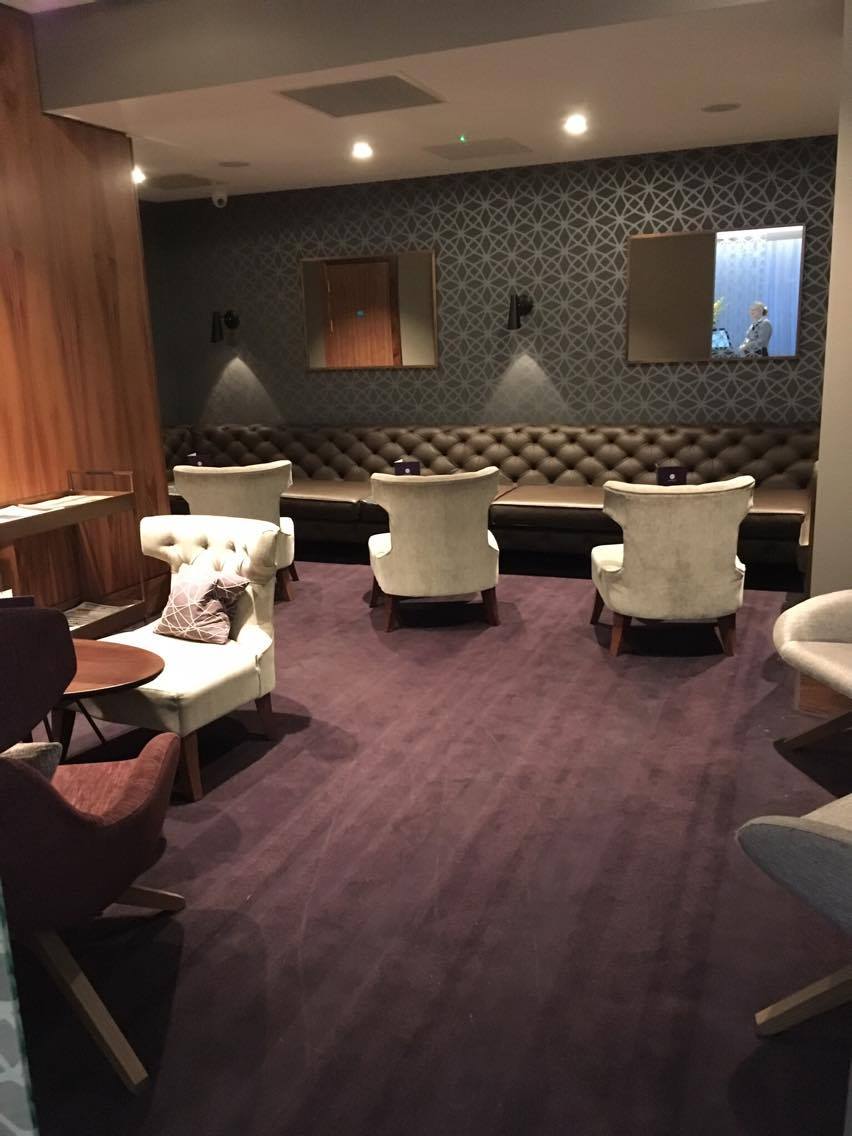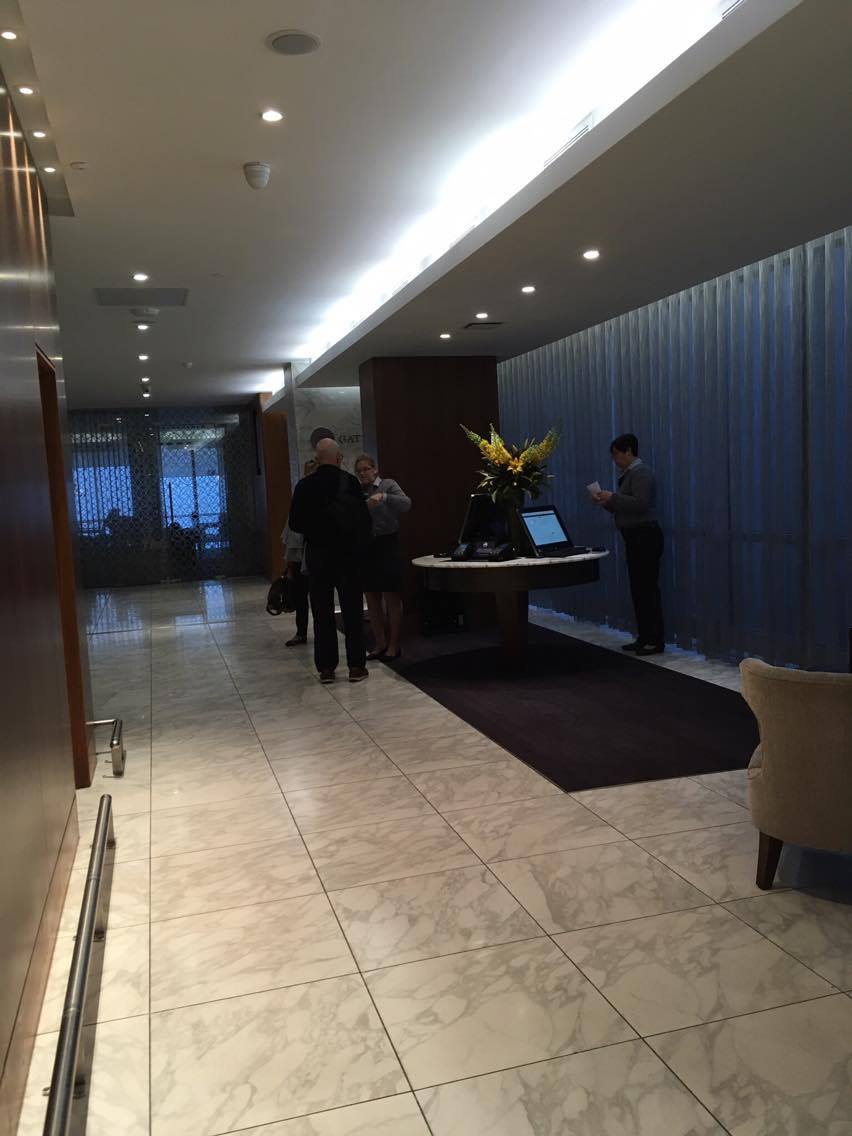 On the way out, we spotted another little room that was completely empty. It sits next to the concierge room at the front. It would be a lovely spot as nobody seems to notice it. Mind you, it could be a complete nightmare getting any table service.
Check out our other reviews of fights from London Gatwick including airBaltic, British Airways and Emirates
Final Thoughts
Overall impressions? Not a bad lounge. A bit too busy in some areas, but when you take everyone that wants to pay, it would be and definitely too cold! I'm not sure if £32 per person (online price) is worth it. If you have free or discounted access then go for it, but I'm sure you could have a nicer time as a couple with £64 elsewhere in Gatwick airport.
Rosie xx