Seoul, the capital of South Korea is home to around 25 million people. That's half of the population of the entire country. It is also home to our friend Lucy, and in May 2017 we finally visited. One of the few things that we booked ahead of time, was a trip to Seoul's newest attraction, Seoul Sky.
Seoul Sky
Seoul Sky is housed in the Lotte World Tower, the 5th tallest building on earth, up at the 117th – 120th floors. It is the world's 3rd highest observation deck and opened to the public on 3rd April 2017. The building goes up just 3 more floors, so you are within touching distance of the very top.
The Morning (or was it still last night?)
It's a good thing we booked in advance. Our quiet night out had evolved from a couple of drinks to a few, then a couple more, then Long Island Iced Teas, then singing our hearts out in a Noraebang (a Korean karaoke room). We rolled in at 08:00am and consequently, I was a little worse for wear all day.
Read all the great foods we ate in Seoul
Getting There
When we eventually left the house, we caught the subway down to Jamsil station, which took us about an hour.
To reach the Seoul Sky observation deck entrance, you need to pass through the central plaza of the Lotte World Mall which would feel right at home in Dubai. These shops sell luxury brands, and the whole thing is very gold. The mall is just one of the Lotte company's vast retail portfolio. They know their shopping!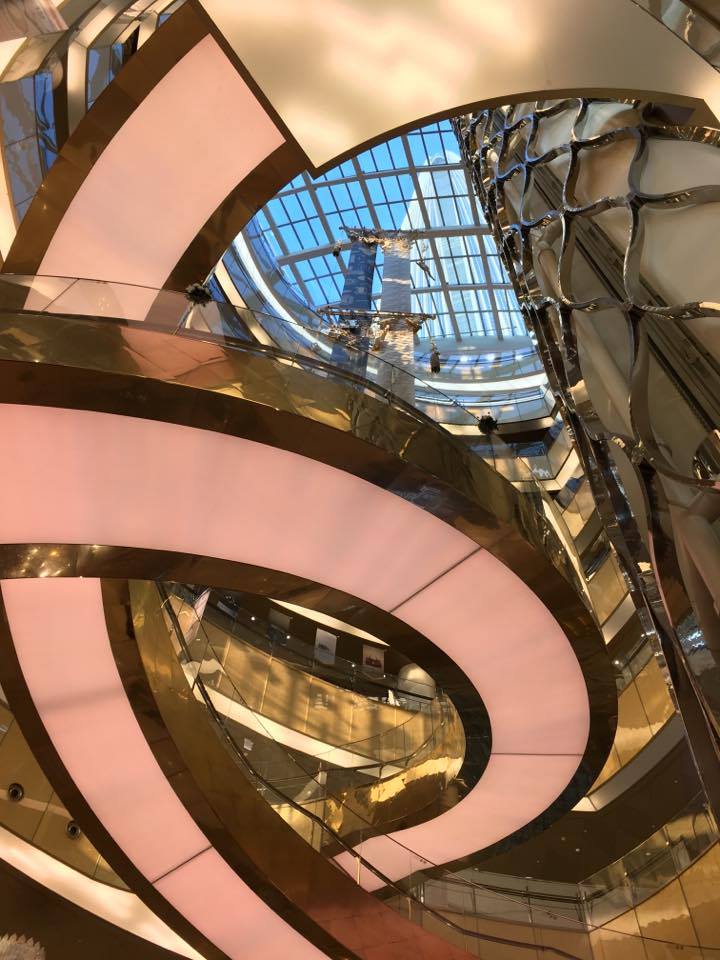 Tickets
In the ticket lobby, you can purchase tickets or exchange mobile tickets for paper ones before you proceed with your journey. There are screens showing the availability of tickets by 30 minute time slots, as well as others with the pricing.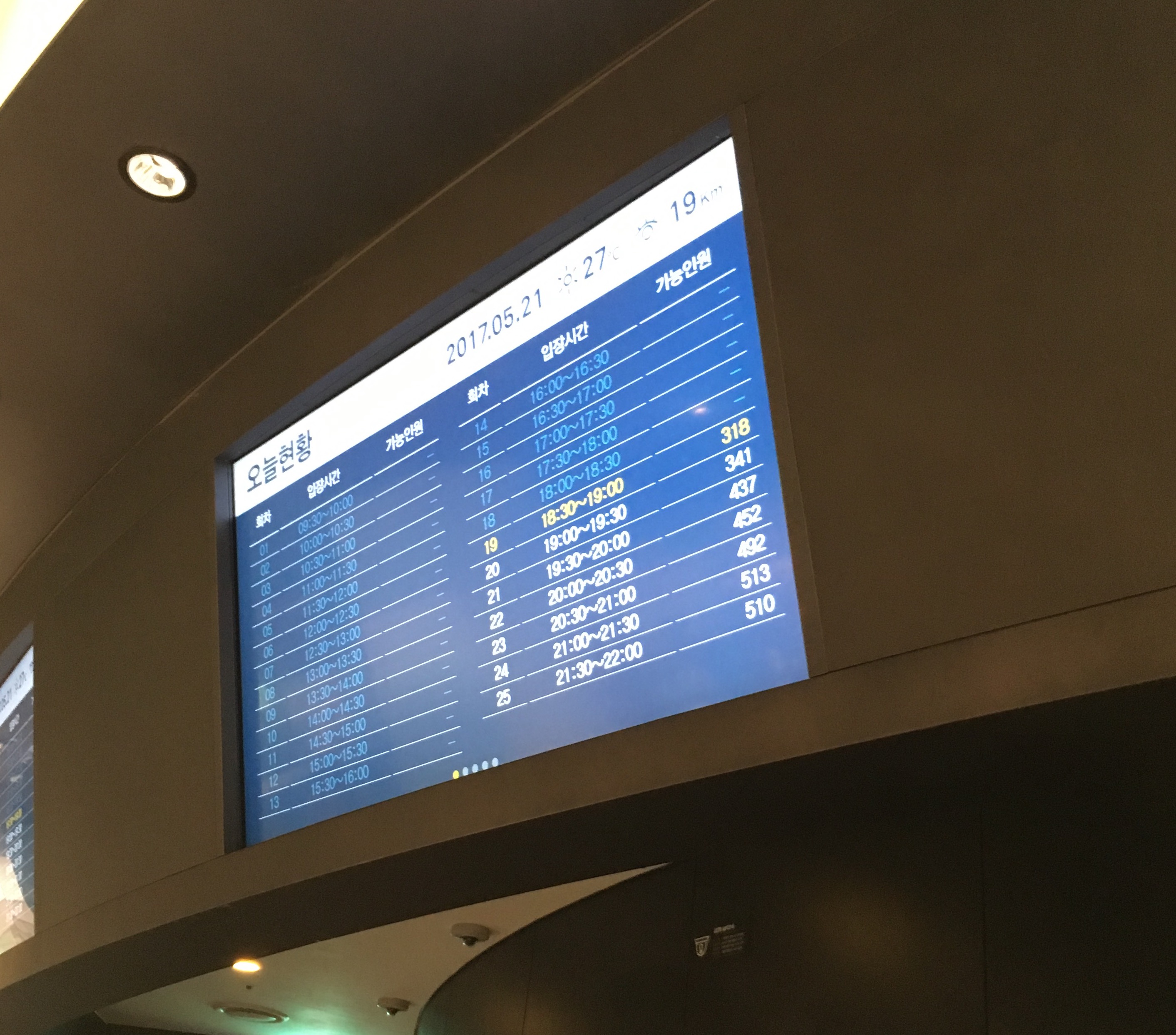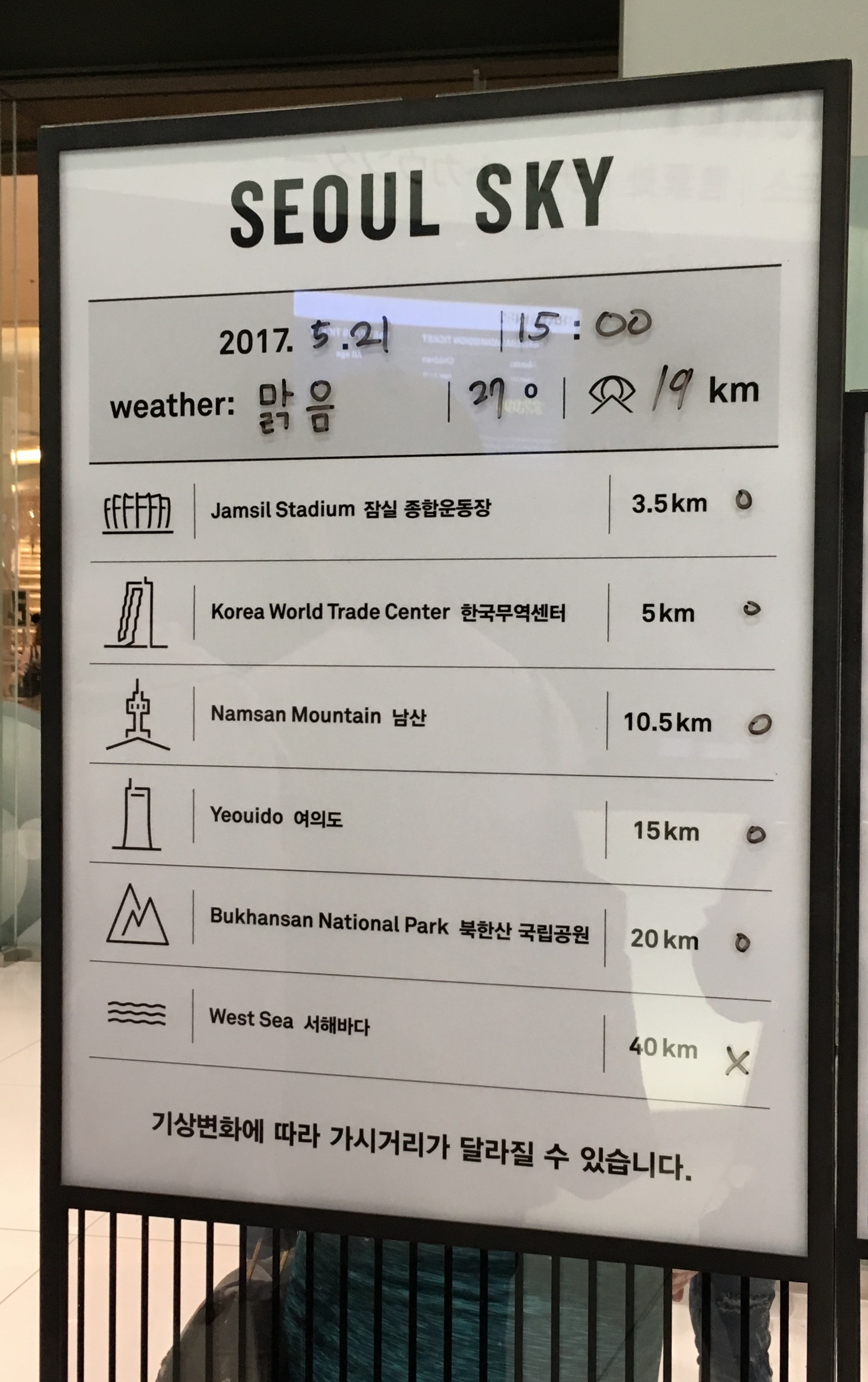 I can see that Seoul Sky will get busy, particularly during Korean or Chinese holidays, or during special events in the city (like the 2018 winter Olympics). When we visited, on a normal Sunday evening, there was barely any queue and I would have been very angry if I had paid for a fast pass.
Here you can see the first of many screens sending glowing patterns skittering across the lobby.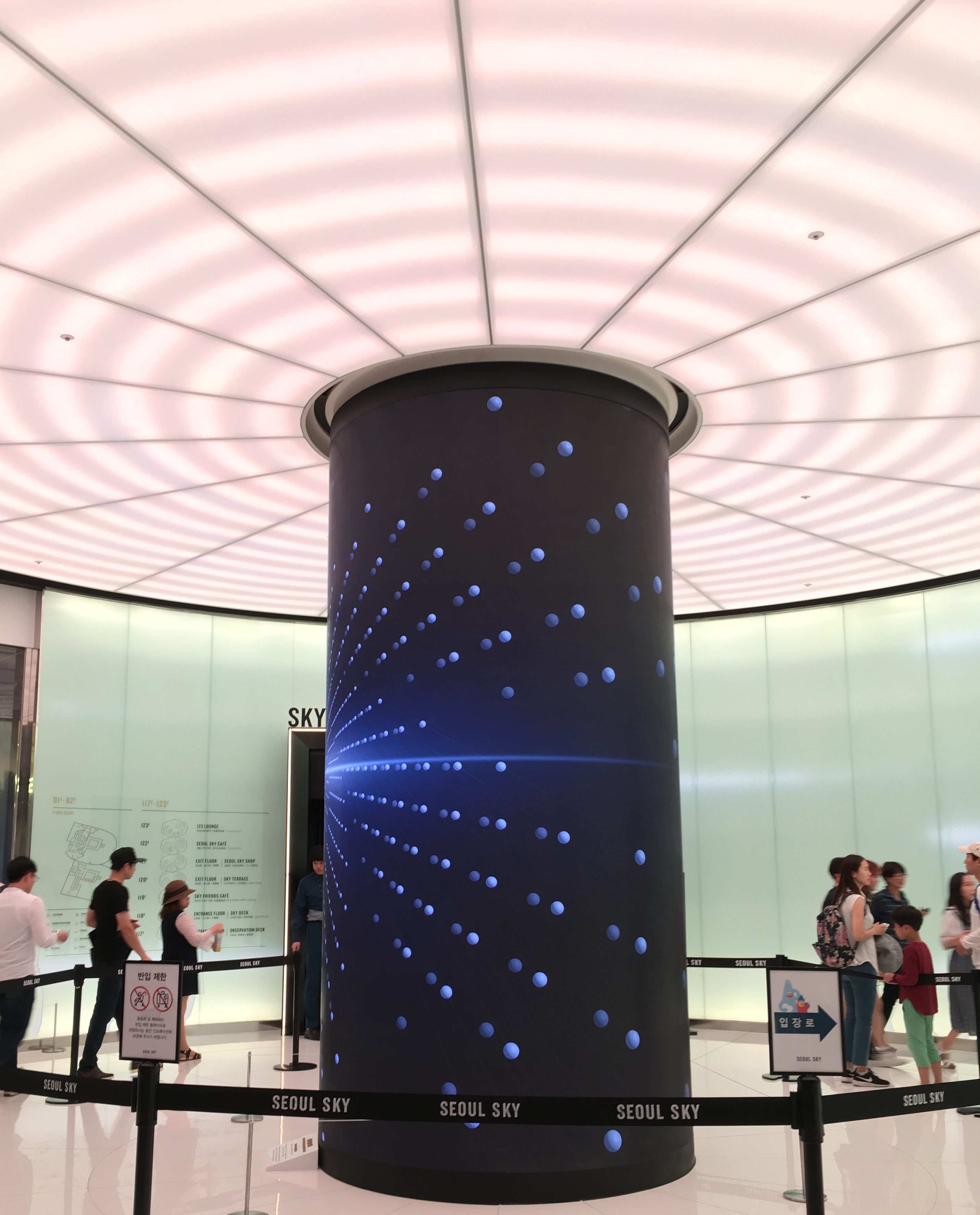 The Pre-Amble
The queuing area has yet more dancing colours. I thought it looked like the coolest screensaver Windows had ever managed, Karl said it was an artwork called "The Birth of Korea". The queue backs up a little here due to the obligatory green screen photo opportunity.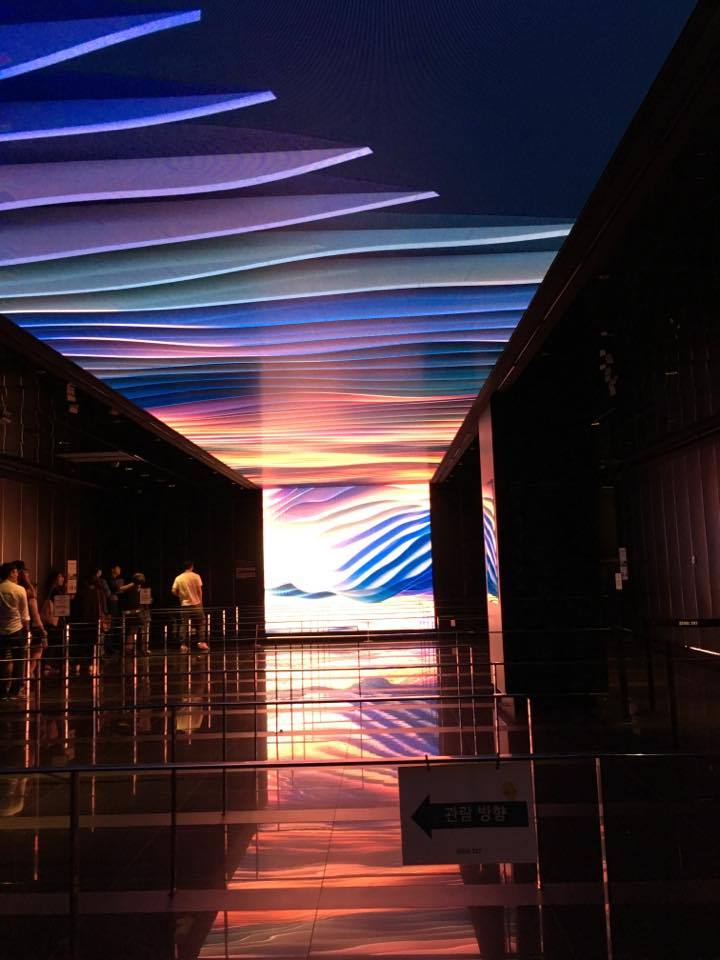 Passing through airport style security (it's nice to see super safe South Korea taking security seriously) you descend one floor to a small exhibition hall. This is full of more screens, it's all very pretty. A tree that changes seasons; red autumn leaves, snow covered bare branches and pink fluttering blossom.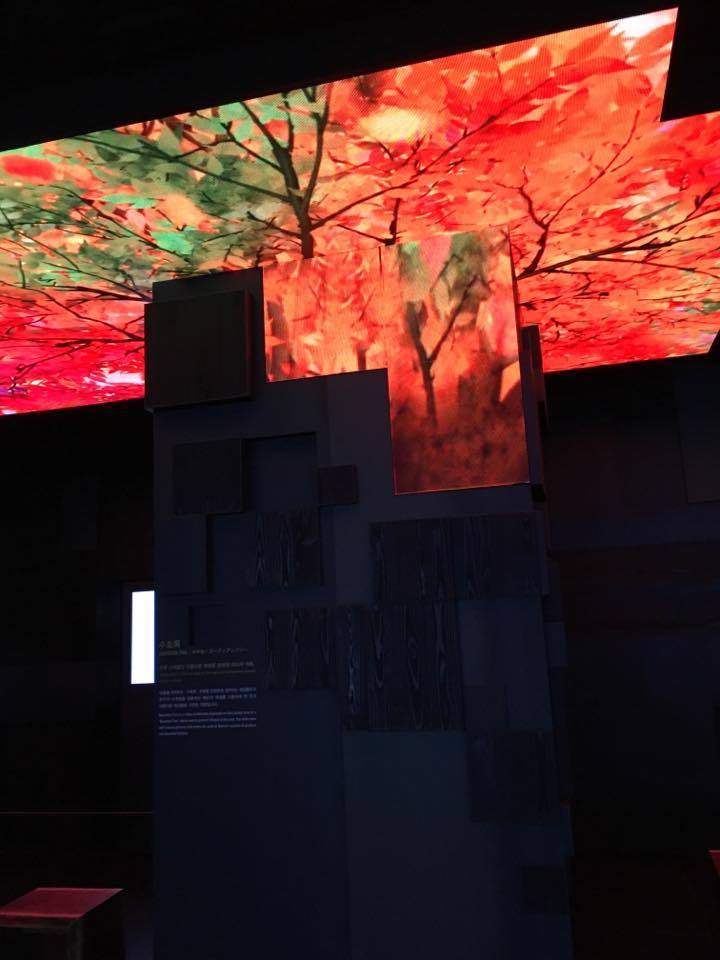 They are clearly expecting long queues, as even the queuing corridor ceiling (for queues over an hour) are screens showing intricate patterns that are changing colour every few seconds.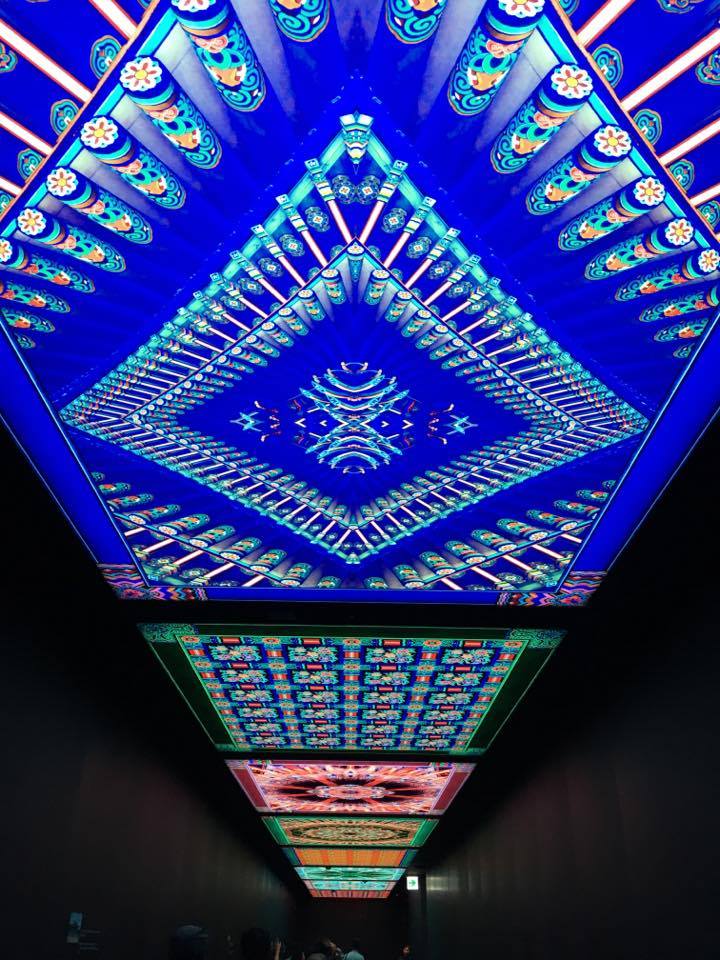 The Lift
The lift (or elevator if you're that way inclined) up to 117th floor is double decker. It too has screens on all four walls and the ceiling. As it climbed at ear-popping speeds of up to 10 metres a second, I couldn't decide whether to watch the floor counter or the animation of Seoul rising from the past green fields to the city it is today. It was all really rather exciting.
The doors opened and we were blinded by the sun flooding through the windows. We always try and go to tall buildings for sunset. It allows you to see the city by day, and by night as well as the sunset itself. The sun was 25 minutes from the horizon and so it streamed in horizontally.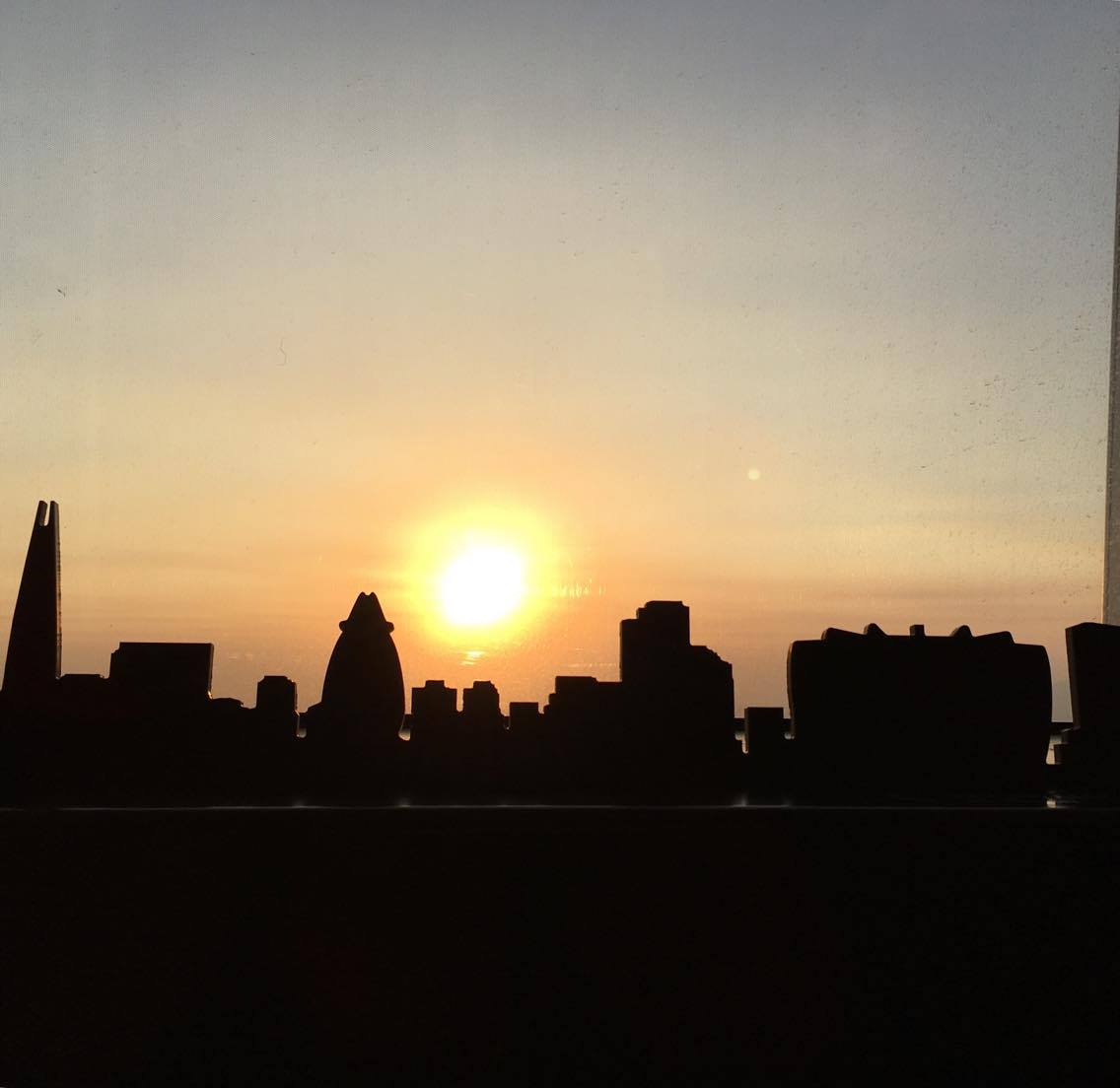 Floor 117
The view along the Han River was lovely. The light gave everything a golden hue. It was genuinely lovely, but slightly spoiled by the dirt spots on the window. It made all our photos a little smudgy.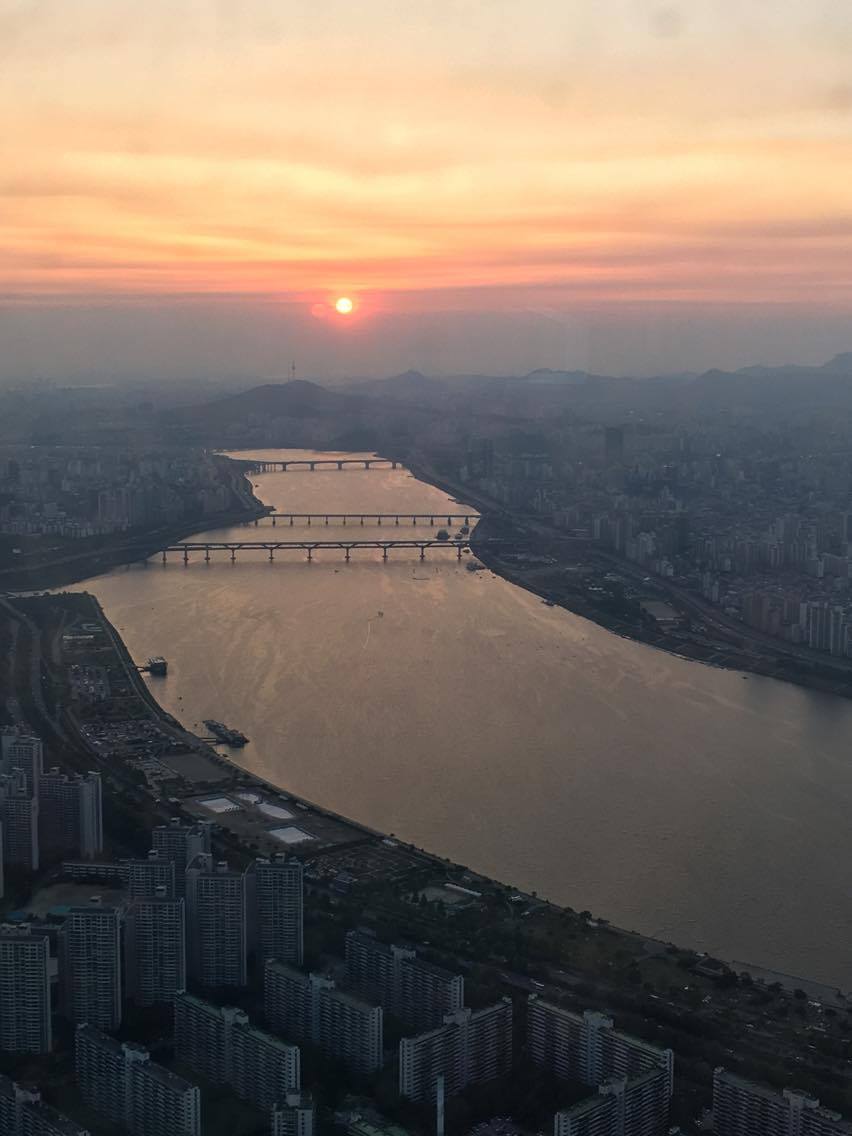 We took a few photos with our own phones and then spotted the photo zones. Here, you can scan the QR code on your entrance ticket and a camera above you will take a snap. It's a very high angle so you can see how high up you are.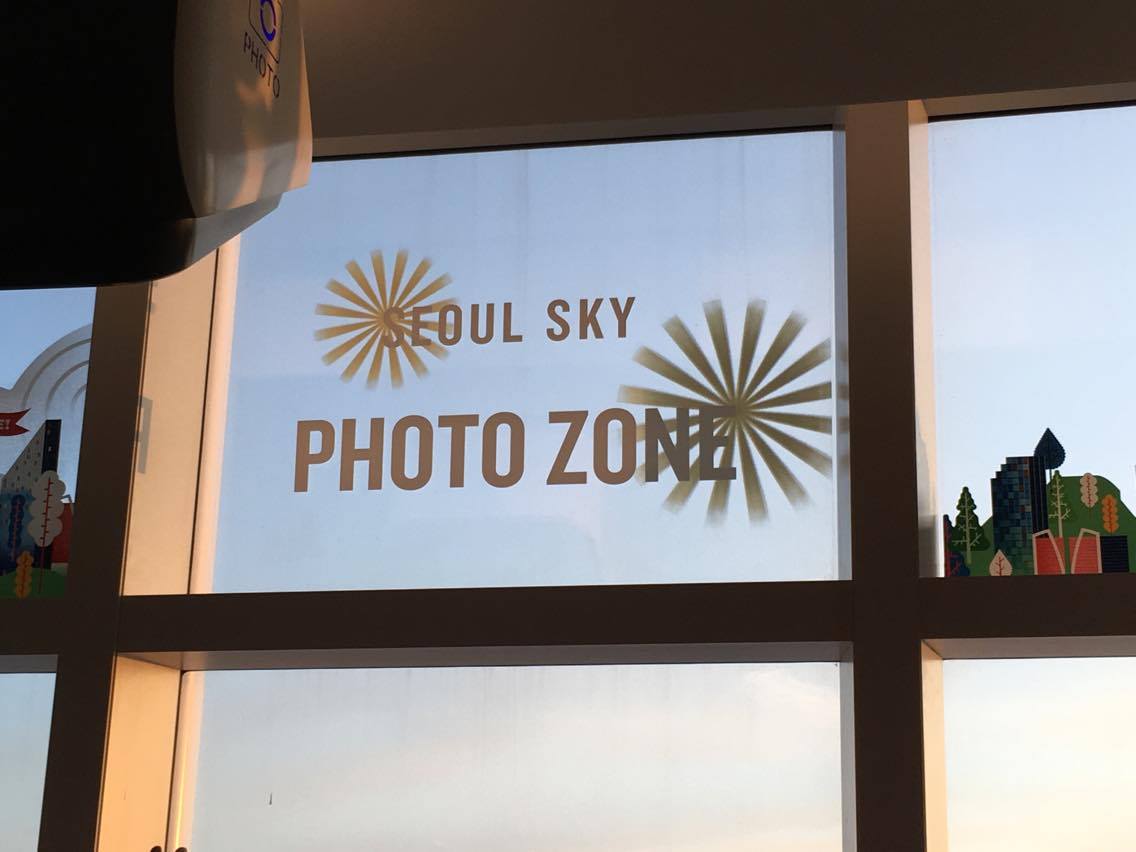 These can be looked at and purchased at the photo shop on floor 119, along with the green screen shot from earlier.
Floor 118
The next floor up has one of the Seoul Sky's party pieces, a glass floor that you can traverse. It is a knee-knocking 478 metres above ground level. People groan quietly as they take tentative steps forward. An older Korean lady side stepped her way along the support beam that she could see between the glass sheets. I offered her my hand and she held it all the way back to the perceived safety of the carpet.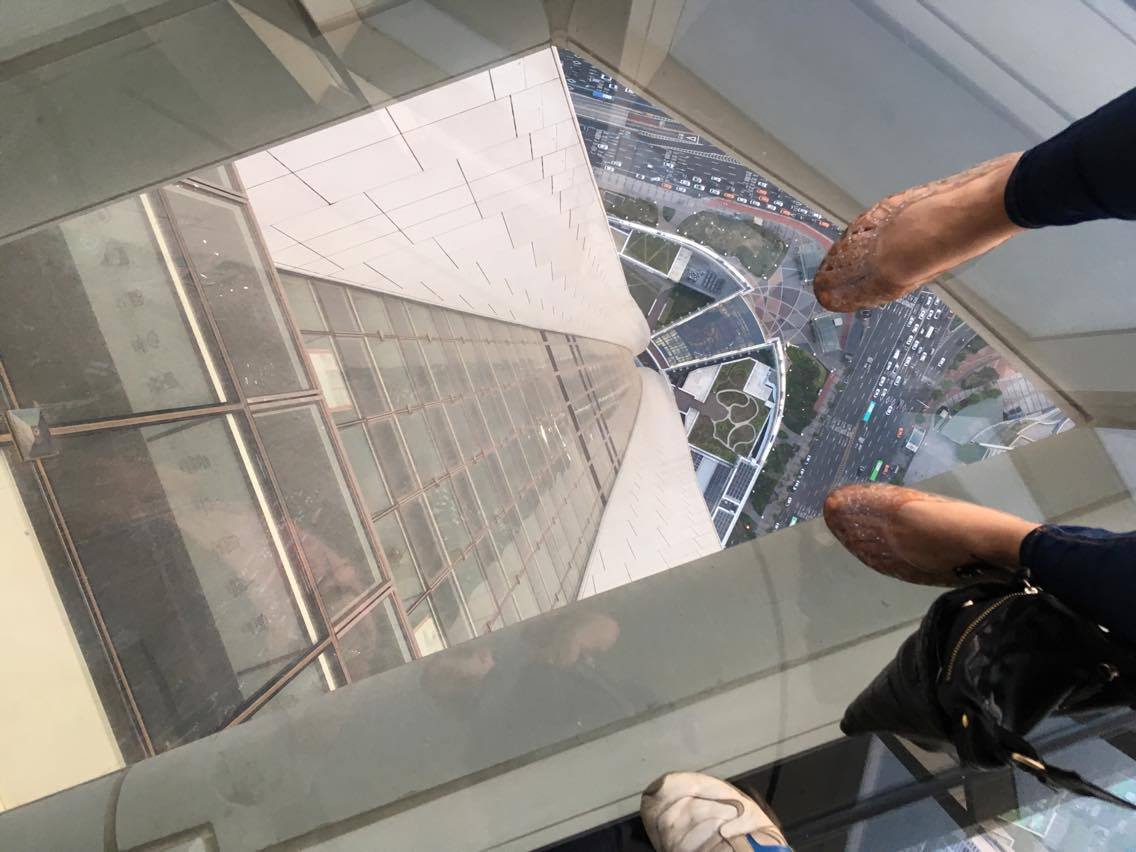 There is another photo point here, but it is manned by somebody to make sure you get a good shot. We didn't end up buying any of our photos, but this one was a close run thing.
Elsewhere on this level you'll find another area of glass floor. This is completely opaque and you may be wondering what the point is. That is, until a member of staff presses a button and the glass goes clear in a second. You can feel your stomach drop away from you, even if the rest of you stays firmly where it is.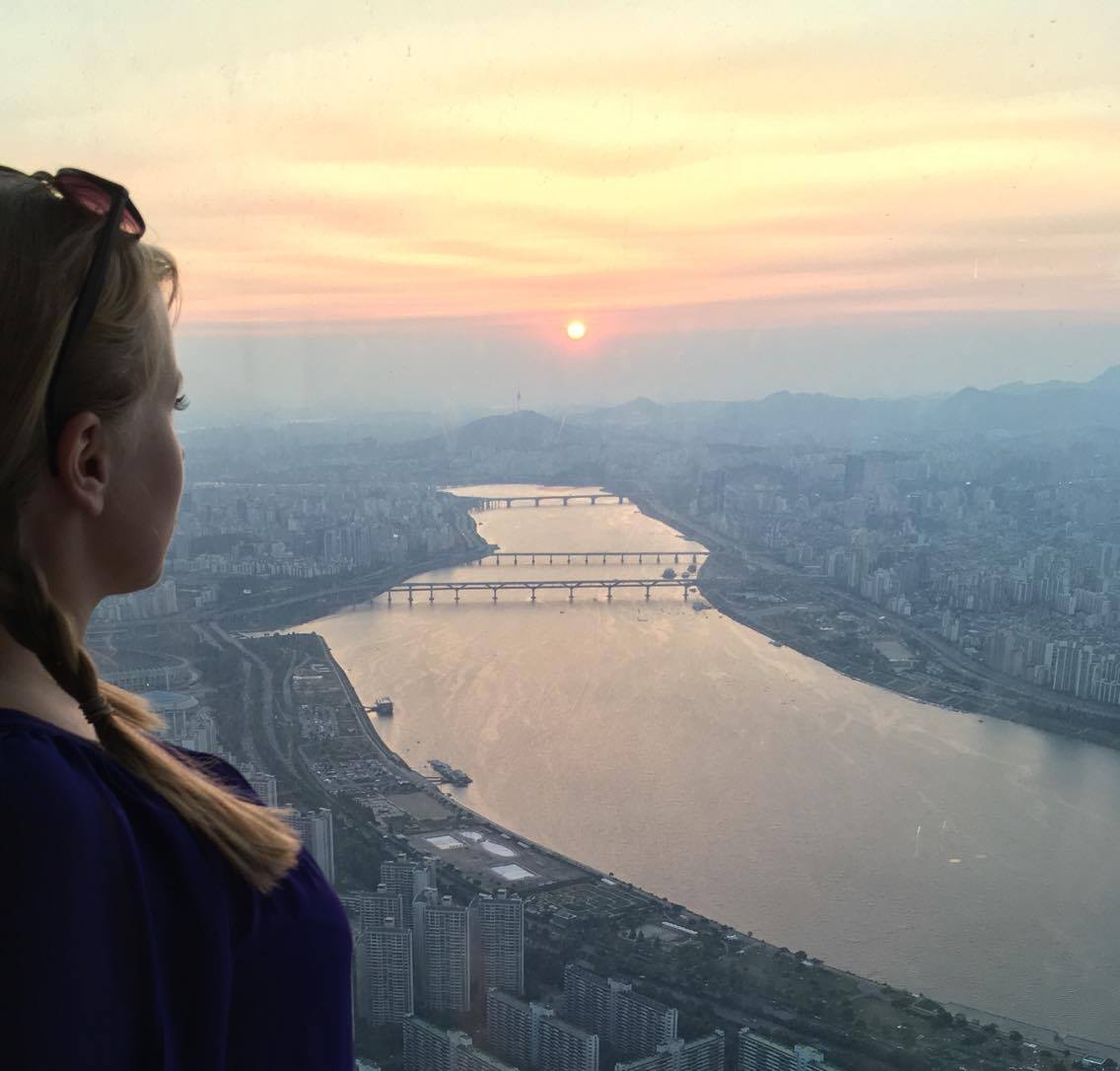 There is a tablet which allows you to have a look around digitally. It can point out tourist attractions and even shows you Seoul of the past for comparison. We had fun spotting helipads and swimming pools, a tradition when up a tall building for the Flying Fluskeys.

Floor 119
Up again and you will find the photo shop. Here you can check your photos on the interactive screens and order the ones that you want. You can get physical prints and digital copies. These are on the pricey side but that is only to be expected. They do have very cute frames though.
There is a small cafe with a few drinks but not much else as the balcony looks over the floor below and this is where you'll find the first queue for the lift back down.

Read about our trip Entering Korea's DMZ – A JSA, Imjingak and Third Tunnel Tour.
Floor 120
The last escalator whisks you up to the 120th floor with the outside sky terraces. These half exposed terraces are placed at either side of the building. We were expecting it to be draughty, but the floor to ceiling windows kept the wind at bay. There is a net above you,to stop silly people throwing things over, and naughty birds making their nests. This is all that stands between you, and the sky.
I really enjoyed the sky terrace, but I couldn't get near the window as there was a very handsome chap who was having the photo-shoot of his life with his girlfriend. The sun had set by now and so the lights reflecting from inside made it hard to get a good photo.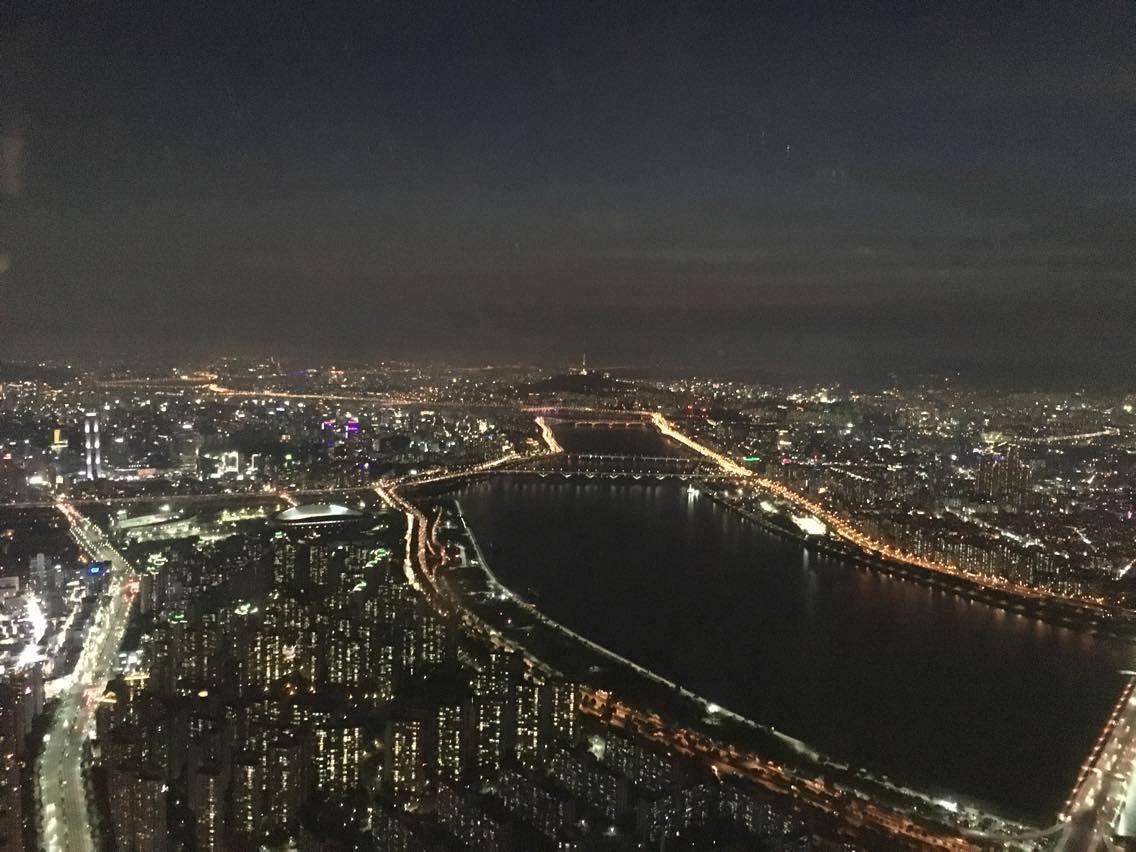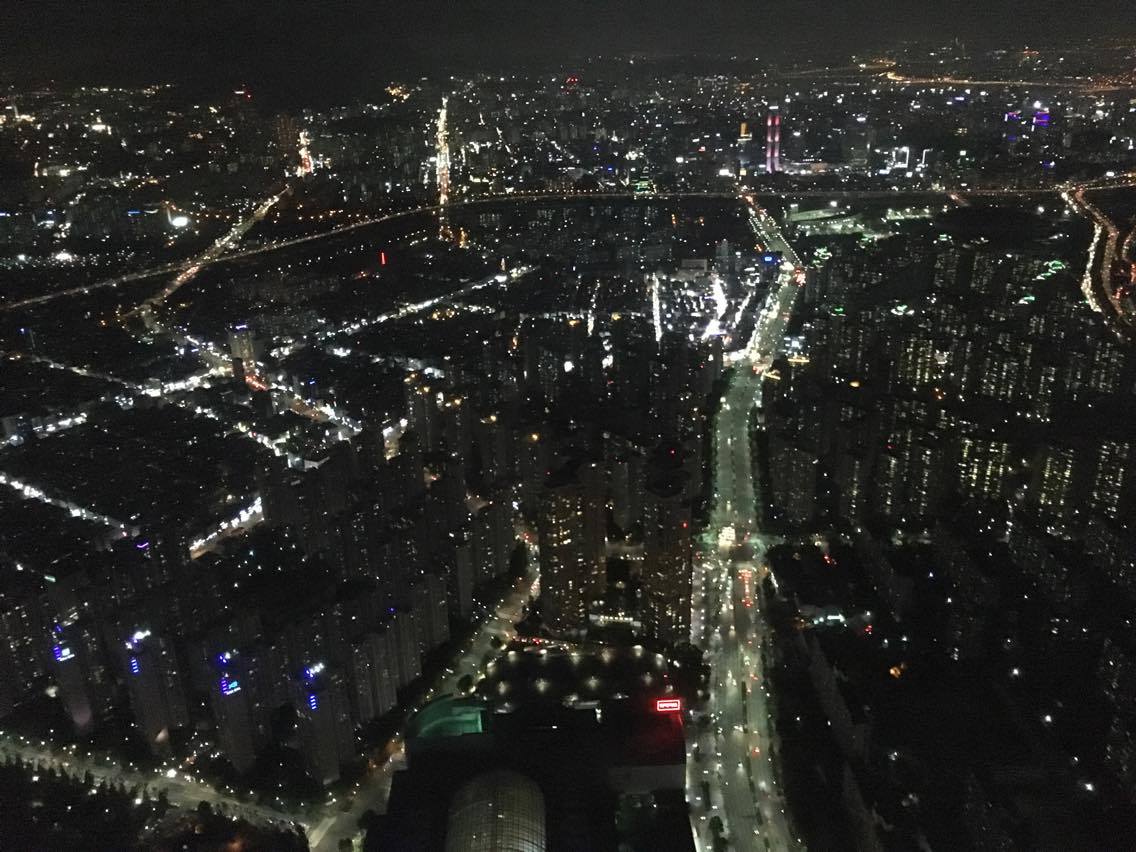 I popped to the toilets on this floor (available on floors 118 – 120) and was treated to a Japanese style WC. If there's one thing I love in a bathroom, it's a warm bottom!
There is a souvenir shop selling everything from notebooks, to crystal models of the tower. (These looked slightly naughty from afar, but that's what happens when you're selling a six inch replicas of a slightly curved tower).
Floor 121
Up a set of flashily lit stairs there is a small coffee shop. It's part of the Angel in-us Coffee chain that you find around Seoul, but it has sky high prices(!) to match its location on the top public floor.
Information
Location
Jamsil station is on the Seoul Subway Line 2 (the green line) and Line 8 (the pink line). Find Exit 2 and enter Lotte World Mall.
Prices:
Correct as of May 2017
Adult – 27,000 KRW (£18.50)
Children – 24,000 KRW (£16.50)
Fast Pass – 50,000 KRW (£35)
Times:
Open from 09:30- 23:00 Daily
Website:
(This hasn't been working over the last few days)
https://seoulsky.lotteworld.com/main/index.do?lang=en
Check out all our travels in South Korea
Anything Else?
If you have access needs or have a baby buggy with you, it's worth noting that there is a separate lift to move between all of the Seoul Sky floors.
The lift on the way back down is very pretty but I won't ruin that one.
There is cheap, good food and drink in the subway station at Jamsil but you can't take it up the tower, so wait until you're done.
Rosie xx