Planning for our trip on the Trans-Siberia railway in Russia, I started to panic about just how cold it was going to be. I mean, -30°C is pretty cold, especially as I have always struggled keeping my hands warm. I have been wearing thick gloves, shoved deep in my pockets and still, I have had freezing digits. After browsing USB powered, fingerless gloves and USB charged plastic lumps, I found exactly what I was looking for; 30Seven Heated Clothing make proper heated gloves!! I ordered two pairs of the 30Seven Gloves Comfort Stretch Waterproof (one for me, one for Mr Fluskey) and eagerly awaited my parcel.
30Seven Gloves Comfort Stretch Waterproof Review
The Basics
30Seven Heated Clothing is a company based in Belgium that specialises in wearable, heat tech.
There are several names for the gloves we purchased as they can be used for lots of different activities. Whether you choose the camping, fishing, cycling or another variation from this list, they are all similar to the ones we are reviewing.
These gloves come in 6 sizes. You can check which size you would be by using this guide.
Check out our Ultimate Guide to Harbin Ice and Snow Festival
Design
The Visuals
Thick padded gloves are not usually a beautiful thing. What can you do when you need to cram in that much technology? The design for the Gloves Comfort Stretch Waterproof is quite plain. The main body of the gloves is black with a few highlighted details. Let's face it, you aren't buying these gloves to go with your little Gucci handbag so I would rather have nice, chunky gloves that keep me warm, rather than fluffy little things that fail at -4°C!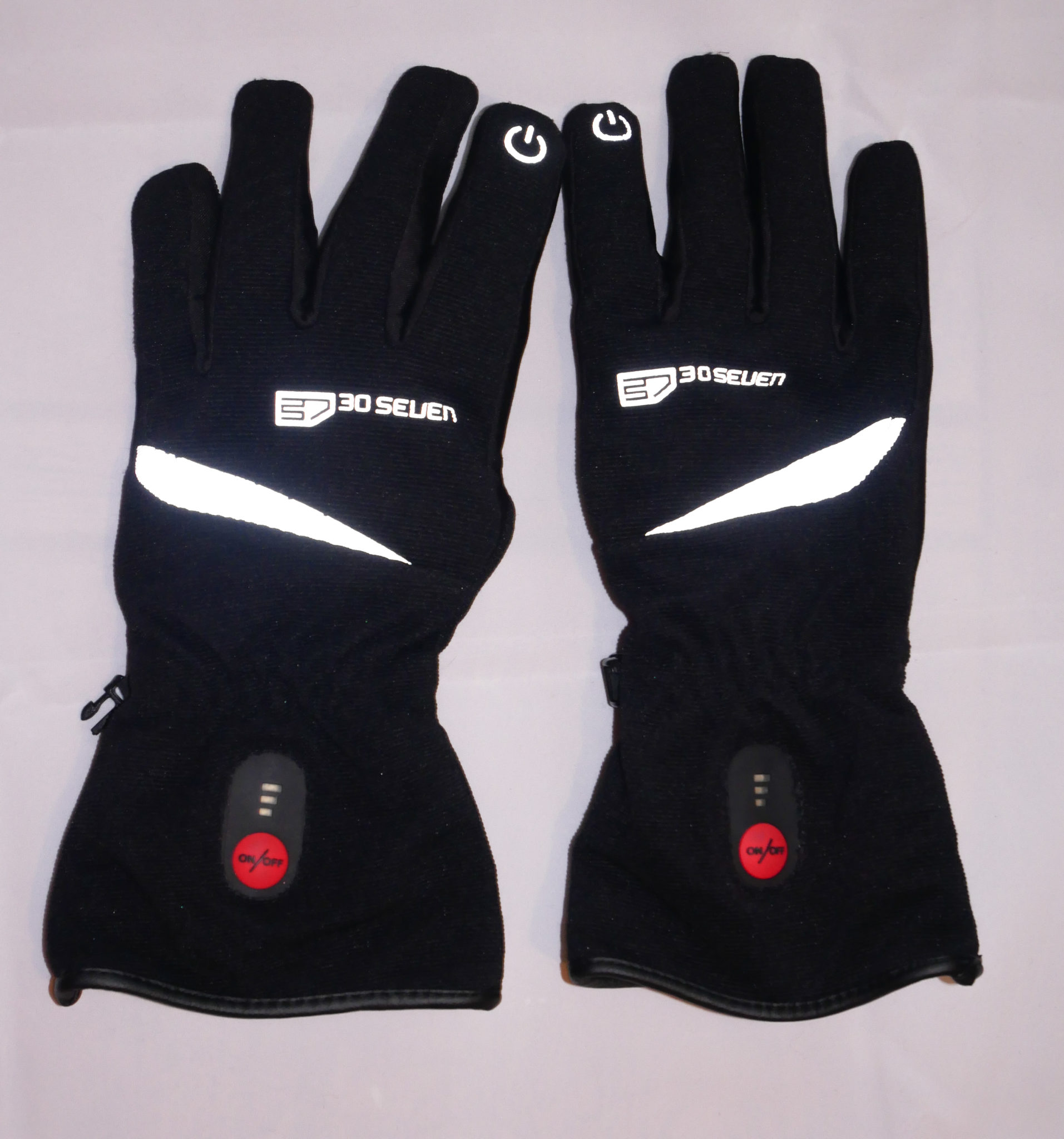 Keeping your body warm is as important as your fingers! Check out our Ravean Down X Heated Jacket Review
There is a reflective swipe across the back of your hand. If you were using these for cycling, that would be great for indicating at night.
There is also a reflective logo which makes sense to me, and a battery symbol that didn't at first. I guess it is there just to demonstrate that it is battery-powered, but everyone when first encountering the gloves tried to squash my finger, assuming it was the button to work the gloves!
The cuff of the glove has a big red button with three lights above it. The button is raised and rubbery meaning it is easy to use when you have the gloves on. You aren't left squeezing at a little switch uncertainly., just hit the button and you get a satisfying response.
The Stretch
We decided to opt for the comfort stretch 30Seven gloves as we wanted to wear these all the time in Russia. A mitten doesn't work well when you need to take photos, and it is nice to hold hands, even when it is FREEZING outside! (Mr Fluskey doesn't usually get to hold my hand when it is cold as it is keeping warm in my pocket). As I have said, the gloves are chunky and so you still won't have full mobility of your fingers, but it was better than I expected.
Waterproof
The gloves are waterproof! 30Seven clothing use a Hipora membrane to keep your fingers dry. Admittedly, I wasn't sticking them in the sink to test, but we had a day messing around in the snow. I threw snowballs, I picked up huge handfuls of snow, and my fingers didn't get wet at all. It was so nice not to worry about it. We had lots of fun making a silly video (I think you will recognise some of these photos).
View this post on Instagram
Inside the gloves is a Thinsulate layer to keep your hand cosy and a polyester liner. It feels nice and soft and is nicely breathable. Despite having the gloves on full quite a lot of the time, my hands were never sweaty.
The Features
The palm of the gloves has a shiny area which is textured and rubberised to give better grip. This would be great for skiing, cycling or other more physical activities. It undoubtedly helped me hanging onto my dog sledge for dear life in Russia!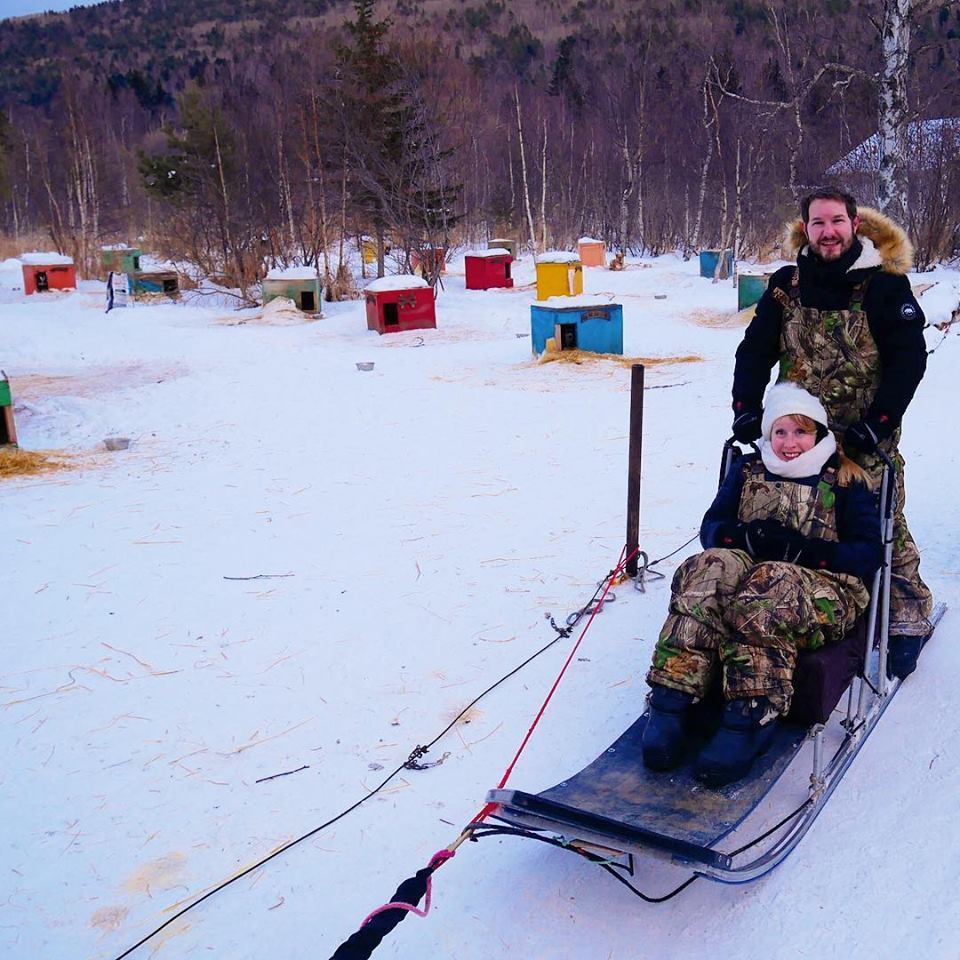 Read how we got on Dog Sledding at Lake Baikal
There are also rubberised areas on the end of the middle and ring fingers. Again, this is probably for grip, I bet it's good for climbing.
On the the index finger is a touchscreen finger pad. As the finger is quite chunky, it wasn't great for typing on a small phone screen, but for more general usage it was alright.
The last little feature worth mentioning is the mini clip that keeps the gloves together when they are in your bag. It is pretty small but seems very well made so it should last.
The Cuff
Other 30Seven gloves have a Velcro strap to close up the gloves around the cuff, but on these, there is just an elasticated section. This was great for me, it didn't allow any wind into my coat sleeves, however, Mr Fluskey struggled with it. He couldn't get his wide fit hands in very easily. He also had a very puffy coat and so he had to put his gloves on first, before his coat as they didn't stretch wide enough to fit his puffy sleeve in. Consequently, he wasn't able to easily access the heating button as it was tucked away.
Heating
The Levels
Push the red button at the base of each glove and you will see a little red light illuminate.
There are three levels of heat:
Level One

– This is a baseline warming. When it was super cold, it was hard to tell that they were really warming…that was until I took my hands out of the gloves. My fingers caught the chill very quickly, and when they went back in the gloves, I realised just how warm they actually were.

Level Two

– One level two you will feel the heat very pleasantly. If you want to feel warm but preserve some battery life.

Level Three

– The warmest level is super toasty. This is where your hands will be very pleasantly hot.
I really liked turning the gloves onto level three and putting them in my bag just before we left to venture into the freezing Russian air. I popped my hands in just before we left and turned them down to level one. This kept the gloves warmer for longer.
The gloves did lose heat quite quickly when exposed to the -26°C wind so I found that popping them in my pockets preserved the heat.
The Elements
30Seven call their heated system Novaheat technology and within the gloves, you will feel its benefit in three main areas.
Hand

– You will find a nice warm glow on the back of your hands.

Fingers

– Each finger has heat running down each side. It is wonderful as many heated gloves only have the heat on the main area of the hand. It is my finger

Tips

– The bits that made me one seriously happy blogger! The wires run down each finger and there is a little pocket of warmth at each fingertip. At the times I was feeling extra chilly, I clasped my hands, pushing my fingertips right down to the warmest area.
The Batteries
Each pair of 30Seven gloves comes with two rechargeable lithium batteries. To charge them, keep them separate from the glove and plug them in. They take 4 – 5 hours to charge completely. When you need to use the gloves, you just connect them to the little wires hidden in the gloves.
Each battery sits in a little pouch in the cuff. To make it more comfortable, the battery is in two sections, it then sits around your wrist much more easily.
Battery life extends from 6 hours on minimum heat, to 2 – 3 on max.
The batteries inevitably add quite a lot of weight to the gloves. I noticed this when carrying them around in my handbag but not when they were on. Again, as long as they kept my fingers warm, I didn't really care!
The gloves come with a charger for the batteries. These have two leads so you can charge both batteries at the same time. As this is a European company, the standard charger has two round pins. This meant finding adapters for use in the UK and Asia. It would be good if they could provide different chargers for their different markets.
Fit
As mentioned above, Mr Fluskey has wide palms and quite short fingers. We had to go one size up to accommodate his hand. This meant his fingertips didn't quite reach the heating elements at the end of the glove's fingers.
Mine fit really well (apart from my weird, short little finger). I think the sizing guide on the website, and the choice is sizes is really good. With a structured glove like this, a one size fits all approach really wouldn't work.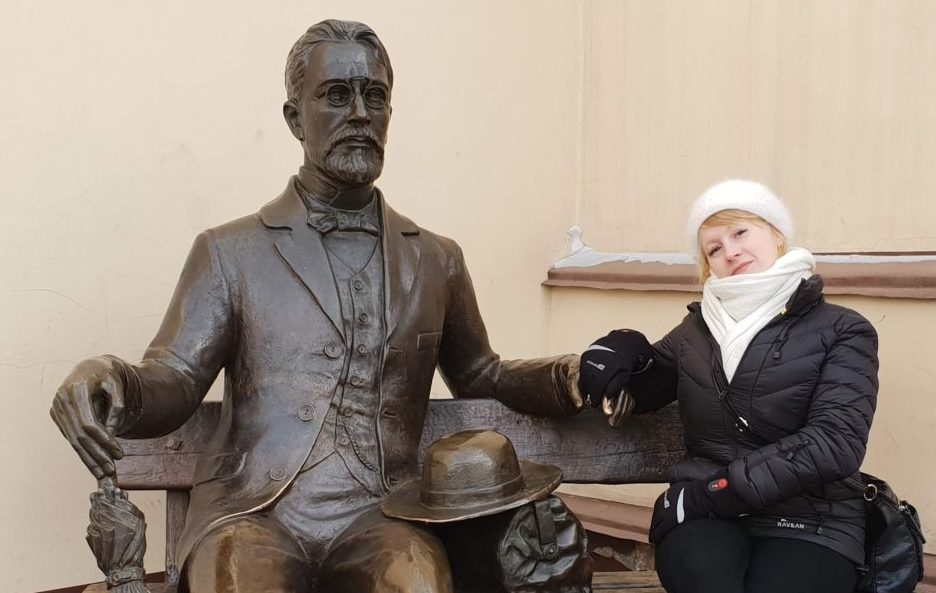 For more reviews of great gear for your travels including backpacks and packing lists, check out our Gear section
Final Thoughts
I am so looking forward to never having cold hands again. I am even considered taking them to the cinema the other day (the place with most unnecessary air-conditioning). We know these are not cheap, but they aren't the kind of gloves you buy every year as fashion changes. These are an investment in technology that has a practical purpose. I, for one, am thrilled to own a pair.
Have a look around the 30Seven website and you will find lots of other gloves designs that all use the same technology. Whether you want a thicker gloves, something with more specific functionality, or liner gloves to go under an existing pair that you own, you will find them here.
Overall,I really loved these gloves and give them a nice big, toasty thumbs up. I'm not sure i can make it trhough winter without now…it was a pretty life-changing experience for a girl who hates to be cold! Bring on those magic batteries of the future that means I can run them on high all day!
This post was written in collaboration with 30Seven Clothing but all opinions are entirely my own.
Rosie xx