Belize is an action-packed, history-stuffed marvel of a country. When we first started researching it, we had no idea what to do there other than visiting the Great Blue Hole. We wanted a perfect introduction to Belize so we partnered up with Tinggly to enjoy a day of Mayan temples, zip-wiring and cave tubing. Check out how our day went in our Tinggly review.
Our tour was provided by Tinggly but all opinions are entirely our own.
Giving a Gift Experience
What do you buy the person who has everything? Or, for that matter, someone who has as much as they need? Well, giving the gift of an experience has become incredibly popular over the last few years for good reason. Shared houses, tiny first-time buyer flats, they really don't leave a lot of room for novelty gifts. Providing someone with special memories seem like a much better option. In fact, we asked for help funding our honeymoon to Peru instead of registering at a traditional shop. We had a blast and it was MUCH better than a new toaster.
This is where Tinggly comes in.
What is Tinggly?
Tinggly offers a selection of gift boxes ranging from €49 to €409. You can wrap them up beautifully and still have the pleasure of giving them to someone in person. Alternatively, you opt for an e-voucher and sent it to someone on the other side of the globe! The recipient can use the voucher on 1700+ experiences all over the world. The best way to check the options is on the Tiggly website but the box contains a book full of fun inspiration.
There are loads we could have tried in London (sightseeing cruises, chocolate making workshops and more) but as we had a trip booked to Belize, we chose to use ours there. After browsing the options in our Bucketlist box, we settled on the Full Day Exploration, Mayan Temple, Belize Cave Tubing and Zipline tour.
Altun Ha
50km north of Belize City is a small but perfectly formed Mayan city. Well, we would call it a city but it was an entire civilisation. This is Altun Ha. The name isn't Mayan, it was just named after the nearest village when it was discovered in the second half of the 20th century.
The Temples
Before visiting the temples, we had a quick talk about the area by our tour guide, Brian. In particular, we learned all about the Jade Head. It sounds so incredible but sadly, we mere mortals will never see it. The huge jade gem is worth SO much money that even the one you can see in the Museum of Belize is a replica. It is only brought out for the fanciest of visitors to Belize.
From here, we walked into the centre of the plaza. Great grey steps rose above us, stark against the blue sky. (the blue sky that didn't last long). We were allowed to walk up to the top of a couple of the temples, the ones that have been excavated and made safe. As we walked, Brian explained the lives of the great priests that created the temples (or had them created by lowlier people). It was incredible to imagine the high priests surveying the people below. Plus, the view was lovely. Not all of them have been excavated as some just crumbled when they tried. I wonder what treasures lie beneath?!
The Drive
We all hopped back in the van and started back along the road from which we had come, before turning west into central Belize. Along the way, we all began to chat. Our fellow tour-goers were all American which became a bit of a theme for our trip. They had all been chatting before and we had obviously missed a conversation about food because our van pulled up to a stall and we were treated to some street food. We tried sweets made of raw coconut or tamarind, ground together with sugar. I loved the sweet and sour tamarind one but Mr Fluskey passed them forward again before I got a chance to have seconds.
Slightly further along the road, we all tried to make out the old man lying down in the Maya Mountains (pic 3 below). If you look to the right, the silhouette of someone's face with rather a bulbous nose can be clearly seen. How cool!
The Zip Wires
Passing through a collection of gift shops and places renting water shoes, we wandered up to the zip wire area.
The friendly guides strapped us into harnesses and helped us grab the rest of the safety equipment. Now, I LOVE zip-wiring. It is the epitome of soft adventure. You don't work that hard, you have plenty of safety equipment and yet, you get a lovely big dose of adrenaline and usually, a pretty good view. I have launched myself from trees in Chiang Mai, Peru's Sacred Valley and plenty of adventure parks. So, it was with a touch of over keenness that I waved my hand when they asked who wanted to go first. They strapped me off and off I whizzed down the practise line. Obviously, my excellent example was perfect as the whole group followed with no hiccups and we were off to the main course.
We got to ride 6 lines, some wickedly fast and others longer and slower, designed for a little sightseeing. I felt totally free and relaxed and everyone else seemed to be having a great time too.
The Lunch
It was time to scoff some dinner. We were all taken into a small restaurant and shown to a large picnic table. There was lots of fruit juice included but if we had wanted a cocktail or beer, they could be purchased. After a few minutes, we were given a plate full of tasty Belizean fare. Tender BBQ chicken., plenty of fresh salad and of course, a whack of rice and beans. It was all very tasty and well cooked so I demolished the lot!
The Cave Tubing
We have only been tubing once. It was in the bad old days of backpacking in Vang Vieng, Laos. Cave tubing was totally new to us and so we were excited to see what it was all about.
Everyone picked up a helmet, life jacket and giant, neon yellow, rubber tube. These were the fancy kind with handles and backrests. As we were getting kitted up, the first drops of rain could be heard bouncing on the rubber rings.
And then the heavens OPENED!
The Rain
The rain was torrential and we were very quickly drenched. I hid my head under the giant ring to try and keep the rain out of my eyes but all was lost when we waded across the river and I had to float the ring alongside me. It was at this point I decided to just get into the spirit of the thing and accepted my total soaking.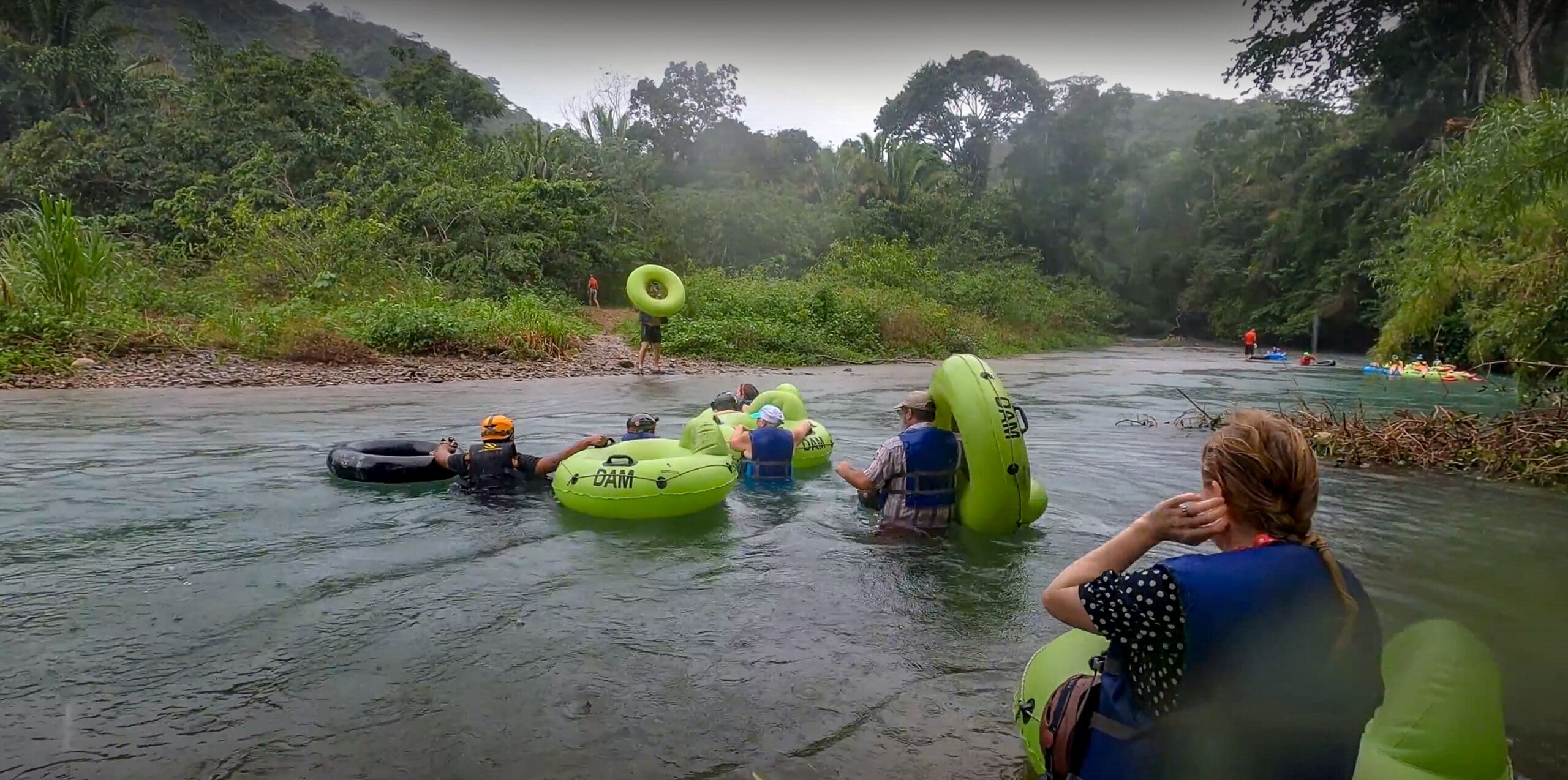 After around 35 minutes of walking and wading, we arrive at a river bank/beach. Some of the group hopped into the water to swim and try and spot fish. I drank too much juice at lunch and had to run off to use a lava-tree. Suddenly, I regretted wearing a playsuit.
The Cave
Brian attached our rings together into a raft and we helped pop it into the water before awkwardly hopping in. The rubber groaned and squeaked as we all settled down. He pushed us off and we began to float slowly downstream.
Inside the cave, we spotted bat holes, cool rock formations and the gap up to the outside that made the cave insta-famous. Well, our GoPro didn't cope with taking that photo so don't excited! There was a distant roar of water and Brian told the group we were going down a waterfall. People began to look nervous but instead, the cave opened up into a huge cavern with a rushing waterfall that came down into the water. It wasn't half as dramatic as it sounded, the echoing walls had really amplified it. Brian put each of us under the streaming water and we squealed like children…even the proper grown-ups.
For the last ten minutes of the experience, we emerged into the open and found that the sun had come back out. We all just relaxed and listened to people's mini conversations. It was a lovely end to the day.
Information
The Tour
Our tour was run by a company based out of Caye Caulker called Salt Life Eco Tours.
The rest of our group had to get the ferry back to the island. They had all travelled together to pick us up from our hotel.Salt Life were kind enough to let us have our big bags with us in the car and to drop us at the Belize City bus station at the end of the day. This allowed us to catch our bus without the long trip to the hotel. Top marks!
Mr Fluskey had to rent some water shoes and we managed to find a pair for around $6 at the entrance to the adventure park. This was not the last time we needed water shoes in Belize so if you have some, bring them! I wore my jellies, which were fine.
Some people were just sporting their swimwear under their life jackets for the tubing but I chose to stay in my playsuit. It was more comfortable for the 25/30 minute walk and it dries really quickly. I did bring a change of clothes though.
Tinggly
Tinggly offers Experience Gift Boxes from €0 (which suggest fun free activities) to €409 for ultimate driving experiences.
There are also Getaway boxes which can be used on hundreds of hotels in your selected destination. For example, €349 gives someone the choice of 500+ 3*-5* hotels in Paris for two nights. I have recently been trying to book a hotel in Paris and trust me, that is a wonderful deal!
Not only are you giving a fabuloous gift, but your gift will also be good for the envirnment too. Tinggly only uses recycled materials in their boxes and brochures and they are fully biodegradable. On top of that, Tinggly pledges to remove 5kg of harmful plastic from the world's rivers, lakes and oceans. Oh, and this isn't just a pledge, they are installing "trash traps" right now in Indonesia, a practical and effective step in the right direction.
Final Thoughts of Our Tinggly Review
Now, as a serious travel fan, I am obviously biased but giving someone a cool adventure or an excuse to travel is such a wonderful way to treat your nearest and dearest. Scrolling through the world map and picking a Tinggly gift experience from across the globe was such fun! We imagined all of the trips we could take before settling on Belize. Our day trip was such a fun blend of history and adventure that it was the perfect introduction to Belize and it was all inspired and provided by Tinggly.
Rosie xx