The balloons have deflated, the presents are unwrapped and your shiny new passport has a shiny new surname on it. So what next? Honeymoon! It's time to escape to paradise. Club Paradise Palawan is a wholly unexpected jewel on the top tip of the Philippine island, Palawan. It is the perfect place for honeymooners and couples. We were lucky enough for it to become our world for three blissful days.
Location
Most travellers know Busuanga Island as the jumping off point for Coron and the islands to the South. However, to the North-East of Busuanga is a small island called Dimiquiat and it is a little slice of heaven. 19 hectares in the middle of a biosphere reserve, around the island is the most magical kind of water; turquoise from afar but crystal clear when you're in it.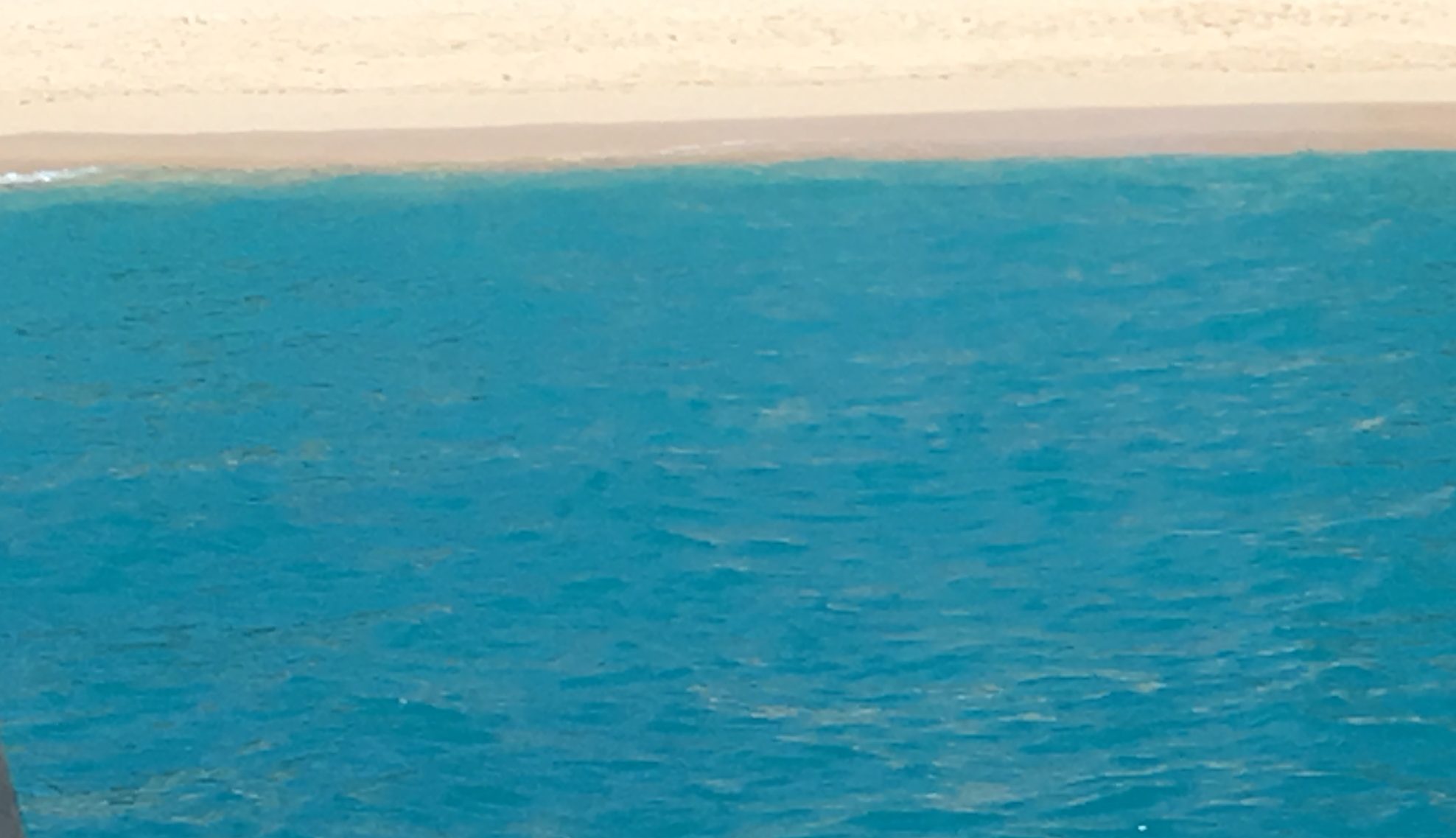 The Transfer
Whether you arrive at Busuanga island by boat or plane, Club Paradise can arrange a transfer. We caught a very, very early morning ferry from El Nido and so it was a welcome treat to arrive at the port and see a guide with our name on a sign. We scrambled in the air-conditioned van and it took us to a small pier on the other side of the island. En route, we got our little welcome gift, a Club Paradise Palawan bracelet.
If you're travelling to El Nido, check out LIO Beach – El Nido's Best Kept Secret
Our boat chugged steadily along the river and then out in the bay, towards the distant island. As it came into view, the excitement on the boat rose. It looked so beautiful.
The Arrival
Stepping off the into the edge of the waves, we got the first sweet squish of sand between our toes.
Two staff members handed us a cooling towel and whisked us off to the reception to check in. Within seconds we were sitting, sipping virgin margaritas and listening to a welcome song from the resident band. We felt like complete VIPs.
After we settled into our room, the doorbell rang and two smiling ladies from the housekeeping team were waiting with a collection of strange objects. They asked us to take a seat, and then we were treated to a foot wash, scrub and massage. It was a real unexpected delight.
Reinvigorated by our tootsie treats, we set off to explore the property. Let us show you around…
A Look Around the Property
Design
The main areas of Club Paradise Palawan are stylish, but not a in stark, clean lines kind of way. Here you will find beach hut chic perfected. Quirky lanterns hang from the ceiling, wooden floors underfoot and mismatched furniture gives a beach side coffee shop feel. The beach is dotted with hammocks and funky wooden signs. It is a colourful slice of island life.
Rooms
During our trip, we were staying in a Garden Suite room. This is a new block of standard resort-style rooms a three minute walk from the pool and between the two beaches.
Our Room
The room was large and with its tiled floor and air conditioning, felt very open and refreshing. The patio doors serve as the front door and outside you have a small seating/swimwear drying area.
Inside you find a writing desk, with stationary, a mini bar, and tea and coffee making facilities. The wardrobe has a safe for your valuables, a laundry bag and a bathrobe and slippers for you both.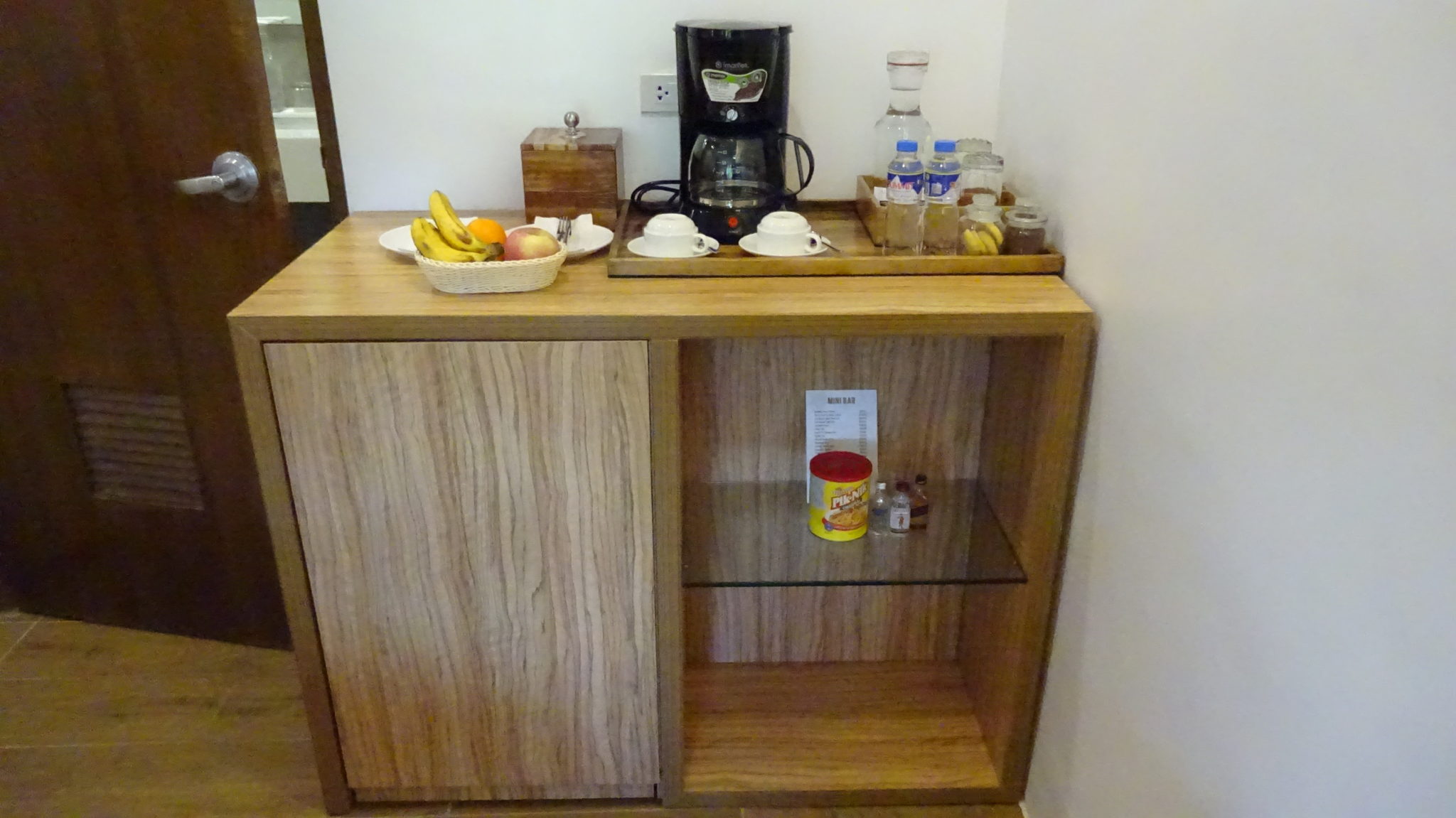 The bed was huge, about a third bigger than a standard double. Every night we were treated to a wonderful turn down service. We were always treated to a lovely bit of towel art (no sarcasm, towel art really makes me smile). Along with that, they leave a traditional little Philippine snack. We tried biscuits, ube cake and below are three perfect little fruit tarts. It was a fun little treat for the five o'clock munchies.
Bathroom
The bathroom had a lovely long counter for getting ready. We both managed to use the mirror without annoying each other, or ending up with an elbow to the eye. The toiletries included shampoo, conditioner and even a toothbrush with toothpaste. You can forget your wash bag and you'll be fine at Club Paradise Palawan. The shower was hot, powerful and we do love a giant rainfall shower head.
Dining
The one restaurant on the resort is Fire Fish. Here you will find a daily breakfast buffet 06:00 – 10:00am.
From 12:30pm it turns into an à la carte restaurant. There is only one menu, but it has foods from all over the world to keep things interesting. We had traditional Filipino dishes, Italian pasta and a pool side classic; a club sandwich and chips.
The Residents
During your time at Club Paradise Palawan, you may get to meet some of its more unusual guests. The most obvious ones are the resident colony of fruit bats. They hang out in the trees near the pool and every night, they put on a spectacular show at sunset. The whole camp of bats heads off to the mainland in search of food.
Elsewhere on the island you may bump into a monitor lizard cooling off in the lagoon, a butterfly flitting across the path or an aquarium worth of fish on the house reef.
Activities Around the Resort
For Couples Who Want to Relax
The Spa
For a thorough rub down, or a serious dose of relaxation, head to the Glow Spa. Open all day until 23:00, the therapists are ready to provide a great list of massage options. After debating it for a day we opted for the Gentleman's Package for Mr Fluskey (a 40 min massage and express facial) and a full 60 min massage and 40 min facial for Mrs Fluskey.
The treatments were performed in two adjacent beds. The staff just pulled the curtain back so it felt like we were in one treatment room. This means that you can pick anything on the menu and they will treat it as a couples massage.
The staff couldn't have been more professional. They checked the pressure for each of us and made sure we were as comfortable as possible. My facial used a gentle scrub and then a tea tree infused lotion. It smelt great! The full body massage was just the right level of intensity. It wasn't too gentle (sleepy territory) or too hard (grimace into the pillow territory). They found my tense spots, going at my knotted shoulders until they started to give. I loved every minute of it.
The Pool
My absolute favourite activity in the resort was to stretch out on the one of the super comfortable poolside beds and listen to the waves on the beach behind me.
The pool was split into two parts. One was deep enough to swim in properly and was just long enough to use as a lap pool. The other area had fountains and submerged sunbeds. I love submerged sunbeds, they are a fabulously refreshing alternative. This part had quite a few kids in it later in the day but it seemed to be a grown up haven earlier on.
The Beaches
The main beach at Club Paradise Palawan is a 700 metre stretch of perfect golden sand. It faces West and so the sun graces it for most of the day. It is a wonderful place to bronze all afternoon, and enjoy a sundowner cocktail in the evening.
With so much space, you will be able to find a private spot really easily. Whether you want to lounge in the shade of a hammock,  laze on a sunbed or build a sandcastle, you will find yourself a secluded spot. There are showers and foot wash stations to avoid spreading the sand all across the resort.
Secret Beach
Do a little exploring and you will find your very own spot. Secret Beach gets the morning sun. It is more natural than the main beach, a rough and ready spot.
For Couples Who Want to be Active
Obstacle Course
If you are feeling adventurous, you can play Tarzan on the resort's own rope course. There are steps, swings, nets and tightropes to tackle. We ran out of time try it, which I was truly gutted about. It looked like it was great fun!
Check out all our travels in The Philippines
Hiking Trail
To get a wonderful 360 view of the island, especially for sunset, you can take the 30 minute hike up to Eagle Point. The path varies in difficulty on the way up. If you are running out of puff, you aren't far from an easier section.
The final ascent is up some concrete steps. They don't seem too steep on the way up, but do on the way down. I climbed down backwards which made it much easier.
Check out the views from the top of the tower:
Water Sports
Remember that reef I mentioned? Well, that is where you can start your exploration of the waters surrounding the island. The Aquasports office by the pool will lend you a snorkel and fins for a snorkelling trip. They can provide a guide if you are feeling a little unsure. We opted to do it ourselves and waded into the waves. We swam for two minutes and found the edge of the house reef. It was teeming with life and we saw fish galore! There were fish of all colours and a nice variety of corals. We even saw a completely harmless but awfully exciting black tip reef shark. It would be the day that our GoPro decided to stop working!
Next door is the Dugong dive shop. They can arrange dives at all the famous wrecks around Coron as well as great nature spots. They told us that most of the dives they do are for those guests who haven't tried it before, but you can do leisure dives, dive qualifications and amazing adventure dives with them. We decided to do the island tour instead of scuba diving, but the night dives on the house reef sounded very cool.
For 
Couples Who Want Romance
Dinner For Two
You can arrange a special dinner down on the beach. We were lucky enough to try out this experience and it was a wonderful treat. There is a weekly dinner on the beach but this is just for the two of you and is so romantic with the sound of the waves lapping just a metre from your table.
We had our own waiter and they couldn't have been more helpful. I mentioned that it was going to be my birthday in a couple of days, and they even bought me a little cake, and the house band(!) to sing happy birthday.
Speaking of the great service…
The Service
The staff at Club Paradise Palawan could not have been nicer. Every interaction we had was friendly, polite and made us feel special. Justin at the front desk told us all about the resorts facilities and how to get the most out of our stay. He showed us all the way to our room and was extremely cheerful. Mr Escobar, the resort manager was out every evening to speak with the guests and check that everything was perfect. I was amazed at the personal touch. It made us feel like VIPs.
Weddings
During our stay, we saw a wedding taking place. The ceremony was set up right on the sand and I had to go and have a look.
I loved the little details that had been set up. It had a real sense of tropical magic. We watched it from afar and everyone seemed to enjoy the day. It must be a really special place to get hitched (and at a fraction of the cost of a similar ceremony in the Caribbean!)
Check out our our Review of Air Juan from Coron Airport (USU)
Final Thoughts
We had a truly wonderful time at Club Paradise Palawan. We have been to a few fancy resorts, but the staff here made us feel so incredibly welcome, that it felt like we were meant to be there.
If you thinking of visiting, here are some things you might like to know:
Busuanga airport has flights from Manila, Cebu, and Angeles City, as well as smaller flights from other islands (You can read all about our flight with Air Juan to Boracay)
Busuanga can also be reached by ferry if you are coming from El Nido. The fast ferry takes about 4 hours and can be booked here.
Booking directly with Club Paradise Palawan saves you money on day tours, spa treatments and desserts during your stay.
If you have room in your suitcase, I am coming with you.
We were hosted by Club Paradise Palawan but we had a genuinely wonderful time and as always, all opinions are my own.
Rosie xx