When the cold sets in, and the darkness brings the fairy lights to life, it is time to get your festive on! Now, Prague is a wonderful city to visit at any time of year (more Prague content coming soon) but we think it is especially magical at Christmas. "Why?", I hear you cry! Let us share 6 reasons Prague is the perfect Christmas city break.
Looking for something a little more foody? Check out 6 Best Restaurants to Try Great Czech Food in Prague!
Prague is Easy to Get To
Assuming you are flying from the UK, you will be able to travel to Prague, direct from more than 10 different airports. On our recent trip, we took flights to Prague with Jet2.com. It was a reasonably short flight, just two hours. Best of all, flights to Prague won't cost you a bundle. Flights from all over the UK can be really cheap! I'd call that a good start to a perfect Christmas city break.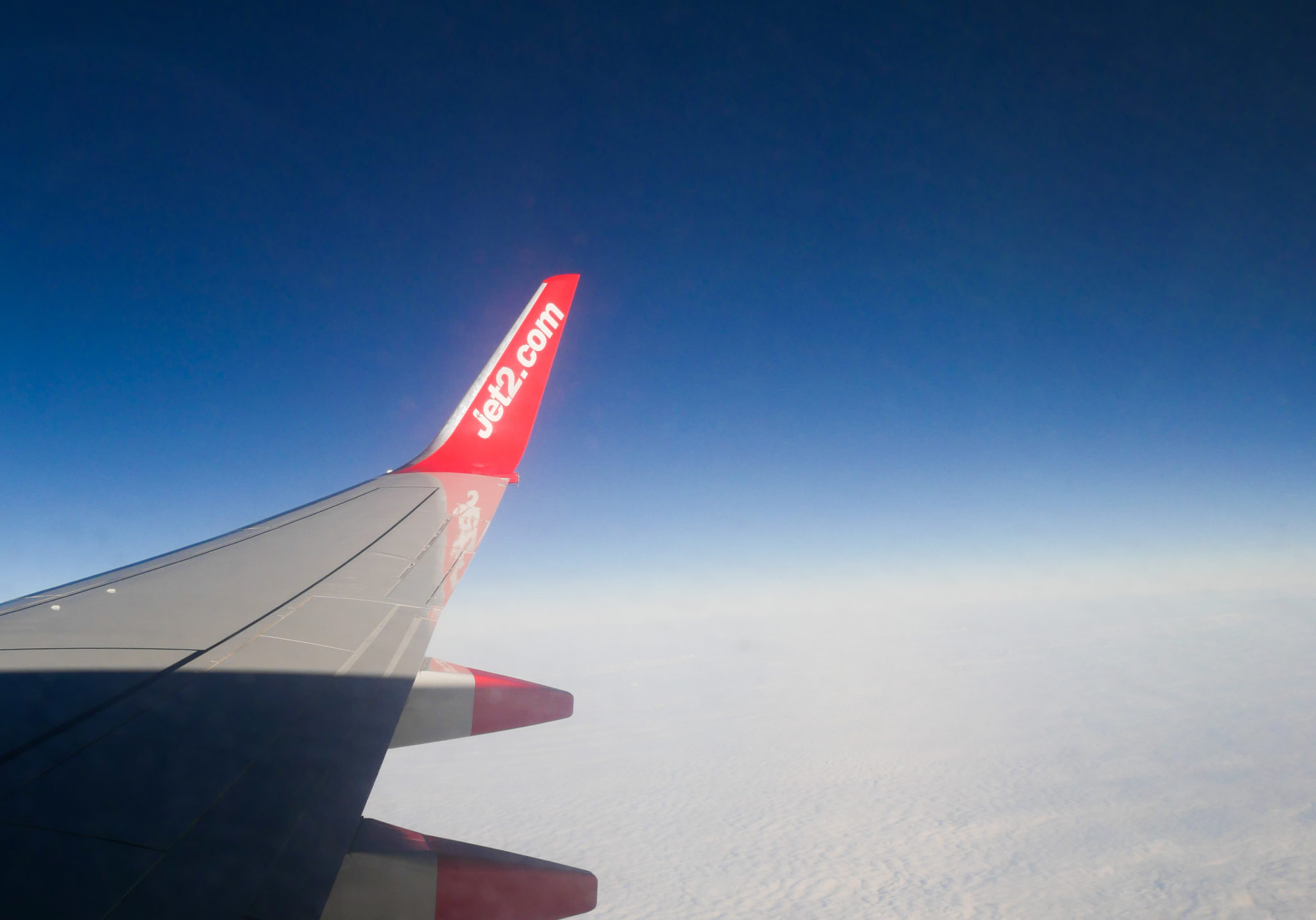 Prague is Chilly
Now in my opinion, if you are going on the perfect Christmas city break, you need some winter chill. Red noses are particularly festive, and warm drinks to thaw your fingers are a real treat. Plus, how can you feel cosy inside when it is warm outside!?
Prague is, on average, between +2C/-2C in December. That is cold enough to get some snow if there are clouds, but not too cold to regret your life decisions. It is worth remembering that when you visit the castle (up on a hill) it is always pretty windy, so it would be wise to bring a few extra warm bits for the day you explore it.
Look, we got snow!!
Prague is Great Value
OK, so Germany may get all the glory around Christmas time, but it is not a very cheap country to visit. The Czech Republic has a much kinder cost of living! If you are sick of paying £6 for a mulled wine at London's Winter Wonderland, and don't want to substitute it for €6 cup of gluhwein in Germany, then how about a £2.00 cup in Prague! It's not just the wine that is a bargain; everything will seem pleasantly priced.
A travel ticket, that will get you unlimited public transport for three whole days, costs less than £10. You probably wouldn't even need to spend that much, as the main areas of Prague are well within walking of each other.
Going with a group of friends? You can get a dorm bed in a hostel for just £6, including breakfast! If you are out for a party then for a bar crawl, with a couple of hours of drinks included, you will probably pay around £18.
If you are coming with a significant other, and want to stay somewhere special, then a room in a fancy hotel like the Occidental Praha Wilson (available through Jet2holidays) starts at £75. It is located right on Wenceslas Square, opposite the National Museum.
Dinner can be cheap and filling. With so many dumpling variations, and good hearty pub meals a staple, you could fill up for as little as £4. The fanciest place in town (the Savoy Cafe) does a five-course menu with wine pairings, and even that only just tops £50….worth every penny by the way.
Prague has Some Wonderful Christmas Markets
There is something about Christmas markets that really makes us feel festive. Is it the smell of warm beverages? The cheery spirit of the people wandering around staring at the stalls? The stalls themselves, stuffed with glittering gifts? Or is it the sweet treats on offer? In Prague, it is all of the above. The biggest and best Christmas market is located in the old town square.
 

 

View this post on Instagram

 

 
One warming, sugary delight, you will see everywhere is the intriguing Trdelník (or Chimney cake/spit cake). It is sold as a traditional Czech dessert but it actually only made a big splash here in the last few years. It is actually from Hungary, but that doesn't make it any less fascinating to watch, or delicious to eat!  You can get these tubes of job stuffed full of ice cream, or just as they are. We had great fun peeling it in sections to share. 
Glinting and glistening across the markets, you will see stalls stocked with traditional glass baubles. Glass from the Czech Republic, sometimes called Bohemian glass, is world-renowned. Glass production in this part of the world has been around since the 13th century. Did you know, they invented the champagne flute. Cheers to that! Hand-blown glass ornaments have only been around since the 19th century, but they have taken all that knowledge gained over 600 years and turned out the most stunning decorations to take home for your tree. What better way to remember your perfect Christmas city break.
Oh, and don't forget that mulled wine, hot punch and warm apple cider!
 

 

 

View this post on Instagram

 

 
Prague is a Fairytale City
Fairytales are woven into our Christmas traditions. For some, t wouldn't be December without a trip to the panto and I can't get through without some form of Dicken's A Christmas Carol, not to mention the whole Night Before Christmas thing. It is not often you get to live out your fairytales, but Prague is gorgeous! Stroll around its twisting, cobbled streets and you'll be taken back in time.
The Old Town
Spanning both sides of the Vitava river, the picturesque streets of Prague will continue to surprise and delight you. Whether you are looking at the wonderfully restored black and white mosaic pavements, or up at the brightly coloured buildings, it is a very attractive city. Keep an eye out for the traditional building signs. Used before reading was common, these signs (like English pub signs) illustrated the name of the building to the public. Need your gold smithed or your violin restrung then look for the golden chalice or three violins.
The Castle
Prague's castle is the symbol of the city. Parts of it date back to the 10th century. You can enter the complex and the gothic St. Vitus Cathedral for free but we would highly recommend getting a ticket to the whole complex. It is huge (7 hectares) and it has some wonderful medieval streets. We got the chance to see some ancient torture implements and shoot a crossbow. OK, so that isn't that festive, but it is fun all year! The most popular activity at the castle is the changing of the guards. This happens at 12 noon every day and is accompanied by a triumphant miliatary score.
What we did find was another pretty Christmas market in the shadow of the cathedral.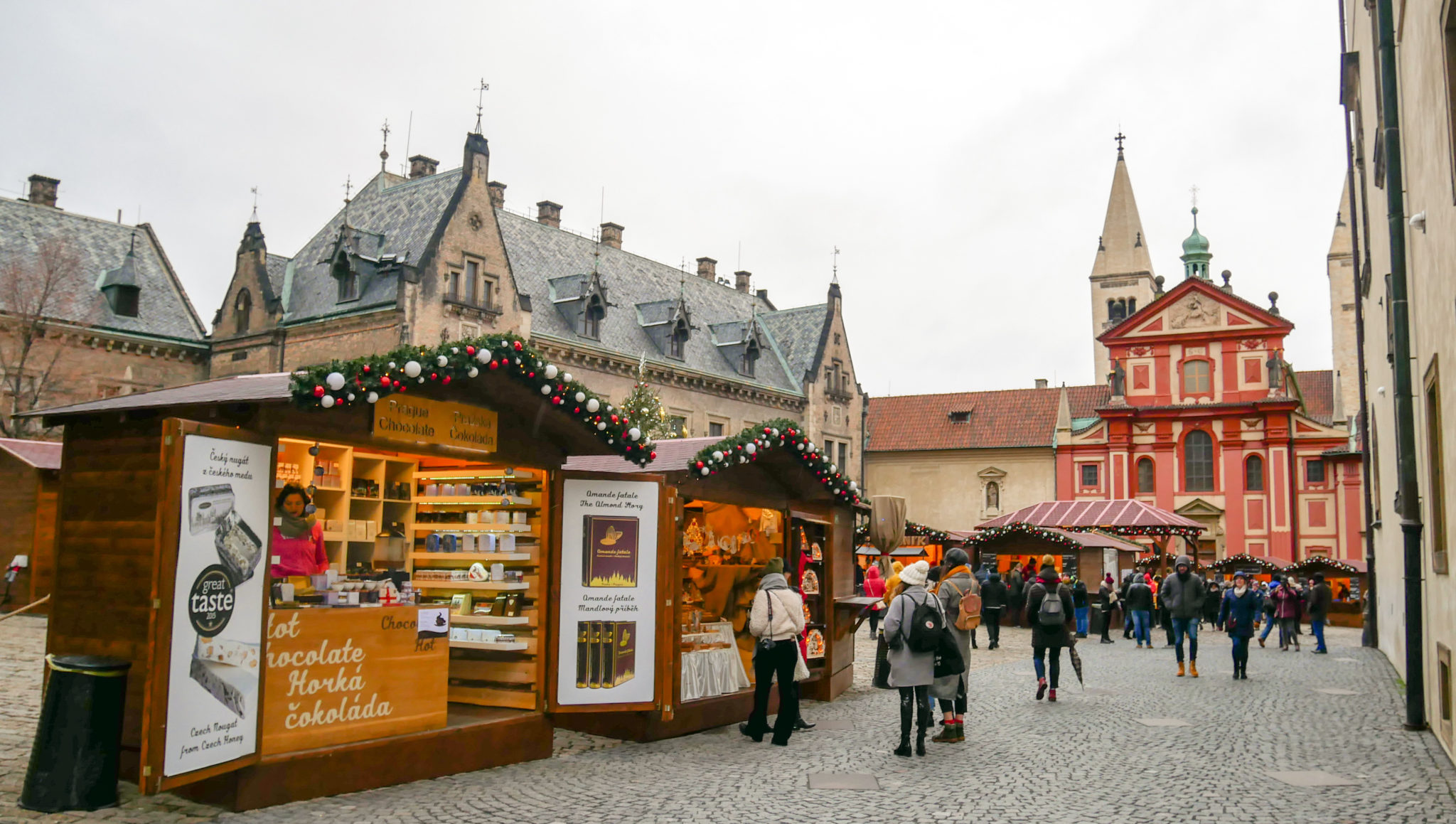 Prague's Christmas Traditions
Beyond Prague's many year-round attractions (KGB museum anyone) there is so much to learn, just about Christmas here. Let's start with Wenceslas Square.
Wenceslas Square
Wenceslas isn't just a funny name that scans well as a Christmas carol lyric, he was a real person. Duke Wenceslas (a Latinised version of his name) was a Duke of Bohemia who lived in the 900s. He really was known as Wenceslas the Good and ruled Bohemia until he was assassinated by his brother Boleslaus the Cruel. You think he would see it coming with that kind of nickname.
After his death, his good reputation was spread and exulted until he was sainted, solidifying his reputation. The story of the St. Stephen's Day Feast (Boxing Day/26th Dec)  may have stemmed from for a real-life event, or be completely made up, but his square has become a focal point for the city of Prague. People gather here for popular protests, perhaps to ask those in power to consider what a good ruler looks like? You can see too, there is a statue of the saint in the square.
Traditions
One thing you won't around Prague is grottos. Father Christmas really isn't a thing here. Instead, the Czech's believe that the little baby Jesus is the one who brings the presents…and you can't sit on that lap! They also don't have their main celebration on 25th December. A big meal is eaten on Christmas Eve and it is during this time,  Little Jesus, ( Ježíšek) leaves the presents under the tree.
If you are visiting on 5th December then keep your eyes peeled for Saint Nicolas (again, not the guy in the red suit). This is the actual Saint Nicolas who arrives with angels and devils to see the children. If they have been good, they might get a present or some oranges in their shoes. If they have been bad, then the devil might give them a lump of coal. In the old days, that may have been a useful addition to the family fire, these days? It is just a messy insult.
Final Thoughts on What Makes Prague the Perfect Christmas City Break
If you want to see Prague for yourself, here is some information you might like to know
Prague is the capital of the Czech Republic. It is nestled in the centre of Europe, landlocked by five other countries including Poland and Germany.
The currency in the Czech Republic is the Czech Koruna
The Czech Republic is GMT +1. That means you won't be suffering jet lag from the UK too badly…if at all.
Prague's high season is in summer, with the May festival the busiest time of all. If you visit in December, you will have a much more relaxed trip with shorter queues, cheaper prices and a chance to see the changing of the guard at the caste. (Come in summer and you'll have to turn up REALLY early).
We flew to Prague from Manchester with Jet2. Their website is a good place to start your flight search. (check out our full Jet2 flight review here) They also have Jet2 City Breaks where they can arrange your flights and hotel. Jet2holidays can make your perfect Christmas city break to Prague super easy!
Prague isn't just a great place to visit for the perfect Christmas city Break, there is SO much to see and do. I am going to write a few more posts about the fun and games to be had around the city so keep your eyes peeled for those.
We were guests of Jet2 City Breaks for this trip, but all opinions are entirely our own.
Rosie xx