Elite Island Resorts has hotels dotted throughout the Caribbean. In 2018 we spent a few glorious days at Galley Bay in Antigua. It was with this wonderful experience in mind that we booked to stay at the group's Barbados offering, The Club Barbados. The resort has just undergone a fancy facelift so we were particularly excited to see what they had been up to. This is our full The Club Barbados review.
We were hosted by Elite Island Resorts at The Club Barbados but all opinions are entirely our own.
The Club Barbados Review
Location
The west coast of Barbados is known as the Gold Coast. Here you will find the island's swankiest resorts and The Club Barbados is one of them. Just south of Holetown and a stone's throw from Sandy Lane, its seafront location gives really good sunset!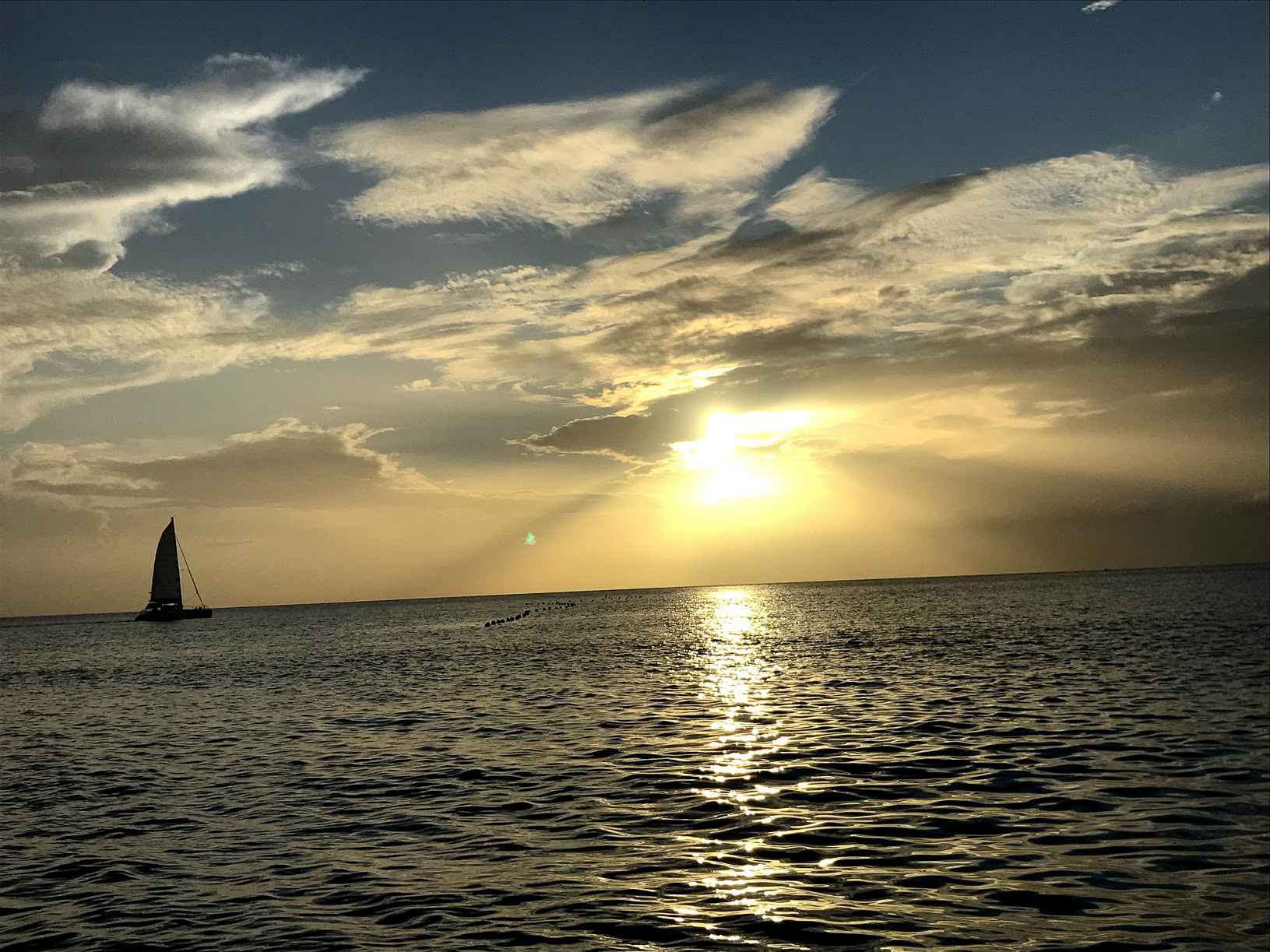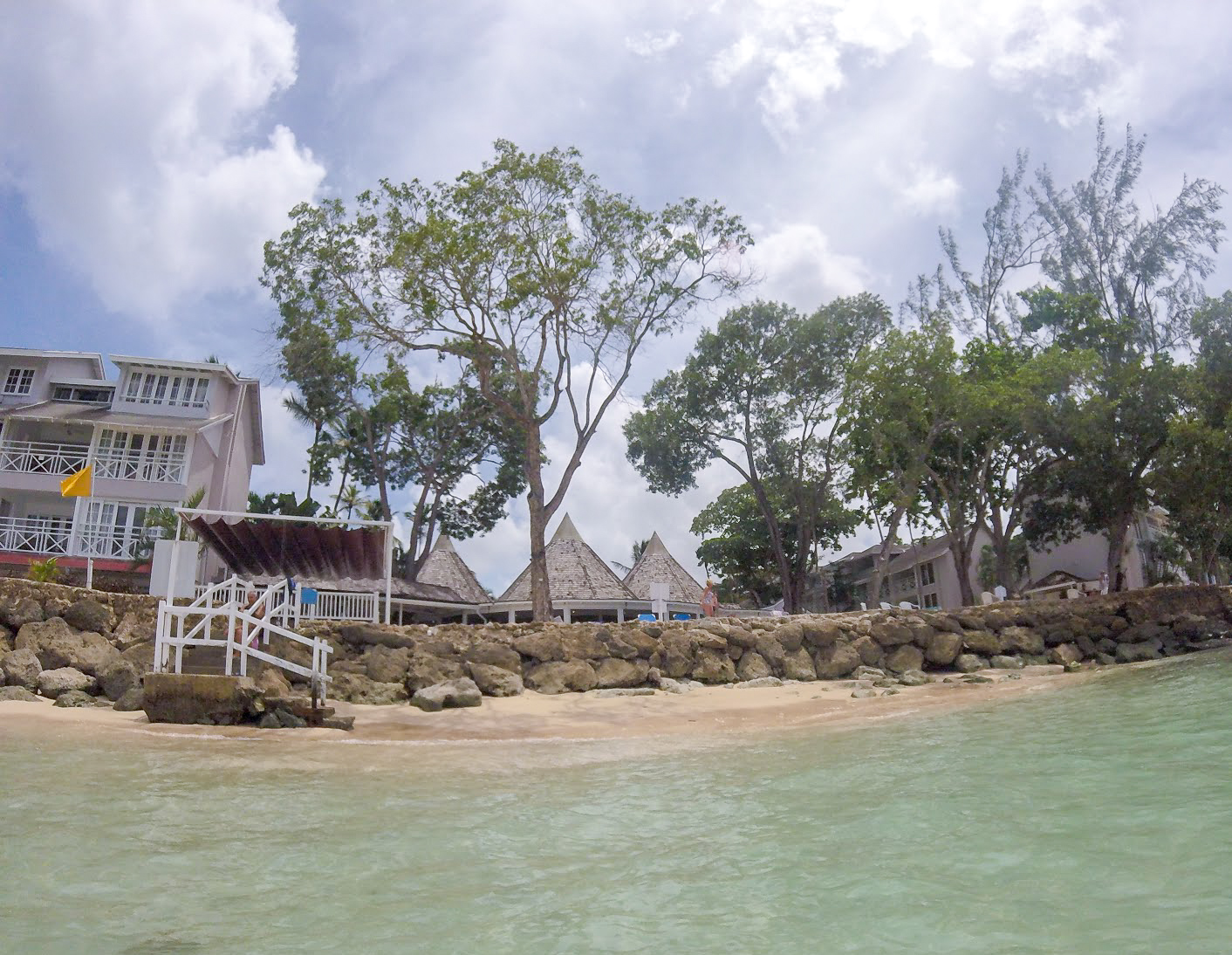 The beach in front of the resort has been depleted by successive storms but work is underway for a new stone groin that should help restore their very own patch of sand. At the moment, there is still enough to bob about by but not quite enough to sunbathe on.
The Club Barbados sits on the main road that runs up the West Coast which makes yet a great location to explore the island from. Whether you are self-driving or jumping on a local bus you are ideally located to head north or south, or indeed east. We hired a car for the day and everywhere we wanted to reach was an easy drive away.
What a Welcome
Yes, I know it is an all-inclusive and getting a drink is not going to be a struggle but I still love arriving and being greeted by a welcome drink! At The Club Barbados, we were welcomed with big smiles, slight bemusement at our backpacks, and two rum punches.
A porter showed us to our room, again slightly confused when we carried our own bags, and we settled in and had a look around (after a sneaky post-flight nap).
A Look Around the Property

Read all about our travels in gorgeous Barbados
Our Room
For our three-night stay, we were booked into a one-bedroom oceanfront suite, meaning that our balcony overlooked the surf. It was a sizeable 470 square foot.
Lounge
The suite consisted of a lounge area the aforementioned balcony and a bedroom separated by doors. I thought the decor was quite simple but it has a nice light airy feel, the perfect tonic to the humid heat from outside. The colour scheme is a mixture of white quite heavy, dark wood and turquoise soft furnishings. I think I was expecting more lightweight furniture but I guess it makes a statement.
We didn't sit in and watch TV but at least we had the option to and not disturb the other person in bed. Beside the TV were tea and coffee facilities. I know it may seem rather pointless to have these in an all-inclusive but when I awoke at 05:00 with jet lag and face totally free of makeup, I was extremely happy to have the chance to make my own coffee! Let's move on in our Club Barbados review to the bedroom.
Bedroom
The bedroom was a good size and in the evening, the setting sun sent lots of light in This is one of the refurbished rooms and so it felt very fresh. The wardrobe was a large mirror-doored area in the corner of the room. I loved the huge mirrors but the doors kept jumping their runners so I was a little worried about them coming off. It just took a bit of care. The dresser had another TV on it so most of our getting ready time in the room had the soundtrack of BBC World News in the background.
You will always win me over with a king bed. It was a lovely comfortable mattress and I loved the sturdy wood. After a couple of nights snuggled up int this beast of a bed, our bed at home seemed rather poky! I loved the bedside tables too, which were large enough to store all of my belongings during the trip!
Bathroom
The bathroom was quite small compared with the rest of the room. It had a nice large countertop though so we didn't feel like we were in each other's way. To be honest, I thought the colour scheme and the tiles were slightly dated. I can't work out if this is because the bathrooms weren't redone, or because they are aiming at a slightly different aesthetic to the one I was expecting.
I was mildly surprised to see a bath in the room, rather than a walk-in shower but then I suppose that taking a bath is luxury for many people. The shower was lovely and I rather enjoyed indulging under the rainfall shower head.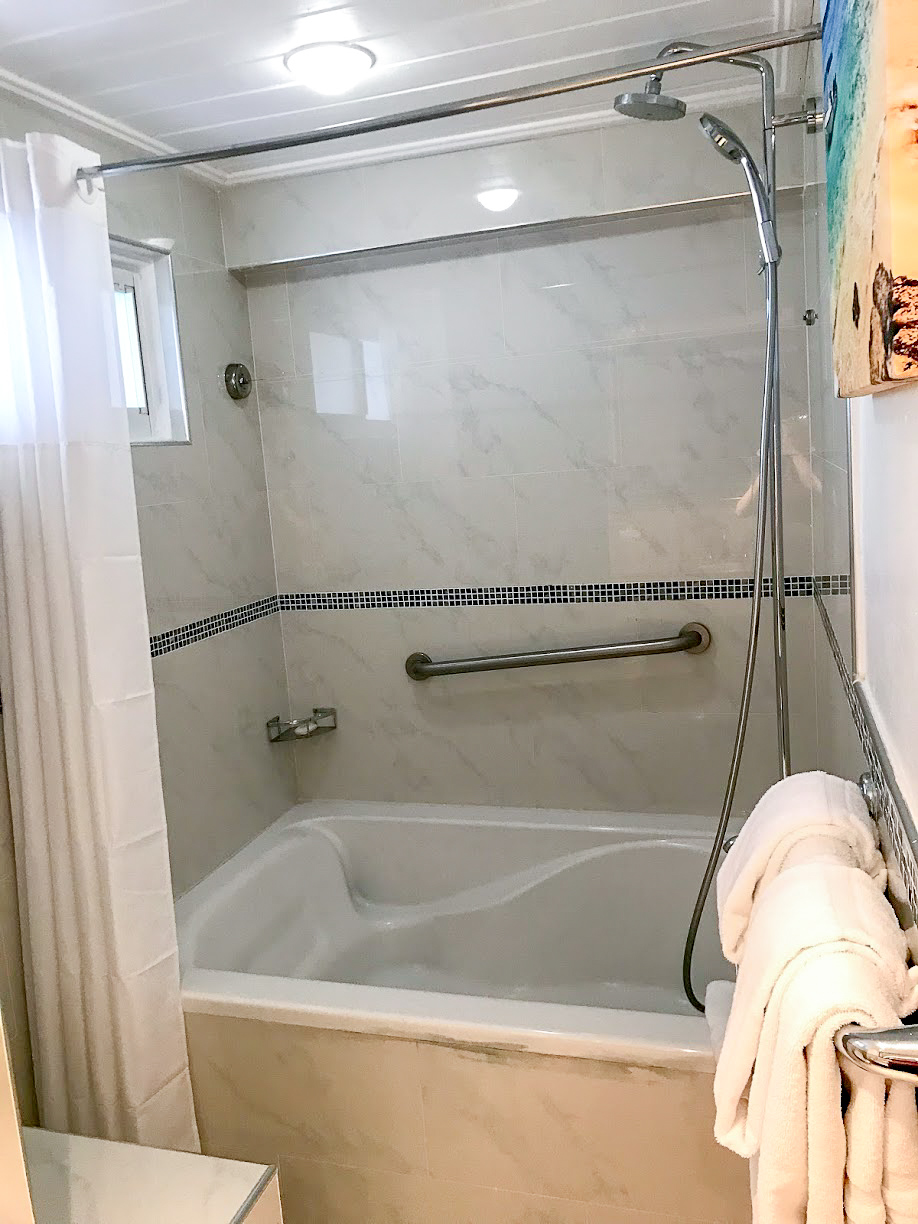 The Balcony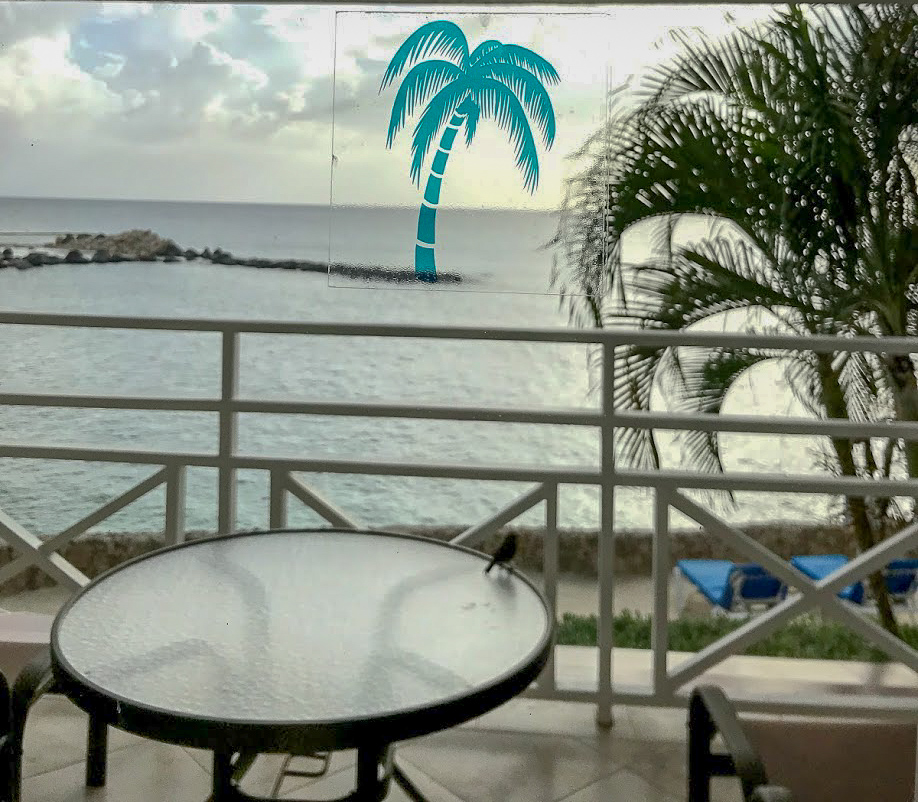 I loved our balcony. it was small but perfectly formed with a nice view out to sea. There was a hanging rail for drying swimwear and even a plug. This meant I could lounge outside in the morning, waiting for Mr Fluskey to wake up, with my phone charging, an audiobook in my ears and a coffee in my hand. It was a super start to the day. Time to talk about the food in this Club Barbados review.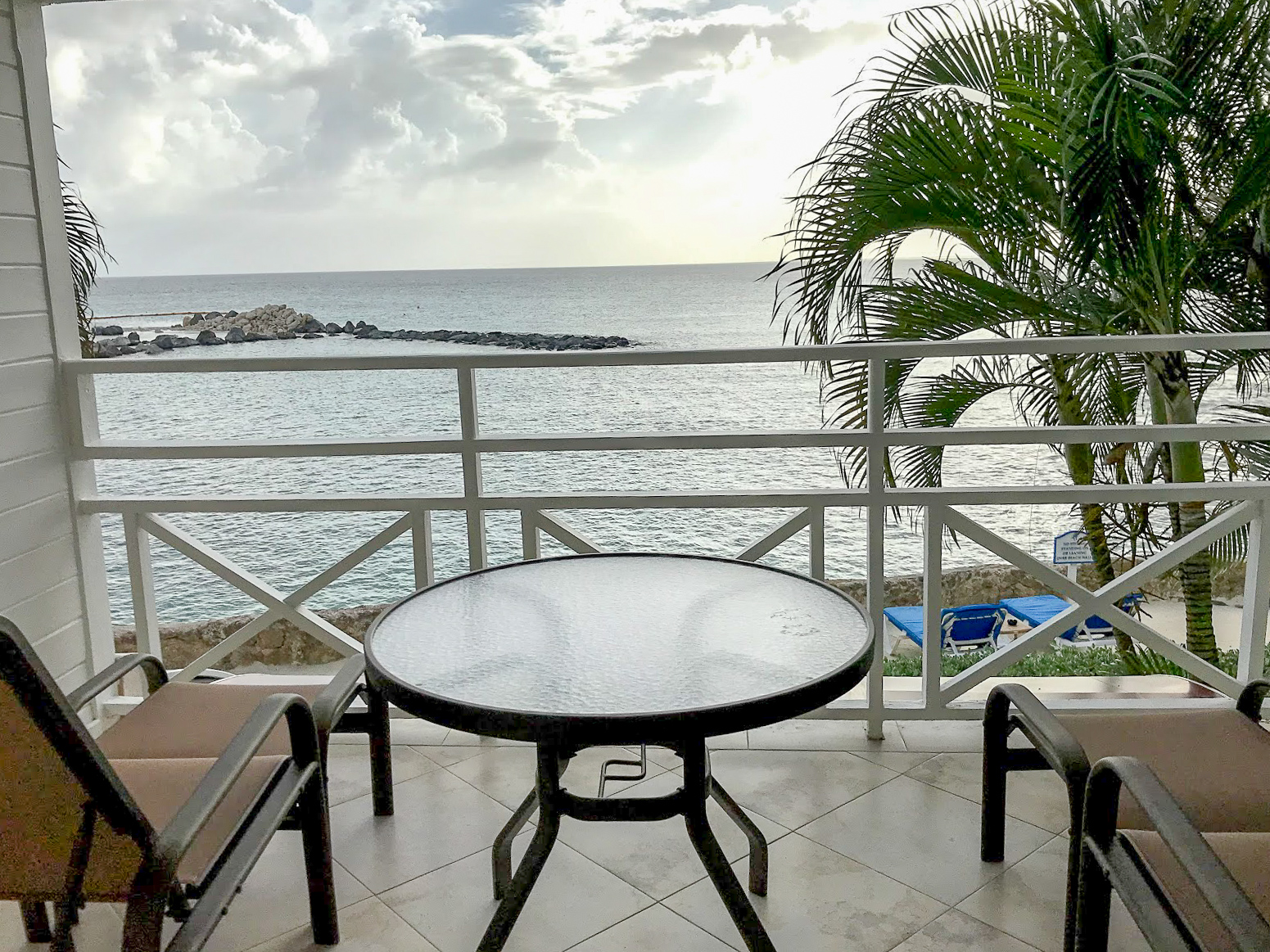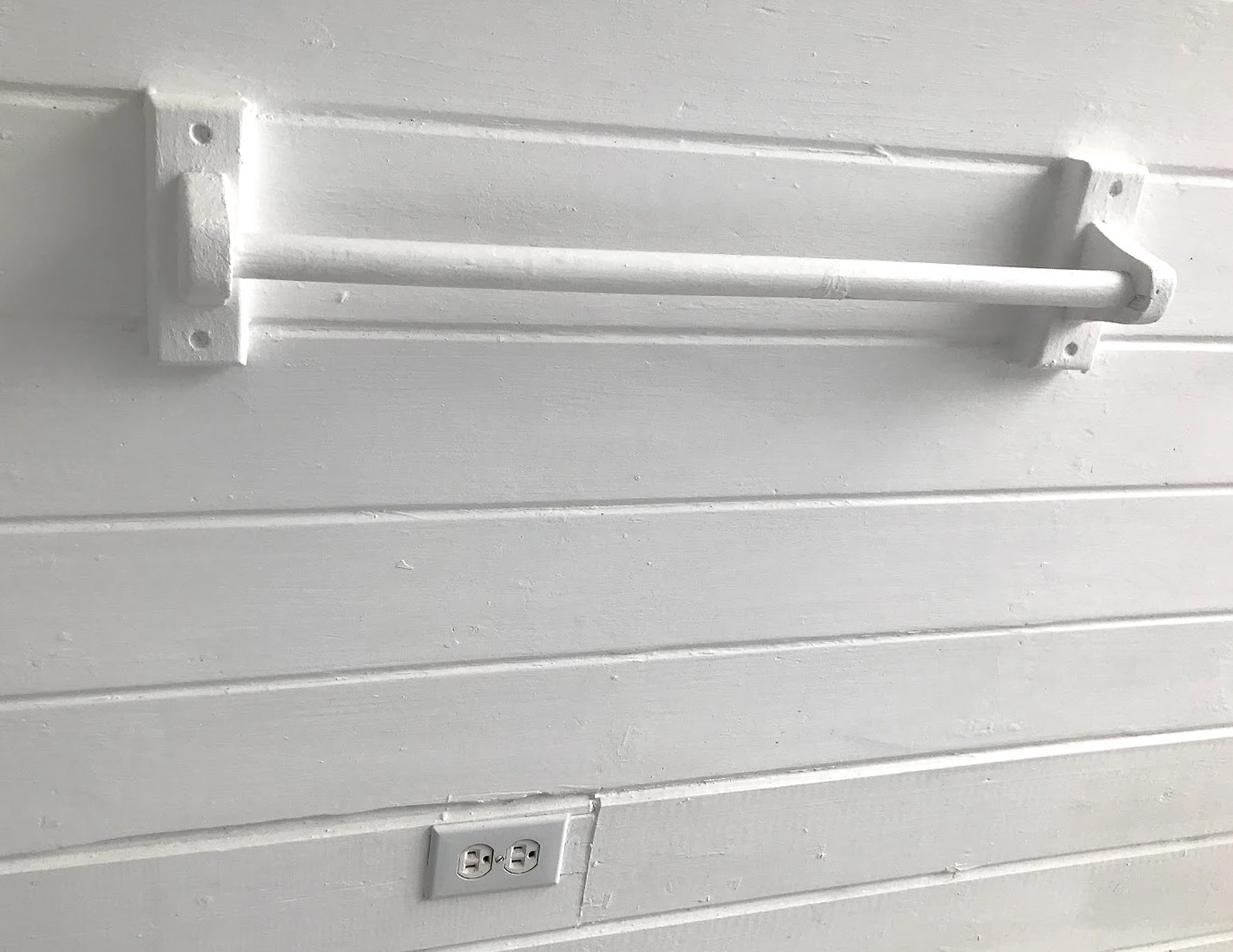 Dining
Breakfast
Breakfast was a buffet-style affair. There was a nice selection of hot options like eggs and sausage. (The sausages were pretty good and that isn't always the case). There was a waffle and pancake station. These were all pre-cooked and sitting under hot lamps. I don't mind that a fresh waffle would have been a little more exciting. All of the toppings all seemed to be fruit compote and jam. I would have liked some syrup and cream for them to feel properly indulgent.
Cooked to order, you could have a yummy omelette. I got one full of cheese, ham, spinach and herbs. Paired with some wildly addictive and it was a great start to the day. I couldn't fit anything else in that morning!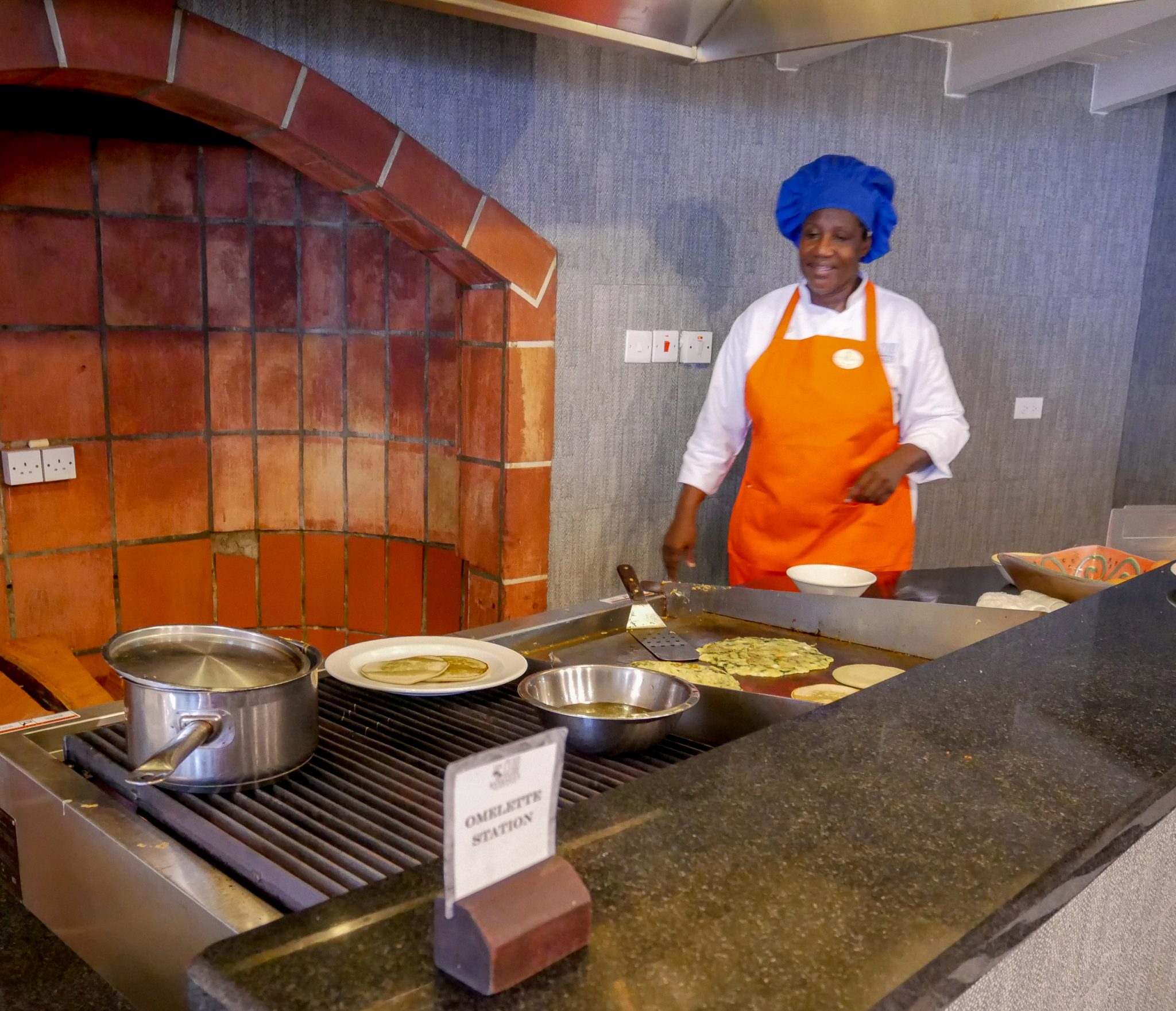 In the continental section, there was a good selection of mini pastries and cakes. The pastries were nicely cooked with a bit of crisp to them (and we all know how fussy I am about my breakfast pastries)!
There was a good selection of fresh and tinned fruit, plus yoghurts and the cheese and meat plates. We nibbled on most of this quite happily.
Lunch
We were only around for two lunches during our short trip, and both times we were a tiny bit cheeky. The Sunset restaurant had a small buffet of hot dishes and salad but we were enjoying sitting outside with our cocktails so we nipped in and brought the food outside.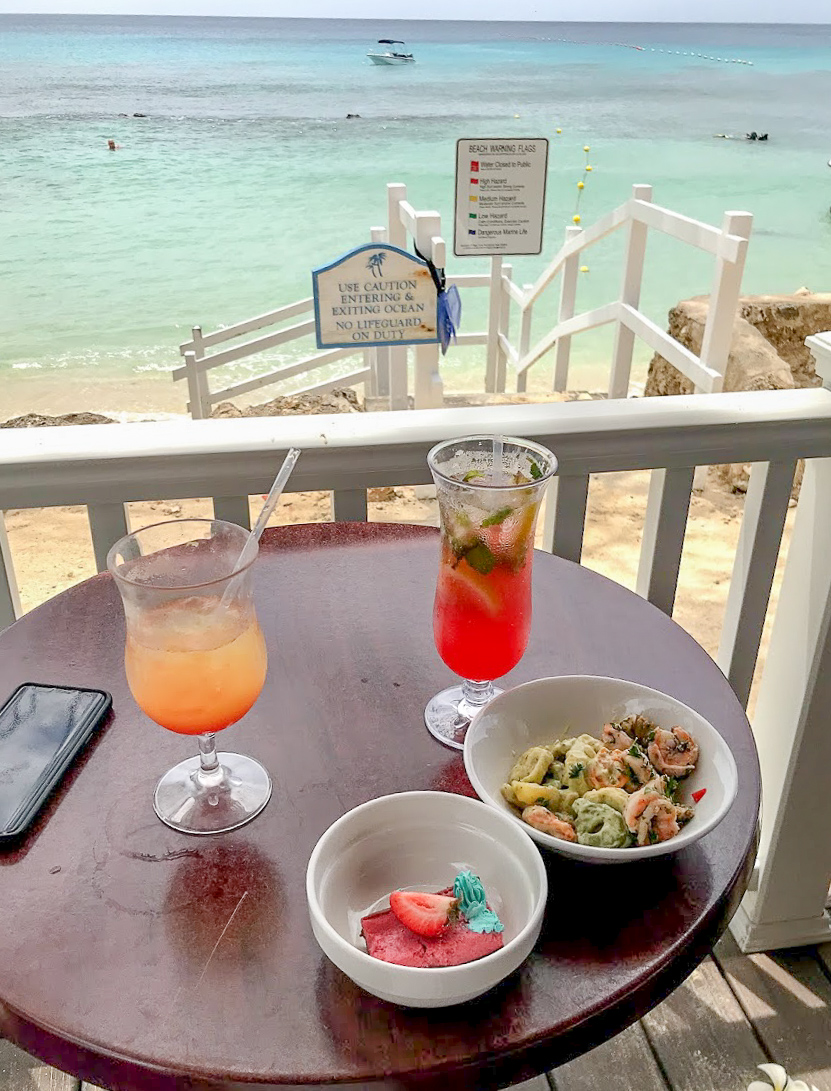 The pesto cream tortellini was to die for, and so good that Mr Fluskey popped in to get some too. I topped it up with some delicious seafood from the salad bar. It was all cooked to perfection. I mean, cold prawns and squid that isn't at all tough…hats off to the chef!
The dessert was less delicious with more style than substance. It is a common curse of all-inclusive hotels and I fall for it every time!
Dinner
Dinner was a more elegant affair, with collared shirts and no shorts for the chaps, and no swimwear allowed for anyone. It is also a la carte so a more formal atmosphere prevails.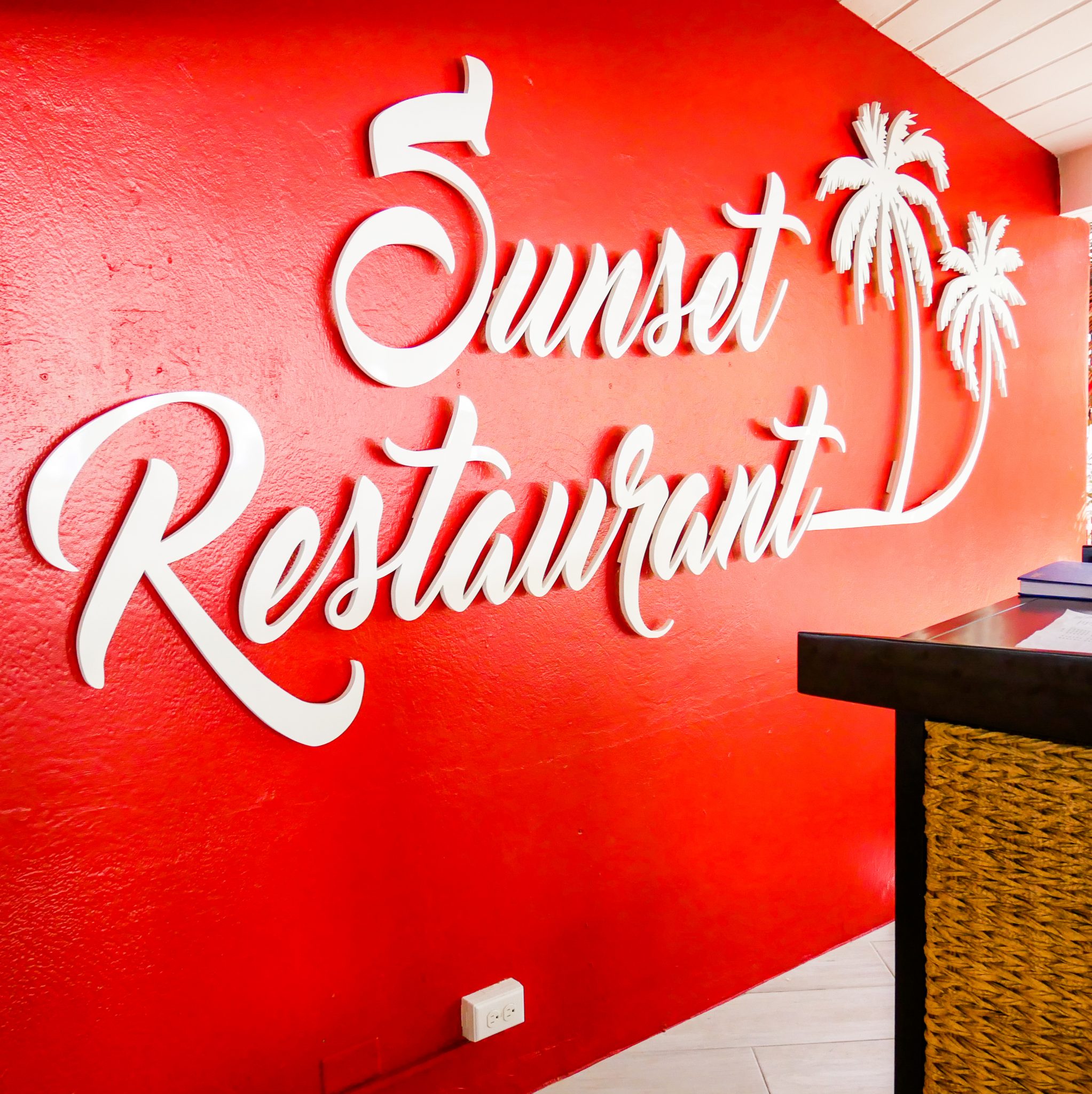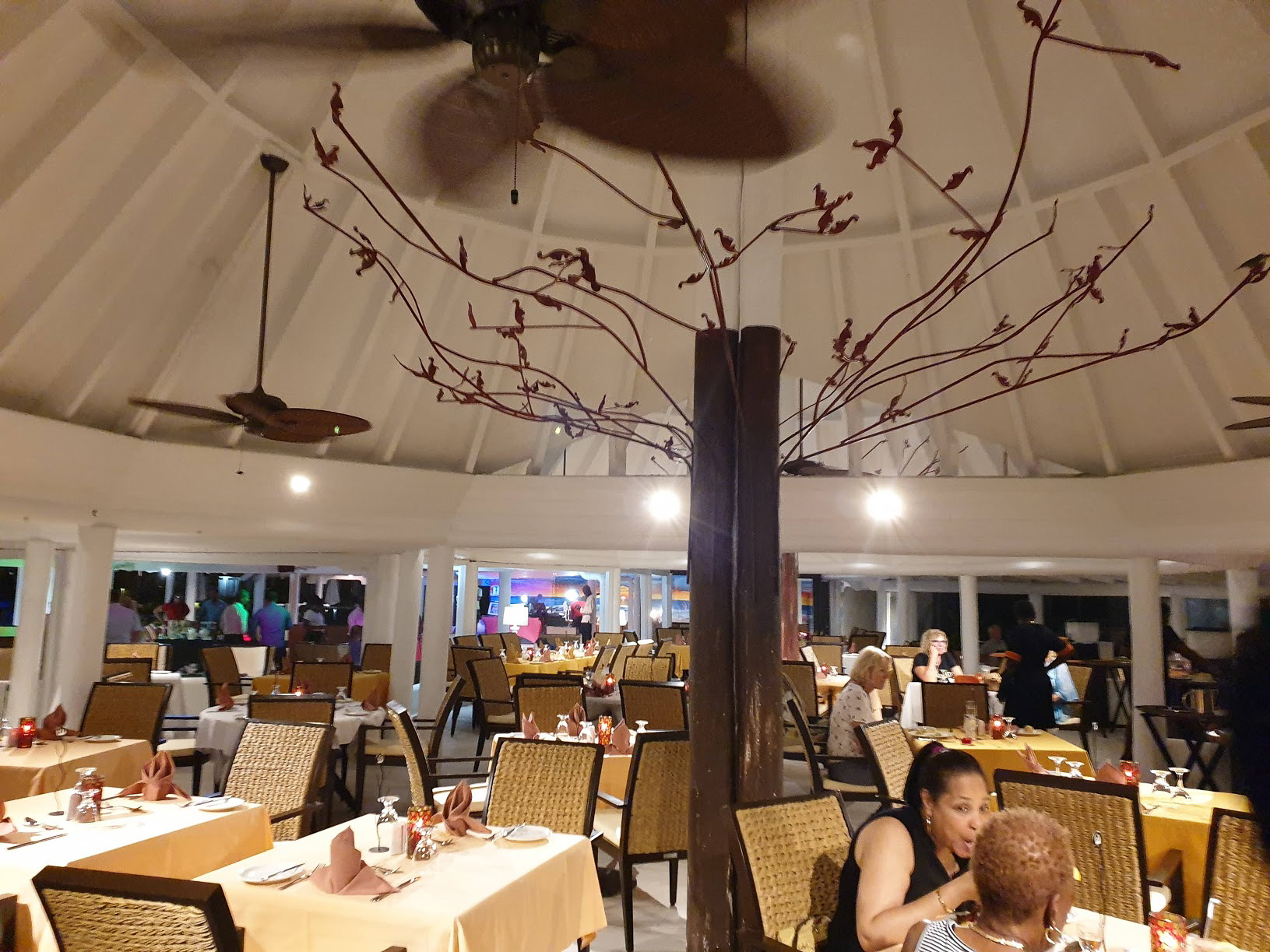 We ate at the Sunset Restaurant for two of our three nights. The serving staff were very friendly, making us feel relaxed and taken care of.
Here are the best bits from our dinners.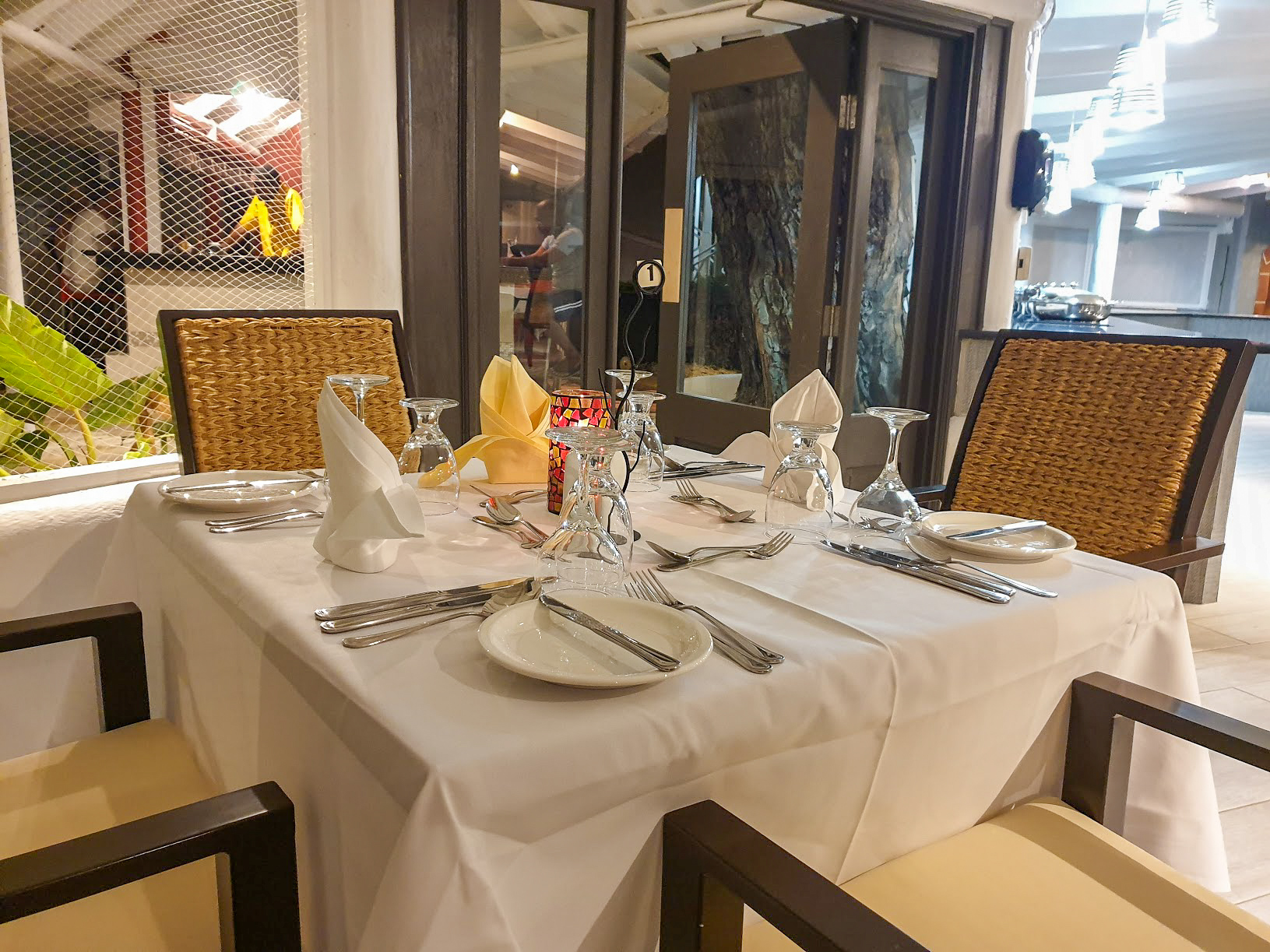 The chicken wings were so good that we heard a guy on another table just asking for two more portions as his main course!
The pumpkin cake on the first night was a highlight, and I wish it had been on the buffet so I could have had seven more slices. Sadly, it was by far the best cake on offer during our stay and it was gone before I knew that I'd never see it again. I think I may return just for that warming, spiced, sweet pumpkin joy…forget those lattes that are popping up everywhere, this is the pumpkin I am going mad for!
Beach Bar
Outside, on the waterfront, the deck on the beach bar is a recent addition to the resort. It means you can sit in the shade and enjoy your drinks or food and enjoy the sound of the waves. They offer a nice cocktail menu, heavy on sweet rum-based concoctions as well as a rather splendid pina colada.
There is a food menu sporting beach cafe classics like burgers and sandwiches, served with chips. Just the tonic when you have just been swimming in the sea.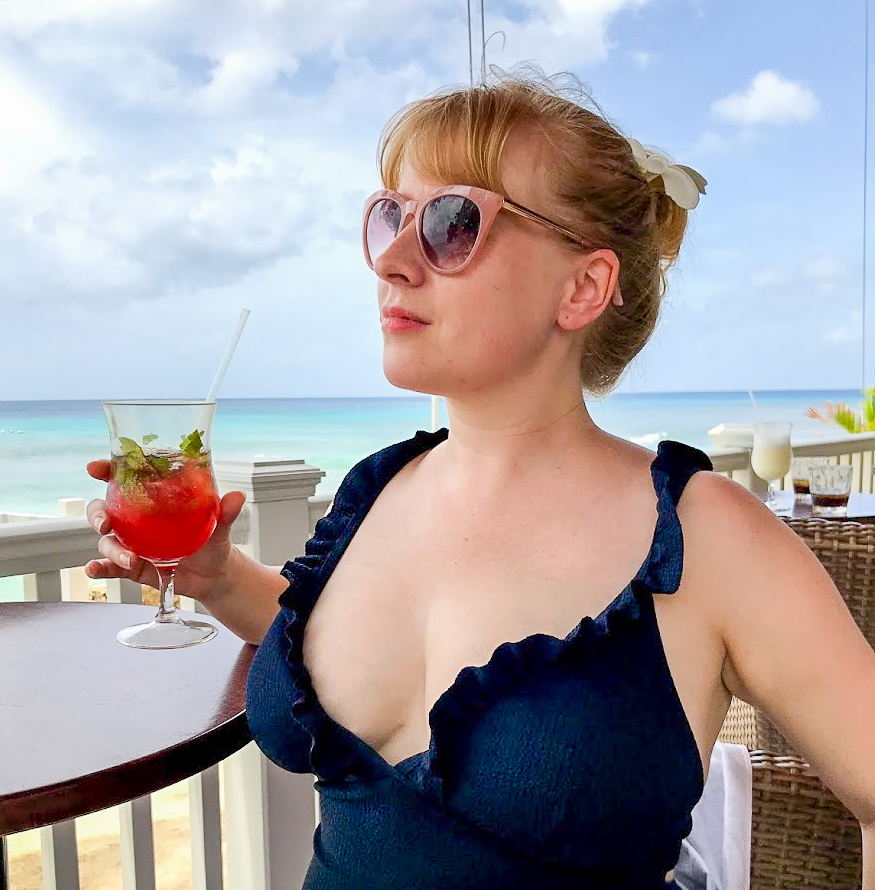 There are a couple of touts who hang around here selling trinkets and tours, but they are very friendly and not too pushy. I guess that is the one downfall of Barbados having exclusively public beaches but I LOVE that Barbadians can enjoy their own island, something that is a struggle on other Caribbean islands.
Pool Bar/Main Lounge
For most of the day, the pool bar is open There is a large hot drinks station where you can help yourself to tea and coffee. There is also a large selection of snacks. You will never go hungry at The Club Barbados! I find that when I am on a steady intake of rum-based beverages, keeping my stomach lined is a good plan so I was often to be found nibbling on a savoury pastry and sipping a pina colada.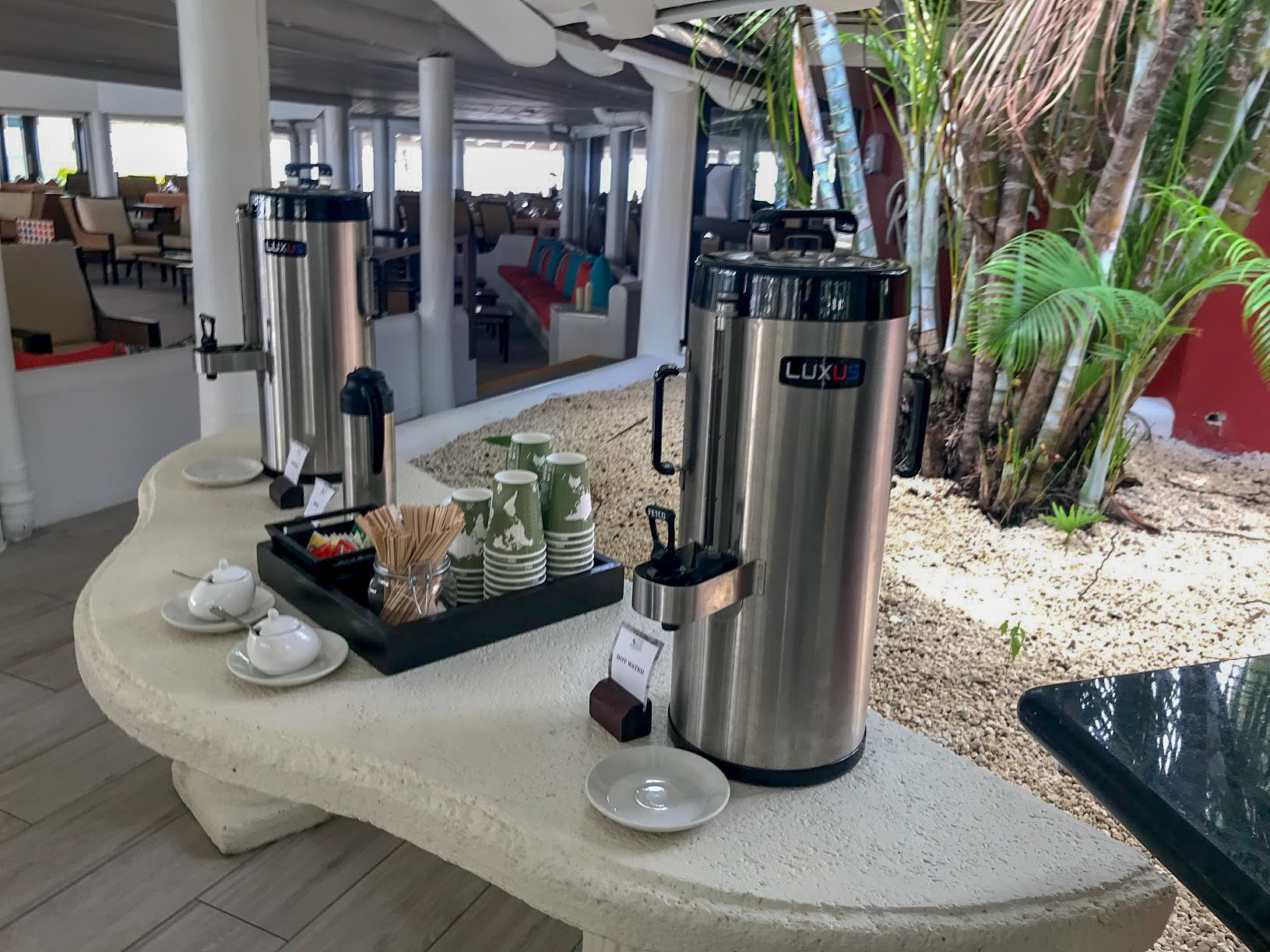 We loved the mural in this area (which is the lounge, board game room, entertainment area and everything else). One of the staff painted it, and it is a sunset scene of beach cricket, a hugely popular sport in Barbados. It is so vibrant and full of life, a wonderful reflection of the island's personality.
Enid's Restaurant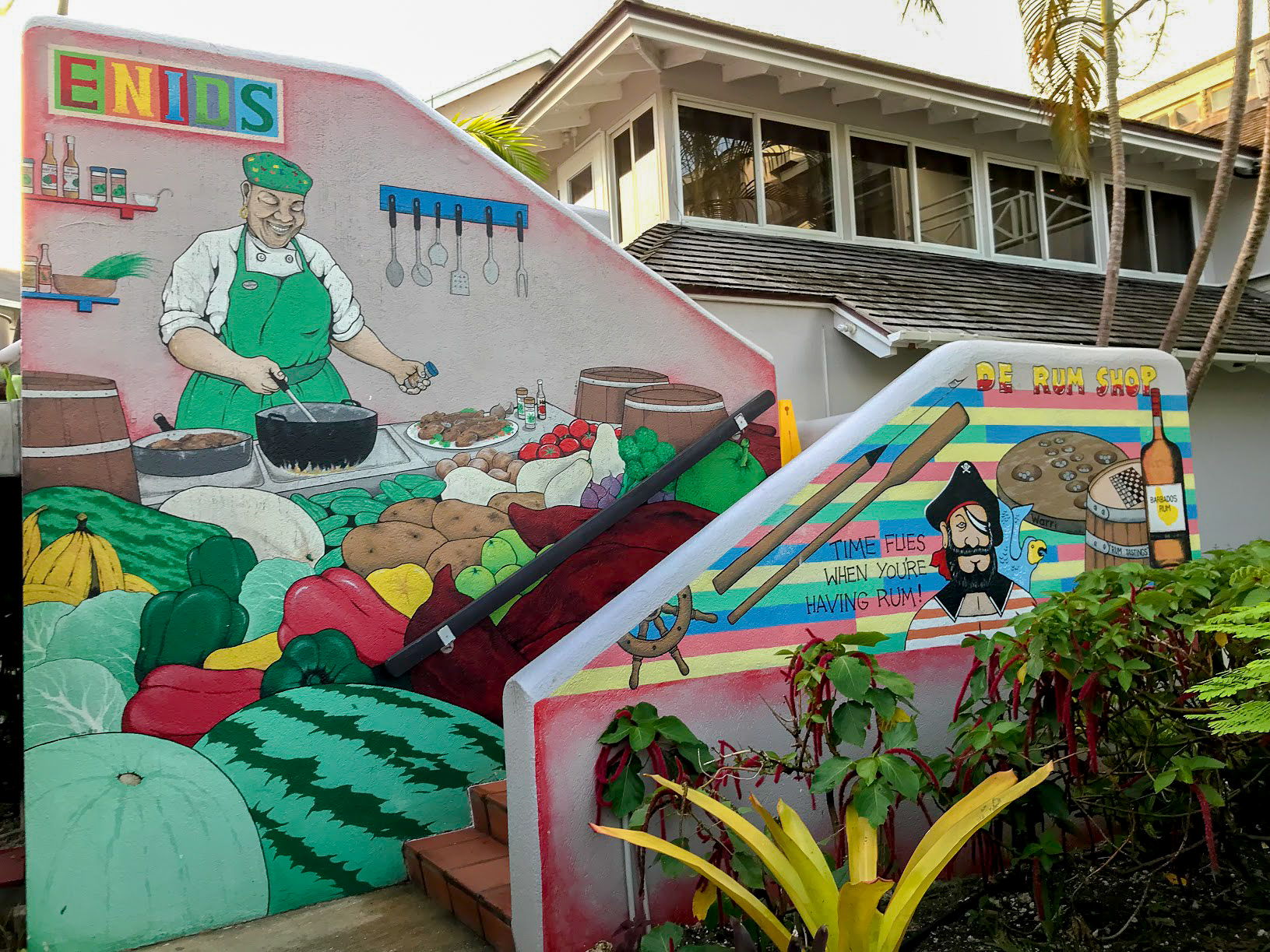 Requiring a reservation, Enid's is a Barbadian a la carte menu. The decor is a vivid mix of bright colours and it bursts with Caribbean spirit.
The food in Enid's Restaurant was a delicious trip around the island of Barbados, ll plated with exuberance. Every mouthful was great.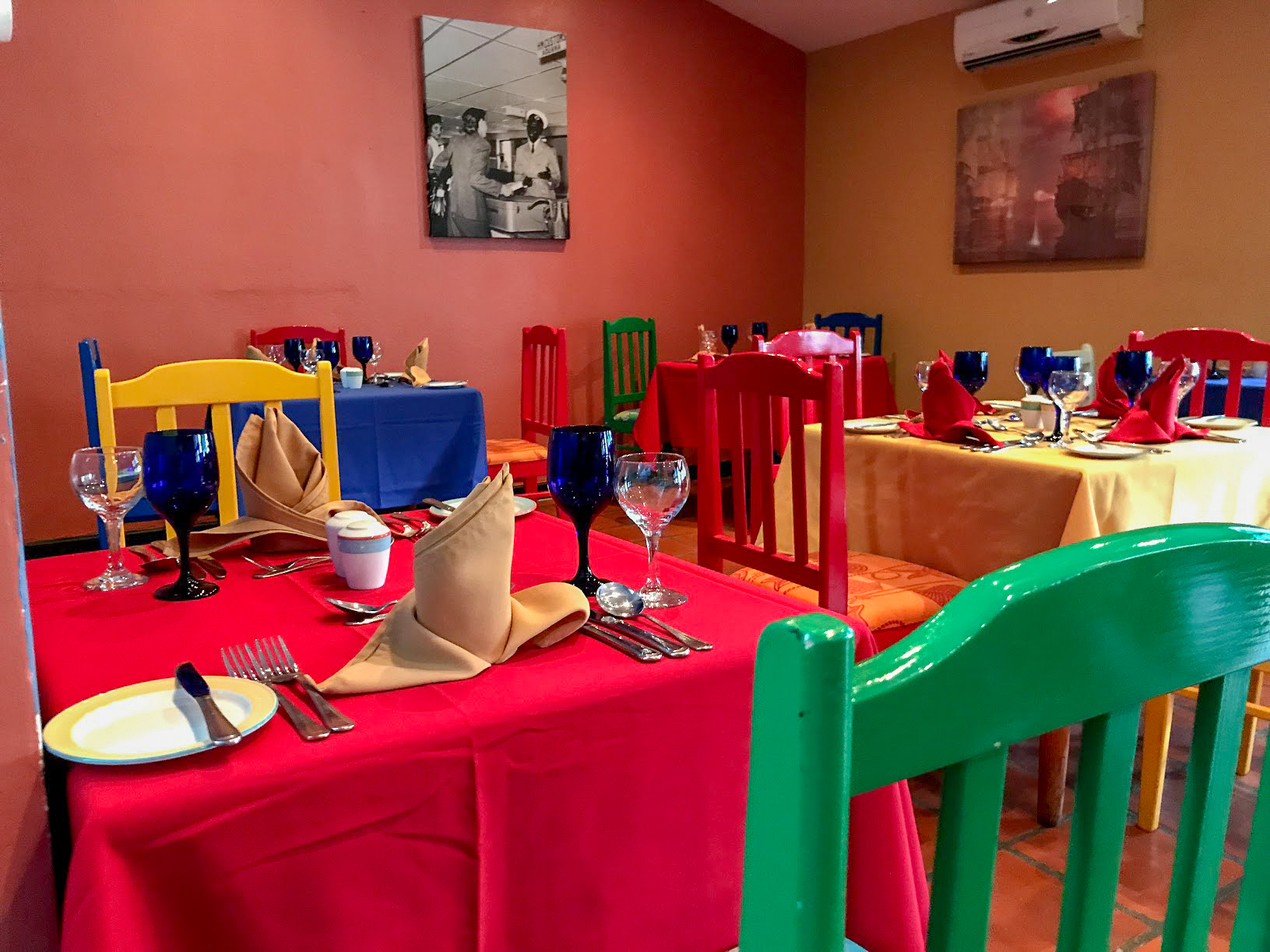 My top tip would be to pick a table in the cosier back section of the restaurant rather than the main hall. We were here, next to the kitchen and it didn't feel so intimate.
Rum Shop Bar
Attached to Enid's is the Rum Shop. This was a bit of a disappointment. I was trying hard not to compare it to The Rum Shack at Galley Bay Resort and Spa but couldn't quite help it.
The room was very cold, with the air-conditiong blasting out. At midday, that would be a welcome respite, but it was quite uncomfortable to sit in. The games tables (ping pong and table football) were both covered up in the evening so you couldn't play them. Plus, there were no extra rum options when compared with the other bars on the resort so it wasn't like the exciting rum-tasting exploration that we got at Galley Bay. Finally, there was a group of six taking up all the seats that surrounded the bar. They weren't keen to move, and the bar staff didn't emerge from behind the bar so we found it very hard to order drinks and were totally left out of the conversation. We left after about 15 minutes.
Piano Bar
If you are a late-night luvvie, then the piano bar is the spot for a post-watershed tipple. The bar is air-conditioned and wonderfully bling! I think that if we had visited with a large group of friends, we could have had quite the singalong party. However, with the older crowd that we shared the resort with, it was a slightly more refined spot.
Elsewhere on the Property
The Beach
Continuing with our Club Barbados review, with the beach struggling to recover, the front section of the waterfront has been turned into a sunbathing spot. The sand here is quite coarse, unlike the white sands of the Sandy Lane beach, a short walk away.
Plenty of people chose to lounge here and enjoy the proximity of the sea and beach bar, rather than at the pool.
The Pool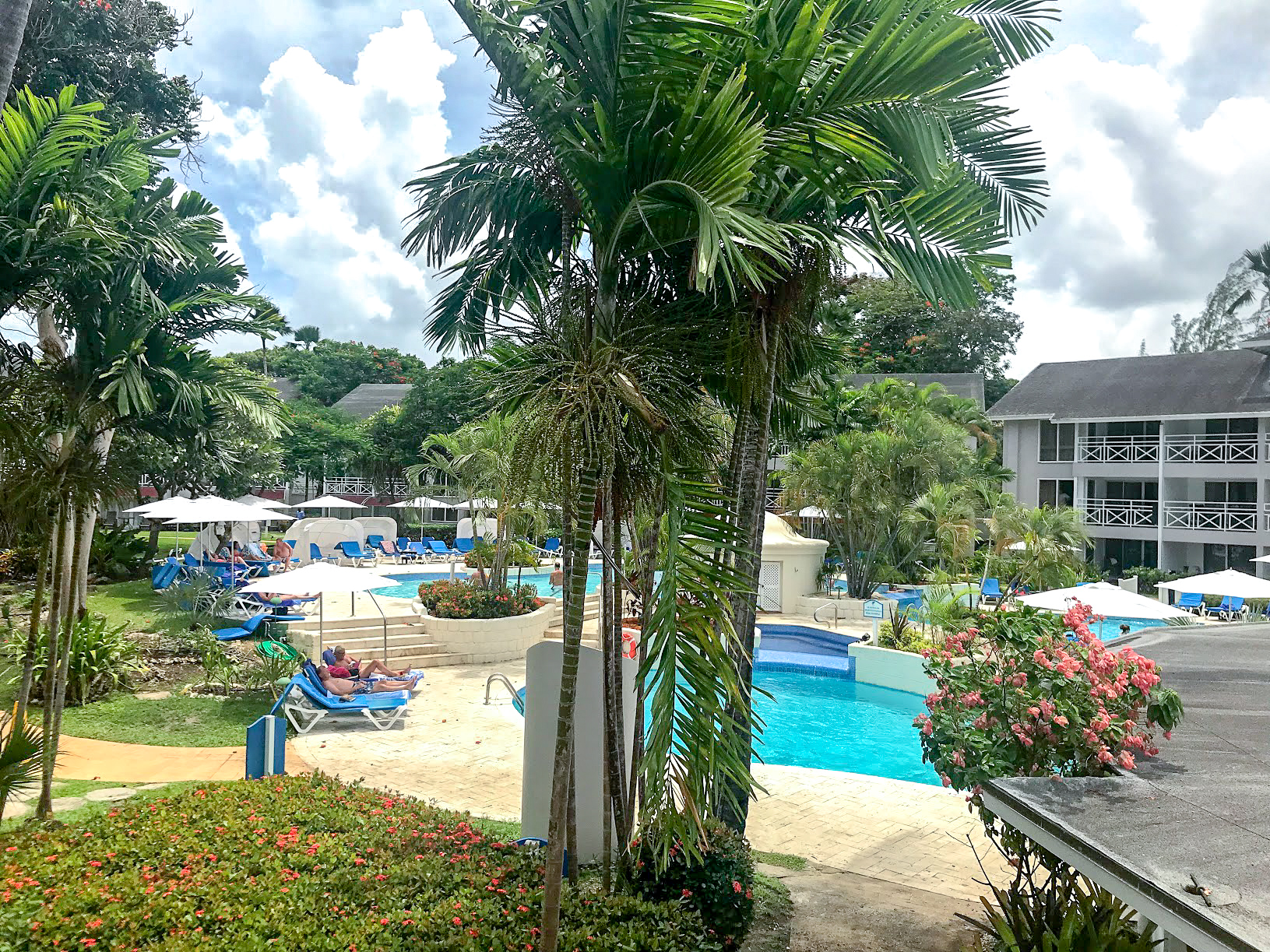 Rather than one large pool, the pool has been split into four distinct areas. The top pool has a net stretched across it, and one particular group was enthusiastically playing volleyball.
Further down is a whirlpool. It wasn't a hot tub as it was neither warm, or super bubbly, but it made a nice change and you could have it all to yourselves.
On the bottom level, the final two pool have the small waterfalls cascading into them. These seemed to be mostly used as a view for the die-hard sunbathers.
Overall, I thought the pools were great, and the different sections gave more of an impression of exclusivity. We hid at the back of the pools in our own little sunbathing tent. This was lovely but quite far from the bar…luckily, there was a cold water dispenser right by us.
The Gardens
The resort is mostly built around the garden (and pool) so that everyone has a nice bit of green to look out upon (unless you have a sea view).
The Gym
I think the gym was OK, with some decent equipment but the whole place smelled strongly of rubber mats and it seemed a little run down. It also lacked any windows which I think is a shame. It wouldn't be for the casual exerciser but would do nicely for those of you who are real gym bunnies. I guess you have to work off all that buffet goodness somehow.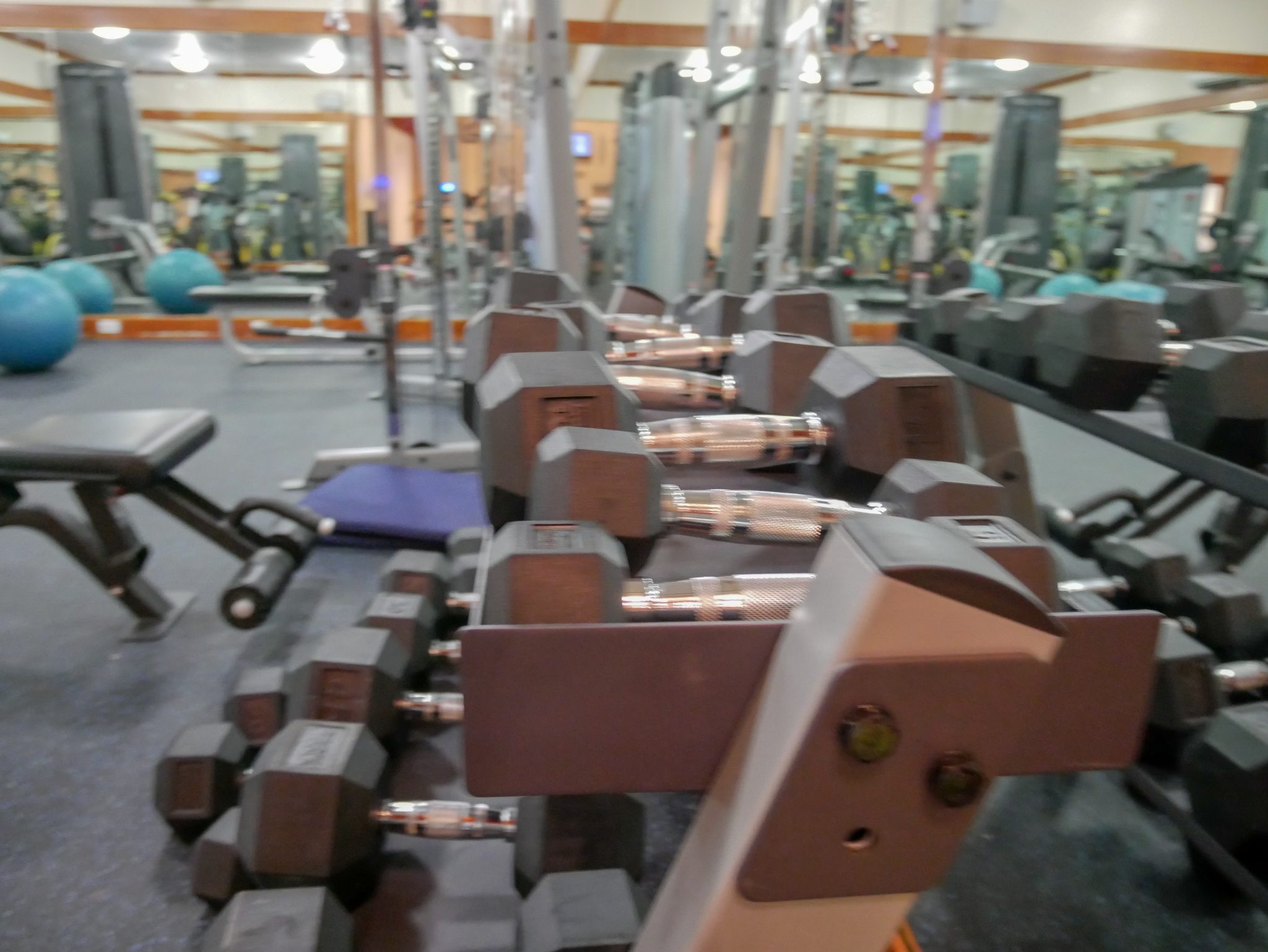 For a gentler exercise, there is a pool workout every morning.
There is also a tennis court around the back of the resort. It looks pretty good but is right next to the road so it isn't for the shy or those with very poor aim. I know I would send the balls flying over the fence and onto someone's windscreen.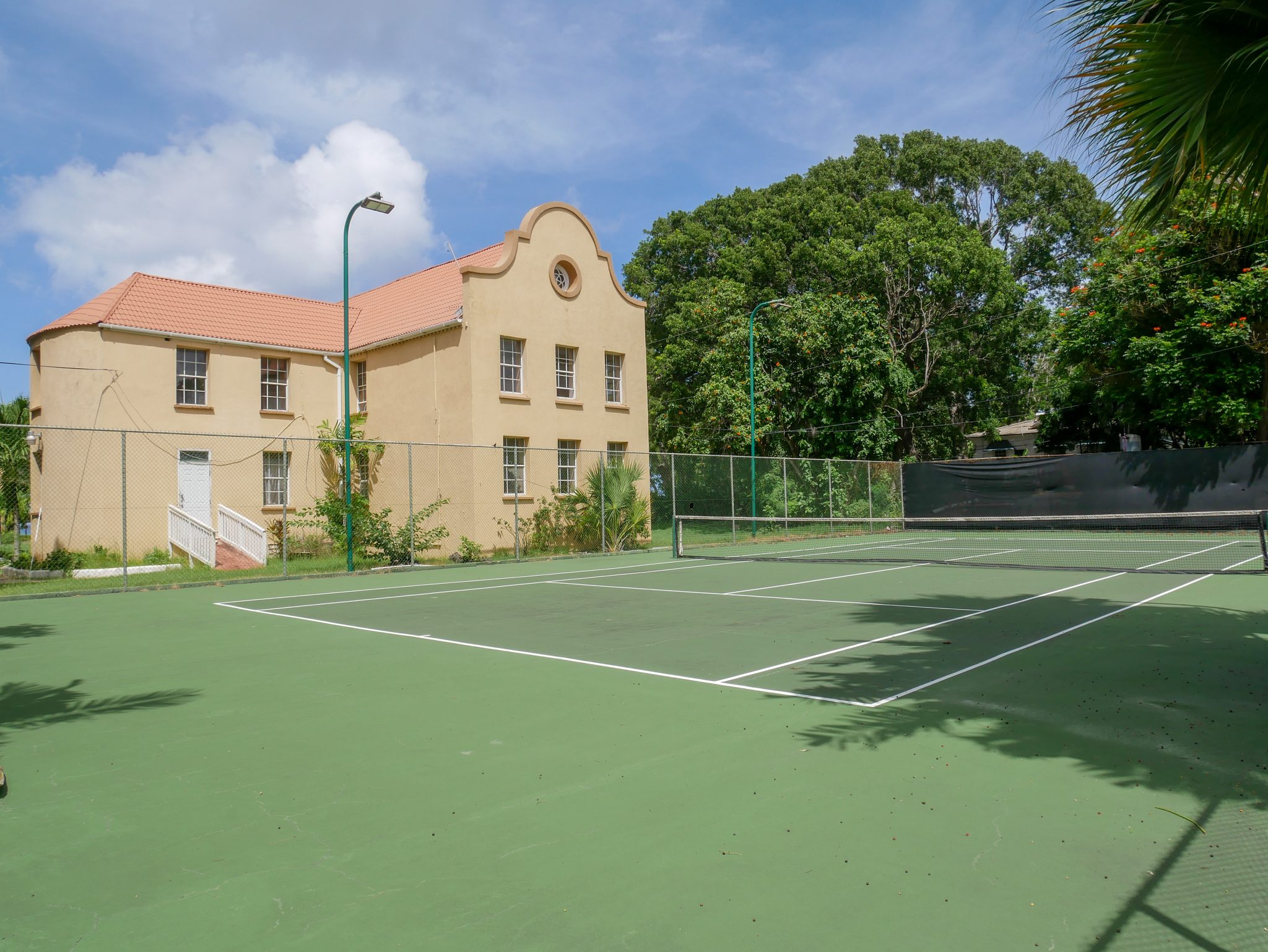 Watersports
Along the waterfront is the watersports cabin. It is from here that you can organise both inclusive and non-inclusive activities. Included are hobie crafts, paddle boarding and snorkelling.
We were lucky enough to take a turtle tour onboard one of the resort's motorboats. We have written all about it in a separate blog post.
The Tranquillity Spa
There is always far too much to say about spa treatments so I wrote a whole review of the Tranquility Spa at The Club Barbados Review all about our time in the spa!
Information
If you are thinking of taking a trip to The Club Barbados, here is some information you might like to know:
For the best rates and latest offers, check out The Club Barbados' website.
A taxi from the airport costs around £40. You can book at the official fixed rate stand just outside of the arrivals doors.
It is worth going to the induction meeting on your first morning as you'll get a great rundown of all the activities that are included, and those that you'll have to pay for. (Plus, Stephen who gave our talk was an awesome guy.)
Just up the coast in Hole Town is a rum shop called John Moore. Come here for chats with local Barbadians and a top-up of rum!
Across the road is a small shopping precinct with a duty-free shop, a pharmacy and a bank. These all shut earlier than shops in the UK, so don't be surprised if they are closed after 15:00.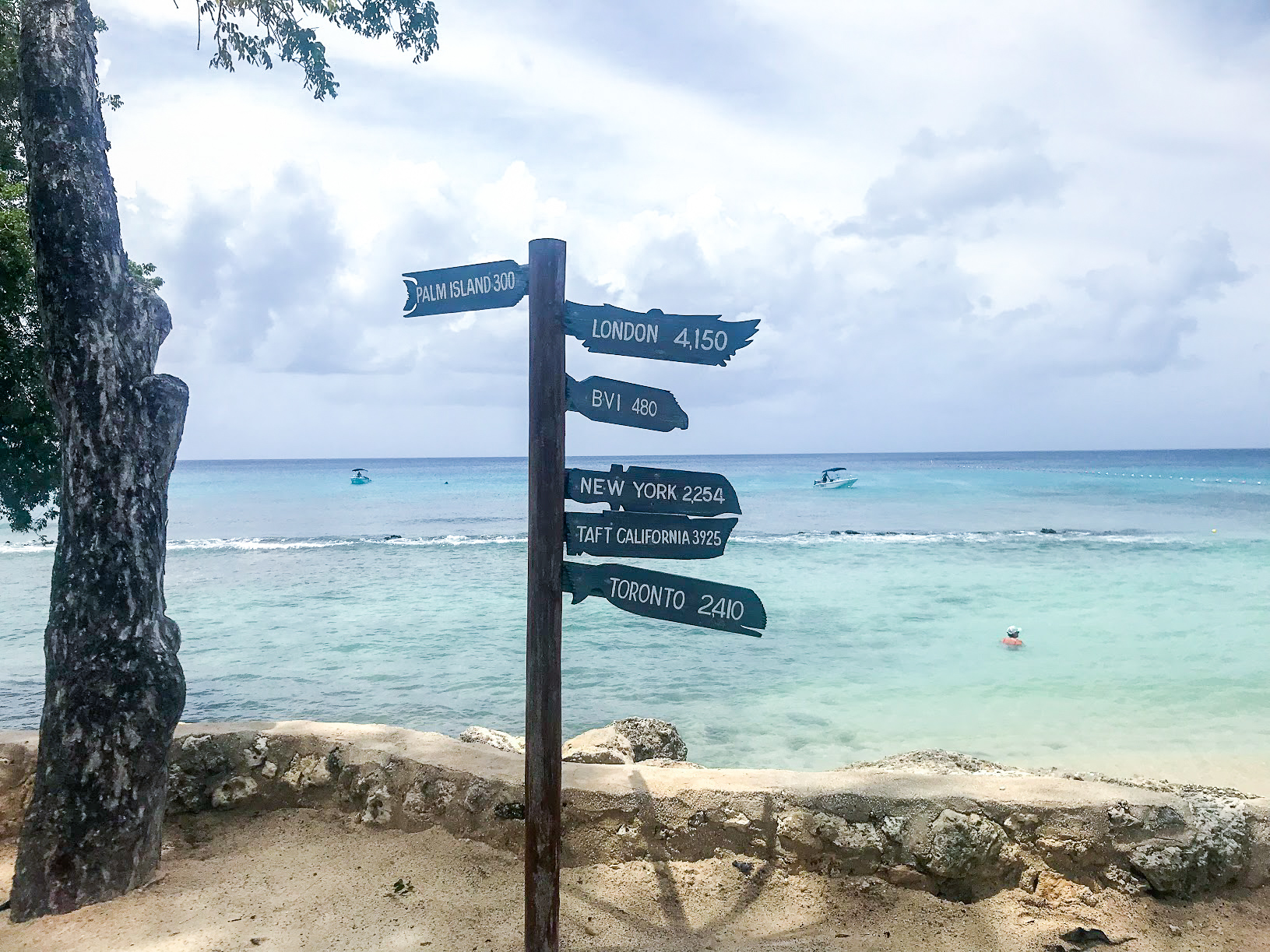 Final Thoughts on our Club Barbados Review
The Club Barbados has some wonderful plus points. The food was great, the staff were friendly, and the pools were lovely. I struggled not to compare it to Galley Bay (which is still one of my favourite resort stays ever) and judge it on its own merits.
The compact nature of the resort was really nice, as it didn't feel like a slog to pop back to your room and grab something.
Our fellow guests were a bit older than ourselves and I am not sure if that was the atmosphere that they are cultivating, or if it was just the time of year that we visited. This, combined with the more relaxed entertainment in the evening leads to me to believe that this is a resort made for relaxation. Don't come here if you are after a swim-up bar, party all night, high octane holiday. DO come here if you want to chill out, sip on some tasty drinks and listen to the sound of the waves.
In conclusion, I really enjoyed our stay The Club Barbados, and would have done so even more if I had walked in without expectations. I still prefer Galley Bay but would give The Club a solid 4 out of 5, very happy to return and to recommend it for anyone who just wants to relax, recharge and retox with a few a thousand rums! We hope you found this Club Barbados review useful, let us know if you plan to go.
Rosie xx