Come to Tofo Beach, and you will hear two phrases that are intrinsically linked; "Megafauna" and "Ocean Safari". It was these two things that brought us to Mozambique. We were determined to make 2018 the year we went swimming with whale sharks in Mozambique.
What is Megafauna?
Megafauna means big animals, and in Tofo Beach that means:
Manta Rays
Dolphins
Turtles
Humpback Whales
Sharks
And the thing that brought us here, Whale Sharks
A few operators around town offer the chance to join them on an ocean safari to spot, and hopefully meet these amazing animals. We were drawn to Liquid Dive Adventures for both their safaris, and their trendy accommodation.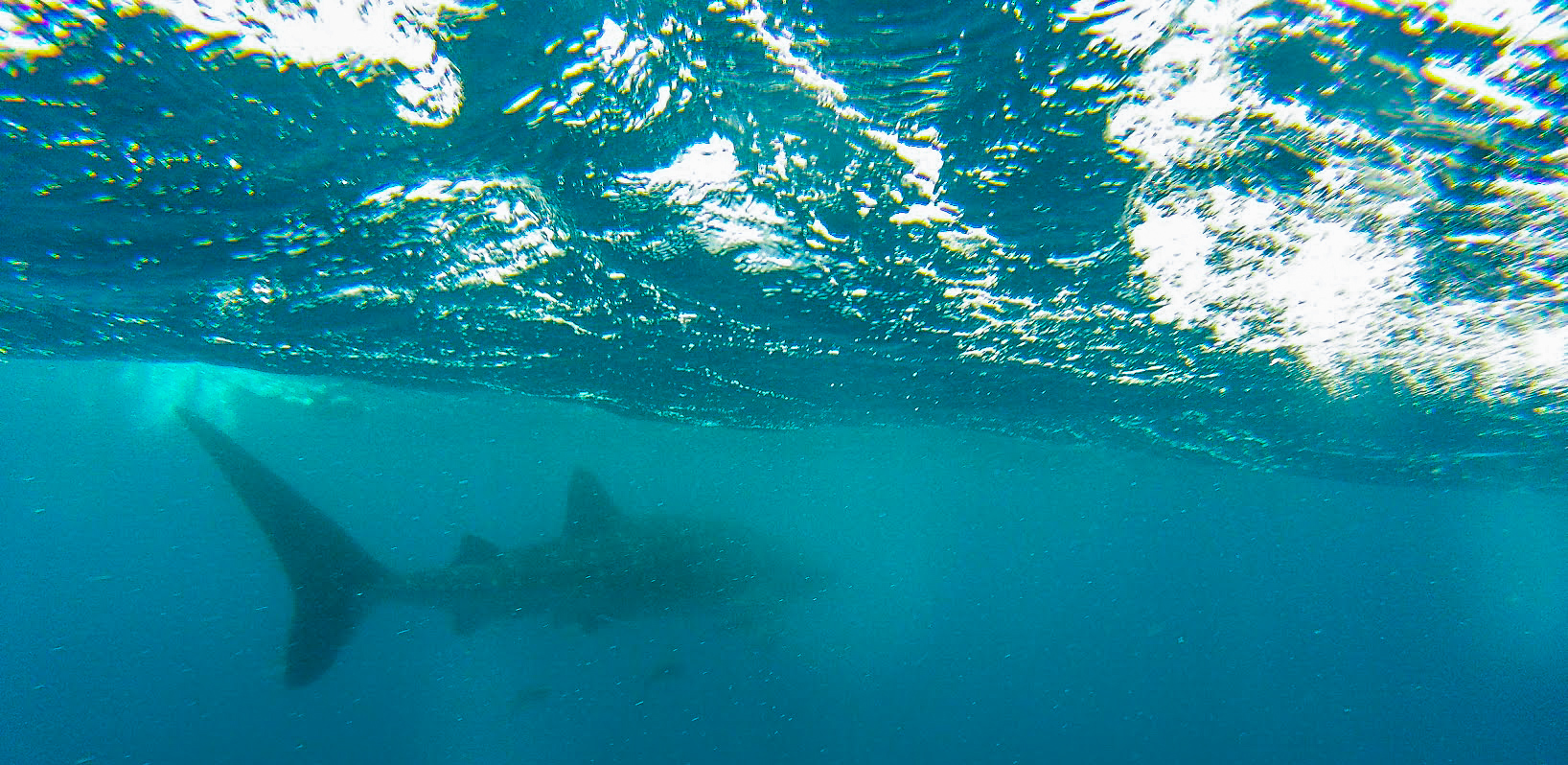 Read all about our accomodation at Liquid Dive Adventures, and diving with them in our full Liquid Dive Adventure Review.
Preparations for the Ocean Safari
On arrival at Liquid Dive Adventures, we were given an explanation of how the trip would run. They took us through safety points for both us, and the animals. In the right season, humpback whales enter the bay. If you meet these guys, you are not allowed to get into the water, but with everyone else, you can slide in carefully.
We were kitted out with a snorkel and mask, and a shorty wet suit. It was a very hot day, and it seemed slightly mad to be wearing black neoprene, but once we were wet and zipping across the surface of the sea, the wind cooled us quickly.
The Boat
In Tofo Beach, all the operators use rigid inflatable boats (RIBs). These are structured speed boats with inflatable sides. They all live on the beach until they are launched…..by tractor. That was something I wasn't expecting; a farm vehicle chugging its way into the sea foam.

The Launch Plan
The whole group helps push the boat, bow first, into the waves. When it's afloat, the captain shouts "Group one", and the ladies (or shorter members of the group) scramble aboard. There is no delicate way to do this, you just flop over the sides. The rest of the group pushes it onward, and when they are chest deep, the captain will shout at them to clamber aboard. It's then up to the captain to chart the boat through the breakers.
On Board
We sat on either side of the boat, slotted our feet into loops on the boat's floor, and held onto ropes that ran along the side. On the first outing, the sea was pretty still so we didn't have to hang on, but on our second go out, the waves were a little rougher. We hung on for the whole trip. On board with us, we had a spotter, a guide and the captain. They made sure we were alright throughout the entire trip.
Mr Fluskey and I have a very special skill. We can locate the area on a boat that will get the most wet, and plonk ourselves there, like…well…plonkers! We are often dripping and wet through, whilst those around us have experienced a mild sprinkling at worst. Well we took that skill and made the most of it on our second trip out. The spray from the waves kept us permanently soaking, with sea water in our eyes and mouths. Mind you, it was TOTALLY worth it…read on to find out why.
Spotting Sealife
Bottlenose Buddies
On our first trip out, we were lucky enough to encounter a small pod of bottlenose dolphins. Everyone grabbed their snorkels and hastily shoved them over their heads. We slipped into the water with a minimum of splash, as instructed, and swam frantically under the water to locate them. It was an amazing moment when they zoomed out of the hazy water.
 The dolphins looked so relaxed, but their tails must be incredibly strong as they totally outpaced us, even the baby!
Did you know?

When a dolphin has a baby (a pup, or calf), the whole pod looks after it
We got to meet these guys three times before they finally zoomed off into the blue. It was amazing!
Take Two
Our second trip out didn't go so well. The boat was buffeted by strong winds and waves. The boat had left the relative calm of the bay and gone around the headland into the unprotected coastal waters. We had to go against the swell, which meant that Mr Fluskey and I were wet and cold (because, of our special skill). A couple of boats passed us, going in the opposite direction with the news of a whale shark sighting. We would never have caught up, and so despite the captains and spotter's best efforts, we gave up.
"We could go for a snorkel in an area with lots of gorgeous colourful fish", said the guide. There was a general murmur of ascent. This was our last shot at seeing a whale shark, and it was the same for the girl next to us. "This is what makes nature so interesting, you jut never know what's going to happen", we muttered begrudgingly.
Whale Shark Win 1
Our boat was riding the waves back towards the bay when our guide jumped up excitedly. "Get in the water! Whale shark", he cried. We all blinked at him, confused a little bedraggled. It took a few seconds to realise what he had said, but when it had sunk in, we all made a dive for our abandoned snorkelling masks. Into the water we slid, pulses racing and adrenaline pumping. Again, we spun around, searching the ocean for the signature spotted back of the whale shark.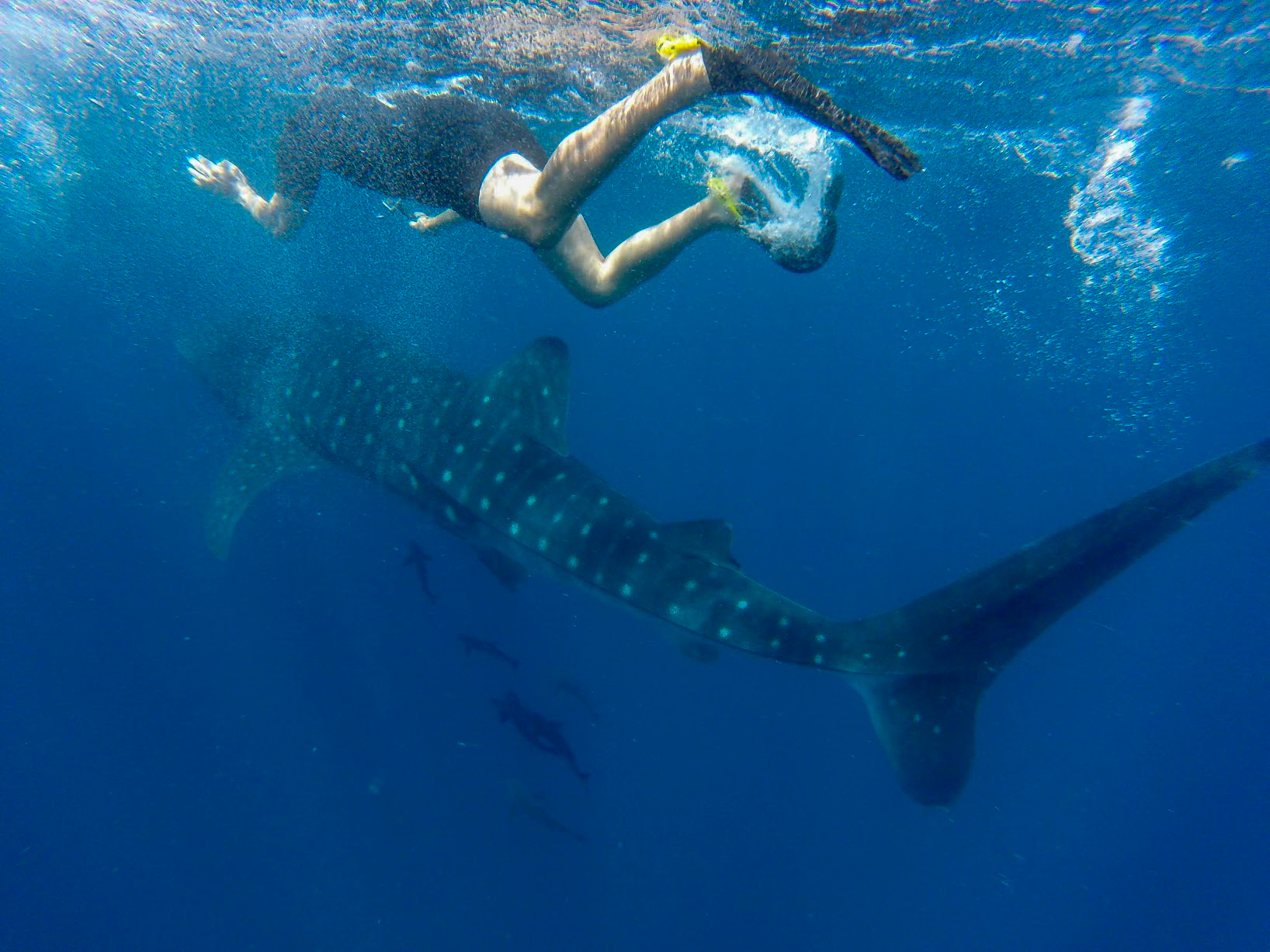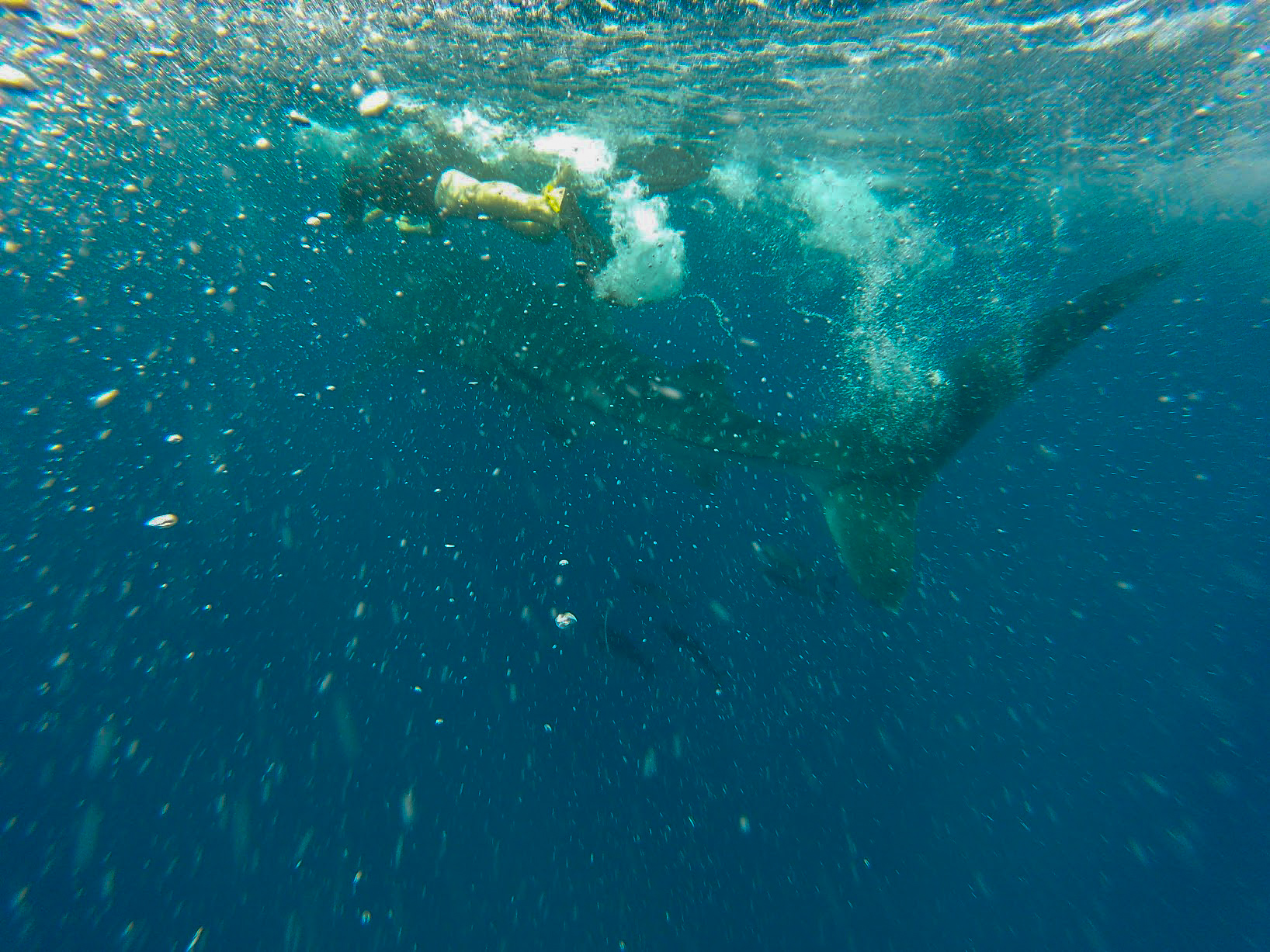 On our first encounter, I looked entirely the wrong way and it swum past me. I spent the next few minutes desperately trying to keep up with the group, and mostly getting a face full of bubbles. Everyone was kicking so furiously to keep up with the huge shark, that their flippers left huge trails of white foam in their wake.
Whale Shark Win 2
When everyone ran out of puff, we were hauled back on board, elated and exhausted. Our guide, smiling wryly, asked if we wanted to go again! The second encounter was over almost as soon as it began. As we climbed into the sea, the whale shark sped off. We caught the barest glance of it before it was swallowed up by the sea.
Did You Know?

Whale sharks are the biggest fish in the sea. They are not whales at all…but they are sharks.
Whale Shark Win 3
Once more we flopped onto the boat. The guide said we could have one more go so again we donned our masks and into the water we dove.
This time, I clocked the magnificent beast almost straight away and managed to get slightly ahead of it. I began to pump my legs as hard as I could and turned the Go Pro on. Here is the footage we managed to get. It is a little shaky but it makes me so happy every time I look at it!
I still can't get over how he looks so calm, like he is hardly moving, but I know that a swipe of that tail would knock you for six. Just listen to me huffing and puffing, it sort of ruins the zen-like atmosphere.
Did You Know?

Whale sharks use their whole body to swim, not just their tails.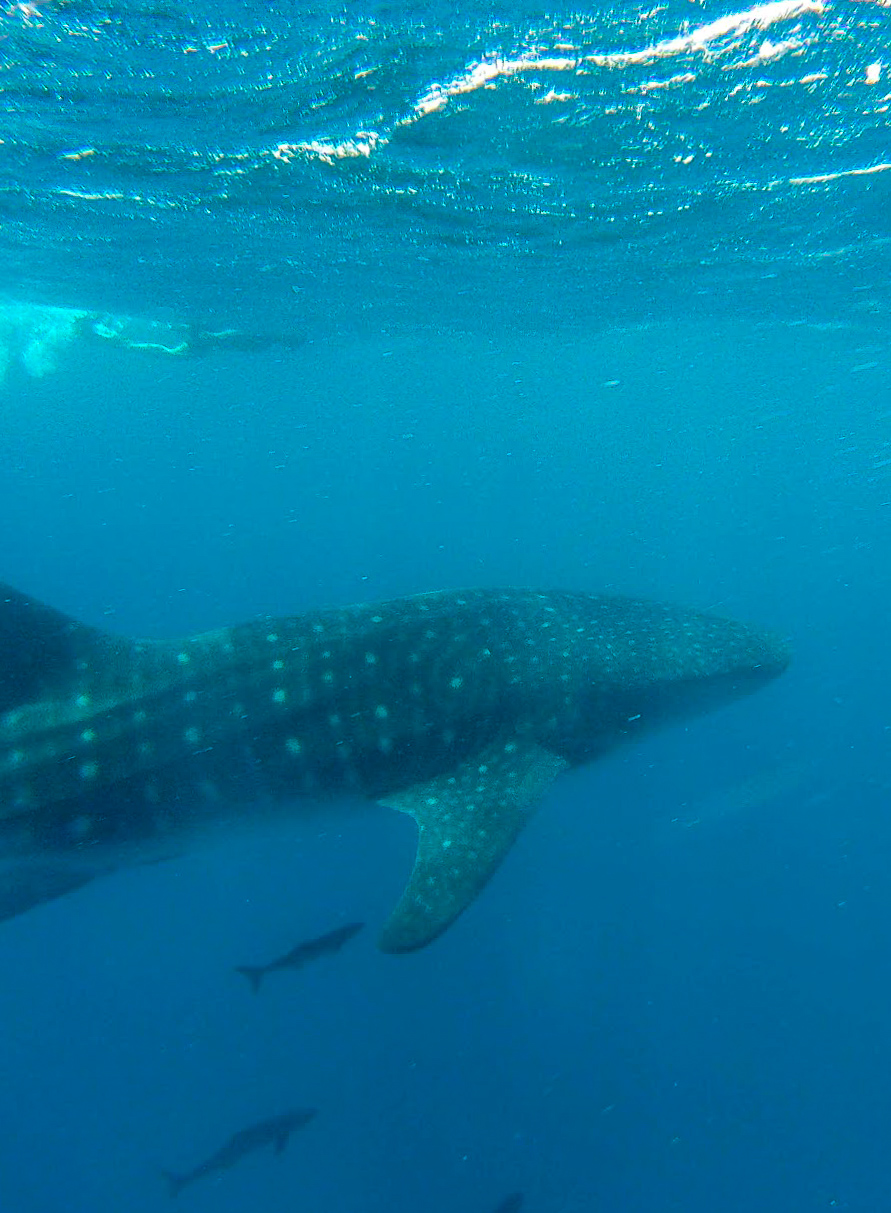 We were told afterwards, that our shark was just a juvenile. They tend to be just 6-8 metres long when they hang out around Mozambique, and it's almost exclusively juvenile males. I mean, I thought he was pretty huge so it was good enough for me!
Did You Know?

Whale sharks can grow more than 12m long.
Back To Dry Land
The way to get the boat back on to the beach is rather thrilling! Everyone is told to hang on, and the captain guns the engine. You are hurtled towards the beach, riding the waves like a surfer, until it all comes to an abrupt halt. To be honest, when they were telling us about "re-entry", it made me rather nervous, but it was nowhere near as bad as I imagined. Out you all jump, and then the RIB is dragged up the sand by that trusty tractor.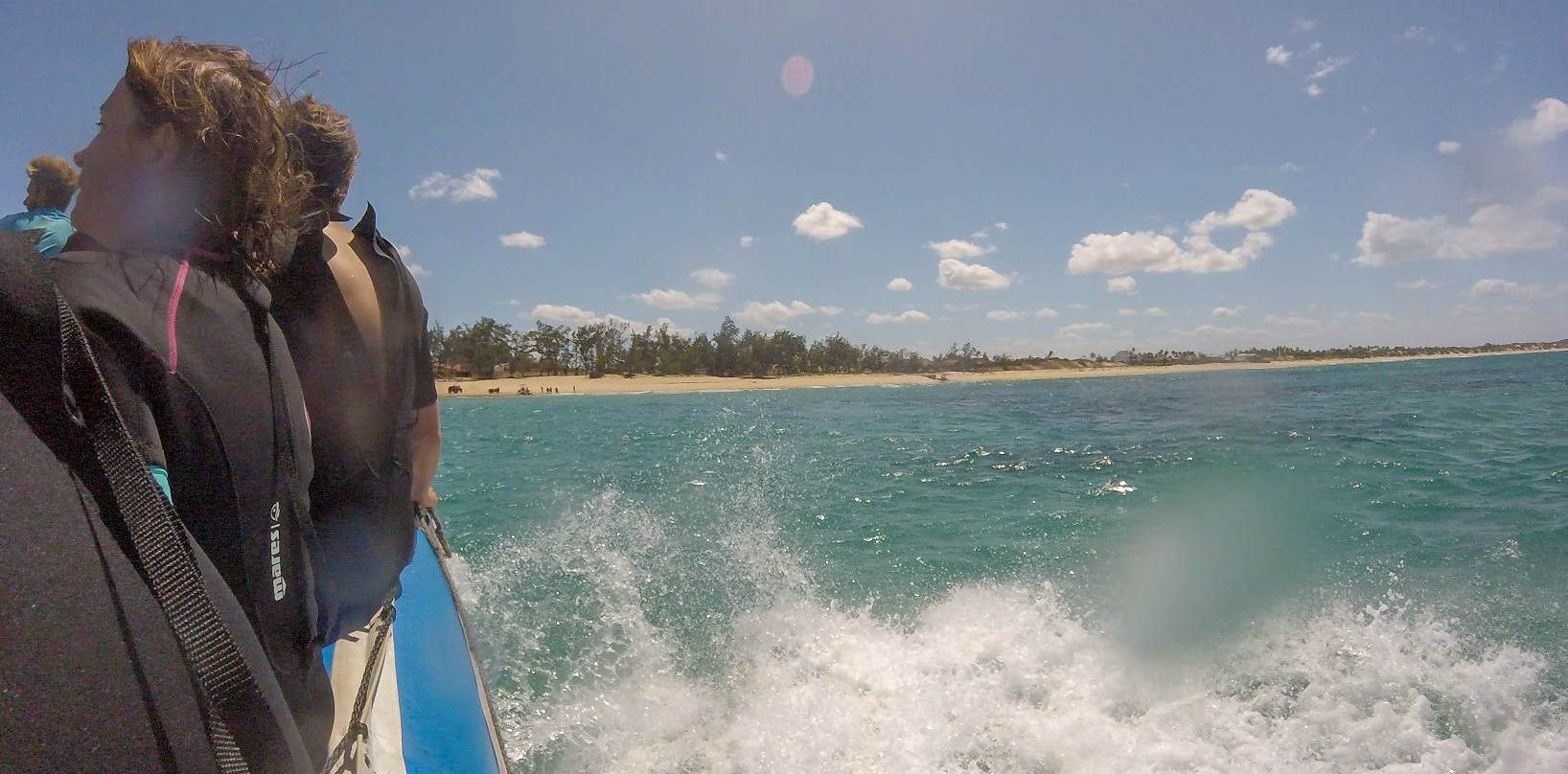 Why Was I SO Obsessed by Swimming with Whale Sharks in Mozambique?
Donsol
So 2018 started out as the year we were going to go swimming with whale sharks in The Philippines. We had made plans to visit an area called Donsol. There is a famous area called Oslob, on the Southern tip of Cebu, but there have been reports of feeding the whale sharks, and the boats injuring the creatures. Donsol is a much more ethical operation. However, the volcano at the nearby Legazpi airport kept coughing up ash and smoke, so the flights were too dubious.
Read all about our travels around The Philippines including Boracay, Palawan and El Nido
Hanifaru Bay
2018 then became the year we were going to go swimming with whale sharks in The Maldives. We were all set to swim with manta rays and whale sharks in an area chock-full of plankton…but we got there a month early. The internet had got it wrong and we really couldn't afford to hang out in The Maldives for a month soooo……..
Mozambique
That is how 2018 became the year I went slightly bananas and determined that we would get to Mozambique for three days and make it happen! We WOULD go swimming with whale sharks in Mozambique!! (That is why we went out twice).
Information
If you are thinking of swimming with whale sharks in Mozambique, here is some information you might like to know.
Final Thoughts
After swimming with whale sharks in Mozambique, we were all absolutely buzzing, with grins a mile wide. Sure, it was up to nature whether or not we saw a whale shark. Sure, it wasn't the ONLY reason we had visited Mozambique, but it was really wasn't it!
I couldn't be more thrilled that we got to go swimming with a whale shark, eventually. It also meant a wonderful trip to an under-rated destination. I wholeheartedly think that if you are heading south of the equator, you should take a detour and explore Mozambique; the jungle, the food, the beach and most importantly of all, the sea.
Our time with Liquid Dive Adventures was sponsored but all opinions are our own, and it really was top notch!
Rosie xx