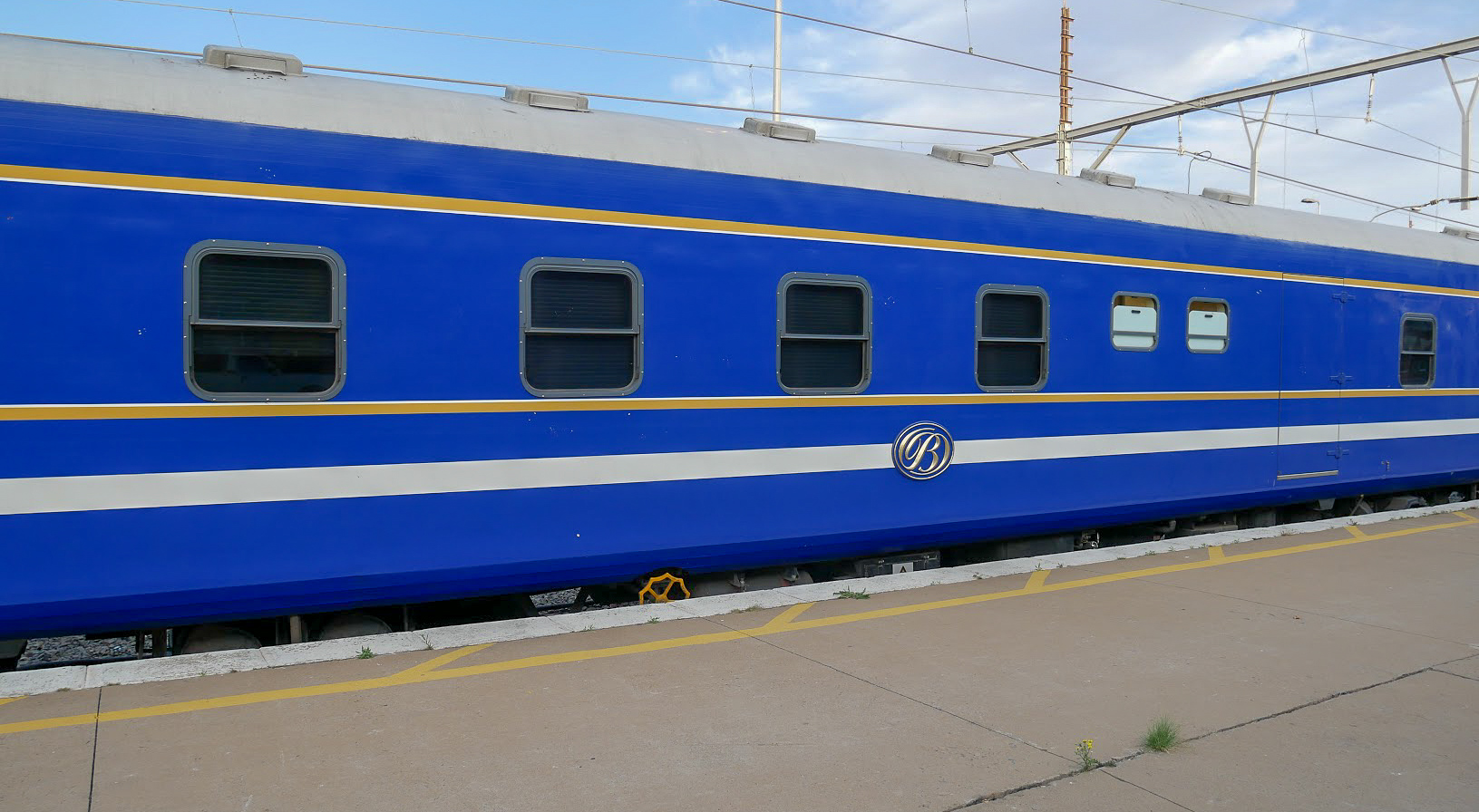 The Blue Train, known as a window to the soul of Africa, is one of the world's most luxurious trains. It covers almost a thousand miles between Cape Town and Pretoria, and does so whilst providing its passengers with the kind of five-star service you would expect in a high-end hotel. We have been dreaming of riding the rails on the Blue Train for years and so it was with bags full of excitement (and fancy dresses) that we arrived to travel for two nights on the Blue Train. Read on for our full Blue Train review.
We were lucky enough to be guests of The Blue Train but all opinions are entirely our own.
This is all about our experiences during two magical nights on the Blue Train, South Africa. If you are thinking about taking the trip, check out our post packed with planning information and a history of the train; How to plan a trip on the Blue Train, South Africa
Day One
Arrival – Cape Town Station
In true flashpacker fashion, we turned up at Cape Town station on foot, rather than the more traditional taxi or shuttle bus. The security guard looked a bit bemused but we assured him that we were in fact booked on the train. From that second on, it was smooth sailing…or is that railing?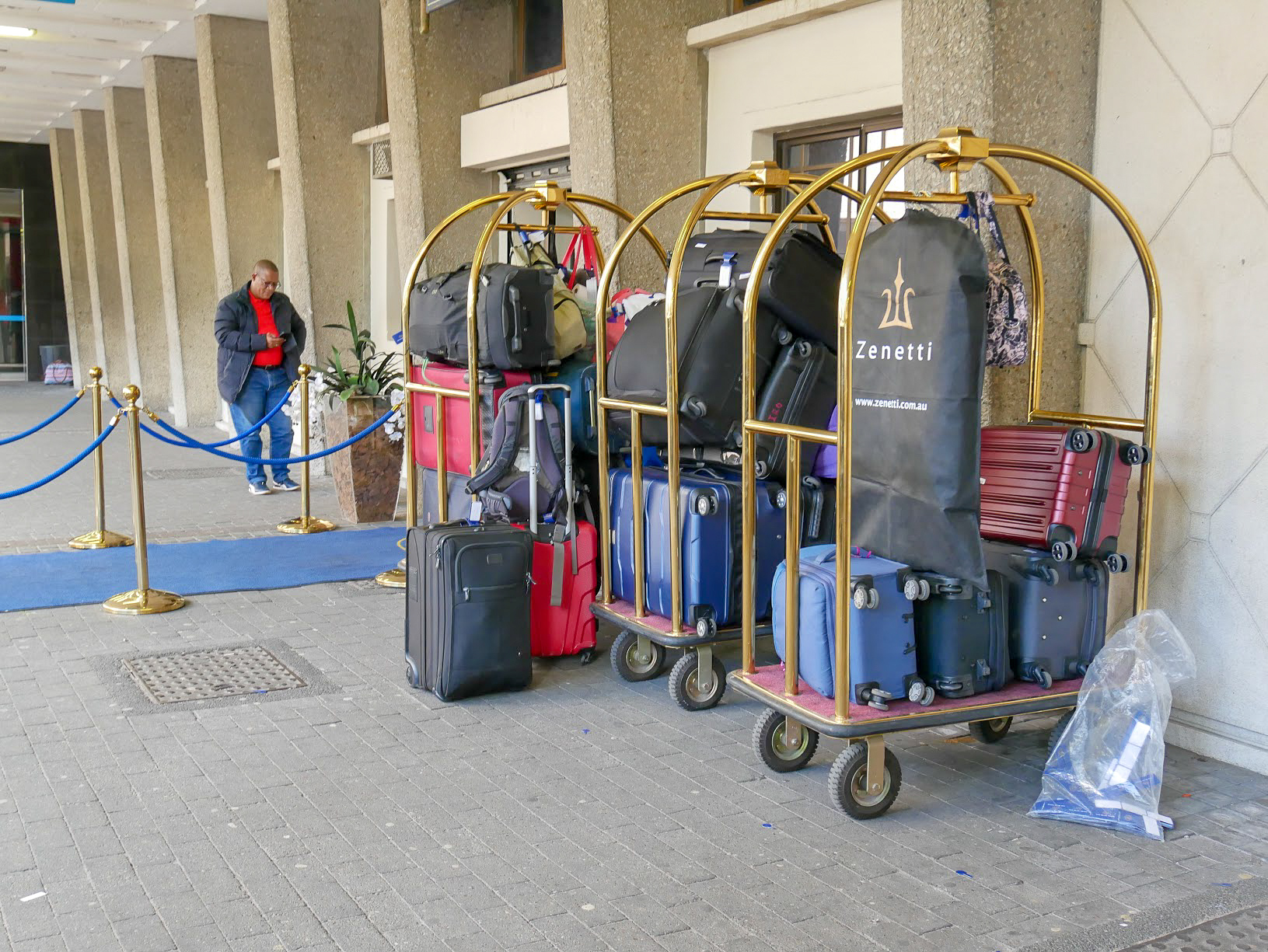 A valet took our luggage and popped them on the waiting golden trolleys, ready for departure. We were then pointed into the Blue Train Lounge to check-in. I was bouncing up and down on my toes with excitement, no playing it cool or elegance from me as I signed in and took our tickets.
The Blue Train Lounge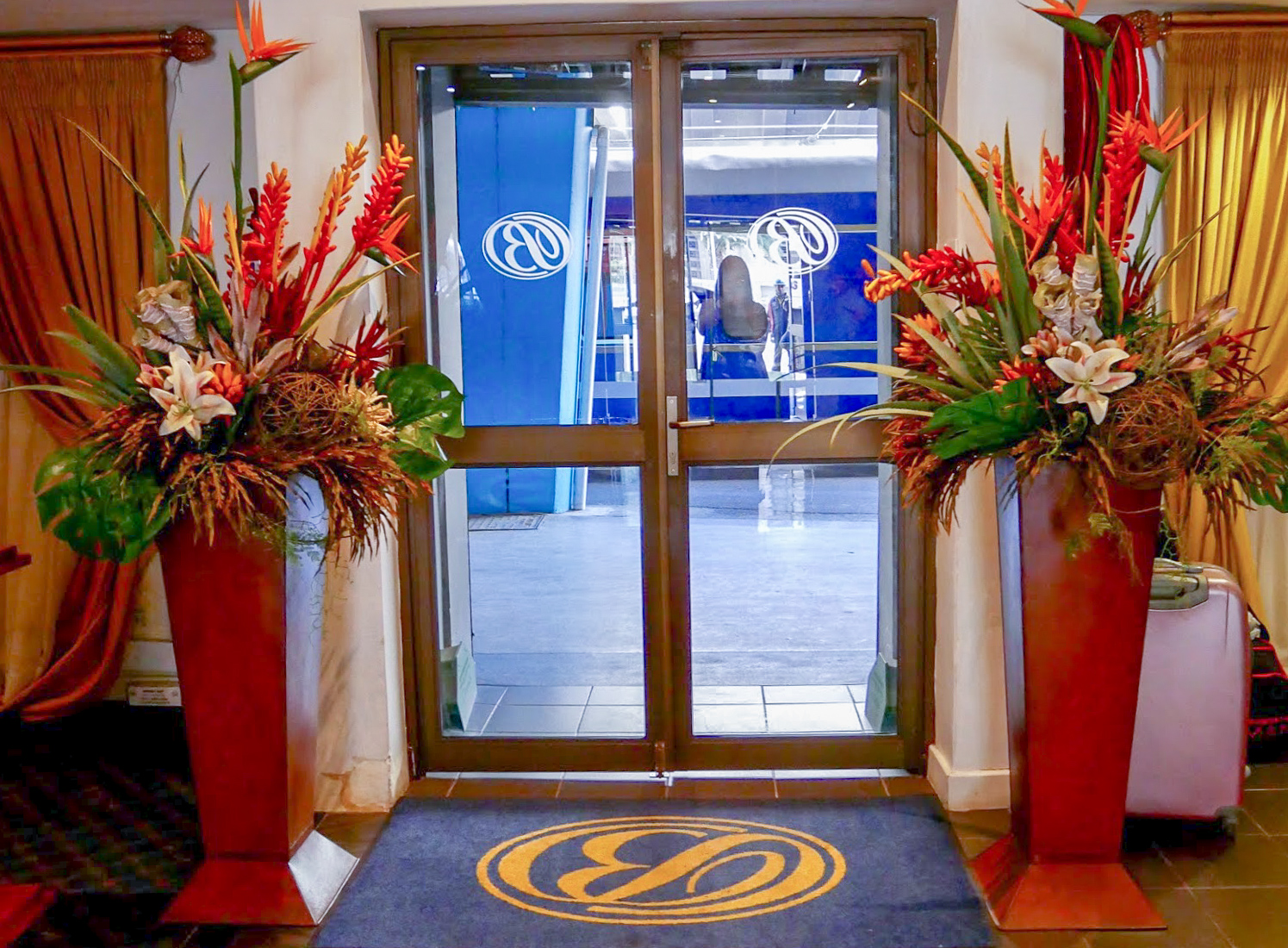 The lounge was quite dim but this was probably a product of the shadowy station that it was built into. I loved the wooden accents which gave hints of the train beyond the next set of glass doors.There was a small buffet of snacks laid out including chicken wings, samosas and fruit; lots of nibbles to keep us entertained. We missed the first round of sparkling wine so after waiting a few minutes, Mr Fluskey went off in search of a flute or two. Once the first sip was gone, leaving tingles in my throat, I relaxed into the experience. The self-styled Mr X came around to ask the guests about their dietary requirements and we made small talk with some of our new train friends.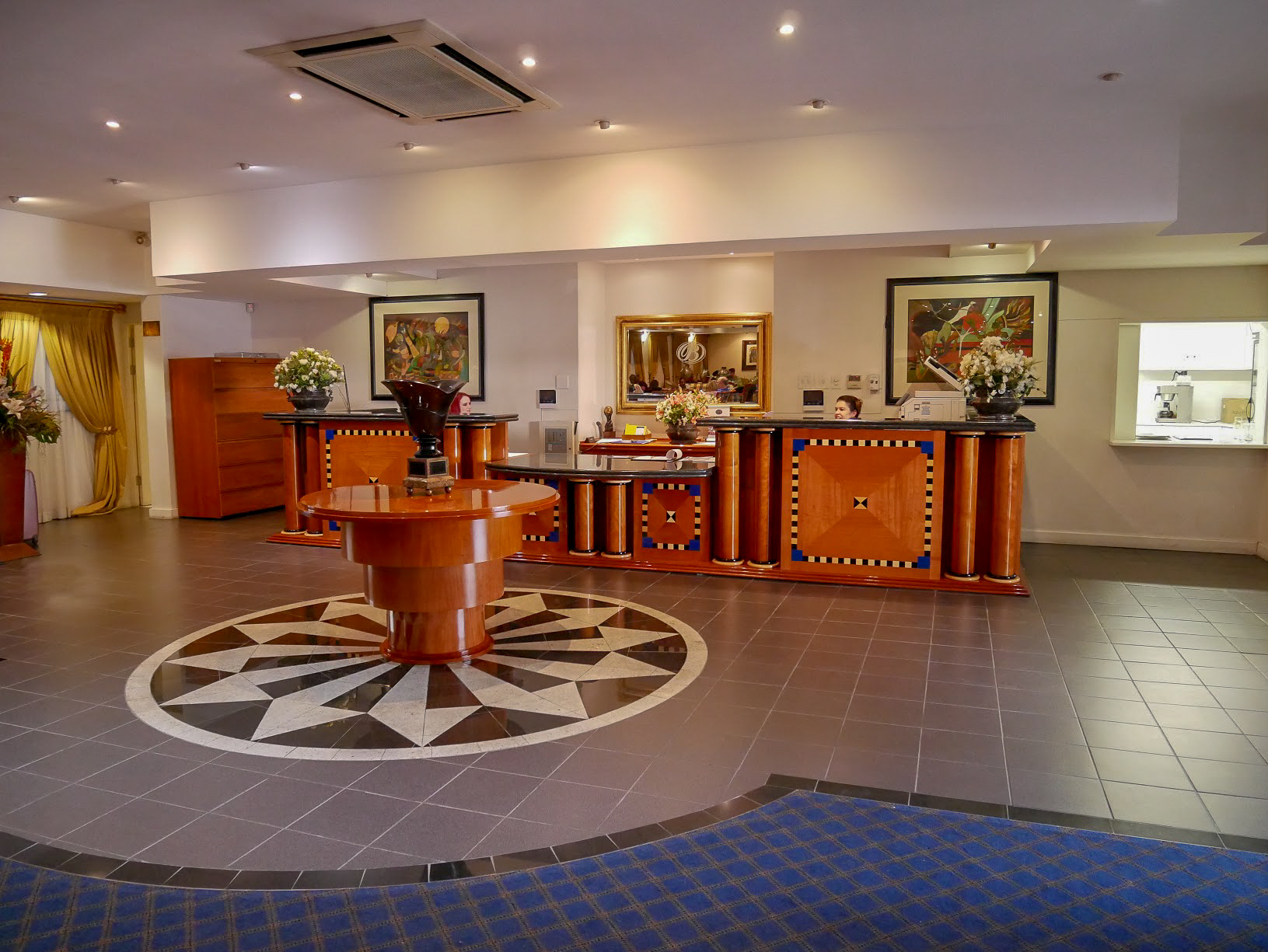 Boarding the Blue Train
The train manager gave a small talk covering some safety procedures and the schedule for our two nights on the Blue Train as the line of butlers stood patiently waiting. As his speech came to a close, he called out room numbers and introduced us to the butler in charge of our carriages. The butler assigned to us was called David (the nice guy who took our bags at the door) and he showed us the way to the train. The blue carpet was laid out and David bowed slightly as we climbed up the stairs into the carriage. We felt seriously like VIPs.
Our Room – De Luxe Suite Number 26
Down the long corridor, we passed other closed doors counting down numbers until we reached room 26, our home for the next two nights. David opened the door and I emitted squeals of delight. We have travelled on a fair few trains but on nothing like this!
Two comfortable armchairs were against the back wall. This wall drops down into our beds for the night which is extremely cool! On the other side of the table was a leather chair. The room had just one electric socket but it was placed under the table meaning it was close to my bed once it was laid out, and to the mirror so I could do my hair. Pretty handy really.In between the two chairs was a small chest of drawers and a cubby with a phone inside.
"If you need me, just call me on this phone", gestured David. We glanced sidelong at each other, eager to try it out but feeling that it may be a touch overindulgent.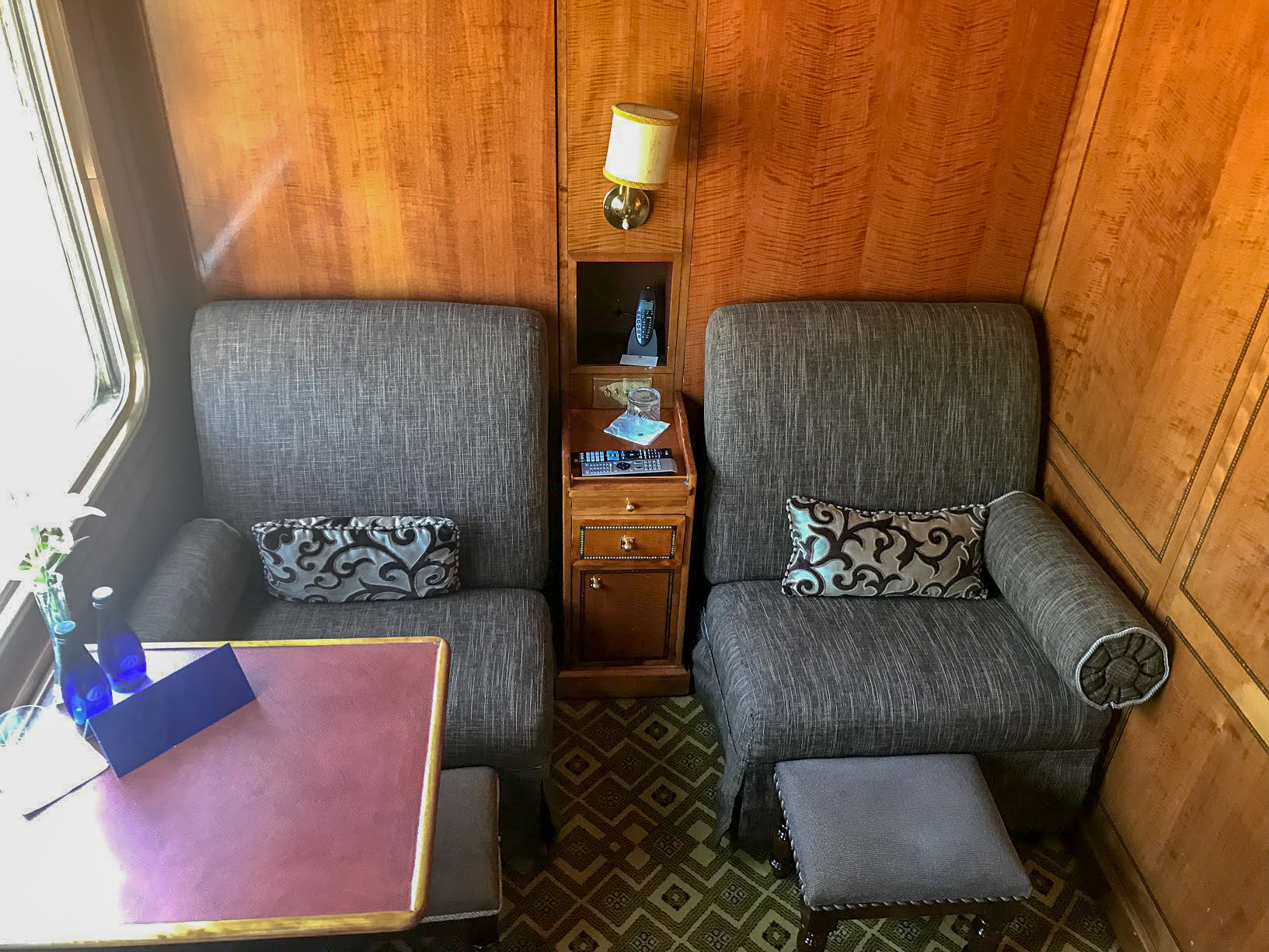 The wardrobe had plenty of space for two people's clothes and also contained a safe and a couple more little cupboards. I was thrilled to see slippers and robes. There is something utterly delicious about lazing about in a dressing gown.
In-Suite Entertainment
Above the wardrobe was a TV. The train doesn't get live TV but has a very good selection of films, TV programmes and music. We busted out some ABBA as we got ready for dinner and sadly, it took us until the last day to realise that there were some musical theatre songs hiding in light classical category. I had seen a video of two people who watched a few Disney films, and we planned to do that too but the time just flew by!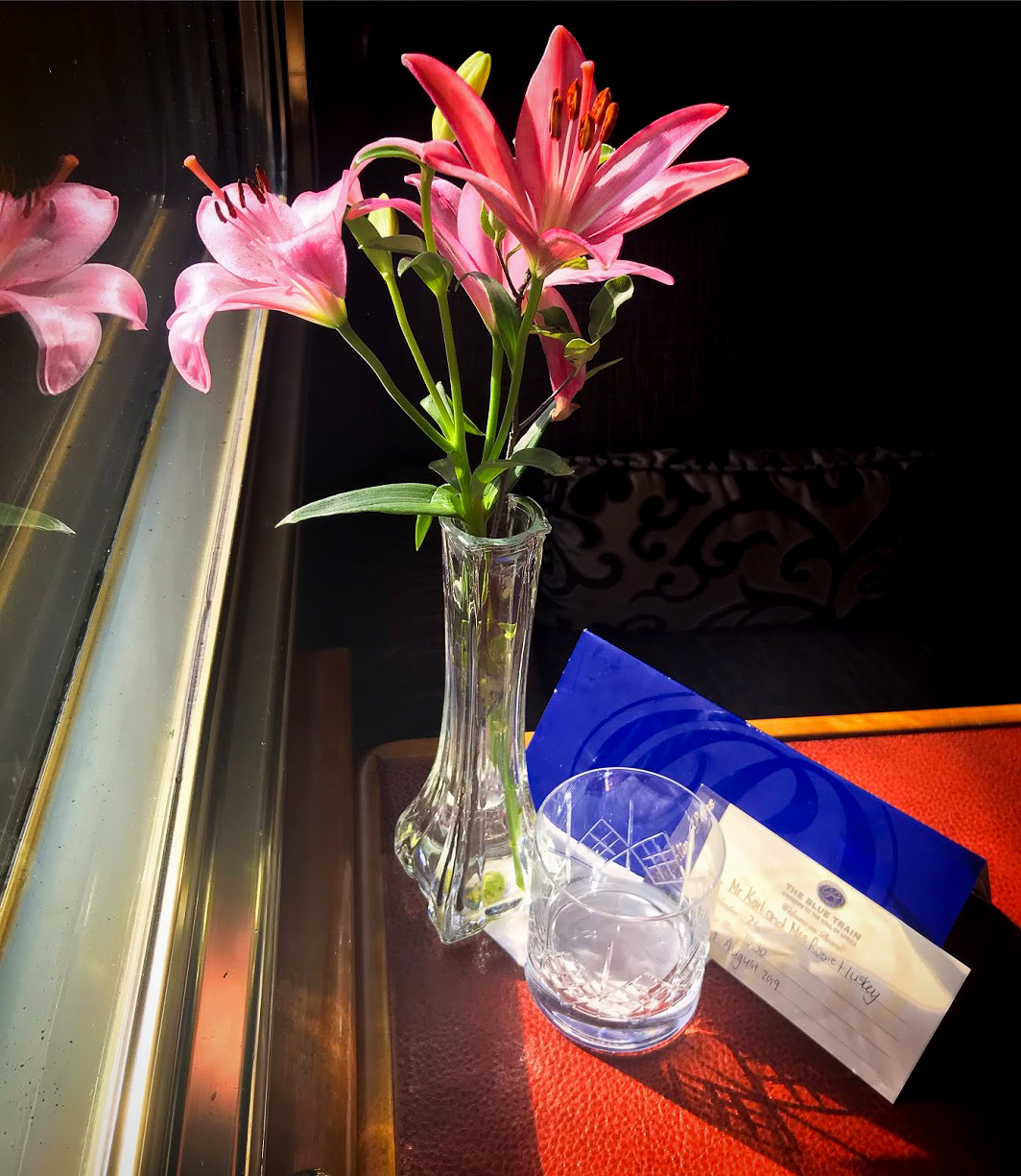 The Bathroom – A Full En Suite
I was excited to have our very own bathroom, a treat we have never enjoyed on a train. Not only did we have an en suite with a shower, but it was a proper bathroom with a wooden toilet seat and a huge mirror. I was blown away, the coolest button was the one directly behind the toilet, it looked like a light switch but opened and closed the blinds electrically. What a world we live in.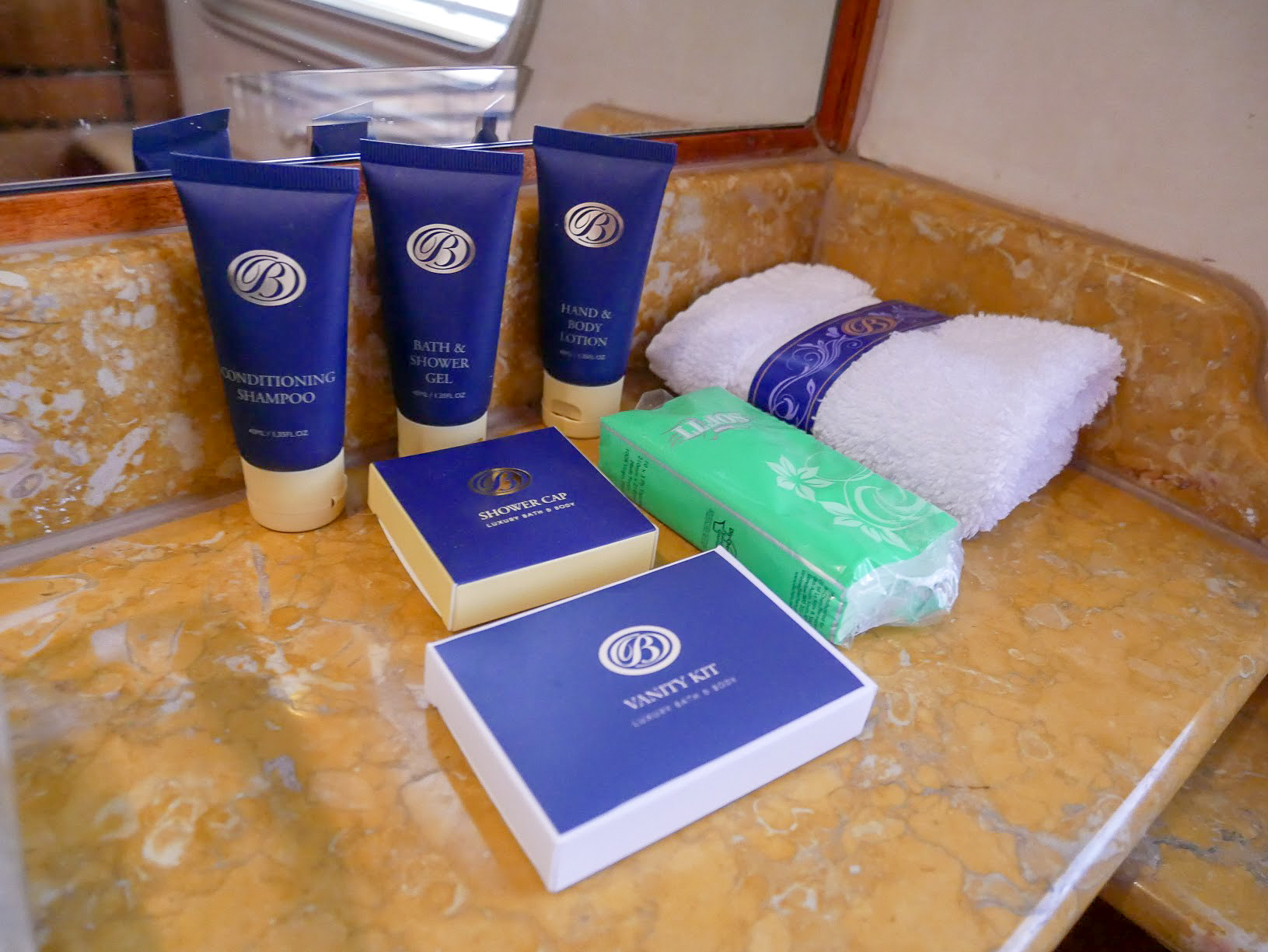 There is one suite in each carriage that has a double bed and a bath. It would have been very cool to have a bath on a train but I still very much enjoyed the shower!
Exploring the Blue Train
Once our room orientation was done, we quickly went to the rear of the train and the Observation Car to watch Cape Town slip away.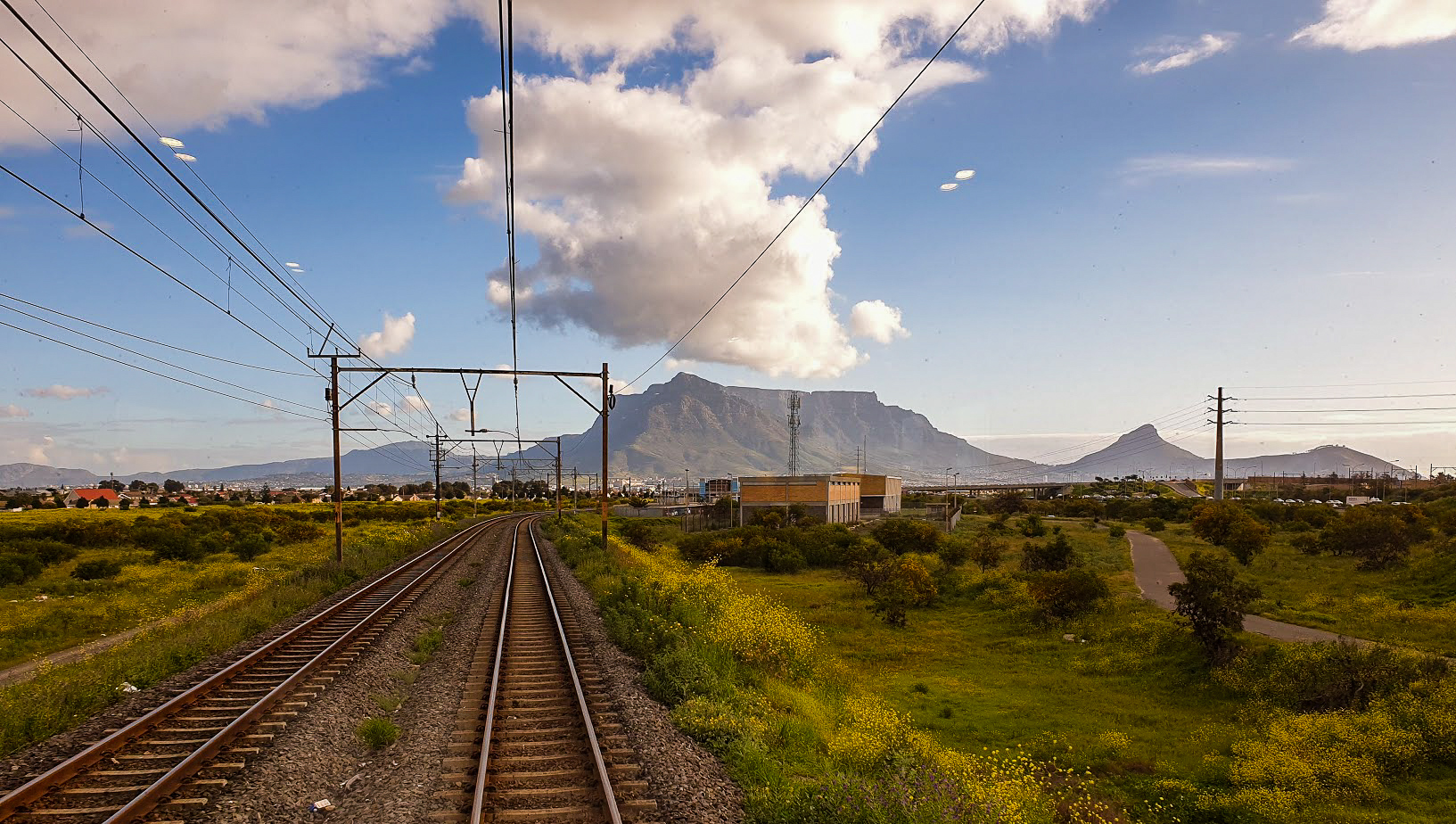 The Observation Car has large windows along the sides as well a huge glass back wall. Throughout the car, comfortable armchairs and chaise longue allow guests to relax and watch the world go by. We waved goodbye to Table Mountain and realised that it was time for high tea.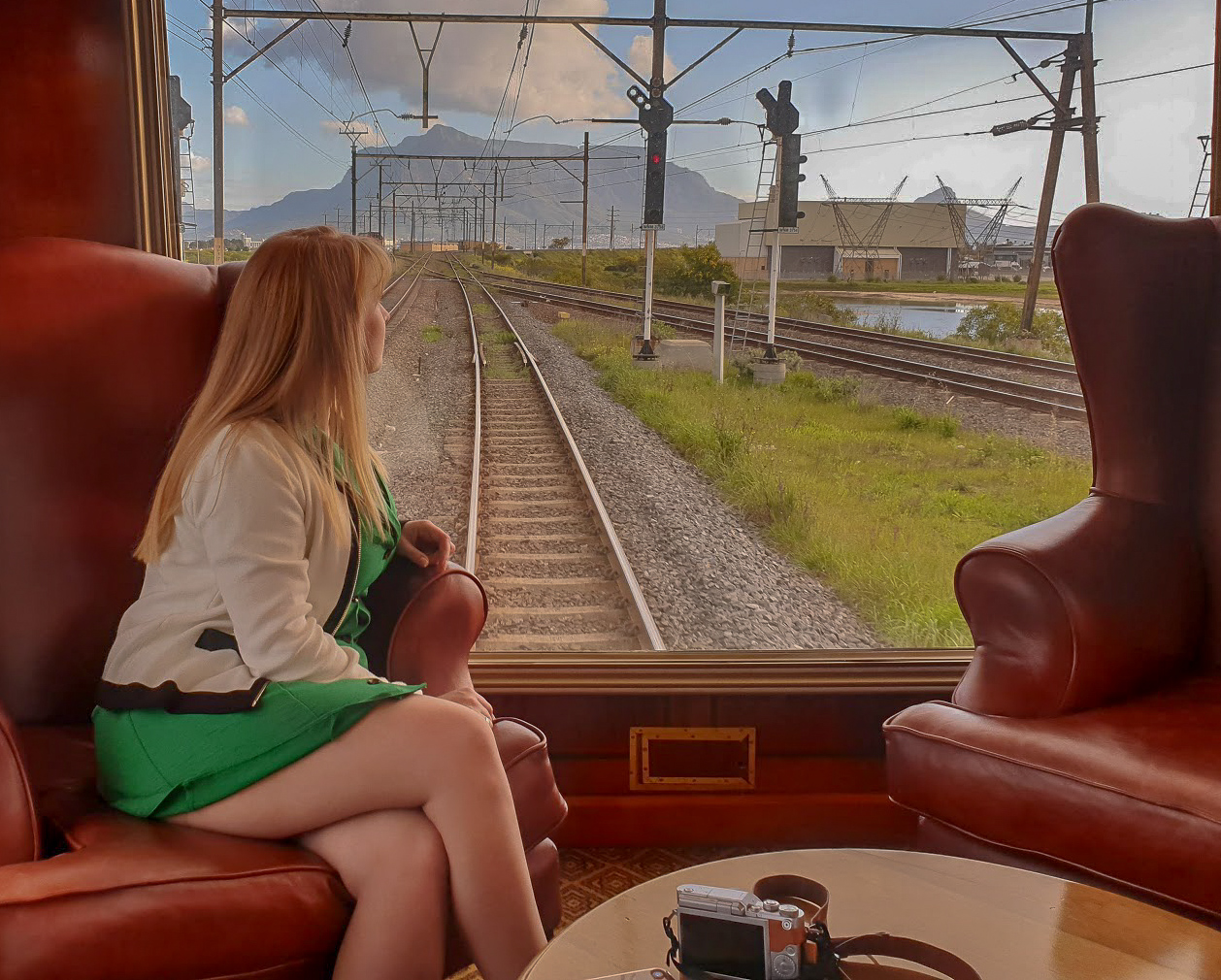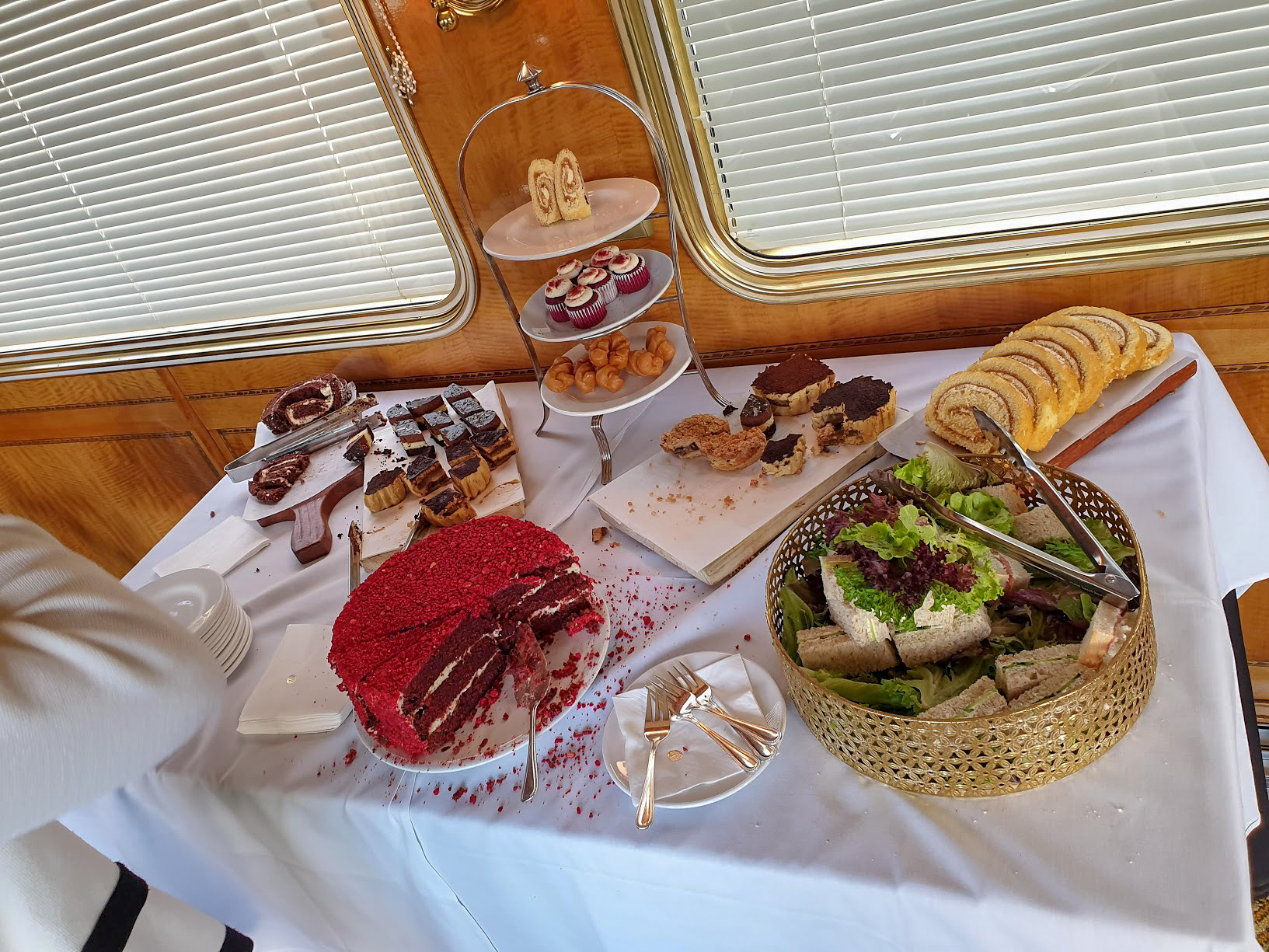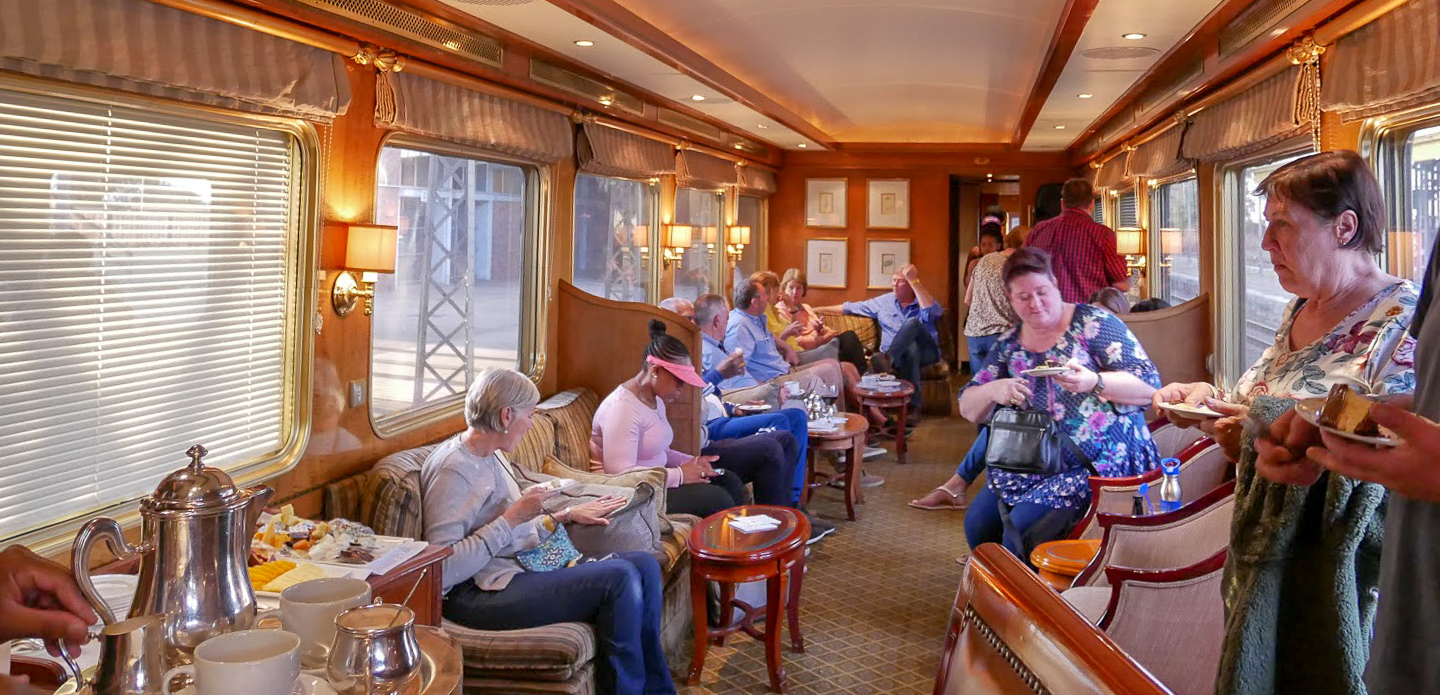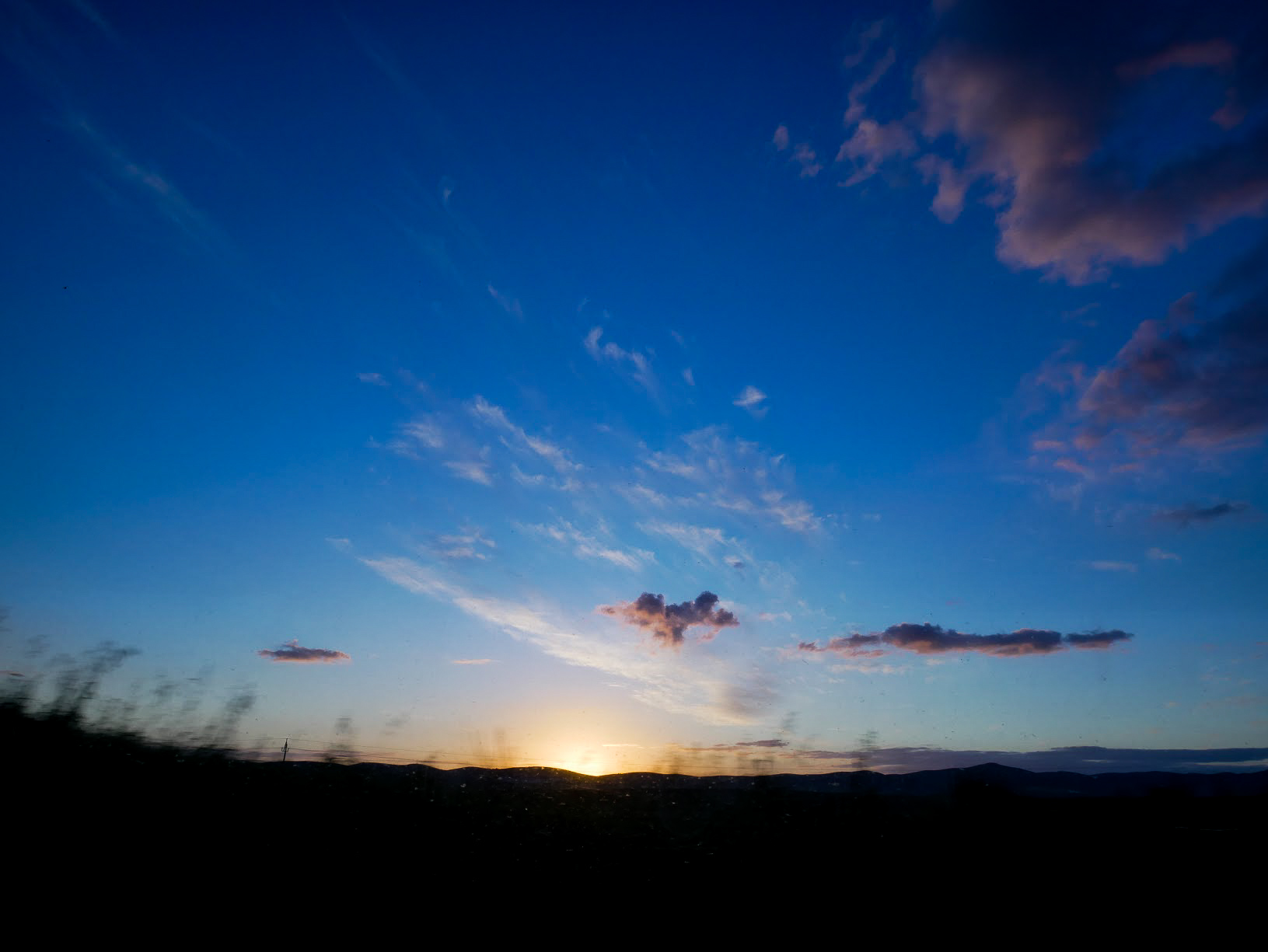 We reached the Lounge Car and looked over the high tea offerings, many already demolished by our fellow travellers. There was a huge red velvet cake and lots of smaller sweet treats. Over on the other table was a platter of charcuterie and cheese, and an array of fruits. I stacked my plate with biltong, brie and tiramisu, a typically weird buffet combination and we found a comfy seat. The Lounge Car has one of the train's two bars which is open from 06:00 until the last guest rolls away to bed. The car is lined with seating covered in comfy cushions and it would be very easy to slip into a food coma in here following any of the three-course offerings guests are treated to for lunch and dinner. We sat and had a couple of drinks until we realised that the crowd of passengers had disappeared. We had been so busy chatting to Simon behind the bar that we hadn't realised everyone had gone.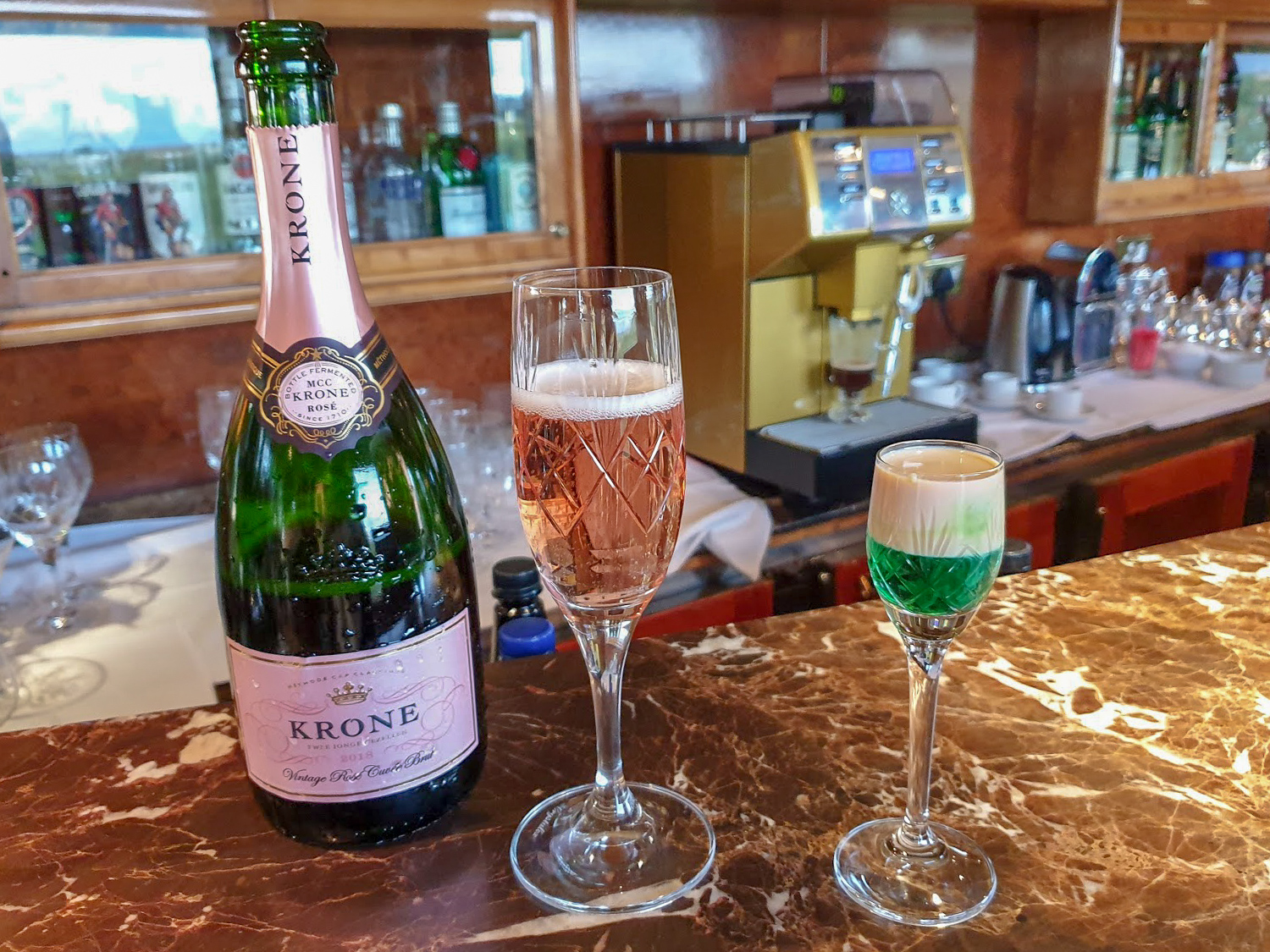 Putting on the Ritz – Dressing For Dinner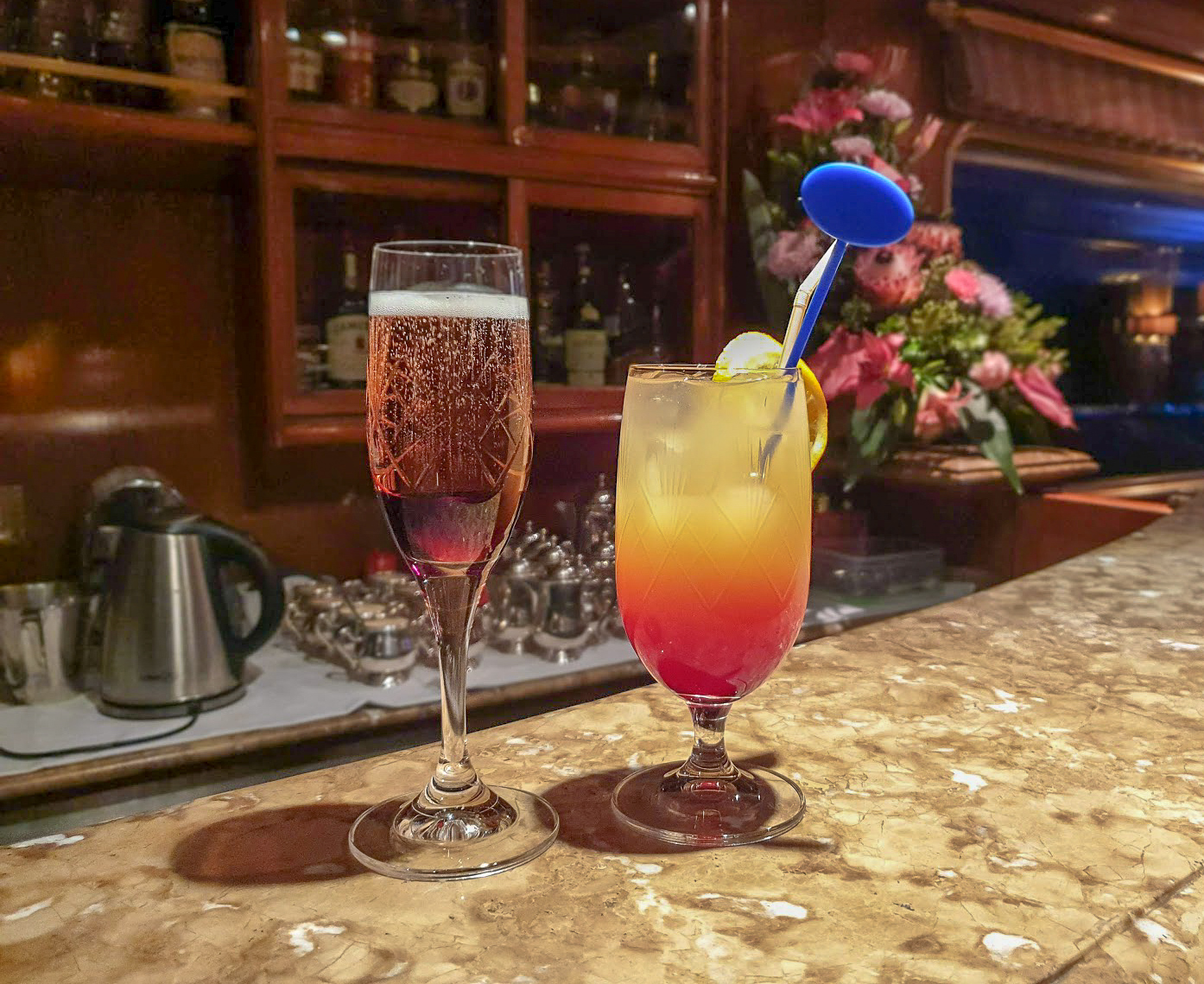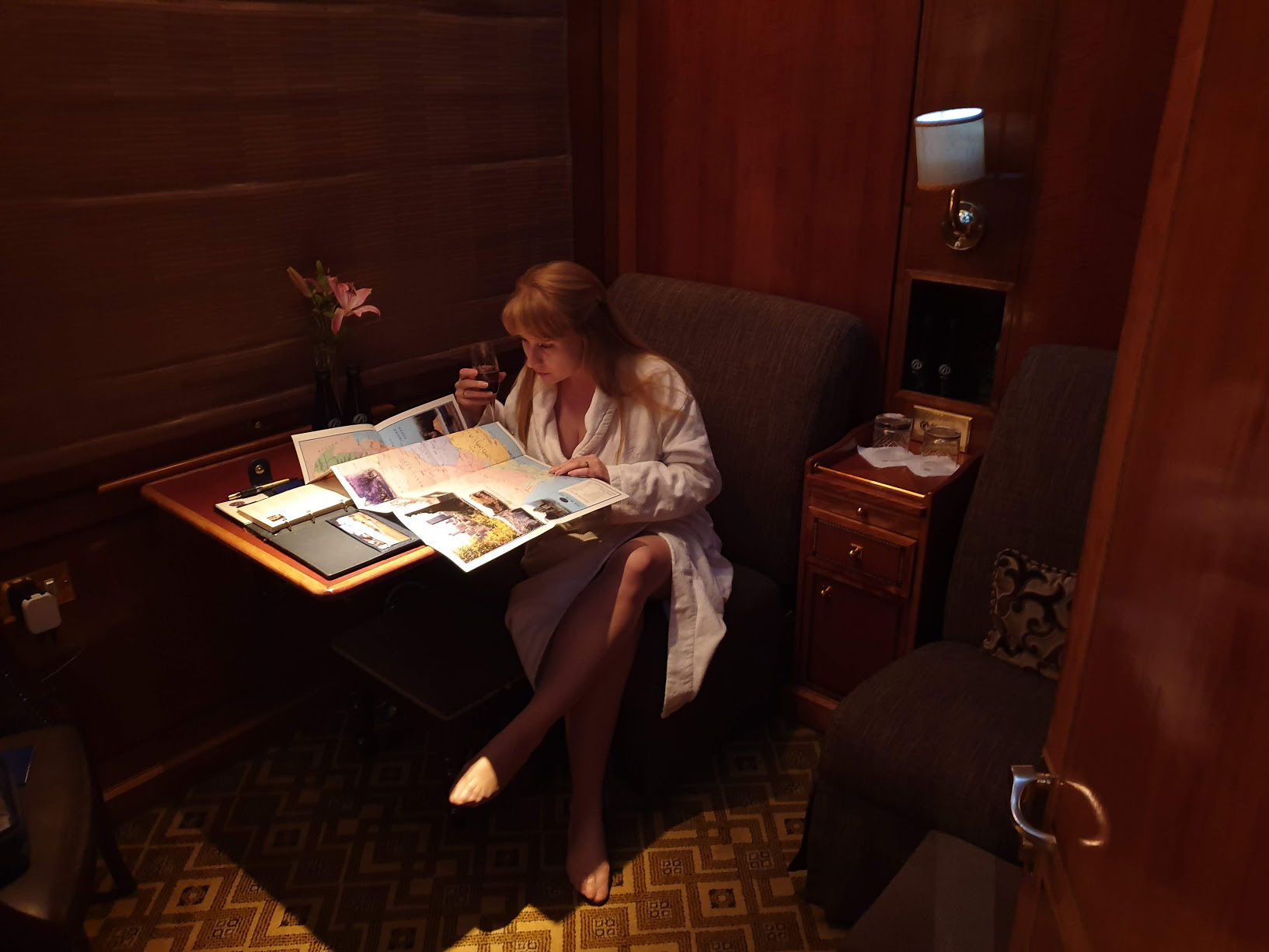 Dinner aboard the Blue Train is served in two sittings, 18:30 and 20:30. We had opted to go for the second sitting but it seemed that we were in the minority. Without noticing, we had the Lounge Car entirely to ourselves and so we grabbed two more drinks and took them along to our room. Slowly we got ourselves together for dinner. Mr Fluskey had taken full advantage of David's kind service and two of his shirts and my dress hung, freshly pressed in the room. I perused the map of our route and some of the information in the little portfolio on our desk, whilst humming along to ABBA on the TV. Dressing for dinner on both of our two nights on the Blue Train was such fun. I was living my Agatha Christie/Downton Abbey fantasies as I put on my first "elegant evening wear" outfit, a pale blue maxi dress with a little cape on the sleeves. Mr Fluskey wore a blue suit complete with bow tie and we both felt awfully flash.
OK, so it is easy to flatter someone in a new dress, but when someone says, "You look like a princess".
I had to stop myself yelling, "I KNOW!"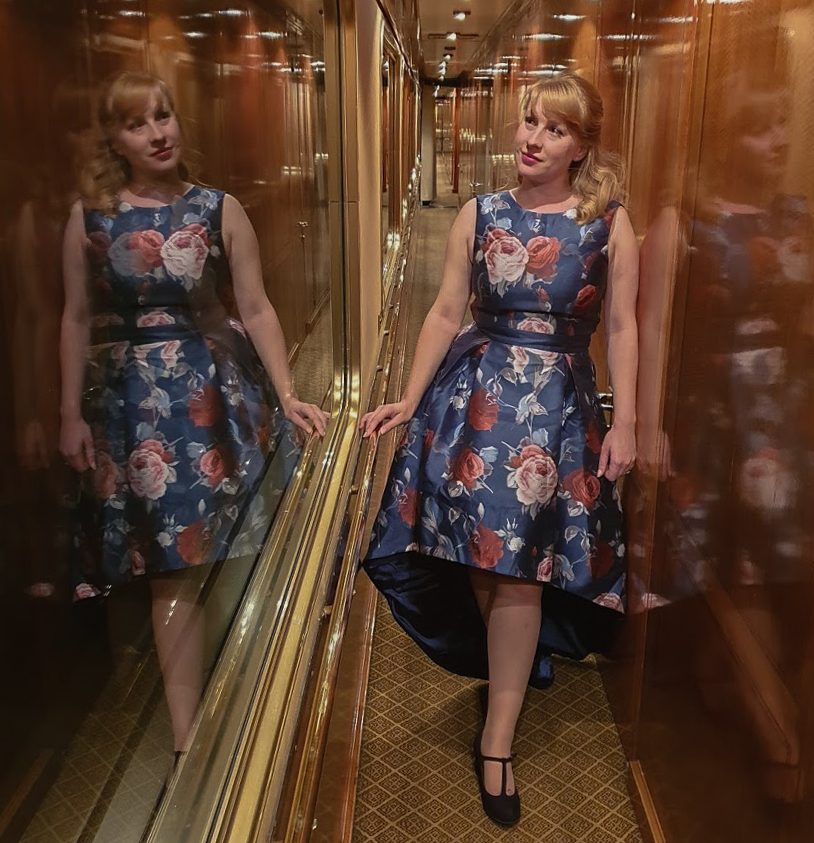 Dinner Number One
Dinner is a three-course affair and is served with a surprisingly large wine menu.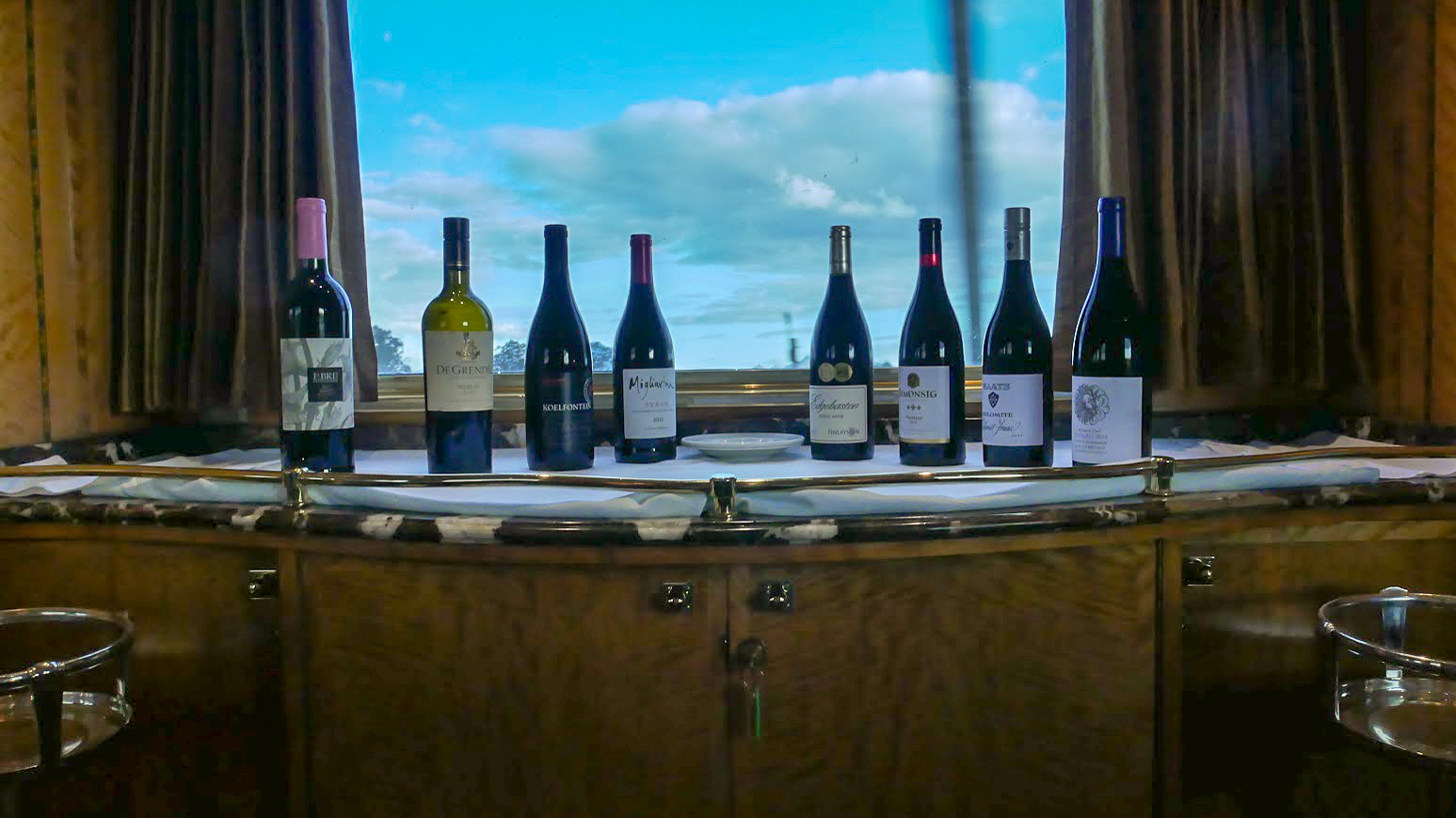 I made the poor choice of filling up on bubbles and high tea cakes before dinner. On our second night, I made sure to go as hungry as possible as the food was plentiful and very tasty.
Scroll through these pictures to see what we ate and our thoughts.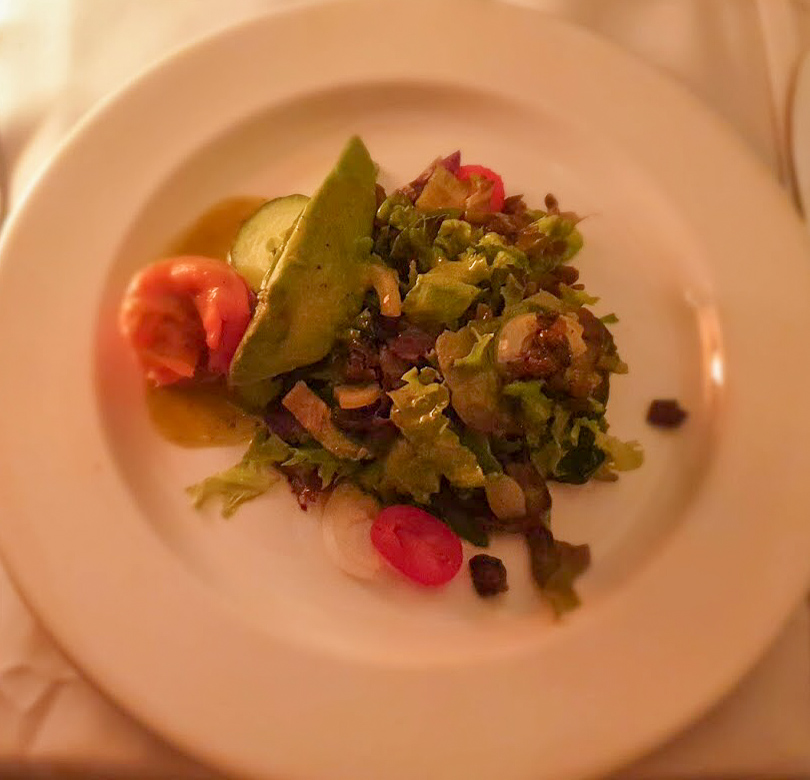 I ordered my lamb and venison dish medium rare but it came medium to well done. This was a theme throughout the train ride so I was sure to order my meat rare from that point on, ensuring that it was cooked just right. However, it has to be said that it must be a real challenge to cook in such a restrictive space so I take my hat off to the chefs.
After dinner, guests were invited up to the Club Car for hand-rolled Cuban cigars but I didn't fancy sitting in a smoky room so we just went back along the train to our suite.
Bedtime Number One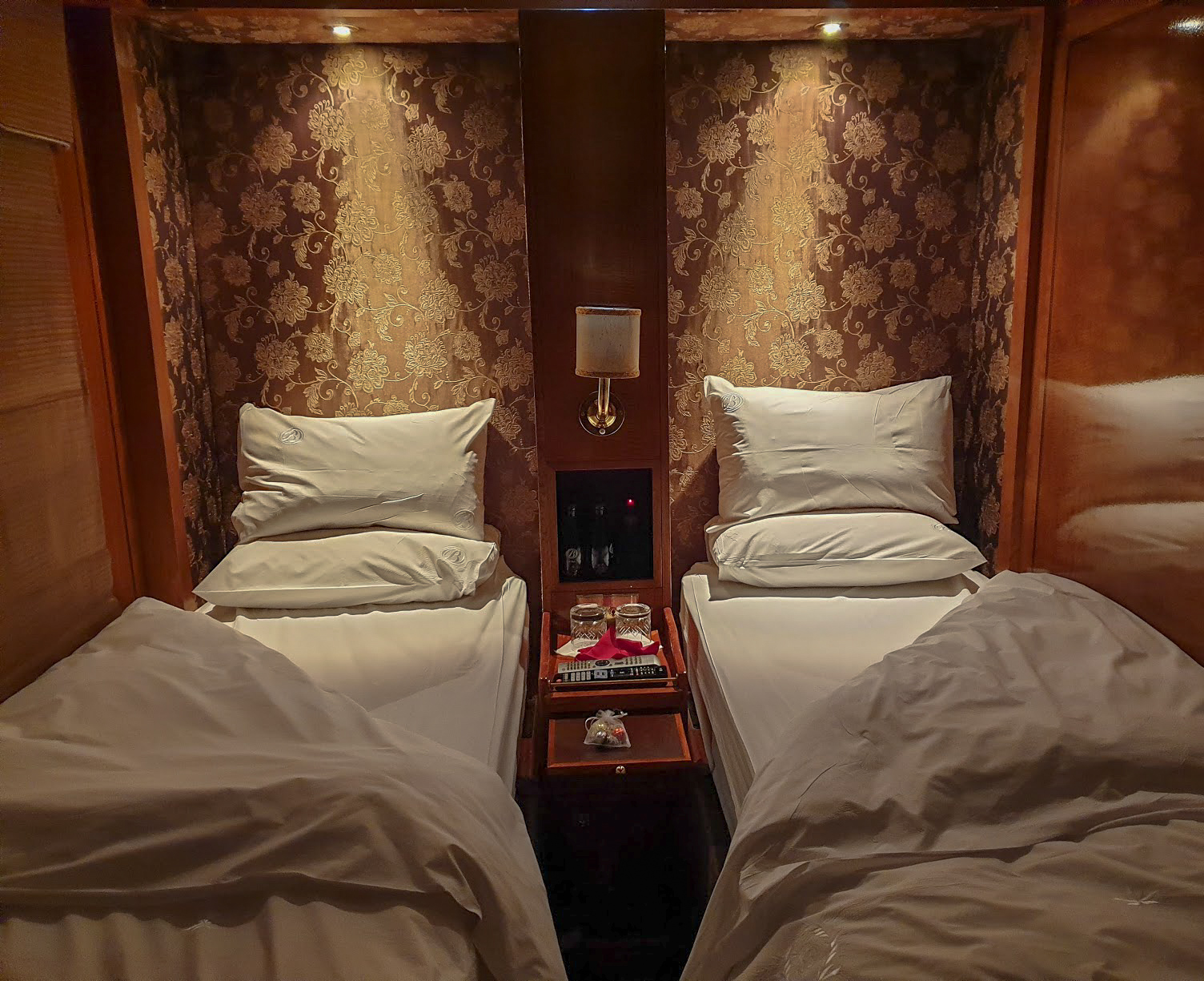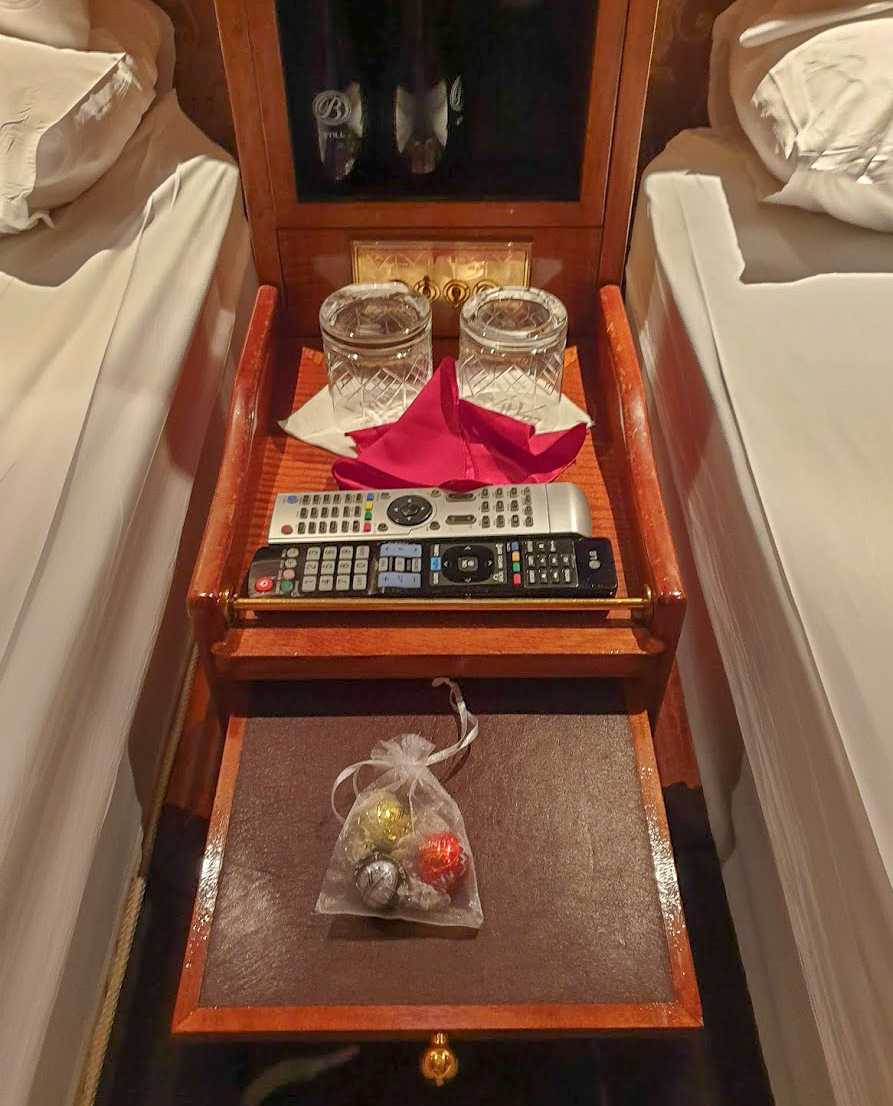 During our dinner sitting, David had been busy converting our living room into a bedroom. This was no ordinary turn down service. Two single beds had been pulled into position from the wall, squashing the armchairs beneath. They now lay waiting for our sleepy heads with proper down bedding, all emblazoned with the Blue Train logo. Plus, there was a little organza bag of Lindor chocolates, a nice touch but I was WAY too full from dinner.
The beds were insanely comfortable compared to any other train we have ever been on. However, I slept poorly during our two nights on the Blue Train due to two things:
I never sleep well with down pillows as they squash and rustle too much for my taste.
The beds lie parallel to the tracks which means that when the train rocks from side to side, you do too. I kept thinking I was going to fall out. Most other trains we have slept on have bunks that are perpendicular to the rails which alleviates this.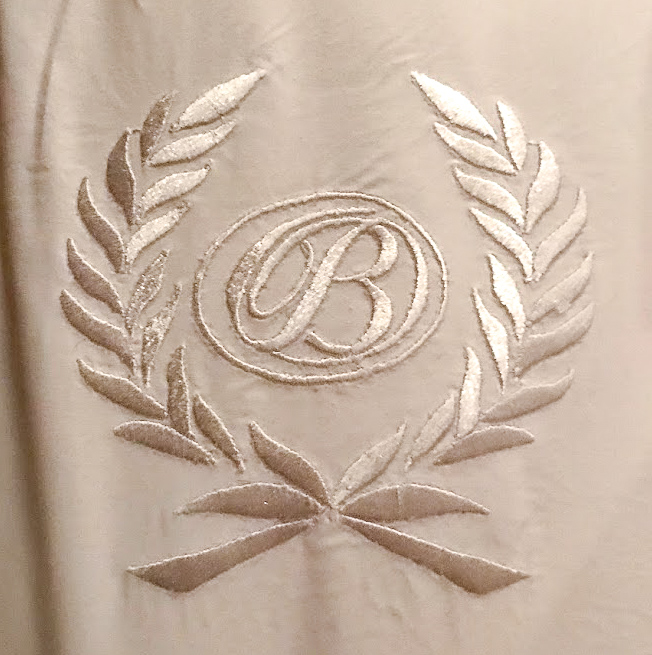 Watch our video we made on The Blue Train
Day Two
Good Morning De-Aar
Determined to maximise our bed/sleep time we only surfaced half an hour before breakfast was over. David knocked on the door, concerned that we were either dead to the world, or just dead!? Maybe he reads Agatha Christie too.
He asked whether we would like our beds put away or left down. I knew that I was still very tired so we opted for one up and one down. This proved to be a good choice.
Breakfast
The train was stopped in a town called De Aar, a major railway junction. We were now 1280m (4,219 ft) above sea level. Still full from the previous night's feast, and in desperate need of caffeine, I swallowed a very welcome cup of coffee. Mr Fluskey attacked the continental buffet with gusto and then ordered a cooked breakfast.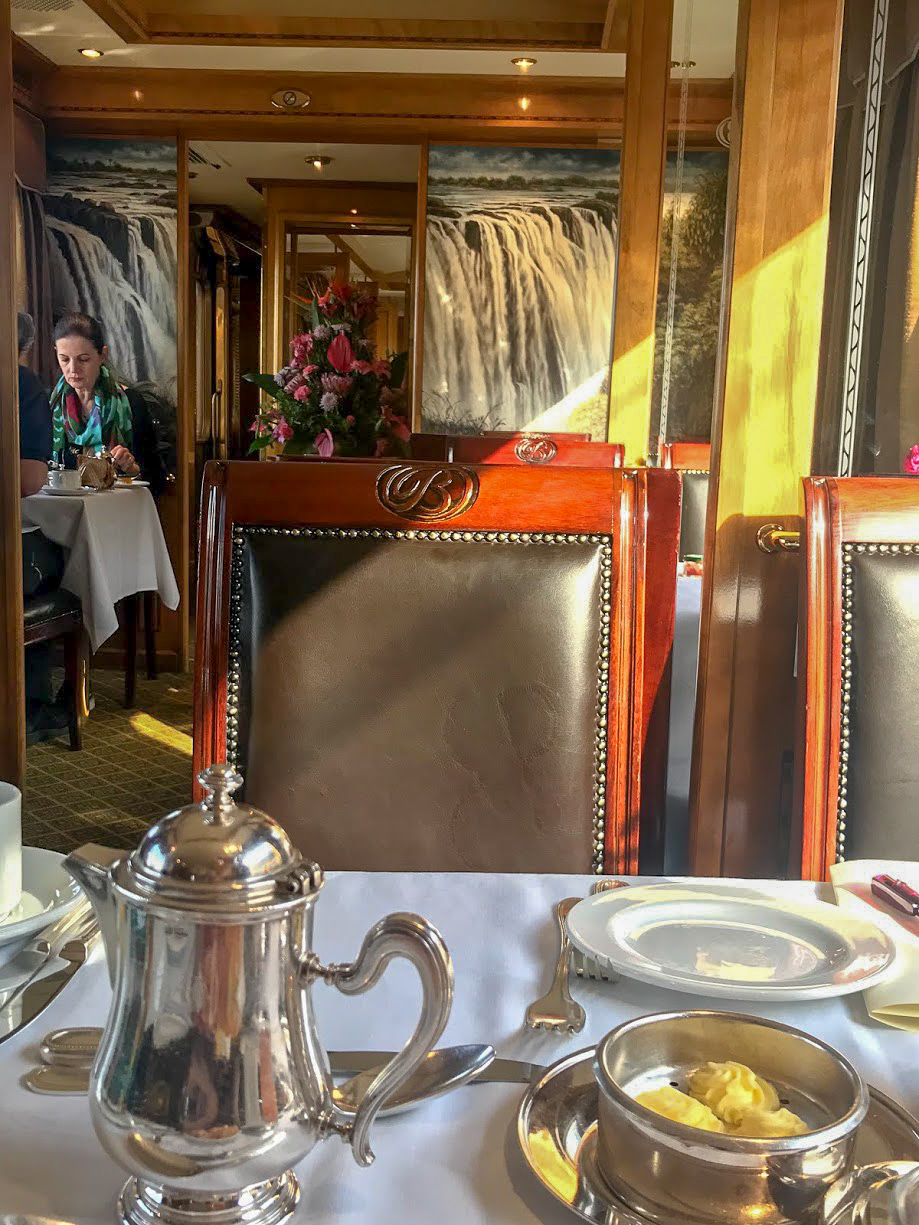 Observation Car
We wandered to the back of the train to take in the view and bumped into a few of the passengers we had met the night before.
My ear was seriously sore. I don't know what happened (possibly the change in altitude). It REALLY needed to pop but was refusing to do so. I sat and whimpered as everyone around put the world to rights debating all those topics that you aren't meant to bring up at dinner parties. Various solutions were offered. I tried hanging upside down from a chair, yawning, chewing gum and other home remedies. Finally, I decided just to pop a painkiller and get a soothing Amarula.
Lunch
Lunchtime rolled around very quickly and we weren't all that hungry. Instead of the whole three-course spread, we shared one portion of bobotie with rice followed by panna cotta (because there is always room for dessert). Both were beautiful and sharing made them just the right size for an early lunch.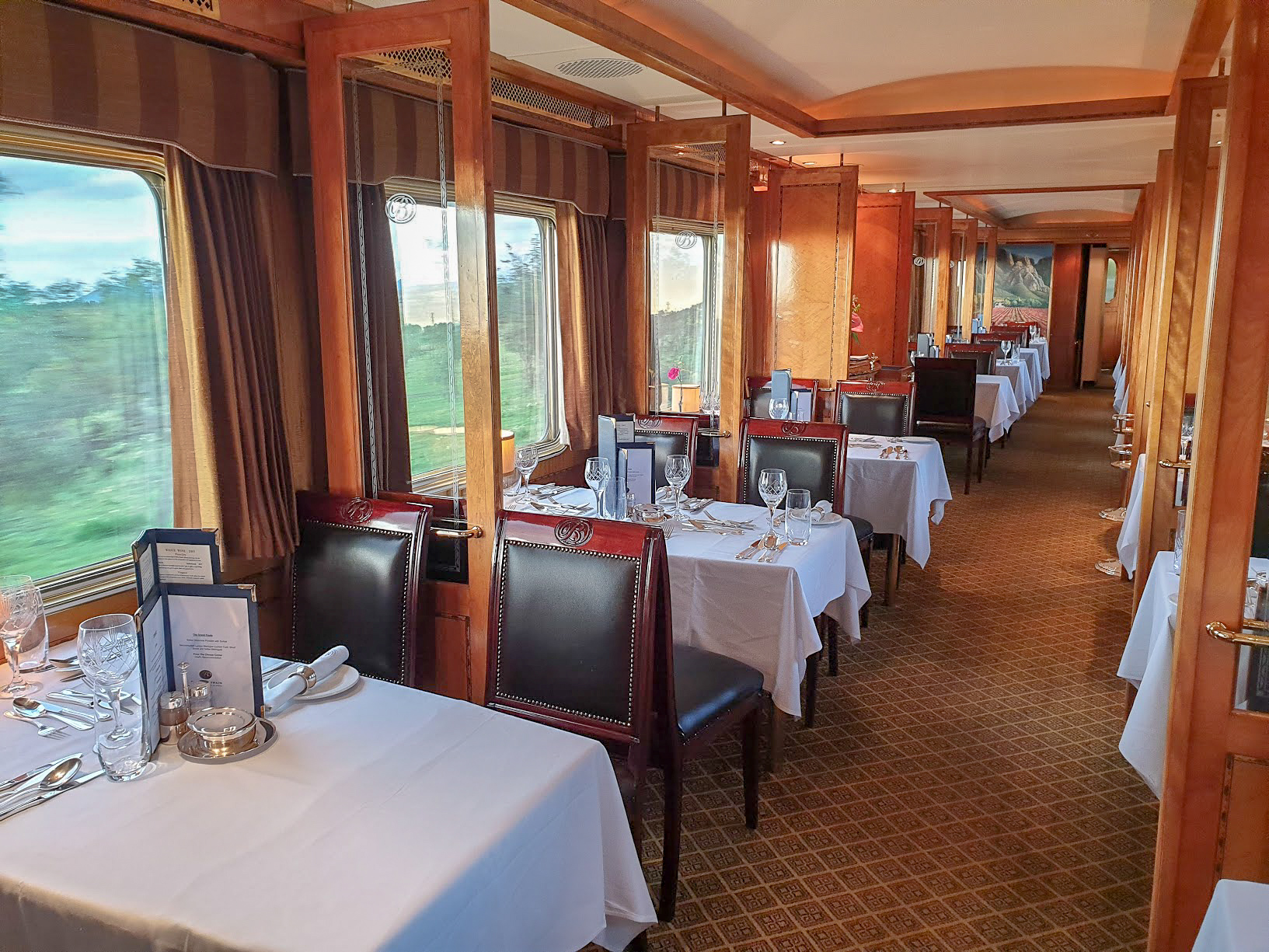 Nap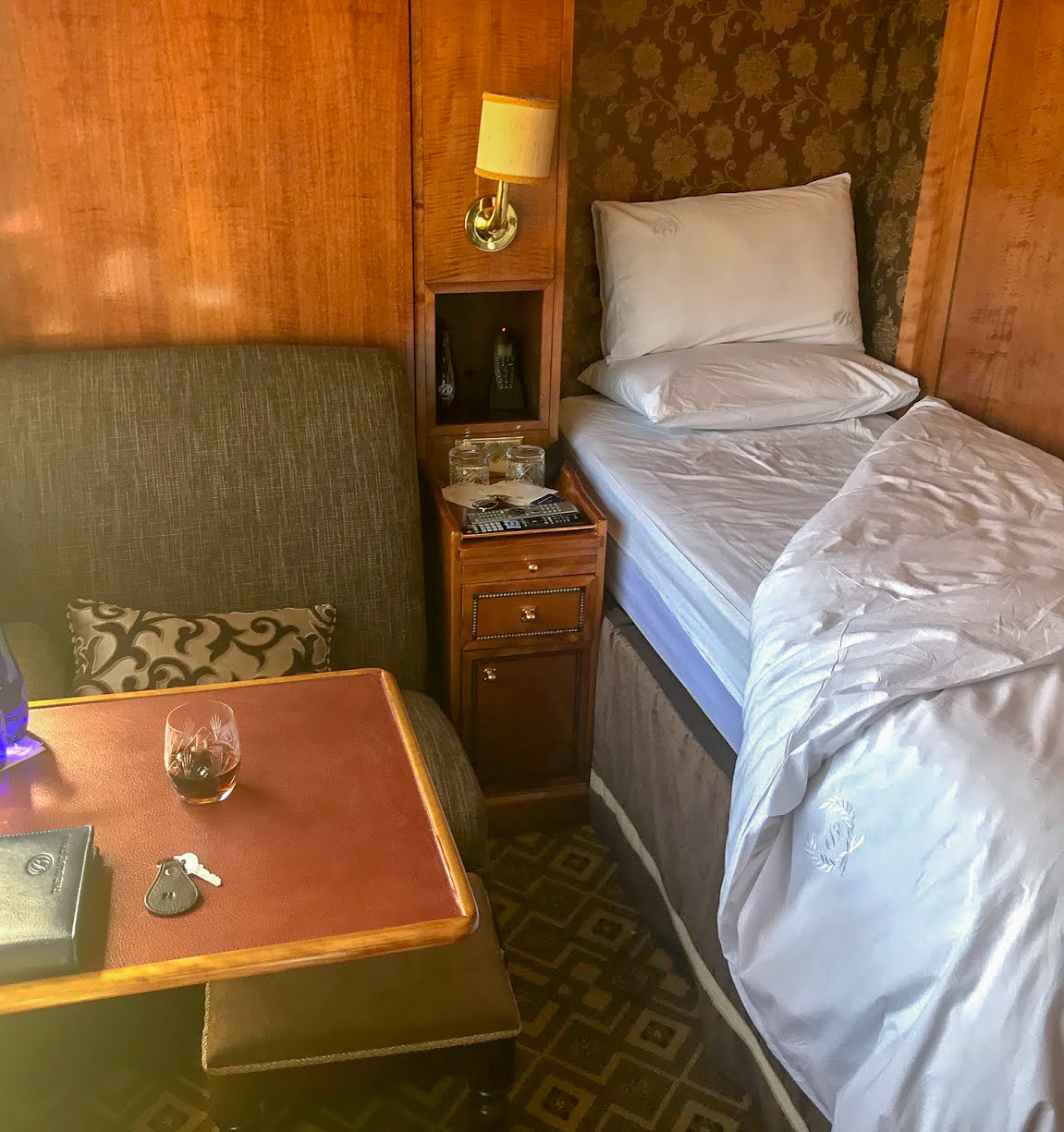 With two hours before our scheduled stop at Kimberley, we thought we could sneak in a little nap. We shut the blinds and I managed to get an hour or so in the bed. Mr Fluskey dozed in the armchair next to me.
Kimberley Mine Museum
The organised excursion that occurs halfway through the train's journey is to the Kimberley Diamond Mine Museum. I was going to write about it as part of this post but there was just too much, so read all about The Big Hole and Kimberley Diamond Mine here.
For now, I am just going to say that The Big Hole is beautiful and our guide was a delight.
High Tea
On our arrival back at Kimberley Station to 17:00, we were greeted with a small glass of Sherry. As with lots of things on the Blue Train, these were stamped with the logo. However, we were told that these were ours to keep as a little souvenir of our time on the train. We don't often drink sherry…OK, we never drink sherry…but these are proudly displayed amongst our glass collection and they will be used for other liquor/liqueur purposes.
There was also another present from the Blue Train that evening but we don't want to spoil all the surprises so you'll have to book and find out yourselves.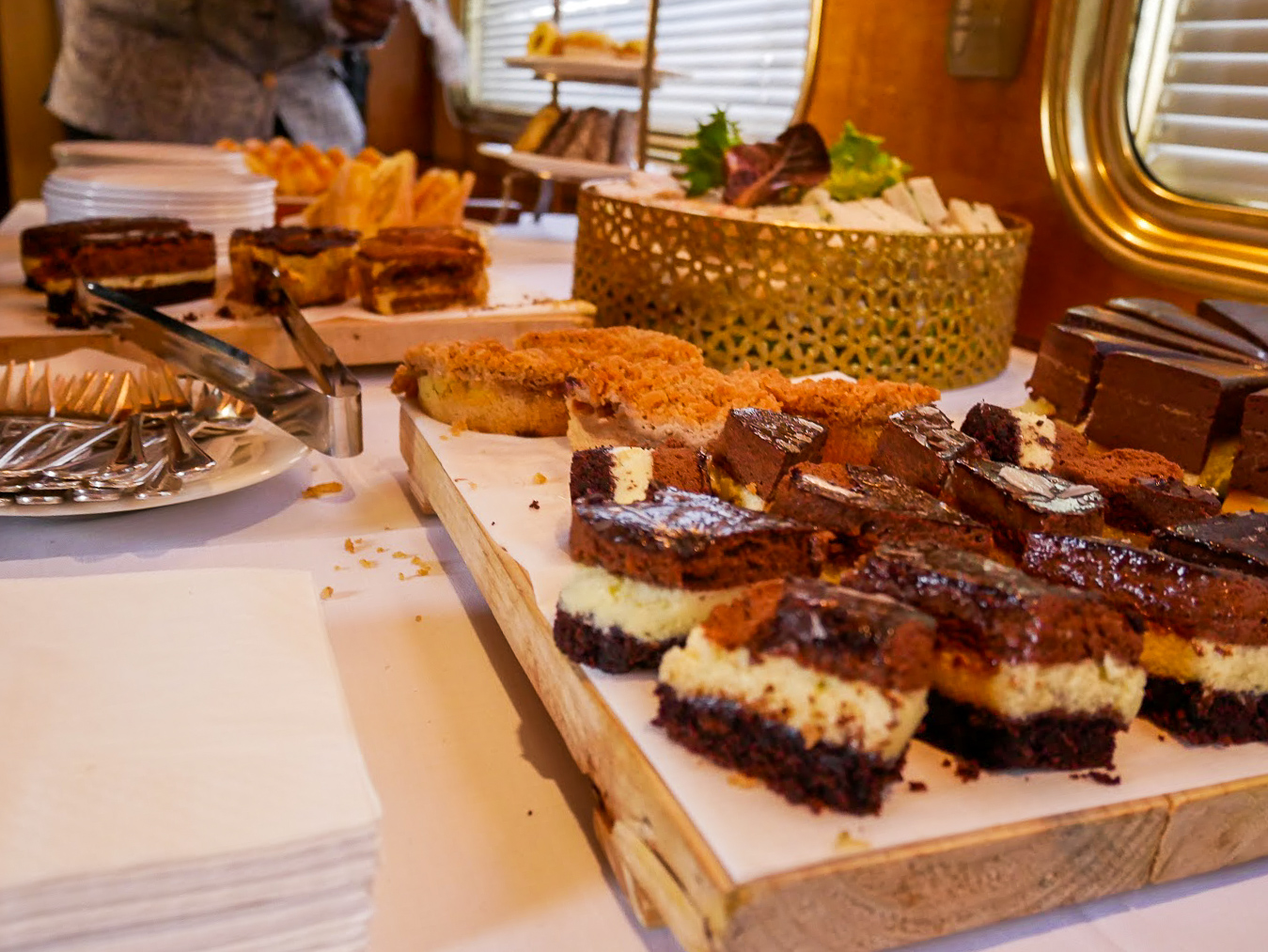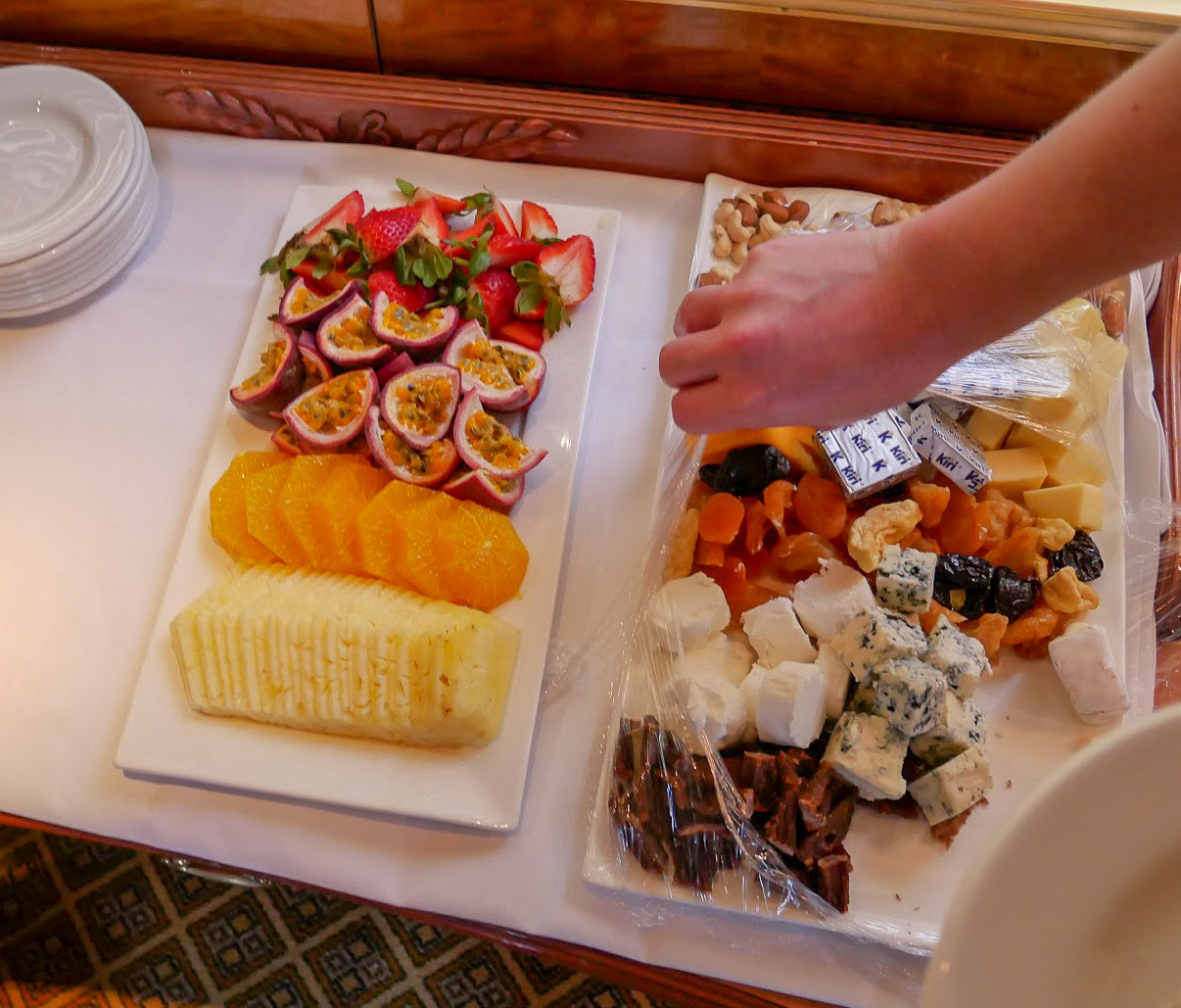 The train sat at Kimberley for a while as we all nibbled on high tea, and we all began to ask each other what was going on. Another delay had hit the train and so it remained stationary until the sun had disappeared.
Flamingoes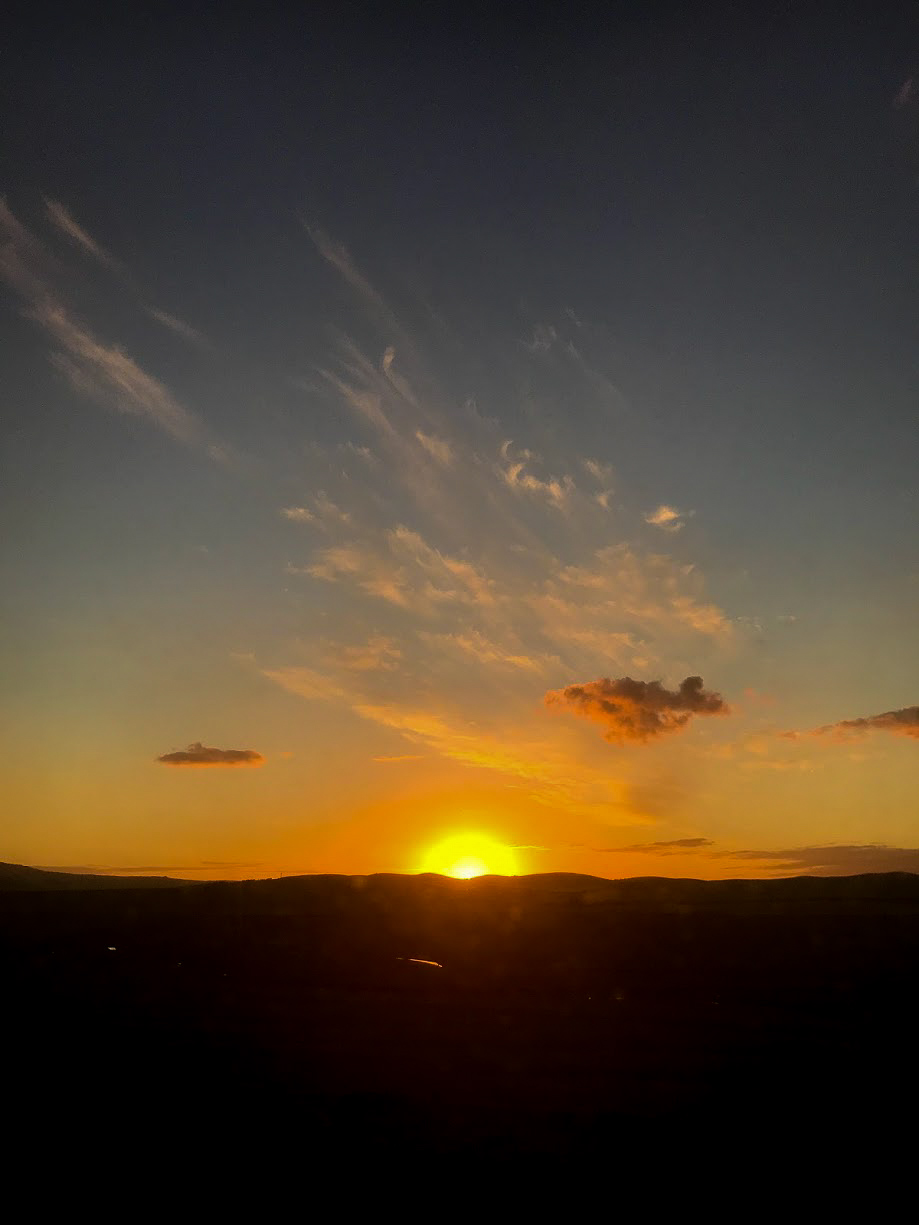 Just after the train departs Kimberley, it passes huge lakes that are home to thousands upon thousands of pink flamingoes. At least, that's what we have read. Sadly, the delay at Kimberley meant the train passed this area in darkness. I'm not going to lie, I was gutted but I know that they had no choice but to wait for the line to clear.
Dinner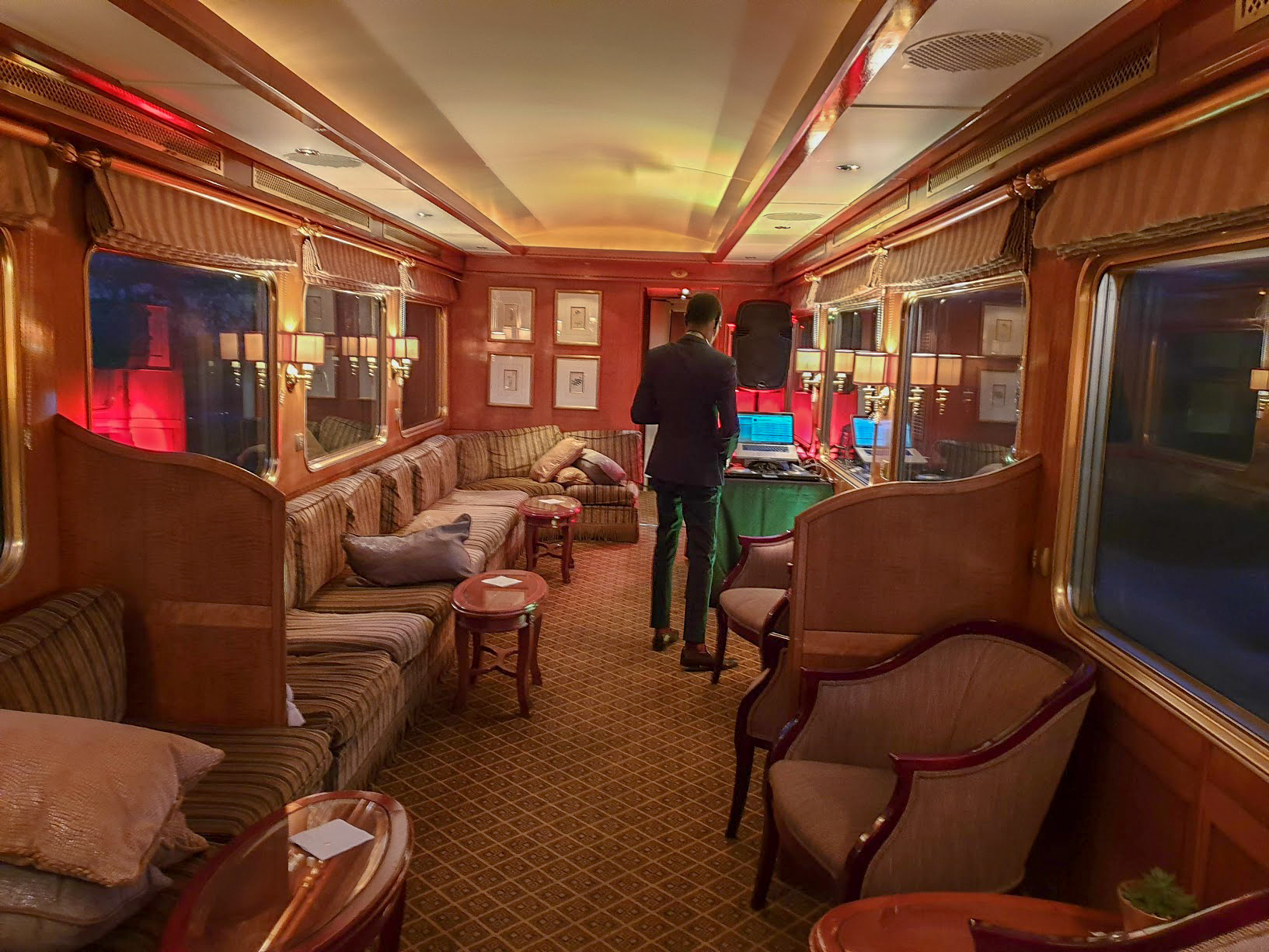 Dressed up to the nines (or at least the eight thirties) we went along to the Lounge Car before dinner and enjoyed the funky tones of a saxophone player. He played on both evenings and we loved the blend of cool American Songbook classics, jazz and smoother songs.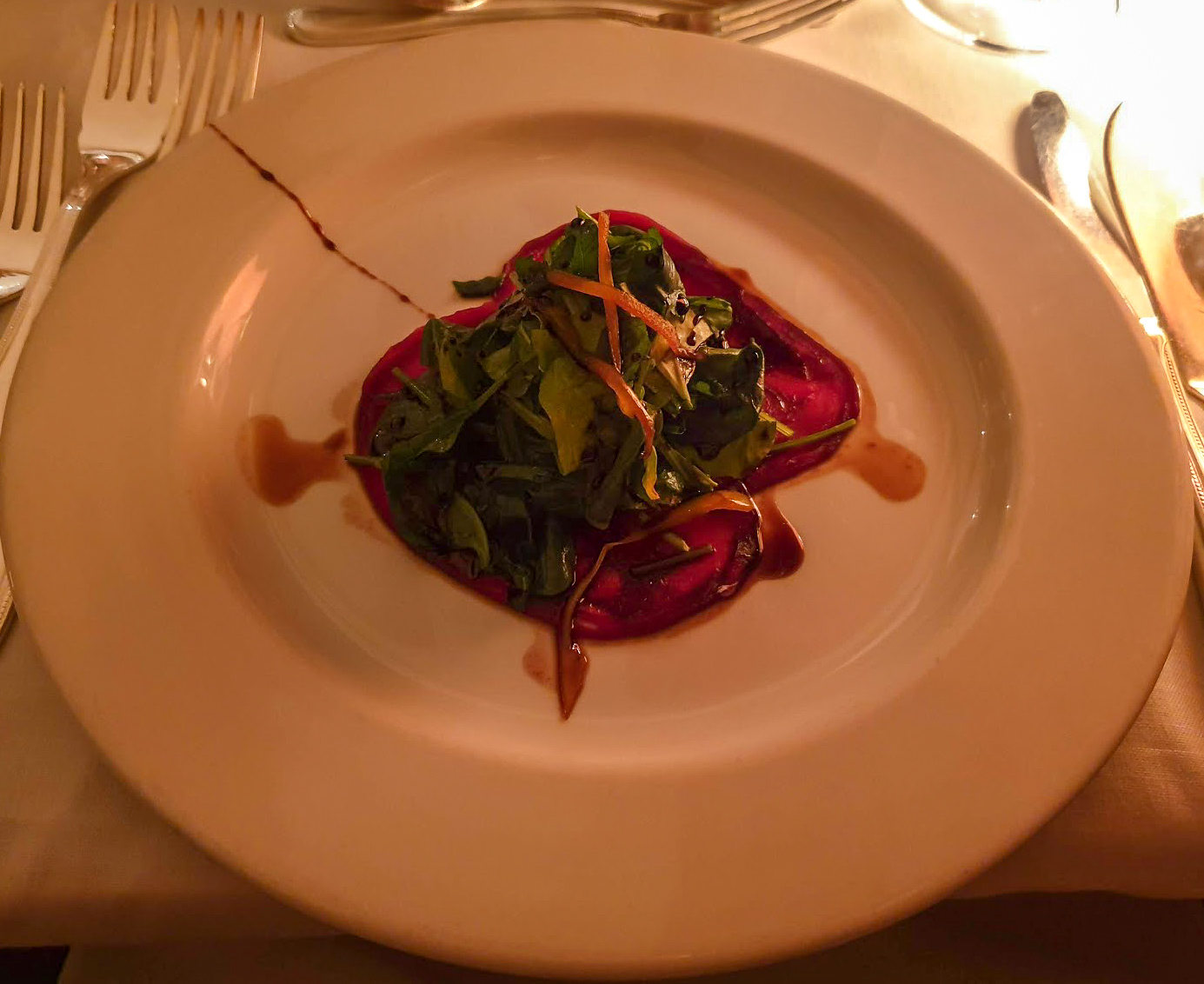 Mr Fluskey isn't a big fan of steak, so it was with delight that I saw it on the menu. Getting to sit and enjoy a fillet steak is an experience I rarely get so I savoured every bite!
Day Three
Breakfast
Determined to try breakfast, I hit the continental buffet as soon as we entered the Dining Car.
The Morning
The train was a little delayed so we got an extra two hours on board. But I think we could have used an extra two nights on the Blue Train! Some people had plans, despite the advice that this should be avoided. They were none to pleased, but we were thrilled to have a little extra time to relax. Our only other plan was sitting in Johannesburg airport which has no butlers, no comfortable seating and no handy en suite.
To be honest, there was a lack of information so we had no idea when we were actually due to arrive. We would have popped to the bar for some farewell cocktails if we had known we had an extra two hours but instead we just hung out in the Club Car watching Gauteng life pass us by slowly.
Pretoria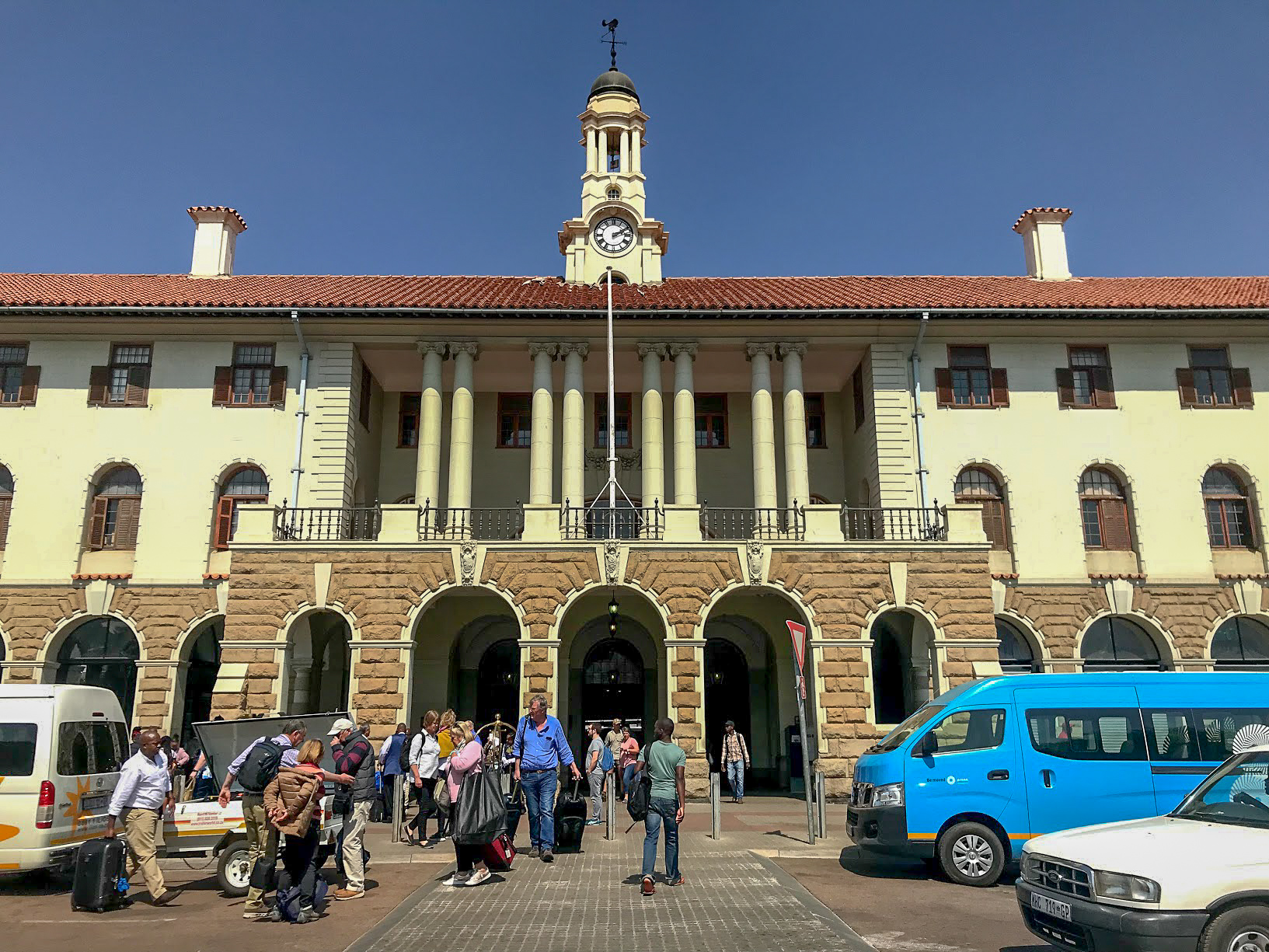 The train finally pulled into Pretoria at around 12:30 and we were asked to disembark without our luggage. Once again it was loaded onto shiny gold trolleys and brought to the front of the station for our collection. Most were loaded into taxis and shuttle buses but we grabbed ours, ready to hop aboard the Gautrain (our ride to the airport). We hugged our fellow passengers goodbye and with a longing look back towards the station we departed.
Information
Why not read our other blog post; How to Plan a Trip on The Blue Train stuffed full of important info. But here are a few bits and bobs that you may want to know in the meantime.
The best place to find out lots of information, and book your spot on the Blue Train is the Blue Train website.
Trains run regularly scheduled trips between Pretoria and Cape Town or Pretoria and Hoedspruit.
They also offer a circular journey to Kruger Park that includes game drives.
Travelling off-peak will make your journey cheaper. Avoid September – November to save an average of 20%.
Video of the Blue Train
Final Thoughts on Our Two Nights on the Blue Train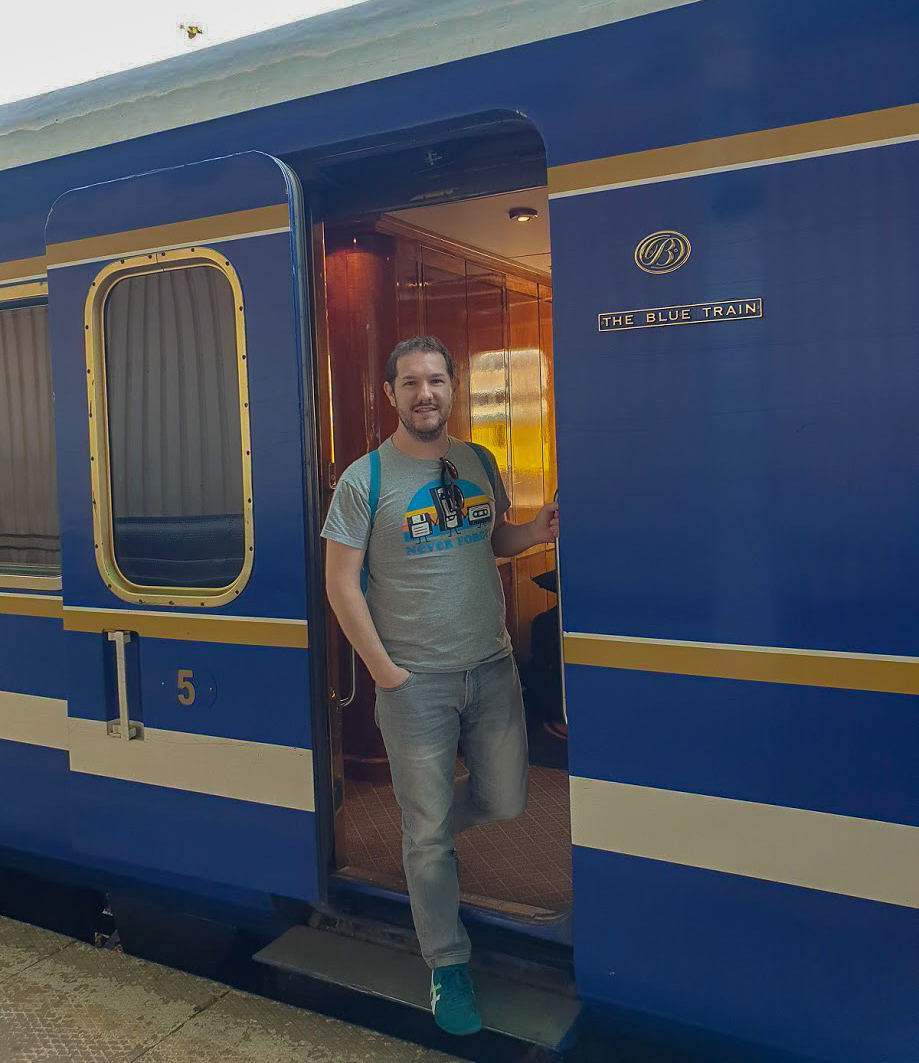 By spending two nights on the Blue Train we have added our names to a list of previous passengers that include Nelson Mandela, Naomi Campbell, Kylie Minogue and Elton John. They haven't added our names to the list of VIPs just yet, but I am sure it'll happen any day now. The Blue Train is a truly magical way to see South Africa. Watching the changing landscapes recede into the distance whilst sipping on some of South Africa's most delicious wines is luxury enough. Then add personalised service from a butler, top-notch dining and the delightful rituals of high tea and dressing up for dinner; the whole trip is glorious. I just wish it had gone a little slower. Even with the odd delay, two nights on the Blue Train didn't feel like enough. Maybe one has just become accustomed. "Mr Fluskey, fetch my pre-dinner Amarula".
Rosie xx